Europe needs to acknowledge that its future is no longer with fossil fuels, said the President of the European Investment Bank as he presented the bank's 2020 results on Wednesday (20 January).
"To put it mildly, gas is over," Dr Werner Hoyer said at a press conference on the EIB's annual results.
"This is a serious departure from the past, but without the end to the use of unabated fossil fuels, we will not be able to reach the climate targets," he added.
The EU aims to reach net zero emissions by 2050 and is expected to adopt a new carbon reduction target of -55% for 2030. However, gas has remained a grey area, with the European Commission saying it will still be needed to help coal-reliant EU member states transition away from fossil fuels.
Under their climate bank roadmap published in 2020, the EIB plans to use 50% of its activity to support climate and environmental sustainability, unlocking €1 trillion for green funding by 2030. It will also ensure that all activity is aligned with the Paris Agreement.
European Union governments approved a €1 trillion green "roadmap" for the bloc's lending arm on Wednesday (11 November) that will see it stop financing fossil fuel projects and airport expansions, though climate groups said it did not go far enough.
Gas has limited support under the EIB's climate roadmap. Only power plants emitting less than 250 grammes of CO2 per kilowatt-hour are currently eligible for support under the bank's rules and the EIB intends to pursue its decarbonisation policy by phasing out all funding for fossil fuels before the end of the year.
Funding for large-scale heat production based on unabated oil, natural gas, coal or peat, upstream oil and gas production or traditional gas infrastructure will all be stopped by 1 January 2021, the EIB explained.
Instead, more finance will go towards energy efficiency projects, renewable energy projects, green innovation and research, Hoyer said.
The roadmap also outlines the EU bank's intention to support both green hydrogen – generated from renewable electricity – and so-called "low-carbon hydrogen" produced either from nuclear power or natural gas with carbon capture technology.
However, while the EIB aims to end its support for fossil fuels by the end of the year, there is more that needs to be done for it to be the EU's climate bank, according to CEE Bankwatch, a network of environmental NGOs operating in central and eastern Europe.
"In the transport sector, for instance, the EIB could still support motorways and expressways at a time when private vehicles with internal combustion engines urgently need to be restricted, not encouraged," said Anna Roggenbuck, policy officer at CEE Bankwatch.
Roggenbuck also criticised the roadmap for lacking guidance on the selection of trustworthy clients and financial intermediaries. A previous Bankwatch analysis showed that between 2013 and 2019, the EIB provided €4.7 billion of EU public money to companies with high shares of coal in power and heat generation.
"This policy loophole needs to be closed to ensure the EIB is no longer bankrolling the climate crisis, even if indirectly," she said.
The European Investment Bank (EIB) decided to scrub its loan books of fossil fuels in 2019 but the lender's head of energy policy, Andrew McDowell, insists that there is more to the change of direction than ditching coal and gas.
Climate finance increasing
2020 was a "difficult and crucial" year, according to Hoyer. Brexit was expected to be the biggest hurdle, but the COVID pandemic is what challenged Europe's bank in its ambition to become "Europe's climate bank".
Despite this, the share of climate and environmental financing rose from 34% to 40% of the EIB's total, bringing the bank closer to its 50% target.
"We have achieved unprecedented impact on climate, preparing the ground for much more. But the risk of a recovery that neglects climate and the environment remains," said Hoyer.
"The fight against climate change cannot wait until the pandemic is over. The COVID crisis is not a reason to stop tackling the climate and environmental challenges facing humanity," he added.
The EIB warns there is a growing investment gap, which threatens the EU's ambition for a green recovery. According to a report due to be published on Thursday (21 January), 45% of EU companies expect to reduce investment because of the pandemic.
"The European Union is in danger of losing ground in the global competition if it does not mobilise more money for innovation," Hoyer said.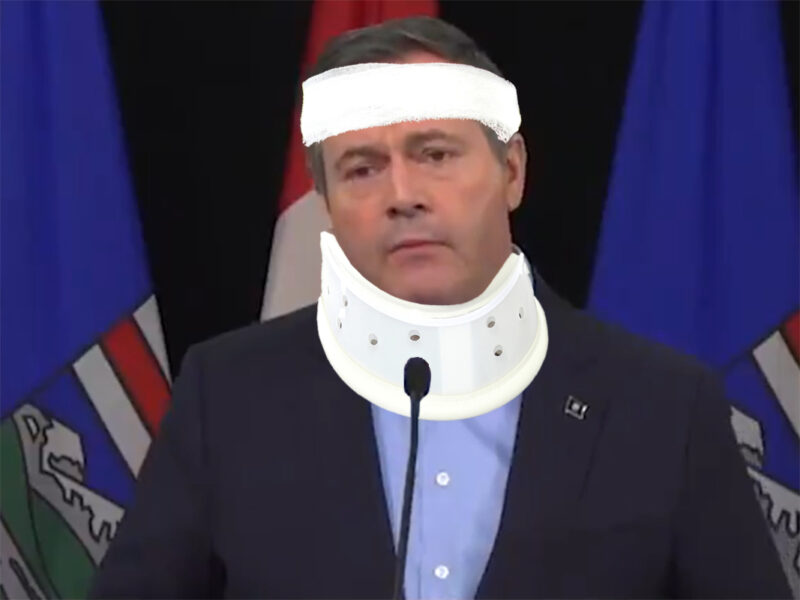 EDMONTON – Appearing outside a courthouse with his injury lawyer, Alberta Premier Jason Kenney is suing US President Joe Biden for physical and emotional injuries caused in the revocation of the Keystone XL permit.
Speaking through his Diamond and Diamond lawyer, a feigning Kenney said he may never be able to lay another pipeline again or enjoy the simple pleasures of criminalizing environmental protesters.
"[US President] Joe Biden – and presidents before him – caused my client to recklessly purchase the Keystone XL pipeline setting off a chain reaction of events," said lawyer Mark Barnes. ] "My client is seeking at least $1.5 billion from the US, a nice apology card, and an approval for all future pipeline projects."
The sudden cancellation of the pipeline that would have carried Alberta synthetic crude and bitumen to refineries in the US allegedly caused Kenney's head to snap back in shock and severe emotional distress.

Roaring laughter!

"Jason is suffering from severe political whiplash, and chronic partisan pain," said Health Minister Tyler Shandro who claimed to be a doctor since he's berated so many of them. "He will need to use a wheelchair whenever he appears at a press conference related to the oil and gas industry."
Meanwhile, Saskatchewan Premier Scott Moe said the pipeline wasn't dead, it's just resting its eyes.
EDMONTON – Alberta Premier Jason Kenney is insisting that after Jason Kenney lost billions investing in the Keystone XL pipeline which President Joe Biden has cancelled, the U.S. government is responsible for repaying Alberta the billions that Jason Kenney lost.
"The people of Alberta deserve compensation for the actions of Jason Kenney," Jason Kenney insisted in an open letter to Biden. "Jason Kenney put $1.5 billion in public funds into this troubled pipeline and promised a further $6 billion in loan guarantees. The steep price of Jason Kenney's bizarre unwillingness to recognize basic economic realities should not be paid by Albertans."
Since it's still not clear exactly how many billions Jason Kenney has lost betting on a pipeline that was rejected by President Obama and was all but certain to be cancelled if another Democrat was in the Whitehouse, Jason Kenney is insisting that Biden give the people of Alberta a series of blank cheques to cover Kenney's massive Keystone blunder, as well as any other past or future bonehead investments made by Kenney into a dying industry.
"Jason Kenney has put all of Alberta's proverbial eggs into the fossil fuel basket, and since you [President Biden] have made environmentalism a cornerstone of your election promises, it's only fair you pay for the increasing losses Alberta will experience during your presidency," Jason Kenney continued.
"And, while yes, technically Jason Kenney became premier because the UCP won a majority with more than 50% of the vote and the voters of Alberta are therefore responsible for putting him in charge of the province's finances, they're not going to be able to compensate themselves because Jason Kenney keeps losing their money," Jason Kenney explained. "So they really need outside help. Leadership, if you will."
Kenney concluded the letter by threatening legal action against the United States for the losses Alberta has suffered, assuming Alberta can find a lawyer who doesn't mind working for a province that may not be able to pay them because Jason Kenney lost so much of its money.

Funny!

Despite Kenney's impassioned plea and belligerent threats on behalf of Albertans, it's unlikely that Biden will want to set a precedent of financially compensating Canadians for the absolutely terrible decisions of Canadian premiers since that would quickly bankrupt the largest economy on Earth.

Refer also to:
Ovintiv/Encana, Chevron, Exxon et al deeply deserve this! CNBC's Jim Cramer: "I'm done with fossil fuels … they're just done. We're starting to see divestment all over the world. … It's going to be a parade that says, 'Look, these are tobacco and we're not going to own them.' … Younger people don't want to own them. The dividends are great…but you can tell that the world's turned on them. It's actually happening really quickly."
Law-violating, aquifer-frac'er bully Ovintiv/Encana/(Cenovus spawned after Ernst lawsuit filed): "New York-based investor considers Ovintiv…to be the poster child for all that ails the North American exploration and production sector…. The sector as a whole is rife with excessive compensation and a lack of accountability"
Norges Bank blacklists CNRL, Cenovus (split from Encana – now Ovinvtiv – after Ernst lawsuit filed), Suncor and Imperial Oil from Gov't Pension Fund Global for unacceptable carbon emissions in Alberta's tarsands. Updated with tar-pimping by Ms. Southern and Alex Pourbaix, CEO Cenovus.
Frac Tank Reality Show: "Debt, Debt and Debt" and more debt; Judge-gifted bankruptcies to keep companies frac'ing & polluting and con investors into losing more money; Abandon thousands of frac harmed families; And intentionally dump pollution and clean-up on taxpayers. In the USA, "explorers burned through some $342 billion of cash since 2010, leaving little in the way of returns for investors." In Alberta, AIMCo took $100s of millions (under Kenney & Harper, will likely take $billions more) from pensioners years ago to give to "quite leveraged" frac'ers already then.
US frac'ers face $300 Billion in writedowns in Q2. "The boom in fracking was largely financed by debt" and we the people are being robbed to pay for the frac'ers' greed 'n rape fest.
Encana/Ovintiv Greedy Frac'ing Bloodbath Continues, Kills More Jobs After Promising Not To.
Is it wise to threaten America's biggest banks with an election looming? GOP gang go after banks for refusing to finance going down the drain, harmful fossil fuel projects.
JP Morgan leaked report has dire warnings for human race. Then, quit giving the fossil fuel sector so much money! JP Morgan was one of 33 financial institutions that gave estimated total of $1.9tn to fossil fuel sector between 2016 and 2018
Oilprice: Fossil fuels are driving global warming; "it's rather ironic that higher temperatures are now battering gas markets" into "Gasmaggedon."
Frac industry is damaging the oil & gas economy. When flipping for a profit fails, frac companies file for bankruptcy, which in turn deters lenders. "Wall Street has basically completely turned its back on the industry right now." Is there anything frac'ing doesn't damage?