A few excellent comments on ASRG's FB page:
Rob Schwartz:
Another well researched "follow the money"article by Andrew Nikiforuk. Every generation has it's share of snake oil salesmen but Sorrensen may be one of the best. To sell an idea of pipelining Alberta gas to the Nova Scotia coast to grown adults in government and high financial positions requires a believability factor that is off the charts. The one obvious reality is that to pipeline gas for 6000km from Alberta to Nova Scotia would require the combustion of over 2/3 of the gas put into the Alberta end just to run the compressors.

Douglas Malsbury
That foolish proposal was probably one of the dumbest ideas I'd ever heard of……without a doubt!

Rob Schwartz:
Doug ; What I find more scarry than the dumb idea is how Shamus O Regan and the minions at AIMCo could be hoodwinked into supporting and financing the idea
Rob Schwartz:
It appears that the decision to deny may have been politically directed response to a public outcry rather than a reasoned board decision. What I find troubling is that the regulations which allow for the dumping of environmental liabilities since 1991 have not been recinded therefore we can logically expect more of this type of dumping
***
Read this for an education into how corrupt and evil the AER is and the industry that finances and controls it:
How to get away with dumping your orphan wells on the public by Jeremy Appel, May 12, 2020, The Progress Report
The case of Manitok Energy shows just how easy the Alberta Energy Regulator makes it for oil and gas executives to dump their environmental liabilities onto the Alberta public.
When the oil and gas company Manitok Energy went out of business in 2018, it sent tens of millions of dollars worth of environmental liabilities to the Orphan Well Association or OWA, the non-profit agency responsible for cleaning up the environmental messes left behind by bankrupt oil and gas companies. But less than a year later, a new company with a different name but the same CEO was able to acquire all of Manitok's remaining non-orphan well assets–while dumping the liabilities on the rest of us–and all with the tacit blessing of the Alberta Energy Regulator or AER. And while the OWA is supposed to be industry funded it is now majority funded by public money due to recently receiving hundreds of millions of dollars worth of taxpayer dollars.
Manitok Energy and its subsidiaries defaulted on their loan payments and went into receivership in February 2018, according to the most recent receivership report, which is dated Nov. 8, 2019. The receiver, in this case an accounting firm called Alvarez & Marsel Canada, is appointed to sell the remaining assets of the company in order to pay outstanding debt.
In November 2018, Manitok's primary assets were sold to Persist Oil & Gas; the president and director of Persist Energy is Mass Geremia, the very same CEO of Manitok.

Mass Geremia's LinkedIn
Persist was formed late-February 2018, according to the company's Sedar profile. The phone number listed for Persist is the same as the one provided for Manitok, which is out of service, as are the emails listed for each company. According to the Orphan Well Association's April 2020 inventory, Manitok has left behind 181 wells, 31 facilities and 282 pipelines.
Progress Alberta reached out to Manitok/Persist's Mass Geremia for comment, but he did not respond to our questions before our publishing deadline. …
There were multiple opportunities for the AER to shut Manitok's own maneuver down. The agreement between Persist and Manitok was amended twice–in December 2018 to add and remove various assets in the Carseland, Rockyford, Wayne and Wildcat Hills areas, and on March 29, 2019, to remove the Nisku Pipelines and Facilities in Wayne–before the deal closed April 15.
This second amendment removed three facilities and 17 pipelines from the deal, according to an appendix attached to the receivership report, which then became the responsibility of the Alberta Energy Regulator. The receivership report says Manitok owes Kneehill County, where Wayne is located, about $66,000 in outstanding taxes for 2017 and 2018, plus an estimated $37,000 for 2019, assuming the assessment for that year is the same as 2018. …
On Jan. 31, 2019, the Supreme Court of Canada ruled that insolvent energy companies have an obligation to pay off their environmental liabilities before reimbursing creditors, dubbed the Redwater decision, a ruling supported by the AER and OWA.

It's mighty ugly in Canada how the oil and gas industry's abuses and law violations are enabled by our courts, regulators and politicians to ignore the rule of law when it suits them. In my view, the Supreme Court of Canada Redwater ruling doesn't have any purpose other than to con the public into thinking there is a rule of law for industry. CAPP, our politicians and regulators (NEB and provincial) always planned and intended for companies to walk from clean up.

… AER says it acted appropriately
The AER's Directive 067 of December 2017 allows the regulator to revoke or restrict licence eligibility for oil and gas development.
"Acquiring and holding a licence or approval for energy development in Alberta is a privilege, not a right," reads the directive's preamble.
AER spokesperson Shawn Roth says the regulator found out Manitok shared owners with Persist through a material change submission in June 2019–two months after the deal closed.
"The AER conducted a review and found that the change did not pose an unreasonable risk to public safety or the environment," Roth wrote in an email to Progress Alberta.
Prior to this revelation, the AER made Persist "purchase and perform abandonment and reclamation work on infrastructure that was not part of the original sales agreement" to lessen the load on the OWA, he said. In total, Roth says Persist purchased a total of 942 wells, facilities and pipelines from Manitok. Manitok, by contrast, has 494 wells, facilities and pipelines registered with the OWA.
"These transactions reduced the amount of inventory sent to the OWA," said Roth. "No other parties expressed interest in the Manitok inventory." …
Kneehill kneecapped
Kneehill County's top administrator says municipalities don't have the resources to suss out shady transactions. That is the AER's role.
"It's outside our jurisdiction. We just sort of have to deal with the hand we're dealt," chief administrative officer Mike Haugen told Progress Alberta
He said the county lacks access to information on the inner workings of the various energy companies operating on its land.
"When assets switch company hands, we of course find that out for tax purposes, but we don't have information on ownership or things like that," Haugen said.
The taxable value of energy-related assets depreciates as the facilities age, making it difficult to determine definitively how much tax revenue is being foregone in the long-term, he added.
"Whether it's one company or another company that owns it, we're still taxing it and getting income," said Haugen.
"Our concern is more broad and shared by most Albertans — what's going to happen to these orphan wells? Somebody's paying for them to be decommissioned or taken care of. That's not the municipality, it's the taxpayer through the Orphan Well Association."
The federal government has announced $1 billion in bailout funds to assist Alberta in paying for abandoned well cleanup, but few details have been released about how that money would be distributed.
If it's the AER and the UCP making the call, these bad actors in the industry might not just get away with these dumping schemes–they may get paid for them, too.
***
Subject: A Spill That Received Improper News Reports From Shell And lasted Until Calgary Personnel Landed At The Control Site!!
Date: Sat, 16 May 2020 09:15:21 -0600
From: Stewart Shields email hidden; JavaScript is required
To: email hidden; JavaScript is required, Public Interest Alberta email hidden; JavaScript is required
CC: email hidden; JavaScript is required, Lacombe Ponoka email hidden; JavaScript is required, letters email hidden; JavaScript is required, email hidden; JavaScript is required, Ministre / Minister (EC) email hidden; JavaScript is required
We can never forget it was Shell that started SPOG—and other Synergy groups to move their own management another step above having to deal with environmental and public problems– their enterprises where responsible for??
Soon our regulator would advise callers phoning in their sour gas complaints to call SPOG- as it was their responsibilities??
Soon their was the "Caroline Cover-Up" of march 12 2003 where Shell's total phone system collapsed from too many calls and the regulator refused to attend the spill site until the leak was discovered!!
This was the spill that had children hauled into Caroline while it was under evacuation warnings from areas with clean air supplies and the regulator meet and hold secret meetings with SPOG to instruct what they wanted to see in their coming written report?? Shell operators were sent around to calm those affected by the release– instead of finding and controlling the leak? If there was a worse calamity of events during or after an H2S spill —i have never heard of it !! Some Shell operators stated SPOG should have been locked in a rubber room and the crisis would have ended there!!
This was the pinnacle of self regulation that Albertans will be paying for in many tears to come—
Stewart Shield, Lacombe, Alberta
Shell, Pieridae to try again after energy regulator blocks licence transfers by The Canadian Press, May 15, 2020, BNN Bloomberg
Two energy companies whose deal over aging assets in Alberta failed to win approval from the province's energy regulator over environmental concerns say they will try again.
"We're trying to find the right mechanism," Michael Crothers, president of Shell Canada, said Friday.
"We'll be seeking to understand from the (Alberta Energy Regulator) what would be acceptable to them."
On Thursday, the regulator refused to transfer licences for 284 wells, 66 facilities and 82 pipelines in the southern Alberta foothills — most involving toxic sour gas — from Shell to Pieridae Energy. Pieridae is a small Calgary company that plans to pipe the gas to the East Coast, liquefy it in an as-yet-unbuilt plant and ship it to Germany.
The sale has closed and Pieridae owns and operates the assets.
The regulator said it didn't like how the application to transfer the licences would have split liabilities for cleaning up the sites, especially two gas-processing plants. The terms of the sale would have had Shell responsible for existing contamination and Pieridae on the hook for future problems.
The regulator said it would be impossible to know which company would be responsible for what part of remediation. It also said the company that made the mess should be the one to clean it up.
Crothers acknowledged the application was unusual, but said Shell stands by its plans.
"Shell is holding fast to its intent to step up and own the obligations related to the historic environmental liability at the two gas plants," he said. "We think that's the right thing to do."
The regulator pointed out that allowing a company to sell an asset while holding on to its liability reduces incentives to clean it up. It would also nullify some enforcement measures.
Crothers said Shell stands on its record.

A record that is mighty ugly, cruel, polluting, and harming many.

"We have an exemplary record of environmental performance and regulatory compliance. We are a leader in our peer group in terms of commitment to environmental action."
At the time of the sale, Pieridae's market value was less than the price of the assets. Several groups expressed concern about the deal, including other energy companies, as well as the Orphan Well Association, an industry-funded group responsible for abandoned sites.
The sale was viewed as a litmus test of the regulator's determination to prevent more energy cleanups from being shuffled off to taxpayers. Those observers welcomed Thursday's announcement.
"We've moved into a new era,"

Sure, an era loaded with one hell of a lot of deregulation, led by AER's new scandal-corroded dickhead, CEO Laurie Pushor.

said Shaun Fluker, a University of Calgary professor of resource and environmental law.
"If you are going to take on assets, you have to demonstrate that you can meet those obligations and have the financial ability to meet them.
"You can't structure a proposal where the resulting approvals will be a workaround of the statutory regime, which is really what this was."
Pieridae, which said its finances are healthy, says that's not so.
"The decision has nothing to do with Pieridae's financial position nor its ability to clean up certain assets," said a statement from president Alf Sorensen. "The company is confident that the Shell asset acquisition … can be aligned to address the concerns of the (regulator)."
Until the licences are transferred, the liabilities remain with Shell, Crothers said.
He said the companies are examining their options. They may take the ruling to the regulator's internal appeal board or submit a rejigged application.
"We will continue to work with the (regulator) on a solution that satisfies them."
Subject: Dicey Deals!!!
Date: Thu, 21 May 2020 14:39:32 -0600
From: Stewart Shields email hidden; JavaScript is required
To: Prime ministre email hidden; JavaScript is required, chrystia freeland email hidden; JavaScript is required, bill morneau email hidden; JavaScript is required, email hidden; JavaScript is required, letters email hidden; JavaScript is required, email hidden; JavaScript is required, Ministerial Unit email hidden; JavaScript is required, Ministre / Minister (EC) email hidden; JavaScript is required
CC: Brian Jean email hidden; JavaScript is required, Doreen Mueller email hidden; JavaScript is required, email hidden; JavaScript is required, email hidden; JavaScript is required, email hidden; JavaScript is required, email hidden; JavaScript is required
I hope our federal government folks will read and realize as I have previously mentioned that Gifting Money to these oil merchants or their Straw men– in no way really helps Alberta Energy Workers?? What Alberta needs is a totally different manner in paying those charged with getting petroleum products out of the Alberta Public's owned reservoirs?? Alberta Conservative governments are becoming recognizes as the worst petroleum managers in the free world—as this story by the famous Andrew Nikiforuk describes so pointedly!! The GIFTED funding the federal government has already awarded the industry —to be handled by the Kenney Government –was far more hurt to those attempting change in how Alberta's manages it's petroleum properties– than was expected!!
Stewart Shields
Lacombe, Alberta
Alberta's oil patch regulator made history of a sort last week by saying the word no. The reasons it did pitted a crusty cowboy against a wealthy ballet aficionado, and exposed a gambit by one of the world's oil giants to offload its responsibilities in a way, the ruling said, that would have defied provincial law.
The story says a lot about where the world's fossil fuel industry finds itself at this precarious moment, as it struggles to balance falling revenues against mounting environmental liabilities.
And it sheds light on how symbiotic government regulators, public pension managers, and energy corporation minnows and whales alike have become in Canada. It's a tale with a few twists, so settle in.
It starts with a simple fact. In the last five years the Alberta Energy Regulator, which is funded by the industry, has watched cash-rich companies sell or trade off more than 150,000 inactive or uneconomic wells to small firms that didn't have the financial ability to perform mandated well cleanups.
That's what changed last week. Under intense public pressure, the regulator finally refused to greenlight one such transaction.
The AER ruled that energy behemoth Shell couldn't download its historic responsibilities for the closure, remediation and reclamation of hundreds of sour gas wells and processing plants onto a smaller company while only retaining lesser responsibility for extensive groundwater contamination.
A flaw in the proposed deal, said the regulator, was that it had no way to know how much land and water Shell's operations had poisoned. The "scope and extent of the contamination at the sites is not well known." Nor could groundwater contamination be distinguished from other ongoing pollution at Shell's aging sour gas plants.
"Shell is the polluter," added the regulator, and also the operator under Alberta's reclamation laws and "therefore required to conserve and reclaim the sites."
The ruling added, "Trying to manage and enforce different reclamation obligations amongst different approval holders would be inefficient, disorderly and extremely burdensome."
Given that's the case, let's further set the stage. Alberta is a province where the majority of oil and gas companies now own more inactive and uneconomic wells than they do producing ones. In fact, their liabilities exceed assets due to depleted and aging geologies, insolvent fracking companies and volatile commodity prices.
Let's preview as well a few more characters in this particular petroleum soap opera. It not only involves Shell, which posted profits of $16.5 billion last year, but also an until recently tiny Calgary firm, three large and toxic sour gas plants and fields, a bunch of German bankers and energy traders, a scandal-plagued regulator, and a speculative LNG play in Nova Scotia.
One more twist is that the Alberta Investment Management Corp. — the province's embattled pension fund manager that just lost billions of dollars on the stock market — may lose billions more with investments in ailing oil and gas companies.
How large are the wider stakes? Very large indeed. The regulator's ruling comes amidst a toxic boondoggle in the extreme. In Alberta, the unfunded cost of cleaning up 400,000 wells, half of which are now inactive or uneconomic, is estimated to be $100 billion. Only an inadequate $229 million in security deposits has been set aside for the job. Someone's got to pay up eventually. Companies, if they can, will stick citizens with the bill.
Which is just what Mike Judd was thinking when he decided to sound his alarm.
I. THE COWBOY WHO FIRED OFF A LETTER
Mike Judd is a 70-year-old retired backcountry outfitter with a lean frame and bristly mustache, who once got so mad at the digital craziness his computer represented that he shot it. He lives near Shell's gas plant in Waterton in southern Alberta on land where a grizzly bear dens.
When Judd learned last year that Shell was selling off its three aging sour gas plants in the eastern slopes of the Rockies to a small Calgary company for $190 million, he couldn't believe his ears.
At the time the purchaser, Pieridae Energy, was listed as a penny stock on the Toronto exchange with more debt than revenue. But the firm claimed the purchase would further its primary goal of building an LNG terminal in Nova Scotia to ship Canadian natural gas to global markets.
SIDE BAR: PENSION FUNDS HAVE LOST MILLIONS ON PIERIDAE
Prior to borrowing $206 million from a Toronto firm to purchase Shell's old sour gas plants, Pieridae Energy got help paying its bills with some credit assistance from the Alberta Investment Management Corp., which manages the province's 31 pension funds.
It wasn't alone. In 2018 Pieridae bought Ikkuma Resources, a small oil and gas firm in the Rocky Mountain foothills.
Like many small players in Alberta's ailing oil patch, Ikkuma had been kept alive with a $45-million loan from AIMCo. The pension manager has played a controversial role in the patch by lending money to firms such as Trident Energy which later went bankrupt or dumped their liabilities onto the Orphan Well Association.
To date AIMCo, which offers no transparency on the nature of its investments on its website, has invested more than $1.1 billion in struggling oil and gas firms with well clean-up liabilities estimated at $3.1-billion according to a report by Progress Alberta.
The report found that AIMCo lost money in every investment it made in publicly traded oil and gas firms as their share price plummeted in the price collapse.
In 2018, AIMCo loaned Pieridae $50 million.
The company says it recently repaid that loan. In 2019 AIMCo converted another $10-million loan to Pieridae into common shares at a price of 87 cents. But Pieridae's shares are now worth 27 cents. To date AIMCo has lost nearly $6 million on its investment.
END SIDE BAR
"Who is this company? I had never heard of these guys," asked Judd. "What happens if they go broke? Who will be responsible for the cleanup of Shell's sour gas fields?"
As a landowner who had frequently contested Shell's intrusions into the Rockies, Judd estimated that the clean-up cost of Shell's aging wells might be billions of dollars. Many of the sour wells, among the deepest in the province, are located on the sides or on the tops of mountains.
Like most landowners, Judd also knew the nature of the reclamation game in Alberta and other oil-producing jurisdictions. For decades the oil and gas industry has resorted to two strategies for avoiding the cost of cleaning up its inactive and depleted wells: go bankrupt or pawn off aging assets to smaller companies without the resources to honour regulatory clean-up obligations.
… Each company in the chain milks the remaining assets until the cost of decommissioning them outweighs the costs of keeping them active.
At that point industry often dumps its liabilities onto the lap of the industry-funded Orphan Well Association or increasingly onto Canadian taxpayers.
So many firms have walked away from their clean-up liabilities in recent years that the Orphan Well Association is now supported by more than a half billion dollars' worth of repayable loans from the Alberta government and Ottawa.
In other words, taxpayers are footing the bill for oil and gas well cleanups — a scenario that industry and energy regulators swore would never happen in Canada.

They also swore – after the AER knew Encana/Ovintiv had illegally intentionally frac'd hundreds of gas wells into fresh water zones in Alberta – that companies would never frac anywhere near our drinking water aquifers, that our "best in the world" regulations and laws would never allow it. Oil and gas companies and our provincial and federal regulators lie. AER's outside counsel, Glenn Solomon, lied to every level of court in Ernst vs AER/Encana/Alta govt contrary to law society rules – the judges knew Solomon lied in court yet did nothing to punish him, they only punished Ernst. Supreme Court of Canada and lower court judges lie to enable oil and gas industry harms and pollution, and regulator fraud, cover-ups, lies and harms, defecating on the rule of law to keep the abuses while profit raping going.

Judd also knew that successive Alberta Tory governments had failed to collect adequate deposits for what the regulator now estimates amounts to a $100-billion cleanup just for wells alone. (The total unfunded bill for decommissioning zombie wells, pipelines and oilsands facilities equals $260 billion, according to the regulator.)
Judd also knew that the regulator had set up a liability management program based on outdated oil prices so companies with aging wells could claim to be more solvent than they were. The regulator also refused to set a time limit for cleaning up inactive wells.
Fearing he was about to see the whole cycle unfold in his own backyard, Judd asked a public interest lawyer

There's a public interest lawyer in Canada? Where? My lawyers, Cory Wanless and Murray Klippenstein, called themselves public interest lawyers. But, their terrible betrayal to our drinking water in Canada and their lies to me, abrubtly quitting my case with no warning (to enable racism), withholding my website for nearly a year after quitting, withholding my trust account money of $40,000.00 for a year, and continuing to refuse to send me my case files (for nearly two years now) which I need to continue my lawsuit, indicate to me that they are corporate lawyers, too afraid for their own selfish arses to say peep when judges lie in rulings under their watch

, what he could do to prevent the sale. The lawyer told Judd that he could file a statement of concern with the Alberta Energy Regulator asking for a public hearing.
And so last November Judd wrote his letter to the regulator: "I am concerned the transfer of the Waterton Field licenses to a small operator is the first step towards my home being surrounded by dangerous orphaned oil and gas equipment that may never be reclaimed."
Judd sent off the plea with lowered expectations. Certainly he didn't expect the avalanche of resistance it triggered.
II. THE LITTLE ENERGY FIRM WITH HUGE AMBITIONS
Pieridae Energy, formed in 2011, is a small Calgary-based firm professing aspirations of the boldest order. It proposes to build a $10-billion liquefied natural gas facility in Goldboro, N.S. to supply European markets.
At various times Pieridae has proposed sourcing that methane from potential shale developments in Quebec, Nova Scotia, New Brunswick and Pennsylvania. Now it wants to pipe methane from Alberta's sour gas fields all the way to Nova Scotia. (Sour gas has a 15 per cent higher greenhouse gas footprint than conventional gas because of all the processing required to remove the sour part: hydrogen sulfide.)
On its website Pieridae Energy explains the company was founded as a "second go around" for its key management team to champion LNG developments.
The first go around? That was the Kitimat LNG project on the West Coast, led by Alfred Sorensen, an accountant by trade and former energy trader for Duke Energy.
Sorensen, possessing an upbeat nature and a bespectacled face that is owl-like, sold that project to Apache and EOG Resources for $300 million in 2010. He personally pocketed $30 million. Pieridae boasts that it was "the first liquefaction facility permitted in North America in 40 years." But the website doesn't add that it never got built.
As shale gas prices dropped, Apache and EOG sold their stakes in 2015 to Chevron and Australia's Woodside Petroleum. When LNG prices collapsed this year due to overproduction and then the pandemic, Woodside posted a billion-dollar write down on the project. Chevron also took a $1.6-billion write down on its share.
Given current market conditions, it is unlikely Kitimat LNG will ever be built.
But Sorensen, dubbed "Canada's LNG marathon man" by the Globe and Mail, pushed on with the proposed Goldboro terminal in Nova Scotia even as methane prices languished and investment capital grew skittish.
He acquired a terminal site and environmental permits and even lined up Uniper, a German energy trader, to buy half the gas.
At the same time, he served as a CEO of Canadian Spirit Resources, a small six person shale gas company, from 2013 to 2015. But it too mirrored the industry's fragile economics. After buying land and identifying 1,200 potential shale gas wells in the Montney Formation in B.C., Sorensen shopped around for a buyer.
In 2012 he told Alberta Oil Magazine, "That's what I think my bigger skill set is — selling things." He paused and added, "As long as you're not selling something that's not real, I suppose."
Canadian Spirit Resources never did find a buyer. Last year the company posted no gas or liquids revenue, and its share price has dropped to four cents. Its chief financial officers left the company this spring.
Meanwhile Sorensen tried to build Pieridae into an attractive story. In 2017, he took the company public by merging with a Quebec firm, Petrolia, which owns the most oil and gas permits in that shale-rich province.
Petrolia's biggest claim to fame was being awarded in compensation by the Quebec government after it banned any drilling on Anticosti Island where Petrolia held leases.
Pieridae Energy advertised the merger as "an opportunity for investors to participate in the evolution and growth of Canada's only integrated LNG facility." But the merger never really attracted the level of investment needed to get the project off the ground.
Alberta's pension funds manager, which has a poor track record in backing oil and gas plays (see sidebar), then loaned Pieridae $50 million and bought $10 million worth of its stock.
Still, until Pieridae bought Shell's 70-year-old gas operations in 2019 pending approval by the Alberta Energy Regulator, the company had few resources and even less cash.
Just the year before, Royal Dutch Shell posted revenues of $396 billion, while Pieridae recorded a net loss of $34 million.
How then did little Pieridae manage to buy Shell's sour gas properties? By borrowing $206 million from Third Eye Capital, a Toronto firm that specializes in loaning money to distressed or risky companies.
What Pieridae actually bought was this: 284 deep sour gas wells; 66 facilities and 82 pipelines nearly 1,700 kilometres in length at three of Shell's sour gas fields in Waterton, Jumping Pound and Caroline. The highly corrosive nature of sour gas requires constant and expert care. To provide it, 200 Shell staff became Pieridae employees.
Shell, meanwhile, vowed to take care of extensive groundwater contamination at the gas plants while Pieridae would become responsible for cleaning up the wells and pipelines and three massive sour gas plants at some later date.
Although Shell described Pieridae Energy as "an experienced operator" in its press release, few observers agreed with that assessment.
Shaun Fluker, a University of Calgary law professor who has watched marginal companies operate in the patch for years, told The Tyee that, "I don't think there is any credible operator on the planet who would agree to take on this kind of aging infrastructure with those kind of liabilities. The cost of cleaning it up will be astronomical."
He suggested that Pieridae's purchase from Shell was part of a larger strategy to make the company more appealing for prospective buyers and to reassure potential German investors that it had some methane to fill its proposed terminal. Pieridae, said Fluker, just needed "the assets to tell part of their LNG story. It is a house of cards and the company has no intention of doing that reclamation work."
Pieridae has been adamant throughout that it would see through any clean up it was now on the hook to deliver.

Pffffttie Pieridae!~Untrustworthy skanks, as untrustworthy and skanky as AIMCo, the Alberta gov't, AER, Shell, Encana/Ovintiv, etc. and lying Canadian judges.

III. THE AVALANCHE
The avalanche that Judd's letter of concern set off included more letters by dozens of landowners, companies and pension holders questioning the purchase.
Upset pension holders warned that AIMCo's investments in Pieridae Energy might result in the manager becoming liable for billion-dollar cleanups down the road. "Pieridae, a distressed company, is seeking and receiving financial capital from AIMCo to pay for this license transfer project thus jeopardizing my pension plan," wrote retired social teacher Rose Marie Sackela living in central Alberta.
On Judd's side, too, were two of the biggest names in Alberta's troubled oil patch. Canadian Natural Resources Ltd. and Cenovus also strongly objected to the deal.

Fine ones to complain. Before Encana split off it's oil riches into Cenovus, the company intentionally illegally frac'd my community's drinking water aquifers with AER, Alberta Research Council (now Alberta Innovates) and Alberta gov't engaging in fraud to help Encana/Cenovus/Ovintiv cover the crimes up. Next step in the run from clean up plan, Encana dumped their illegal frac crap, including endless noisy rule-violating polluting compressors, on a two bit player that will never repair my community's frac'd aquifers, remove and dispose of the many loads of likely radioactive toxic waste Encana dumped on food and pasture lands, or mitigate Encana's noise or harms. Recently, to seal the no clean up deal, Encana turned itself into Ovintiv and ran away like chicken shit to the USA. That's how oil 'n gas patch clean up is done in Alberta. Norges bank just punted CNRL and Cenovus because of their life-threatening pollution in Alberta's tarsands; both companies deserve the punt.

"If Pieridae were to become insolvent, there is a high probability that Pieridae's abandonment and reclamation liability will fall to the Orphan Fund," wrote CNRL in its letter of concern. (The company has objected to many similar transactions for the same reasons.)
Because CNRL is the largest contributor to the orphan well fund, it worried that it might be on the hook for $100 million worth of the eventual clean up of Shell's deep sour gas wells.
The company, owned by billionaire Murray Edwards, added that "there is a high probability that Pieridae will experience a financial distress with continued low gas prices," as have most methane producers on the continent.
The Orphan Well Association, which was created by government and industry as a last resort for cleanups, also objected to the transfer. It argued that Pieridae didn't have the leadership or financial resources to decommission what they estimated to be a $500-million liability.
The OWA, which rarely addresses Alberta's clean-up failings in public, also criticized the regulator for not doing its job.

Oh, please! Pot calling kettle black much? The OWA is full of shit just like the AER and UCP, and OWA knows it.

It didn't think the regulator had a proper process for vetting the transfer of licences from cash-rich companies to cash-poor ones.
More damningly it stated "that the current regulatory system for assessing the overall financial viability of asset transfers is not adequate and needs to be augmented."
As the statements of concern rolled in, most of them asked the regulator to refuse the transfer of licenses to Pieridae, or at the very least require Shell to set aside at least a hefty clean-up fund worth hundreds of millions of dollars.
But that's not how Shell and Pieridae saw the deal. They replied that Albertans had nothing to worry about.
Shell said that the energy regulator and the public shouldn't be concerned because the province had "a robust system for ensuring that companies are held responsible for the environmental liabilities resulting from energy development."

ShellShit! And Shell knows it. So do AER, OWA, Pieridae, CNRL, Cenovus, etc and AIMCo. They're a dirty bunch raping the system they control while wagging their saintly corrupt fingers, knowing the courts will help them all legally walk from clean up. It's a simple swim really. After sucking out $billions in profits, the giant oilfish sell (aka dump) their plays or part plays or polluted plays onto smaller, often much smaller fish. The tiny fish swim around a bit, make a few $million sucking out some dregs, then dance off to the friendly court when it's time to go or things get tight, and either get put into receivership, or file for bankruptcy. All perfectly legal, but stinks to the high heavens, and has been going on for decades.

In fact, however, in 2018 Robert Wadsworth, the Alberta Energy Regulator's vice-president for well cleanup, admitted in a public presentation that the system was broken. He said the collection of security funds from industry was "insufficient" due to a "deeply flawed" system for monitoring liabilities.
Alberta's Liability Management Rating program had tracked inactive wells in the oil patch for nearly two decades. But it didn't collect money for cleaning up abandoned wells until the companies were "already showing declining financial capacity," said Wadsworth.
Nevertheless, Pieridae Energy referred to Alberta's regulatory system as "robust" too. Sorensen's firm added that it was "uniquely situated to benefit from certain German federal government loan guarantees for up [to] US$4.5 billion which have been approved in principle under a German untied credit program."
Pieridae said most of the loan would go to the construction of the LNG facility in Goldboro but that $1.5 billion would help finance the extraction of more deep gas from Alberta's foothills without the use of fracking.
One of the conditions of the German government loan is that no fracked gas be used to supply the LNG terminal because Germany has banned the technology.

Germany did not ban frac'ing, they sneakily changed it's definition to con the public and let companies keep frac'ing, and worse, opened up protected areas to frac'ing under the guise of saying they were banning frac'ing. I expect Pieridae knows that, and plans to frac Shell's sour gas wells in Alberta using Germany's falsified frac definition while lying to ranchers and communities at risk, saying no frac'ing of their sour gas will occur because Germany banned it. Clever wordsmithing, typical of the sour gas 'n frac patch.

Thanks to ongoing production from Shell's aging sour gas fields, Pieridae said, it would be able to "generate net cashflow sufficient to satisfy all of Pieridae's legal obligations including the environmental obligations" of decommissioning Shell's sour gas wells, pipelines and sour gas plants.
The company added that CNRL's concerns were frivolous and self-interested. In a low-price market "it is possible that CNRL is seeking to gain a competitive advantage by exaggerating its concern of the risk regarding this asset acquisition."
IV. THE BILLION DOLLAR NEXT PITCH
While the Alberta Energy Regulator pondered these arguments in January, Sorensen sat down with federal Natural Resources Minister Seamus O' Regan to make a friendly LNG pitch.
Sorensen, who is such an aficionado of dance as high art that he chairs the Alberta Ballet Foundation, explained to O'Regan how his proposed LNG terminal in Nova Scotia would ship "sustainably-produced natural gas to the world."
In his marketing spiel Sorensen emphasized that his project would really help the government of Canada meet three key goals: support reconciliation with First Nations with benefit agreements, "address global GHG emissions by using cleaner-burning LNG to replace coal," and, lastly, "get our resources to market along with creating good-paying middle-class jobs."
It's not known whether Sorensen mentioned to O'Regan the findings of a 2018 analysis on the economics of exporting LNG from Canada. The Canadian Energy Research Institute, which is partly funded by the government, concluded any project would need at least a $100 oil price or $11.6 per million British thermal units over the life of the project to be viable. (The European Union natural gas import price is currently $2.12, a nearly 60 per cent drop from last year's $4.90 per million British thermal units.)
The CERI report said such "a viable path" didn't currently exist in Eastern Canada and if it did it would have to use fracked gas from Nova Scotia or New Brunswick where opposition to the technology remains fierce. (In fact, several anti-fracking groups have protested potential German funding for Pieridae on these very grounds.)
Four months after his meeting with O'Regan, Sorensen announced that Pieridae Resources was putting off its Final Investment Decision on the LNG plant, as he has done routinely since 2013, for another year. This time he blamed rock-bottom LNG prices and the pandemic.
But the ever-optimistic Sorensen added on an April 16 conference call that that he would continue lobbying the federal government and provincial government for financial help. He suggested a billion dollars would do the trick. "We're looking for a hand up, not a hand out," he said.

Sure you are. A few billion dollars needs to first provide safe clean potable water to frac'd Canadian families so they no longer are forced to live with and breath industry's gases (including deady H2S) and secret toxic frac chemicals trespassing into family homes and businesses, putting many lives at risk. Get in line Mr. Sorensen.

Representatives of Maple Leaf Strategies, which served as chief strategist and pollster on Premier Jason Kenney's successful election in Alberta in 2019, are now listed as the company's Ottawa lobbyists.
As the AER decision was pending, The Tyee asked Pieridae Energy how it proposed to pay for decommissioning the sour gas assets it bought into from Shell given its limited resources, and the fact that no money-making LNG terminal yet exists.
James Millar, director of external relations, replied, "The cash flow from decades of productive life in these assets will provide the necessary reclamation costs." He said the company's total revenue in 2019 was $114 million on the production of 40,000 barrels of oil equivalent from Shell's sour gas fields.
Millar added, "We are sound financially and have a solid plan going forward for the rest of 2020 and beyond."
He noted that the global LNG industry "has obviously not been immune to the negative impacts of COVID-19," and that nearly a dozen LNG projects have been cancelled or delayed.
"This is not the case for our multibillion dollar Goldboro LNG Project. We continue to push forward and we announced a positive development recently as Pieridae has negotiated extensions of deadlines under its 20-year agreement with German energy company Uniper Global Commodities."
The Tyee also asked Uniper, the German energy trader, if it had any concerns about Pieridae's ability to pay for the decommissioning costs of Shell's sour gas plant.
The company, which first signed a deal with Pieridae in 2013 for half the capacity of the proposed LNG plant, replied: "Please understand that we don't comment on this."

TOO FUNNY! WE UNDERSTAND ALRIGHT, AS WE SEE LIGHT DAWNING IN UNIPER'S PIEIDAE-SHELL CONNED EYES!

V. THE BIG NO
In its decision release on May 13, the Alberta Energy Regulator firmly blocked Shell from transferring the licences of its sour gas leases to Pieridae Energy. The nub of the decision: having Shell be responsible for groundwater pollution and Pieridae responsible for well clean up simply violated the law.

AER breaks the law and enables companies breaking the law all the time. They don't give a shit about the law. The "regulator" lies regularly too, is a bully and treats harmed Alberta landowners horridly. I expect this high risk sour gas marriage and Kenney stealing pensions from Alberta teachers and others to give billions of their dollars via AIMCo to the newly weds was fueling too much publicly voiced outrage during a time when investors are running as fast as they can away from oil and gas because it's too polluting and fraught with corruption and law violations. CAPP and Shell will write new a law for Kenney to quickly ram through with his reportedly illegally obtained majority (that our corrupt RCMP are too oil patch controlled to press charges on). Then the AER will bless the marriage like a dutiful pedophile priest. Shell, CNRL, Encana etc don't plan to clean up after the party – Encana's already dumped onto bit players the company's super shallow frac'd shit, top dog at CNRL left Canada and Shell has Pieridae and likely a bunch of other Pieridaes lined up in the closet. They'll use their fool Kenney/Harper and their lovers and worshippers (notably judges) to make taxpayers pay.

But the regulator conspicuously didn't say a word about Pieridae's financial ability to decommission at least a billion dollars worth of liabilities.
The Tyee sent queries to the regulator while it was trying to make up its mind. Its response took a week and came after the agency posted its decision. So what did the AER make of Pieridae's ability to take on Shell's massive clean-up liabilities, and how did such a deal even get this far?
Shawn Roth, a specialist in external relations for the Alberta Energy Regulator, allowed that his employer might have room to improve in how it goes about its responsibilities. The AER, Roth told The Tyee, is aware that its system for tracking liabilities "is not a good indicator of a company's financial health. We are working to broaden our assessment processes to allow for a more holistic approach to assess a company's ability to address its end-of-life obligations and have contributed to the Government of Alberta's review of the liability management system."
Shell did not reply to two separate queries from The Tyee until this article was published. Tara Lemay, Shell's media manager for Canada, apologized and said she did not get the original two emails. According to Lemay, Shell and Pieridae are working on an "appropriate mechanism to transfer the licences." She added that Shell is seeking a direct arrangement to retain obligations for historical liabilities at its extensive and contaminated sour gas plants, but that such "a mechanism to retain historical liabilities does not currently exist in the AER."*
After the AER rejected its deal with Shell, Pieridae Energy released a public statement the following day by CEO Alfred Sorensen. He said, "We are all disappointed."
The LNG marathon man added, "The decision has nothing to do with Pieridae's financial position nor its ability to clean up certain assets. The issue for denial was the fact that there is no precedent for splitting a licence or no ability under the current legislation to do so."
Sorensen, like a runner with his eyes fixed on a distant horizon, said the company is confident a solution will be found.
Eoin Finn, a former partner in KPMG who tracks the volatile economics of LNG, wonders why or how that could happen. And if Pieridae does manage to win over the Alberta Energy Regulator, allowing it to take on Shell's clean-up liabilities, a few aspects would deeply concern Finn.
For obvious starters, "if I were the regulator, I would be worried about Pieridae's financial position and its ability to clean up after the sour gas wells peter out," Finn said.
He also noted that the $206-million loan Pieridae had used to buy Shell's assets carried an interest rate of 15 per cent which means the company must find $31 million in interest charges every year or face foreclosure.

Never mind. AER, AIMCo, and Pieridea et al will get lover Kenney to hang taxpayers with the interest too. Canadians are already forced to pay the massive interest on loans given to the oil and gas industry (that will never be paid back) to clean up messes that ought to never have been left behind in the first place.

And there's the bothersome fact that one of the contractors Pieridae had lined up for its LNG terminal declared chapter 11 bankruptcy in January.
Meanwhile, analysts say financial prospects for LNG — "once one of the globe's hottest energy commodities — seem to be imploding before our eyes."
As for Mike Judd, these days he feels like a man who stopped a robbery in progress.
He told The Tyee he figures the Alberta Energy Regulator had no choice but to refuse the deal because it had come under so much heat over its repeated failure to address the province's well clean-up liabilities.
"The companies have made out like bandits in Alberta," said Judd. "They prospered under one of the poorest regulatory regimes in North America, and paid few royalties and now they want the taxpayer to clean up their messes when they dump their pollution liabilities onto small companies. That to me sounds like a perfect heist."
*Story updated May 22 at 7:30 a.m. to include comment from Shell.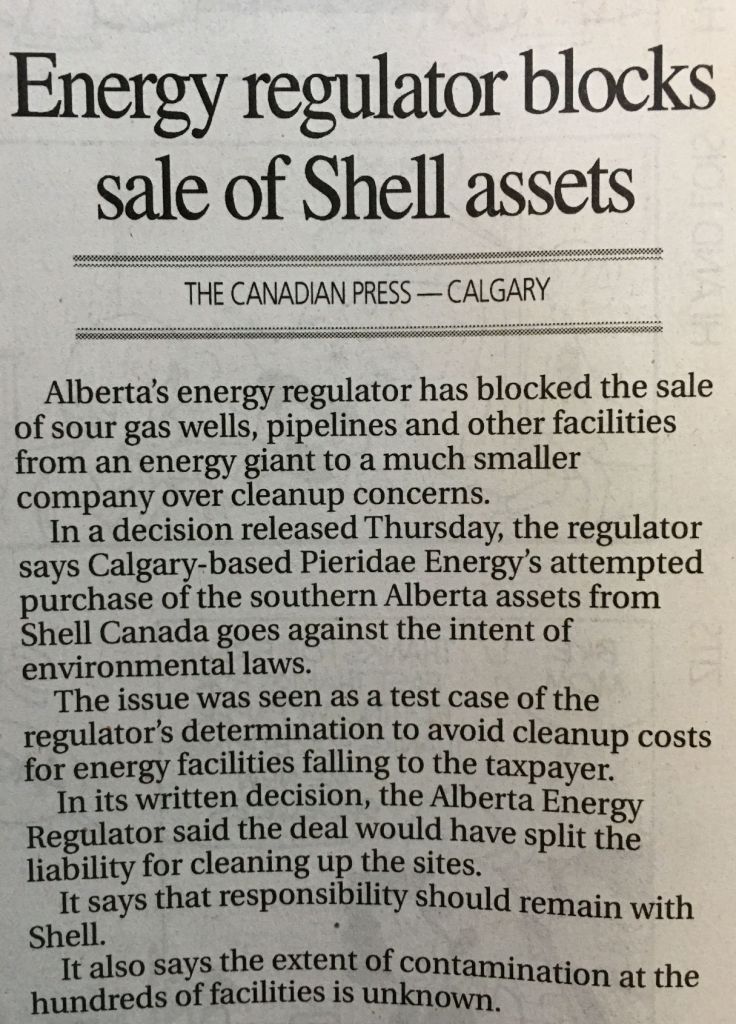 Photo above of article in the Calgary Herald, May 25, 2020

Refer also to:
BC's deregulator, the OGC, copies AER's frauds, lies, scams and coverups, especially when it comes to deadly sour gas: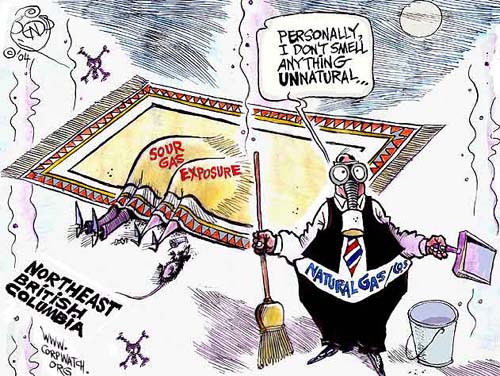 2020: Frac'ing Riches to Rags for Shell and how much hell and toxic harm for families and communities, Sells Pennsylvania shale assets for neat and tidy $4.1 Billion (90%) loss.
2020: CNBC's Jim Cramer: "I'm done with fossil fuels … they're just done. We're starting to see divestment all over the world. … It's going to be a parade that says, 'Look, these are tobacco and we're not going to own them.' … Younger people don't want to own them. The dividends are great…but you can tell that the world's turned on them. It's actually happening really quickly."
2019: IT'S A BIG ONE! AER Order against Sprocket Energy sour gas well leak/spill (by frac hit?) six km SW of Town of Fox Creek. Why no media coverage on possibly life-threatening, brain damaging leak near busy Smoke Lake Provincial Park Campground?
2019: Frac Hit at Fox Creek? Wanna bet industry's pet lamb, AER, will issue no fine? 460,000 litres fluids & contaminated water spews forth from abandoned Sprocket Energy Corp sour gas well 6 km SW of Fox Creek, Nothing reported in the media!
2019: Look out Albertans whose pensions Kenney gave to AIMCo. Crazy Days in Alberta: The Poison Wells File. The province let oil and gas firms create a $100-billion disaster. New example? Shell Pieridae Briko Ikkuma Alberta Foothills Sour Gas Marriage financed by AIMCo and about $10Billion in liabilities.
Shell, ExxonMobil, Chevron & BP Could Be Legally & Morally Liable for Climate Crisis in Philippines
2017: Whimps Extraordinaire! Ex-Encana VP (Gerard Protti) led AER taps Encana with $7,500 administrative penalty for major sour gas blowout at Fox Creek Alberta, Nothing for injecting 18 million litres of frac fluid into Rosebud's drinking water aquifers.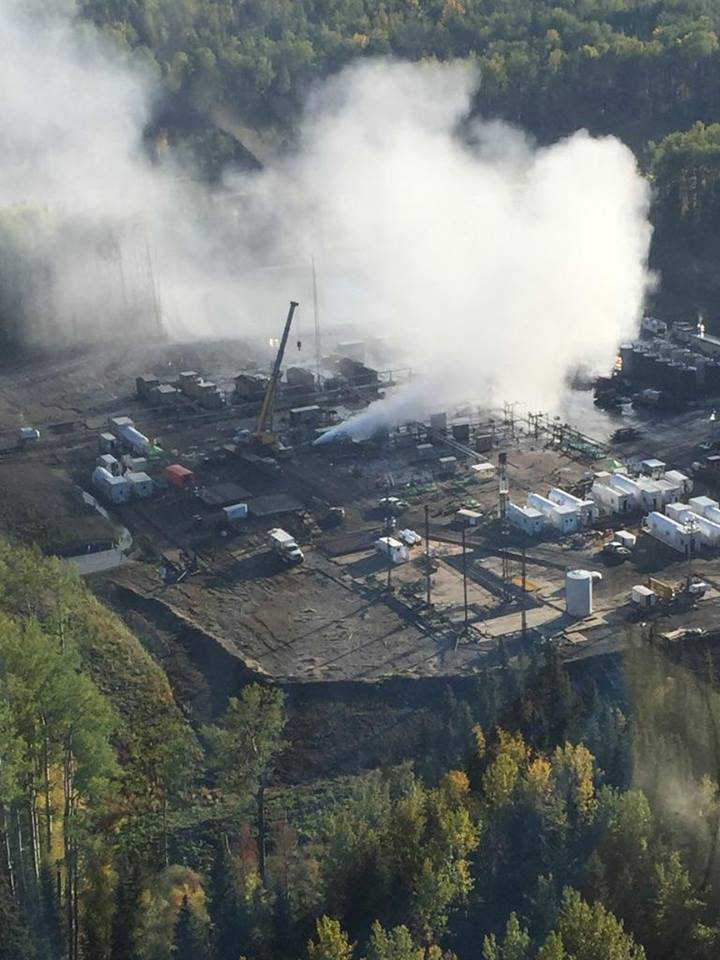 2016: Did Petrolia intend to frac all along? After publicly promising for years it would not, Petrolia now says it's planning to "artificially stimulate" Haldimand oil wells in Gaspé. "Town council cannot accept fracking near homes, near water wells," Mayor Daniel Côté said.
2016: "A New Step Forward!" Quebec introduces draconian oil & gas bill to give companies more rights than property owners, Days later authorizes Petrolia Inc to frack Anticosti: "This resounding success on the regulatory front is essentially due to the work of Petrolia, accompanied by the experts at SNC-Lavalin…."
2016: New Mexico Supreme Court revives 1999 Shell Oil soil & aquifer contamination case that caused rash of illnesses; Found lower courts erred in preventing harmed residents from introducing scientific evidence and expert testimony at trial
2016: Shell Canada, Fox Creek Alberta: 47 year old worker killed by water hose in AER's Blanket Approval, "Brute Force & Ignorant" Frac Frenzy Pilot Project
2015: Encana says sour gas and condensate blowout at Fox Creek has been capped; AER compliance dashboard does not
2015: WITH PHOTOS, AER's EMERGENCY COMMAND CENTRE SET UP 2.5 HRS AWAY! DON'T AER COMMAND STAFF WANT TO DAMAGE THEIR BRAINS? Encana's Fox Creek blow out spewing 20,000,000,000 litres/day sour gas & condensate: Where's the regulator? Ex-Encana VP Gerard Protti = AER Chair; Ex-Encana Manager Mark Taylor = AER VP Industry Operations
2015: AER & Encana Lying Update: Encana's Deadly Sour Gas Blow Out at Fox Creek: Did Alberta's Energy Minister lie for Encana & "No Duty of Care," cover-up agent extraordinaire, the AER?
2015: Borrowed Dreams? Promises of regulations led Gaspé to drop lawsuit with Petrolia. Junex dares to dream of oil in Québec; penny stock soared 209% recently, lifted shares of peers Petrolia and Petrolympcs while $200 Billion debt looms over USA oil and gas
2015: Thermogenic methane contaminating Gaspé drinking water near Petrolia's methane leaking oil well; Citizens ask municipal representatives to take back Petrolia's Permits
2015: Netherlands court orders Shell & Exxon Mobil to pay 100,000 homeowners billions of dollars in quake damages
2015: Shell announces £55m payout for Nigeria oil spills, Settlement avoids London High Court case
2014: Methane contamination found in Gaspé water wells near Petrolia's methane leaking oil well
2014: Unanimous Decision! Municipal Council of the City of Gaspé appeals the court decision not allowing regulation to protect drinking water from the harm caused by frac'ing
2014: Government finds methane in drinking water wells in Gaspé, water wells are within 2 km of Pétrolia's oil wells, one of them reported in 2012 to be leaking methane
2014: CUPE calls for full drinking water protection in the Gaspésie Peninsula
2014: Gaspé wants Quebec government to intervene; The Quebec Superior Court agrees with Petrolia, says Gaspé municipality can't protect its drinking water supplies from the oil and gas industry
2014: Shell May Nix $90M Legal Settlement With Carson, California, Contaminated with Methane and Benzene, Because Gag Order Breached
2014: Court tosses fracking water lawsuit against Village of Painted Post for selling Shell subsidiary up to a million gallons a day from village aquifer
2014: Federal judge excuses Shell's pollution of Illinois town's groundwater with carcinogen benzene 26,000 times greater than allowed by state law
2014: Shell claims Mora County, New Mexico, fracking ban violates its constitutional rights; asks court to overturn ordinance and award Shell damages
2014: Rosebud included? Brookfield Capital Partner's Ember Resources buys most of Encana's "fee-lands" (royalty-free) in Alberta's Horseshoe Canyon play
2013: Protection of water and drilling: the regulation would not apply for Gaspé
2013: Petrolia asks Quebec Superior Court to rule on Gaspé drilling ban put in place to protect groundwater, Do decisions of municipal councils outweigh drilling rights?
2013: Harper government approves Shell's Jackpine expansion despite severe and irreversible damages, "significant adverse environmental effects" and incomplete consultations on effects mitigation
2013: Shell CEO Peter Voser says he regrets the failure of Shell's huge bet on US shale
2013: Shell $2.1bn writedown is bad news for US shale, Now comes the frack 'n shale hangover
2013: 285 homes in Carson, California contaminated by Shell, experts fear dangerously high levels of methane could cause a massive fireball
2012: Shell CEO: Fracking done right doesn't pollute groundwater Ya, no wonder: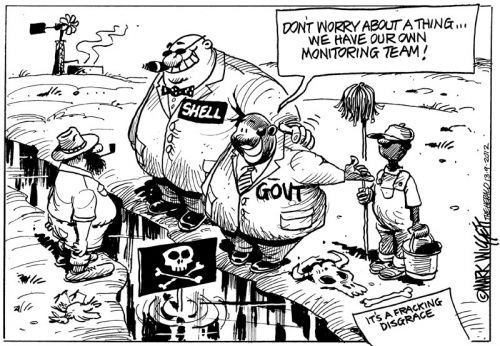 2012: Shell to tackle fracking concerns with education ("education" is oil patch code for lies & propaganda).
2012; Shell buys control of public water in BC for fracing, permanently removing the water from the hydrogeological cycle
2011: encana, Shell and Nexen Discuss Water Sourcing Strategies At Shale Gas Water Management Canada Next Month
2011: Shell shock: Energy giant censured for 'fracking' ads (aka lies)
2011: Industry must disclose fracking fluids, improve standards: Shell

As of today, May 25, 2020, Encana/Ovintiv still has not disclosed to me vital relevant information – including chemicals the company injected into my community's fresh water zones on hundreds of gas wells – in document exchange for my lawsuit ordered in 2014 by Justice Niel C Wittmann (since retired). Alberta's rules of court do not allow trade secrets in lawsuits but Encana/Ovintiv does what it wants and judical antics during my lawsuit (and others) show that our judges serve the oil patch and its enablers AER and the Alberta gov't, not Canadians harmed by the patch.
How are frac harmed citizens to get restitution and safe water to wash their hands (and homes) during a pandemic when:
companies are allowed to ignore orders by the court?
judges intentionally publish lies in their rulings to smear and discredit frac harmed Canadians seeking justice?
regulators engage in fraud, break the law and try to intimidate and bully silent harmed families to enable corporate crimes?
and lawyers (eg Murray Klippenstein and Cory Wanless) cowardly betray their client, quit on a civil litigant serving the public interest without warning, clearly violating Law Society rules – after 12 years of horrific lawsuit stresses and abuses, pissing on and cruelly wasting nearly $400,000.00 of ordinary citizen savings and donations?
2007: Protest against Shell's frac plans in BC takes campaign to British media
"My six-year-old daughter even understands that if Shell goes in, it would be ruined."
1997: Remembering Rumsey Ranch
… The Hanen collection of records indicate that from the 1970s to the 1990s, the Alberta Surface Rights Board (SRB), the Alberta Energy Resources Conservation Board (ERCB), and the Alberta Department of the Environment were reluctant to acknowledge adverse environmental effects caused by the sour gas industry, and consistently circumvented Hanen's concerns with the industry's operations. Although the ERCB and Alberta Environment occasionally showed initiative in addressing the problems, their standards and regulations were violated frequently and without penalty, and their actions to augment controls and to remedy problems were reactive and nominal.
… Neither has co-operation extended to public scrutiny into sour gas operations. Hanen's frustration and anger in dealing with the regulatory agencies, particularly the ERCB, has been shared by many other ranchers and farmers.
… The Board itself recently made a similar observation in a 1994 report, which noted, "We were told that too many people feel that they have not been listened to and their concerns do not matter."
… Yet there is increasing discontent among some Albertans. The level of complaint is reflected in annual reports by the Office of the Farmers' Advocate, a government advisory bureau created in the early 1970's to aid farmers in disputes with oil companies. The 1995 report records about 2,000-2,500 enquiries by farmers related to the oil and gas industry, more than twice the number reported in the mid-1970s [Annual Reports of the Office of the Farmers' Advocate, 1975-1995, passim]. This volume of complaint speaks to the growing unease among agricultural producers living in the shadow of the oil and gas industries.
Among these complainants, perhaps the loudest has been one woman, Zahava Hanen. John Ralston Saul has reminded us in his recent [Massey] Lectures that corporate power will soon be an even greater presence in our world than it is now. He argues that the only effective challenge to its abuse of power is the citizen, who maintains an informed vigil and dares to stand fast against intimidation. Hanen's struggle, then, is emblematic of how this vigilance serves not merely local self-interest, but also the collective interests of the community, society and the environment.