Subject: Attempts To Dress-Up The AIMCO Gang"???
Date: Sun, 21 Jun 2020 12:54:02 -0600
From: Stewart Shields email hidden; JavaScript is required
To: email hidden; JavaScript is required, letters email hidden; JavaScript is required, email hidden; JavaScript is required
CC: email hidden; JavaScript is required, email hidden; JavaScript is required, email hidden; JavaScript is required, email hidden; JavaScript is required, Lacombe Ponoka email hidden; JavaScript is required, mccallum email hidden; JavaScript is required, Ministerial Unit email hidden; JavaScript is required
As I have already said Kenney will try his best to dress-up AIMCO before approaching the public with a referendum on CPP!! As expected this Wiseman fellow has a history —-like many of Kenney's apostles– he left Blackrock abruptly for a reason—I believe in staying with an honest manager that needs to make no personnel changes from an outside source to attract clients!! I'm hopeful Albertans have seen enough of the Kenney Crowd to steer completely clear of allowing their retirement years to be controlled by someone that has failed in every thing he's undertaken in Alberta!!
Stewart Shields, Lacombe, Alberta
BlackRock moves quickly. It only emerged yesterday that Mark Wiseman, global head of equities, was leaving as a result of 'a consensual relationship' with a colleague and already all trace of him has disappeared from the corporate leadership page. Wiseman has been wiped.
Cue cries of outrage. How can a 48-year-old man have his career derailed by 'relations' with another consenting adult? BlackRock is being overly 'sanctimonious', according to some of Wiseman's defenders. It's also, maybe, shooting itself in the foot: Wiseman was hired externally in 2016 to turn around BlackRock's bleeding equities division and to add some new blood to the race to succeed chairman and chief executive Larry Fink. Without Wiseman, BlackRock will reportedly need to suspend deals some activity in its private equity fund. Without Wiseman, BlackRock is also left with a list of Fink successors who rose up through the ranks and who make the race look a little incestuous.
BlackRock had, however, no choice but to bump Wiseman off. In the first place, he contravened the sacrosanct BlackRock code of conduct which says you have to report relationships with colleagues.
In the second place, Wiseman's wife of 23 years, with whom he has two children, also works at BlackRock. And she was there first.
Marcia Moffat is the sort of successful woman with a background in neuroscience and a career in asset management who doesn't take her husband's name. Moffat joined BlackRock in the summer of 2015 to head BlackRock's Canadian business. Her spouse joined a year later.
In an interview last year with Financial News, Wiseman said he'd been speaking to Fink about a potential job for a while and was surprised when his wife went there first: "It was almost like friends talking to each other…Then along the way they hired my spouse. When they hired her I thought I would be the one who one day worked at BlackRock."
Now Marcia is still at BlackRock and Mark is gone. As man who apparently likes routine, buys endless pairs of identical shoes and – presumably until recently – lived in the same house for many decades, Mark Wiseman might now be feeling a bit adrift. Then again, he told Financial Times last year that it's necessarily to 'evolve if you don't want to get eaten.' As a middle-aged man with a two decade-old relationship, evolving into a relationship with a junior colleague might have seemed natural. That doesn't make it wise or right.
Fired BlackRock executive Mark Wiseman named chair of AIMCo by Kevin Orland, Bloomberg News, June 20, 2020
Alberta Investment Management Corp. named Mark Wiseman, a BlackRock Inc. executive who was ousted for violating the company's relationships policy, as its new chairman.
Wiseman's appointment is effective July 1, Edmonton-based AIMCo said Friday. He replaces Richard Bird, who will have served two three-year terms.
BlackRock, the world's largest asset manager, fired Wiseman in December over a consensual affair that violated the company's policies. He had served as global head of active equities and chair of the New York-based firm's alternative investors business, making him considered a potential successor to Chief Executive Officer Larry Fink. Wiseman served as CEO of Canada Pension Plan Investment Board from July 2012 to May 2016, according to his LinkedIn page.
AIMCo — which manages more than $110 billion in assets on behalf of 30 Alberta-based pension, endowment, government and specialty clients — has been under fire over losses linked to a bet against market volatility that went bad after the COVID-19 struck. The firm is conducting a review of the strategy using internal auditors and third-party experts.
A few of the comments:
James Court
For Alberta, (and Ontario) it seems the higher the position to be filled the more malfeasance the man must have been guilty of to fulfill the role. I say man, because women don't seem to be considered for these types of jobs.
mia stalling Reply to @James Court:
they are harder to blackmail and even harder to control…….moral compass
Ned Revelstoke
Well, Leighton Grey resigned, so they had to hire a new pirate. The chaos continues.
Harvey Bishop
What could possibly go wrong here, besides everything?
Frank Fretter

Sounds like he has passed the Lack of Ethics needed to be part of the Unstable Clown Posse/Unethical Corruption Party
Norm Owen

He will fit right in Wild Rose Country.
Marlene Lauder
Let's hope that he lives up to his name…….wiseman
kenneth wagner Reply to @Marlene Lauder:
– He just got canned from his job because he was carrying on an affair with a co-worker, against company policy. And his wife had been working there a year longer, so he got the boot. Not a very wise man at all.
Bob Raynard
Mr. Wiseman May be imminently qualified, but what will he do when Jason Kenney requires him to invest a disproportionate amount of money in the oil and gas industry?
George lawrence Reply to @Bob Raynard:
He'll get right to that.
Mitch Uhl
Moody's will soon reduce the assets of Aimco, to junk bond status
Gerry Manley
"The Crown corporation has been under scrutiny recently after it lost $2.1 billion on a single investment strategy and for investing in oil and gas companies despite that sector's struggles."
The great Jason is running out of cash to give his buddies in the oil industry. Now he wants to tap into the money Albertans have invested in the CPP. He will lose it all in a year and then point fingers at everyone else. The UCP way.
David Hrushowy
2 hours ago
Satire or tragedy? Investments that lose 100% of their value in three years.
https://www.bloomberg.com/press-releases/2017-02-17/aimco-announces-significant-investment-in-perpetual-energy-inc-iz9tq3q8
David Hrushowy
No matter how impressive his resume is Mark Wiseman has absolutely no background in dealing with tire fires like AimCo. Managers losing billions on volatility trades that they do not understand, investing in sclerotic politically connected Alberta oil and gas companies or accepting substandard performance for decades has been normative at AimCo.

I don't think AIMCo picked Wiseman for his resume, I think Harper/KKKenney Klan picked him for same reason AER picked their new old white man "Dickhead," Laurie Pushor: they've proven they do the hanky panky. AIMCo needs someone at the top to hide their billions in losses as gov't steals from pensioners to give to KKKenney and Harper's buddies in the dying oil and gas 'n frac' industry, mostly foreign owned, while Steve Allen and his hunt for foreign boogey woogeys is nowhere to be seen (too busy with his own money laundering, taking from the citizenry to feed to the rich at Dentons Law Firm?).

http://pensionpulse.blogspot.com/2020/04/aimco-to-conduct-review-of-volatility.html
kenneth wagner
If he plans to donate his pay, he must be planning to fill his pockets from our pensions and Heritage Trust Fund.
Chris B Reply to @kenneth wagner: Yup. There is no way he will be working for free
Gordon McPherson
"The former chief executive of the Canada Pension Plan Investment Board was ousted from BlackRock in December …"
Ah yes.
Pension Plan. As in … pre-ordained Alberta Pension Plan.
Let the exodus begin.
Darrell Christie

Failing upwards.
David Hrushowy

The putative heir to Larry Fink accepts a job in Alberta. It is very difficult to imagine him wanting to stay at AimCo for an extended period of time.

Irv Millar Reply to @David Hrushowy:
Just long enough to ensure that foreign markets get their ownership rights in place. Then off to the next democratic parliamentary locale to repeat the same.
*** Back to the article ***
Mark Wiseman has been named chair of the Alberta Investment Management Corp.
The former chief executive of the Canada Pension Plan Investment Board was ousted from BlackRock in December for violating the company's workplace relationship policy.
His appointment will be effective July 1, AIMCo said in a press release on Friday evening.
"Mark's accomplishments in investment management, his strategic thinking and leadership make him an excellent choice to chair this board," said outgoing chair Richard Bird in the release.
Wiseman said in the release that he looks forward to working with his fellow directors, and AIMCo said Wiseman will be donating his compensation as chair to the United Way to assist communities across Alberta.
In 2016, Wiseman left the CPP for BlackRock. He had been touted as a potential successor for the global investment company's CEO.
But in December he left the firm after violating its relationships at work policy, according to an internal memo.
His wife heads BlackRock's Canadian operations but the relationship was reportedly with a different employee.
AIMCo has a portfolio of about $119 billion, which represents hundreds of thousands of Albertans' pensions and accounts like the province's Heritage Savings Trust Fund.
The Crown corporation has been under scrutiny recently after it lost $2.1 billion on a single investment strategy and for investing in oil and gas companies despite that sector's struggles.
BlackRock has said it will put climate and sustainability at the heart of its investment decisions, and prices carbon risk into its portfolios.
With files from Reuters
Ex-CPPIB CEO Mark Wiseman to chair AIMCo as Alberta eyes pension fund overhaul by Geoffrey Morgan, June 10, 2020, Calgary Herald
CALGARY – Alberta has tapped Mark Wiseman, the former head of the Canada Pension Plan Investment Board, to chair its pension fund at a time when the province is considering breaking away from the Canada Pension Plan and take control of its own pension assets.
On Friday, the Alberta government appointed Wiseman, who was most recently with New York-based investment management firm BlackRock Inc., to head the board of the Alberta Investment Management Corp., which manages $119 billion of the province's public pension assets.
Alberta's finance minister Travis Toews said Wiseman "brings deep experience in large fund management and, given his experience and background, we believe he'll be a great fit as chair of AIMCo."
The appointment comes as Alberta's Fair Deal Panel released a report this week on how the province should take control of its affairs and reduce its contributions to Ottawa, as many Albertans believe they've paid far more into the country than they receive in return. Premier Jason Kenney created the panel last year to gauge the mood of Albertans and determine better ways the province could assert itself in the country.
That report recommended Alberta's government manage its own residents' pension investments, similar to the Caisse de dépôt et placement du Québec, rather than through the CPP.
Doing so would mean that Albertans would pay less in pension contributions as they reside in a province with one of the youngest populations in the country and have fewer current pensioners than other provinces.
In an interview with the Financial Post on Friday, Toews said the province did not appoint the former CEO of the CPPIB as a precursor to channeling its pension contributions to AIMCo.
"We haven't appointed Mark specifically because we're considering the merits of an Alberta pension plan. We brought Mark in because we have a very substantial fund in the province and we want it managed well," Toews said.
"There's no doubt as we look at the merit, opportunities and perhaps risks of an Alberta pension plan. Should the province go in that direction, we will certainly need strong leadership," Toews said.
In recent months, AIMCo has come under increasing scrutiny for losing billions of dollars through its volatility-based investment program and for directly investing in a number of small and risky Alberta-based oil and gas companies, which have continued to struggle with persistently low oil prices and lack of access to markets.
Toews said the pension manager is operationally independent from the government of Alberta and Wiseman was not appointed to steer AIMCo towards or away from specific types of trading activity.
"AIMCo has had a challenging quarter as I would expect most asset management firms have had — it's a rollercoaster of extreme volatility," Toews said of the fund's recent performance. AIMCo said it had recorded $2.1 billion in losses on volatility trades, in a letter dated April 21 and posted on its website.
Wiseman's other previous roles include being responsible for the private equity fund at the Ontario Teachers' Pension Plan. He was also an officer at Toronto-based merchant bank Harrowston Inc. before its purchase by TD Bank Group in 2001.
"I look forward to working with my fellow directors as AIMCo continues to serve its clients for the long-term," Wiseman said in a statement.
Most recently, Wiseman was the global head of active equities at BlackRock, Inc., the world's largest asset manager with US$7 trillion in assets under management.
Analysts believed he was on the short list of executives capable of succeeding Blackrock chairman and CEO Laurence Fink. But Wiseman left the firm abruptly last year for violating the company's "relationship at work" policy.
Wiseman apologized to his colleagues in a memo in December and said that he did not disclose a consensual relationship with a colleague at the company. While Wiseman ran the equities business based in New York, his wife Marcia Moffatt ran the firm's Canadian business from Toronto as country head.
Wiseman is taking over the chair role at AIMCo on July 1 from Richard Bird, a former chief financial officer at Enbridge Inc., who is finishing his second three-year term at the pension manager.
Alberta's government-owned investment manager is enlisting outside experts to investigate its recent $2.1-billion loss during the economic downturn triggered by COVID-19.
The board of directors of the Alberta Investment Management Corp., or AIMCo, announced last Thursday in a statement that senior partners from accounting firm KPMG will conduct an independent review "to identify lessons learned and corresponding enhancements to AIMCo's investment and risk-management processes." Barbara Zvan, former chief risk and strategy officer of the Ontario Teachers' Pension Plan, will advise the board throughout this process.
"We deeply regret this result and are determined that the lessons from this experience will improve the Corporation's management processes and prevent any similar occurrences," the statement said.
A report is expected by mid-June and will be shared with AIMCo's clients and the provincial government.
The statement comes after reports that the Edmonton-based fund manager lost up to $4 billion during the recent global economic collapse by betting on contracts that pay off only if stocks remain stable. In an April statement, AIMCo's CEO Kevin Uebelein confirmed that the losses to date were $2.1 billion, but said actual losses won't be finalized until the volatile trading strategy is completely "wound down," which is expected by mid-June.
The board, led by chair and former Enbridge Inc. chief financial officer Richard Bird, said in Thursday's statement that "no other investment strategies could generate substantial losses in very unusual circumstances."
The loss amounts to roughly two per cent of AIMCo's $119 billion portfolio. The fund manager controls investments for 375,000 members of provincial public retirement programs, including the $18 billion Heritage Savings Trust Fund and $50 billion for the Local Authorities Pension Plan (LAPP), with 275,000 members, including health-care, city and school employees and retirees.
In his April statement, Uebelein said AIMCo takes full responsibility for the investment strategy that led to the blow and committed to "making any and all changes to ensure AIMCo is stronger and that we avoid a repeat of this outcome, regardless of market turmoil."
The independent Crown corporation is set to take over the investment management of roughly $18 billion in assets under the Alberta Teachers' Retirement Fund (ATRF) in 2021 after the UCP government passed a bill in November.
On Tuesday, Alberta Teachers' Association president Jason Schilling renewed his call for the government to keep teachers' pensions out of AIMCo's management.
"Time to listen to teachers' concerns and repeal this decree," he wrote on Twitter.
Alberta public pension manager loses big in oilpatch investments: analysis by Bob Webber, Apr 22, 2020, everythinggp.com

Alberta's public pension manager has lost millions after investing in smaller energy companies at a time when the entire sector is in decline, an analysis has found.
The left-wing think tank Progress Alberta found that Alberta Investment Management Corp., or AIMCo, has invested $1.1 billion from public service pensions in junior and intermediate oil and gas firms since 2016.
Most of those companies lost value well before the COVID-19 crisis and oil supply war that has driven the commodity's price to record lows.
At least one company has gone bankrupt despite the injection of tens of millions of pension dollars.
"The vast majority of them were in really rough shape before the crisis," said Duncan Kinney, one of the authors of the think tank's report released Wednesday.
AIMCo controls about $118 billion in 31 pension, endowment and government funds, including the Alberta heritage fund, a rainy-day account financed by oil and gas royalties. It is intended to be run at arm's-length from the government.
The previous NDP government brought in a provision that stipulated a small portion of AIMCo's funds be used to support new jobs, infrastructure and industry in the province.
The report says that of the $406 million invested under the Alberta Growth Mandate, nearly $270 million — two-thirds — went to the energy sector.

Royal stupidity given the world turning away from law violating, health harming, polluting fossil fuels, or intentional money laundering.

Of the 32 separate investments made under the NDP provision, five were in real estate, one in agriculture and one in renewable energy. The rest were in oil and gas and all have lost value.
One, Trident Exploration, went under last year despite a $60-million injection of pension funds.

How much of that money went to CEO/upper management in hefty bonuses for successfully bankrupting the company and getting court-enabled escape from clean up?

Others have had to renegotiate their debt.
Others, such as Pieridae Energy, in which AIMCo has invested $120 million in debt and equity, are high-risk investments, says the report.

Of course they are high risk! If ordinary Albertans know it, so does AIMCo and the gov't directing it.

Many have large environmental liabilities that can no longer be shuffled off in bankruptcy due to a recent Supreme Court of Canada ruling.

That ruling is another judicial farce to con Canadians into thinking someone is holding law violating oil companies accountable. The bankruptcies helping companies avoid clean-up continue, enabled by our authorities! Just watch AER and our oilpatch friendly judges help Pieridae and Shell pull off their walk-from-clean-up scam.

AIMCo CEO Kevin Uebelein has previously acknowledged his funds are disproportionately invested in Alberta.
He has said local managers are able to find good investments where those outside the province can't, giving AIMCo what he called a "home-field advantage."
Kinney disputes that. He pointed out that AIMCo has consistently failed to meet targets for returns set by one of its largest clients, the Local Authorities Pension Plan for public employees of villages, towns, cities, hospitals, college and school boards.
Kinney also questions the agency's independence from government.
He notes there is legislation that gives politicians significant influence in AIMCo, unlike the Canada Pension Plan. Recent laws introduced by the United Conservatives give the finance minister power to reassign portions of AIMCo's portfolio to a manager of the government's choice. As well, pension funds under AIMCo's control are no longer free to seek other management.
"AIMCo is not a truly independent pension fund manager," Kinney said.
In an email, AIMCo spokesman Denes Nemeth disputed that.
"AIMCo operates at arms-length from the government, on commercial terms and with complete operational independence, in particular as it relates to investment decisions, and always in the best interests of clients."

Pffffft! So untrue, too funny. Can't Nemeth read? He spins way over the top.

Kinney noted that several of the companies that have received AIMCo investments are financial supporters of the UCP or of groups that support the party. "Those companies are in the tank for UCP," he said. "The links are troubling."
Nemeth denied any political influence.

Pfffft, again. Nemeth already showed us he doesn't speak truthfully. As if we'll believe this lie.

"There is absolutely no merit to the suggestion that AIMCo selects investments on the basis of what political party a particular company may support."
AIMCo reported a return of 10.6 per cent for its various clients in 2019.
The Progress Alberta analysis came out the same day as the Globe and Mail reported that AIMCo had lost $4 billion in risky trades….
The Globe said the loss wiped out about one-third of the fund's profits from last year.
(Bob Weber)
American investment executive to replace AIMCo CEO by Dan Healing, Nov 20, 2014, Calgary Herald Why not give the job to a Canadian? Surely there are a few investment experts to choose from that are not Amerian? As disgusting an appointment as Encana/Ovintiv picking reported liar and American, Doug Suttles as CEO.
The corporation that oversees about $80 billion in Alberta public sector pension investments has gone to the American corporate sector to find a replacement for its first and only chief executive.
The Alberta Investment Management Corp. announced Wednesday afternoon it would appoint Kevin Uebelein to replace CEO Leo de Bever as of Jan. 5. De Bever announced last spring he would be leaving AIMCo. He came to the post in August 2008 from the Ontario Teachers' Pension Plan.
AIMCo chairman Charles Baillie said Uebelein was hired after a "diligent process" to identify the individual best suited to lead AIMCo.

Best at laundering money and conning citizens?

"Kevin brings exceptional talent, investment acumen and a strong client orientation to the organization," Baillie said in a news release. "We look forward to working with him in this exciting new chapter for AIMCo."
In the same release, Uebelein was quoted as saying he is looking forward to moving to Edmonton in January.
"I am wholly committed to delivering on our mandate of superior risk-adjusted returns for our clients, and doing so within an environment of strong client engagement and excellent organizational health," he said.
The release says Uebelein has almost three decades of investment management experience, including acting as president and CEO of Pyramis Global Advisors, the institution focused asset management unit of Boston-based Fidelity Investments, holding assets worth more than $200 billion US.
He was also global head of investment solutions at Fidelity and previously worked with Prudential Financial Inc. He holds an accounting degree from Harding University, an MBA from Rice University and is a chartered financial analyst.
AIMCo generated a net 12.5 per cent return in its last fiscal year, adding more than $8.3 billion. On an annualized basis, it has registered a compound annual growth rate of 8.8 per cent.
The corporation operates at arm's-length from the Alberta government

Bullshit

and invests globally on behalf of 27 pension, endowment and government funds.

Refer also to:
The Seven Sins of Alberta's Pension Manager Demand a Judicial Review, AIMCo, which just squandered up to $4 billion, is risk-prone, opaque and monopolistic. It must repent.
Two of Canada's biggest frac companies report double-digit percentage revenue declines: Calgary-based Trican (36 per cent fall) and Calfrac (21 per cent fall)
Timing is everything. Why did AIMCo (ATB/Heritage Fund connected) announce $200 Million (bailout?) investment in "Quite leveraged" Calfrac on same day NDP Rural Caucus try to get Nielle Hawkwood's frac ban resolution on floor of NDP's Annual Convention?
Denton's Law firm wanting more easy money? UCP Kenney's Witch Hunt given another million dollars, making it look like just another AIMCo money laundering scheme. To pay Harper for his time puppeting Kenney? (Harper works at Denton's and Witch Hunt boss Steve Allen's son is partner there. Creepy.)
"Polluter" Shell & "Penny Stock" Pieridae to retry their sour gas marriage, coached by AER, funded by "Loser" AIMCo. Stewart Shields: "Alberta Conservative gov'ts becoming recognized as the worst petroleum managers in the free world—as this story by the famous Andrew Nikiforuk describes so pointedly!!"

Look out Albertans whose pensions Kenney gave to AIMCo. Crazy Days in Alberta: The Poison Wells File. The province let oil and gas firms create a $100-billion disaster. New example? Shell Pieridae Briko Ikkuma Alberta Foothills Sour Gas Marriage financed by AIMCo and about $10Billion in liabilities.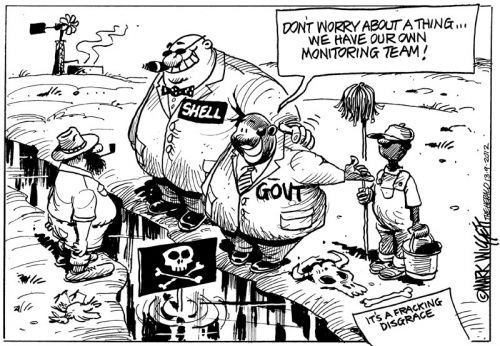 BlackRock Takes Command; "Literacy is Power," meanwhile Alberta's AIMCo Loses $4 Billion on bet gone wrong. Bet gone wrong or laundering (aka stealing) more money from ordinary citizens and pensioners to give to the rich?
BlackRock, world's largest fund manager with nearly $7 trillion in investments, plans to offer new funds that shun fossil fuel-oriented stocks, could put pressure on other large money managers to follow suit. It's strictly business.
World's Biggest Fund Manager, BlackRock, lost $90 Billion investing in fossil fuel companies over last decade
The Alberta gov't and oil & gas industry are partners in a money laundering scheme. Just another massive subsidy ($100 million this time) to a multi-$billion profiting, horrifically abusive, lying, polluting, job decimating (by automation & greed) industry.
2nd logo for Kenney/CAPP's $30 Million money-laundering "disproving true facts" war room run amuck. ATK Technologies Inc. threatens to sue: "This is our intellectual property"
AER's new "Dickhead" Laurie Pushor off to Kenney-wanna-be-Trump races: "No Duty of Care" AER abuses Covid-19 crisis to deregulate oilpatch and foothills coal mining. (Stephen Cousin's sketch may offend some, but it's too perfect not to add to this vulgar news.)
AER picks next "Dickhead" (Pres & CEO): "Back Door" Laurie Pushor, reportedly scandle-corroded pisser on rules, conflict of interest old white man, was Alberta gov't official under Ralph Klein, is Saskatchewan's Deputy Minister Energy & Resources and on the Board of STEP, Sask Trade & ***Export*** Partnership
After expense hanky panky by AER's top executive Jim Ellis is publicly commented on by Diana Daunheimer, Alberta farmer and mother of two, he steps down: "Good riddance, bring in the next dickhead." Indeed! Third AER executive paid to commute from BC (air & water too polluted in Alberta?)
Really Kenney? Canada's worst economist ever? Steve Harper trashed our economy to serve China, Israel, the USA and big oil. I expect you know that, and that CAPP 'n gang have your penis roped tight so that you give them everything they demand.
If AIMCo were independent, trustworthy and believable would its CEO need to boast so loudly and dishonestly in the media? Will King Kenney fire Mr. Uebelein if he refuses to give bankrupting oil and gas frac'ers a billion more dollars here and a billion more dollars there?
Premier Jason Kenney's 30 Million Dollar War Room Fails: The New York Times reports on global financial giants swearing off funding especially dirty fuel – Made in Alberta Tarshit!