A judge authorized Chesapeake Energy Corp. to exit bankruptcy and cut $7 billion in debt through a financial restructuring that transfers control of the company to investment firms that own the oil-and-gas producer's high-ranking debt.
Judge David Jones of the U.S. Bankruptcy Court in Houston said Wednesday he would confirm the fracking pioneer's chapter 11 plan, ruling against a more junior creditor group that argued during a nearly month long trial that they would be shortchanged in the restructuring.
… After approving the company's plan during a virtual court hearing, Judge Jones addressed Chesapeake Chief Executive Robert Lawler directly, telling him "to remember that a lot of people have suffered a lot of pain for Chesapeake to have a second chance and I ask that you not forget that going forward.

I expect he already has.

"Chesapeake is a really big and important company. It's an important company to our country's infrastructure, it helps make everything work," Judge Jones said. "But we live right now in a very, very difficult time and you have the ability to be a leader and to make a difference." …
HOUSTON — U.S. oil and gas producer Chesapeake Energy's Chapter 11 bankruptcy plan was approved by a U.S. judge on Wednesday, giving lenders control of the shale firm and ending a contentious trial.
The plan provides about $3 billion in financing and eliminates $7 billion in outstanding debt. Investors who committed last spring to back the restructuring stand to benefit enormously given the company's about $5.13 billion enterprise value and improved oil and gas prices since the deal was struck.
Once the second-largest U.S. natural gas producer, Chesapeake filed for court protection last June, weighed down by heavy debt….
Unsecured creditors had opposed the plan, arguing Chesapeake was bankrupt long before it sought court protection and criticizing its terms for giving a group of debt holders, including mutual fund giant Franklin Advisers Inc., an advantage.
However, Chesapeake managers "should not be criticized," said U.S. bankruptcy court Judge David Jones rejecting efforts to unsecured creditors to revise or delay his decision, "they should be complimented."
He rejected a last minute offer by an investment group led by Jefferies Financial Group to finance the company even as he concede his decision to allocate a significant number of share-rights to Franklin and others provided them with a big payday.
"I might have made a different decision with the benefit of hindsight," Jones said. "The fact of the matter is I didn't."
A federal bankruptcy judge in Texas approved Chesapeake Energy's reorganization plan late Wednesday, clearing the way for the company to operate without court oversight soon.

A tragic day for water, humanity, the environment and investors.

The ruling by Judge David R. Jones will enable the Oklahoma City-based operator to formally emerge from a process it started in late June within about 30 days.
When it filed its case, Chesapeake owed creditors $8.9 billion, and the plan approved by Jones on Wednesday sheds $7 billion of that debt.
The company will also exit bankruptcy with $600 million raised through a backstopped equity rights offer and with $2.5 billion in exit financing to fund its ongoing operations.
"We initiated our restructuring process to fundamentally reset our company and emerge a stronger and more competitive enterprise, and with today's confirmation of our plan, we are well on our way to achieving that objective," Chesapeake spokesman Gordon Pennoyer said Wednesday evening. "We greatly appreciate the court's thorough consideration of our case and look forward to concluding this process as expeditiously as possible."
There were no hard details late Wednesday about what a new Chesapeake will look like from an operating standpoint when it steps back into normal operations.
However, in a filing with regulators it made earlier this year, Chesapeake stated it planned to continue operating in the Marcellus Shale field of the Appalachia Basin, the Eagle Ford Shale in the Rio Grande and Brazos River fields of Texas, the Haynesville Shale field in Louisiana and within the Powder River Basin in Wyoming.
Its Mid-Continent operations were sold in November as part of the bankruptcy process to Oklahoma City-based Tapstone Energy for $130.5 million. Tapstone is led by former Chesapeake Energy Corp. executive Steve Dixon.
As part of the bankruptcy case, Chesapeake previously projected its general and administrative and operating expenses over a five-year period that covers 2021 through 2025, aiming to hold administrative expenses at $187 million annual and cutting operating expenses from about $1.3 billion this year to just more than $1 billion in 2025.
Part of those calculations involve projected realized pricing the company expects to receive for West Texas Intermediate oil and Henry Hub natural gas it produces. The company expected it would get between $40 and $45 a barrel for oil over the five years and at least $2.25 per million British thermal units of natural gas.
The company stated then that it planned to drop hedging strategies for both in 2023.
Chesapeake projected it would earn total revenues of about $3 billion in 2021, about $2.5 billion in 2022, about $2.3 billion in 2023 and about $2.25 billion in 2024 and in 2025.
It also projected it would generate free cash flows of $725 million in 2021, $364 million in 2022, $274 million in 2023, $251 million in 2024 and $260 million in 2025.
The company stated it had identified $2.5 billion in potential savings opportunities over the next decade, and noted that $1.75 billion of that was locked in to its post-bankruptcy plans.
The filing was required by an agreement it signed with certain holders of its funded debt, it stated.
Chesapeake Energy Corp's value has soared since its June bankruptcy filing, the U.S. judge overseeing the natural gas producer's trial indicated, and is worth $5.13 billion, far above the shale gas pioneer's estimate.
Creditors have offered sharply different estimates of the firm's enterprise value during its trial in U.S. bankruptcy court in Houston. Judge David Jones's figure was $1 billion higher than the mid-point of the range recently offered by the Oklahoma company.

Wow, just wow.

2020 06 29: DEP data shows bankrupt Chesapeake drilling new wells; Did Chesapeake file for bankruptcy to avoid paying outstanding royalties owed and avoid paying fines for criminal charges possibly up AG Josh Shapiro's courageous sleeves? The company's timing is suspect.
2020 06 28: Evil law-violating frac'er Chesapeake Energy files for bankruptcy, owing $9Billion. How much magic money will the court give the frac'ers this time?
Yet another frac'er bites sweet dust: Weatherford facing more than $10Billion in debt files for bankruptcy protection. US court order accepts restructuring plan, which includes Weatherford getting $2.2Billion in magic money; Stockholders to receive proportionate shares of the company's **new stock** while operations continue as "normal."
Texas: 3rd man, Brian Maldonado, 25, dies after explosion and fire at Chesapeake Energy oil well
Texas, Burleson County: Chesapeake Energy Corp Contractor killed,three people severely burned after oil rig explosion. Will there ever be mercy for oil and gas industry workers and their families? For the killed, burned, blown up, steamed to death, fumed to death, dying tortuously by exposure to toxic secret chemicals and or radioactivity, suffering hideous cancers?
Chesapeake Energy stock drops 47% in past two days! CHK drowning in $10 billion of debt, nearly five times more than the company's entire market value.
More Frac Fraud: Stealing from a School District, then Gagging it. Texas Attorney General Orders Chesapeake & School District Confidential Settlement Agreement Opened
Chesapeake seeks to seal court documents from public, wants court to permanently seal more than 30 documents, saying they contain crucial trade secrets
Following Sudden Death of Indicted Former Chesapeake Energy CEO Aubrey McClendon, Justice Department Investigation into Collusion Continues
Civil Class Action lawsuit filed against Chesapeake, SandRidge & former SandRidge CEO Tom Ward: "This case is about cleaning up the oil patch"
Frac'ing the Gates of Hell? Billionaire Ex-Chesapeake CEO Aubrey McClendon dies in crash day after Federal Grand Jury Indictment.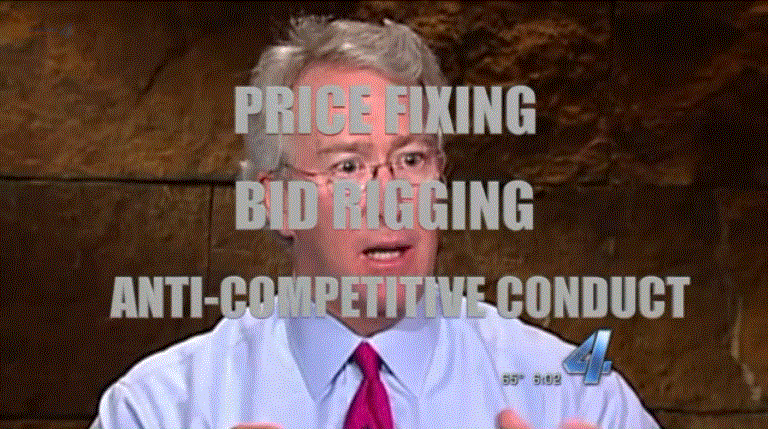 Frac Fraud on the Run: Pennsylvania attorney general sues Chesapeake Energy over shale gas royalties; When will Alberta's attorney general sue oil companies deceiving & robbing Albertans?
OOOPS! Fracking Study on Water Contamination Under Ethics Review, Chesapeake Energy paid undisclosed fees to lead author, study based on questionably collected samples (ensure no methane?) provided by Chesapeake
Smoking is good for you! New study claims methane in drinking water is natural. What's the catch? Chesapeake Energy Corp supplied all the data, an ex-employee and funded the study
Chesapeake Energy Corporation Teams Up With Bankrupt GasFrac (Calgary) To Test Gelled (with what toxic chemicals?) LNG (Highly Dangerous) Fracking in Ohio
Another lawsuit victory: Tarrant jury awards $20,000 to homeowners in nuisance suit against Chesapeake
Lessors Sue Chesapeake Energy for $5 Billion
Chesapeake faces new charges on Michigan leasing; Encana settled criminal charges by paying 5 times the maximum penality
May 2014: Encana and Chesapeake Criminal Anti-trust Hearing in Michigan: Encana pleads "no contest" and buys its way out on the first day with $5 Million Settlement Meanwhile Internal investigation by Encana clears Encana of collusion allegations with Chesapeake
Attorney General Bill Schuette: Encana and Chesapeake Energy criminally charged with colluding to keep oil and gas lease prices artificially low in Michigan; Also face separate, federal antitrust investigation by Department of Justice
Fracking by Chesapeake and Billiton Petroleum Blamed for 'Thousands of Quakes' and Damaging Homes in Arkansas Lawsuit
Another proven "documented" case! American Arbitration Association, Commercial Arbitration Tribunal, orders Chesapeake to pay Jacqueline Place of Terry Township, Bradford County PA, $60,000 for methane contamination in water well after hydraulic fracturing
Fort Worth Sues Driller Chesapeake, Citing Millions in Lost Royalties
Another methane contaminated water well case from hydraulic fracturing, Chesapeake cannot yet arbitrate claims that "ultrahazardous" fracking made groundwater flammable in Pennsylvania
Chesapeake sued for fixing prices, underpaying landowners
Chesapeake, Encana sued in civil antitrust action filed by Northstar Energy
Jeremiah Magers Suing Chesapeake for methane contaminated drinking water now also Suing CNX, Columbia
2012: Chesapeake, McClendon endure rocky year; Operators Take out Liens on Landowner Properties for Chesapeake's Unpaid Bills
Well Pad Suffers New Slip, Chesapeake struggles with suspended site
Chesapeake fined $600,000 in W.Va. waterfall case
Chesapeake Appalachia pleads guilty to clean water act violations
Casualties of Chesapeake's "land grab" across America
As controversy swirls, Chesapeake Energy picks new lawyer, Webb
Chesapeake Energy subject to U.S. antitrust investigation for possible collusion with Encana, Company subpoenaed to produce documents for grand jury in Michigan land sales probe
Chesapeake pays $75,000 fine for problems that led to Oklahoma well blowout, The January blowout near Sweetwater in western Oklahoma happened after a drilling rig hit an unexpected, shallow pocket of gas. A later investigation found casing in a nearby Chesapeake well had failed and caused the gas to migrate
Federal judge in Oklahoma City combines Chesapeake lawsuits, Thirteen lawsuits against the board of Chesapeake Energy Corp. have been combined into one case by a federal judge in Oklahoma City
Chesapeake: From Bad to Worse to Potentially Criminal
Report alleges Chesapeake Encana colluded to supress land prices
Encana investigating claims of collusion with rival, Calgary energy company accused of land sale scheme with Chesapeake Energy
Chesapeake to Pay $1.6 Million for Contaminating Water Wells in Bradford County, PA
Rolling Stone Responds to Chesapeake Energy on 'The Fracking Bubble'
The Documents Chesapeake Energy Doesn't Want You To See
Couple settles & gags with Chesapeake
Chesapeake Energy Issued Record Gas Drilling Fine For Water Contamination In Pennsylvania
Maryland AG to sue Chesapeake Energy over Pennsylvania well leak
Chesapeake suspends fracking in Pennsylvania
Lawsuits against Chesapeake Energy challenge dumping of fracking waste
2010: Resident files lawsuit against Encana, Chesapeake, Plaintiff claims ground water has been poisoned
Chesapeake Energy Looks Toward 'Oily' Future
… McClendon admitted on the company's February earnings call that $5.00 per million BTU pricing on the New York Mercantile Exchange (NYMEX) equates to $3.50 gas at the wellhead, once differentials like gathering and compression costs are included in the cost calculus.
"Even $3.50 gas at the wellhead does not create enough cash flow in the industry to maintain today's drilling price — even for the best-managed shale plays," he said. …