Would Justice Robert Beaudoin have let the rapist off if his daughter was one of the women raped? Ontario Crown serves Paul Batchelor notice of appeal, claims trial judge made errors. Errors or misogyny?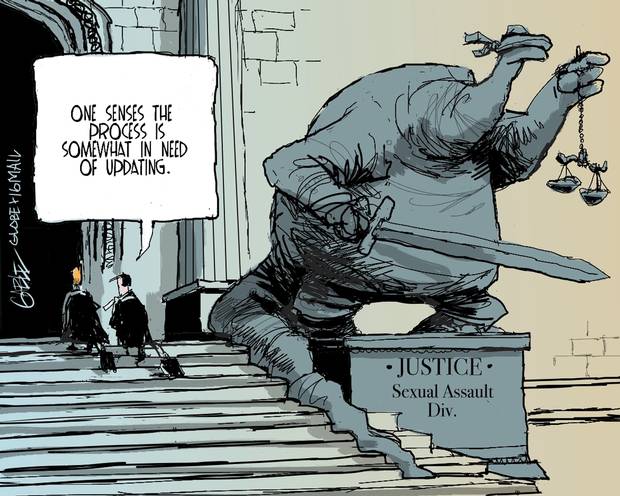 Misogynistic Justice. Rapist after rapist set free by Canadian judges. Think those judges will let you seek justice if your water is frac'd by Encana, enabled, covered-up by authorities with AER violating your Charter rights trying to terrify you into submissive silence, enabled by Supreme Court of Canada?
"Unconscionably Unjust!" "Beyond the Pale!" Legal gag at it's most vile: Protecting known multimillionaire pedophile Epstein and entire network, aided & abetted by? Lawyers!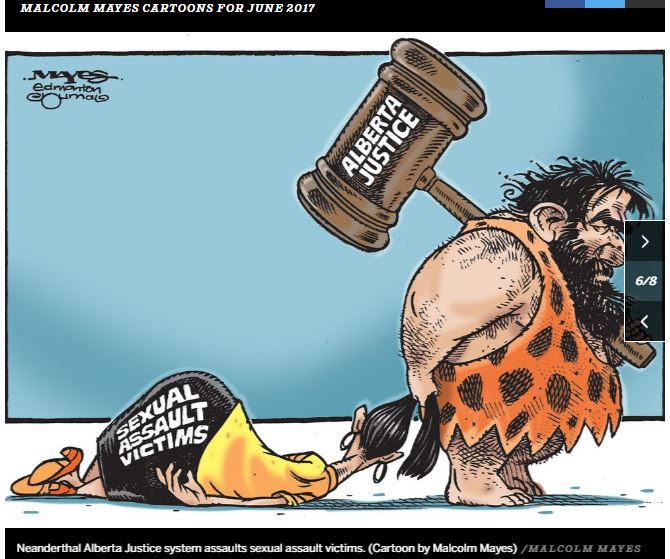 "Unf*ck the system." Alberta's Neanderthal "Justice" system assaults sexual assault victims. "The judge in this troubling case was none other than former Deputy Justice Minister Ray Bodnarek, a PC loyalist appointed as a judge by former PC Justice Minister Jonathan Denis who himself resigned under troubling allegations of domestic violence." Commenter: "So who exactly is the crown protecting by blocking the publication of the victim's name?" Another commenter: "My guess…..the 'system'. It stinks and it's all because of the judges & lawyers."
Violation of court order in Trans Mountain appeal 'attack on the rule of law,' judge says. Rule of Law in Caveman Canada? What Rule of Law? Oh Ya! For the Rich! Oh Ya! Industry's! Oh Ya! Law-violating politicians'! Oh Ya! Charter-violating regulators! Oh Ya! Protecting rapists and pedophiles while re-victimizing victims making how many boners under the bench?
How prevalent is racism (and misogyny) among Canadian lawyers & judges?
"Hey look Ma!! Racists won!!" Ontario Law Society's Statement of Principles (SOP) abolished by dinosaurs. "Shows how corrupt our legal (definitely not justice!) system is. May all White supremacists rot in hell." … "It is from this circus of clowns we choose our judges, and it shows in our injustice system."
Errors or more judicial misogyny? Appeal panel rules trial judge 'erred,' issues convictions on 25 charges related to 18 complainants for Chatham-Kent violin teacher; Panel requested different trial court judge determine sentencing.
Know my Name. A Memoir. Chanel Miller. Horrific Sexual Assault. "Rape is rape." Another Judge Protecting the Rapist. Magnificent Courage. Magnificent Writing.
No wonder Canadian "justice" is so often misogynistic, racist &/or abusive. Looking in the mirror: Harassment in legal workplaces
Do you want fairness, equality, diversity, inclusion in Canada's legal profession? In 2019, 85% of the legal profession in USA is white and mostly male. No wonder so many sexual assault victims are re-victimized in court by judges and known convicted pedophiles are granted licence to practice law! No wonder our environment is underrepresented and unjustly served with vile demented gag orders.
"Law Society of Ontario taken over by 'right-wing, fundamentalist religious zealots?'" Taken over by the catholic church to better protect and feed its sex-crazed, child-abusing "celibate" priests? Do white privileged people think loading up on religious self-righteousness and the church will hide the law society's pedophilia? It's not working.
Law Society of Ontario a Pedophile Ring? Racism, misogyny *and* enabling sexual abuse of children? Ottawa lawyer, John David Coon, in custody for sex crimes against four-year old daughter of one of his clients. Law Society documents reveal they gave Coon licence to practise law despite knowing of his prior criminal conviction for sexually assaulting another child.
No wonder Canada's legal system slithers around in Hell: 'Knees together' ex-judge Robin Camp should be able to practise law again, his lawyer argues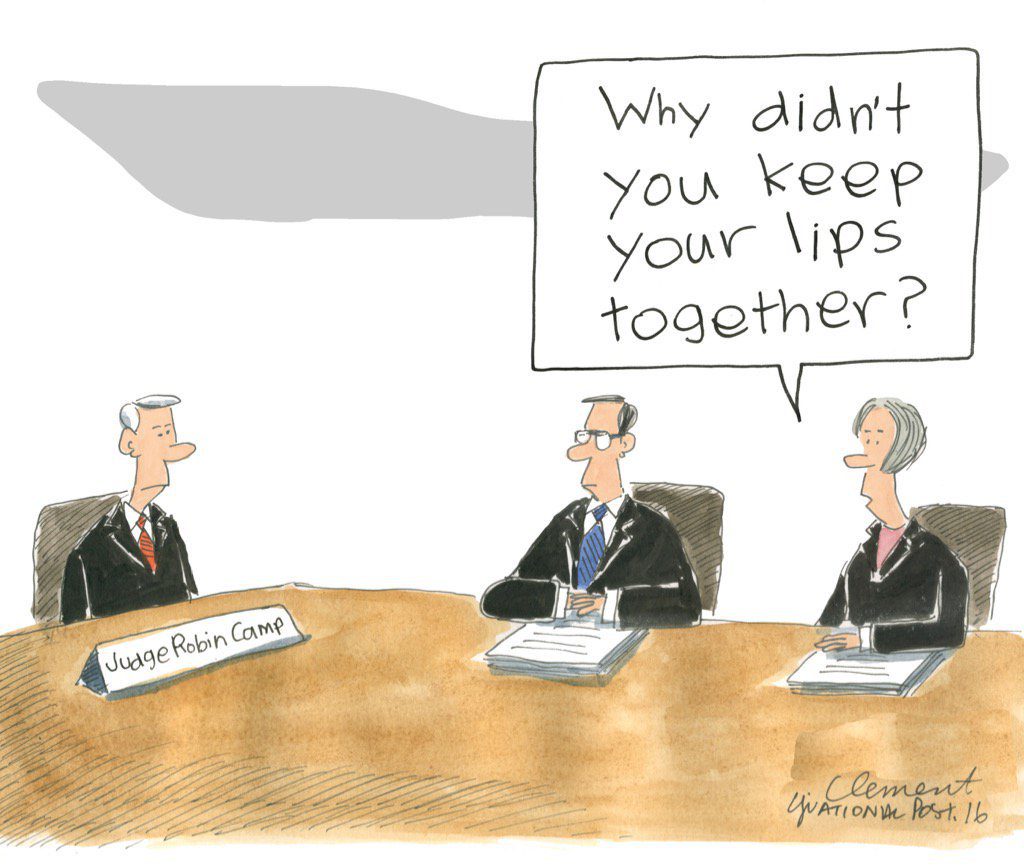 Unbelievable Gall! No wonder Canada's legal system is broken! Ex-Judge "sex hurts & why didn't you keep your knees together" Robin Camp seeks to practise law again in Alberta
Two comments to the article below:
Irene Leger
Let there be a different judge than Judge Beaudoin.
Marguerite Tennier
the judge cannot make the difference between being scared for your life with a rapist and bein "combative" when you feel safe in a Canadian court of law ???? Judge Beaudoin needs some education
Accused serial rapist arrested, faces six more charges in Ottawa, Gatineau by Gary Dimmock, November 19, 2019, Ottawa Citizen
Five months after Paul Batchelor won acquittals in two rape cases, the former insurance man is now facing six more counts of sexual assault involving six women in Ottawa and Gatineau.
Batchelor, 34, turned himself in at the Elgin Street police headquarters Tuesday morning and was formally charged in court on three new sex assault counts.
In separate criminal charges, Gatineau police have also charged Batchelor with three counts of sexual assault.
The six women came forward to police after a July report in this newspaper that featured his photograph and documented his reputed modus operandi.
On the Quebec side of the river, Batchelor also faces two breach charges for using online dating sites while on bail.
Batchelor had been granted bail while awaiting three rape trials scheduled for 2020.
The accused rapist is now awaiting trials involving nine women who don't know one another. None of the cases has been tested in court.
The last time Paul Batchelor was at the courthouse, in June, he walked out with a big smile on his face after his lawyer Oliver Abergel secured two rape acquittals.
Batchelor took the stand in his own defence during the trial.
Ontario Superior Court Justice Robert Beaudoin accepted Batchelor's evidence that he had consent in both cases — a claim that differed wildly from the stories the women told at trial. They detailed horrific accounts of sexual assault in 2015 at Batchelor's Sandy Hill apartment, near the University of Ottawa, where he was a student at the time.
Gatineau police are also investigating accusations that he threatened to kill a woman on July 11.
At his recent rape trials, the first woman testified that she was too intimidated to say no, but the judge didn't find her testimony reliable because she was a combative witness during an intense cross-examination by Batchelor's lawyer.
"Given her combative answers on the stand, her statements that she suddenly became this intimidated person are not reliable," Beaudoin told court.
"I find that she gave long speeches on consent and gave contradictory answers to many questions.
The judge also said he found it difficult to accept the complainant's "increasingly dramatic descriptions of the violent rape she claims to have ultimately endured when the photographic evidence and the hospital reports are reviewed."
The woman testified that she screamed "No!" loudly and pleaded for him to stop.
The judge again sided with Batchelor, saying: "It is difficult to accept that he would have continued assaulting (the woman) with his knowledge that her very loud screams could be heard."
Batchelor was also acquitted in the second rape case involving a University of Ottawa student. In that case, the judge said, the most significant challenge to the woman's credibility was that her timing was off by an hour or so.
Assistant Crown attorney Sabrina Goldfarb described Batchelor as an opportunist who had been seeking his own gratification.
Abergel argued that this was simply a case where the sexual activity went further than what the complainant originally intended.
In both cases, the judge said Batchelor had consent for all sexual activity and noted that consent could be given through actions without speaking a word.
Ontario Crown attorneys have filed an appeal, claiming the trial judge made errors that warrant new trials.
The brand new charges come after an exhaustive, five-month investigation by police.
Batchelor appeared in court Tuesday afternoon and remains in custody awaiting an unscheduled bail hearing. [Wanna bet he gets let out, fast and super cheaply?]
Accused Rapist Facing Six More Sex Assault Charges After Controversial Acquittals, In June, a judge found Paul Batchelor not guilty of raping a woman, in part because the alleged victim was too "combative" on the stand by Manisha Krishnan, Nov 20 2019, vice.com
An Ottawa man who was acquitted of sexually assaulting two women in June is now accused of sexually assaulting six additional women—and police believe there are more victims.
Paul Batchelor, 34, a former insurance salesman for TD, was charged with three counts of sexual assault involving three women on Tuesday. According to Ottawa police, Batchelor sexually assaulted the women between 2009-2016 after meeting them on social media sites or at events.
The new charges come as Batchelor is already awaiting three sexual assault trials slated for 2020.
That means he's accused of sexually assaulting at least six women, not including the two complainants from the previous trials.
Batchelor's June acquittals sparked anger, with some criticizing the trial judge for leaning into rape myths.
According to the Ottawa Citizen, both women testified that Batchelor violently sexually assaulted them at his Sandy Hill apartment. But Ontario Superior Court Justice Robert Beaudoin ultimately accepted Batchelor's version of events over those of his alleged victims. Crown attorneys have appealed both verdicts.
One of the complainants testified that Batchelor anally raped her, bit and slapped her when she went back to his apartment after a date. She said she'd met him online.
The woman said back at his Sandy Hill apartment, he became aggressive, demanding oral sex and then anally raping her as she screamed for him to stop.
Judge Beaudoin said the complainant's "combative and argumentative" nature in court made it hard for him believe that she was raped, according to the Citizen.
"Given her combative answers on the stand, her statements that she suddenly became this intimidated person, are not reliable," Beaudoin said. He also cast doubt on her testimony that she screamed during the alleged rape.
"Curiously, no one seems to have heard her cries," Beaudoin said, noting he had a hard time accepting that Batchelor would continue sexually assaulting someone knowing "her very loud screams could be heard."
The second complainant who testified in June said Batchelor forced oral sex on her in May 2015, when they were both students at the University of Ottawa.
She said they went back to his apartment after meeting in a study room, according to the Citizen, and that he began kissing her. She alleged that she told him she wasn't there to hook up, but that he bit and sucked her right breast, and pushed her down, forcing oral sex on her.
She testified that she fought him off by kicking him in the chest and running out of his apartment.
However, Judge Beaudoin questioned her credibility because both her friend and Batchelor contradicted her memory of the timing of the alleged assault. The complainant had remembered it taking place an hour later than when her friend and Batchelor said it took place.
Beaudoin accepted Batchelor's testimony that the sex was consensual, noting "consent can be given without a word being spoken." According to the Canadian criminal code, a person must affirmatively communicate consent through words or conduct in order for sexual activity to be lawful. Silence is not consent.
The Citizen reports that Batchelor had a big smile on his face when he left the courthouse a free man in June.
Police lay new sex assault charges against Ottawa man acquitted in earlier cases by The Canadian Press, November 19, 2019, Global News
A man acquitted on two counts of sexual assault earlier this year is facing a fresh set of charges involving three new alleged victims.
Ottawa police say they arrested 34-year-old Paul Batchelor on Tuesday and charged him with three counts of sexual assault.
They say the alleged offences took place between 2009 and 2016 and involve three different women the suspect met either online or at "evening events" in the city.
Ottawa lawyer Oliver Abergel represented Batchelor in court on the new charges and says his client is being held in custody.
Judicial appointment process raises alarm by Law Times, 21 Sep 2009
OTTAWA – The lack of transparency in federal judicial appointments has come under fire after the Harper government filled a series of bench vacancies across the country recently.
The newly elected head of the Canadian Bar Association and other lawyers are calling for a major overhaul, including a requirement that the prime minister or cabinet ministers recuse themselves from appointment decisions if they were involved in civil suits where judicial applicants have presided.
The latest round of debate on the topic stems in part from what even critics of the system are calling an impeccable choice for the Ontario Superior Court of Justice.
Earlier this month, Justice Minister Rob Nicholson announced the elevation of Robert Beaudoin, a case management master in the eastern division of the Superior Court, to its trial division.
But NDP MP Joe Comartin, a lawyer and his party's justice critic, says Prime Minister Stephen Harper should have excused himself from the cabinet decision confirming Nicholson's recommendation to put Beaudoin on the bench.
Beaudoin…presided in a motion in a libel suit a former Conservative member launched against Harper and his party.
In 2007, Beaudoin ruled on a motion from Harper's lawyer to confirm that parliamentary privilege prevented the plaintiff, Ottawa lawyer Alan Riddell, from compelling the prime minister to testify or even appear for cross-examination while Parliament was in session.
Lawyers who know Beaudoin from his long career and also his work in the reform of Ontario's civil justice system say there is no question [Really? The judge isn't looking too qualified in 2019 after letting Paul Batchelor off] about his qualifications for the bench or any chance at all of a conflict while serving as a judge.
But the appointment added a new wrinkle to the debate over recent changes by the Conservative government to the process of judicial appointments.
What if a prime minister or cabinet minister has been involved in a civil suit where a trial judge applying for promotion to an appeal division has presided?
The same question could apply for case management masters, who often rule on motions within civil suits, when they seek promotion to the bench.
New CBA president Kevin Carroll says that in the case of trial judges applying for elevation to appeal divisions, a minister or prime minister who has been subject to litigation in front of the judge should stay at a distance from the appointment.
Beaudoin's ruling in the Riddell v. Conservative Party of Canada lawsuit was based in part on recent precedents in which the same form of parliamentary privilege prevented civil plaintiffs from compelling former finance minister Paul Martin and former deputy prime minister John Manley to testify in lawsuits against their departments.
Carroll noted that elevations to appeal divisions are the responsibility of the prime minister on recommendations from the justice minister, and consultations between the two officials in those cases are routine.
"I would expect, though, that if there is such a close relationship between the applicant and a particular cabinet minister, that cabinet minister should excuse himself or herself from the process so as to avoid any taint or bias," Carroll tells Law Times.
He says CBA opposition to the Harper government's amendments to judicial appointment advisory committees stands, notably the insertion of a nominee from the police community and the designation of the provincial bench nominee as a non-voting chair of the committee.
The CBA also wants a "cooling-off period" for former MPs or provincial MLAs who apply for judicial positions to prevent them from appointment for two years after they leave office.
The advisory committees are composed of one nominee of the provincial chief justice, one member nominated by the province's law society [that licences known convicted pedophiles!], one nominated by the CBA, one by the province's attorney general, one by the "law enforcement community," and three nominated by the federal justice minister.
Ottawa lawyer Ian Stauffer, president of the County of Carleton Law Association, adds his voice to those who say the prime minister or cabinet ministers should excuse themselves from the appointment of judges who may have had a role in civil suits that involved them.
"I would certainly agree with that," Stauffer tells Law Times. "It's just the apparent conflict of interest, obviously. That minister might feel negatively toward that trial judge or that master."
Nicholson's office declined to say whether Harper recused himself from the cabinet decision on Beaudoin's appointment or whether the justice minister was aware of the new judge's decision in the libel case.
A spokesman for Harper also declined to respond to the question, describing it as "silliness" and saying Beaudoin is a "highly respected jurist whose integrity is above reproach." [Beaudoin doesn't look like an integral, respectful, reasonable, fair or knowledgeable judge to me.]
Spokesman Dimitri Soudas noted Justice Charles Hackland of the eastern division was promoted to regional senior judge by the Harper government after he made an "unfavourable ruling" towards the prime minister in the Riddell case.
In that instance, Hackland awarded Riddell costs for a motion that he won over the cross-examination of Harper's chief of staff but reduced the amount from the roughly $7,000 Riddell had requested to just over $2,000.
Coincidentally, Hackland became the case management judge in another libel suit involving Harper after he was elevated to the senior position.
In that lawsuit, which Harper launched against the Liberal Party of Canada, Hackland adjourned the proceedings at the request of the prime minister's counsel shortly before a hearing that was to take place during the 2008 federal election.
Lawyer Richard Dearden told Hackland he couldn't reach Harper for adequate instructions because he was occupied with the campaign. Harper later dropped the lawsuit after Stéphane Dion stepped down as Liberal leader.
For lawyers, while the legal issues at hand in those rulings may be minor, the appearances become a concern when senior politicians make judicial appointments involving the same people who presided over them.
"I don't think there is any question the person should recuse themselves from that situation because there is an apparent conflict of interest," says Stauffer.
Refer also to:
Is Canada "a pedophile's paradise?" Appeal court cuts child molester's 'unduly long and harsh' sentence (too short to begin with given the lasting harms inflicted to children!) in half.