Tweet by Lynn Coady: "An infuriating story about the boundless damage wreaked on girls when men in authority turn them into sexual prey. And the boundless efforts of institutions to protect those men and discredit victims."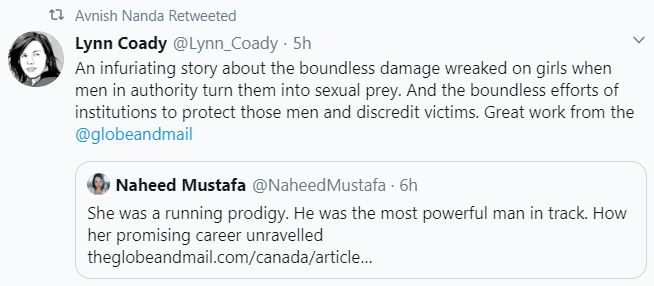 University of Guelph says track coach Dave Scott-Thomas should have been fired in 2006 by Lori Ewing [THEN WHY WASN'T HE FIRED?] The Canadian Press, Jan 9, 2020, The Globe and Mail
The University of Guelph says it's "deeply concerned and troubled" by new information about Dave Scott-Thomas, including details that it says would have seen the longtime track and field coach fired more than a decade ago.
Scott-Thomas, who's among the most successful coaches in Canadian history, was fired on Dec. 16 for unprofessional conduct.
In a statement on the school's news website Thursday, the university said it received a complaint in 2006 from a family member of a student athlete, and while an investigation didn't substantiate all of the allegations, it determined some misconduct had occurred and Scott-Thomas was suspended for four weeks.
The University received a complaint from another student athlete about Scott-Thomas this past fall, and again retained an independent external investigator. Scott-Thomas was placed on paid lead pending the outcome.
During the investigation, the university received new information that "made it clear that Scott-Thomas had lied repeatedly in 2006 about several significant matters," the statement said.
Scott-Thomas was fired as a result of that new information. According to Thursday's statement, had the university been aware in 2006 of this information, it "would have terminated its relationship with Scott-Thomas at that time." [Easy to spout empty words long after it's too late.]
The university hasn't revealed details about the alleged unprofessional conduct.
Attempts to reach Scott-Thomas were not immediately successful.
Athletics Canada has launched its own investigation into Scott-Thomas's involvement with the national organization, with which the university said it will provide any information and assistance.
Scott-Thomas led the Guelph Gryphons to 37 national titles in cross-country and track and field, and earned U Sports coach of the year in the two disciplines 35 times.
Scott-Thomas was a coach on 16 Canadian national teams, including the 2016 Rio Olympics and the 2015 and '17 world track and field championships. He was also the head coach of the Speed River Track and Field Club, of which numerous Olympians have been members. In a posting on its website earlier this week, the club announced it was ceasing operations.
The post said there were initiatives underway to create a new training platform to ensure programming for track and field athletes in Guelph in a "fun, safe, and caring environment."
In its statement, the university said it was saddened to learn that student athletes had unacceptable experiences, and "we offer an apology to those who endured suffering and hardship." [Pffft! That's one of the most sorry ass apologies ever. Reads like a lawyer wrote it.]
She was a running prodigy. He was the most powerful man in track. How her promising career unravelled, Dave Scott-Thomas ran the University of Guelph's prestigious track program for over 20 years. Now one of his former athletes says he groomed her for sex. More than a decade after school officials first heard her story, he's been dismissed – and faces new allegations by Michael Doyle, Special to the Globe and Mail, Feb 8, 2020
Dave Scott-Thomas found Megan Brown at a crucial moment in both their lives. It was the fall of 2001. He was 38 and searching for greatness to pair with his grand ambitions as head coach of both the University of Guelph's track and cross-country teams, as well as his own club, Speed River.
He'd been a student at the school, then bounced around as a teacher and volunteer coach in Kingston, Ont., and Victoria. In 1997, he returned to Guelph with a bold vision for his alma mater. He convinced the school, at the time considered irrelevant in the track world, to hire him.
In his first year as head coach, Mr. Scott-Thomas was paid only a $3,000 honorarium. But it came with something more valuable: unilateral control. Immediately, his wiry frame, like a drawn spring waiting to snap, commanded the Guelph running community.
Mr. Scott-Thomas first encountered Megan Brown when she was 16 years old. Slashing through a muddy, maze-like cross-country course in a suburb of Ottawa, she was unfailing, with an intensity seldom seen in a child. She was alone – 19 seconds ahead of the next competitor at the OFSAA cross-country championships, one of the biggest meets in North America. The lead seemed like an eternity in the four-kilometre junior race, and out in that forest, Mr. Scott-Thomas knew he was watching something rare. Ms. Brown was a virtual unknown, having started running a little more than a year earlier, and she was dominating everyone. OFSAA champions often went on to become Olympians, but Ms. Brown was so new to running that she didn't even own cross-country spikes.
Mr. Scott-Thomas was in luck: the mysterious prodigy went to St. James Catholic High School, just up the road from his office in Guelph. He'd found his first raw yet pure talent. She would be his to mould.
But Ms. Brown did not go on to lead the University of Guelph to a championship. She did not represent Canada at the Olympic Games. Instead, it was the beginning of a relationship that would destroy both Ms. Brown's and Mr. Scott-Thomas's careers in running, albeit years apart.
Last month, in a move that stunned the tight-knit running community, the University of Guelph dismissed Mr. Scott-Thomas, one of the most celebrated and powerful athletics coaches in Canada. Few details were released, and many were left wondering what went on in Guelph, which Mr. Scott-Thomas had built into the running capital of Canada.
In the fall, the university received a complaint about Mr. Scott-Thomas's conduct from a student athlete on the national team, made up of elite runners who represent Canada internationally. The university later alluded to a previous allegation of misconduct, which took place more than a decade ago.
Now 35, Ms. Brown has decided to end her silence [BRAVA!], alleging Mr. Scott-Thomas groomed her as a 17-year-old for a sexual relationship that ended abruptly with her departure from the university less than a year later. Inspired by Mary Cain, a prominent American track athlete who shocked the sporting world last fall with her story of trauma and abuse at the hands of a powerful male coach, Ms. Brown joins a growing number of women whose stories have provoked a reckoning in running and beyond. Ms. Brown said she believes that an insular, male-dominated system can empower predatory behaviour and fears that many female runners have been manipulated and abused, but were shamed into silence. [ALL NICELY ENABLED BY OUR CAVEMAN JUDGES AND THE (TOO MANY) MISOGYNISTIC POLITICIANS WHO APPOINT THEIR ABUSIVELY LIKE-MINDED BUDDIES TO THE BENCH] "Until you reclaim your power and step out of an abusive dynamic," she said, "you can't see it for what it really is."
Ms. Brown spoke with The Globe and Mail in a series of interviews that began in early December, weeks before Mr. Scott-Thomas was fired. The Globe has since interviewed more than 70 athletes and coaches, spanning Mr. Scott-Thomas's career, and reviewed correspondence and university documents that shed further light on Ms. Brown's experience and those of others.
The Globe's investigation reveals that the University of Guelph was told of Mr. Scott-Thomas's relationship with Ms. Brown in 2006, but continued to employ the star coach – who won the national championships, helped raise millions of dollars for university facilities, and burnished the school's and the city's reputation as an important athletics hub – after a brief suspension. He also grafted his own club onto the university, producing Olympic talent, and attracting hundreds of thousands of dollars in sponsorship money and government funding.
Many athletes who spoke with The Globe alleged that a "win-at-all-costs mentality" took hold as Guelph grew in stature, creating an increasingly negative sporting environment. And although Mr. Scott-Thomas was a leader and role model for those he favoured, athletes said, he was emotionally withdrawn, egotistical and difficult to please for those who believed they needed his mentorship the most.
Athletics Canada, the sport's governing body, was aware of a sexual relationship between Ms. Brown and Mr. Scott-Thomas more than a decade ago. Despite this, he continued to be selected as a national team coach, including for the 2016 Olympics.
Mr. Scott-Thomas did not respond to several requests for interviews. In a brief statement, his lawyer said the allegations were unsubstantiated and inaccurate. The statement did not address any questions or specify what exactly Mr. Scott-Thomas denied. In its response to The Globe, which was later released to the public, the University of Guelph said it was misled by Mr. Scott-Thomas in 2006 and that "new information" led to his dismissal. Athletics Canada has referred the matter to its independent commissioner's office, but said it was not previously aware of any complaints against Mr. Scott-Thomas on record.
"So many people wrote me off as a crazy athlete who was obsessed with her coach," Ms. Brown said of the whispers that enveloped her during her time in running. "In actuality, I was a teenager who was deeply traumatized by the situation my coach put me in."
In the summer of 1999, Ms. Brown's mother died mysteriously, one of the earliest victims of the West Nile virus. The youngest of three daughters, with a loving but overwhelmed father, Ms. Brown, then 14, turned inward, quitting team sports and withdrawing to her room, engulfed in waves of anxiety.
One day, out on a country road near her family farm, she began to run. Running consumed her. She was taken by its intensity, moments of calm and the newfound confidence it gave her. "It was the one thing that gave me a sense of stability during an extremely unstable time," Ms. Brown said.
Shortly after her 2001 OFSAA victory, Mr. Scott-Thomas came to Ms. Brown's school to recruit her. Feeling special, she agreed to join him at Speed River: his first junior female athlete, unpolished but radiant.
Over the course of their first year as coach and athlete, Ms. Brown was a constant presence after school at the university. The pair began going for tea after workouts. Then they started emailing and talking on the phone while he stayed late at his office. Former teammates remember the two often disappearing for drives in his car, which many found surprising given that Mr. Scott-Thomas was married with two young daughters. He knew she was fragile, Ms. Brown said: "He took me under his wing."
The pair exchanged hundreds of e-mails over a two-year period, Ms. Brown said. The Globe reviewed some of those messages, sent between October, 2002, and the end of March, 2003. Although none of the e-mails were sexually explicit, Ms. Brown said she now believes they were a form of grooming.
"I did and do get good energy from you … I rely and depend on you," he wrote to her on Oct. 29. "I have been in a quiet, lonely-in-a-good-way mood since we left," he opens another e-mail, sent Nov. 10. "I have my usual upswelling of emotions after having spent some time with you – good…nope, great!" he wrote on Nov. 25. A little later: "I've indulged in a little reminiscing, thinking about the last few days and what we've learned about each other while I'm listening to 'our' song." The song was This Year's Love by David Gray.
In the final weekend of November, 2002, Mr. Scott-Thomas took his team to Moncton to compete at the Canadian Cross-Country Championships. It was a new thrill for Ms. Brown, who was the only high-school girl in the team RV. Mr. Scott-Thomas made her captain of the junior team.
Ms. Brown remembered floating up the final hill of the race, when others were crawling. "I saw Dave and yelled, 'I just feel too good!' and he gave me the go-ahead to take off," she told The Globe. She won the junior national title by five seconds, which qualified her to represent Canada at the World Championships the following March in Switzerland.
For a moment, the pain of losing her mother vanished.
Instead of going to the post-race party, Mr. Scott-Thomas took Ms. Brown for a drive. They went to a Tim Hortons and picked up cups of tea, then parked. "This is when Dave basically broached the topic of a relationship between us," Ms. Brown said. "I remember being so caught off guard by it all, because he was somebody I had become so intensely dependent on for stability. There was no undercurrent sexually, at all, for me."
About two weeks after returning from Moncton, Ms. Brown said, Mr. Scott-Thomas took her on a day trip to the Royal Ontario Museum, in Toronto. They walked through the labyrinthine hallways, then stopped. "He kissed me in front of an exhibit," she said. They drove back to Guelph that evening, but instead of taking her home, she said, he brought her to the Arboretum, a university-owned 410-acre forested area where he oversaw the team's workouts.
"He made it very clear he needed the relationship to go in a certain direction," she said of the encounter. To her, it was an ultimatum: consider him romantically, sexually – or risk losing everything she had built with him. "That is where we had sex for the first time," Ms. Brown said. "It was also my first experience with that."
A few weeks later, in an e-mail dated Dec. 15, 2002, Mr. Scott-Thomas told Ms. Brown, "I will take care of your heart, be gentle with mine. Impatiently yours, Dave."
In February, 2003, Mr. Scott-Thomas took his university team to an indoor track meet at Penn State University. Ms. Brown went, too, though she was still a high-schooler. A senior teammate who was on the trip told The Globe she was uncomfortable watching Ms. Brown and Mr. Scott-Thomas interact. She said she saw a letter between them "that seemed like a love letter," then encountered them alone together on the team bus. "I remember thinking, 'This doesn't make any sense – she's a child,' " she said. (The teammate, now a physician, was granted anonymity by The Globe because she handles cases of child abuse and does not want her comments to affect her work.)
When they arrived back in Guelph, the teammate e-mailed Mr. Scott-Thomas and asked to see him in his office to talk about what she'd seen in Pennsylvania. She said Mr. Scott-Thomas instead showed up unannounced at her apartment, carrying his infant daughter. "I said, 'Dave, whatever is going on, it's not right. It's going to ruin your family, your life,' " she said. Mr. Scott-Thomas admitted, emotionally, that what he was doing was wrong, she recalled. "He knew that what was going on was not right."
Late in February, 2003, Ms. Brown said she stayed with Mr. Scott-Thomas while his wife was away. "I was just in so deep," she said. "I remember lying on his daughter's bed, saying I wanted to die. He tried to help me, but then we would be having sex." Out of fear that she would hurt herself, she took herself to the hospital.
Ms. Brown was released briefly, but she suffered a setback in March, 2003, just before she would have boarded a plane with her teammates for the World Cross-Country Championships in Switzerland. Athletics Canada had selected Mr. Scott-Thomas as the junior coach for Team Canada. He told a local newspaper before heading to Europe, "I asked for the juniors this time. I like that age group."
When Mr. Scott-Thomas returned from the Worlds, according to Ms. Brown, he visited her at the juvenile psychiatric ward in London, Ont., where she had spent the past month. "He took me out of the hospital for the afternoon on a day pass, and we went in his car and had sex in a park under a tree," Ms. Brown said.
In the summer of 2004, Ms. Brown moved in to a basement apartment three doors down from Mr. Scott-Thomas's family home. Not long after, she attempted suicide, consuming all her prescription drugs at once. She was rushed to the hospital and subsequently spent time at Homewood, a mental-health facility in Guelph. Mr. Scott-Thomas visited her there. After she was released, she worked for him at Speed River as the club steadily expanded its youth membership. She was consumed by the fear of losing Mr. Scott-Thomas, and the sexual relationship intensified, according to Ms. Brown.
Andrew Catton, an older teammate, said the pair's relationship was the subject of team gossip. "Megan spent a lot of time in Dave's office," he and others remembered from that period. (Mr. Scott-Thomas would often take her there to have sex, according to Ms. Brown.) "We used to call her 'MeMe' because of how much of Dave's time she took up," said Kristina Rody, a senior teammate.
In the fall of 2004, Ms. Brown began university at Guelph. She and fellow runner Erin Sask became close friends. One afternoon, Ms. Sask discovered a note between Mr. Scott-Thomas and Ms. Brown. To her, it seemed clear they were in a relationship, so she confronted Ms. Brown. "I think she was actually relieved to be able to finally tell someone," Ms. Sask told The Globe.
Ms. Brown showed her the two years of e-mails, notes and letters.
At the same time, Ms. Brown became anxious that the relationship was in jeopardy. Mr. Scott-Thomas had told her his wife was pregnant with their third child, and she felt him distancing himself from her. Ms. Brown began to unravel. Her teammates were baffled by her implosion in races. She collapsed with a couple hundred metres to go at both the provincial and national cross-country championships. "She was destroying me in workouts and should have handed me my arse in races," said Ms. Rody, who won the national title that year.
On a Sunday afternoon during the December exam period, Ms. Brown told Mr. Scott-Thomas in his office that she had told a teammate about their relationship. He was angry, she said, and grabbed her throat with both hands and forced her against a wall. "He told me I was finished at the university and our relationship was over," Ms. Brown said. The argument continued in the parking lot, where it was witnessed by another teammate who confirmed this to The Globe.
Devastated by the rejection, Ms. Brown spiralled out of control. Ms. Sask eventually took her to the emergency room. She also immediately told her own father what was going on and forwarded him the correspondence Ms. Brown had shared with her. He suggested she go the university, but Ms. Sask feared Ms. Brown would harm herself if the relationship became public. The Globe spoke with Ms. Sask's father, who corroborated the account.
Ms. Brown did not return to Guelph the following semester. "I left ostracized from the university," she said.
Finally, Ms. Brown confided in her older sister and her dad, who became furious. In an interview, he said he did not immediately complain to the university because his daughter's health was his priority. He wanted to get her away from Mr. Scott-Thomas and from Guelph. "We spent that period of time rebuilding her life."
The fall of 2005 was a major turning point for Mr. Scott-Thomas.
He won his first women's coach of the year award, and was elevating his program to a level at which no Canadian school would be able to compete. His women's teams would go on to win 12 consecutive national titles; beginning the following year, his men's teams would dominate for nine straight seasons. "I don't know how the hell he did it," said Peter Grinbergs, who coached Mr. Scott-Thomas when he was in his 20s. "He's probably the most successful Canadian coach in our history. You can compare him to guys like Scottie Bowman."
According to many former athletes, Mr. Scott-Thomas achieved this by adopting a "win-at-all-costs" mentality, with the collateral damage being athletes' mental and physical health – and, in some cases, their future in the sport. The vast majority of these athletes were women.
As the school entered its dynastic phase, Mr. Scott-Thomas had less time for individual athletes and became impatient with those who weren't self-sufficient. Jenn Dowling-Medley, who ran for Guelph from 2010 to 2015, said that certain teammates worshipped Mr. Scott-Thomas, while others quietly suffered. "He developed a lot of control by creating a cult of personality," she said. "He'd try to come off like a cool, rebellious antihero – he has his truck, and he likes scotch and listens to punk rock. He's kind of like the guy a lot of young men imagine they would like to be."
She and others experienced another person altogether, one who could be manipulative, mercurial and impossible to please. She also witnessed Mr. Scott-Thomas single out certain athletes for harsh criticism, a behaviour described by several others.
Ms. Dowling-Medley and another female teammate both had stress fractures at the same time in their rookie year. She felt Mr. Scott-Thomas was attentive to her injury, but the other athlete was treated differently. "He just really didn't like her," she said. She remembers him yelling at that same athlete after a meet, threatening to withdraw a letter of recommendation, a form of retribution other athletes said he would employ. "I think he kind of liked me because I never gave him any of my personality – because I was afraid," said Ms. Dowling-Medley.
The Globe spoke with the other athlete, who is now a physician and requested anonymity. She ran well at first, but after a month developed extreme pain in her leg. "The older girls on the team kept telling me, 'Dave just wants the best for you,'" she said.
Dr. Margo Mountjoy, the team's doctor, assessed her, saying it was likely a stress fracture. The athlete said she told Mr. Scott-Thomas. A few days later, she received an e-mail from him saying he'd spoken to Dr. Mountjoy and that she didn't think it was a stress fracture. She resumed running until she could no longer even walk. "I felt ostracized from the team culture. People thought I was crazy," she said. A few weeks later, a bone scan revealed a stress fracture in 25 per cent of her femur. Dr. Mountjoy did not respond to requests for comment.
Disordered eating also became a serious issue, according to multiple athletes. One former student described the women's team as "one big eating disorder" that Guelph and Mr. Scott-Thomas struggled to manage.
Jennie Biewald, who ran for Guelph from 2009 to 2012, had initial success at the school, despite having bulimia. At first, she felt nurtured by Mr. Scott-Thomas. Then her disease spun out of control, and she had what she said was a mismanaged injury. Her running began to suffer, and Mr. Scott-Thomas started to lose patience. "We all wanted to impress Dave," she said, "and we all wanted Dave to like us."
Ms. Biewald's last race for Guelph was at an indoor track meet in 2012. She was struggling significantly and stepped off the track before finishing. Ms. Biewald said no one ever followed up with her.
A teammate of Ms. Biewald, who was granted anonymity because she feared negative professional repercussions, was encouraged by Mr. Scott-Thomas to pile on the kilometres in training, despite an increasingly painful pelvic injury. She said she went to see the team physiotherapist, Mr. Scott-Thomas's wife, whose treatment was designed to keep her running. She ended up quitting. "My pelvic area is still not the same as it was before the injury," she said. She said Mr. Scott-Thomas was taking advantage of the talent and insecurities of young athletes, pushing them beyond their limits so he could win titles. "The message was, 'You need to earn Dave's approval to be here,'" she said.
Like many other high-level female runners The Globe spoke with, she said she could have been a better, healthier and more well rounded athlete if she hadn't run at Guelph, and might still be competing today. "A group of us from the team who are still friends often say that, if we have daughters, we won't let them run," she said.
In mid-2005, still battling mental health issues and unable to return to Guelph, Ms. Brown was introduced to Hugh Cameron, a respected coach trusted by family friends. In 2006, Mr. Cameron organized a meeting with Carl Georgevski, the head coach at the University of Toronto, and explained her history in detail. Ms. Brown began attending classes there. "Going to those first cross-country meets that fall, knowing Dave was there, was really hard," she said. Mr. Cameron was allowed to act as a special coach for Ms. Brown, and her new coaches acted like a barrier against Mr. Scott-Thomas.
Ms. Brown flourished. She went on to win three Canadian university championship titles and appeared poised to become one of the country's next great runners. The only problem was that Mr. Scott-Thomas's stature was also growing rapidly, and he was continually being selected to lead various national teams, many of which Ms. Brown would be vying to make.
Rumours also started to echo out of Guelph that "Crazy Megan Brown," as she became known to many, left because she had become obsessed with her coach – although some whispered of a relationship with Mr. Scott-Thomas.
Steve Boyd, head coach at Queen's University, remembers being warned about Ms. Brown when he began coaching in 2010. "I was told about a 'crazy girl' who had imagined that she had a sexual relationship with Dave and had made a public scene about it," he said. "I believe I was told this so that I'd be armed with an alternative explanation, should I hear any rumours that suggested she was telling the truth."
Mr. Boyd said that Chris Moulton, who was an athlete at Speed River at the same time as Ms. Brown and then became an assistant coach under Mr. Scott-Thomas, told him the story. Mr. Moulton, who now works for the University of Guelph in athletics and student affairs, declined to comment.
Multiple athletes also said they felt the coaching staff was "uncharacteristically critical" of Ms. Brown and that it was as if she had done something wrong, beyond leaving the school.
On Sept. 21, 2006, with his daughter seemingly safe from self-harm and insulated from Mr. Scott-Thomas, Gary Brown decided to discreetly alert Alastair Summerlee, then the president of the University of Guelph. He provided correspondence from Mr. Scott-Thomas to Ms. Brown, and indicated Ms. Brown's age at the beginning of the sexual relationship. Mr. Summerlee never responded.
At the same time, Mr. Brown reached out to Athletics Canada but got no response. Next, he showed the documents to his Member of Parliament, Michael Chong, then the Minister of Sport. Mr. Brown said the Minister told him he would look into it, but he did not hear from Mr. Chong again. Shortly afterward, Mr. Brown said he was contacted by Joanne Mortimore, then CEO of Athletics Canada. "She didn't mention Scott-Thomas at all but was instead angry that I'd gone over her head."
Ms. Mortimore said she recalled the 2006 complaint, but declined to comment. Mr. Chong said he doesn't recall the meeting, but "would have reported any allegations to the appropriate jurisdictional authority." He confirmed that it would have been Athletics Canada.
Brenda Whiteside, then associate vice-president of student affairs at Guelph, responded to Mr. Brown. The Globe has reviewed their correspondence. In a letter dated Oct. 22, 2006, Ms. Whiteside wrote that "the allegations arise out of a relationship between your daughter Megan and Mr. Scott-Thomas prior to Megan's attendance at the University as a student for the Fall 2004 semester." Mr. Brown took this as a sign the institution was deflecting blame.
The day after sending that letter, the university hired a consultant in London, Ont., named Bill Wilkinson. The school and Mr. Wilkinson insisted Ms. Brown provide an in-person statement about the allegations. Her father told them her mental health was still too fragile and asked them to submit questions in writing. None were provided. The school also never granted Mr. Brown's request for a meeting, and Mr. Wilkinson was instructed to base his report on the documents Mr. Brown had initially sent, according to documents reviewed by The Globe. Mr. Brown told The Globe that he was intimidated by the process. He said he wasn't looking to accuse Guelph of wrongdoing, but feared Mr. Scott-Thomas could do the same to another student.
Ms. Whiteside, who is now retired, did not respond to requests for comment. Mr. Wilkinson declined to comment. Mr. Summerlee did not respond to requests for comment.
Around this time, Mr. Scott-Thomas talked to two of his longest-standing athletes, Taylor Murphy and Reid Coolsaet. "He told us Megan was saying they had a relationship, but that it wasn't true," Mr. Coolsaet told The Globe. "Dave said that the university's lawyers were involved and that they were standing behind him, until proven otherwise," Mr. Murphy added. "The sense was that he would be in the clear. He said Megan had been previously asked to leave the university, as well as Speed River." Mr. Coolsaet, who was coached by Mr. Scott-Thomas for 21 years and at two Olympic Games, is troubled that he believed his coach. Mr. Murphy said he has been haunted by that conversation.
On Nov. 10, 2006, the university cut off contact with Mr. Brown. The last race of 2006, the national cross-country championships, was held the following day. Guelph won both the men's and women's titles, and Mr. Scott-Thomas was named men's and women's coach of the year.
On Jan. 24, 2007, after more than two months of silence, Mr. Brown received a one-and-a-half page letter from Ms. Whiteside. It detailed Mr. Wilkinson's findings, saying that "Mr. Scott-Thomas did not sexually harass, physically assault or stalk Megan. He also concluded that there was a strong emotional relationship between the two" and that his "personal involvement with Megan was inconsistent with his role as her coach." The letter indicates that Mr. Scott-Thomas was interviewed and "appropriate action has been taken." The letter ended by saying the university would create a new code of conduct and implement training on "relationships" for coaches. (Guelph declined to reveal whether it did so.)
Of the dozens of athletes and coaches interviewed for this story, not one could recall Mr. Scott-Thomas ever serving a suspension, until he was placed on leave in 2019.
"I just wanted to warn them," Mr. Brown says. "I thought they would want to know and that they would then do the right thing." [Authorities in Canada, like our judges, regulators, health and environmental agencies are notorious for not doing the right thing or upholding the law]
When Ms. Brown graduated from the University of Toronto, she attempted to fulfill her great potential, aiming to make the 2012 Olympics. But she kept encountering Mr. Scott-Thomas at races, because of his increasing role on Canada's national teams.
According to a source familiar with Athletics Canada's dealings with Mr. Scott-Thomas, then-CEO Joanne Mortimore spoke with the coach around late 2006 or early 2007, and was aware of Ms. Brown's age during their relationship. Mr. Scott-Thomas only offered that "it was a mistake, it will never happen again," according to the source, who was in the room during the meeting.
Instead of minimizing Mr. Scott-Thomas's role on the national stage, pressure mounted to continue tapping him. Some at Athletics Canada were intoxicated by his success, thinking he was a "guru," according to the source.
When Ms. Mortimore left for Own The Podium in 2010, incoming CEO Rob Guy was made aware of Mr. Scott-Thomas's relationship with Ms. Brown and acknowledged that he was approached by Mr. Cameron and two affiliated coaches, Dave Reid and Eddy Raposo, to ban Mr. Scott-Thomas from coaching. Instead, for one national team, Athletics Canada tried to have Ms. Brown share a room with Mr. Scott-Thomas's wife, the team's physiotherapist.
"Athletics Canada, I feel, just swept it under the rug," said Mr. Cameron.
Mr. Guy also met with Mr. Scott-Thomas. "His response was sort of grey," said Mr. Guy, who left Athletics Canada in 2018. Mr. Guy described coaching as fraught. "Sometimes you're doing things as a coach that maybe you shouldn't have done. Sometimes, coaches and athletes get too close to each other."
Instead of launching an internal investigation, Mr. Guy decided to contact the University of Guelph's athletics director, Tom Kendall. "They had done an investigation and determined that it was grey," Mr. Guy said. "There were some things that were probably not great." Nonetheless, said Mr. Guy, the university told him it was comfortable with its investigation and was moving forward. Mr. Kendall retired in 2016, and multiple attempts to contact him went unanswered.
A source indicated that Mr. Guy insisted Mr. Scott-Thomas continue to be leveraged, in particular for the 2012 Olympics. Mr. Scott-Thomas ultimately declined that offer but coached the 2016 Olympic team.
Megan Brown's last significant race was in May, 2012. She headed back to London, a city rife with unsettling memories, in a last-ditch effort to qualify for the Olympics. She'd run a promising 5,000-metre that spring in California and looked poised to finally break through.
Dave Scott-Thomas was there.
Mr. Reid, who accompanied her, remembers it well. Before the race, "she was crying her eyes out, and he's at the end of the track, and she couldn't even look over," said Mr. Reid. She struggled, fading badly. "She just kept apologizing."
At its peak, Speed River had more than 400 members, including multiple Olympians. And with success came money.
Brands like New Balance, and later Adidas, paid Speed River – a for-profit corporation owned solely by Mr. Scott-Thomas – as much as $100,000 a year to have a relationship with the club. From 2013 to 2017, Athletics Canada gave Speed River another $100,000 in funding per year, The Globe has learned, as well as an additional $50,000 annually for the club's Inferno summer track meet. The school and the club were also jointly named a "High Performance Centre of Excellence," the first of its kind in Canada, which included a $75,000 annual payment to Speed River, beginning in 2018.
A source with knowledge of Speed River's brand partnerships told The Globe it was by far the richest club in the history of Canadian track and field, rivalled only by elite American organizations. At one point, there was even a plan to turn the facilities into a full-time training centre for visiting world-class athletes, which would have turned the city into a global running mecca.
In early October, 2019, Mr. Scott-Thomas was supposed to board a bus bound for a meet in Pennsylvania with his team. Instead, the students were told their coach would be taking a leave of absence. Speed River began informing athletes that their coach was on a health-related leave.
In truth, he had again been placed on a secretive paid leave while being investigated after another student-athlete suddenly left the program. Athletics Canada identified the individual as "a current national team athlete" and that the Guelph student had filed a code-of-conduct complaint against the coach.
On Dec. 13, the Globe presented the University of Guelph with a summary of allegations against both Mr. Scott-Thomas and the administration's handling of the 2006 allegations, and requested an interview with the school about this and the current investigation, which the school had yet to make public. [Settle & Gag! Settle & Gag! Written up by lawyers, ordered by judges to keep sordid abuses, rapes, sexual assaults, etc by authorities, including lawyers, and the rich and powerful deeply under thick slimy carpets]
On Dec. 17, Mr. Scott-Thomas was dismissed. In a statement, the school said that, "during the course of reviewing this information and in the last 24 hours, the university became privy to new information regarding past unprofessional conduct." [Took them too long. Unforgivable.]
Athletics Canada immediately distanced itself from Mr. Scott-Thomas and the university, severing all ties and funding arrangements. [Way too late, also unforgivable.] It has turned to an independent commissioner to investigate its own past dealings with Mr. Scott-Thomas.
The "new information" brought to the university's attention was testimony from Erin Sask, Ms. Brown's former teammate. Ms. Sask took it upon herself to contact the university after hearing rumours about Mr. Scott-Thomas and another student, triggering his leave. On Dec. 2, 2019, she e-mailed Scott McRoberts, the athletics director, explicitly detailing her knowledge of what happened with Ms. Brown – just as her father had 13 years earlier. She did not name Ms. Brown as the victim.
On Dec. 6, Mr. McRoberts (who only responded to Ms. Sask after she forwarded her e-mail to the university's president) offered to have Ms. Sask call in for a formal interview 10 days later. Ms. Sask said she was not permitted to record that 40-minute conversation with Mr. McRoberts and Lydia Bay, a human resources consultant and lawyer. [Just as bullying, corrupt and sleazy as AER!] According to Ms. Sask, they posed few questions and did not ask her to identify Ms. Brown.
Just minutes after speaking to Ms. Sask, Mr. McRoberts replied to The Globe, suggesting The Globe submit its questions in writing. In its response to the allegations in this story, dated Jan. 8 (and subsequently posted on its website, where it was presented as a freely initiated public statement), the university's communications and marketing department provided what it says will be its final word on the matter. [How dare they! After the many years that Ms. Brown, her dad, and other students suffered so horrendously! The authorities involved that helped cover these abuses up need to be fired and never again permitted jobs with students/children and or universities/schools ]
In the statement, the university admitted to receiving the 2006 complaint from Ms. Brown's father (though it doesn't name him). It also revealed for the first time that it investigated Mr. Scott-Thomas but did not say why he was being investigated. That investigation, it said, "did not substantiate all of the allegations" but defended its position, saying that, "based on details available at that time, the University suspended Scott-Thomas for four weeks." No student or coach appears to have been interviewed for this investigation. No athletes who spoke to The Globe could recall Mr. Scott-Thomas serving a suspension.
The university claimed that "new information" led to Mr. Scott-Thomas's dismissal. [Did the authorities finally, way too late, take some (pathetically feeble) responsible action because they were threatened with legal action? Cowardly lowlifes.] "Had the University been aware in 2006 of this information," it said, "it would have terminated its relationship with Scott-Thomas at that time." The university was made aware of these accusations over 13 years ago, but chose not to investigate further.
[The university authorities are hideous abuse enabling liars, as bad as the Catholic Church and too many Alberta judges. And not very smart liars! I am thoroughly disgusted that I went to this university.]
The statement also revealed that the school had received another complaint from a student-athlete about Scott-Thomas in the fall of 2019. The Globe contacted the complainant, but she declined to comment.
"In 2006, we painfully tried to warn the university," Mr. Brown said after reading the statement. "My perception is that their energy was more devoted to protecting Dave Scott-Thomas and their reputation than student safety. It angers me that they knowingly have allowed more athletes to be injured, potentially in the same way." [ME TOO! And, I deeply repulsed, as repulsed as I am by AER, the Alberta government, the lying Supreme Court of Canada judges enabling the law violating AER, and my betraying cowardly lawyers enabling them too.]
Ms. Brown has never been contacted by the University of Guelph.
Speed River ceased operations in early January.
Ms. Brown stopped competing after missing the 2012 Olympics. "Ultimately, I lost my running because of that trauma," she said. "My body held on as long as it could, but ultimately it crashed, and I don't think I'll ever find my way back – the association to the trauma is too deeply embedded in my system." [Sadly, I believe her. I know the trauma too well. It eats into our DNA and soul, destroys us, forever. And the more the authorities and our dirty judges enable the abuses, the deeper the traumas grow. Nothing heals them.]
In search of a fresh start, she and her husband have relocated to the West Coast, and they recently had their first child, a girl. Ms. Brown still runs and has found her way back to why she started to run in the first place – to heal.
"This is how abuse of power works – the one in a place of power stays protected by the victim because the victim has too much to lose in speaking the truth," she said. "The victim is the one who suffers, who is ostracized, who is labelled, who is forced to rebuild their life, while the person in power continues to reap the benefits of their power.
"If I had nothing to lose, Dave wouldn't have had this kind of power over me. And that's why I'm finally ready to share the truth."
Michael Doyle is a freelance journalist and co-founder of The XC, a newsletter and podcast. He can be reached at email hidden; JavaScript is required or @mdfdoyle. Alex Cyr contributed reporting to this story. Stephanie Chambers contributed research.
Refer also to: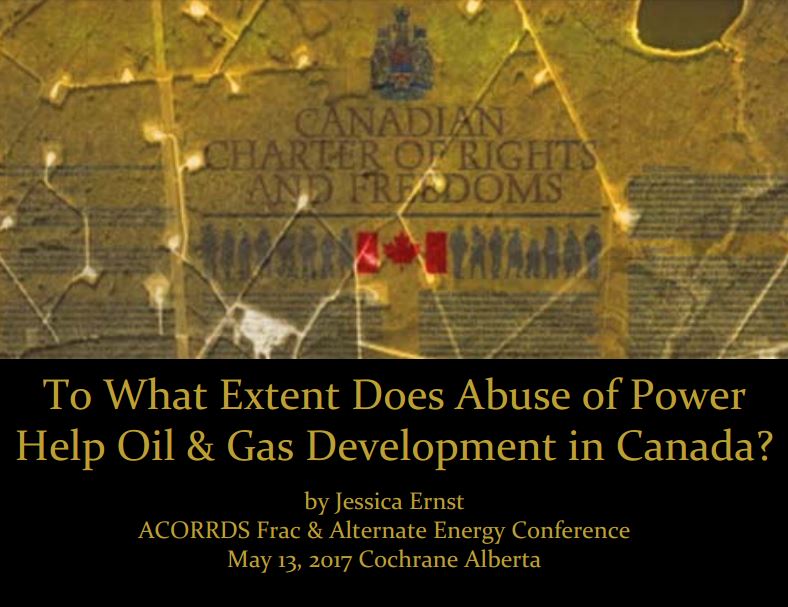 Victim blaming and shaming must stop. So many rapists and pedophiles; too many judges enabling them. 'Un Violador en Tu Camino, The rapist is you!' Why a Chilean protest chant is being sung around the world
"When judges don't know the meaning of rape, there is little hope of justice" never mind that some (one is too many) are racist misogynistic bigoted troglodytes in society's "Upside Down of Patriarchy."
No wonder Canadian "justice" is so often misogynistic, racist &/or abusive. Looking in the mirror: Harassment in legal workplaces
Judges are not the only ones who need training in abuse of power, rape & sexual assault. Lawyers need it too – before they become judges.
Why wasn't Nova Scotia legal profession's most infamous sexual predator and Premier, Gerald Regan, disbarred? Simple: 1) He was a man in Caveman Canada; 2) He was a lawyer in Caveman Canada; 3) He was in a position of power in Caveman Canada; 4) "Justice" is not available for raped women (or the environment) in Caveman Canada, just expensive lawyers.