Will AER be paying Pushor and his wife to travel to and from work, like they paid past Pres & CEO Jim Ellis?
Lots more Pushor crud out there, if you google around.
The newly-appointed chief executive officer of the Alberta Energy Regulator was a central figure in a Saskatchewan government land-deal scandal that cost taxpayers millions of dollars, was the subject of a scathing audit, and prompted an RCMP investigation.
The cloud of doubt that still hangs over Laurie Pushor's involvement in the Saskatchewan scandal should have disqualified him from the position, opposition critics in both provinces say.

Are you kidding? I expect scandal is a prerequisite! The oil and gas industry and CAPP 'n Koch Bro will never let anyone clean head the AER, their beloved lying (especially the lies by outside lawyer Glenn Solomon in legal briefs and three levels of courts including Supreme Court of Canada regarding Ernst vs AER); law-violating; Encana/Cenovus/Ovintiv illegal aquifer frac'ing cover-upping; bankruptcy and pollution-enabling; shit & corruption-filled; abandoned wells/facilities/tar shit pits deregulating laundering machine!

And they say Pushor's past will make it difficult for the AER to restore its own reputation, which was seriously undermined in a much-publicized scandal involving self-dealing and lavish expenses by some of its now-former senior managers.
"I was quite surprised to see that announcement the other day because I think Laurie Pushor's history here in Saskatchewan still has a lot of clouds of uncertainty and doubt hanging over it," Saskatchewan Opposition NDP MLA Cathy Sproule said.
"If you want to restore the transparency and the reputation of a regulator like the AER, I would think there are several other people in this country who would be much more qualified, with much more experience, that would be able to do the job very well," said Sproule, who is her party's house leader and critic for the land-deal scandal.
Alberta NDP energy critic Irfan Sabir said Pushor is clearly not the right person to lead the AER, especially as the organization tries to reform its governance and rehabilitate its image, while the industry is in crisis due to free-falling oil prices.
"This person brings baggage of his own, and the AER will have to spend time defending this person, defending their choice," which he said will detract from the vital work that needs to be done now.
Last week, the regulator announced that after a "thorough and exhaustive competition," it had appointed Pushor.
Pushor was a central figure in a years-long Saskatchewan controversy involving the province-owned Global Transportation Hub (GTH).
CBC News revealed that in 2014, the GTH bought 204 acres of land from a Regina developer for far more than its appraised value. That resulted in a $5-million profit for the developer's company. A few days later, the GTH sold some of that land to the Saskatchewan Ministry of Highways for less than half the price it had paid.
As senior adviser to then-GTH minister Bill Boyd, Pushor negotiated the initial land deal with the Regina developer, who was a supporter of the ruling Saskatchewan Party.
No charges after police investigation
As CBC News in Saskatchewan produced revelation after revelation, the GTH scandal roiled the legislature and the province for months.
Boyd defended the deal by saying land prices in the area were increasing at the time and acquiring the land was critical for a planned highway bypass.

But a 2016 report by Saskatchewan's provincial auditor confirmed the GTH had paid too much for the land and failed to have appropriate policies in place.
The auditor found no evidence of fraud, wrongdoing, or conflict of interest within the organization, although the scope of the audit did not allow her to interview the developer or any other third parties, Sproule said.
The RCMP began a criminal investigation of the land deals in February 2016, the same month CBC News published its initial report. Two years later, the RCMP announced that it and the Manitoba prosecutors reviewing the file had determined no criminal charges should be laid.

So what? That means nothing. Who trusts the RCMP anymore except maybe criminals in suits, notably politicians, lawyers and oil and gas companies that get the RCMP to do their bullying and threatening for them?



Pushor left his position as Boyd's adviser in 2014 and immediately became Boyd's assistant deputy minister and then deputy minister of the economy. In March 2018 Pushor became deputy minister for energy and resources, a position he held until recently.
The ruling Saskatchewan Party repeatedly blocked opposition attempts to call Pushor and others to testify before the province's public accounts committee about their roles in the scandal.
Sproule, a former federal government lawyer, said the only way the full truth will be known is if the Saskatchewan NDP regain power because they would immediately hold a judicial inquiry.

Well then, I expect the oil 'n frac patch will use their billions of dollars in cash hoarded away and infinite power to never let that happen.

The AER declined both an interview request to its board chair and to Pushor.

Criminal, Charter-violating, lying, no duty of care, legally immune cowards!

"With regard to the GTH land deal, Mr. Pushor made the AER aware of the matter, and we are satisfied that a thorough investigation

ROARING LAUGHTER! AER'S CORRUPT COVER-UP FLYING CARPET MORE LIKE IT!

exonerated Mr. Pushor from any wrongdoing. We consider the matter closed," an AER spokesperson said in an emailed statement.
"The recruiting process for Mr. Pushor's position was led by interim Chair Bev Yee

AND THAT LADIES AND GENTLEMEN, TELLS US EVERYTHING WE NEED TO KNOW ABOUT JUST HOW ROTTEN THIS SCANDAL-BOMB APPOINTMENT IS!

, during the interim board's tenure. The AER Board is responsible for hiring the AER's CEO subject to the approval of the Minister of Energy and Minister of Environment and Parks."
Pushor starts as CEO on April 15.
Recent scandals at AER
The AER faced its own troubling scandal last year, well documented by reports issued in October 2019 by three provincial watchdogs: the auditor general, the public interest commissioner and the ethics commissioner.
The reports concluded the AER wrongfully used its resources to establish another company outside its mandate, while former CEO Jim Ellis displayed "reckless and wilful disregard" for the proper management of public funds.
The independent commissioners determined the AER's board oversaw a regulator whose executives flew first class and stayed at $500-a-night hotels, plotted how to privatize the province's intellectual property, and spent millions of public dollars on a private venture in order to secure their future employment.
A separate review by Alberta's auditor general confirmed, as first reported by CBC News, that Ellis and another senior AER executive commuted from their homes in British Columbia under work arrangements that were not properly approved and cost tens of thousands of dollarsEllis also knowingly broke provincial compensation law by handing cash bonuses of $21,000 to two senior executives, the audit found.
In some instances, the AER board knew of the behaviour and allowed it to happen, while at other times it was completely unaware of activities. Board members not only failed to provide oversight, they often didn't even question senior leadership.
On Wednesday, less than a week after Pushor's appointment was announced, the UCP government said it had named seven new board members to "bring a steady hand to the AER during these unprecedented economic times."
Critic questions new CEO's experience
Both Sproule and Sabir question whether Pushor has the experience to lead the AER, given his relatively brief stint as Saskatchewan's deputy minister of energy.
"I think any responsible board would have found someone with more qualifications and less scandal associated with his name," Sproule said.
Sabir also noted Pushor's paucity of oil-industry-related experience.

The more ignorant, inexperienced and tory-old-white man, the better to hide AER's crimes, crime-enabling and harming of Albertans. Pushor will fit right in with AER/Bev Yee's pathetic cowardly slop!

"Quite frankly, it is disrespectful to Albertans that they wouldn't be able to find a person more qualified within Alberta to lead our energy sector [regulator.]"
If you have information for this story, or information for another story, please contact us in confidence at email hidden; JavaScript is required.
@jennierussell_ @charlesrusnell
Sask. bureaucrat named top boss of Alta. Energy Regulator, Laurie Pushor takes over April 15 by The Canadian Press, Mar 26, 2020, CBC News
One of the comments:
Todd Bender
Isn't Laurie Pushor one of the villain's behind the whole GTH scandal?? The one they wouldn't let testify? Looks like his good friend Brad Wall used his influence to get him another job…

Or, the oil patch needed someone already shown to be dirty?

LAURIE PUSHOR, Board Member of STEP (Saskatchewan Trade and Export Parnership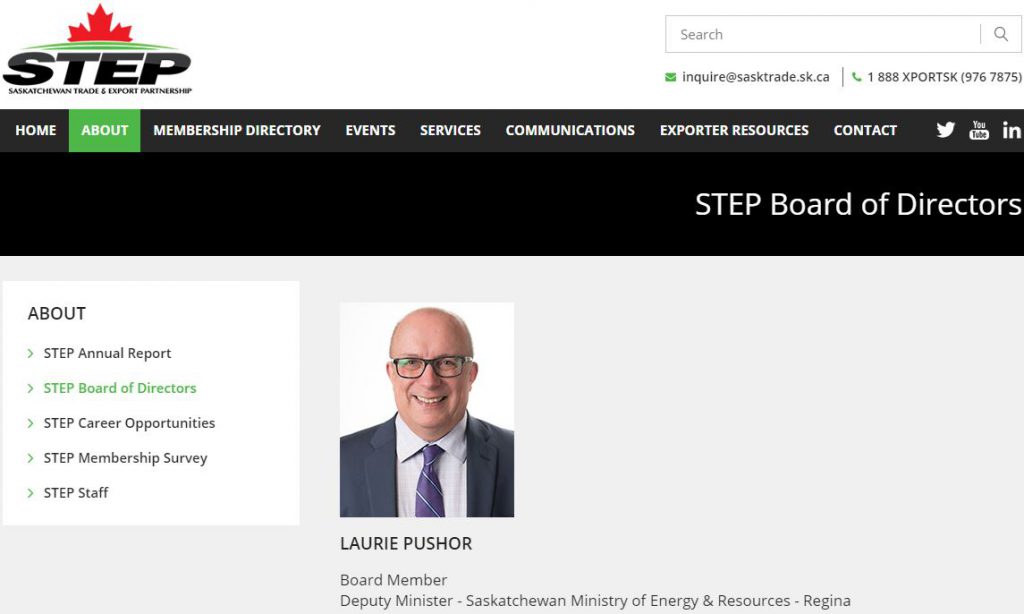 Snap taken March 27, 2020
Deputy Minister – Saskatchewan Ministry of Energy & Resources – Regina
Deputy Minister, Laurie Pushor joined the Ministry of Economy in 2012 and served as Deputy Minister until February 2018. Laurie now serves as the Deputy Minister for the Ministry of Energy and Resources. Prior to joining the Ministry, he spent four years as a Chief of Staff with the Saskatchewan Government. He was fortunate to serve as the Chief of Staff with Minister Harpauer in Social Services, with Minister Boyd in Energy and Resources and Minister McMorris in Health.
Prior to joining the Government of Saskatchewan, Laurie was the Director of Recruitment and Admissions for the University of Saskatchewan. This role included responsibility for Canadian as well as International recruitment and International student activities. Before moving to Saskatoon nine years ago Laurie and his family spent three years in Nova Scotia where he played a similar role for St. Francis Xavier University.
Prior to Nova Scotia Laurie and his family lived many years in Edmonton. He worked with the [Alberta] government in a variety of roles including with the Ministry of Economic Development.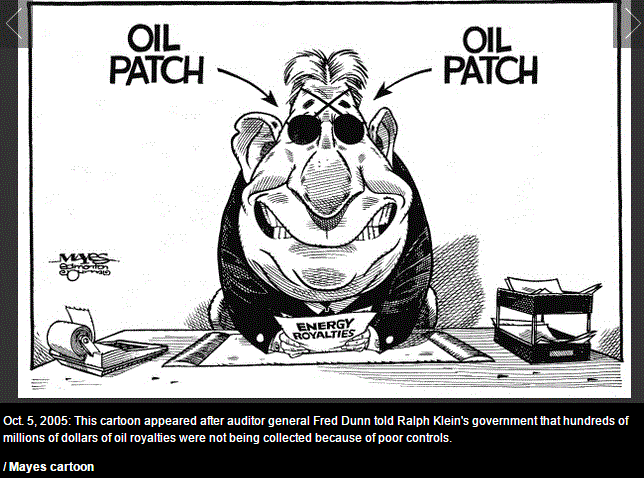 In addition he served at the political level early in his career with the Lougheed government as well as the Klein administration.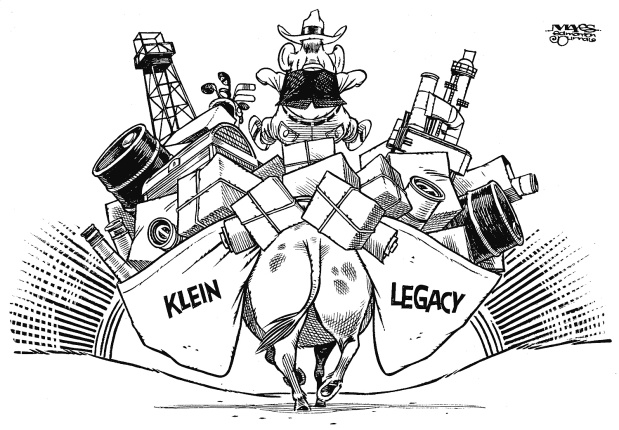 Laurie has private sector experience most significantly managing a consulting operation involved with marketing and public opinion research as well as fund raising counsel.
Debbie, Laurie's wife is a Professor at the U of S with research interests in parent engagement and parent knowledge. They have three sons, the eldest 26 and twins who are 22. Laurie splits his time between their home in Saskatoon and Regina.
For three hours on Monday, a tag-team duo of NDP MLAs attempted to fill in the gaps in the chronology of the mysterious Global Transportation Hub land deal, at a hearing of the provincial Public Accounts Committee.
But they say they're frustrated because government members on the committee are blocking the the most crucial witnesses from testifying.
The NDP is most concerned it hasn't been able to question Laurie Pushor.
Back in 2013, Pushor negotiated the GTH land deal at the request of then-GTH minister Bill Boyd. Pushor agreed to a deal that saw the GTH pay Regina developer Anthony Marquart $103,000 an acre for 204 acres of land, which was far more than government appraisals said the land was worth.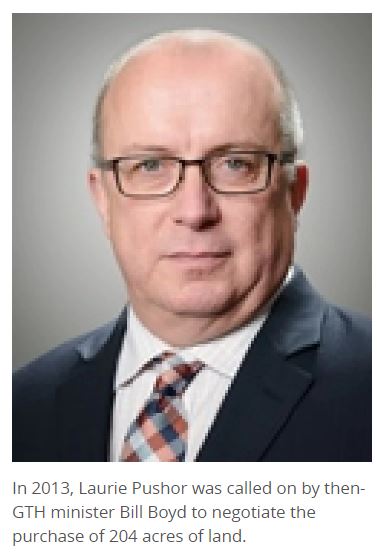 Marquart made about $5 million on the deal.

More importantly, how many $ millions did "Back Door" Pushor make on it?

At the time, Pushor was a senior advisor in the Ministry of the Economy. Now he runs the entire ministry, as deputy minister.
"Pushor is still employed by the government and it wouldn't be hard to get him to the committee," NDP MLA Nicole Sarauer said to the committee, which is dominated by Saskatchewan Party members.
"Time and time again the government members of this committee have blocked him from coming," she said.
Sarauer points out that at multiple committee meetings the NDP has requested to have Pushor and former GTH CEOs testify at the committee, to no avail.
Instead, the government members have agreed to allow Nithi Govindasamy, the deputy minister of Highways, and Bryan Richards, the CEO of the GTH, testify.
But the two men have been unable to answer many of the key questions for a variety of reasons.
Many of the controversial events surrounding the GTH land began in early 2012. Richards didn't start at the GTH until August 2013 and Govindasamy wasn't in his current role until September 2013.
Pushor negotiated the GTH land deal but left Richards and his staff, and Govindasamy and his staff, in the dark.
Many of the key decisions were made in late November and December 2013 and both men were on extensive holidays during that time.
The NDP attempted to reverse the January 2017 decision of the committee that effectively blocked any additional witnesses from testifying.
But the Saskatchewan Party members used their majority to vote down that motion six to one.
That decision means Monday's committee meeting is the last one that will consider the GTH land deal.
In a news release, NDP MLA Cathy Sproule was quoted as saying "to have Sask. Party members shut down the discussion entirely shows how desperate they are to keep the facts of this scandal hidden from the public."
Sask. Party MLA Paul Merriman said he was concerned that the NDP was once again trying to get Pushor and others to testify before the committee.
"That's concerning. We've done this twice," said Merriman, referring to the NDP's efforts to call these witnesses. "We could keep going around on this over and over again," said Merriman."My concern is that the auditor has done her investigation and her team has done the investigation as well as the RCMP with the Opposition's request that the RCMP looked into this. The RCMP are currently investigating this as well. I think that we should allow them to do their work."
Sarauer responded that questioning witnesses about government expenditures is the job of the public accounts committee and something the public expects politicians to do.
"Everywhere I go around Saskatchewan this is the question that I get. I get concerns about this GTH land deal," Sarauer said.
And she said for that reason the NDP will keep pushing for answers.
Confidential emails reveal key players in the notorious "GTH land deal" were working on yet another deal just as the first controversial transaction was concluding in December 2013.
In this newly revealed email chain, the Saskatchewan government was discussing the possibility of buying high-priced farmland near the Global Transportation Hub from Regina developer Anthony Marquart, even though he didn't own the property at the time, according to the province's land titles system.
CBC has learned that Laurie Pushor, former GTH Minister Bill Boyd's right-hand man, knew at the time that Marquart didn't own the land, yet he still pursued the conversation.
These are the same men at the centre of the well-known "GTH land deal."
In that transaction, Pushor negotiated an agreemeent that saw the government buy two parcels of land totalling 204 acres from Marquart for far more than the property was worth, according to the government's own appraisals. Marquart made about $5 million on that deal.
Emails obtained by CBC through access to information requests show that on Dec. 3, 2013, just after the GTH board approved the purchase of the 204 acres from Marquart, Pushor wrote to the developer: "I believe you were going to make some suggestions to me around the additional property, so whenever you have that, it would be great."
Marquart replied: "I still need to get back to you on that 3rd quarter, but will probably do so upon a successful understanding/agreement with the existing opportunity," referring to the "GTH land deal."
On Dec. 24, 2013, the sale agreement for the 204 acres was signed, and Pushor once again raised the issue of the third parcel."I will be in touch early in the new year to follow up on the southern property as well!" he wrote to Marquart.
At that time, though, Marquart didn't own the land he and Pushor were discussing.
Marquart would go on to purchase the property on Jan. 9, 2014, then attempt to flip it to the government for an unknown "development" Pushor was considering for the area.
But that deal never happened, and the government claims it never intended to purchase the land, describing Pushor's interest in it as "exploratory."
'Mind-boggling' land deals
The actual owner of the land in question, Ian Haynes, told CBC he had no idea Marquart was planning to buy his land and flip it to the government.
Echoes of the GTH land scandal
This newly revealed proposed deal mimics the well-known GTH land scandal, in that it involves:
High-profile Regina developer and Saskatchewan Party donor Anthony Marquart.
Bill Boyd's right-hand man Laurie Pushor, who executed the first GTH land deal at Boyd's direction.
Robert Tappauf, whose family rents land to Boyd and donated to his political campaign.
Puzzling land deals at rapidly increasing — and high — prices.
Secret transactions that don't show up on the land titles system.
Starting in early 2012, Haynes got caught up in a series of events related to his land he described as "mind-boggling."
In March 2012, a realtor representing Alberta businessman Robert Tappauf's company 139 Land Corporation approached Haynes and offered to buy his land. Tappauf's family has a business relationship with Boyd. The former minister responsible for the GTH rents thousands of acres of farm land from the Tappauf's.
"The Tappaufs just approached us out of the blue," said Haynes. "We weren't advertising land for sale."
He said the offers started fairly low, but after he declined, "they just kept going up with their price."
They ended up settling on $50,000 an acre which, for Haynes, was stunning.
Just a year and a half earlier, the Ministry of Highways had purchased some of his land for the Regina bypass from that same quarter section for $5,300 an acre.
The deal between Tappauf and Haynes was registered on March 21, 2012. This was a conditional sale that wouldn't close until a later, undetermined date.
On that same day, Tappauf signed similar conditional purchase agreements with the owners of the 204 acres of land involved in the "GTH land deal": the Sisters of Our Lady of the Mission and McNally Enterprises.
Those organizations received around the same price for their land. A spokesperson for the Sisters was similarly shocked by the price Tappauf paid.
Land flipped to Marquart
In February 2013, Marquart closed the purchase of the 204 acres from the Sisters and McNally in an eyebrow-raising way.
The Sisters and McNally thought they were selling their land to Tappauf, for $55,000 and $45,000 an acre respectively. But their transactions with Tappauf were never registered because he flipped the land the same day to Marquart for $84,000 and $72,000 an acre respectively.
The land titles record makes it look like the Sisters and McNally sold their land to Marquart for that higher price.
In a January 2016 interview with Tappauf, he explained this approach to purchasing the land, saying it's perfectly legal and financially beneficial.
"If I would have closed and then [sold] it again there would be extra legal fees," Tappauf said. "So it's a cost saving thing."Haynes's deal with Tappauf followed the same path, although his took another year to do so.
That was at least in part because Haynes wanted to subdivide his 95-acre property, keeping 10 acres for his farm site and selling the remainder to Tappauf.
According to the province's land titles registry, on Jan. 9, 2014, the sale went through.
Haynes thought he sold the property to Tappauf. However, just like with the Sisters and McNally, the registry has no record of that sale. Instead, it shows Haynes sold the land directly to Marquart.
"Wow," said Haynes when CBC brought this to his attention in early 2016. "That's weird."
The registry also says Haynes received $6.5 million for the land, but he said "that's not what I got." He said he received $4.2 million from Tappauf.
The $6.5 million is what Marquart paid Tappauf, the equivalent of about $76,000 an acre.
Haynes said Tappauf's realtor told him, after the sale, that the businessman wasn't planning to do anything with the land because he was going to resell it.
Marquart and Pushor discuss government's 'development' plans for Haynes land
The same day the sale of Haynes land went through, Jan. 9, 2014, Marquart emailed Pushor and sent some of the land titles paperwork for the new property.
He told Pushor that Haynes wanted to rent some of the land back from Marquart for grazing his livestock.
"I bring this to your attention as you may not want this to occur depending on timing of a possible closing between ourselves," Marquart wrote.
A few weeks later, Marquart asked Pushor in an email for feedback about whether he should go ahead with a leaseback arrangement with Haynes.
Pushor sent the request on to Boyd's chief of staff, who indicated he would raise the issue with the minister.
On March 25, 2014, Marquart raised the issue again. He explained to Pushor that Haynes wanted "a May 1, 2014 to April 30, 2015 term for farm/animal grazing. Is this acceptable on your end or will there be construction occurring before this end date?"
Pushor replied: "I don't have any issue with this especially as it relates to the south property which has not been purchased by us yet. We would want some form of cancellation option within the agreement so if we needed to begin development quickly we could."
On multiple occasions, CBC News asked Pushor, Marquart and the Premier's Office what those development plans were. The question was never addressed.
When presented with this information, a spokesperson for the Ministry of the Economy, where Pushor now works as the deputy minister, wrote the following: "Mr. Pushor was not actively considering purchasing the south parcel, conversations were exploratory and the mandate provided to Mr. Pushor did not include the south parcel. As such, though high level preliminary discussion did take place, there was not an intention to purchase this land."
Marquart called this a 'normal business transaction'
CBC News asked Marquart for a comment on this story.
He declined by email saying, "my comments won't assist the tone and direction of your reporting."However, in January 2016, he did agree to an interview. CBC News asked Marquart why he bought Haynes's land.
"It's adjacent to the GTH, so as the GTH gets developed, the lands around the GTH will become more valuable, and there will be development opportunities on those lands as well," Marquart said.
"It made complete sense to have lands around that area and just take a wait and see approach."
Marquart said this was "a normal business transaction" and he was "surprised nobody else saw the opportunity."
"When looking at the deal as a whole I viewed this as an opportunity that was worth taking," he said.
Marquart also said he didn't get the land appraised before he purchased it from Tappauf for $76,000 an acre.
Earlier this month, CBC News asked Marquart why, in December 2013, he was discussing selling land to the government that he didn't yet own. Marquart didn't address that question.
However, a government spokesperson offered this explanation: "Mr. Marquart was providing information on this land in the event that the government did choose to consider purchasing, which it did not. Mr. Marquart was in a position to discuss at that point in time because he was nearing the close of a sale for that land which had been in process for around a year."
Government tried to buy Haynes land from Tappauf in 2012
​The province, though, is declining to address the fact that in November 2012, Boyd recommended to cabinet that the government purchase Haynes's land.
According to the provincial auditor's report, Boyd brought a package deal to cabinet at that time: three parcels of land for $22.8 million, which is the equivalent of $78,000 an acre.
The package included the land owned by the Sisters, McNally and Haynes. All of it was under contract to Robert Tappauf's company, 139 Land Corporation. Boyd offered $78,000 an acre despite the fact the government had appraised the Sisters and McNally's land at $15,000 to $20,000 an acre. No one has ever explained why the government offered to pay so much more for the land.
On the floor of cabinet, then-Justice Minister Gord Wyant asked who owned 139 Land Corporation, as the cabinet decision item didn't indicate that fact.
Apparently no one knew who owned the company. So, Wyant asked that some research be done.
In the end, 139 Land Corporation declined to disclose that the company was owned by Tappauf and the deal died.
Tappauf's family has a business connection to Boyd. It rents thousands of acres of land to Boyd's farming operation. In addition, the Tappaufs have donated to Boyd's political campaign.
The government won't say why Boyd wanted the GTH to purchase the land.
After we first reported on the GTH land deal in February 2016, Boyd sued CBC, saying there was no wrongdoing involved in the transactions and CBC's reporting was false.
GOOD AT EVADING RULES WHY INDUSTRY (AER) PICKED PUSHOR?
A series of private emails written by then-Saskatchewan Social Services Minister Donna Harpauer reveal her secret plans to work around the rules in the hiring of a senior government official years ago.
Months after the Saskatchewan Party came to power, Harpauer had concluded the ministry was intransigent and broken.
In a March 8, 2008 email she wrote, "beyond a doubt the civil servants are still running the show … The obvious very simple strategy involves giving their new minister false information or incomplete information and keeping them overwhelmed with trivial crises. When questioned everyone plays stupid."
She wrote that email from her private account to Tim Korol, a former police officer who had worked on her election campaign. She offered him a job as assistant deputy minister, hoping he could come in and set things right.
But she realized that may be tough, given the current rules.
"I will hire you by contract if need be to get around the rules defined by the [Public Service Commission]," Harpauer told Korol in an April 5, 2008 email.
She said the commission, which is the central human resources agency for the province, had been getting in the way of the new government's plans.
"The Public Service Commission is getting all crappy about us hiring people without open competition … Blah … Blah … Blah. Lots of fun. I really don't care what they think!!" she wrote to Korol on June 24, 2008.
This was one of dozens of private email exchanges CBC's iTeam has obtained between Harpauer and Korol.
Korol concerned about private emails
The emails were provided to CBC by Korol himself, after recent revelations that the Premier's Office and other cabinet ministers have been using private email accounts to conduct some government business.
In releasing the emails, he's sending the government a message.
"This is wrong. This is not the way we should expect our government to work," Korol said in a recent interview.
He said when he was first hired in the fall of 2008, he was told to write sensitive emails from his private account because "we wanted to be free from the freedom of information requests."
Korol points out it's not illegal to use a personal email account for government business, but he has come to believe it is unethical because it might thwart transparency.
Ironically, some of the email skulduggery was done in order to hire him to his position in the first place.
Harpauer derides 'culture of secrecy' from her private email
In early 2008, Harpauer was at her wits' end."The last two weeks have finally pushed me over the edge. The culture of cover up within Social Services is astounding," she wrote from her personal email account to Korol on March 21, 2008.
In an effort to change that culture, she planned to bring on Korol.
She wrote that her then-chief of staff, Laurie Pushor, was "working hard to get around all the barriers in making changes to the public servants," and he was working on finding a "back door" approach for Korol's hiring.
"It will get your foot in the door … The back door that is … And although I doubt the PSC will be happy about it I don't think it can be reversed," she wrote.
On July 2, 2008, she told Korol he could expect a call soon for a job interview.
"Formality to appease everyone. Laurie is aware that even though you will be hired, you may not be able to start right away."
She said the Premier's Office was in the loop.
"The powers that be in executive council are already aware that I intend on hiring you and they are prepared to appoint you through an order in council if the rules and procedures of the PSC become a problem," Harpauer wrote.
When asked earlier this month about her approach to hiring Korol, she wrote, "Mr. Korol was hired by OC [Order in Council], which is well within my authority as the minister responsible."
In June 2009, Harpauer dismissed Korol after nine months on the job, citing a lack of progress in fixing the foster care system.
After leaving that position, Korol became an outspoken critic of the ministry and an advocate for people he perceived as falling through the cracks.
Frustrated by 'an antique piece of legislation'
The hiring of Korol wasn't the only contentious personnel issue at that time.
In correspondence with Korol, Harpauer said the government had been butting heads on a number of issues with the Public Service Commission.
In the summer of 2008, a ruling by the commission went against the Saskatchewan Party government, which caused her to be "so frustrated I can't even begin to express it."
"Now I hear that we have to rehire some of the people we let go in Labour because of some technicality in an antique piece of legislation,"

Rule-of-Law-when-it-suits-them!

Harpauer wrote.
When responding to CBC's questions about these emails earlier this month, she said her frustration stemmed from a slow hiring process and a bureaucracy that was making decisions without her knowledge or consent.
"Social Services announced that a couple hundred social services jobs would be eliminated or transferred – and I did not approve this initiative, and in fact, had to reverse it," Harpauer wrote.
In her 2008 emails, she blamed the problem, in part, on the Saskatchewan Party's own transition team, which dismissed some government workers and replaced them with their own picks.
"The transition team did a completely inadequate job of identifying problem people," Harpauer wrote in early 2008. "On the positive side, although it's harder to explain later in the game why you were getting rid of people, it can and must be done."
In an email to Korol, Harpauer acknowledged that she had been chastised — for moving too quickly.
She had approved the suspension of a couple of managers who launched a complaint and threatened legal action.
"I ignored the PSC process and acted against their advice and I have to be put in my place," Harpauer wrote. "We handled the entire situation wrong right from the beginning and I knew better so I should have stopped it."
Alberta Energy Regulator names senior Saskatchewan government official as CEO by The Canadian Press, March 27, 2020, JWN Energy
Laurie Pushor is Alberta's energy regulator's new chief executive officer.
Alberta's energy regulator has named a new president and CEO.
Laurie Pushor , Saskatchewan's deputy minister of energy and resources, is to take over the agency's top job April 15.
The energy regulator is tasked with overseeing the development of the provinces oil, gas and coal resources in an environmentally [ir]responsible way.
Pushor takes over an agency in transition and an industry that is being crushed economically by the novel coronavirus and an oil price war between Saudi Arabia and Russia.
Last week, Alberta Premier Jason Kenney began rolling out an aid package that includes the government paying the industry's levies to the energy regulator for six months at a cost of $113 million.
Prior to the downturn, the regulator had already been overhauling management and staff at the direction of Kenney's government, which has said project approvals were taking far too long.
VIEW PDF (414.76 KB)
The AER is pleased to announce that after a thorough and exhaustive

Poor over-worked corrupt deregulatory babies.

competition, Laurie Pushor has been named President and CEO, effective April 15, 2020.
Mr. Pushor has an in-depth understanding of―and appreciation for – the critical work of the energy [de]regulator. As deputy minister of the Saskatchewan Ministry of Energy and Resources, he played an integral role in ensuring [de]regulation was well-managed and balanced in protecting [decimating] the environment while allowing [ir]responsible energy development.
Mr. Pushor also has outstanding experience leading organizations through major transformation and change, which will be a huge asset as the AER continues its journey to ensuring we have not only the structure, but the [tarshitting, polluting, rights-violating] vision and [abusive, law-violating] culture we need to achieve our mandate.
The AER's Board of Directors would also like to thank Gordon Lambert for his service to the AER, and for helping ensure a smooth transition.
– 30 –
For more information, please contact:

AER External Relations
Email: email hidden; JavaScript is required
Media line: 1-855-474-6356
AERNR2020-04

Refer also to:
"Back Door" Pushor just more of the same old white man enabled rape & pillage of Alberta by EUB/ERCB/AER?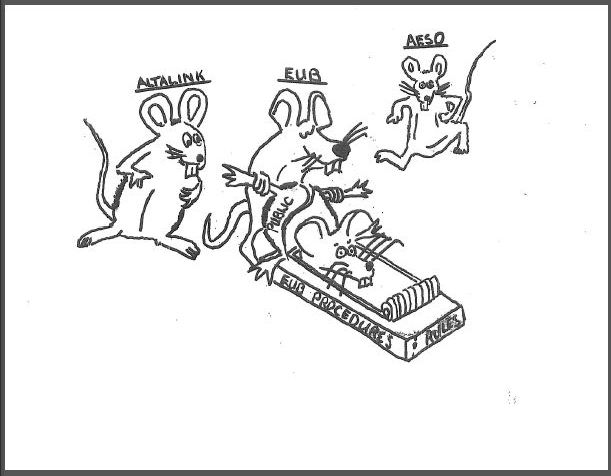 Cartoon above in retired Justice Perras' 2007 report on the repulsive law-violating EUB (which the Alberta gov't changed to ERCB to try to hide the regulator's criminal spying lying spots; after Ernst vs AER lawsuit went public, gov't changed it to AER, crime spots shining bright)
After expense hanky panky by AER's top executive Jim Ellis is publicly commented on by Diana Daunheimer, Alberta farmer and mother of two, he steps down: "Good riddance, bring in the next dickhead." Indeed! Third AER executive paid to commute from BC (air & water too polluted in Alberta?)