Canadians of all colours are rising strong, saying "NO!" just like the (mostly white people) of Lethbridge did but Kenney didn't call them a fringe group.
Lawyer Corey Shefman@coreyshefman, Feb 13, 2020:
Remember when "the rule of law" prohibited First Nations from hiring a lawyer to defend their rights?

Remember when "the rule of law" stole Indigenous children from their families and sold (yes, sold) them to settlers?

Remember when "the rule of law" saw Canada systematically break treaty obligation after treaty obligation?
Talk to me about the rule of law when it is applied equitably and justly, not weaponized against Indigenous peoples. #Wetsuweten
***
Why are our main media and politicians lying to us (and the world)? Why is the Star enabling Kenney fueling hate and racism? On his Propaganda War Room payroll too?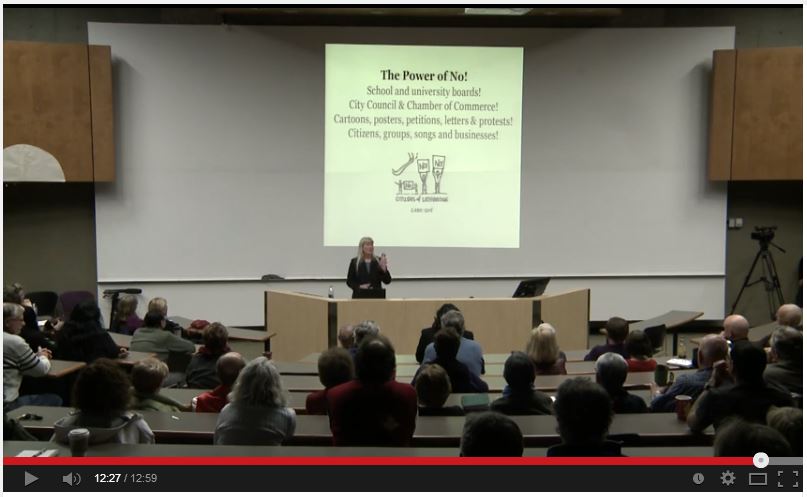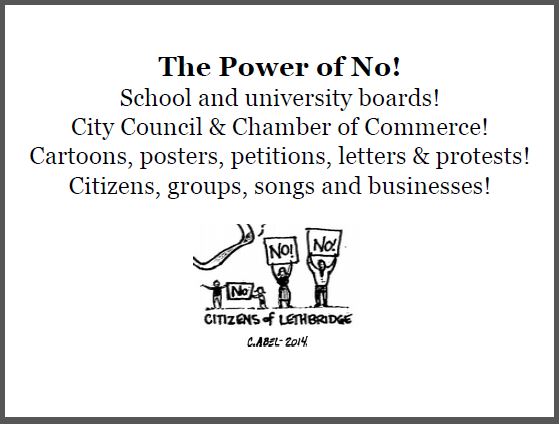 Photo above: Ernst presenting in Lethbridge in 2014. Image from a cartoon by C Abel.
Marie Lloyd @MarieLloyd18 Replying to @RussDiabo
I talked yesterday with my eight year old settler grandson. He got it- wants to donate all he has to the Wet'suwet'en.
otuhan
EXCELLENT READ: The Wet'suwet'en, Aboriginal Title, and the Rule of Law: An Explainer by Kate Gunn & Bruce McIvor, Feb 13, 2020, First People's Law
The RCMP's enforcement of the Coastal GasLink injunction against the Wet'suwet'en has ignited a national debate about the law and the rights of Indigenous people.
Unfortunately, misconceptions and conflicting information threaten to derail this important conversation. Below, we attempt to provide clear, straightforward answers to address some of these fundamental misunderstandings.
What about support for the project from the Wet'suwet'en elected Chiefs and Councils?
Media outlets across the country have repeatedly reported that First Nations along the pipeline route, including the Wet'suwet'en, have signed agreements in support of the project.
Underlying this statement are several key issues that require clarification.
First, the Wet'suwet'en, like many Indigenous groups in Canada, are governed by both a traditional governance system and elected Chiefs and Councils.
The Chief and Council system exists under the Indian Act, a piece of federal legislation. It was introduced by the federal government in the 19th century as part of Canada's attempts to systematically oppress and displace Indigenous law and governance.
The Wet'suwet'en hereditary governance system predates colonization and continues to exist today. The Wet'suwet'en and Gitxsan Hereditary Chiefs, not the Indian Act Chiefs and Councils, were the plaintiffs in the landmark Delgamuukw-Gisday'way Aboriginal title case. They provided the court with exhaustive and detailed evidence of the Wet'suwet'en and Gitxsan governance system and the legal authority of Hereditary Chiefs.
Unless otherwise authorized by the Indigenous Nation members, the authority of elected Chiefs and Councils is limited to the powers set out under the Indian Act.
The Indian Act does not provide authority for a Chief and Council to make decisions about lands beyond the boundaries of the First Nation's reserves.
By contrast, the Hereditary Chiefs are responsible under Wet'suwet'en law and governance for making decisions relating to their ancestral lands. It is these lands that the Hereditary Chiefs are seeking to protect from the impacts of the pipeline project, not Indian Act reserve lands.
Second, Indigenous peoples hold rights to lands in Canada which extend far beyond the boundaries of Indian Act reserves, including Aboriginal title and rights to the lands they used and occupied prior to the arrival of Europeans and the assertion of Crown sovereignty. Aboriginal title and rights are protected under the Constitution Act, 1982 – the highest law in Canada's legal system.
Third, the fact that First Nations have signed agreements with Coastal GasLink does not, in itself, mean that its members support the project without qualification.
Across the country, Indian Act band councils are forced to make difficult choices about how to provide for their members – a situation which exists in large part due to the process of colonization, chronic underfunding for reserve infrastructure and refusal on the part of the Crown to meaningfully recognize Indigenous rights and jurisdiction.
The fact that elected Wet'suwet'en Chiefs and Councils have entered into benefit agreements with Coastal GasLink should ["Should is a terribly slippery word, loved by the oil and gas industry and its enablers. "Must" is more appropriate] not be taken as unconditional support for the project.
Finally, similar to how Canada functions as a confederation with separate provinces with their own authority, First Nation decisions on major projects are not simply a matter of majority rules.
The Quebec provincial government made it clear that it was opposed to and would not sanction the proposed Energy East pipeline. The federal government and other provincial governments respected Quebec's right to make this decision. Similarly, First Nations often disagree about major projects. One cannot speak for another and the majority cannot simply overrule the minority or individual First Nations.
But aren't the Indian Act Chiefs and Councils democratically elected?
Chiefs and Councils under the Indian Act may be elected, but they do not necessarily speak for the Nation as a whole.
Most Chiefs and Councils are elected by status 'Indians' whose names are on an Indian Act band list. The federal government decides who is entitled to be registered as a status Indian through the registration provisions of the Indian Act. The registration provisions are restrictive and have been subject to numerous legal challenges.
Some Indian Act bands have adopted custom election codes that allow non-status 'Indians' to vote. However, in general if an individual does not meet the criteria for 'Indian' status under the Indian Act, they will not be able to vote in band elections.
Critically, the fact that an Indigenous person is not registered under the Indian Act does not mean that they do not hold Aboriginal title and rights. Aboriginal title and rights are held collectively and are not restricted to status Indians registered under the Indian Act.
But what about the 'rule of law'?
Land law in Canada is much more complicated and uncertain than most non-Indigenous Canadians appreciate.
When European colonizers arrived, numerous Indigenous Nations existed throughout the land we now call Canada. Each Indigenous Nation, including the Wet'suwet'en, had their own unique and specific set of land laws. Canadian courts continue to recognize that Indigenous laws form part of Canada's legal system, including as a basis for Aboriginal title. The "rule of law" therefore includes both Canadian and Indigenous law.
Under international and British law at the time of colonization, unless Indigenous people were conquered or treaties were made with them, the Indigenous interest in their land was to be respected by the law of the European colonizing nation.
The British Crown never conquered or made a treaty with the Wet'suwet'en.
In the early days of the colonization of what is now British Columbia, the British government was well aware that based on its own laws it was highly questionable that it had any right to occupy Indigenous lands or assign rights in those lands to individuals or companies.
Nonetheless, beginning in the 1860s the colony of British Columbia began passing its own land laws and giving out property interests in Indigenous land without any established legal right to do so.
The source of the Province's authority over Indigenous lands remains unresolved in Canadian law today.
In 2004 the Supreme Court of Canada referred to the historical and current situation as British Columbia's de facto control of Indigenous lands and resources.
In other words, the Supreme Court recognized that the Province's authority to issue permits for Indigenous lands, including the type of permits issued for the Coastal GasLink pipeline, is not based on established legal authority. It is based on the fact that the Province has proceeded, for over 150 years, to make unilateral decisions about Indigenous lands.
The fact that the Province has acted since the 1860s as though it has full authority to decide how Indigenous peoples' lands are used does not make doing so legal or just.
Photo by Mike Graeme
Isn't this Crown Land?
Under Canadian law, the Crown, as represented by the various provincial governments, has what is referred to as the underlying interest in all land within provincial boundaries. This is based on the discredited and internationally repudiated 'doctrine of discovery'. Courts in Canada have concluded that regardless of the doctrine of discovery having been rejected around the world, they are unable to question its legitimacy.
Importantly, even if one accepts that provincial governments hold the underlying interest in 'Crown land', that interest is subject to strict limits. It does not mean that the provincial governments have a legal right to occupy Indigenous lands or to grant rights to those lands to individuals or companies. Nor does it give provincial governments the right to sell Indigenous land, assign interests to people or companies or forcibly remove Indigenous people from their territories.
The right to benefit from the land, decide how the land should be used and exclude other people from entering on or using the land is separate from the Crown's underlying interest in the land.
The right to benefit from the land and exclude others from using the land is part of what Canadian courts have described as Aboriginal title. Aboriginal title, including Wet'suwet'en Aboriginal title, takes precedence over the Crown's underlying interest in the land.
While Canadian courts have held that provincial governments may be able to infringe Aboriginal title, the requirements to justify infringement are very onerous. The provincial government has not attempted to justify its infringement of Wet'suwet'en Aboriginal title.
But what about the Wet'suwet'en not having proven their Aboriginal title in court?
As with other Indigenous Nations, Wet'suwet'en Aboriginal title exists as a matter of law. It predates the colony of British Columbia and British Columbia's entry into confederation in 1871.
Its existence was not created by section 35 of the Constitution Act, nor does it depend on recognition by Canadian courts.
Canadian courts can recognize Wet'suwet'en Aboriginal title, but they cannot create it. A court declaration of Aboriginal title would merely confirm its existence under Canadian law.
In the Delgamuukw-Gisday'way case, the courts heard extensive evidence about Wet'suwet'en title and rights. Ultimately, the Supreme Court refused to issue a declaration in favour of the Wet'suwet'en because of a technicality in the pleadings. The parties were left to either negotiate a resolution or begin a new trial.
Regardless of whether there is a court declaration, it is open to the Province to recognize and respect the existence of Wet'suwet'en title at any time.
Instead of recognizing the existence of Aboriginal title, the current provincial government continues to adhere to a policy of denial. This is the same policy endorsed by every provincial government since British Columbia became a part of Canada.
As long as it maintains this policy, the Province avoids the implications of having to recognize Wet'suwet'en title and fulfil its corresponding obligations under Canadian law.
By its continued denial of Wet'suwet'en title, the Province avoids the hard work of reconciling its longstanding failure to respect Indigenous land rights with the continued existence and resurgence of Wet'suwet'en law and governance.
Photo by Lauren Sortome
First Peoples Law Corporation is legal counsel for Unist'ot'en. The statements here are made on our own behalf and reflect our views on this issue, not those of our client.
---
Kate Gunn, lawyer, is an associate at First Peoples Law Corporation. Kate recently completed her Master's of Law at the University of British Columbia. Her most recent academic essay, "Agreeing to Share: Treaty 3, History & the Courts," was published in the UBC Law Review.
Contact Kate
Follow Kate on LinkedIn and Twitter
Bruce McIvor, lawyer and historian, is principal of First Peoples Law Corporation. He is also an Adjunct Professor at the University of British Columbia's Allard School of Law where he teaches the constitutional law of Aboriginal and Treaty rights. Bruce is a proud Métis from the Red River in Manitoba. He holds a Ph.D. in Aboriginal and environmental history and is a Fulbright Scholar. A member of the bar in British Columbia and Ontario, Bruce is recognized nationally and internationally as a leading practitioner of Aboriginal law in Canada.
Contact Bruce
***
EXCELLENT PHOTOS: Country erupts into Wet'suwet'en solidarity demonstrations: A week in pictures February 15, 2020, APTN National News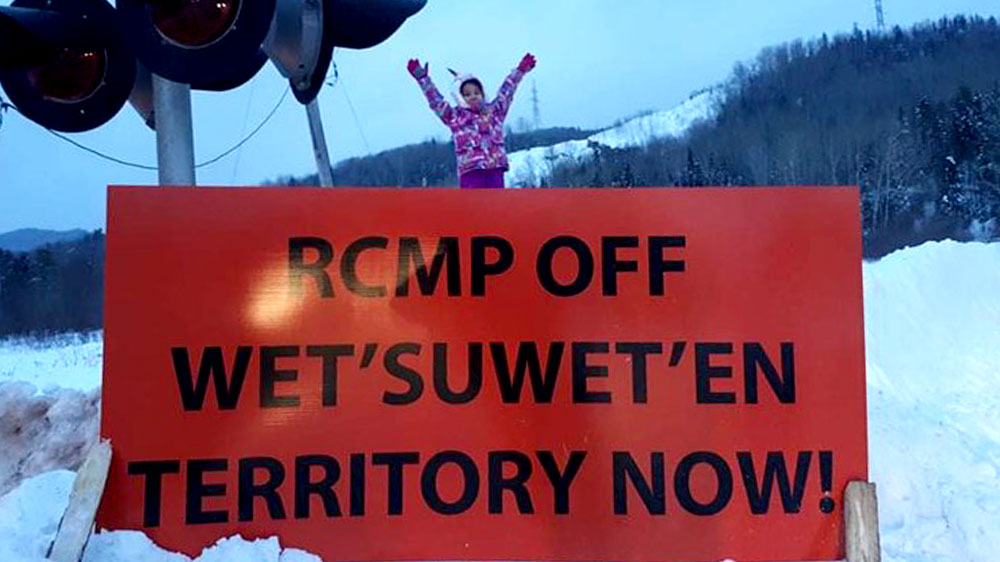 ***
Kenney calls Wet'suwet'en rail shutdown 'national economic crisis' — blames 'some angry fringe groups' by Kieran Leavitt with files from Brendan Kennedy, The Canadian Press, and Star staff, Feb. 14, 2020, The Star Edmonton
Alberta Premier Jason Kenney says the widespread shutdown of Canadian rail operations this week is a full-blown economic crisis.
"Why?" he said to reporters in Edmonton on Friday. "Because some angry fringe groups are ignoring the democratically expressed wishes of every First Nation in northern British Columbia."
"I think Canadians are losing patience with this," he said. "I know Indigenous people are." [Don't speak for me Kenney. I am not losing patience. I am mighty proud of Canadians right now. It's about time people starting rising up across the country, supporting those being harmed by the desperate oil and gas industry enabled by our desperate, rights violating gov'ts, regulators and bullying arrogant lying RCMP]
This week has seen nationwide civil unrest in support of hereditary chiefs of the Wet'suwet'en, who are attempting to block the route of a natural gas pipeline in British Columbia. Protesters have gathered in solidarity and shut down rail operations across the country.
Kenney said he's heard from Alberta's business community over the matter. The premier said if shipping crude oil by rail is affected, it could take 400,000 barrels of oil out of commission — costing the economy billions. But the "very serious threat" extends past Alberta's borders, said Kenney, and affects farmers in Saskatchewan and manufacturing businesses in Ontario.
Asked at a news conference whether Justin Trudeau should get involved, Kenney would only say, "That's for the prime minister to decide."
But he added the situation is "not just a regional issue" and urged leaders from all levels of government to get involved if the situation gets worse.
"This has become a national economic crisis," Kenney said.
"You need to know we have failed our Indigenous peoples over generations, over centuries. And there is no quick fix to it," Trudeau said, adding that all parties must move toward reconciliation. [If true, then order the RCMP to stand down and pull out.]
"We also are, obviously, a country of laws. And making sure that those laws are enforced, even as there is, of course, freedom to demonstrate and to protest," he said. "Getting that balance right and wrapping it up in the path forward … is really important." [Then, order a stop to the heavily armed invasion, pull them out and parlé in peace, without threats, without gag orders hidden as "benefits" agreements, chief to chief]
Eastern Ontario rail blockade still in place as provincial police keep watch by Tara Deschamps, The Canadian Press, Feb 15, 2020, CTV News
TYENDINAGA MOHAWK TERRITORY, Ont. — Members of the Mohawk First Nation are to meet Saturday with Federal Indigenous Services Minister Marc Miller at a CN rail crossing in Ontario.
"The CN Rail stoppage is in its 9th day since Mohawks demanded that no trains cross their Territory at Tyendinaga until the RCMP leave Wet'suwet'en Territory, where the government is using the militarized police force to escort Coastal Gas Link employees who are building a new fracked gas pipeline," a Mohawk news release said Friday.
"Federal Indigenous Services Minister Marc Miller has requested to "Polish the Silver Covenant Chain," one of the original agreements between Mohawks and the Crown, to address the issues that both Canada and the Mohawks have.
"Tomorrow, he will be arriving at the Wyman Rd CN Rail crossing at 10 a.m. The Mohawks have agreed to meet with him."
Miller said the meeting stems from an invitation he made to some Mohawk leaders on Wednesday night in regards to the situation at Tyendinaga.
"I agreed to a meeting this Saturday at a location of their choosing in Tyendinaga," Miller said on Twitter. "I can confirm that they have agreed to it and that I will be present."
Miller said he reached out to Mohawk leaders Kanenhariyo, Chief Maracle and regional Chief Archibald.
Meanwhile, police kept a watchful eye on a handful of protesters blocking a major stretch of railway in eastern Ontario as political pressure mounted on the provincial force to take more decisive action.
The blockade in the heart of the Tyendinaga Mohawk Territory near Belleville, Ont., was first erected last Thursday by community members showing solidarity with the hereditary chiefs of the Wet'suwet'en First Nation in British Columbia who oppose the development of a liquefied natural gas project that crosses their traditional territory.
The Ontario blockade, combined with similar efforts in B.C. and Quebec, resulted in Via Rail suspending passenger train service nationwide and Canadian National Railway Co. shutting down freight operations for Eastern Canada.
Ontario Provincial Police defended its handling of the situation, saying officers have been in talks with the protesters throughout the week — a move that's in line with the force's framework on resolving conflicts with Indigenous communities.
"The proper use of police discretion is a valid, appropriate approach to de-escalating situations such as this," spokesman Bill Dickson said in a statement.
"The proper exercise of police discretion should not be confused with a lack of enforcement."
A number of court injunctions have been handed down in a bid to remove the protesters, but most have been ignored. When one such document was delivered to the Ontario demonstrators over the weekend, it was set ablaze on the train tracks.
About a dozen protesters milled around the rail line on Friday afternoon after unfurling colourful banners bearing Indigenous symbols. Some community members stopped by to survey the scene or offer support, with one family of four making repeated trips to bring bread, hummus and other food to the demonstrators.
At one point, two police officers walked over to the barricade and held a brief conversation with the protesters.
A growing number of business leaders and industry groups called for government or police intervention in the shutdowns, and federal Conservative Leader Andrew Scheer took up the cry on Friday.
"Law enforcement should enforce the law," he said. "We have court orders, we have court injunctions. They need to be respected." [Enforce the law? Whose law? Scheer's law, thieving from Canadians to increase his and his children's white privilege?]
But Transport Minister Marc Garneau said the situation is more nuanced, acknowledging the fraught history between Ontario Provincial Police and Indigenous communities may call for a more delicate approach.
"Also remember that they have to take into account some history here when we're talking about what happened at Ipperwash," he said, referring to a violent 1995 standoff that resulted in the death of Indigenous activist Dudley George. "It is their decision about how to approach that."
Prime Minister Justin Trudeau agreed, noting that police forces have the right to use their discretion when addressing such situations.
"We are not the kind of country where politicians tell police what to do in operational matters," Trudeau said at a press conference in Germany.
The OPP came in for a significant share of blame for the Ipperwash standoff, according to the results of a public inquiry into the matter. Commissioner Sidney Linden found that "cultural insensitivity and racism" among OPP officers played a role in how the situation unfolded.
The framework currently in place was developed as a direct result of George's death and explicitly calls for a measured response that takes Indigenous perspectives into account.
"It is the role of the OPP and all of its employees to make every effort prior to a critical incident to understand the issues and to protect the rights of all involved parties throughout the cycle of conflict," the framework reads.
Dickson said that framework will continue to inform the OPP's handling of the eastern Ontario blockade, which has involved no arrests so far.
"The OPP respects the right of everyone to freedom of expression and peaceful assembly, but we also recognize the rights of the general public, local residents and businesses to a safe environment," he said.
— With files from Michelle McQuigge in Toronto
This report by The Canadian Press was first published Feb. 14, 2020.
As armed Canadian police officers advanced through snow towards their camp, the group of Indigenous women was absorbed in a drumming ceremony to honour the spirits of missing and murdered Indigenous women across the country.
Rows of red dresses hung from a fishing line slung across the road, and from pine and spruce trees in the surrounding forest – each one a memorial to the thousands of Indigenous women killed or disappeared in recent years.
A pair of helicopters buzzed overhead, but on the ground, the women's voices and drums drowned out the officers as they warned them to leave or face arrest.
"We remained in ceremony – even as the tactical officers surrounded us and began pick off individuals," said one of the women, Dr Karla Tait.
Set amid dense evergreen forests near the bank of the Wedzin Kwah, or Morice River, the remote cabins at Unist'ot'en camp have become a place of healing for Indigenous youth, who take lessons on trapping and traditional medicines.
But the camp in north-western British Columbia is also the last line of defence in the Wet'suwet'en nation's fight against a controversial natural gas pipeline.
The long-simmering conflict came to a head this week, as Canada's national police force deployed helicopters, armed officers and dogs to enforce a court injunction and clear Indigenous activists who had been blocking work crews from the route of the C$6.6bn (US$5bn) Coastal GasLink project.
Twenty-eight people were arrested by the Royal Canadian Mounted Police, including three Wet'suwet'en matriarchs – Tait, Freda Huson and Brenda Michell.
"I felt overwhelmed with sadness, and pain over the fact that we were being removed from our territory," said Tait, remembering the moment she was escorted past the fluttering red dresses towards a police vehicle. She made sure to touch each dress as she left.
But she and the other "land defenders" remain defiant. Wet'suwet'en hereditary chiefs, who oversee 22,000 sq km of territory, have stubbornly opposed the project and remain locked in a battle with the courts, the pipeline company – and the government of Justin Trudeau.
And in recent days, their fight has been taken up by other groups across the country.
For more than a week, members of the Tyendinaga Mohawk have blocked freight and commuter rail traffic in Ontario, in support of the Wet'suwet'en. Elsewhere, protestors have blocked roads, barricaded access to shipping ports and occupied the offices of elected officials in a wave of dissent.
Late on Thursday, Canadian National Railway, the country's largest freight operator, said it was shutting down its operations in the east of the country due to the continuing blockade, and warned of temporary layoffs. Soon after, Via Rail, which operates much of Canada's passenger rail service, said its entire service would be suspended until further notice.
Climate action groups have also taken up the cause of the Wet'suwet'en, seeing their fight as part of a broader one against resource extraction projects in the country.
The demonstrations have piled pressure on Canada's prime minister, who has vaunted his commitment to diversity and tackling the deep-rooted inequities facing Indigenous peoples.
"Trudeau has gone to the United Nations to shed tears about the history of Canada's relationship with indigenous people," said Tait. "And on the other hand, he's essentially authorizing the use of force against our unarmed people for upholding our rights."
This week, Trudeau has expressed his support for peaceful protest – but also criticised the rail blockades.
Amid pleas from business leaders for a swift end to the crisis, other politicians have been even more outspoken in their condemnation.
In Alberta – a province whose economy relies on oil and gas – the conservative premier, Jason Kenney, has warned that the current unrest is a "dress rehearsal" for future opposition to fossil-fuel based projects.
"This is not about Indigenous people. It's not about carbon emissions. It's about a hard-left ideology that is, frankly, opposed to the entire modern industrial economy," said Kenney. "It's about time that our police services demonstrated that this is a country that respects the rule of law."
And after protesters barricaded the entrance to British Columbia's legislative assembly, the province's premier, John Horgan, called the demonstrations a "shift from traditional protest – to something quite different". [Yes, because Canadians are sick of seeing our courts and police break the law to help polluting oil and gas companies make profits for mostly foreign rich people, while dumping their radioactive dregs on us and our communities, and walking from clean up, again and again and again, enabled by the courts, again and again and again]
Molly Wickham, a spokesperson for the Wet'suwet'en who also has the hereditary name Sleydo', agreed.
"Indigenous people see what's happening to us and see what's happening to our territory and our pristine waters – and to our people on the ground, having semiautomatic weapons aimed at us," she said. "People are responding to that in appropriate ways."
More than just a row over a pipeline, the Wet'suwet'en protests also reflect Canada's often fraught relationship with First Nations.
"Ever since colonization, the aim has been to dispossess our people from our lands. To impoverish us. To assimilate us. To eliminate us," said Tait. "We know that our self-determination, our sovereignty, our very identity, is based on us having control over our lands."
[And our white privileged politicians, hand maidens blow-jobbing industry for future high paying directorships and other perks, know they'll get richer the more they can steal from Canadians to give to polluting multinational oil patch corporations]
In November, British Columbia became the first province in Canada to pass legislation promising to uphold the United Nations declaration on the rights of Indigenous peoples. But such promises seem empty in the wake of recent police actions, said Wickham.
"There were tactical teams walking around with semi-automatic weapons in my territory. Industry was allowed to come and go freely. White settlers were allowed to come and go freely," she said. "But if you were a Wet'suwet'en person, you are not permitted on your own territory."
Q&A
Who are the Wet'suwet'en?
Controversy around the Coastal GasLink project has been compounded by questions over who has the right to speak for the Wet'suwet'en.
Coastal GasLink has signed benefit agreements [gag orders] with the 20 elected First Nations councils along the route, including five of the six elected band councils in the Wet'suwet'en nation. But Wet'suwet'en chiefs say the authority of these groups only applies to reservations – not traditional territory where the pipeline is proposed.
Unlike in much of Canada – where relationships between First Nations and the state are governed by treaties – few aboriginal nations in British Columbia ever signed deals with colonial authorities, meaning the federal government still operates in a vacuum of authority on their lands.
In 1997, the Wet'suwet'en and Gitxsan nations won a landmark case in which the supreme court ruled that their aboriginal title had not been extinguished when Canada became a country. But the case did not establish the boundaries of that title and the court suggested subsequent cases would be needed to settle the issue.
"Aboriginal title claims of the Wet'suwet'en people have yet to be resolved either by negotiation or litigation," wrote the justice Marguerite Church in her decision to grant Coastal GasLink the injunction. "While Wet'suwet'en customary laws clearly exist on their own independent footing, they are not recognized as being an effectual part of Canadian law."
Legal experts believe the Wet'suwet'en would probably have a strong case to establish title to the land in the courts, enabling them to better fight the project. But such cases can take decades to adjudicate and cost millions of dollars, a prospect Tait called "insufficient" given the pipeline's imminent construction.
For those on the front lines of the fight, the nationwide support is a vindication that the long-simmering frustrations over land claims and a fraught Indigenous relationship with the state are facing a long-overdue reckoning.
"This is far from over," said Wickham. "We've had day after day of invasion and we're still here. We're still not giving up."
Refer also to:
2015: Canada's environmental activists seen as 'threat to national security', Police, security agencies describe green groups' protests, petitions as 'forms of attack'
2016: "Corruption … At A Gallop." Ex-Justice Minister Peter MacKay urges: "Respect the Rule of Law" while the RCMP, Encana, AER, Alberta and Harper governments busily break it?
2019: Andrew Nikiforuk: When Indigenous Assert Rights, Canada Sends Militarized Police
****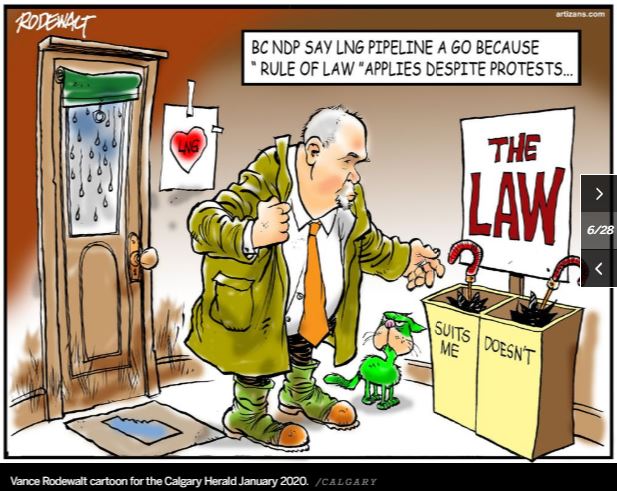 In my experience and observations, Canada's rule of law is a caveman's ass, used when it suits the rich and powerful, and corrupt.