Mr. Norheim must have thrilled his Alberta (conservative misogynistic racist) political masters well to have stayed on the bench this long. This is not the first time Norheim was put on notice for his "courtroom arrogance" and discriminatory comments. Why was he not removed from the bench the first time? Misogynists don't change. It appears Mr. Norheim is better suited to a job with the Catholic Church, Jason Kenney, Steve Harper, and or Andrew Scheer.
Must watch 1:52 Min for you Mr. Norheim, you might learn something:
Appointment of judges politically biased in Alberta, critics say, Process favours candidates with ties to the PC party and you know what that means.
2019 12 04: Report says Alberta women at high risk of being killed
… The report also states nearly 2/3 of women entering shelters — roughly 65.9 per cent — are at severe or extreme risk of being killed by their partner.
ACWS executive director Jan Reimer said this is the highest the risk level has been in eight years. "We're continuing to see more and more women at extreme risk of being killed," she said. "That has to be really troubling for every Albertan. We know that we have so much more we need to do."
… ACWS says Alberta has one of the highest domestic violence in the country. [Is the oil patch as misogynistic as the legal profession?]
2019 12 02: Catholic abuse legal reckoning: New wave of lawsuits could cost church over $4Billion! [Never mind, misogynistic lawyers and judges will work hard to get the church off the hook and shoved under their pedophilia enabling carpets]
Cornwall, Canada: Pedophilia victims given large settlements to get rid of their lawsuits, including 16 against Catholic Church, in all possibly totaling $70-100 Million with some individuals getting less than $20,000. "The Inquiry found the Catholic Church, police, the Ontario government and the legal system all failed to protect children from sexual predators."
2019 11: Kings County teen who could not legally consent to sex with older man shocked by plea deal, Sexual assault charge is withdrawn after accused pleads guilty to lesser charge of assault
Attire does not imply consent, Ontario Court of appeal says, calling out Justice for comments [Why isn't that Justice removed from the Bench, pronto, with pension taken away? The year is 2019, not 1019!]
Interest in sex does not affect a complainant's credibility in a sexual-assault trial, Ontario Appeals Court rules
White, male lawyers should say 'no' to judicial appointments
How prevalent is racism (and misogyny) among Canadian lawyers & judges?
Do you want fairness, equality, diversity, inclusion in Canada's legal profession? In 2019, 85% of the legal profession in USA is white and mostly male. No wonder so many sexual assault victims are re-victimized in court by judges and known convicted pedophiles are granted licence to practice law! No wonder our environment is underrepresented and unjustly served with vile demented gag orders.
Fabulous! Campaign for an inclusive legal profession in Ontario starts at www.demandinclusion.ca. "Because white supremacy will not roll over and die." – Kris @GPLLP
Mr. Norheim sounds like ex-judge Robin Camp!
Unbelievable Gall! No wonder Canada's legal system is broken! Ex-Judge "sex hurts & why didn't you keep your knees together" Robin Camp seeks to practise law again in Alberta
No wonder Canada's legal system slithers around in Hell: 'Knees together' ex-judge Robin Camp should be able to practise law again, his lawyer argues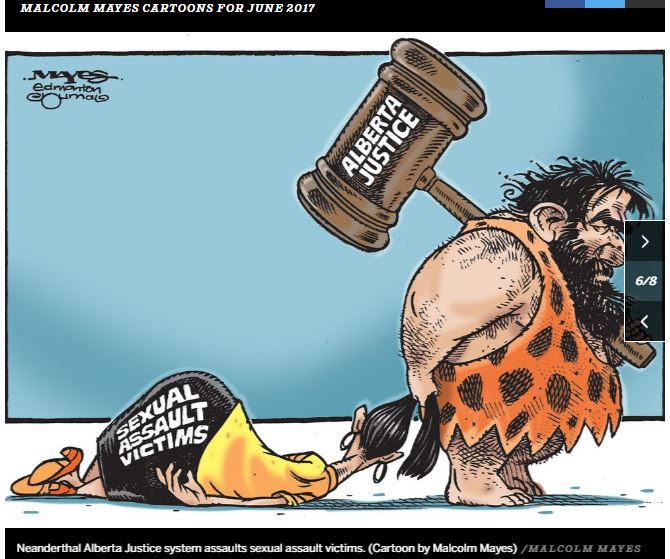 Judge fights for job despite 'inappropriate' views on Indigenous people, women, Judge Donald Norheim sat on the bench for 27 years in Hinton, Alta
by Meghan Grant, CBC News, Nov 26, 2019
An Alberta judge has lost his job over "completely inappropriate" beliefs and behaviours involving his views on Indigenous people and victims of domestic and sexual assault.
But Judge Donald Norheim is fighting to get his job back, filing an application for a judicial review of the decision by Alberta provincial court Chief Judge Terry Matchett not to reappoint him.
[Albertans harmed by the AER's abuses seeking judicial review are usually denied. So Ernst filed a lawsuit against the law-violating "regulator" (aka abusive punisher for Encana). The Supreme Court of Encanada, not only took a year and a day (six months over the six months time limit set by the Judicial Council) to rule on a simple matter of "law" in Ernst vs AER denying Ernst her quaranteed right to sue for her "valid Charter claim" against the regulator, the nine judges knowingly published "Justice" Rosalie Abella's defamation of Ernst and sent it to the media. It will be fascinating to watch if Alberta Caveman Courts slam down their misogynistic, racist and corrupt "Rule of Law" in this matter to plunk one of their abusive own back on the bench to continue harming women and non-whites.]
Norheim called the move "fundamentally unfair."
He was informed of the decision in August.
"Your beliefs or behaviours in many cases are completely inappropriate for any judge," Matchett wrote in an email to Norheim on Aug. 14, 2019.
Matchett's findings are based on a year-long review of transcripts and recordings from Norheim's courtroom, as well as hearing "expressions of deep concern" from other judges and lawyers.
The chief judge also indicated this is not the first time Norheim has been put on notice for his "courtroom arrogance" and discriminatory comments.
'Rude and bullying'
Norheim, 72, was appointed 27 years ago and until August, sat in Hinton, Alta., which is about 280 kilometres west of Edmonton.
After the age of 70, provincial court judges must be reappointed every year by the chief judge.
Matchett advised Norheim that he would not be reappointed this year and would sit only until Sept. 29, the Hinton judge's 72nd birthday. [Why the hell was this judge not removed from the bench decades ago? How many innocent women and Indigenous people did he harm?]
"You've demonstrated attitudes and publicly express personal views regarding Indigenous accused, female victims of domestic assault, and consent in sexual assault cases which caused significant concerns for the perception of trial fairness before you," wrote Matchett in a letter dated Aug. 14.
On "numerous occasions," Norheim spoke to people who appeared before him "in a way that can only be described as rude and bullying," Matchett wrote.
'Courtroom arrogance'
On Aug. 23, after Norheim was advised by letter that his appointment would not be extended beyond September, he met with Associate Chief Judge J. Schaffter and Matchett.
"You did not dispute the accuracy of the court behaviours or comments outlined in the letter," wrote Matchett in a followup email to Norheim four days after the meeting. "You said the events could have been 'handled better.'"
"That lack of contriteness would be deeply troubling by any judge but it was particularly so by a judge who has served 27 years on the bench. You essentially attempted to minimize the inappropriateness of your behaviours," wrote the chief judge.
Matchett also indicated that this was not the first time Norheim had been warned about his behaviour in court. [Why the hell was he not removed from his position of power the first time! Misogynists don't change.]
In 2016, Charles Gardner, then the associate chief judge, met with Norheim to discuss many of the same concerns raised in 2019. [Infuriating that this abusive ignorant "judge" was not fired then! No wonder lawyers work so hard trying to brainwash their clients into "believing" in and pimping Canada's "justice" system which is little but a boys' club injustice system.]
Those concerns included Norheim's "courtroom arrogance and demeanour, regularly challenging counsel's integrity, your inflexibility, refusing to accept joint submissions of counsel for adjournments, waivers and sentences, regularly denigrating Legal Aid."
Calls people addicted to drugs 'liars'
The letter also asserts that Norheim has called people who are addicted to drugs "liars" and made comments that they are incapable of recovering from their addictions.
A letter from Norheim's lawyer to Alberta Justice counsel argues that the refusal to reappoint the Hinton judge "was made in a fundamentally unfair manner that lacked the high standard of justice that is required when the right to continue in one's profession is at stake."
[Keep in mind, no matter how horrifically judges revictimize victims of rape or behave on the bench, taxpayers are forced to pay the entire legal costs of bad judges fighting to stay on their sordid, well paying benches!]
The application for a judicial review was filed in an Edmonton court on Sept. 20 and seeks Norheim's reappointment. [Wanna bet Alberta's court of injustice will reappointed this bully, permanently til mandatory retirement, and order him a hefty financial gift from taxpayers for his troubles?]
It also seeks an injunction preventing Matchett's decision from taking effect until Judicial Council makes a determination on Noheim's complaint. [Arrogance doesn't begin to sum up this dude]
Norheim claims the process not to renew his appointment "offends the principles of procedural fairness and natural justice" and that it is a breach of his constitutional right "by limiting judicial independence of and removing procedural protections for judges over the age of 70." [Only his rights are of concern? What of the Indigenous people and women he harmed, revicitmized and or unfairly treated over the decades?]
The parties were in court in Edmonton on Oct. 17 but the case was adjourned without a return date being set. [Why? Did the court/parties/Alberta UCP think Andrew Scheer would win the federal election making it easier to replunk a bullying racist misogynist judge on the bench admidst the blood thirsty screams of anti-women's rights, anti-muslim, anti-any-sex but that blessed by the pedophilia-plagued Catholic Church, anti-anyone not white, anti-any religion but extreme evangelical Christian, anti-environment, anti-safe drinking water, anti-citizen, anti-health, anti-common good, anti-anything but polluting oil and gas industry leagues?]
CBC News requested comment from Norheim, his lawyer and a lawyer for Matchett. None of the parties responded to the request.
Refer also to:
Violation of court order in Trans Mountain appeal 'attack on the rule of law,' judge says. Rule of Law in Caveman Canada? What Rule of Law? Oh Ya! For the Rich! Oh Ya! Industry's! Oh Ya! Law-violating politicians'! Oh Ya! Charter-violating regulators! Oh Ya! Protecting rapists and pedophiles while re-victimizing victims making how many boners under the bench?
MUST WATCH! 'This Hour Has 22 Minutes' Sketch: "Judges: a danger to Canadian women"
"I am sick of [judges] making us unsafe."
This one's for you Mr. Norheim: Imagine if law-violating, polluting, community, family, health and home harming oil and gas companies were persecuted the same way women are! The "Rule of Law" is a misogynistic caveman's ass
Canadian misogynistic "justice" ensures rapist paradise. Accused serial rapist Paul Batchelor, let off by Justice Beaudoin (elevated to the bench by Harper gov't), arrested after three new rape charges; now awaits trials involving nine women who don't know one another
Would Justice Robert Beaudoin have let the rapist off if his daughter was one of the women raped? Ontario Crown serves Paul Batchelor notice of appeal, claims trial judge made errors. Errors or misogyny?
No wonder Canadian "justice" is so often misogynistic, racist &/or abusive. Looking in the mirror: Harassment in legal workplaces
Misogynistic Justice. Rapist after rapist set free by Canadian judges. Think those judges will let you seek justice if your water is frac'd by Encana, enabled, covered-up by authorities with AER violating your Charter rights trying to terrify you into submissive silence, enabled by Supreme Court of Canada?
Is Canada "a pedophile's paradise?" Appeal court cuts child molester's 'unduly long and harsh' sentence (too short to begin with given the lasting harms inflicted to children!) in half.
Know my Name. A Memoir. Chanel Miller. Horrific Sexual Assault. "Rape is rape." Another Judge Protecting the Rapist. Magnificent Courage. Magnificent Writing.
"Unf*ck the system." Alberta's Neanderthal "Justice" system assaults sexual assault victims. "The judge in this troubling case was none other than former Deputy Justice Minister Ray Bodnarek, a PC loyalist appointed as a judge by former PC Justice Minister Jonathan Denis who himself resigned under troubling allegations of domestic violence." Commenter: "So who exactly is the crown protecting by blocking the publication of the victim's name?" Another commenter: "My guess…..the 'system'. It stinks and it's all because of the judges & lawyers."
Errors or more judicial misogyny? Appeal panel rules trial judge 'erred,' issues convictions on 25 charges related to 18 complainants for Chatham-Kent violin teacher; Panel requested different trial court judge determine sentencing. Phew! It's about time.
No wonder Canadian "justice" is so often misogynistic, racist &/or abusive. Looking in the mirror: Harassment in legal workplaces
Happy Easter! What's with so many judges not keeping their lips together? Protecting rape & pedophilia rings? How are citizens to trust & respect judges with so many bad lips on the bench? "That judge didn't care about me," Julie Kirby, 23, one of Keith Vallejo's victims said Friday. "He only cared about the person he was convicting, and I think that is really kind of despicable."
"The [legal] system's not broken; the system was built this way." Of course it was! Just like it was built to piss on the poor, women, the environment and the Rule of Law itself