Refer also to:
Violation of court order in Trans Mountain appeal 'attack on the rule of law,' judge says. Rule of Law in Caveman Canada? What Rule of Law? Oh Ya! For the Rich! Oh Ya! Industry's! Oh Ya! Law-violating politicians'! Oh Ya! Charter-violating regulators! Oh Ya! Protecting rapists and pedophiles while re-victimizing victims making how many boners under the bench?
BARRISTERS' BRIEFS Aspiring to the Highest Standards of Civility by Maureen Killoran [representing Encana in Ernst vs Encana], QC and Anne Kirker, QC, Spring issue 2016, Vol 1, No 41 Law Matters, Canadian Bar Association Alberta Branch
With thanks to the Honorable Chief Justice Neil C. Wittmann [Volunteered to be and became case management judge in the Ernst versus Encana lawsuit after Harper government suddenly, immediately promoted existing case management judge, Barbara Veldhuis, not allowing her to rule on January 18, 2013 arguments she heard in the case.]
The Honorable Chief Justice Wittmann recently spoke to members of the Bench and Bar at an Advocates Society reception in Calgary about the importance of civility in our profession. We thought his words were worth repeating. The following is an excerpt from his speech:
Everyone has witnessed uncivil conduct in the course of litigation. The Advocates' Society has led the way in defining the obligations of the profession. Nevertheless, the focus on civility regulation has increased in the past decade. Why? I suggest it is because we are not talking only about bad behaviour, like rudeness and insult, although that is probably on the rise too. What we need to talk about is behaviour that undermines our professional obligations as advocates and officers of the court.
In the Alberta Law Society's Professional Code of Conduct, Rule 4.01(6) requires lawyers to be courteous and civil and act in good faith to the tribunal and all persons with whom the lawyer has dealings. The Commentary to the rule warns that a "consistent pattern of rude, provocative or disruptive conduct by a lawyer, even though unpunished as contempt, may constitute professional misconduct." Although legal contempt of court and the professional obligation against misconduct are not identical, persistent incivility is viewed as misconduct.
The Law Society of Upper Canada exhorts lawyers using almost identical language1 but its Commentary presents the carrot of civility, not the stick. For example, it says that lack of courtesy will impair the ability of lawyers to perform their function properly and is not in the client's or the public's interest. Animosity between lawyers may cause their judgment to be clouded by emotional factors and hinder the matter's proper resolution.
So how do we distinguish merely abrasive behaviour from ethical misconduct? We talk a lot about incivility and the need for reform. The majority of complaints that Law Societies receive are allegations of incivility. But the fact is, the actual number of
discipline cases that are heard following complaints of incivility is very small. In 60 reported disciplinary decisions from 2009 for the law societies of British Columbia, Alberta, Saskatchewan, Manitoba and Nova Scotia, only one addressed incivility. And
in all common law jurisdictions between 2007 and 2012, only ten did.2 It may be that a consistent pattern of incivility is what attracts complaints, but that this pattern is a signal of something more serious.
Regulation of civility has its detractors. Critics say that if we don't distinguish obnoxiousness from actual misconduct, we risk punishing zealousness and imposing a chill on a lawyer's fearlessness in championing the client's cause. We may be
better able to reconcile the competing values of lawyers' duties to clients and the obligation to be civil by examining the motives and effects of an alleged incivility instead of simply parsing the behaviour to see whether it meets a defined standard, a
standard which may be subjectively interpreted. At what point does forceful advocacy become incivility justifying discipline? The most recent statement from the Bench on this issue is the Groia v. The Law Society of Upper Canada decision by the Divisional Court of Ontario in February of last year.3 Groia was defence counsel for John Felderhof, a Bre-X officer and director. Felderhof was charged with eight counts of violations of the Securities Act4 for insider trading and authorizing misleading
news releases about Bre-X. Billions of dollars were lost by institutional and individual investors in this spectacular fraud. It was the biggest in mining history, in which news of a large gold find had been completely manufactured. Felderhof was the only one ever charged.5
The Divisional Court set out a two-part test for determining what constitutes incivility that invites sanction for professional misconduct. The analysis begins with a concern that the conduct is rude, unnecessarily abrasive, sarcastic, demeaning, or abusive.
It is conduct that attacks the personal integrity of opponents, parties, witnesses or the court and that has no good faith basis. If there is a good faith basis for the belief that led to the attack, the belief is not an objectively reasonable one. This aspect of the test effectively captures the conduct of a legal professional who may
be suffering from a mental health problem.
The second part of the test addresses the necessity for an additional element attached to the uncivil conduct for it to rise to the level of professional misconduct. The Court said: "It is conduct that calls into question the integrity of the court process and of the players involved in it. It is conduct that risks bringing the administration of justice into disrepute because it is conduct that strikes at the very qualities of what the justice system represents.. .It is the difference between impassioned, but reasoned, disagreements and the uninformed, nasty, personal tirades that too often mark
the exchanges we see in political and media exchanges on matters of public importance." [at para. 75]
There is another aspect to an assessment of uncivil conduct which was not articulated by the Divisional Court. Should we be looking at the kind of matter being litigated, and what is at stake, in making that assessment? Should a criminal matter, where the
liberty of the accused hangs in the balance, be assessed by the same standard of conduct?
In Felderhof, the Ontario Securities Commission prosecutor was reprimanded more than once by the trial judge for an approach described as aggressive. Jay Naster was rebuked by the presiding judge for sarcastic comments. He was also reprimanded for his aggressive crossexamination of the junior lawyer who swore the supporting
affidavit listing correspondence about the Ontario Securities Commission's failure to produce relevant documents.
Naster suggested that the court's rulings were "presumptively wrong and unfair", and sought, unsuccessfully, to have presiding judge Justice Peter Hyrn removed for alleged bias against the prosecution. He accused Groia of telling "bald-faced lies" and
as being like "someone who drops a bomb and runs". This was clearly a demanding case for defence counsel, and one in which a lot was at stake for the accused.
Felderhof was acquitted. As for Groia, the Law Society Appeal panel reduced the original penalty imposed on him to costs of $200,000 and a one-month suspension. The Divisional Court dismissed Groia's appeal against the Appeal Panel decision, and
we are now waiting for the Court of Appeal's decision. One of the arguments being made by the lawyers acting for Groia at the Court of Appeal is that his conduct did not meet the Divisional Court test.
Another complicating factor that we encounter with the Groia test has to do with the assessment of what is reasonable. The reputation of the administration of justice is of paramount importance. The public's respect for the justice system rests in large part on its faith that the process remains fair and reasonable. But what is reasonable to the legal profession may not appear so to the average citizen. So I would add to the test that the impugned conduct must not just risk bringing the administration of justice into disrepute, but must undermine or have a realistic prospect of undermining the administration of justice.
…
I'd like to touch on the extent of judicial responsibility to both engage in civil conduct and to enforce it. Judges define the culture in a courtroom and have a positive duty to control proceedings. But there are differences of opinion about how far a judge can go when faced with conduct by a lawyer that is rude, demeaning or abusive. …
…
Without answering [this question] here, I think the assessment of an experienced trial judge is at the very least a reliable evaluator of conduct that merits intervention. In my experience, different situations call for different levels of supervision. A judge would
be more likely to intervene if an attack is an uninformed personal tirade based on expectations that are unreasonable or unrelated to the process, or made in bad faith. As Justice Nordheimer said, the concern over the chill on zealous advocacy loses much of its impact if the advocacy is being used to further arguments where the facts would not reasonably warrant the relief sought.6
…
It is hard to overemphasize the importance of preparation and of co-operation between counsel. The bully, the ill-prepared, and the rude build their own reputations. Once you get a bad one, it is around the Court as quickly as lightning, and may be very difficult to change. 
Justice Michael Code has summarized the elements of competing interests that need to be balanced between the profession's duties to clients and public interest duties to the court.7 On behalf of the client, you must avoid conflicts of interest [Isn't it "conflict of interest" for Ms. Killoran to write this piece for publication given that she is the lawyer representing Encana in Ernst's lawsuit, and Justice Wittmann was the Case Management judge in Ernst's case when this piece was likely researched, written and published?], protect solicitor and client privilege,
[Like this?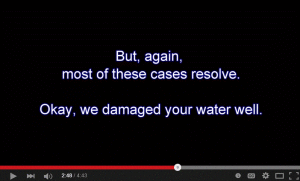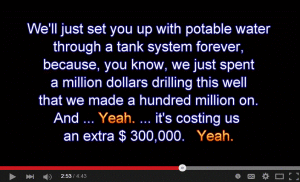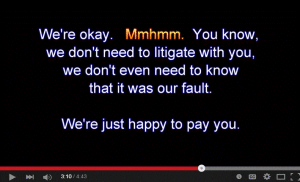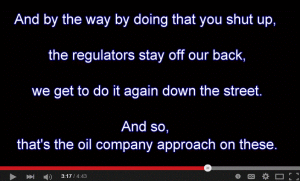 Complete 4:43 Min clip of AER's outside counsel Glenn Solomon (white font) chatting to citizen Brent O'Neill (orange font) about the Ernst vs Encana lawsuit and how plaintiffs with frac contaminated water are "shut up" with "potable water through a tank system forever" so that oil companies can frac and contaminate again "down the street."]
and protect the client's best interests by fearlessly pursuing every issue that can legitimately be raised. You would also do well to take on only those cases that are within your area of skill and training.
These should be balanced with duties not to mislead the Court, not to distort the truth, [Like Supreme Court of Canada knowingly publishing J Rosalie Abella making stuff up in her ruling in Ernst vs AER with the Court repeating her lie in the summary sent to the media, which the media of course published?
2017 06 08 (post marked): Condescending letter from Canada Judicial Council to Ernst: SCC Justices making stuff up in published rulings is not 'conduct' and won't be reviewed, in essence, saying it's OK for judges to lie, as long as the lies are in rulings.
2017 01 25: Jessica Ernst Open Letter to Chief Justice Beverley McLachlin Regarding False and Seriously Damaging Statements in Justice Rosalie Abella's Supreme Court of Canada Ruling, Ernst v AER
And AER outside counsel, Glenn Solomon, lying and defaming Ernst in his 2012 legal filing in Ernst vs Encana, calling Ernst a terrorist without any evidence with apparent intent to bias judges against her? Justice Wittmann ruled there was absolutely no evidence of Ernst being a terrorist but rewarded Solomon for his lies, ordering Ernst to pay his costs on a public interest case.
And, Alberta Environment and Encana lying in their Statements of Defence?
And AER's outside counsel, Glenn Solomon lying to the Supreme Court of Canada, saying the AER's mandate includes the public interest – which REDA clearly show it does not and claiming Ernst argued to sue judges which she never has, and has not stated so verbally or in any of her documents, including court filings.] not to unduly delay or frustrate court proceedings.
[Unduly delay? Like Alberta government asking for and receiving from the court three attempts to try to get Ernst's case against them thrown out?
February 18, 2014: Alberta Government Brief filed for third Application to Strike the Ernst case against the Crown, claiming no private duty of care, no proximity, and immunity. The Crown waited nearly three years to argue such and Justice Wittmann allowed it (case management phone call, January 13, 2014). The hearing was April 16, 2014 in Drumheller Court of Queen's Bench, Justice Wittman ruled November 7, 2014.]
Lastly, you cannot go wrong if you refrain from making unfounded or irrelevant personal attacks on your opponent, and show respect and courtesy towards all participants in the justice system. [Like AER outside counsel Glenn Solomon, in apparent violation of Law Society rules, calling Ernst (in his counsel with a potential client) a  "crazy nutcase" in "World War 3" and her horridly health-debilitating, high-stress, nightmare-laden, savings and career destroying, public interest lawsuit "political grandstanding?"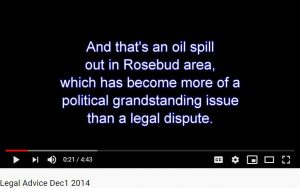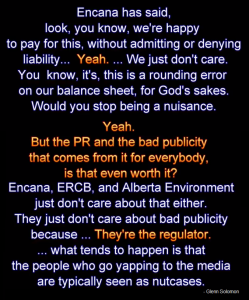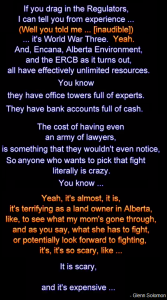 The call for civil conduct in our profession is rooted in the long human history of dispute adjudication. We have evolved, I hope, from [???] a place where the winner was [is???] the one with the biggest stick, to [is???] the loudest bully in the village, to trial by fire [by lies?], [Like Encana, AER and Alberta Environment in the Ernst lawsuit? Like Encana having paid zero royalties on massive holdings in Alberta (including 700,000 acres royalty-free lands in the Horse Shoe Canyon play)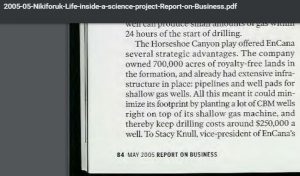 while raping out incredible profits, breaking the law, abusing aquifers, families, and the environment, and bribing with millions of dollars to divide and conquer communities everywhere the company crashes through, like a bull in a china shop?] to where we are today: the use of persuasion through reason. Let us be wary of reverting to old ways. [Emphasis added]
Maureen Killoran QC, is the Managing Partner and Partner in the Litigation Group of Osler, Hoskin and Harcourt LLP in Calgary, a Canadian Bar Association Partner Firm. Maureen has been contributing to the "Practice Pointers" column since 2008.
[Refer also to 2012 11 28: Power of Attorney Calgary managing partner for Osler Hoskin Harcourt, Maureen Killoran, interview with the Calgary Herald:
And, to be perfectly frank, when you do energy law, as I do, or corporate litigation, you're not dealing with life and death situations and people whose lives have been turned upside down, plaintiffs who are weeping. It's just about money. [Emphasis added]
Anne Kirker, QC is a partner with Norton Rose Fulbright in Calgary, a Canadian Bar Association Partner Firm. She was recently named as the Best Lawyers Lawyer of
the Year in the area of Legal Malpractice.
1 Rule 7.2-1: A lawyer shall be courteous, civil, and act in good faith [Supreme Court of Canada Justice Abella is a lawyer, she and Glenn Solomon – also a lawyer, and Encana's lawyer (Ms. Killoran, writer of this piece) and Alberta Environment's lawyer – all lied in Ernst's case, with only Ernst so far punished by the courts, with her the only one hauling water and living on her property with a frac'd time bomb (her water well) in her barn, thanks to Encana, AER, and Alberta Environment!], with all persons with whom the lawyer has dealings in the course of their practice.
2 Alice Woolley, "'Uncivil by too much civility'? Critiquing Five More Years of Civility Regulation in Canada", December 8, 2012, Dalhousie Law Journal (forthcoming). Available at: http://ssm. com/abstract=2186930 BARRISTERS' BRIEFS Aspiring to the Highest Standards of Civility By Maureen Killoran, QC and Anne Kirker, QC
[This Alice Woolley?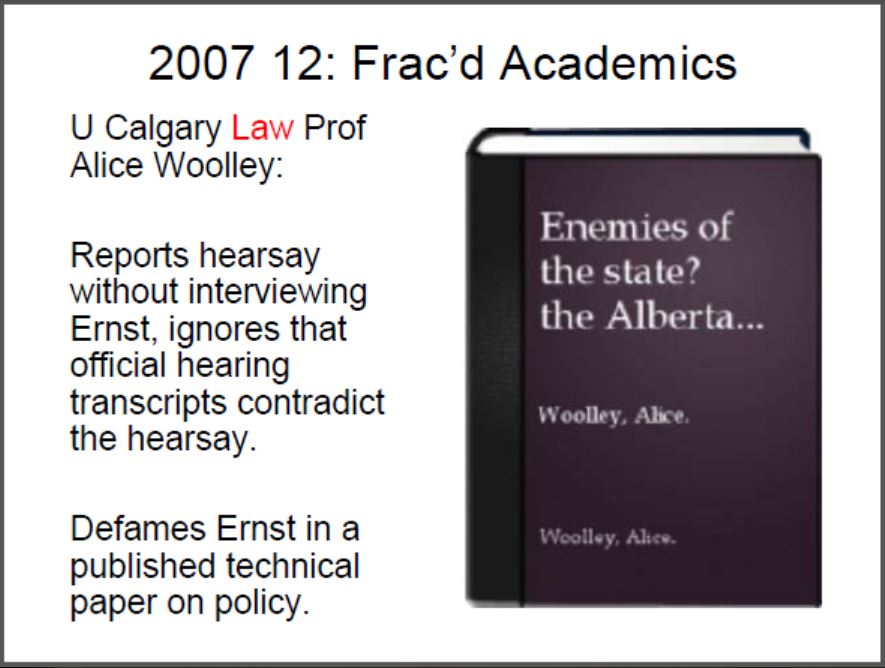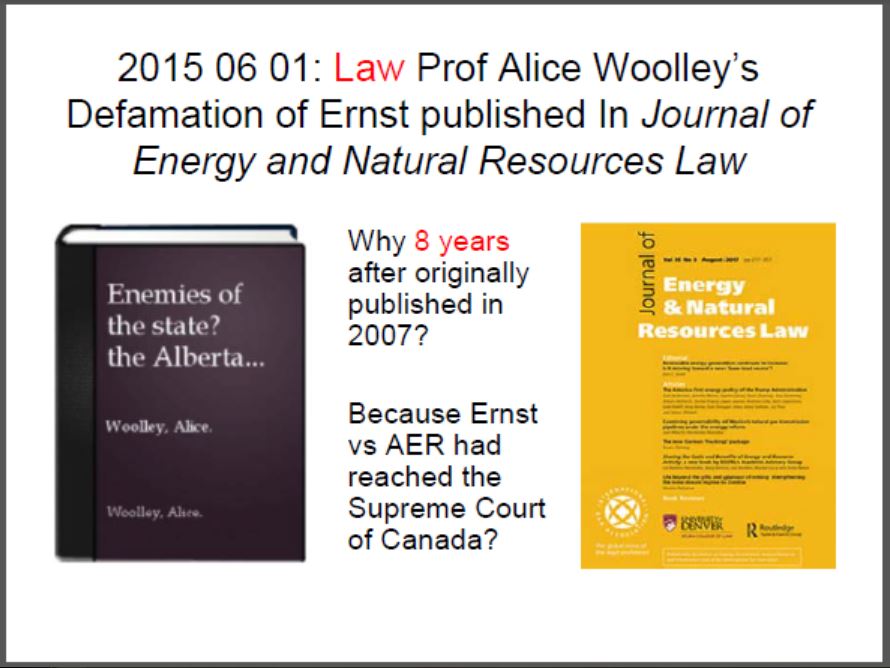 Who ordered Woolley to defame Ernst in 2007, post the smear publicly on the Internet, then remove it from the Internet when the Ernst lawsuit went public in 2011; then it reappears publicly on the Internet eight years later in 2015 after Ernst was granted a hearing before the Supreme Court of Canada?
In 2007, Rick McKee, lawyer with EUB/ERCB?
In 2015, Glenn Solomon, AER outside counsel? AER Chair, Ex Encana VP Gerard Protti, or perhaps Chief Justice Neil C Wittmann?
Slides from Ernst presentations in UK, October 2017 ]
3 Court of Queen's Bench of Alberta Notice to the Profession (23 December 2015), online: Alberta Courts . 4 R.S.O. 1990 c S.5 5 R v. Felderhof 2002 CALII 41888 (Ont SC)
6 Groia v. The Law Society of Upper Canada, 2015 ONSC 686, at para 64.
7 Code, Michael "Counsel's Duty of civility: An Essential Component of Fair Trials and an
Effective Justice System" (2007) 11 Can Crim L. Rev. 97.