Chevron boasted recently of moving from exploration to development in the Fox Creek  area. Earthquakes quickly followed.
Data collection and quake location mapping by Barb Ryan (will be updated, time permitting, as the quakes shake on):
Most recent earthquakes at Fox Creek:
AER – the "regulator" – has not updated their quake list since November 15, 2017. (None of the December quakes are listed http://www.aer.ca/documents/data/AGSseismicity.xlsx )
December 12, 2017, 20:37:47 54.49 -116.85 Depth 10.0 2.5M 196 km NE of Jasper, AB
December 12, 2017, 03:47:48 54.48 -117.59 Depth 5.0 2.6M 180 km NNE of Jasper, AB
December 12, 2017, 00:31:45 54.46 -117.58 Depth 5.0 2.7M 179 km NNE of Jasper, AB
December 11, 2017, 14:18:12 54.47 -117.59 Depth 10.0 2.0M 179 km NNE of Jasper, AB
December 9, 2017, 13:53:00 54.29 -116.98 Depth 1.0 2.0M 172 km NE of Jasper, AB
December 7, 2017, 13:28:29 54.22 -116.61 Depth 1.0 3.4M 177 km NE of Jasper, AB
December 6, 2017, 17:21:08 54.22 -116.64 Depth 1. 2.2M 176 km NE of Jasper, AB
December 6, 2017,  17:25:39 54.22 -116.63 Depth 1.0 2.2M 177 km NE of Jasper, AB
December 5, 2017, 16:01:22 54.21 -116.64 Depth 1.0 3.5M; 175 km NE of Jasper, AB
November 12, 2017, 02:11:43 54.30 -117.58 Depth 1.0 2.0M 161 km NNE of Jasper, AB
Orange markers – Dec 2017 earthquakes
Red markers – Previous 4+M earthquake
Yellow markers – Chevron's Proposed Drill 'n Frac under Town of Fox Creek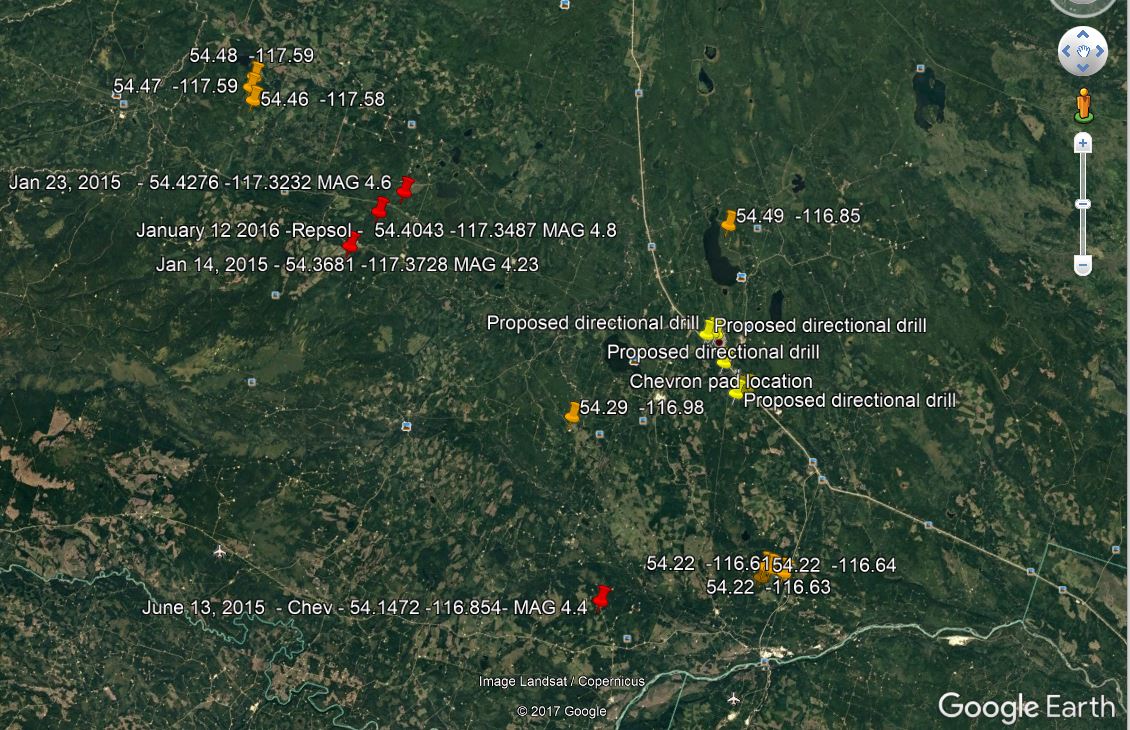 Locations (as initially reported, locations may change pending further analysis) and earthquake data collected and mapped by Barb Ryan, of Fox Creek. Data from NRC.
Chevron intended to directionally drill and frac under the Town of Fox Creek. The town has already suffered extremely expensive water quality and quantity problems. Chevron moved their bottom hole to town boundaries.
Will the AER ensure the protection of the community, families living there and workers? No. As usual, the legally immune, Charter violating, deregulating "regulator," whose mandate no longer includes the public interest (as of 2013), will only serve and protect the quake causing companies.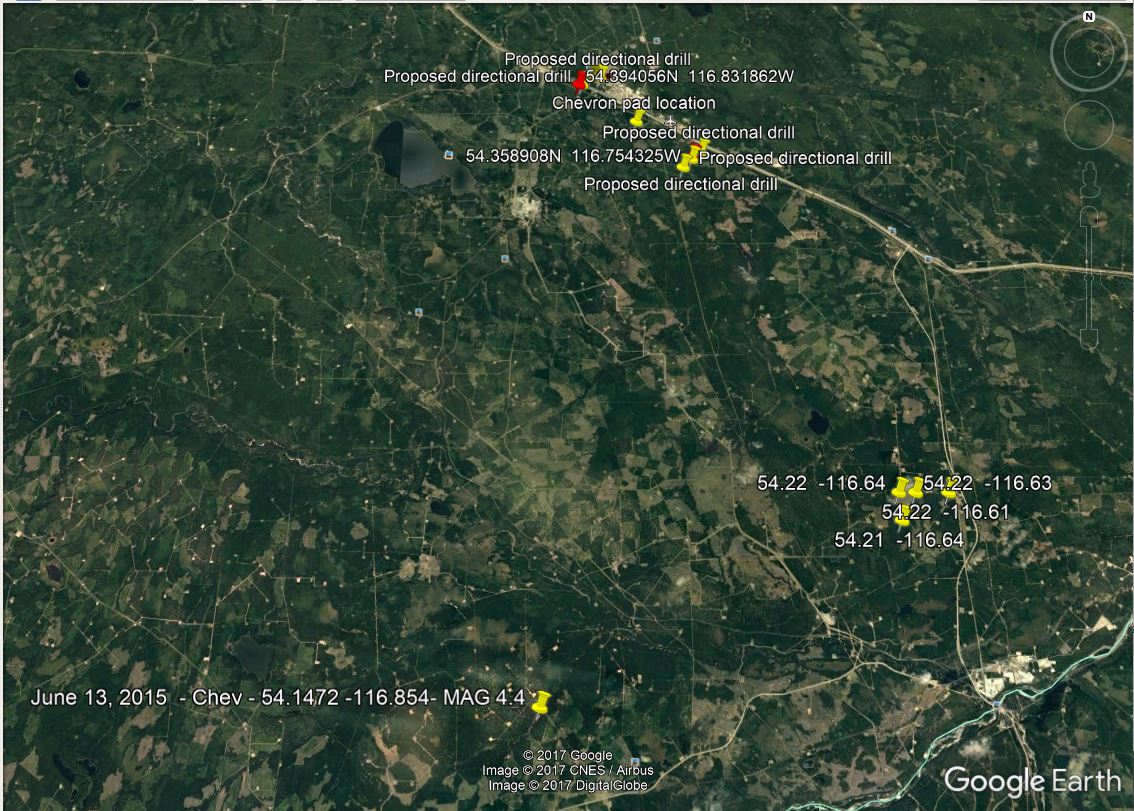 Alberta oil towns start to see investment flow again by Edmonton Global News, December 1, 2017,
As the province's economy comes out of recession, towns in the heart of Alberta's oil and gas sector are starting to see investment begin to flow again. Tom Vernon has more from Fox Creek.
***
Small earthquakes at fracking sites may be early indicators of bigger tremors to come, say Stanford scientists by Mark Shwartz, December 12, 2017, Standford University News
Tiny tremors caused by hydraulic fracturing of natural gas near the surface could be early signs of stressful conditions deep underground that could destabilize faults and trigger larger earthquakes.
Stanford geoscientists have devised a way of detecting thousands of faint, previously missed earthquakes triggered by hydraulic fracturing, or "fracking."
The technique can be used to monitor seismic activities at fracking operations to help reduce the likelihood of bigger, potentially damaging earthquakes from occurring, according to the new study.
"These small earthquakes may act like canaries in a coalmine," said study co-author William Ellsworth, a professor (research) of geophysics at Stanford's School of Earth, Energy & Environmental Sciences. "When they happen, they should be viewed as cautionary indicators of underground conditions that could lead to larger earthquakes."
Fracking involves injecting high-pressure fluid underground to crack open rocks and release the natural gas trapped inside. As the rocks crack, they produce tiny earthquakes that were typically too small to be detected – until now.
"In our study, you can actually see individual earthquakes occurring next to the section of a well that's being fracked," said Stanford PhD student Clara Yoon, lead author of the study published in the Journal of Geophysical Research.
Arkansas earthquakes
In October 2010, residents near an Arkansas natural gas field were shaken by a magnitude 4 earthquake that was followed by two larger aftershocks in February 2011.
Scientists say these large earthquakes were caused by injections of wastewater from fracking sites into deep underground wells, and not by fracking operations closer to the surface.
"These were some of the first earthquakes related to shale-gas development to draw national attention," Ellsworth said.
Earthquakes of magnitude 4 and higher have subsequently rattled Oklahoma, Texas and other gas- and oil-producing states.
Data mining
Using an advanced data-mining algorithm developed by Yoon and her colleagues, the Stanford team conducted a retrospective analysis of seismic activity in Arkansas prior to the magnitude 4 event. The algorithm uses earthquake-pattern recognition to generate detailed records of seismicity.
The analysis tracked seismic events generated at production wells that utilized fracking and at deeper wastewater-disposal wells nearby.
"We were interested in how the sequence that led to the magnitude 4 earthquake got started," Yoon said. "We looked at the earliest period of seismic activity in 2010, from June 1 to September 1, when wastewater injection was just beginning."
When Yoon ran the algorithm on this dataset, she discovered more than 14,000 small, previously unreported earthquakes. By comparing the timing and location of the tremors with fluid-injection data provided by the state of Arkansas, Yoon was able to demonstrate that most of the earthquakes were the direct result of fracking operations at 17 of the 53 production wells.
"That was a surprise," said co-author Gregory Beroza, the Wayne Loel Professor of Geophysics at Stanford. "It had been thought, and we thought, that early earthquakes in this area were related to wastewater injection. But we found that the majority were caused by fracking."
Persistent quakes
Many of the fracking-induced earthquakes were also bigger and more persistent that expected – unusual properties indicating potential trouble ahead.
Earthquakes generated by fracking are typically no larger than magnitude 0. That's equivalent to the amount of energy released when a milk carton hits the floor after falling off a counter.
But several earthquakes observed in the study were magnitude 1, which is 31 times stronger than a magnitude 0 quake. A few were above magnitude 2, which is 1,000 times stronger than magnitude 0.
Most fracking-induced quakes occur near the well and dissipate quickly. But some of the Arkansas earthquakes were located far from the wellbore and continued weeks after fracking operations had ended.
"We were particularly surprised by the size and persistence of the seismicity," Ellsworth said. "When earthquakes during fracking operations are larger than expected and persist for weeks, it indicates a high level of stress in that area. Faults under high stress are unstable and can slip, triggering larger earthquakes."
The fact that fracking near wastewater wells induced thousands of earthquakes – too many, too big and lasting too long – was a red flag that stress conditions deeper down were also primed to create the instability that triggered larger earthquakes, he added.
"We want to encourage continuous seismic monitoring before fracking operations start, while they're in progress and after they've finished," Beroza said. "The algorithm Clara developed offers an efficient, cost-effective method for getting more information out of existing data, so that in the future informed decisions can be made that reduce the chance of larger earthquakes from happening." [Emphasis added]
Former postdoctoral scholar Yihe Huang, now at the University of Michigan, also co-authored the study. Beroza and Ellsworth are co-directors of the Stanford Center for Induced and Triggered Seismicity(SCITS) at the School of Earth, Energy and Environmental Sciences.
Support was provided by SCITS and the National Science Foundation.
Media Contacts
Greg Beroza, Geophysics: (650) 723-4958, email hidden; JavaScript is required
Bill Ellsworth, Geophysics: (650) 723-9390, email hidden; JavaScript is required
Clara Yoon, Geophysics: (650) 725-4369, email hidden; JavaScript is required
Seismicity During the Initial Stages of the Guy-Greenbrier, Arkansas, Earthquake Sequence by Clara E. Yoon, Yihe Huang, William L. Ellsworth, and Gregory C. Beroza, 27 November 2017, Journal of Geophysical Research
DOI: 10.1002/2017JB014946
Abstract
We analyze the background seismicity, initiation, and earliest stages of the Guy-Greenbrier, Arkansas, earthquake sequence, which was potentially induced by wastewater injection starting in July 2010, during the 3 month time period 1 June to 1 September 2010. High-resolution observations of low-magnitude seismicity, and the high-quality Arkansas public well database, facilitate detailed analysis of spatial and temporal correlations between earthquakes, wastewater injection, and hydraulic fracturing. We detected 14,604 earthquakes, with magnitudes −1.5≤ML≤2.9, using two sensitive, waveform similarity-based event detection methods in parallel: Fingerprint And Similarity Thresholding, and template matching. We located the 1,740 largest earthquakes that form 16 spatially compact clusters, using P and S phases from 3 stations with the double-difference relocation algorithm and an improved velocity model constrained by the location of quarry blasts. We enhanced the temporal resolution of these event clusters by assigning smaller unlocated events to a cluster based on waveform similarity. Most clustered earthquakes during this time were both spatially and temporally correlated with hydraulic fracturing stimulation at several production wells. For one cluster, microseismicity was correlated with individual stages of stimulation. Many other wells had no detectable nearby seismicity during stimulation. We found a smaller number of events located on the Guy-Greenbrier Fault that were likely induced by wastewater injection. The concurrent presence of seismicity induced by hydraulic fracturing and wastewater injection presents a challenge for attribution and seismic hazard characterization, but the combination of precision seismology and high-quality well information allows us to disentangle the effects of these two processes.
Plain Language Summary
A magnitude 4.7 earthquake occurred in Arkansas in 2011, after several months of smaller earthquakes that started in July 2010. Many scientists think that pumping wastewater (from oil and gas production) deep underground caused these earthquakes. However, hydraulic fracturing, where high-pressure fluid is pumped underground to break rocks containing oil and gas, is known to cause small earthquakes in other areas (Ohio, Canada). This area in Arkansas has both hydraulic fracturing and natural earthquakes, so did these earthquakes happen for other reasons? We found that hydraulic fracturing caused most of these earthquakes, while a smaller fraction of earthquakes were caused by wastewater disposal. We reached this conclusion by identifying as many earthquakes as possible—even the tiniest ones recorded on instruments but are too small for humans to feel. Depending on why the earthquakes are happening, well operators at oil companies need to take different actions. These earthquakes were too small to cause damage, as the largest earthquake was magnitude 2.9, but it is important to monitor small earthquakes early and often. If they are caused by human activity, we advocate taking early action before a larger, possibly damaging earthquake can happen. [Emphasis added]
Complete Arkansas Frac Quake Paper
[Refer also to:
2016 08 01: Why isn't AER's Fox Creek Frac Frenzy Regulatory Failure front page news? AER releases evaluation of its Play-Based (Blanket Approval) DeRegulation Pilot
2017 11 28: Yukon, Oklahoma: Fracking again directly causing earthquakes; Citizen Energy had to shut down, then cut back frac volumes by 50%
2017 09 21: Whimps Extraordinaire! Ex-Encana VP (Gerard Protti) led AER taps Encana with $7,500 administrative penalty for major sour gas blowout at Fox Creek Alberta, Nothing for injecting 18 million litres of frac fluid into Rosebud's drinking water aquifers
2016 10 25: Shell Canada, Fox Creek Alberta: 47 year old worker killed by water hose in AER's Blanket Approval, "Brute Force & Ignorant" Frac Frenzy Pilot Project
2016 10 17; Trilogy Adds to AER's Fox Creek Frac'ing Free-for-all Pilot Project Failure: Trilogy's Pipeline may have leaked 'for a while' before spill discovered
2016 10 07: AER & Trilogy not prepared for the emergency! "Another" Canadian pipeline spills oil and pollutes fresh flowing water; Trilogy Energy Corp leaks oil into flowing wetland in AER's Blanket Approval Frac Frenzy Pilot Project at Fox Creek
2016 09 10: Spencer, Oklahoma: 3.8M earthquake felt by 1,300 people up to 928 km away. Question for NEB's Darrin Barter (previously synergizing enabler at AER): When trucks drive by, are they felt 900 km away?
2016 04 07: AER allows Repsol to resume fracking after causing world record 4.8M frac quake (felt 280 km away near Edmonton) in AER's Fox Creek Blanket Approval Frac Frenzy Free-for-All Experiment. But, Repsol appears too shaken to resume
2016 04 04: why are frac'd Albertans so easily bribed by law violators and polluters? Why don't groups in Fox Creek say "No thank you Chevron, We'd Rather Skate in Hell Than Take Your Money"
2016 03 07: Ian Jessop, CFAX 1070, interviews Jessica Ernst on the Alberta NDP government and her Supreme Court of Canada hearing, water losses in AER's Fox Creek Frac Frenzy Blanket Approval Project and more
2016 03 03: Devolution of a Species. Alberta Venture Special Report: Towns in Alberta's industrial heartland ran out of water last summer. Is fracking to blame? Is "No Duty of Care" legally immune AER's one-size-fits-all, world-record quaking frac frenzy drying up Fox Creek's drinking water supply?
2016 01 15: Canada breaking frac quake records: Geosciences professor thinks earthquakes near Fox Creek are clearly linked to fracking
2016 01 15: Edmonton's 630CHED Jespersen Show Interviews Jessica Ernst on her Supreme Court of Canada Hearing vs AER & Dr. Jeffrey Gu on the 4.8M Earthquake at Fox Creek, Alberta (day of Ernst's Supreme Court Hearing)
2015 11 15: More lies & frac fraud? Why did AER's Darin Barter (now NEB) suggest trucks to blame for citizens feeling frac quakes at Cardson? Why not tell the truth? Why are regulators and "experts" so loath to publicly disclose fracing's many public safety risks?
2015 09 18: How much has Fox Creek paid for hauled water? What happens when Fox Creek runs out of money? Will Encana step up like Bonavista was ordered to?
2015 09 23: AER's EMERGENCY COMMAND CENTRE SET UP 2.5 HRS AWAY! DON'T AER COMMAND STAFF WANT TO DAMAGE THEIR BRAINS? Encana's Fox Creek blow out spewing 20,000,000,000 litres/day sour gas & condensate: Where's the regulator? Ex-Encana VP Gerard Protti = AER Chair; Ex-Encana Manager Mark Taylor = AER VP Industry Operations
2015 09 22: AER & Encana Lying Update: Encana's Deadly Sour Gas Blow Out at Fox Creek: Did Alberta's Energy Minister lie for Encana & "No Duty of Care," cover-up agent extraordinaire, the AER?
2015 09 21: AER Responding to Encana Sour Gas Well Blowout in AER's blanket approval, fracing free-for-all near Fox Creek. Was it caused by what Mayor Ahn fears? Fracquakes?
2015 08 10: Fox Creek: Yet another earthquake in AER's deregulated blanket approval frac experiment. Fracking-Related Earthquakes Could Ding Credit Quality
2015 07 25: Fox Creek Mayor Jim Ahn rightfully worried about frac quakes harming sour gas infrastructure in the community. How much damage have the quakes already caused sour gas wellbores and pipelines?
2015 07 19: Alberta Government Low Flow Advisory in Fox Creek/Peace Region, Asks Users to Reduce Water Consumption. Does that include in AER's Fox Creek Fracing Pilot Project?
2015 07 17: AER Frac Pilot Project: Earthquakes, tax increases, water restrictions, double homicide, spills and accidents shake Alberta town's faith in fracking; Aging sour facilities in deregulated Fox Creek a big worry for council; AER's FracQuake Red Light stops Chevron only 16 days; Families moving out
2015 06 16: Do we need another "independent" frac study? The AER asks: How far do we go? Fox Creek residents react to the latest 4.4 Magnitude quake
2015 06 14: Chevron reported 3.6 magnitude event; Shut down by AER. Is the AER's Frac Quake Stop Light System Irrelevant? Another 4.4 Magnitude Earthquake at Fox Creek
2015 05 27: Town of Fox Creek Water Ban on ALL Non-Essential Use. Does that include fracking in AER's Deregulated, Blanket Approval, Frac Frenzy, Play-Based Pilot Project surrounding Fox Creek?
2015 02 20: Quakes in Gas Fields Ignored for Years, Dutch Safety Agency's report a relevant read for any fracking zone; Fox Creek frac quakes make AER play deregulation with you and your loved ones: "Red Light = Green Light"
2015 02 02: Fracking Quakes Pose Added Risks but Oil and Gas Companies Refuse to Share their Collected Seismic Data. "In low seismic environments like Fox Creek where the natural earthquakes are infrequent, the hazards from an induced seismic event can exceed the hazards from a natural source"
2015 01 29: Did Alberta Just Break a Fracking Earthquake World Record with 4.4 Temblor at Fox Creek? Sounds of Silence: The Crooked Lake Earthquakes
2014 06 14: WARNING! Synergy and blanket approval to give industry free-for all fracking in Alberta! Watch out Fox Creek and the rest of Canada, Synergy is brainwashing controlled by industry, incredibly evil and works well
2014 05 05: Alleged groundwater pollution concerns by Trilogy at Fox Creek under investigation; Whistleblower: "cement job didn't go as planned and there was NO cement in the hole" ]