IS FRACKING BEHIND THIS TOWN'S DRY WATER WELL? by Elizabeth Hames, March 1, 2016, Alberta Venture Magazine
Alberta Venture's link: http://albertaventure.com/water/towns-in-albertas-industrial-heartland-ran-out-of-water-last-summer-is-fracking-to-blame/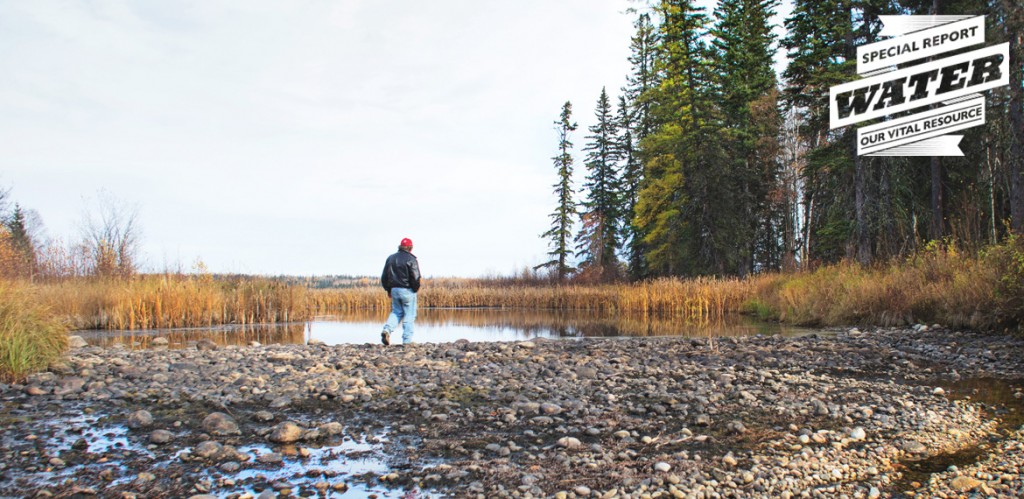 LAST SUMMER THE water coming from Dana Boyc's tap turned brown. Assuming he just needed to "shock" his well, he grabbed a jug of bleach and headed outside. But when he opened the lid, there was barely enough water to cover the bottom. "There was more bleach in the jug than there was water in the well," he says.
Boyc cast his suspicious eyes on Encana. His well sits a few metres from the Little Smoky River, which snakes through the Peace River Basin along Highway 43 and through the hamlet of Little Smoky, where Boyc lives. It also happens to be the main source of water for Encana's Simonette natural gas project. The river was at or below historic lows for most of 2014 and 2015. And yet, the Alberta Energy Regulator allowed the Calgary-based company to pump two million cubic metres of water from the river throughout the last two years. [What else would one expect from a Charter violating, "no duty of care" legally immune regulator?]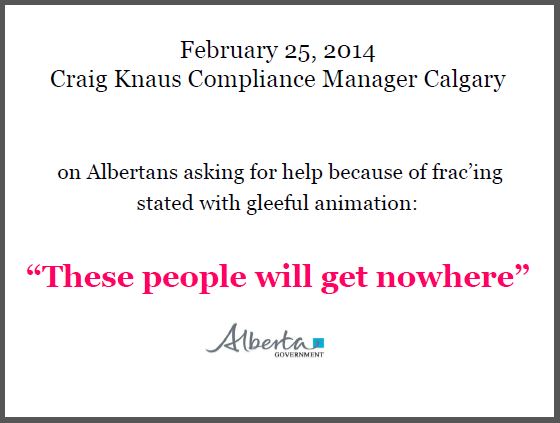 Slide from Ernst presentations
"Every time I think about it I get worked up and have to take one of … my 'holy shit pills.' "
But it wasn't the pumping that caught Boyc's attention. It was the mammoth water intake facility Encana is building on the Little Smoky. "It's phenomenal," Boyc says. The intake is capable of sucking five million cubic metres of water from the river each year (the nearby town of Fox Creek, population 2,000, uses about 400,000 cubic metres each year). The AER has granted Encana a preliminary certificate to do just that for 10 years, and to construct reservoirs, pipelines and fish habitats to replace that lost as a result of building the intake facility. The ­regulator is just waiting for Encana to finish ­building before it issues the final ­licence. To Boyc, it was no coincidence that the Little Smoky was drying up as Encana ramped up activity on the river. "Everybody's got their finger in it, but Encana is the only one with this massive plant," he says.
From above, the area around the Little Smoky resembles a neural network: the roads become axons, stretching deep into the green ether of the boreal forest, and branch off into a cluster of perfectly circular synapses – the well pads. The pattern repeats, over and over, across the great expanse of land over the Duvernay formation, which is rich in oil and gas. At night, the well pads light up, like glowing embers in the dark. But in the heart of it all, one ember burns a little brighter: Fox Creek, just up the highway from Little Smoky.
Mayor Jim Ahn stands in front of Fox Creek's reservoir, which dropped to three feet of water last summer, far below the 12 feet required for fire protection. The town had to import water, which cost around $300,000 — a lot for a small community. Mayor Jim Ahn and Roy Dell, Fox Creek's chief operating officer, walk along a dirt road behind the town. The area has become rife with industrial activity over the past few years. Dana Boyc, a resident of Little Smoky, sits on his well, which dried up last summer leaving Boyc and his wife to buy imported water. Boyc suspects the oil and gas activity in the area is to blame. Hydrologists test a potential water well site for the Town of Fox Creek. The community drilled new wells after their existing wells went dry last summer.
The Duvernay remained largely untapped until about five years ago, when hydraulic fracturing technology made it economical to tap into the tight oil and gas deposits locked deep in the Earth. Operators turned their attention to the Duvernay in earnest around 2009 and, by 2011, oil and gas companies had spent more than $2 billion acquiring land in the Duvernay. That brought a tremendous amount of industrial activity to Fox Creek's backyard.
Since then, the area has become rife with tension. Not between the oil and gas companies and environmentalists, but between the companies and local residents, many of them oil and gas workers themselves, and all of them dependent on the industry. Both sides are jostling for rights to what is becoming an increasingly scarce resource in the area: fresh water. [How insane is that?]
The oil and gas companies are eager to stake their claims on water sources as they rush to exploit the wealth of natural resources underground. And to do that they need water. Lots of water. That has locals fearing the disappearance of surface and ground water sources that not only act as drinking water but are also the lifeblood of hunting, fishing and recreational activity in the region.
Their fears are not without merit. In regions of the U.S. where hydraulic fracturing, or fracking, activity has heated up, some communities are running out of water – a phenomenon blamed on hydraulic facturing. It's true that hydraulic fracturing in the Duvernay is nowhere near the level of that in Texas. But it's still in its early stages. The companies operating there are still exploring. If the area is already experiencing drought and empty wells – even if it's due to natural causes rather than oil and gas activity – what's it going to be like when the oil and gas activity goes full steam ahead? That's the question on everyone's mind. And no one, it seems, has the answer. That lack of clarity has fueled a lot of speculation, and even more fear.
CHAPTER 1: Water woes
When I meet Boyc, he and his wife Shelley are standing around a herd of Harley Davidson motorcycles. A white lapdog he calls Rocky circles around his feet.
"Can I get you a cup of coffee or a glass of water?" he asks.
I say I'm fine, but he insists.
"It's town water. It's not the brown stuff," he teases.
Boyc presents as a traditional tough guy. He's a Harley-riding, oil field-working, handlebar-moustachioed military veteran. But his time in the military left him with what he calls "demons" and this mess with the well is adding to the stress. The well is so dry, whenever he dumps in a tank of water it seeps back into the water table within hours. [And into Encana fracs?] When I asked him this past autumn what he was going to do for water in the winter, he said he didn't know. Shelley suggested they might melt snow on the stove "like the old-fashioned days."
"Every time I think about it I get worked up and have to take one of my," he gestures to Shelley, "what she calls my 'holy shit pills.' "
Boyc learned about Encana's water intake facility shortly after his well ran dry, but long after construction began. The AER posts notices to its website whenever it receives an application and it invites people to file a statement of concern. [What good will that do you but add fury and stress when the "regulator" rules you're not directly affected (your water is already long gone) and appear to have no rights?] But Boyc had never thought to check the website for applications. He thought that if there was a big project going up in his neighbourhood he'd get a flyer in his mailbox. So when he heard about the intake, he suspected it was behind his water woes.
But there's no evidence to link the low levels of the Little Smoky with Encana's activity on the river. [Of course not, who's looking?  Who's doing the "monitoring" Frac-Enabler Dr. John Cherry keeps recommending while neglecting to inform concerned Canadians that he repeats himself, decade after decade, to regulator, corporate and political walls of silence?] Whenever the river drops below its natural flow, all Water Act licence holders are required to stop withdrawals on the river. So Encana says it was only able to withdraw water from the river on a few select occasions last year. [How long until the NDP government wipes out the Water Act and AEPEA, to sucking frac Alberta's water down to the bone?]
Moreover, Encana may have one of largest diversion licences in the area but it certainly isn't the only operator. There are a number of companies operating in the area, each with dozens of water wells or pump stations on the Little Smoky, sucking water free of charge from the river (the AER says operators don't incur a charge for water diverted from public lands). And all those wells and pump stations are connected through the water table, which acts like an underground network, connecting water from different rivers, streams, lakes, rainfall or snow melt. "Think of the aquifer as an underground swimming pool," says Leland Jackson, an ecology professor at the University of Calgary. He draws an analogy: person A and person B are each sucking water through big straws from the shallow end of a pool. Person A is taking about 100 litres per day and person B is withdrawing 10 litres per day. But down in the deep end, somebody's withdrawing 10,000 litres per day.
"If the level of the pool goes down and you can't draw water anymore, it's tempting to turn to [Person A] and say, 'Look, you're causing the problem,' " Jackson says. "But the problem might actually be somewhere else. And that's because of the connection underground."
Boyc says he contacted Encana about his dry well. Encana declined a request for an interview, but when asked if it has a response to Boyc's concerns, the company emailed the following statement: "We take all stakeholder concerns very seriously and we have been in direct contact with stakeholders in Little Smoky," the statement reads. "We encourage anyone that approaches us with a water well concern to contact the AER in order to ensure a transparent and documented process is followed that aligns with the Provinces' [sic] strict regulatory framework. We adhere to all conditions as set out by the current Temporary Diversion License Approvals under the Water Act and the AER." [Except where the company doesn't, as it did at Rosebud, by not even getting a Water Act permit, permanent or temporary, and violating the Act with regulators and politicians looking the other way, polishing the door knob on the Gate to Hell]
For now, all Boyc can do is wait for the water level to come back up. So every time it rained before the freeze up, Boyc, Shelley and Rocky walked down to the river hoping it might have risen higher than the day before. "We've got a stick out there [in the river]," Boyc said this past fall. "That's how much we're hoping the water's going to come back."
[Hope Check:
Hope is a horrible thing, you know. I don't know who decided to package hope as a virtue because it's not. It's a plague. Hope is like walking around with a fishhook in your mouth and somebody just keeps pulling it and pulling it.
Ann Patchett in "State of Wonder" ]
CHAPTER 2: TROUBLE UNDERGROUND
Boyc isn't the only one who couldn't get enough water to drink this past summer. Down the road, the people of Fox Creek were hoping the water comes back, too. The town imposed water restrictions in the spring of 2015 after residents reported brown water coming from their taps. When staff looked into the reservoir, there was three feet of water, far below the 12 required for fire protection. The wells that fed it had effectively dried up. So Fox Creek resorted to trucking in water from the nearby community of Valleyview, which, unlike Fox Creek, relies on surface water to fill its reservoirs. The bill came in at about $300,000. "To a small town, $300,000 unbudgeted is a lot of money," says Dell, Fox Creek's chief operations officer, "because nobody expects that."
[Encana's illegal fracing has forced Ernst to rely on trucked alternate water since March 2006, with no relief in sight: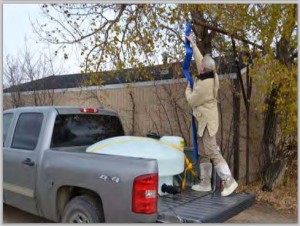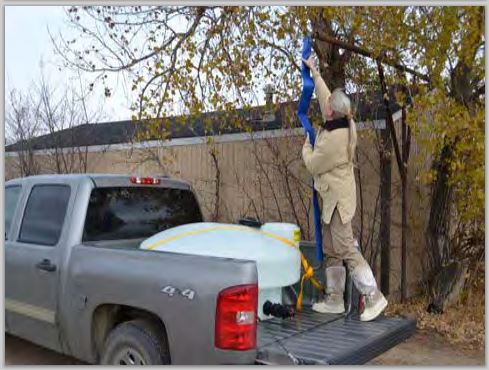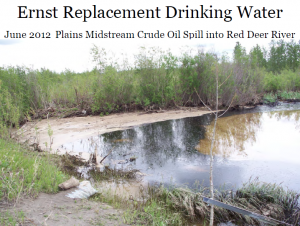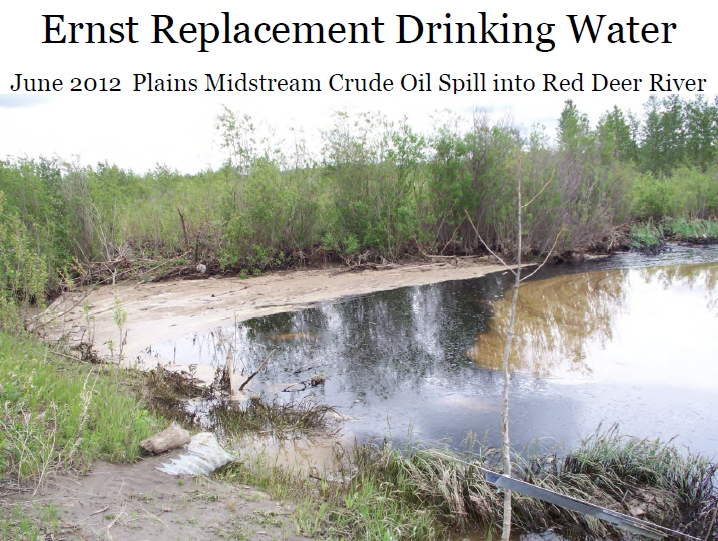 The wells eventually replenished enough to support the town's water needs, but one question lingered on residents' minds: Why, in one of the most hydrologically rich parts of the world, did the wells run dry? [Why indeed!]
There are many theories – for one, 2015 saw little precipitation. But people living in the area seem to think their water problems can't be explained by drought alone. There are suspicions about aging infrastructure, industrial activity, population explosions or a combination of them all. But the truth is, no one knows for sure because the research either hasn't been done or hasn't been made publicly available. And that uncertainty is spurring speculation, finger pointing and fear among residents of what some say could become a boom town to rival Fort McMurray.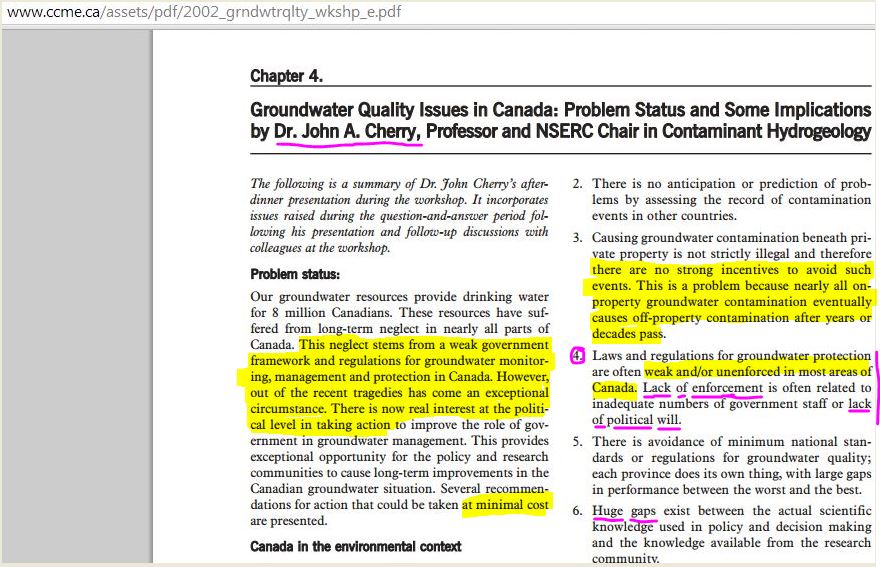 After Ernst filed the 2002 Canadian Council of Ministers of the Environment report in 2014 court ordered document exchange with Encana for her lawsuit, the Council removed the report off their website. Is that how badly Canadian water authorities do not want water protected? Or does Dr. John Cherry not want Canadians to know what he recommended 14 years ago?]
When the water levels in the town's reservoir dropped last spring, Fox Creek Mayor Jim Ahn suggested the town's "shadow population" may have burdened Fox Creek's already crumbling infrastructure. The shadow population is made up of the temporary workers that service the oil and gas projects in the area. "They'll work out in the oil patch for a year or two years or five years," Ahn says, "but they'll never call it home." The workers started coming about 10 years ago, piling into the camps that cropped up around the town. And their numbers have increased "exponentially" in the last few years, Ahn says. The shadow population has at times grown to an estimated 10,000. But no one knows for sure because only the town's official residents are counted in the census.
What we do know is that each one of those workers needs to shower, launder their mud-crusted coveralls, use the facilities, eat and wash their dishes. Most of the camps buy water from Valleyview or Whitecourt, but Fox Creek also sold water to a few camps before the restrictions. Then there are the hotels – three new ones in the last three years plus one more on the way.
The town says this influx of workers has put a significant strain on its water resources. But it just doesn't have the evidence to make the case. In fact, the town's water usage has dropped over the last 10 years, likely in part due to water restrictions.
Jackson, who is also the executive director of the University of Calgary's Advancing Canadian Wastewater Assets research partnership, says it may be easy to blame the shadow population for Fox Creek's water shortage, but it's likely a confluence of factors that have led to the town's aquifers being depleted faster than they can replenish. "It's just like a bank account," he says. "If you take out $20 and only put $10 back in the balance will go down. If you do that over and over, you'll eventually run out of money."
In the case of the aquifers, they're replenished either by rainfall or surface water, so a really dry year, like 2014 and 2015, would impact the level of the aquifer.
CHAPTER 3: The Sleuth
But if the area is experiencing drought, why is the AER approving so many Water Act licences in the region? That's the question Robin Gervais, a longtime Fox Creek resident and a town councillor, is asking. And he thinks the answer is, "They shouldn't be." [Alberta needs hundreds more councilors like Mr. Gervais!]
On a brisk October day, he lights up a cigarette at the edge of Smoke Lake, a short drive from town. It's a bright morning and most of his face is hidden from the elements: a baseball cap, aviator glasses and a bulky moustache that curves downward forcing his face into a permanent, cat-like frown. He drags on his smoke as he stares out at the water trickling over the riverbed.
"WORSE THAN I EVEN THOUGHT"
"There should be a foot of water going over these rocks," he says in a deep mumble. He pauses for a good half a minute before he whispers, "Wow. This is worse than I even thought it would be."
Gervais suspects the operators that have flooded the area are sucking the water tables dry. He says the town began experiencing water shortages right around the time industry took notice of the area again, and the water levels appear to him to rise and fall along with the level of activity. And this is only the beginning, he says. When the ­companies move from exploration to development, good luck finding a drop of water to drink. "Yeah, it's a dry year," he says. "But you multiply what they're doing by 10 and it won't matter if it rained every day."
Jackson says there is some truth to that. As development progresses and more and more operators pump water from the aquifers and surface water, the withdrawal exceeds the system's ability to recharge.
"That can go on for a number of years," Jackson says. "But if you start with 1,000 units of water and every year you're going down by 50, at some point you're going to be at zero in terms of what's available for withdrawal. And effectively there's no water left."
Gervais runs an oil purification ­business, so he's about the last person you might expect to blame the water shortages on the oil and gas industry. He depends on it. But he's also a hunter, a fisherman and a carver of foraged wood and bone. Unlike many in Fox Creek, he's not here for the money. He's here for the lifestyle, and Gervais believes that his way of life is under threat.
"This was once an area that attracted a lot of fishermen, a lot of hunters, a lot of tourism," he says. "Well, maybe not a lot. It is Fox Creek. But we're seeing those numbers go down, down, down."
He knows his suspicions are unsubstantiated, but he's spent years trying to get that evidence with little success. [Where are Dr. Cherry and the Program on Water Issues at the Munk School of Global Affairs? Synergizing concerned Canadians to enable the frac harms and water devastation to keep the funding rolling in?]
He's requested information many times from the AER about the activity that's sprung up in his backyard and the impact that it might have on the rivers, streams, lakes and Fox Creek's own wells. But it's been difficult to even find out how much water a company is applying to take out of the area. The AER doesn't publicly disclose that number with the application. It just notifies the public that an application has been made under the Water Act – not how much water the application is for. Instead, the public is advised to request the application documents from the company itself.
Alberta Venture requested dozens of applications from Apache, Encana, Fox Creek Petroleum and Shell, and none of those companies supplied them. [The Canadian military can't get the AER or Encana to adhere to the law or provide required information, how are county councilors, harmed communities and ordinary citizens going to make them?] The public can also request the documents from the AER, but it comes with a cost: $30 per application. When Gervais requested a lump of applications he thought might impact Fox Creek, he was told it would cost him $1,300.
That information black hole has fuelled Gervais's suspicion. After he shows me the low flow at Smoke Lake, we hop back in his truck to take a look at the Little Smoky River. On our way there, he pulls to a side road. He's spotted a construction site he hasn't seen before along this network of back roads. We pull up to the EMS vehicle parked out front – standard procedure for work sites out here – and a man walks up to the driver's side of Gervais's truck. "Let's see what we can find out," Gervais says. "Leave your tape recorder on."
It dawns on me that Gervais imagines himself a sleuth, searching for the truth about how the local water resources are being used. He lowers his window as the man approaches. "What the hell are they doing here?" he asks in a joshing tone.
The man explains

an operator is building a "huge frack bay," a reservoir for storing water used in hydraulic fracturing. He says it's capable of holding 500,000 cubic metres of water.
He asks what we're up to. Gervais says he's a Fox Creek town councillor and we're out looking for diamond willow, a type of wood he uses for carving. For some reason, he lies about why we're out here. [Maybe Mr. Gervais was looking for carving supplies while sleuthing water impacts from fracing?] Maybe so the man will allow us to continue down the road, which we do, and enter the driveway of the construction side.
"Someone might come running over, but I'll just tell them to kiss my ass," he says.
The reservoir presses deep into the Earth. A pit like this could be used to store fresh water, but also wastewater to be recycled, which would reduce the amount of fresh water used.
[Reality Check for Alberta Venture Magazine:
2009: National Energy Board Primer for Understanding Canadian Shale Gas – Energy Briefing Note
Flow-back water is infrequently reused in other fracs because of the potential for corrosion or scaling, where the dissolved salts may precipitate out of the water and clog parts of the well or the formation. ]
But Gervais is suspicious. He's gotten the runaround so many times from the AER and energy companies, he doesn't know what to believe anymore.
CHAPTER 4: THE UNKNOWN
Gervais might be getting the runaround, not because the regulator is trying to shield information from the public, but because it doesn't have all the facts, either. The AER has yet to conduct a survey of the area so it doesn't know how much groundwater is available or how quickly it can be replenished. It relies on industry to report its water usage and conduct groundwater assessments. Yet, it's allowing companies to take millions of cubic metres of water, maybe more, from the region each year. And much of that water, once it's gone, is not coming back. That's because a lot is used for hydraulic fracturing, in which drillers shoot water at a high pressure deep into the ground, so deep it can't return to the system from which it came.
Last year, the AER designated the area around Fox Creek as a pilot ­project area so it can better study the effects of withdrawing huge quantities of groundwater.
[The AER's Fox Creek Frac Pilot Project Application Guide was is dated May 2014: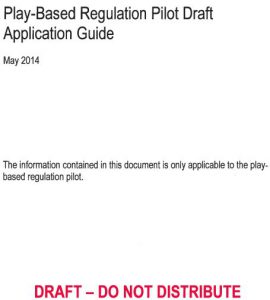 It's also experimenting with new [DE]regulatory practices like allowing operators to apply for all the applications they'll need for a project at once. The AER has approved five batch applications, but those approvals don't include any Water Act licenses. The AER says it needs more time to ­"ensure there are no adverse impacts to water levels in Alberta's water bodies."
That kind of uncertainty does't sit well with Gervais. "Answers like, 'We're learning' don't instill a whole bunch of confidence in what they're doing here," he says.
In the fall, Fox Creek spent millions of dollars drilling eight new wells and building a pipeline to the reservoir in the middle of town. (Some of that money came from revenue generated by selling the town's wastewater to oil and gas companies operating in the area.) Along with the old wells, the new system is enough to continue to supply the town with water for the foreseeable future. But Gervais questions whether, with all the water operators are taking from the area, Fox Creek's wells won't go dry again in a few years. "If the industry takes a new model to get all their water from aquifers," he says, "is that going to put our new aquifers in jeopardy?"[Emphasis added]
***