Les séismes dus au fracking s'ajoutent aux risques et nécessitent plus d'étude prévient cette experte translation by Amie du Richelieu, February 3, 2015
Fracking Quakes Pose Added Risks and Require Study, Expert Warns, Researchers need more seismic data to understand unique hazards by Andrew Nikiforuk, February 2, 2015, The Tyee
One of Canada's foremost experts on earthquake hazards recently told an audience of Calgary engineers that earthquakes triggered by hydraulic fracturing can exceed "what the natural hazard was in the first place" and pose risks to infrastructure only built to withstand natural earthquake hazards.
As well, earthquakes induced by fracking can produce more damaging ground motion at lower magnitudes than natural quakes due to their shallowness, said Gail Atkinson, the NSERC/TransAlta/Nanometrics Industrial Research Chair in Hazards from Induced Seismicity at Ontario's Western University.
Natural earthquakes have an average depth of 10 kilometres, whereas industry-made tremors are much shallower and closer to the ground surface where people can feel them more strongly.
Natural earthquakes typically cause structural damage in buildings at a magnitude of 5.0, Atkinson said. But earthquakes triggered by fracking could possibly cause damaging ground motions at magnitudes as low as 3.5 to 4.0, due to their shallowness.
Hydraulic fracturing intentionally creates hundreds of microseismic events by cracking deep or shallow hydrocarbon formations with high-fluid injections of water, sand and chemicals. But the technology, which can't yet model where all the fractures will go, has activated faults and slips in Ohio, Oklahoma, England, British Columbia and Alberta, creating headline-making earthquakes in the last three years.
Man-made earthquakes may be "a hot topic now," but they are not a new issue, Atkinson explained.
Since the 1920s, petroleum engineers have set off earthquakes either by fluid extraction or fluid injection. The withdrawal of sour gas from the Strachan pool in Rocky Mountain House, Alberta, for example, triggered a swarm of earthquakes in the 1980s by depressurizing the formation. Several quakes rocked the region again last year, the largest of which had a magnitude of 3.9 and caused a power outage in the region.
The extraction of natural gas from the Gronigen field in northern Holland has caused the land to sink, sparking swarms of earthquakes that have damaged thousands of homes in recent years.
Injection and disposal wells, which pump waste or salt water at high pressure deep into the ground, have caused a variety of earthquakes in Colorado, Ohio and Texas by over-pressuring rock and triggering faults.
Fluid injection at geothermal projects, another form of hydraulic fracturing, has also caused significant swarms of earthquakes in California, Australia and Europe.
"What has changed are the rates of induced seismicity. In the last five years, there has been a very noticeable increase in the central United States," said Atkinson.
Oklahoma is now more seismically active than California, as measured by the number of earthquakes of magnitude 3.0 and greater per year, per square kilometre.
One earthquake destroyed 14 homes and injured two people in Prague, Oklahoma in 2011. In 2014, scientists blamed massive high volume wastewater injection wells for the increased seismicity.
Last year, the U.S. Geological Survey warned the state's residents to prepare for "increased hazard." A similar warning has now been issued for North Texas, home to the shale gas and fracking revolution.
Canadian quakes differ
Industry-made earthquakes have also been on the rise in British Columbia and Alberta, but the Canadian experience is different than the U.S. one.
"In the U.S. we are seeing a lot of seismic activity from fluid injection, and in Canada more of the activity seems to be triggered by hydraulic fracturing," Atkinson said during her talk.
Earthquake swarms in B.C.'s Montney shale and Alberta Duvernay shale basin, where industry uses high-volume fracks to crack rock, now likely share the global distinction of generating the largest tremors set off by the technology to date: 4.4 magnitude. 
These events have sent U.S. researchers back to look at their seismic data to see if they've missed seismic signals from fracking operations, Atkinson said.
Atkinson cited the recent Fox Creek, Alberta earthquake swarm, almost certainly triggered by the hydraulic fracturing of horizontal wells, as an example of "a new seismic source" in the region. 
The number of earthquakes in a seismic source follows a well-known distribution in the relative proportion of small to large earthquakes, so that for every 100 magnitude 3.0 earthquakes, we should expect about 10 magnitude 4.0 earthquakes and one magnitude 5.0 earthquake.
Scientists are still investigating whether induced earthquakes follow this same distribution. The events in Fox Creek appear to do so, which is why the recent event of magnitude 4.4 is not entirely surprising.
These man-made events are so much more frequent in a low seismic area such as Fox Creek and most of Alberta that they could challenge the adequacy of current seismic hazard assessments now used to set current building and critical infrastructure codes. 
"In low seismic environments like Fox Creek where the natural earthquakes are infrequent, the hazards from an induced seismic event can exceed the hazards from a natural source," warned Atkinson.
Industry doesn't share data
According to Atkinson's preliminary estimate, as many as one in five wells in the Fox Creek region may be triggering seismic activity.
Right now, scientists have no accurate way of predicting whether one-in-five horizontal wells will provoke a felt man-made earthquake, or whether one-in-1,000 wells will do so. The industry simply doesn't know where all the faults are, nor the likelihood of triggering fault movement.
Nor do they know how large or destructive an earthquake trigged by hydraulic fracturing might be. To reduce uncertainty, Atkinson appealed for more seismic data and open access to that data, as well as timely access to operational data.
Many oil and gas companies currently collect their own seismic data, but do not share this information with the public or earthquake scientists. 
"There are hundreds and hundreds of scientists working on this issue right now, but if they are not able to see the data, there is no scientific benefit from collecting it," Atkinson said.
In Alberta, two or three years may pass before regulators report on earthquake events caused by the oil and gas industry.  
Asked how to improve the industry's public perception, Atkinson recommended that it "stop making statements about what can't happen" with hydraulic fracturing, and instead focus on improving the estimates of likelihood.
Two years ago, industry experts argued that seismic events caused by earthquakes could never be felt at the surface and could never be a nuisance, let alone a hazard.
Scientists made similar claims in the 1960s and 1970s about seismic risks to nuclear power plants and were repeatedly proven wrong in terms of what earthquakes could happen where, added Atkinson.
Atkinson made her presentation to the Canadian Society of Exploration Geophysicists in downtown Calgary on Jan. 29.
A 2012 publication of the organization recognized three years ago that hydraulic fracturing can activate faults and cause significant felt earthquakes with powerful ground motions.
"From the perspective of fault activation, often this is an undesirable consequence of hydraulic stimulation if these faults provide pathways for fluid to escape formation," said the article. "Again, being able to position these faults with respect to the reservoir stimulation is of prime concern. Finally, if these events are generating ground motions large enough to be felt on surface, then there needs to be an assessment of the seismic hazard on site to answer questions about where shaking may be most intense and to what standards equipment needs to be built to withstand such motion."
A recent talk by Usman Ahmed, the vice president of Baker Hughes, a major fracking company, highlighted the chaotic and non-linear nature of cracking shale rocks which are already under high stress.
Ahmed said that 70 per cent of unconventional wells in the U.S., even with fracking, do not met their production targets; that 60 per cent of all fracture stages are ineffective; and that 73 per cent of operators say they do not know enough about the subsurface, let alone where the faults are.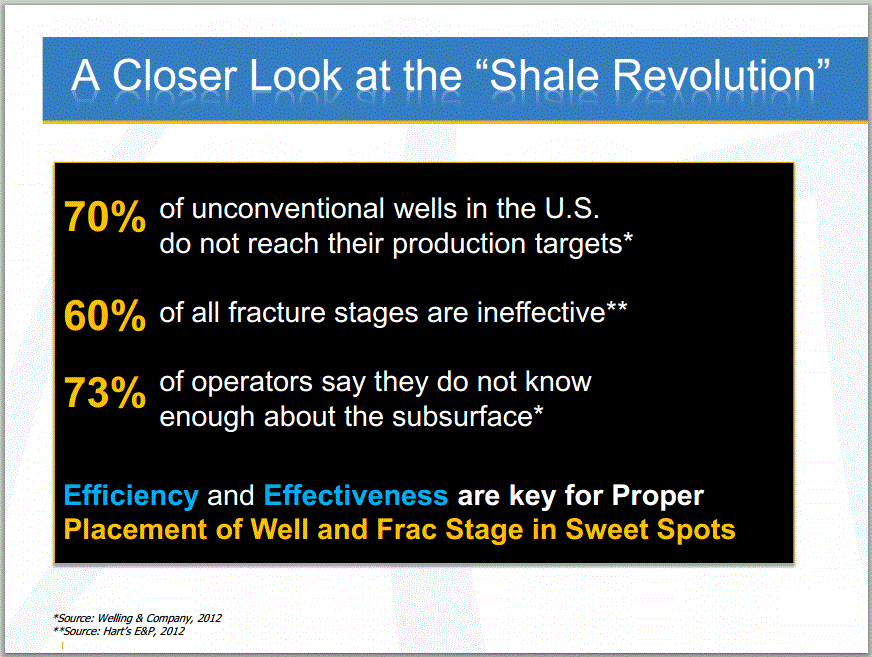 He ended his talk by asking that the industry "avoid faults and geohazards."
Researchers study aftershocks of Fox Creek earthquake possibly linked to fracking by David Howell, February 2, 2015, 5:42 PM, Edmonton Journal
Researchers recorded as many as 100 aftershocks after a 4.4-magnitude earthquake near Fox Creek, including one that measured 2.3 on the Richter scale.
Preliminary analysis of the data indicates the Jan. 22 earthquake was caused by hydraulic fracturing, University of Calgary geophysicist David Eaton said Monday.
"If the earthquake took place very deep in the Earth's crust, it's less likely that it was induced by hydraulic fracturing and more likely that it's natural," Eaton said.
"Our results are consistent with it being induced by hydraulic fracturing — in other words, quite a shallow earthquake (within the first three kilometres of the surface.)"
The earthquake was recorded at 11:49 p.m. about 33 kilometres west of Fox Creek in an area that has seen episodes of increased seismic activity since late 2013.
The Alberta Energy Regulator is investigating and a spokesman has said preliminary information indicates it may be related to hydraulic fracturing operations.
On Jan. 23, Eaton and two other U of C researchers loaded four seismograph stations into a rented truck and drove toward the quake's epicentre. They were recording aftershocks by the morning of Jan. 24.

Eaton said he is "very confident" the equipment recorded four significant aftershocks. The total number may be as high as 100, he said.
Measuring aftershocks can help pinpoint an earthquake's exact location and its depth below the Earth's surface. Magnitude and timing of aftershocks can provide information about the earthquake's dynamics.
Eaton said a 3.8-magnitude earthquake on Jan 14, 38 km west of Fox Creek, may also be related to fracking. "Being in the same area and not too far apart in time, one might conclude that there is likely to be something very similar between the two events," he said. "And they are both in an area of high industry activity."
Gail Atkinson, the NSERC/TransAlta/Nanometrics Industrial Research Chair in Hazards from Induced Seismicity at Western University, said she is "99.99 per cent" certain the Jan. 22 earthquake resulted from hydraulic fracturing.

"That area did not have a lot of seismicity until they started hydraulic fracturing operations in 2013," Atkinson said. "We have seen — in that area in the last year — hundreds of earthquakes, and we never saw any before."
Fracking operations should be evaluated more carefully so that risks can be mitigated, she said. "We need to keep working on ways to make the technology better so that we don't get any nasty surprises."
…
Town councillor Jim Hailes said the community needs more information about what happened.
"I'd assume that if the regulator discovers there's a problem, they will move to do something about it." [Like how regulator moved at Rosebud? There the "No Duty of Care" regulator moves included violating Ernst's Charter rights after she presented evidence of Encana's non-compliance, bullying and intimidation, lies to the community, refusal to disclose the chemicals injected by Encana into the community's drinking water aquifers and cover up of Encana's law violations and aquifer fracs]
[Refer also to:
Did Alberta Just Break a Fracking Earthquake World Record with 4.4 Temblor at Fox Creek? Sounds of Silence: The Crooked Lake Earthquakes
UK National Farmers Union Mutual Insurance New Frac Exclusion: "WE will not pay for liability arising out of any activity involving prospecting, extraction or refining of liquid or gaseous fuel. An example of such an activity is 'fracking'" ]