Why did no media report on this puny penalty?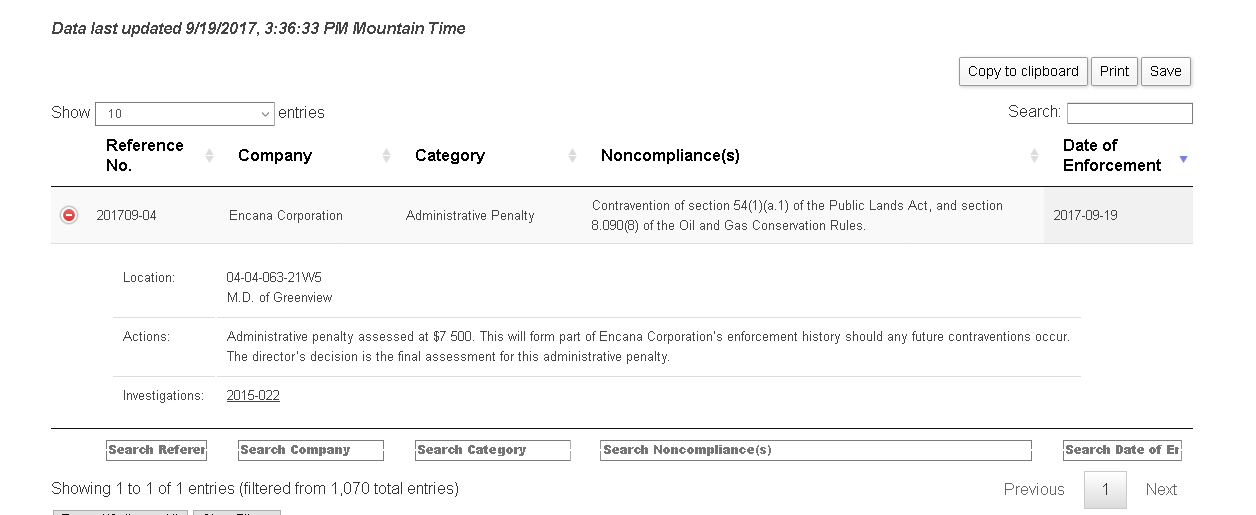 Snap from AER Compliance Dashboard September 19, 2017
Encana pays $7500 for it: Administrative Penalty Director's Decision by Alberta Energy Regulator
Named Party: Encana Corporation BA Code: 0026
File No. 2015 – 022
Legislative Authority
Sections 59.3 of the Public Lands Act
Section 70(a) of the Responsible Energy Development Act
Counts PUBLIC LANDS ACT COUNT 1 On or about September 21, 2015 until September 27, 2105, at or near 04-04-063-21 W5M, in the Province of Alberta, Encana released approximately 955 000 cubic metres (m3 ) of gas, 803 m3 of hydrocarbon condensate and frack fluids, and 741 m3 of produced water, that resulted in loss or damage to approximately 4.9 hectares of public land, in contravention of section 54(1)(a.1) of the PLA.
Seriousness of Contravention: Moderate As pressures are exerted on the Province to expand and diversify our economy, these pressures alone are impacting public lands through increased human activity, loss of wilderness, and risks to water quantity and quality. Every effort must be made by users and occupiers of public land to not contribute to loss or damage of this valuable resource for the benefit of existing and future Albertans. Accordingly, any loss or damage that occurs is considered a significant breach of legislation. Over a six-day period, Encana released products (gas, hydrocarbon condensate and frack fluids, produced water) associated with the uncontrolled well incident that impacted approximately 4.9 hectares of Crown (public) land; causing damage to soil, vegetation, and impacting an ephemeral (seasonal) watercourse.
Actual or Potential Loss or Damage: Moderate The damage to public lands occurred for six days until the well was controlled, and was primarily due to the released products that extended beyond the lease, as well as the containment and remediation activities that were undertaken. Approximately 4.9 hectares of public land were affected, with about 36 136 m3 of contaminated fluids removed from the site, and 33 977 tonnes of contaminated soils, organic materials (leaf litter and fibric/humic cover) and vegetation. [Emphasis added]
[Refer also to:
2015 09 23: AER's EMERGENCY COMMAND CENTRE SET UP 2.5 HRS AWAY! DON'T AER COMMAND STAFF WANT TO DAMAGE THEIR BRAINS? Encana's Fox Creek blow out spewing 20,000,000,000 litres/day sour gas & condensate: Where's the regulator? Ex-Encana VP Gerard Protti = AER Chair; Ex-Encana Manager Mark Taylor = AER VP Industry Operations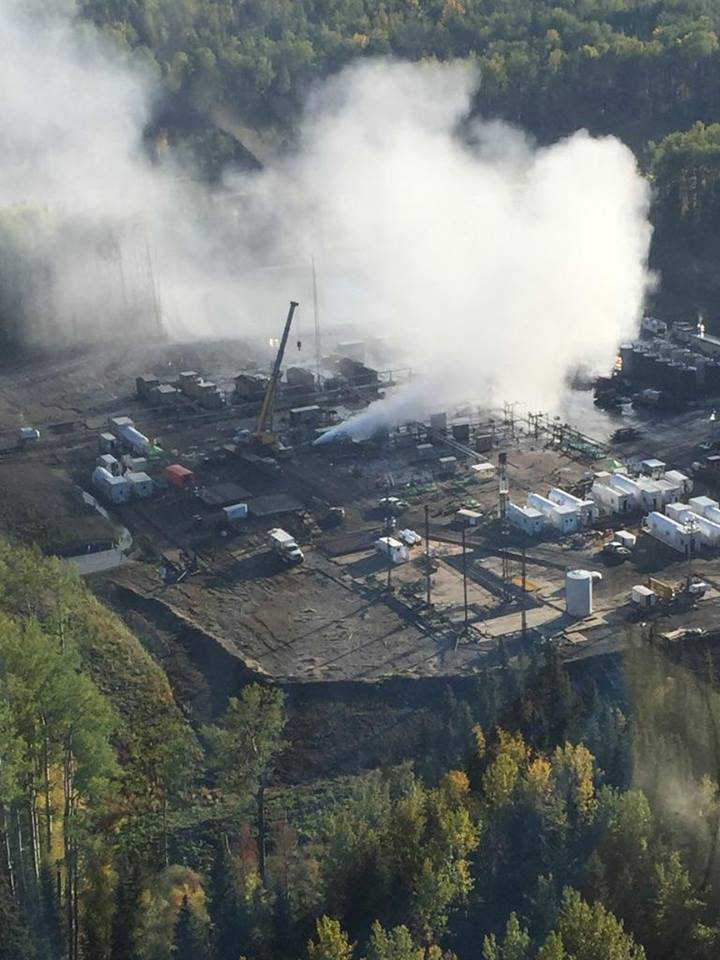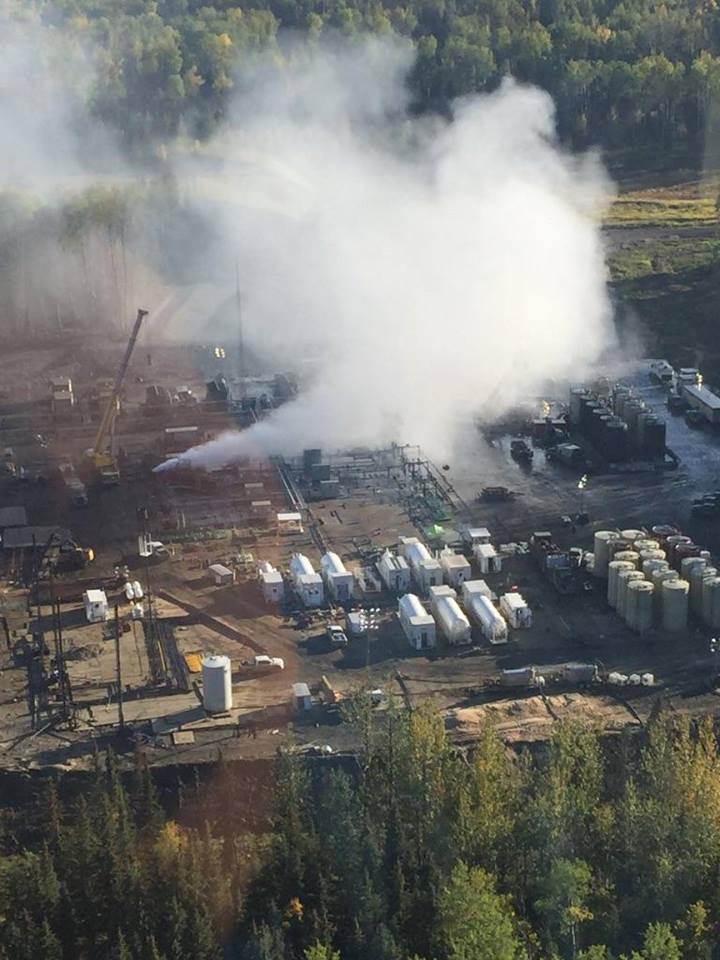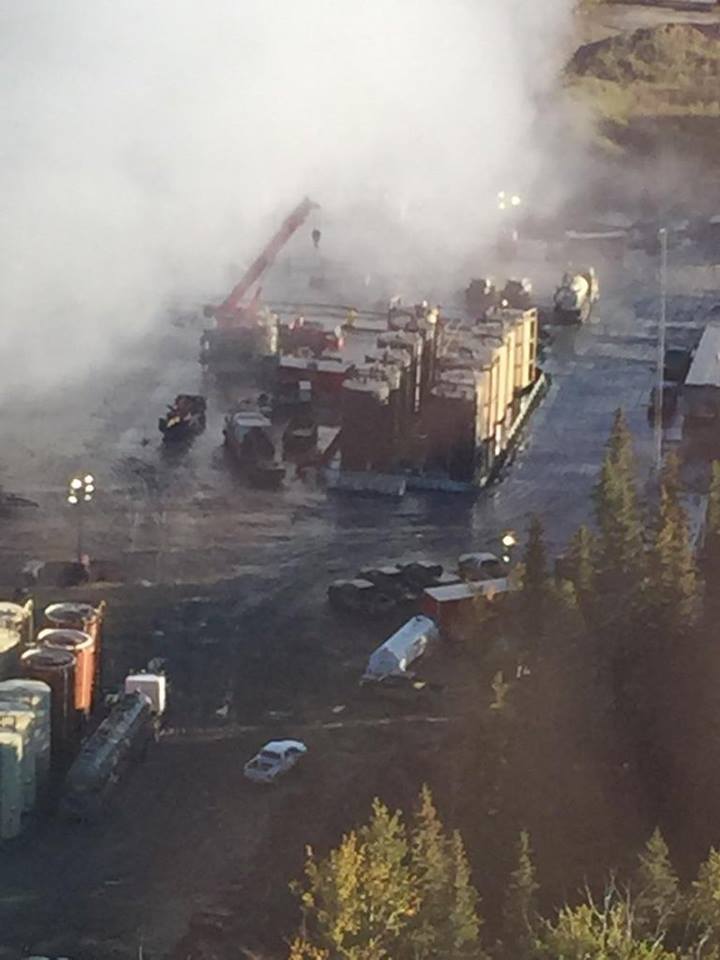 AER & Encana Lying Update: Encana's Deadly Sour Gas Blow Out at Fox Creek: Did Alberta's Energy Minister lie for Encana & "No Duty of Care," cover-up agent extraordinaire, the AER?
AER Responding to Encana Sour Gas Well Blowout in AER's blanket approval, fracing free-for-all near Fox Creek. Was it caused by what Mayor Ahn fears? Fracquakes?
2015 05 22: Encana well blowout after fracking leaves oily mess of spewing natural gas, propane, butane, benzene and toluene, forces 2 dozen families from their homes in Karnes County, Evacuees anxious to see the damage to their homes
2015 06 12: Home Wrecker? Three Weeks After Encana Oil Well Explosion in Karnes County Texas, Families Still Can't Go Home
All photos below by Aaron Sprecher, Greenpeace
In 2004, when Mark Taylor (now VP Industry Operations at the AER) was manager at Encana, he said, face to face to Rosebud citizens, many of them with contaminated water, that the company would never frac a community's drinking water aquifers or anywhere near them to prevent gas from migrating into water supplies, after Encana had already secretly frac'd directly, intentionally into drinking water supplies used by Pavillion, Wyoming and Rosebud, Alberta.