Energy worker, 47, killed on Fox Creek jobsite by Amanda Stephenson, October 25, 2016, Calgary Herald
A 47-year-old man was killed in a workplace accident near Fox Creek, Alberta on Sunday.
The man, an employee of contractor Secure Energy Services, was working at a Shell Canada site approximately 260 km northeast of Edmonton when the accident occurred.
Occupational Health and Safety spokesperson Lauren Welsh said the man was struck by a hose at about 5:45 p.m.
"The work site was situated by the side of a river and the workers were pumping water to a different location for wellsite activities," [For frac'ing?] Welsh said.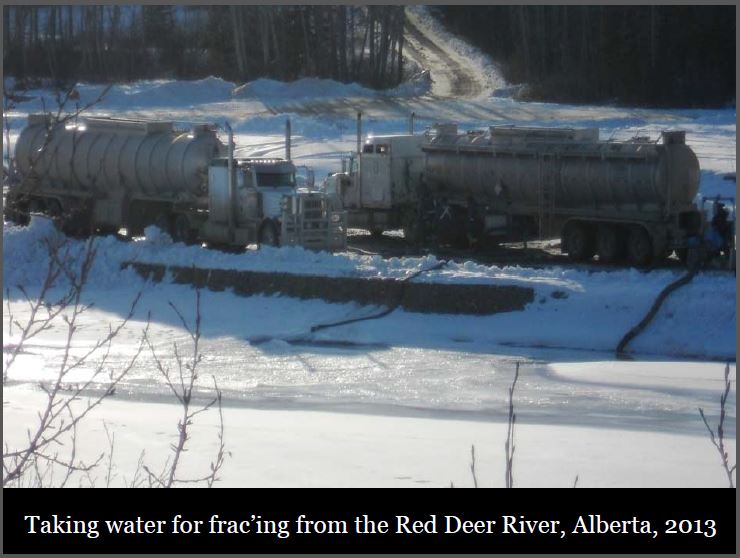 "The pumps started revving, and when workers went to investigate, one of the hoses let go and struck a worker."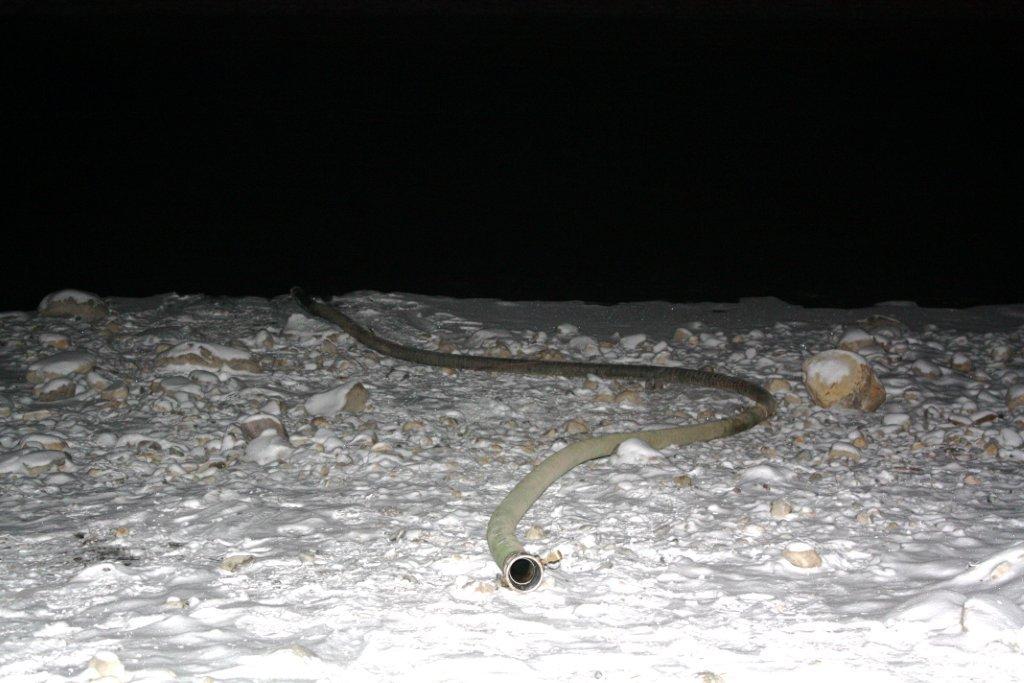 Frac water hose NW of Calgary, Alberta
The man, who has not been identified, was treated by paramedics at the scene and then transferred to the Whitecourt Healthcare Centre, where he died. OHS officers are investigating the incident, Welsh said.
Secure Energy Services, a publicly traded energy services company, has its corporate head office in Calgary. The company offers fluids and solids solutions to the oil and gas industry.
This is the 16th workplace fatality in Alberta in 2016, according to OHS. [Emphasis added]
[Refer also to:
2016 09 25: "My son was murdered" Drilling through Danger Chapter One: Regulatory vacuum compounds inherent risks; In 12-year span, an oil and gas worker died once every three months on average in Colorado, 51 workers died between 2003-14, victims of a system focused more on protecting industry than its employees
2016 08 01: Why isn't AER's Fox Creek Frac Frenzy Regulatory Failure front page news? AER releases evaluation of its Play-Based (Blanket Approval) DeRegulation Pilot
2015 09 22: AER & Encana Lying Update: Encana's Deadly Sour Gas Blow Out at Fox Creek: Did Alberta's Energy Minister lie for Encana & "No Duty of Care," cover-up agent extraordinaire, the AER?
2015 07 19: Alberta Government Low Flow Advisory in Fox Creek/Peace Region, Asks Users to Reduce Water Consumption. Does that include in AER's Fox Creek Fracing Pilot Project?
2015 07 17: AER Frac Pilot Project: Earthquakes, tax increases, water restrictions, double homicide, spills and accidents shake Alberta town's faith in fracking; Aging sour facilities in deregulated Fox Creek a big worry for council; AER's FracQuake Red Light stops Chevron only 16 days; Families moving out
2015 07 03: AER, Chair Protti and CEO Ellis: WHERE ARE YOU? 'Very special person' one of victims of fatal Fox Creek Blanket Approval Frac Experiment Camp knife attack
2015 07 03: AER and Gerard Protti trying to erase the murders in the Frac Hell Free-for-all they created and enable at Fox Creek? How will the AER restore those lives? How will they wipe out the horror facing residents and workers?
2015 06 30: Cumulative Impacts Frack Attack? Double Homicide in "No Duty of Care" AER and Gerard Protti's Fox Creek Blanket Approval Pilot Project
2015 05 27: Town of Fox Creek Water Ban on ALL Non-Essential Use. Does that include fracking in AER's Deregulated, Blanket Approval, Frac Frenzy, Play-Based Pilot Project surrounding Fox Creek?
2015 03 12: Jack Shawn Eyles, 28, from Kelowna, dies fracking in NE BC for Calfrac (Nitrogen Pumping Division) on Progress Energy Canada Ltd. Site: "Not an explosion as we usually think, but an explosive or sudden release of extremely high pressure"
2014 06 14: WARNING! Synergy and blanket approval to give industry free-for all fracking in Alberta! Watch out Fox Creek and the rest of Canada, Synergy is brainwashing controlled by industry, incredibly evil and works well ]