Natural Resources Canada reports the Fox Creek 4.4 Magnitude quake on June 13, 2015 was felt in Drayton Valley, Edmonton and Edson. 
USGS reports the Fox Creek quake as a 4.0M and in a slightly different location. Natural Resources Canada (NRC) corrected the location of the quake initially reported by NRC.
NRC Earthquake Report: 2015/06/13 23:57:55 Location: 54.10 -116.95 Depth: 5.0 km Magnitude: 4.4 Felt: Yes 155 km NE of Jasper, AB.
Chevron reported 3.6 magnitude event. All frac operations within 5 kilometres were ordered shut down by AER, then all allowed to resume, except Chevron.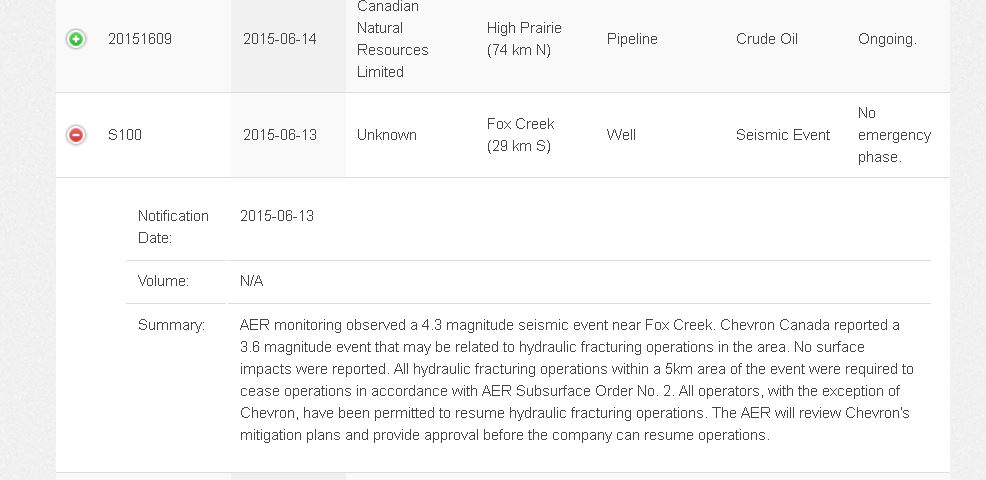 Magnitude 4.4 earthquake detected near Fox Creek, Alta. by Daniel Martins, June 14, 2015, The Weather Network
Natural Resources Canada says the quake struck at 5:57 p.m. MT around 36 km east of the community of 2,000. The United States Geological Survey recorded it as Magnitude 4.0. There are no current reports of damage. Earthquakes of that magnitude may be strong enough to be felt by humans, but aren't typically capable of harming infrastructure.
…
In February, the regulator announced new monitoring and reporting requirements for companies carrying our fracking in the Fox Creek area. As for Saturday's quake, the regular says it is investigating.
"As part of the process the AER will work with local staff to inform the investigation," spokesman Riley Bender told The Weather Network. "The AER has seismologists on staff to help us fully understand seismicity that has the potential to occur as a result of hydraulic fracturing operations."
Another earthquake in Fox Creek raises concerns over hydraulic fracking by Sarah Offin, June 14, 2015, Global News
A 4.4 magnitude earthquake has rattled a small town in Northern Alberta for the second time this year. The quake struck around 6:00 p.m. Saturday night, about 36 kilometres east of Fox Creek.
The small oil and gas town has had tremors in the past, including one the same size in January that caused minor damage.
There's still no word on the cause of Saturday's quake, but officials have blamed previous tremors on hydraulic fracking in the oil and gas industry. In fact, the last 4.4 magnitude earthquake in January was the largest ever connected to fracking.
Each year, Alberta averages 30 earthquakes. Since December 2013 there have been 200 in the Fox Creek area alone.
…
Since the 1950s, there have been 120,000 wells that have been hydraulically fractured in Alberta. Four-thousand of them are around Fox Creek. [Emphasis added]
4.4-magnitude earthquake recorded near Fox Creek, 2nd earthquake [?????] this year near Alberta town, previous one linked to fracking by CBC News, June 14, 2015
It's the second earthquake near the town this year. The first, recorded on Jan. 22, was also a 4.4-magnitude quake. At the time, Alberta's provincial energy regulator said the earthquake was likely caused by hydraulic fracturing.
Fox Creek, a town of about 2,000 people in northern Alberta, is largely sustained by oil and gas development.
Updated version: Multiple earthquakes detected this year near Fox Creek by Paige Parsons, June 14, 2015, Edmonton Journal
…
After the January earthquakes, University of Calgary geophysicist David Eaton set up seismographs and conducted a study of the aftershocks. After news of Saturday's earthquake, Eaton said by email Sunday he is considering sending a crew to the Fox Creek region to install portable monitoring equipment. If he decides to do it, he said it will require more than a week to set up the equipment, collect data and analyze the results. [Emphasis added]
Earthquake detected near Fox Creek by Paige Parsons, June 13, 2015, Edmonton Journal
Natural Resources Canada recorded an earthquake near Fox Creek, Alta., just before 6 p.m. Saturday. The 4.4-magnititude quake was recorded 36 kilometres east of Fox Creek. Earthquakes with a magnitude between 3.5 and 5.4 on the Richter Scale are described on NRC's website as "often felt, but rarely cause damage."
Alberta Energy Regulator (AER) director Bob Curran said by email Saturday evening that the regulator's seismic monitors have registered seismic activity in the Fox Creek area and that they are investigating.
On Jan. 22, an earthquake of a similar magnitude occurred west of Fox Creek. It generated aftershocks, some of which were felt by residents living in Fox Creek. Another earthquake was detected earlier in the month, on Jan. 14, also west of Fox Creek.
AER and the Alberta Geological Survey believed the two January earthquakes may have been associated with multistage hydraulic fracturing.
The energy regulator has since put new rules in place for companies conducting hydraulic fracturing in the area. [Rules that are meaningless except to give false assurances. This new 4.4 quake is a perfect example.] Fox Creek is 236 kilometres northwest of Edmonton.
Alberta Earthquake Measuring 4.4 Magnitude Recorded Near Fox Creek by Andree Lau, June 13, 2015, The Huffington Post
An earthquake has struck northern Alberta where past tremors have been blamed on hydraulic fracturing from the oil and gas industry.
National Resources Canada detected a 4.4-magnitude tremor on Saturday evening, 36 kilometres east of Fox Creek. The U.S. Geological Survey reported it was a magnitude 4.0. … Hydraulic fracturing, commonly known as fracking, was found to be the likely cause of a January 4.4-magnitude earthquake in the same area. The tremor caused some minor damage, reported CBC News.
…
After the January earthquake near Fox Creek, the Alberta Energy Regulator set up new rules to monitor seismic events.
Since then, a company fracking in the Fox Creek area reported two earthquakes with magnitudes of 2.2 and 2.1 on May 28, according to The Tyee. A third measuring 2.4 was also detected on April 16 in the same region.
Gail Atkinson, who researches induced seismic hazards at Western University in Ontario, found that a "swarm" of 25 earthquakes with magnitudes of 2.5 to 3.5 between 2013 and 2014 in the Crooked Lake region near Fox Creek corresponded "closely to hydraulic fracture treatments of oil and gas production wells in the immediate vicinity."
Fracking is an increasing concern in the U.S. In Oklahoma for example, earthquakes are occurring at a rate that's 600 times the historical average. In 2014, the U.S. state experienced 585 earthquakes of 3.0-magnitude or higher, compared to an average of 1.6 quakes annually between 1978 and 2008. They are "very likely triggered" by wastewater injection that's part of the fracking process, said a report released by the state this spring.
More Industry Linked Earthquakes Recorded in Alberta, New seismic reporting system 'a good start' but 'not foolproof,' says hazard expert by Andrew Nikiforuk, June 11, 2015, TheTyee.ca [Excellent comments to this article, including by Diana Daunheimer and Annie57]
More industry-linked earthquakes have shaken up Alberta's oil and gas fields in recent weeks from Fox Creek to Peace River, say experts and regulators.
In Fox Creek, Alberta, where industry triggered a 4.4 magnitude earthquake, a company fracking in the Duvernay Formation has reported more tremors.
"On May 28, an operator in the Fox Creek area reported two seismic events, of a magnitude 2.2 and 2.1 respectively," confirmed Ryan Bartlett, a spokesperson for the Alberta Energy Regulator.
"The events were associated with hydraulic fracturing operations," said Bartlett, "and were reported to the [regulator] as required by Subsurface Order #2," a new set of regulations to monitor seismicity set up last February.
In addition, a shallow 3.5 magnitude earthquake occurred near Rocky Mountain House in central Alberta where a history of quick and high-volume gas extraction from the Strachan gas pool has triggered swarms of tremors since 1976.
Gail Atkinson, one of Canada's foremost experts on earthquake hazards, said the June 2 event near Rocky Mountain House "appears likely to have been triggered by hydraulic fracture operations nearby, though the details of those operations are not yet available."
The fracking of tight oil formations along the Rocky Mountains, says a recent industry case study, can divert fracking fluids into faults with the risk of "generating induced seismicity of large enough magnitude to be felt at the surface."
Just northeast of the town of Peace River, residents recently heard a loud boom as two earthquakes shook an area where industry extracts bitumen by injecting steam into the ground. The regulator's Alberta Geological Survey branch is investigating the events.
"We can't take things out of the earth and expect things not to move," said nearby resident and rancher Carmen Langer.
'Traffic light system' in place
Fluid injection of gases or liquids by the oil industry deep into the ground, including salt water disposal, steam injection, and hydraulic fracturing has been known to trigger earthquakes since the 1960s.
The industry has also caused earthquakes from California to the Netherlands by extracting oil and gas from a formation at such high rates that the formation begins to subside and fracture.
After The Tyee reported last January that fracking had caused a swarm of earthquakes as well as a 4.4 magnitude earthquake near Fox Creek, the Alberta Energy Regulator set up a seismic reporting "traffic light system."
The novel system forces companies to report seismic events greater than a magnitude of 2.0, and to shut down operations once a 4.0 magnitude quake is observed near their operations.
Guidelines for the seismic reporting traffic light system.
Atkinson, who is also the NSERC/TransAlta/Nanometrics Industrial Research Chair in Hazards from Induced Seismicity at Ontario's Western University, said that the traffic light system is "a good start, but like many approaches it is not perfect."
"Once a sequence [of earthquakes] is initiated, it may continue for some time, with larger events continuing to occur after a company has been ordered to stop," she said.
Furthermore, "the largest event in the sequence might happen first. Thus the approach is a sensible precaution, but not foolproof protection." 
Experts at a 2014 Banff workshop on the subject questioned the effectiveness of traffic light systems because "there are few examples where such systems have been successfully used to modify an operation to mitigate seismicity."
Since the regulator set up its traffic light system, three reportable seismic events have occurred in the Fox Creek area: a 2.4 magnitude event on April 16, 2015, and 2.2 and 2.1 magnitude events on May 28, 2015.
'We need to understand why'
Earthquakes triggered by the technology of hydraulic fracturing and waste disposal wells in Ohio, Texas, British Columbia, Oklahoma, Arkansas, and Alberta have increased the need for more seismic monitoring throughout the oil patch.
One company, Spectraseis, advises companies that "Seismic events near oil and gas wells and water injection sites can lead to costly operational suspensions or shut downs, wellbore integrity losses, and serious public and regulatory concerns."
At a recent meeting in Fox Creek, Todd Shipman, manager of landscape and geological hazards for the Alberta Geological Survey, reportedly told concerned city councillors that hydraulic fracturing will cause small earthquakes, but that the large January tremor occurred after fracking operations stopped.
"Four point four magnitude earthquakes are not normally seen so we need to understand why," Shipman said. "The [regulator] is trying to develop a geological framework to see what is going on in the Fox Creek area."
The U.S. Geological Survey has called for better monitoring and response to the industry-triggered events. "The general public is the most important stakeholder because they may be exposed to potential injury and damage," warned the USGS in a recent paper.
[Compare AER's system to the UK's: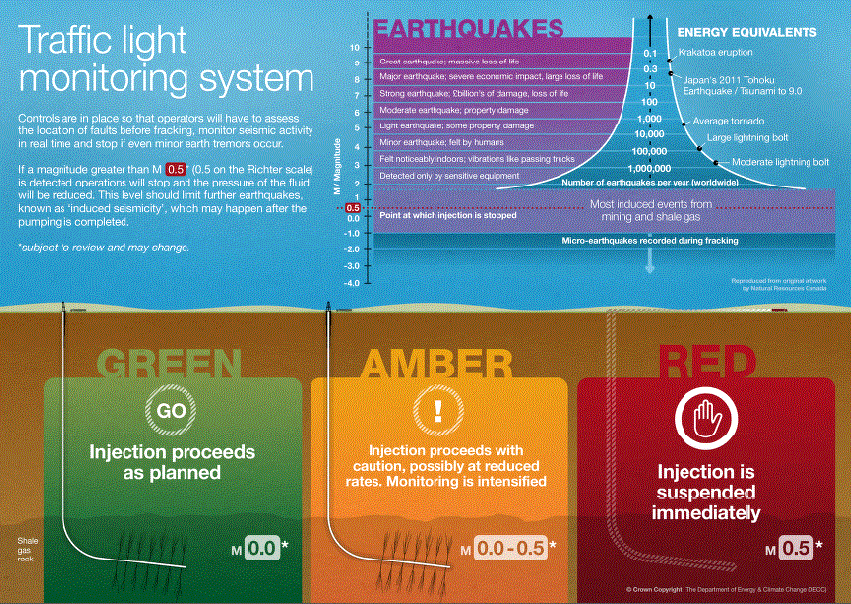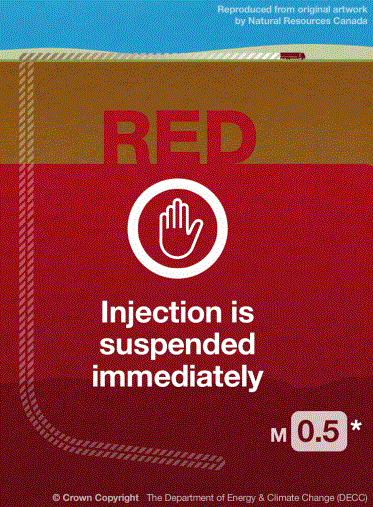 2015 02: AER Master Deregulator promises regulation while bamboozling media and the public. UK frac quake "red light" is 0.5M, in Alberta, it's 4.0M
2015 03 19: Experts trying to stop fracking earthquakes in Alberta [Is the AER's "expert" system working?]
After the biggest of 200 quakes, AER implemented an interim plan limited to Fox Creek "because we just don't understand what would be a good regulation. We really don't know that answer yet. We're trying to develop that answer and understand.
Each year, Alberta averages 30 earthquakes. Since December 2013 there have been 200 in the Fox Creek area alone. [Shall we thank Mr. Protti and the AER's (industry's) Frac-em-to-Hell Blanket Approval Deregulation Pilot Project at Fox Creek?]
The 4.4 magnitude earthquake on Jan. 22, 2015 is the largest ever connected to fracking.
…
Experts believe the tremors are caused hydraulic fracturing, or fracking. … The process has been blamed for contaminating drinking water and in some cases causing earthquakes. The quake in Fox Creek is the largest ever to be connected to the fracking process. Many worry that as production increases, the tremors will become more frequent and more intense.
"That's the real concern," said Gail Atkinson, a seismologist at the University of Western Ontario.
…
Since the Fox Creek quake in January, Alberta's Energy Regulator has created new rules. AER now requires operators to increase the monitoring and reporting of seismic activity. Operations must stop [Wanna bet Protti and the AER will ensure fracing at Fox Creek is not stopped?] if an earthquake 4.0 or higher is detected and anything between two and four on the scale must also be reported in the new red light system.
"Currently it's an interim plan. It's only for the Fox Creek area," said Todd Shipman, manager of Landscape and Geohazards at the Alberta Energy Regulator.
"It's because we just don't understand what would be a good regulation. We really don't know that answer yet. We're trying to develop that answer and understand."
No major earthquakes have been reported near Fox Creek since the new system was put in place. [How will Protti and the AER enhance their enabling propaganda?  Two Stop Light Systems? Emphasis added]