Crews cutting through bush to reach site of northwest Alberta pipeline leak by Gordon Kent, Edmonton Journal, October 10, 2016, Calgary Herald
Dense bush and poor weather are hampering the efforts of workers trying to reach the site of a crude oil pipeline leak, a spokeswoman for the Alberta Energy Regulator (AER) says.
… Investigators still don't know how much product was released because they're having trouble getting equipment to the scene through the heavy forest, AER spokeswoman Carrie Rosa said Monday.
"It's tough to access. It's really densely vegetated. The past few days have been spent creating an access to the impacted area so the crews can begin the deliniation and remediation work." [Or to delay as long as possible to allow as much of the toxic pollution to flow away so that the company won't need to clean it up, similar to how Husky falsely reported their toxic bitumen spill into the N Saskatchewan River, creating a nice delay allowing much toxic product to flow past the ability to clean it up (eg sinking)?]
The weekend snow also created challenges for staff from the AER, Trilogy and their contractors, she said. [Companies are required to be prepared for the worst from nature when there are spills and other emergencies, notably toxic spills into fresh water, that companies are able to promptly respond appropriately and clean up fast and completely. Companies aren't prepared because the "watchdog" doesn't make them]
People who have reached the location by foot found two dead birds and signs of beaver lodges touched by hydrocarbons, Rosa said.
While workers have started taking soil and water samples, they don't know the extent of the environmental damage.
The pipeline has been purged of any remaining product.
In a statement last week, Trilogy said it had activated its emergency response plan, and company crews and related response teams were assessing the impact of the leak and starting cleanup.
The firm is controlled by Calgary Flames co-owner Clayton Riddell. [What if the company spilled their toxic product onto the ice and into the stands and food kiosks during a public game and was not prepared to clean up? How would the players, referees and public respond? [Emphasis added]
One of the comments:
Stop Climate Change Denial at CBC
"Dense bush and poor weather are hampering the efforts of workers trying to reach the site of a crude oil pipeline leak…"
Another day, another spill in Alberta.
This is the "world-class oil spill response" which Alberta promotes in support of pipelines in every direction and oil tanker traffic off the BC coast.
Marine spills, in rough seas and in the Arctic, are even more difficult to reach and even harder to clean up. At sea, only a fraction of spilled oil is ever recovered. Use of toxic dispersal agents often do more harm than good.
The Alberta Energy Regulator recently found that pipeline operators were "insufficiently trained or failed to detect leaks"—and in one third of cases it studied, it took on average 48 DAYS for companies to respond.
This is the sort of "responsible development" that Alberta seeks to impose upon its neighbours, putting wildlife, water supplies, public health, and viable industries like fisheries and tourism at risk.
No, thank you.
Dexter Mosenko
You haven't a clue what your talking about
Stop Climate Change Denial at CBC
Enbridge's 2010 pipeline spill in Michigan continued for 17 hours before the pipeline was shut down. Ignoring the system's alerts, Enbridge operators in Edmonton restarted the pipeline twice:
"This investigation identified a complete breakdown of safety at Enbridge. Their employees performed like Keystone Kops and failed to recognize their pipeline had ruptured and continued to pump crude into the environment. Despite multiple alarms and a loss of pressure in the pipeline, for more than 17 hours and through 3 shifts they failed to follow their own shutdown procedures."
— NTSB Chairman Deborah A.P. Hersman
Apache's 2013 pipeline spill in the Zama region of northern AB continued for 27 days before the pipeline was shut down.
A 2010 oilsands well-head blowout at Devon Energy's Jackfish facility took 36 hours to control.
In several cases, it's landowners who notify the company of spills. Either the industry's fail-safe state-of-the-art detection systems don't work—or the operators ignore the alarms.
***
[An introduction to "Best Practice" by Trilogy Energy Corp (Trilogy Resources Ltd is a subsidiary of Trilogy Energy Corp) in AER's Frac Frenzy Blanket Approval Pilot Project:
2014 04 05: Alleged groundwater pollution concerns by Trilogy at Fox Creek under investigation; Whistleblower: "cement job didn't go as planned and there was NO cement in the hole" [Later proven true]
#Breaking #Whistleblower Very Urgent Information for residents of #Alberta #Yeg #IdleNoMore Underground water supply compromised! I received this just now from a whistleblower who works for [Trilogy], the second largest oil drilling company in Canada.
He wrote:
"Had a bad night at work, I have to vent this because it is so wrong and I am so mad!
"My rig drills surface casing to 600 M to protect the watershed north of Edmonton. Basically the well water in the area because after that 600M we drill with petroleum/oil. Well today the cement job didn't go as planned and there was NO cement in the hole to protect not only the underground water supplies, but our lives on the rig if we take a kick, and the frac crews coming in after.
The bosses didn't want to wake up at 3am so the call was to fill the hole with gravel that I scraped off the lease road. I am so not cool with this and when I refused work I got yelled at. This is !@#!@#! wrong!. I walked over and tried to wake up the push and engineer, neither would wake up. Well I wouldn't drink the water in Fox creek for another 150 years, at least.

"The whole underground water supply will be compromised by this oil company being CHEAP!! No one has a !@#!@# backbone tho. I tried to wake up my toolpush and engineer, they told me to @!#! and deal with it or the next crew would! In the next 7-15 days we will be pumping invert into groundwater. And no one will know…" [Emphasis added]
If AER were a "watchdog" would these "best practices" occur in Alberta?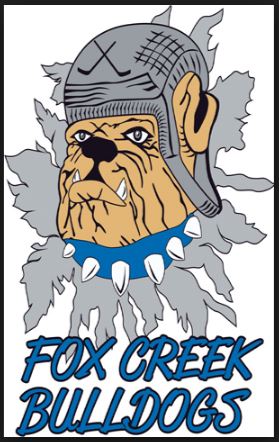 Source: Foxinfocus.ca
Is calling the AER a "watchdog" an attempt to re-brand industry's no duty of care, legally immune (even for acts in bad faith), Charter violating pet?
Alberta's energy watchdog responds to crude oil pipeline leak in central Alberta by Canadian Press, October 8, 2016, Global News
Alberta's energy watchdog is responding to a crude oil pipeline leak in the Kaybob area of central Alberta.
The Alberta Energy Regulator says on its website that Trilogy Energy Corp. contacted them to report that oil emulsion was found in a flowing marsh that is non-fish bearing.
The regulator says the oil emulsion ratio is 50 per cent water and 50 per cent oil, but they don't know how much leaked in the area.
An environmental contractor is also on site and started containment, delineation and sampling activities.
In a statement Friday, Trilogy Energy Corp. says the leak was discovered Thursday afternoon in one of its crude oil pipelines within its Kaybob Montney Oil Development, about 15 kilometres from Fox Creek, Alta.
The company says production from the pipeline has been redirected and there were no injuries due to the incident.
Alberta pipeline leaks oil into flowing wetland northeast of Fox Creek by Reid Southwick, October 7, 2016, Calgary Herald
Alberta's energy [enabler] watchdog is responding to a pipeline failure that is believed to have leaked oil into a flowing wetland in northwestern Alberta.
Calgary-based Trilogy Energy Corp. said it discovered the leak Thursday afternoon at its Kaybob project about 15 kilometres northeast of Fox Creek.
The Alberta Energy Regulator said oil emulsion, consisting of half water, half oil, has leaked into a flowing marsh area that isn't home to fish.
The watchdog said Friday afternoon it was still trying to determine the volume of the spill and whether it affected any wildlife.
"The pipeline's been shut in and is being purged to remove any of the remaining product," said Carrie Rosa, spokeswoman with the regulator.
The energy regulator posted a brief report about the spill on its website, but didn't issue a release.
Trilogy said in a release published after 4 p.m. Friday afternoon there were no injuries as a result of the spill, but that it was working to determine the size of the affected area.
The company, controlled by oil tycoon and Calgary Flames co-owner Clayton Riddell, said it has activated its emergency response plan, with crews on site working to determine the cause and to clean it up.
News of the leak falls on the heels of Apache Canada Ltd. pleading guilty to two counts of failing to properly operate its pipelines following multiple spills.
It was ordered to pay $350,000 in penalties following two spills that leaked a combined nearly four million litres of produced water, containing mostly salt water and some oil, in separate Alberta sites.
In July, up to 250,000 litres of oil mixed with a lighter hydrocarbon leaked from Husky Energy Inc.'s pipeline into the North Saskatchewan River near Maidstone, Sask.
With files from The Canadian Press [Emphasis added]
A few of the comments:
Jeff King
time to shut these shite shows down….so sick of big oil and their toxic legacies
Rob Schwartz
Alberta's energy watchdog appears to be trained to sit on the porch wagging it's tail as the robbers plunder the province.
Oct 8, 2016
Rob Schwartz
Casandra Ferra Highly unlikely to be set for life. More likely to find that the compensation offered would not even cover a small % of your losses. Any compensation that would reflect your true losses would likely require a civil claim for damages which would likely ocupy the rest of your life in court appearances.
Oct 9, 2016
Randy Rex Shoop
Your thinking is so "backward" this is not about percentage of Oil, "It's about the land and water, Man".
Claudy Rosa
Only in 'berta would commentors try and justify this as OK or "worth" the risk..pathetic.
Casandra Ferra · Owner at Bloomfast mart, Penticton, B.C.
Nothing is 100% safe or airplanes would not crash. If you compare the spill volume to the total volume of fluids pumped through pipelines in Alberta every day the percentage is miniscule.
Jesse Metcalfe
That's the problem with the oil and gas industry. They seem to think that the damage they do is minuscule in comparison to the financial gain they are reaping. If I robbed you but then said the people I robbed compared to the amount of people who didn't get robbed is minuscule. Does it mean it has any less impact on you? Your small mindedness is appalling.
Casandra Ferra · Owner at Bloomfast mart, Penticton, B.C.
Jesse Metcalfe If the robber then paid for all of the damages plus a nice settlement. There are people dying in car crashes every day – do you want to stop the use of cars? The death of a single person has a huge impact on them too. You seem to have very selective targets.
Raymond Mason
Jesse Metcalfe do you pay into CPP on your pay cheque? Where do you think that money goes that you have worked so hard for? There are professionals managing that money for all Canadians, and they seek out the highest rates of return based on risk tolerances. You can bet dollars for donuts it's in energy.
Jesse Metcalfe
Casandra Ferra the problem is they don't pay for all the repairs and they can't put everything back to normal. Once the damage is done it is done. I currently live at the end of a street that used to be a refinery. When the refinery shut down the land was sold and repurposed for residential use. Houses were built and sold. After a few years the smell of hydrocarbons started to permeate the houses and many became sick. The refinery ended up buying out the houses and condemning the land. To this day this area has an overwhelming smell of hydrocarbons the land is toxic and they have been unable to reclaim it. Just because the company paid to reimburse those who lived there doesn't undo the damage that was done. Not to mention the tens of thousands of abandoned oil well sites in this province that are now left to the provincial government to clean up due to companies that have either gone bankrupt or have changed ownership and no longer have legal responsibilities to old well sites.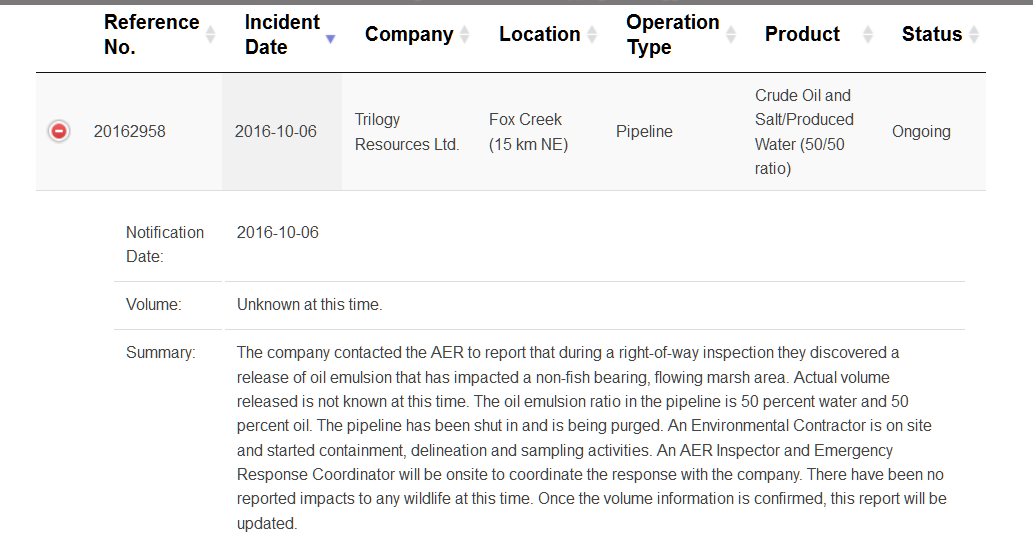 Source of snap: AER Compliance Dashboard
Trilogy Energy Corp. Announces Crude Oil Emulsion Release in Kaybob Area News Release by Trilogy Energy Corp, October 7, 2016
Trilogy Energy Corp. (TSX: TET) ("Trilogy" or "the Company") is responding to a crude oil pipeline leak in the Kaybob area of central Alberta. In the afternoon of October 6, 2016, Trilogy discovered a leak in one of its crude oil pipelines within its Kaybob Montney Oil Development, approximately 15 kilometres from the Town of Fox Creek. The Company's emergency response plan was activated, applicable regulatory bodies and third parties were notified and response personnel and equipment were immediately deployed. Since that time, Trilogy crews and related response teams have been on site, assessing the impact of the leak and commencing cleanup. The location of the leak was identified and the pipeline has been isolated. Production from the pipeline has been redirected. There were no injuries due to this incident. Trilogy is currently working to determine the cause of the leak, the volume of the release and the size of the affected area.
All necessary steps and precautions have been taken and Trilogy will continue to utilize all of its resources to protect the health and safety of its employees, contractors, the public and the environment and to remediate the effects of the spill. Trilogy continues to investigate the extent of the impact of the leak as it develops its remediation program. We are working closely with the Alberta Energy Regulator and will continue to do so throughout our response.
Updates regarding this incident will be provided on Trilogy's website www.trilogyenergy.com as further information becomes available.
…
For further information, please contact:
J.H.T. (Jim) Riddell, Chief Executive Officer
J.B. (John) Williams, President and Chief Operating Officer
M.G. (Michael) Kohut, Chief Financial Officer
Trilogy Energy Corp.
1400 – 332 – 6th Avenue S.W.
Calgary, Alberta T2P 0B2
Phone: (403) 290-2900
Fax: (403) 263-8915
Apache Canada pleads guilty to pipeline violations after multiple spills by The Canadian Press, October 4, 2016, Calgary Herald
Apache Canada Ltd. has pleaded guilty to two counts of failing to properly operate its pipelines after multiples spills on its network.
The company pleaded guilty on Sept. 30 to violating the Pipeline Act and the Environmental Protection and Enhancement Act in relation to a pipeline spill near Zama City on Oct. 25, 2013, and a second spill on Jan. 21, 2014, not far from Whitecourt.
The spill at the company's Shekilie field near Zama City released 1.8-million litres of produced water, generally a mix of mostly salt water with some oil, that affected about 3.8 hectares of public land. The spill at its Belloy field about 40 kilometres northwest of Whitecourt released just under two-million cubic metres of produced water.
The court ordered the company to pay $350,000 in penalties for the two spills, with most of the funds going to a creative sentencing project where Alberta Innovates Technology Futures will research remediating salt-affected soil.
Apache spokesman Paul Wyke said the company took corrective measures after an audit of its practices and has a robust pipeline management system in place.
"Apache takes its environmental responsibility very seriously and we have addressed the impacts resulting from the Shekilie and Belloy incidents," he said. "We sincerely regret that these incidents occurred and Apache is committed to operating our pipelines safely."
In the agreed statement of facts on the Zama City spill, the company admitted it did not install a protective fence around part of the pipeline that stuck out of the ground, with evidence pointing to the possibility that a bison rubbed against the section and crushed the pipe.
On the Whitecourt spill, the company agreed it installed the wrong size of pressure valve on the pipeline and that it did not properly review reports on whether the valves were working properly.
Apache had originally been facing fines of up to $2.5 million after being charged on five counts under the acts for the Belloy spill, and fines of up to $3.1 million and seven counts for the Shekilie spill.
Last year the Alberta Energy Regulator also fined Apache $16,500 for a May 2013 spill that released more than 15-million litres of produced water into the surrounding muskeg near Zama City.
"Albertans expect industry to respond quickly and contain spills of any size," said AER president and CEO Jim Ellis in a release Tuesday.
"When our investigations indicate that any company has not met regulatory requirements, we use our enforcement tools to assure compliance and, in some cases, we pursue enforcement action through the courts."
[Refer also to:
2016 10 08: Search of Trilogy incidents on AER's Compliance Dashboard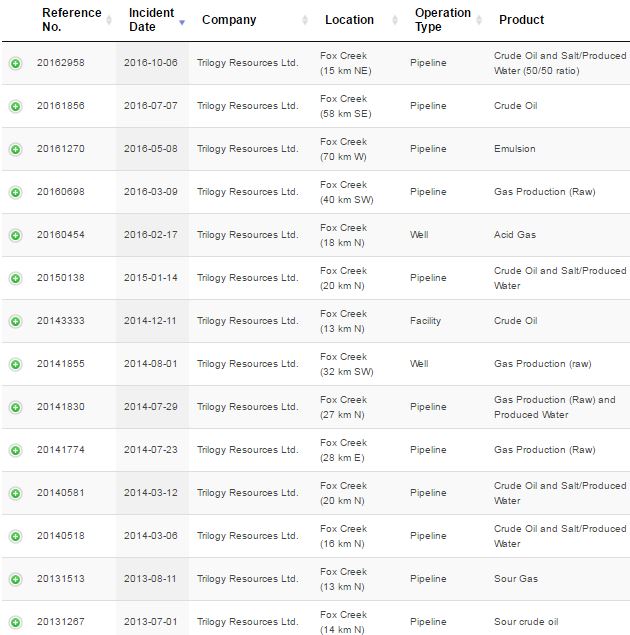 2016 10 05: CWP Report: Nearly 2 oil and gas-related spills each day in Wyoming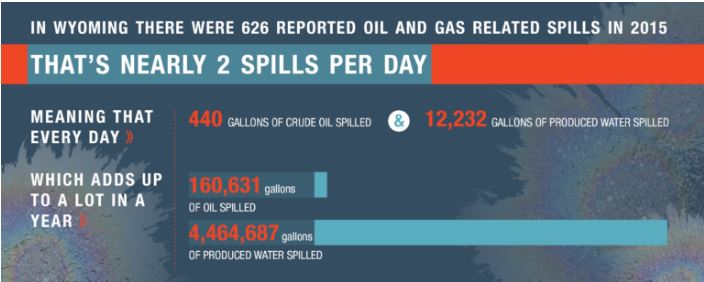 2016 10 03: After paying $1.6 million fine, ExxonMobil to pay $12 million settlement to Montana, US for oil spill affecting 85 miles of Yellowstone River. What will Husky Pay for spill affecting over 300 miles of river in Canada? Nothing, as usual? After treating spill-poisoned James Smith Cree Nation abysmally, Husky's oil-sniffing dogs find evidence of oil, then Husky quickly compensates (and gags?) James Bay Cree First Nation
2016 08 03: In Texas, wastewater spills get less scrutiny. In Alberta, do they get any?
2016 08 01: Why isn't AER's Fox Creek Frac Frenzy Regulatory Failure front page news? AER releases evaluation of its Play-Based (Blanket Approval) DeRegulation Pilot
2016 07 26: Join the Frac Club! Deregulation budget-cut style? "It's a real nuisance. And for some it could become a real health issue. … Can't drink, can't shower, can't wash your clothes." Prince Albert declares state of emergency; constructs 30 km long drinking water pipeline as Husky's massive toxic bitumen & diluent slick invades. Who pays for the damages? Saskatchewan averages two oil spills a day, just like Alberta!
2016 07 14: Alberta averages two crude oil spills a day for decades and all the AER can do is "urge" companies to improve detection of pipeline leaks?
2016 06 14: ConocoPhillips pipeline spills 380,000 litres condensate into creek 5 km from grizzly bear protection area 65 km NE Grand Cache Alberta; "Visible as a sheen on the surface of the unnamed creek for about 4.5 kilometres below the leak"
2015 07 17: AER Frac Pilot Project: Earthquakes, tax increases, water restrictions, double homicide, spills and accidents shake Alberta town's faith in fracking; Aging sour facilities in deregulated Fox Creek a big worry for council; AER's FracQuake Red Light stops Chevron only 16 days; Families moving out
2014 07 10: AER investigates another CNRL well leak in troubled leaking Primrose field; Cenovus spills 1300 gallons of drilling fluids at Cold Lake
2014 04: AER ST108: Monthly Enforcement Action Summary

2013 11 23: Apache spills another 1.8 million litres of toxic wastewater near Zama, Third Apache pipeline leak discovered in northern Alberta
2012 09 20: Leak Detection Sensors Miss Most Pipeline Spills
2012 06 19: Enbridge pumping station spills 230,000 litres of heavy crude northeast of Edmonton
2012 06 14: Pipeline spills are not the exception in Alberta, they are an oily reality, Since 2006, province's pipelines have spilled the equivalent of almost 28 million litres of oil
2012 06 08: Alberta residents angry after oil spills into nearby lake, Premier Alison Redford promises a full investigation
2007 08 06: Alberta oil spills, blowouts double in past year
etc.
etc.
etc.
***
Trilogy Energy Corp. is a Canada-based petroleum and natural gas-focused energy company. The Company acquires, develops, produces and sells natural gas, crude oil and natural gas liquids. The Company's oil and gas properties are located in the Kaybob area and Grande Prairie area of Alberta. Its Kaybob area properties include Kaybob Montney Oil Pool Development, Presley Montney Gas Development, Duvernay Shale Oil and Gas Development, Gething Oil Development and Dunvegan Oil Play. The Company's annual production from the Kaybob area is approximately 26,190 barrels of oil equivalent per day (Boe/d). The Company's annual production from the Grande Prairie area is approximately 1,580 Boe/d. Its undeveloped land base consists of approximately 525,280 gross acres of undeveloped lands, with multi-zone development potential. The Company's subsidiary is Trilogy Resources Ltd.