Fracking earthquake concerns spur call for more pipeline checks from Fox Creek mayor, Jim Ahn asks Alberta Energy Regulator to require oil companies to test pipelines more often by CBC News, July 24, 2015
A northern Alberta town has asked the Alberta Energy Regulator to require oil companies to conduct more frequent testing of pipelines to ensure they are safe.
The mayor of Fox Creek has asked the Alberta Energy Regulator to ensure energy companies test pipelines more frequently in light of the Nexen leak, and because of concerns in his region over aging infrastructure, fracking earthquakes and potential ruptures.
"We're fairly confident the testing the oil companies do is probably good enough, but probably good enough just isn't good enough for me," said Jim Ahn.
Ahn says the companies currently test the lines once every five years or so, but he wants to see that practice stepped up to at least once or twice per year. [Some, if not many, frac companies and the legally immune, "No Duty of Care" AER ignore valid safety concerns of Albertans, including persons of authority in towns and on county councils. Companies mostly do what they like, including break the law, while the AER quietly deregulates to match the law violations as they happen. Will the AER and companies heed frac-bombarded Fox Creek's Mayor?]
As a resource-driven town, people are very understanding of the industry and they're confident in the oil companies [Is it wise to be saying that to the media? There are many Albertans with no confidence in the oil companies, and even less in the AER, but most are too afraid to speak up or file lawsuits, or they quickly gag and settle after suffering harm], he says. But a small number of people are scared, and they have to be reassured.
Ahn points to the network of sour gas (H2S) and sour oil lines throughout Alberta, some of which are decades old. "I think we need to know on an annual basis, or more often, that the pipeline integrity is good and we're not going to have a huge gas release in this area," he said.
"We've asked the Alberta Energy Regulator to talk to the oil companies to 'smart pig' the lines more often — a process to check weaknesses and leaks — so they know the integrity of the pipelines." [Brand new pipelines are rupturing for no valid reason, except perhaps super cheap pipe from China. It's a crap shoot in industry controlled, Protti-Ville Deregulator Alberta. The companies and deregulator have no credibility anymore or social licence. The "Alberta Model" is corrupt and kaput]
Sour gas concerns
There are miles of aging pipelines near the community, and a 40-year-old sour gas pipeline that runs through the town.
"That would be the biggest concern, that one of the pipelines would rupture and release sour gas — a very deadly gas," Ahn said.
"If anyone were in the area and the pipeline broke, we would have fatalities," he added.
There have been no problems with the pipelines related to fracking or quakes, according to the mayor. But there have been some releases of H2S, which smells like rotten eggs.
"There was a scare, and there were people pulling kids out of school just in case," he said.
AER investigating earthquakes
The mayor raised the issue of more frequent testing with the AER following earthquakes in the region believed to be related to hydraulic fracturing, or "fracking," a process that involves using high pressure to release natural gas and oil from rock formations below ground.
"There is a huge cost associated to smart pigging, but if we want to be assured that there won't be any leaks from a failure of a pipeline, I think smart pigging is the best way to do it," said Ahn.
The AER is investigating two earthquakes measuring between 3.8 and 4.4 on the richter scale about 20 kilometres outside Fox Creek. The most recent quake occurred in June.
In at least one case, the AER says the quake was likely caused by hydraulic fracturing.
Fox Creek is roughly 260 kilometres northwest of Edmonton.
[Refer also to:
Natural Resources Canada shows that "moderate-heavy" damage was reported caused by the second 4.4 Magnitude fracquake recently at Fox Creek, Alberta. It was reportedly felt in Edmonton. How much damage did the fracquakes cause the infrastructure in Fox Creek, including the sour gas well bores and pipelines? Does the legally immune "No Duty of Care" AER give a damn if citizens die from gross negligence caused by the regulator and or oil and gas companies irresponsibly frac'ing Alberta to Hell?]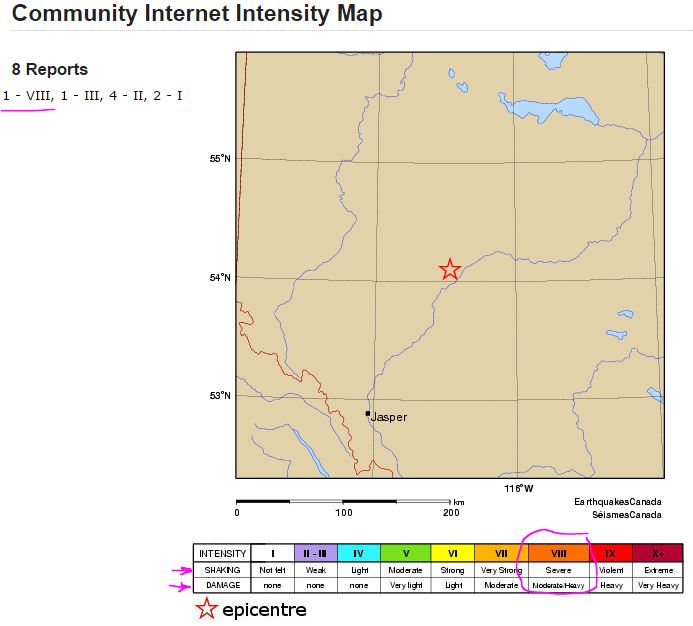 [Some excellent comments to the article by Diana Daunheimer:
yycyyc 

@Newsdude Did you know you can frack with produced water also?
Diana Daunheimer @yycyyc You can frack with produced water but try to find a company that is doing so. Produced water is high in TDS, salt, metals, suspended particles and may contain radioactive elements and chem from the frack job. To re-use

this "water" operators must treat it, at a cost, in this pricing environment (or any for that matter), no one is willing to spend money on contaminated water, when they get fresh water for free.
…
NotMyRealName Oops I would like to retract my earlier comment. I have since learned that fracking is a fantastic process, the best ever in fact. There is no downside to fracking, none at all! How could there be? Please, where do I sign up to invite an oil company to frack the sh** out of my backyard?
Diana Daunheimer @NotMyRealName


If you live in Alberta, you don't' need to sign up. The AER has taken over the Water Act, the Public Lands Act, the EEPA and the Mines and Minerals Act. They are fast tracking "play based" regs, in which Fox Creek is the pilot. One application (all wells, processing, infrastructure, water, land, community relations, reclamation, everything) for an entire region, that only needs one rubber stamp from the regulator.
The new system is called NALA, sneakily released in the AER annual report, with no publicity at all. You are signed up, everywhere and anywhere they can frack in Alberta they will and you can do nothing about it. Applications are rolling in, which are not available to the public to view. Seems like Taber will be the next Fox Creek.
dusterdrilling @Diana Daunheimer
All crown regulatory applications are available to view. http://search.aer.ca/pnoa-en/search/theme/pnoa?fq[]=feed_str:all&sort=recent
The play based regulation is designed to streamline the process for stakeholders not industry. Stop fear mongering.
Diana Daunheimer @dusterdrilling
Just how is play based streamlining the process for stakeholders and what stakeholders are you referring to?
The PNoA does not give access to the play-based applications. There is now an Integrated Application Registry on the AER website, 11 applications were submitted on July 16th alone. They are all confidential and are restricted from public viewing.