M3.8 – 0km WSW of Spencer, Oklahoma by USGS, 2016-09-09 02:06:29 UTC
35.521°N 97.385°W 5.0 km depth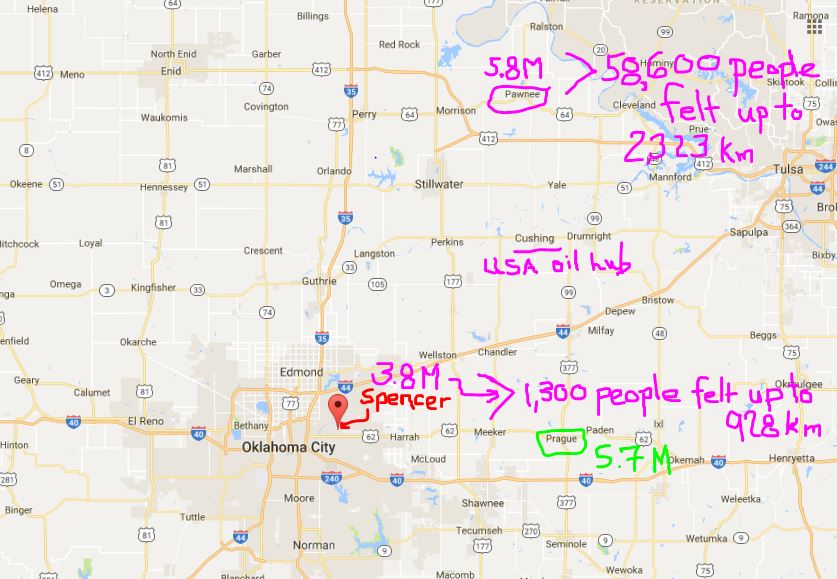 Snap from Google maps, data added from USGS
Employees At Pawnee Business Worried Returning To Work by Melissa Hawkes, September 9, 2016, NEWS ON 6
PAWNEE, Oklahoma – A Pawnee business just re-opened after a huge 5.8 earthquake, but employees say they're worried the ceiling might come crashing down on them. The most evident damage was in the downtown area, where bricks from one of the town's oldest buildings covered the sidewalk.
The building at 6th and Harrison had some of the worst earthquake damage. Now, people are back working inside some of the businesses, but they are worried about if they are safe inside.
Hairstylist Marsha Pickering was worried she wouldn't be able to come back to work at Klip N' Kurl.
"I thought I needed to find a new place to work. I thought this place wasn't going to be open again," she said.
The earthquake knocked nail polish on the floor and ceiling lights fell down; but the worst of the damage was overhead, on the ceiling.
Pickering said, "All of my clients are pretty nervous right now, but they still will come in."
The building owner said he walked through the building with inspectors and told News On 6 it was structurally sound, but Pickering still feels uneasy.
"We are all worried about it buckling anytime, any little quake, any movement," she said. "You don't know what will happen, or if it will happen again."
As for the damage on the outside, the building owner said it could take some time before it's repaired. Right now, the building owner says he's waiting on insurance claims [Emphasis added]
M4.2 – 21km E of Oliver, BC, Canada by USGS, 2016-09-10 16:16:31 UTC
49.170°N 119.252°W 5.0 km depth
Felt by 198 people, up to 261 km away
[Refer also to:
2016 09 08: Pawnee earthquake upgraded to magnitude 5.8 from 5.6; 2011 earthquake near Prague upgraded to 5.7 from 5.6
2016 09 06: 5.6M (originally reported as 5.8) Pawnee Oklahoma Earthquake Officially Largest In State History with Many "Felt" Aftershocks; USGS might upgrade it to 5.7M
2016 09 03: Another 5.6M Earthquake Hits Frac Ravaged Oklahoma: Mitigation Obviously Not Working! Quakes Increasing, No Matter How Many Injection Wells Shut Down or Injection Volumes Reduced. State Of Emergency Declared for Pawnee County. 58,628 people felt the quake, as far as 2,323 km away in Boston, MA [With extensive cross references at the bottom of the post, like this one:
2015 11 12: More lies & frac fraud? Why did AER's Darin Barter (now NEB) suggest trucks to blame for citizens feeling frac quakes at Cardson? Why not tell the truth? Why are regulators and "experts" so loath to publicly disclose fracing's many public safety risks?
"It's pretty unlikely these events would have been felt at the surface," said Barter. "If anything, it would have been close to a rumble under your feet, like a truck driving by." ]