Comment by a citizen in BC:
Terrible, tragic news. Such blatant, transparent, hypocritical corruption. This comment is very wise: "Desperation from an oil state is a very dangerous thing."

Just wait, there'll be many more AER Covid-19 deregulatory abuses ahead. I expect AER will piss on the "sunset" date, like they piss on the rule of law and the families industry harms, and make these oilpatch deregulations permanent.
Purshor doesn't waste industry's time, desires or money:
2020 03 20: AER picks next "Dickhead" (Pres & CEO): "Back Door" Laurie Pushor, reportedly scandle-corroded pisser on rules, conflict of interest old white man, was Alberta gov't official under Ralph Klein, is Saskatchewan's Deputy Minister Energy & Resources and on the Board of STEP, Sask Trade & ***Export*** Partnership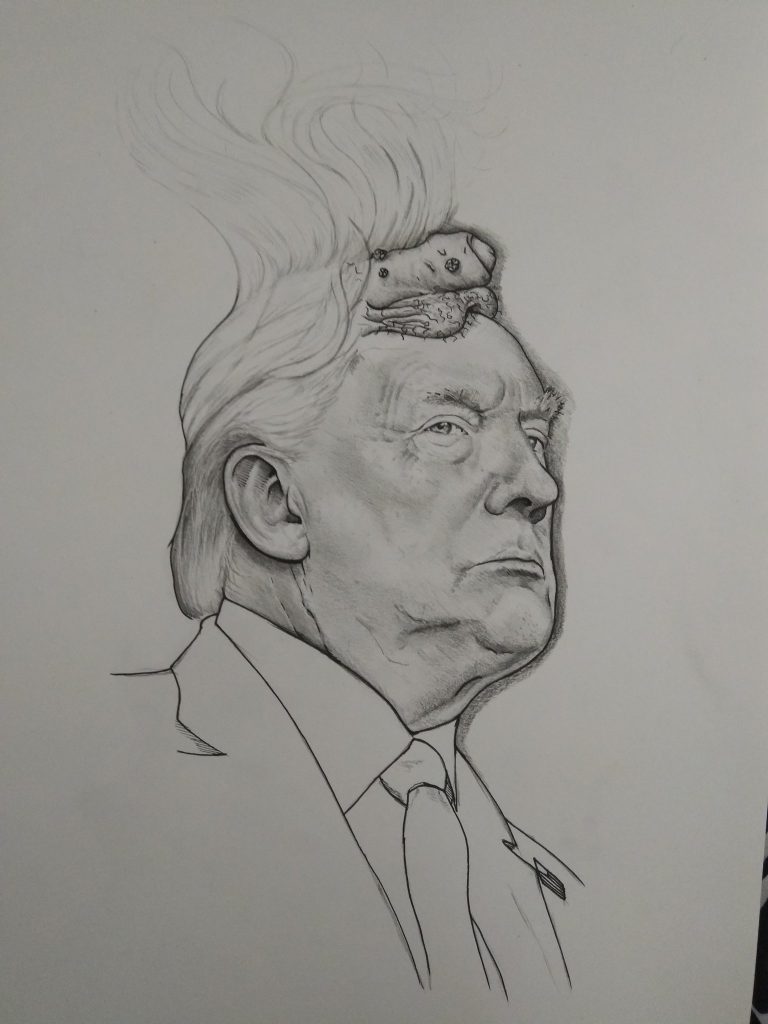 Sketch by Stephen Cousins
A bit of "Dickhead" history at the AER:
2019 06 21: After expense hanky panky by AER's top executive Jim Ellis is publicly commented on by Diana Daunheimer, Alberta farmer and mother of two, he steps down: "Good riddance, bring in the next dickhead."
A few tweets:
This one by De Souza is brilliant, sums it up:
Mike De Souza@mikedesouza

The list of oil and gas companies affected by the decisions is so long that the regulator said it wouldn't be practical to list them all.
Opinion: Suspending oilsands monitoring threatens World Heritage Site by Archie Waquan, May 21, 2020, Edmonton Journal
All across the country, Canadians are making extraordinary sacrifices to safeguard the health of their neighbours. My First Nation is doing our part, even while a flood has dislocated Mikisew members and damaged our infrastructure.
Why do we do these things? It is engrained in us as Canadians — and additionally so as Indigenous Canadians — that we protect our people and our cherished places.
The Athabasca River and Wood Buffalo National Park in northern Alberta are two cherished places that are key to Mikisew's cultural survival. Both engage federal jurisdiction in many ways, such as public navigation, fish and wildlife habitat, migratory birds, species at risk and Treaty rights. Wood Buffalo National Park holds unique national importance, as Canada's largest national park and a place where a history of inadequate monitoring and environmental protection is a major challenge to Canada's international standing as an environmental leader.
Unfortunately, during this time of crisis, actions are being taken in Alberta that falsely pit protection of people against the protection of these places. The result is that areas of federal jurisdiction — including Canada's most at-risk World Heritage Site, according to the International Union for the Conservation of Nature (IUCN) — are being put at needless risk.
I'm referring to recent actions to curtail oilsands environmental monitoring at a time when repeated evaluations have unanimously concluded that the health of the Peace-Athabasca Delta is deteriorating. Recently, Alberta and its energy regulator drastically reduced monitoring of migratory birds (despite birds dying recently in tailings ponds).
Monitoring of species at risk under the Species at Risk Act is also now curtailed. These reductions extend to environmental parameters that Canada's own agencies have identified as pathways contributing to the negative trends with that park. And this is all happening after the IUCN rated Wood Buffalo National Park as having the worst conservation outlook of all of Canada's World Heritage sites.
Environmental monitoring is not simply a cost imposed on industry; it is a key mechanism to protect the environment and the health of communities.
Canada must closely scrutinize these actions because many national interests, like the already declining health of Wood Buffalo National Park, are jeopardized. The logic behind the actions doesn't add up. Halting the use of remote monitoring equipment doesn't protect health. And monitoring is even more critical to protecting human health when companies reduce personnel and alter operations at facilities in response to the COVID-19 crisis, increasing the potential for incidents. If the underlying intention is to limit non-essential travel in our region (a concern we share), why not hire locally, creating a win for employment and the environment?
The timing of Alberta's actions for Canada couldn't be worse, as it is coming on the heels of recent reports by UNESCO, Parks Canada and the IUCN that all recommend more monitoring, not less, because of the deteriorating condition of Wood Buffalo National Park.
Canada is due to report to UNESCO shortly on how it is fixing the deterioration of the park and deficient monitoring systems, is working on regulations to allow the release of oilsands effluent into the Athabasca River, and is a key partner in the Oil Sands Monitoring Program. All these initiatives are compromised by the reductions in oilsands monitoring and reporting requested by, and granted to, industry.
We strongly urge Canada to use tools at its disposal to address the new monitoring and reporting gaps in the oilsands region that threaten our people and Wood Buffalo National Park.
Archie Waquan, Chief of the Mikisew Cree First Nation.
Alberta Energy Regulator suspends environment monitoring for oilpatch over COVID by Bob Webber, The Canadian Press, May 22, 2020, The Calgary Herald
The decisions, posted Wednesday on the website of the Alberta Energy Regulator, are in addition to similar suspensions announced earlier for open-pit oilsands mines in the province and are in response to public health concerns from the COVID-19 pandemic.
"The Alberta Energy Regulator has received legitimate

BULLSHIT

concerns and information demonstrating that the operators will not be able to meet certain monitoring requirements … while complying with the COVID-19 orders and guidelines," said one of the two decisions.
"Certain … monitoring requirements are incompatible with the operators' compliance."
The list of suspended requirements is long.
Companies no longer have to monitor fumes released by burning or conduct programs to detect and repair leaks of methane, a potent greenhouse gas. Surface waters need no longer be tested, unless they escape to the environment — and those waters need no longer be lab tested.
Soil and groundwater monitoring is gone, "with the exception of any monitoring that is necessary to protect human health and ecological receptors," the decision says.
Those efforts must resume by Sept. 30, the only suspensions with a sunset date.

AER will quietly postpone sunset into eternity, citing some corporate welfare boo hoo, like $10 billion in new freebies just isn't enough.

In situ oilsands operations will no longer have to conduct any wildlife monitoring, including research programs and population estimates. That includes remotely operated monitoring, although bird deterrents must remain in place.
Reclamation and wetland monitoring is also suspended, as are research requirements.
When the decision on open-pit oilsands mines was released, a spokesman for the regulator said companies are still required to collect monitoring data and report emergencies. Shawn Roth said the regulator would continue to oversee operations.
Others expressed concern.
A University of Calgary professor of resource law said the list of exemptions is similar to the longtime wish list of the Canadian Association of Petroleum Producers.
Shaun Fluker suggested the pandemic is being used as an excuse to grant concessions.

Of course it is, but AER is just copying Trump, or heeding his orders.

Mel Grandjamb, chief of the Fort McKay First Nation, said the move was made without consultation, despite the fact his band is in the middle of the oilsands region.
Others pointed out Alberta's moves go far beyond those in other jurisdictions.
While the federal and Ontario governments have suspended requirements to report data because of COVID-19, it must still be collected.
Keith Stewart of Greenpeace Canada said his group isn't aware of any other jurisdiction in the world that has gone as far as Alberta to roll back environmental protections during the pandemic, including the United under President Donald Trump.

No, Trump's goes much further (refer also below). Pushor's barely got started deregulating for KKKenney, so perhaps by Christmas, AER will have gone further.

This report by The Canadian Press was first published on May 21, 2020
After suspending multiple requirements for industry to monitor air, water and wildlife at 16 different oilsands projects, the Alberta Energy Regulator has decided to expand its suspension of environmental rules to almost all companies operating in the province's oil and gas industry.
In two new sweeping decisions published on May 20, the provincial regulator said that it was no longer safe for the companies to continue monitoring environmental impacts due to the threat of COVID-19.
The regulator also noted in one of the decisions that the number of affected oil and gas companies was too long to list.
"It is not practical to name all of the operators individually that are affected by this decision because of the large number of operators," the regulator said in one of the decisions.
The other decision suspends multiple monitoring requirements for a group of oilsands projects that were not included in its previous decisions from April 29, May 1, and May 5.
The regulator's decisions come after the province started a relaunch plan for its economy following its COVID-19 lockdown, including a bid to host NHL playoff games in Edmonton when the league resumes its suspended season.
The regulator said it had received "legitimate concerns and information demonstrating that the operators will not be able to meet certain monitoring requirements contained in the [project] approvals while complying with the COVID-19 orders and guidelines."
But this explanation contrasts with the message that Premier Jason Kenney sent to NHL commissioner Gary Bettman in a May 12 letter, saying that Edmonton was ready to start hosting hockey games.
"We are confident that with the already released relaunch plan, there would be a clear path for the NHL to work with public health officials to allow these NHL games to take place," Kenney wrote in the letter.
Monique Dubé, former chief scientist of the regulator from 2014 to 2017, who recently left a senior position at Alberta Environment and Parks, told Global News that some of the AER decisions are risky and don't appear to be justified.
"We're talking about protection of people and the environment from acute incidents that could affect environmental health and human health in the short term," she said."On one hand, we've got reopening plans, well underway, including conversations related to the NHL, where precautions could be taken. On the other hand, we are basically at 95 per cent of what the AER regulates — all of its environmental monitoring — has been suspended under the umbrella of COVID-19, which seems like a major inconsistency to me."

Ms. Dubé, you need to publicly retract and apologize for your fraudulent, lying, harmful "health" assessments of the frac harmed Daunheimer and Hawkwood families, and others in Alberta. Otherwise, you have no credibility or trustworthiness to be interviewed on "health" matters and the AER. Shame on you for not having done so years ago.

Environment and Climate Change Canada, which is responsible for enforcing federal environmental laws and cooperates with provincial regulators, said it only learned about the earlier suspension of monitoring requirements by the AER through the regulator's website.
But both federal and provincial officials said that their enforcement officers would continue inspections and other activities, during the pandemic.
Jess Sinclair, a spokeswoman for Alberta Environment Minister Jason Nixon, defended the regulator's decisions, saying that they were meant to strike a balance between ensuring public safety and the safety of workers.
"In all cases, monitoring activities required to assure immediate public health, protection of the environment, and emergency response and preparedness will continue," said Sinclair.
She did not immediately provide details of what evidence the government or regulator had reviewed prior to the decisions and what monitoring activities they considered to be critical.
We continue to monitor the COVID-19 situation and these short-term relief measures," she said. "Work is underway to determine when exemptions will be lifted."
She also noted that no fans would be present at the proposed NHL games and that players would stay at a central location, unlike monitoring staff who would travel.

Do fans attend the oil and gas industry's monitoring and testing? What hypocrisy! Kenney ruled tarsands workers essential, forcing them to travel to work in massive camps, of course spreading the virus, and repeatedly traveling across Canada to their families for time off, of course spreading the virus more. Industry's monitoring is done with much less travel and less risk of spreading the virus.

She did not provide details about why the government believed the risks of traveling NHL players arriving in Edmonton would be different from the risks posed by traveling monitoring staff.
Mandy Olsgard, a toxicologist who does consulting work for communities related to industrial projects, told Global News that part of the regulator's rationale doesn't make sense. She noted that some of the temporary changes are removing some monitoring requirements that were introduced to protect the health of Indigenous communities.
"Interestingly enough, they're still going to have field personnel out there doing field measurements, but they've removed the requirement to take out a bottle of water and send it to the lab," Olsgard said. "If these had come out in March, you could have understood why, but now we're back in business, the economy is rolling and all of a sudden, we're seeing more relaxation of monitoring."
Speaking at a news conference, Alberta NDP Leader Rachel Notley blamed Kenney for the regulator's decision.
"This is an utterly idiotic decision and an idiotic rationale," Notley said at a news conference. "What, in fact, we're seeing here is a cynical and exploitative use of this pandemic in order to bring about the extreme agenda of Jason Kenney, which is to stop any work to protect the land, air and water that Albertans care about."
Notley added that the Kenney government is also sending mixed messages by telling hairdressers that it's okay for them to get close enough to clients to cut their hair, but that it's not safe for oil and gas companies to proceed with some monitoring for toxins.
She said that Alberta's reputation and its economy would suffer as a result of the regulator's decisions.
"We have the capacity in Alberta to be a world leader in terms of having environmentally responsible and sustainable oil and gas production," Notley said. "But whether you're talking about trying to make that case to Ottawa or trying to make that case to international investors, you don't make that case when you suddenly turn your province into the wild west of environmental protection. It's utterly ridiculous."
A few comments:
Gyula Huszar
'Ethical Oil' we don't got. Rape the land and the water and no one is the wiser. Who supports this?
Darrell Bussey
…just…like….trump….while you are at it 'lil trump Kenney, throw in a billion or two more in corporate welfare for them too….maybe make some more cuts to education and health……you know , just for fun…
Alberta Energy Regulator suspends environmental monitoring for oilpatch over COVID-19, Suspensions offered to oilsands operations now expanded to all oil and gas operators Same article at CBC News
Some great comments:
George Smith
What a scam. The oil patch have as they always do, avoided any environmental responsibility. They've been allowed to stop cleaning up years of pollution from vacant and abandoned wells. And now don't even need to check out the existing wells that will soon be an ecological nightmare. After polluting our Country they are also now claiming they're broke and the rest of us should bail them out. They forget of course the "let the East freeze" quotes of the past.
Steve A Wilson
Millions in profit, billions in damage.
William Bruce
I have an idea.
Kick Alberta out of confederation.
Do it today – we implore you.
Gary Haggquist
The tarsands – a world leader in rolling back environmental protections.
can't use that "ethical oil" BS anymore.
The tarsands – 70% foreign owned – taking 70% of dwindling profits out of Canada.
can't accuse enviro's of being in bed with foreigners anymore.
The tarsands – Saudi Arabia is now buying a stake.
can't accuse Canada of colluding with the Saudi's against the tarsands anymore.
The tarsands – Suncor, CNRL, Imperial Oil, Cenovus and Husky – all use tax havens.
can't claim a need for pipelines because they can barely make ends meet anymore. They are stashing billions offshore!
Harry Peach Reply to @Gary Haggquist:
Should also be mentioned Alberta is still exporting over 3 million bbls of oil a day,
I repeat, over 3 million bbls of oil a day!
Alberta is in the top 5 of oil exporters in the world.
Why is Alberta broke, and racking up record deficits, long before COVID 19 even appeared?
Why aren't Albertans demanding from the Kenney govt, where the hell is the money ?
Gary Haggquist Reply to @Harry Peach:
So true Harry.
It's a national embarrassment!
For decades, the fossil fuel industry and it's political operatives have played Albertans and Canadians for fools.
How much longer are we all going to stomach this?
Harry Peach Reply to @Gary Haggquist:
Even oil selling at the fire sale price of $20 a bbl, that's $60,000,000 million dollars a day in oil exports, In a year, that's $21,900,000,000 billion dollars.
That oil is a resource owned by Albertans, don't they have a clue ?
Stu Neale
This is getting ridiculous. I guess Kenny really is bought and paid for by industry.
James Christie Reply to @Stu Neale:
was there any doubt?
Tanner Moorman Reply to @Stu Neale:
It really is just a continuation of Harper style politics with even more hyper partisan rhetoric thrown in.

Mark Baker
So by kenney's logic – if the virus doesn't get you we'll increase emissions to do it instead?
Paul Squires Reply to @Mark Baker:
Perhaps because the air has become so clean lately he thought he'd use the 'excess' for dumping.
Graham Greene
Again, a 'childish' response from a desperate Premier who is under the gun from those who understand at this point greater attention needed on environmental diligence in this industry.
Tamara Cail
So while Jason Kenney sees fit to 'open' AB, CV19 is used as an excuse to cease O&G environmental monitoring. Every hurdle removed to fire the economy at the expense of health and welfare: ucp priorities
Guy Montag
Yeehaw! Just pump that waste into Athabasca River boys!
Oh, and best not take a canoe trip in NE Alberta this summer…..
Rob Nisbett Reply to @Guy Montag: keep pumping the sewage into st Lawrence and Vancouver coast and enjoy those fish.
Guy Montag Reply to @Rob Nisbett:
Tired of these responses. So if the guy in front of you on the highway throws his garbage out the window, I guess, from your perspective, you are justified in doing it as well.
carol e. kudla Reply to @Guy Montag:
trump north
Gary Haggquist Reply to @Rob Nisbett:
Give us a break. Alberta's capital city dumps raw sewage into the North Saskatchewan River. And then there's the 1.2 trillion litres of toxic petrochemical waste covering over 220 square kilometres in Alberta's northeast with cleanup costs between a minimum of $27 billion to a staggering $44.5 billion. That amount exceeds the $41.3 billion in tarsands royalties collected by the province of Alberta between 1970 and 2016.
Andrew Stat Reply to @Rob Nisbett:
'keep pumping the sewage into st Lawrence'. This happened once, in 2015, so they could upgrade the system, What were they supposed to do, let it fail? While pretty gross, this happened over a few days, and was closely monitored by 3rd parties, who in the end said it had no effect on the area. But ya, keep pumping that stuff out in Edmonton. Would be nice if some folks actually new what they were talking about once in awhile.
Neil Austen
If this pandemic shows anything, it is that Conservative governments are only looking out for big business
William Bruce Reply to @Neil Austen:
Big business floats the economy.
Neil Austen Reply to @William Bruce:
No the Canadian people floats the economy. Corporations and industry can be replaced.
Graham Greene Reply to @William Bruce:
So does environmental monitoring.
Dale Sullivan
Sheesh! At what point does our planet, our home, become more important than money and political favours?
roy macgregor Reply to @Dale Sullivan:
never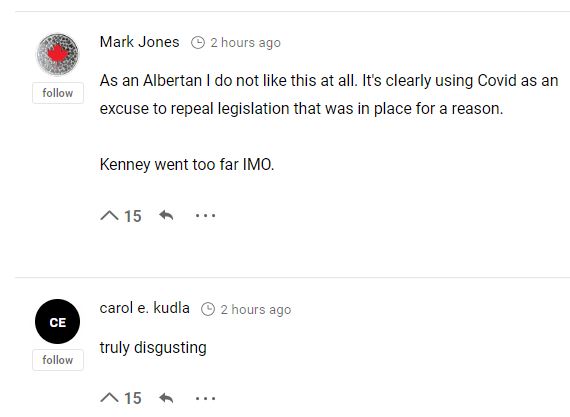 Dennis Brady
No big deal. Albertans never paid any attention to environmental regulatory controls. They have a long history of enacting regulations then doing NOTHING to enforce them.
carol e. kudla Reply to @Dennis Brady:
any excuse to duck accountability and business ethics.
Jeff Laidlaw
Like they actually regulated before this to begin with..
Gonzales Vazquez
Never let a crisis go to waste – the right wing way.
Gary Haggquist
Gutting environmental monitoring = more pollution = increased threat to human respiratory health = increased chance of dying from Covid-19.
That is the epitome of moral bankruptcy!
Paul Squires
Great, one service that IS essential and the government just allows it to be dropped. Not good!
patricia deronde
Exactly out of the Right Wing Playbook. They could care less about the environment.
Marc Moreau
Using the Covid tragedy to create an environmental tragedy. That's considered good business. Insane
Dan Croteau
Desperation from an oil state is a very dangerous thing.
John Rock
Just when you think the UCP can't get any lower they come out with this.
Naomi Forbes
Why do we keep electing "Toddlers" into politics?
Andy Davis Reply to @Naomi Forbes: harperking leftovers from the dark decade
Thomas Magnum Reply to @Naomi Forbes:
intellectual equivalency for conservative voters.
Jim Harrison Reply to @Naomi Forbes:
I wouldn't vote con if they were the only party on the ballot.
Mark O'Connell
Kenney rewarding his sponsors again. Ridiculous
Tim Leutwiler
This is why responsible investors are avoiding investing in the tar sands. This does not help Canada or Alberta's image. Very short sighted.
Graham Greene Reply to @Tim Leutwiler:
Its incredibly reckless.
Does he not think beyond the more up front eco movement, that industry operators and financiers who understand the status of things aren't paying attention to this thoughtless decision?
James Christie s a
and the war room erupts in fits of cheering…..
Al Jamison
Alberta has some of the toughest O&G regulations in the world.
They've never enforced 'em, but they have 'em. They make for good PR.
Jeffrey Wayne
Kenney sold out Alberta and now he is selling the store shelves.
Rob Hill
Sadly, the next time an investment firm announces it is pulling out of Alberta oil over poor environmental standards, Kenny will throw a tantrum and rant about how the world is unfair to Alberta.
Ivan Paul Dobren
"Alberta Energy Regulator suspends environmental monitoring for oilpatch "
Well, I guess the Alberta oil corporations are not going to get that federal government multi-billion dollar bailout after all
Oh well…………
Jeffrey Wayne
This would probably be the wrong time to bring up the abandoned wells.
Cough.
Alberta to change restrictions on foothills coal mining to ease development by The Canadian Press, May 21, 2020, Calgary Herald
The Alberta government is changing its coal policies in a move it says is intended to make it easier to develop open-pit mines in one of the province's most sensitive areas.
"Government is placing a strong focus on creating the necessary conditions for the growth of export coal production," says a news release dated May 15.
The changes, to come into effect June 1, abolish graduated protections that have been in place since 1976 for land in Alberta's southwestern foothills.
The vast area of mountains, streams and meadows is home to threatened species such as grizzly bears and contains the headwaters for much of the fresh water in the southern prairies.
It has also been logged and mined for decades. The region produces coal for steel-making, not power generation.
Under the old rules, top protection was applied to the most sensitive land where no development was allowed. That classification remains.
Three lower levels allowed progressively more activity in proportion to the environmental value of the land. Those regulations were applied in advance of any assessment by the Alberta Energy Regulator.
Nissa Petterson of the Alberta Wilderness Association said it was an attempt to handle overall land management on a busy landscape.
"It operated at a higher level than a project-by-project basis," she said. "It was a high-tier, overarching policy."
Now, all coal mine applications are to go straight to the

de

regulator for a case-by-case assessment.
The regulator will apply the same standards as before, said Alberta Energy spokesman Kavi Bal.
"None of the rules have changed," he said Thursday.
The intent was to bring coal assessments in line with those the regulator uses for oil and gas proposals, said Bal.
"(The previous policy) didn't line up with anything else we do."
Those assessments have often been criticized as leading to piecemeal decision-making. It is also extremely rare for the regulator to turn a proposal down.
Kevin Van Tighem, spokesman for area landowners, points out the regulator is currently considering a number of coal applications.
"The timing couldn't be more obvious," he said. "Right when we have a series of major strip-mine proposals waiting for approval, suddenly this policy complication is quietly moved out of the way."
Van Tighem said the Oldman River, which springs from the area, is a crucial water source for the southern plains as far east as Saskatoon. He points out there's already a moratorium on new water licences in southern Alberta because of demands on the Oldman.
"All that water comes from a headwaters landscape. It all depends on having a landscape that's porous and vegetated. And we're proposing to strip-mine it."
Van Tighem noted that coal mining can create serious environmental problems. In British Columbia, Teck Resources' Elk Valley mines have produced contamination so severe it's raising concerns downstream in the United States.
Van Tighem and Petterson point out the changes were made without any public consultation.
Bal said the regulator already considers land-use planning and called the old categories "an empty shell." He said new rules will provide more clarity to industry.

Code for deregulated free-for-all shit show.


Refer also to:
2012: Literature Review of Regional Groundwater Monitoring Systems
CAPP and its member companies are committed to protecting fresh groundwater sources. As part of this commitment, CAPP member companies support the recently-released "Baseline Groundwater Monitoring Practice" for shale gas development. Under this practice, companies will participate with local Governments in establishing, where appropriate, science-based regional groundwater monitoring programs. These programs will establish baseline characteristics of the groundwater pre-development, and analyze whether changes occur over time.

Pffffffft! CAPP is a big fat nasty expensive cowardly liar, like Jason Kennochio.

2012: Tennant to head enviro monitoring panel
2012: Scientists' optimism a ray of light under Alberta Legislature dome, but Graham Thomson doubts Competent Environmental Monitoring will begin
2012: Alberta takes step toward improved environmental monitoring, but questions remain
2012: Alberta's new pollutant-monitoring agency to look beyond oil sands
2012: Water professionals urge caution over shale gas, Position paper is the latest in a series of industry reports warning of need for robust monitoring and regulation of shale gas projects
2012: A fracking disgrace: The monitoring team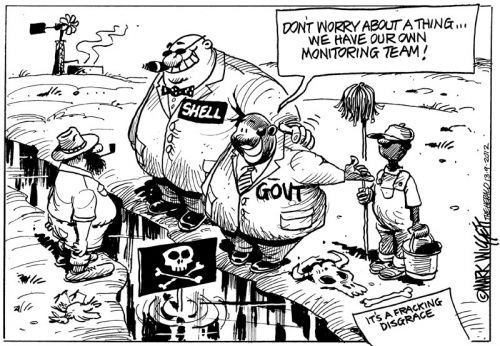 2014: Promises promises promises, Alberta government "hopes" to finally have long promised environmental monitoring panel running by early 2014
2014: Lorne Taylor, Former Tory Environment Minister, To Head "Alberta Environmental Monitoring Evaluation and Reporting Agency;" Taylor currently working for private Alberta water corporation WaterSMART
2014: Alberta Energy Regulator report on Plains Midstream leak shows Alberta government monitoring failing; The company knew the pipeline had problems for 4 years before the terrible spill in the Red Deer River
2016: Spectacular Oil Patch Monitoring Fraud in Alberta? What will Dr. John Cherry say? AEMERA: A needlessly expensive 'failed experiment,' Public blamed for its failure, report by economist Paul Boothe (Director, Ivey Business School) says. What else would industry let him say, especially the part about blaming the public!
2016: PLANNING A RALPH KLEIN NON-PLAN! Is anyone surprised? Haven't the AER and companies known this all along? Alberta's in situ bitumen steam fracing projects release toxic contaminants into the environment: study, More monitoring "promised" by Alberta government
2016: Conference Board of Canada New Report: Canada ranks 14 out of 16 peer countries, gets D grade on environmental record; Alberta gets "D-minus" Since Kenney, it's far below F-minus.
2016: Air Monitoring & Biomonitoring finds Industry's Natural Gas is not "Clean" and "Safe." Toxic Chemicals Linked To Natural Gas Operations Detected In Pavillion, WY Residents
2017: AER gets failing grade for efforts to acquire, report accurate scientific data! Alberta "guessing" when it comes to spill recovery. "AER failure to protect the environment." AER "off the scale in terms of believability…." Researcher Dr. Kevin Timoney sums up his forensic investigation: "Persistent, pervasive danger to society and ecosystems."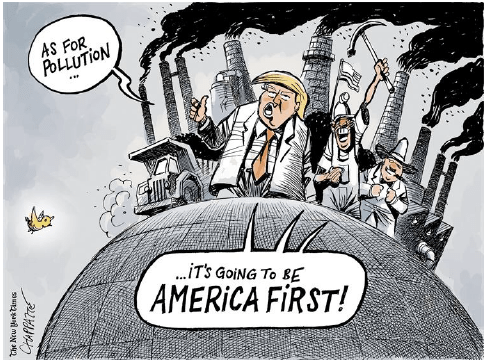 KKKenney's step-by-step playbook:
The Trump Administration Is Reversing 100 Environmental Rules. Here's the Full List by Nadja Popovich, Livia Albeck-Ripka and Kendra Pierre-Louis, updated May 20, 2020, The New York Times
…
Air pollution and emissions
Completed
Weakened Obama-era fuel economy and greenhouse gas standards for passenger cars and light trucks. E.P.A. and Transportation Department
Revoked California's power to set stricter tailpipe emissions standards than the federal government. E.P.A.
Withdrew the legal justification for an Obama-era rule that limited mercury emissions from coal power plants. E.P.A.
Replaced the Obama-era Clean Power Plan, which would have set strict limits on carbon emissions from coal- and gas-fired power plants, with a new version that would let states set their own rules. Executive Order; E.P.A.
Canceled a requirement for oil and gas companies to report methane emissions. E.P.A.
Revised and partially repealed an Obama-era rule limiting methane emissions on public lands, including intentional venting and flaring from drilling operations. Interior Department
Loosened a Clinton-era rule designed to limit toxic emissions from major industrial polluters. E.P.A.
Revised a program designed to safeguard communities from increases in pollution from new power plants to make it easier for facilities to avoid emissions regulations. E.P.A.
Amended rules that govern how refineries monitor pollution in surrounding communities.
E.P.A.
Weakened an Obama-era rule meant to reduce air pollution in national parks and wilderness areas. E.P.A.
Weakened oversight of some state plans for reducing air pollution in national parks. E.P.A.
Relaxed air pollution regulations for a handful of plants that burn waste coal for electricity.
E.P.A.
Repealed rules meant to reduce leaking and venting of powerful greenhouse gases known as hydrofluorocarbons from large refrigeration and air conditioning systems. E.P.A.
Directed agencies to stop using an Obama-era calculation of the social cost of carbon that rulemakers used to estimate the long-term economic benefits of reducing carbon dioxide emissions. Executive Order
Withdrew guidance directing federal agencies to include greenhouse gas emissions in environmental reviews. But several district courts have ruled that emissions must be included in such reviews. Executive Order; Council on Environmental Quality
Revoked an Obama executive order that set a goal of cutting the federal government's greenhouse gas emissions by 40 percent over 10 years. Executive Order
Repealed a requirement that state and regional authorities track tailpipe emissions from vehicles on federal highways. Transportation Department
Lifted a summertime ban on the use of E15, a gasoline blend made of 15 percent ethanol. (Burning gasoline with a higher concentration of ethanol in hot conditions increases smog.)
E.P.A.
Changed rules to allow states and the E.P.A. to take longer to develop and approve plans aimed at cutting methane emissions from existing landfills. E.P.A.
In progress
Submitted notice of intent to withdraw the United States from the Paris climate agreement. (The process of withdrawing cannot be completed until November 2020.) Executive Order
Proposed relaxing Obama-era requirements that companies monitor and repair methane leaks at oil and gas facilities. E.P.A.
Proposed eliminating Obama-era restrictions that, in effect, required newly built coal power plants to capture carbon dioxide emissions. E.P.A.
Proposed revisions to standards for carbon dioxide emissions from new, modified and reconstructed power plants. Executive Order; E.P.A.
Began a review of emissions rules for power plant start-ups, shutdowns and malfunctions. One outcome of that review: In February 2020, E.P.A. reversed a requirement that Texas follow emissions rules during certain malfunction events. E.P.A.
Opened for comment a proposal limiting the ability of individuals and communities to challenge E.P.A.-issued pollution permits before a panel of agency judges. E.P.A.
Delayed issuing a rule limiting greenhouse gas emissions from aircraft. (The E.P.A. acknowledged it is legally required to issue the rule, but has not done so yet. The delay is being challenged by environmental groups.) E.P.A.
Proposed limiting pesticide application buffer zones that are intended to protect farmworkers and bystanders from accidental exposure. E.P.A.
Drilling and extraction
Completed
Made significant cuts to the borders of two national monuments in Utah and recommended border and resource-management changes to several more. Presidential Proclamation; Interior Department
Lifted ban on drilling in the Arctic National Wildlife Refuge. Congress; Interior Department
Rescinded water pollution regulations for fracking on federal and Indian lands. Interior Department
Scrapped a proposed rule that required mines to prove they could pay to clean up future pollution. E.P.A.
Withdrew a requirement that Gulf oil rig owners prove they can cover the costs of removing rigs once they stop producing. Interior Department
Approved construction of the Dakota Access pipeline less than a mile from the Standing Rock Sioux Reservation after the Army Corps of Engineers had said it would explore alternative routes. (A court has since ruled the agency must investigate how the pipeline is impacting the environment and local tribes, but it can continue to operate in the meantime.) Executive Order; Army
Moved the permitting process for certain projects that cross international borders, such as oil pipelines, to the office of the president from the State Department, exempting them from environmental review. Executive Order
Changed how the Federal Energy Regulatory Commission considers the indirect effects of greenhouse gas emissions in environmental reviews of pipelines. FERC
Revoked an Obama-era executive order designed to preserve ocean, coastal and Great Lakes waters in favor of a policy focused on energy production and economic growth.
Executive Order
Permitted the use of seismic air guns for gas and oil exploration in the Atlantic Ocean. The practice, which can kill marine life and disrupt fisheries, was blocked under the Obama administration. National Oceanic and Atmospheric Administration
Loosened offshore drilling safety regulations implemented by the Obama after following the 2010 Deepwater Horizon explosion and oil spill, including reduced testing requirements for blowout prevention systems. Interior Department
Lifted an Obama-era freeze on new coal leases on public lands. In April 2019, a judge ruled that the Interior Department could not begin selling new leases without completing an environmental review. In February, the agency published an assessment that concluded restarting federal coal leasing would have little environmental impact. Executive Order; Interior Department
In progress
Proposed opening most of America's coastal waters to offshore oil and gas drilling but delayed the plan after a federal judge ruled that Mr. Trump's reversal of an Obama-era ban on drilling in the Atlantic and Arctic Oceans was unlawful. Interior Department
Repealed an Obama-era rule governing royalties for oil, gas and coal leases on federal lands, which replaced a 1980s rule that critics said allowed companies to underpay the federal government. A federal judge struck down the Trump administration's repeal. The Interior Department is reviewing the decision. Interior Department
Proposed revising regulations on offshore oil and gas exploration by floating vessels in the Arctic that were developed after a 2013 accident. The Interior Department previously said it was "considering full rescission or revision of this rule." Executive Order; Interior Department
Proposed "streamlining" the approval process for drilling for oil and gas in national forests.
Agriculture Department; Interior Department
Recommended shrinking three marine protected areas or opening them to commercial fishing. Executive Order; National Oceanic and Atmospheric Administration
Proposed opening more land in the Alaska National Petroleum Reserve for oil drilling. The Obama administration had designated about half of the reserve as a conservation area.
Interior Department
Proposed lifting a Clinton-era policy that banned logging and road construction in Tongass National Forest, Alaska. Interior Department
Approved the Keystone XL pipeline rejected by President Barack Obama, but a federal judge blocked the project from going forward without an adequate environmental review process. Mr. Trump later attempted to sidestep the ruling by issuing a presidential permit. Initial construction has started, but the project remains tied up in court. Executive Order; State Department
Infrastructure and planning
Completed
Revoked Obama-era flood standards for federal infrastructure projects that required the government to account for sea level rise and other climate change effects. Executive Order
Relaxed the environmental review process for federal infrastructure projects. Executive Order
Overturned an Obama-era guidance that ended U.S. government financing for new coal plants overseas except in rare circumstances. Executive Order; Treasury Department
Revoked a directive for federal agencies to minimize impacts on water, wildlife, land and other natural resources when approving development projects. Executive Order
Revoked an Obama executive order promoting climate resilience in the northern Bering Sea region of Alaska, which withdrew local waters from oil and gas leasing and established a tribal advisory council to consult on local environmental issues. Executive Order
Reversed an update to the Bureau of Land Management's public land-use planning process.
Congress
Withdrew an Obama-era order to consider climate change in the management of natural resources in national parks. National Park Service
Restricted most Interior Department environmental studies to one year in length and a maximum of 150 pages, citing a need to reduce paperwork. Interior Department
Withdrew a number of Obama-era Interior Department climate change and conservation policies that the agency said could "burden the development or utilization of domestically produced energy resources." Interior Department
Eliminated the use of an Obama-era planning system designed to minimize harm from oil and gas activity on sensitive landscapes, such as national parks. Interior Department
Withdrew Obama-era policies designed to maintain or, ideally, improve natural resources affected by federal projects. Interior Department
In progress
Proposed plans to speed up the environmental review process for Forest Service projects.
Agriculture Department
Animals
Completed
Changed the way the Endangered Species Act is applied, making it more difficult to protect wildlife from long-term threats posed by climate change. Interior Department
Relaxed environmental protections for salmon and smelt in California's Central Valley in order to free up water for farmers. Executive Order; Interior Department
Overturned a ban on the use of lead ammunition and fishing tackle on federal lands.
Interior Department
Overturned a ban on the hunting of predators in Alaskan wildlife refuges. Congress
Amended fishing regulations to loosen restrictions on the harvest of a number of species.
National Oceanic and Atmospheric Administration
Proposed revising limits on the number of endangered marine mammals and sea turtles that can be unintentionally killed or injured with sword-fishing nets on the West Coast. (The Obama-era rules were initially withdrawn by the National Oceanic and Atmospheric Administration, but were later finalized following a court order. The agency has said it plans to revise the limits.) National Oceanic and Atmospheric Administration
Loosened fishing restrictions intended to reduce bycatch of Atlantic Bluefin Tuna.
National Oceanic and Atmospheric Administration
Rolled back a roughly 40-year-old interpretation of a policy aimed at protecting migratory birds, potentially running afoul of treaties with Canada and Mexico. Interior Department |
Overturned a ban on using parts of migratory birds in handicrafts made by Alaskan Natives. Interior Department
In progress
Opened nine million acres of Western land to oil and gas drilling by weakening habitat protections for the sage grouse, an imperiled bird. An Idaho District Court injunction temporarily blocked the measure. Interior Department
Proposed ending an Obama-era rule that barred using bait to lure and kill grizzly bears, among other sport hunting practices that many people consider extreme, on some public lands in Alaska. National Park Service; Interior Department
Toxic substances and safety
Completed
Rejected a proposed ban on chlorpyrifos, a pesticide linked to developmental disabilities in children. (Several states have banned its use and the main manufacturer of the pesticide in 2020 stopped producing the product because of shrinking demand.) E.P.A.
Narrowed the scope of a 2016 law mandating safety assessments for potentially toxic chemicals like dry-cleaning solvents. The E.P.A. said it would focus on direct exposure and exclude indirect exposure such as from air or water contamination. In November 2019, a court of appeals ruled the agency must widen its scope to consider full exposure risks.
E.P.A.
Reversed an Obama-era rule that required braking system upgrades for "high hazard" trains hauling flammable liquids like oil and ethanol. Transportation Department
Removed copper filter cake, an electronics manufacturing byproduct comprised of heavy metals, from the "hazardous waste" list. E.P.A.
Ended an Occupational Safety and Health Administration program to reduce risks of workers developing the lung disease silicosis. In February released guidance to include silica in OSHA's National Emphasis Program, a worker safety program. Labor Department
Rolled back most of the requirements of a 2017 rule aimed at improving safety at sites that use hazardous chemicals that was instituted after a chemical plant exploded in Texas. E.P.A.
In progress
Proposed changing safety rules to allow for rail transport of the highly flammable liquefied natural gas. Transportation Department
Announced a review of an Obama-era rule lowering coal dust limits in mines. The head of the Mine Safety and Health Administration said there were no immediate plans to change the dust limit but has extended a public comment period until 2022. Labor Department
Water pollution
Completed
Scaled back pollution protections for certain tributaries and wetlands that were regulated under the Clean Water Act by the Obama administration. E.P.A.; Army
Revoked a rule that prevented coal companies from dumping mining debris into local streams. Congress
Withdrew a proposed rule aimed at reducing pollutants, including air pollution, at sewage treatment plants. E.P.A.
Withdrew a proposed rule requiring groundwater protections for certain uranium mines. Recently, the administration's Nuclear Fuel Working Group proposed opening up 1,500 acres outside the Grand Canyon to nuclear production. E.P.A.
In progress
Attempted to weaken federal rules regulating the disposal and storage of coal ash waste from power plants, but a court determined the rules were already insufficient. Proposed a new rule to allow coal ash impoundments of a type previously deemed unsafe a pathway to proving safety. E.P.A.
Proposed a rule exempting certain types of power plants from parts of an E.P.A. rule limiting toxic discharge from power plants into public waterways. E.P.A.
Proposed weakenning a portion of the Clean Water Act to make it easier for the E.P.A. to issue permits for federal projects over state objections if the projects don't meet local water quality standards, including for pipelines and other fossil fuel facilities. Executive Order; E.P.A.
Proposed extending the lifespan of unlined coal ash holding areas, which can spill their contents because they lack a protective underlay. E.P.A.
Proposed a regulation limiting the scope of an Obama-era rule under which companies had to prove that large deposits of recycled coal ash would not harm the environment. E.P.A.
Proposed a new rule allowing the federal government to issue permits for coal ash waste in Indian Country and some states without review if the disposal site is in compliance with federal regulations. E.P.A.
Proposed doubling the time allowed to remove lead pipes from water systems with high levels of lead. E.P.A.
Other
Completed
Repealed an Obama-era regulation that would have nearly doubled the number of light bulbs subject to energy-efficiency standards starting in January 2020. The Energy Department also blocked the next phase of efficiency standards for general-purpose bulbs already subject to regulation. Energy Department
Changed a 25-year-old policy to allow coastal replenishment projects to use sand from protected ecosystems. Interior Department
Limited funding of environmental and community development projects through corporate settlements of federal lawsuits. Justice Department
Stopped payments to the Green Climate Fund, a United Nations program to help poorer countries reduce carbon emissions. Executive Order
Reversed restrictions on the sale of plastic water bottles in national parks desgined to cut down on litter, despite a Park Service report that the effort worked. Interior Department
In progress
Proposed a sweeping overhaul of the National Environmental Policy Act that would limit the scope of environmental concerns federal agencies need to take into account when constructing public infrastructure projects, such as roads, pipelines and telecommunications networks. Council on Environmental Quality
Proposed limiting the studies used by the E.P.A. for rulemaking to only those that make data publicly available. (Scientists widely criticized the proposal, saying it would effectively block the agency from considering landmark research that relies on confidential health data.) E.P.A.
Proposed changes to the way cost-benefit analyses are conducted under the Clean Air Act, Clean Water Act and other environmental statutes. E.P.A.
Proposed withdrawing efficiency standards for residential furnaces and commercial water heaters designed to reduce energy use. Energy Department
Created a product category that would allow some dishwashers to be exempt from energy efficiency standards. Energy Department
Initially withdrew, and then delayed, a proposed rule that would inform car owners about fuel-efficient replacement tires. (The Transportation Department has scheduled a new rulemaking notice for 2020.) Transportation Department
Some rules were rolled back, then reinstated
These rules were initially reversed by the Trump administration but were later reinstated, often following lawsuits and other challenges.
Stopped enforcing a 2015 rule that prohibited the use of hydrofluorocarbons, powerful greenhouse gases, in air-conditioners and refrigerators. A court later restored the prohibition. E.P.A.
Sought to repeal emissions standards for "glider" trucks — vehicles retrofitted with older, often dirtier engines — but reversed course after Andrew Wheeler took over as head of the E.P.A. E.P.A.
Sought to lift restrictions on mining in Bristol Bay, Alaska, but later suspended the effort. (A court ruled the E.P.A. could withdraw a 2014 determination that the project was a too great a threat to the Bay's salmon. The federal permit for the mine is pending with the U.S. Army Corps of Engineers.) E.P.A.; Army
Delayed a compliance deadline for new national ozone pollution standards by one year, but later reversed course. E.P.A.
Delayed implementation of a rule regulating the certification and training of pesticide applicators, but a judge ruled that the E.P.A. had done so illegally and declared the rule still in effect. E.P.A.
Initially delayed publishing efficiency standards for household appliances, but later published them after multiple states and environmental groups sued. Energy Department
Removed the Yellowstone grizzly bear from the Endangered Species List, but the protections were later reinstated by a federal judge. (The Trump administration appealed the ruling in May 2019.) Interior Department
Reissued a rule limiting the discharge of mercury by dental offices into municipal sewers after a lawsuit by the Natural Resources Defense Council, an advocacy group. E.P.A.
Delayed federal building efficiency standards until Sept. 30, 2017, at which time the rules went into effect. Energy Department
Ordered a review of water efficiency standards in bathroom fixtures, including toilets. E.P.A. determined existing standards were sufficient. E.P.A.
Note: This list does not include new rules proposed by the Trump administration that do not roll back previous policies, nor does it include court actions that have affected environmental policies independent of executive or legislative action.
Sources: Harvard Law School's Environmental Regulation Rollback Tracker; Columbia Law School's Climate Deregulation Tracker; Brookings Institution; Federal Register; Environmental Protection Agency; Interior Department; U.S. Chamber of Commerce; White House.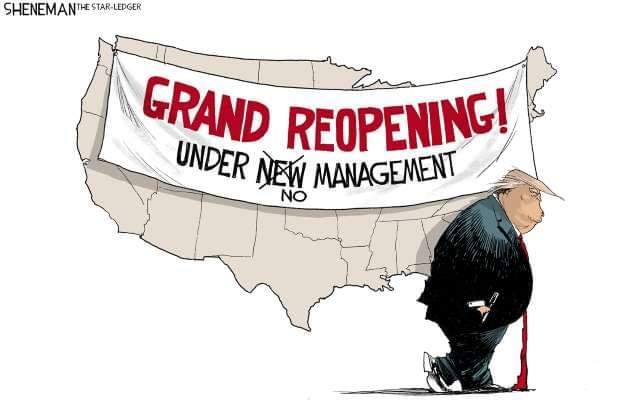 KKKenney's wanna be hero.
2020: Air Pollution in the time of Covid-19: In the Shadows of America's Smokestacks, Virus Is One More Deadly Risk
2020: Are Covid-19 fatalities a measure of the oil & gas industry's killing power? More and more studies prove how deadly & dishonest the industry is. Message to CAPP & AER: It's not "odours" killing us, it's pollution, including nitrogen dioxide.
2020: New research on Covid-19: Are you and your loved ones frac'd? Air pollution linked to 15 percent higher coronavirus death rates
2020: Another new study unravels oil & gas industry lies: Levels of fossil methane naturally released are about 10 times lower than previously reported while man-made are 25-40% higher! Benjamin Hmiel: "We've identified a gigantic discrepancy."
2020: Diana Daunheimer: "It's clear, the UCP doesn't give two cents about public health, environmental protection, liability management, property rights, industrial compliance, sustainable water management or emissions mitigation. The UCP are petrol molls, simple as that."
2020: Norges Bank blacklists CNRL, Cenovus (split from Encana – now Ovinvtiv – after Ernst lawsuit filed), Suncor and Imperial Oil from Gov't Pension Fund Global for unacceptable carbon emissions in Alberta's tarsands. Updated with tar-pimping by Ms. Southern and Alex Pourbaix, CEO Cenovus.
***
Michael de Adder cartoon May 21, 2020: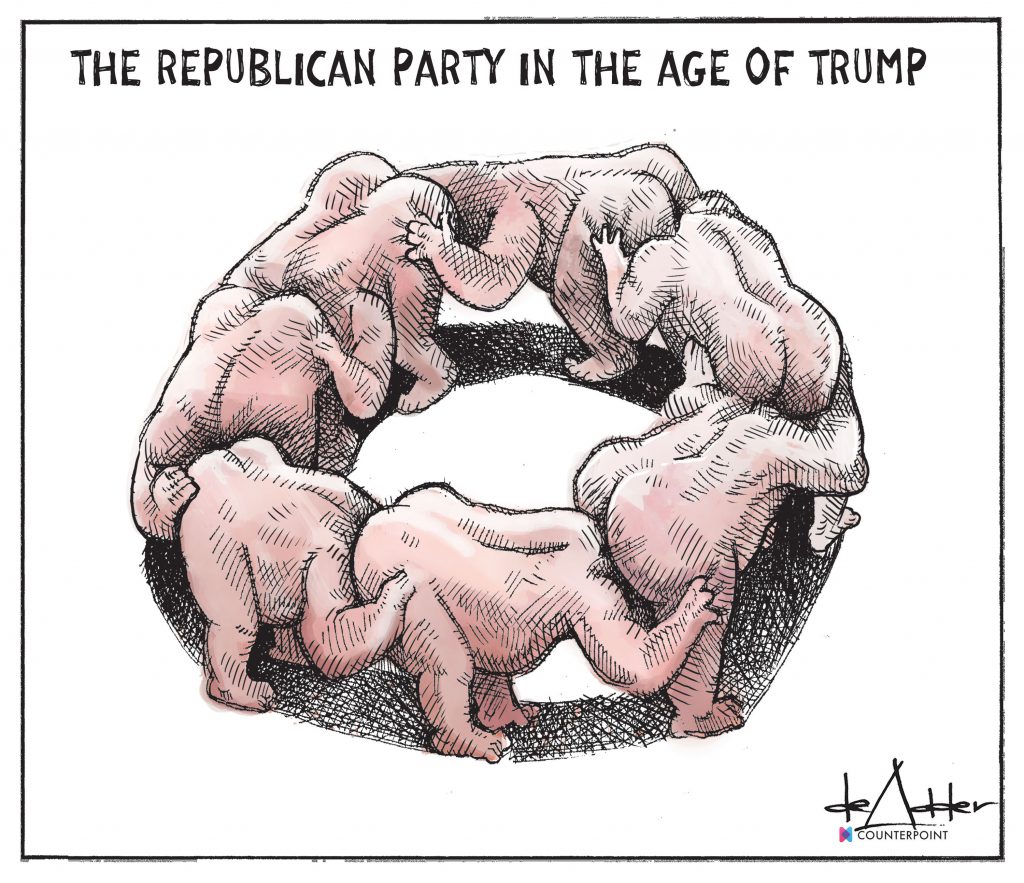 Is that Jason Kenney bottom centre?