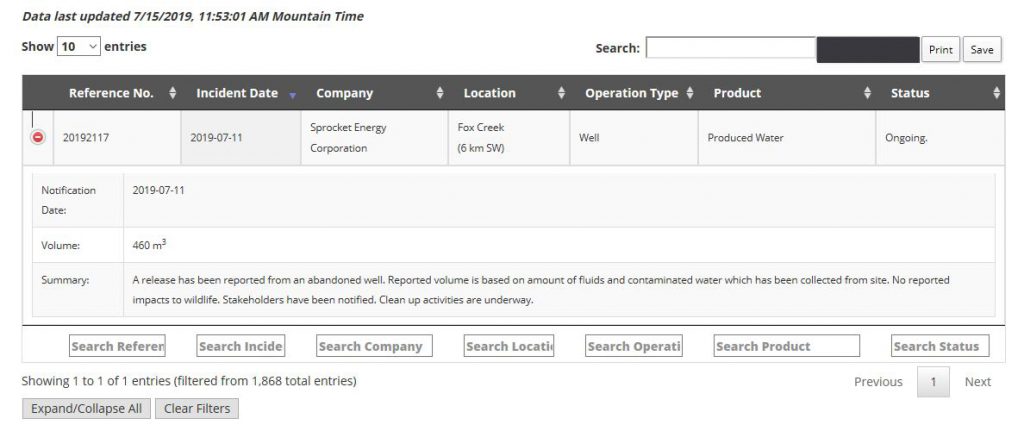 From AER Compliance Dashboard:
Notification Date: 2019-07-11
[The incident is nearly a week old and resulted in a large spill, but nothing reported in the media! Where's Kenney's War Room when Alberta needs it?]
Volume: 460 m3
Summary:
A release has been reported from an abandoned well. Reported volume is based on amount of fluids and contaminated water which has been collected from site. No reported impacts to wildlife. [Does not mean wildlife have not been impacted, just means no one has reported anything] Stakeholders have been notified. Clean up activities are underway.
Later posts on this incident:
IT'S A BIG ONE! AER Order against Sprocket Energy sour gas well leak/spill (by frac hit?) six km SW of Town of Fox Creek. Why no media coverage on possibly life-threatening, brain damaging leak near busy Smoke Lake Provincial Park Campground?
Why is 320,000 litre spill 36 km NE of Swan Hills splashed all over the media, but not the bigger 460,000 litre spill at sour gas well in AER's Frac Frenzy Blanket Approval Pilot Project 6 km from Town of Fox Creek? Because it was a frac hit? AER instructing media to deflect concerned Canadians in another direction?