((Xʷməθkʷəy̓əm (Musqueam), Sḵwx̱wú7mesh (Squamish) and səl̓ilwətaʔɬ/sel̓ílwitulh (Tsleil-Waututh)/Vancouver, B.C. – May 27, 2020)
The Union of BC Indian Chiefs (UBCIC) responded to Alberta Energy Minister Sonya Savage's recent comments on the ease of building the Trans Mountain Pipeline Expansion project (TMX) during a pandemic because of limits on gatherings of more than 15 people in Alberta. The minister spoke on a podcast Friday, attributing the sluggish construction schedule to protest that was more effective than industry. 
"Alberta Energy Minister Sonya Savage should resign over Trans Mountain comments," said Grand Chief Stewart Phillip, President of the UBCIC. "Minister Savage's remarks should worry anyone who values the democratic values of free speech and assembly. Effective protest and land defence isn't dependent on large groups of people. Sometimes a small group of determined people can change the world, as we saw earlier this year. At the end of the day, TMX simply does not have consent of all impacted Indigenous Nations, and that is not going to change because of COVID-19."
In February, demonstrations across Canada blocked critical transportation infrastructure, bringing rail traffic to a halt across the country. The BC Legislature was also the site of an Indigenous youth encampment in support of the Wet'suwet'en people against the proposed construction of the Coastal GasLink fracked gas pipeline.
Kukpi7 Judy Wilson, Secretary-Treasurer of the UBCIC stated, "Alberta has now suspended all environmental reporting and monitoring in the tar sands with few timelines to resume. Recently, some of the world's largest investment funds have announced they won't invest in the province because of concerns around Indigenous rights, climate change and the environment. This isn't something that is going away, and it is not an opportunity for Alberta Ministers to try to sneak through the pipeline."
"While Minister Savage and the Albertan provincial government have canceled all environmental monitoring under the cover of COVID-19, they push for accelerated construction on Trans Mountain," said Chief Don Tom, Vice-President of the UBCIC. "Either both monitoring and construction are safe and reliable or neither are. We can't just go back to business as usual after the pandemic emergency and ignore the climate emergency. We need a just recovery for all."
-30-
Media inquiries:
Grand Chief Stewart Phillip, President of UBCIC: (250-490-5314)
Chief Don Tom, Vice-President of UBCIC: (604-290-6083)
Kukpi7 Judy Wilson, Secretary-Treasurer of UBCIC: (250-320-7738)
UBCIC is an NGO in Special Consultative Status with the Economic and Social Council of the United Nations.
For more information please visit www.ubcic.bc.ca
Well, it's nice to know someone's happy about the global coronavirus pandemic!
Canadians got a rare glimpse into Alberta Energy Minister Sonya Savage's thinking yesterday thanks to a friendly podcaster at the Canadian Association of Oilwell Drilling Contractors.
On the topic of the TransMountain pipeline expansion, John Bayko, who is also CAODC communications vice-president, asked Ms. Savage: "Do you anticipate any more issues as far as protests go in B.C.?"
She'd just been chatting about COVID-19 when Mr. Bayko posed that question. It was no trick — you couldn't have asked for a more sympathetic interviewer.
Ms. Savage responded without sounding as if she was thinking very deeply about what she was going to say next, though, or who might be listening beyond the simpatico audience you'd expect to tune into a drilling contractors' podcast.
"Now is great time to be building a pipeline because you can't have protests of more than 15 people!"
Mr. Bayko chuckled nervously.
"So let's get it built," Ms. Savage continued. "Let's get it built!"
I'm not making this up. You can listen to the entire podcast if you wish, or just the money quote. But talk about your undiluted disaster capitalism, always seeing the bright side of a deadly catastrophe.
Good lord! My mama warned me not to speak too loudly in a fish and chip shop.

Roaring laughter! Snort snort, giggle giggle.

I bet yours did too. You just never knew who might be sitting in the next booth, she explained.
Same deal applies to podcasts, it turns out. Sure, the podcaster's a nice guy. But anyone on the planet can click play.
The former pipeline lobbyist is said to be a smart operator, well respected in the oilpatch. But you have to admit this sure makes it sound as if you don't actually have to be a genius to get into Jason Kenney's cabinet.
Well, I'm sure someone will try to pass this off as refreshing honesty, but I doubt it will go over very well in a lot of parts of Canada, not to mention the rest of the world.
Ms. Savage rambled on: "You know what? As we go on and get out of the, you know, out of the more immediate phases of COVID, people across Canada, across B.C., Alberta, are not gonna have the tolerance and patience for protests that get in the way of people working.
"Like, we're … we believe we're gonna be north of 20-per-cent unemployment as we get into the summer and out of COVID. People need jobs. The country is gonna be hundreds of billions of dollars in debt. People need jobs, people need economic activity, and these types of ideological protests that get in the way are just not gonna be tolerated by ordinary Canadians."
Well, we'll see I guess. I suppose a few ordinary Canadians might be unhappy when they realize just how few permanent jobs are created by these megaprojects too.
Judging from the CBC's coverage of the conversation, even Ms. Savage's press secretary cringed when he heard this. "I would note that the limitations to public gatherings … have benefited no one, including project proponents and any opposition groups," Kavi Bal told the broadcaster.
"We respect the right to lawful protests," he also said.
So never mind the Kenney Government's efforts to criminalize free speech unless it happens to be by covidiots protesting social distancing measures in the public square.
This, of course, is pure gold for the many people who are opposed to the pipeline and, yes, know they can't really protest right now.
As far as the TMX goes — thanks to Prime Minister Justin Trudeau, not anyone in the Kenney Government or the private sector — a lot of the air has gone out of the fight in B.C. to stop the pipeline expansion. Throwing down the gauntlet as Ms. Savage did may pump it up a bit again.
What will really kill the TMX, though, is the lack of a market in Asia or anywhere else in a world awash with sweet, low-cost oil for the heavy crude that will be shipped through it.
The irony is that the TMX will have to be completed to be truly done for.
Alberta minister says it's a 'great time' to build a pipeline because COVID-19 restrictions limit protests against them by The Canadian Press, May 25, 2020, The Globe and Mail
… Both Alberta and B.C. have increased their limits to 50 people for outdoor gatherings.
Irfan Sabir, the Opposition New Democrat energy critic, called Ms. Savage's comments more of the same for the government.
"These comments do not come as a shock," he said. "The UCP have already used the pandemic as an excuse to suspend environmental monitoring. When combined with the minister's latest comments, this will harm the reputation of Alberta's energy industry and inhibit our ability to attract investment and get our product to market." …
A few of the comments:
Mark Shore:
BBC and other international media are now covering this story. Well done, Minister! After all, they say there's no such thing as bad publicity, right?
Pimms
This article just makes me want to cut an even bigger cheque to Greenpeace.
Indepentlypoor
Forcing us apart through social distancing was accepted as a necessary emergency measure for medical purposes only. Tolerance for it is already wearing thin. All bets are off if governments use the pandemic restrictions as a cover to restrict people's political rights. We never ceded our rights and we never will.
artic parot
Another dumb comment from Ms. Savage, protests are legal, civil disobedience not. Pipelines are not disrupted by protests. Those willing to break the law are obviously not deterred by social distancing laws. Why bring the pandemic into this?
Statements like this just serve to inflame the discussion and make Alberta look foolish. There's no election for another 3 years, Ms. Savage can hold off pandering to the base, now is the time to try and build a few bridges.
John England 1
The other side of the coin, duh??? Why its a financially disastrous time to build a pipeline. Because, as world economics evolve, concern for global warming ramps-up and control of the market by Saudi Arabia and Russia takes over, the tarsands are not economically viable. The UPC are chasing a train that left the station months ago. Oil from the tarsands ain't worth squat. They are holding a spent ticket.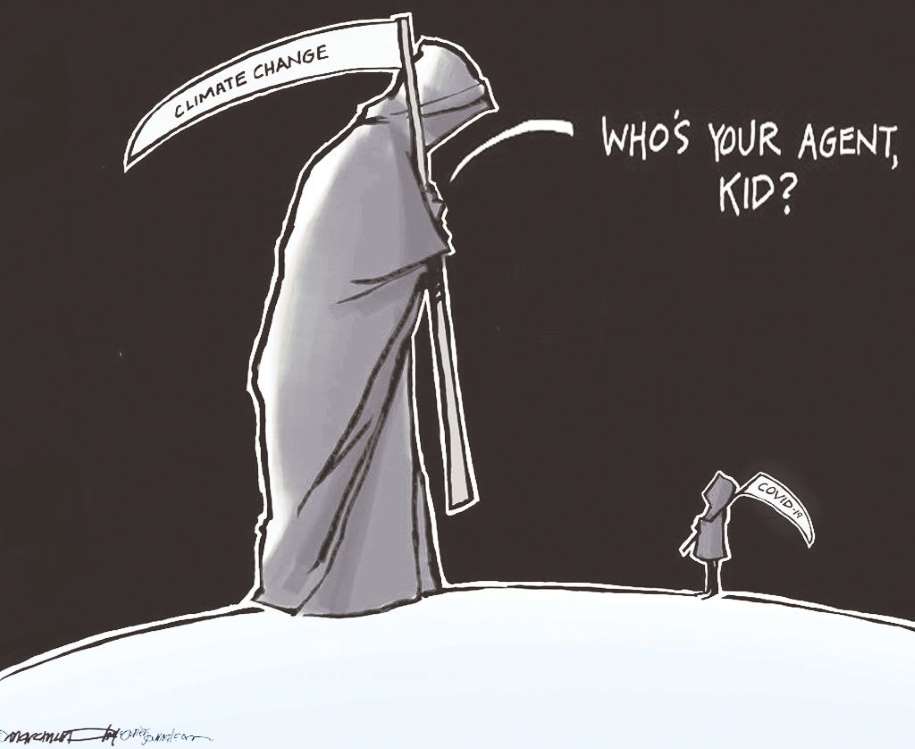 COVID-19 crowd limits make it a 'great time to be building a pipeline': Alberta minister by The Canadian Press, May 25, 2020, Calgary Herald
Alberta's energy minister says it's a good time to build a pipeline because public health restrictions limit protests against them.
Sonya Savage made the comment Friday on a podcast hosted by the Canadian Association of Oilwell Drilling Contractors. She was asked about progress of the Trans Mountain Expansion project, which is under construction on its route between Edmonton and Vancouver.
COVID-19 crowd limits make it a 'great time to be building a pipeline': Alberta minister
"Now is a great time to be building a pipeline because you can't have protests of more than 15 people," Savage said. "Let's get it built."
While the interviewer laughs, Savage does not.
Unprompted, Savage goes on to suggest that the economic turmoil caused by the pandemic favours pipeline construction.
"People are not going to have tolerance and patience for protests that get in the way of people working," she said on the podcast, which was posted on the association's website.
"People need jobs and those types of ideological protests that get in the way are not going to be tolerated by ordinary Canadians."

Why then are the UCP decimating so many jobs in Alberta and refusing to encourage other job-making industries, in fact killing jobs other than those farting in the belly of dying polluting dinosaurs? The UCP lie so much, they've lost track just like Encana's ex VP, AER's ex VP, Mark Taylor. Ideological? Investors all over the world are running from Alberta's polluting, lying, law-violating, Harper-run UCP tarshit crap.

Savage's spokesman acknowledged in an email that she was on the podcast.
"We respect the right to lawful protests," said Kavi Bal.
"I would note that the limitations to public gatherings … have benefited no one — including project proponents and any opposition groups."
Both Alberta and B.C. have increased the limit to 50 people for outdoor gatherings.
Jason Kenney's United Conservative government has a mixed record on protesters.
The premier defended the right to protest in the case of a man recently arrested at the legislature as he was protesting against public health lockdown orders. Kenney said at the time that he would modify such orders to ensure they didn't interfere with that right, as long as

oil, gas, tarshit bitumen, and coal are not protested

guidelines were being respected.
The government has less tolerance for civil disobedience.
In February, it introduced legislation imposing stiff fines and possible jail terms for protesters who damage or even interfere with the operation of a wide range of energy infrastructure — although such acts are already illegal. It has also threatened the same for animal rights protests at agriculture facilities.
Alberta's New Normal: Trashing Pollution Protections, By some strange contagious logic, regulators kill public safeguards and blame the virus by Andrew Nikiforuk, 23 May 2020, TheTyee.ca
On the very day Premier Jason Kenney deemed it safe again to play hockey in Edmonton, the Alberta Energy Regulator released two more decisions basically saying the tribulations of COVID-19 meant it wasn't safe to do environmental monitoring.
That, added to previous pronouncements, means Alberta has now suspended all environmental reporting and monitoring in its oil patch. Most of the orders provide no timeline for resuming such obligations.
It's the new normal in Kenney's troubled petro state. The rollbacks started with the suspension of requiring companies to submit environmental reporting on mine sites and the like. But they didn't stop there.
Now companies don't even have to do any bothersome environmental monitoring.
A person might conclude from these fiats — unique in the world except for Donald Trump's America — that doing environmental reporting monitoring might somehow cause or spread the pandemic. That's how preposterous things have become in addled Alberta.
The first wave of rollbacks arrived in mid-March with ministerial orders issued by Energy Minister Sonya Savage and Environment Minister Jason Nixon.
Nixon had earlier announced the closing of 20 provincial parks and removal of another 164 protected areas from the parks list out of budget concerns. Apparently Alberta is so broke, it can't afford parks anymore.
This logic is contagious: if the province can't afford parks, it only follows that the industry can't afford environmental reporting.

Roaring laughter! Poor wanna be PM KKKenney, he's just making his UCP idjiots do what industry and Trump/Heil Harper tell him they must do.

In three separate ministerial orders, Nixon suspended reporting requirements contained in the Water Act, the Public Lands Act, the Environmental Protection and Enhancement Act, and the Technology Innovation and Emission Reduction Regulation.
For good measure, Minister Savage also suspended the requirements in another three pieces of legislation.
As a result, coal mine owners don't have to report on coal mines; oil and gas companies don't have to submit annual reports; and oilsands miners don't have to worry about annual mining plans and such.
Kenney's government explained that corporations were suffering during the pandemic, and it was the government's duty to alleviate suffering. "Many employers are dealing with reduced workforces due to the pandemic," said one government spokesperson.
"Monitoring must still take place, but we are removing reporting deadlines to accommodate." The only industry exempt from Kenney's reporting holiday were drinking water facilities; they couldn't skip their monitoring.
Because most industry self-reports to government, the suspension orders effectively meant the cessation of any compliance or enforcement measures in the province.
After the ministers axed reporting requirements, the Alberta Energy Regulator went further by deciding to suspend monitoring. And so more contagious logic prevailed. If industry doesn't have to report on the environment, why continue monitoring of air, water and soil and wildlife?

Because CAPP 'n Harper/Kenney see the virus as perfect crisis to set up mostly foreign owned tarshit companies to intentionally "spill" their massive toxic waste lakes into the Athabasca watershed, complete with no monitoring, no reporting, no consequences. Bingo! Hundreds of billions of dollars in clean up costs saved. Similar to controlling shareholder Imperial Metals billionaire and CEO of tarshit leaking polluting frac mess CNRL, Murray Edwards, got away with in the Mount Polley waste "spill" disaster in BC.

In April the regulator told more than a dozen oilsand open pit mining companies including Syncrude and Suncor not to worry about stack testing or fugitive emissions or volatile organic compounds or on-site monitoring for air quality in Fort McKay during the pandemic.
The regulator explained it found "it necessary and appropriate to balance the need for monitoring of environmental conditions with the need to ensure public safety and safety of essential workers during this public health emergency."
It should be noted that regulator has seen its credibility undercut by scandal. The agency's last director, Jim Ellis, resigned last year in disgrace. Three separate investigations later found certain members of the regulator's management team were guilty of mismanagement, the misuse of millions of public dollars and conflict of interest.
The regulator's newly appointed CEO, Laurie Pushor, played a central role in a Saskatchewan government scandal in 2013. Under Pushor's watch the province bought land at a cost far more than it was worth. The deal cost taxpayers millions of dollars.
Now Pushor heads a regulator that doesn't think environmental monitoring of an industry prone to leaks, explosions and accidents is important during a pandemic.
The regulator's relaxation of environmental monitoring in the oilsands dumbfounded First Nations who live downstream of the patch, which has sorely impacted the health of the Peace-Athabasca Delta.
"Environmental monitoring and protection are critical elements of oilsands operations that should never be considered optional," Chief Allan Adam of the Athabasca Chipewyan First Nation said in a press release.
"There should never be a choice between protecting the health and safety of those workers and protecting the environment and the health of First Nations people," he added. "Neither of these are negotiable. Had we been consulted on this decision we would have strongly objected to the false choices that the Alberta Energy Regulator is asking Albertans to make."
Nevertheless, Alberta galloped farther down the trail of becoming, in the words of former premier Rachel Notley, "the wild west of environmental protection."
The province next rescinded its coal mining rules for the southern foothills because an Australian coal magnate, Gina Rinehart, wants to dig up 2,800 hectares north of the Crowsnest* Pass for metallurgical coal thanks to giveaway royalties.
Rinehart doesn't believe in climate change so her business should fit in well in a province that cancels environmental reporting and monitoring.
At least Energy Minister Savage knows who she works for, and it's not clean mountain water and Albertans who depend on it: "We will continue to make common-sense decisions to create certainty and flexibility for industry" she said.
According to the Alberta Wilderness Association, the "policy change, made without any public consultation, has the potential to open up over 4.7 million hectares of environmentally sensitive lands to boom-and-bust coal developments, further jeopardizing headwaters integrity, wildlife security and the recovery of species at risk."
Next came an end to environmental monitoring. One order applied to all oil and gas operators and apologized for not naming them all. The decision explained "that is not practical to name all of the Operators individually that are affected by this decision because of the large number of Operators."
Here's what so large a number of operators don't have to worry about anymore: sulphur monitoring and methane leak detection programs; surface water quality testing and soil monitoring. All groundwater monitoring "with the exception of any monitoring that is necessary to protect human health," has also been suspended.
And the suspensions remain "in effect immediately and remain in effect until otherwise directed by the Alberta Energy Regulator." Apparently that order wasn't comprehensive enough so the regulator issued another separate decision for about 30 in situ oilsands projects.
These high greenhouse gas emitters burn natural gas to boil water and inject steam into bitumen underground in order to pump the melted crude out.
Now these firms don't have to concern themselves with certain kinds of monitoring for greenhouse gases, pesky wildlife, surface water quality or firebreak monitoring outside their leases.
Methane monitoring, however, still has to be performed (but not reported) and one wonders why this terrible encumbrance was not lifted also.
The suspension of environment reporting and monitoring all falls in line with demands made by the Canadian Association of Petroleum Producers.
On March 27, the powerful lobby group wrote the federal government and asked Ottawa to do what Alberta was already doing. The rationale of oil lobbyists was predictable. "CAPP also recommends that, during this time of crisis, governments adopt a do no harm principle with respect to regulations and the costs they impose on industry."

While CAPP, AER, KKKenney/Herr Harper, the courts, politicians, Encana/Ovintiv et al don't give a damn about the costs forced on citizens and small businesses by the oil and gas industry. I did not break the law, Encana/Ovintiv broke the law, intentionally frac'd Rosebud's drinking water aquifers, the company's own documents on file with the "regulators" prove it.
Hauling water is expensive, time wasting (45 minute drive one way) and rage inducing (every haul). How do I endure my grief and rage? Art, especially by a brilliant independent anarchist, a woman no less: "Varo was given the basic education at a convent school that was typical for young ladies of a good upbringing at the time – an experience that fostered her rebellious tendencies."
The water I haul is shit compared to the beautiful soft abundant well water I had before Encana/Ovintiv broke the law and frac'd mine, transforming it from no gas present to this blow torch: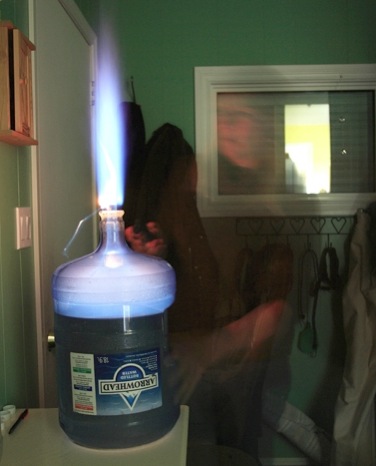 The gov't hauled water for me for 2 years, I've been hauling water for an additional 12; it's only one of the many costs Encana's and AER's rape & pillage force me to endure. Even with Covid-19, I receive no help from any authority to have frac-free water to clean my home and wash my hands with to stay safe. I just received cowardice and pissing and shitting on the rule of law by every authority mandated to uphold the law, most horridly by the courts and my ex lawyers Murray Klippenstein and Cory Wanless. They're blood-sucking ugly vampires, all of them, even the many claiming to be "Christian."

CAPP seems to forget that the regulations are there in the first place to protect the public from industry abuse.

I don't think CAPP forgot, I think CAPP knows all too well the harms their new deregulatory demands are causing to the environment and citizens (and our pensions). I expect CAPP and member companies are delighted to poison us more, ill health via petro-poisoning sucks citizen and community energy and prevents many from speaking out.

They ensure, when periodically enforced, that industry does no harm to air, water, wildlife and people living next door to their polluting operations.
In any case, Premier Kenney has divided his province into two unequal classes of workers on the province's petroleum farm. There are ordinary workers who make sacrifices, pay taxes and follow the rules. And then there are the anointed who get to sit out a pandemic on the coach of unaccountability.
The anointed, of course, belong to the indebted oil and gas industry. The blessed, or at least their employers, get billions in subsidies as well as corporate tax and royalty breaks and access to pension funds to shore up their companies' faltering finances.
It is even okay if the anointed don't pay hundreds of millions of dollars owed to municipalities in basic taxes. Or clean up $260 billion worth of aging wells and pipelines and tailing ponds.
And now, they don't have to fuss with bothersome environmental reporting and monitoring. Who needs protections for nature and people's health if they get in the way of oil and gas and mining interests? Get rid of them. In Alberta, that's the new normal.