Comments by a PA resident who attended and recorded the event:
… Audience comments were the highlight of the evening in my opinion, and the link below takes you to their beginning at the 39:43 mark, starting with retired Post-Gazette reporter Dave Templeton, who probably knows this overall topic better than anyone else.
At the 53:50 mark we hear from Dr. Ned Ketyer, who remarks that the study's asthma findings are a 'bombshell.'
You'll also hear from two mothers, Janice Blanock who lost her son Luke to Ewing sarcoma, and another mother whose son survived Ewing sarcoma.
It's important to note that the study years did NOT include the early years of Marcellus Shale fracking (2004-2009) when frac waste was being legally and openly dumped into our local rivers (tap water sources) through POTW's, widespread open and frequent flaring was taking place at well sites and the big gas plant near many local Ewing sarcoma cases. Our Washington County landscape was scarred and polluted by huge, toxic, frac waste pits, with a group of them resulting in the largest DEP fine ever. So how much did their study miss?
Scores of commenters last night made other key points and asked riveting questions, while the crowd (200?) remained civil. I still have to figure out their lymphoma findings, and study more of their data. Sounds like they leaned heavily on satellites for their 'averaged' air pollution data, while we see Pa DEP air quality data for shale gas production is completely missing before 2012 or 2013. Lets also never forget that this industry is "self reporting."
There were multiple media outlets and reporters there, including WTAE and WPXI television, WJPA radio, Reid Frazier of The Allegheny Front, and Karen Mansfield of the Observer-Reporter. Social media is probably also buzzing.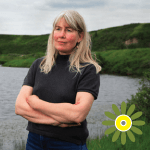 August 15, my comments while watching the event live:
I am watching the presentation, alternating between fury at key data and cancers avoided/left out e.g. drinking water – DEP has endless water well test results (dated and identified to location/family) which can be studied, radioactivity, and tears at the dismissive attitude presented. No data was collected by the researchers, they used data collected by others.
Excellent questions asked and concerns expressed by members in the audience, especially by David Templeton and Justin Nobel.
Two industry representatives were on the advisory board for these studies. In my view, they had no right to be there, or provide input, notably as industry refuses to make all their chemicals used public.
"This study is just the tip of the toxic iceberg. … Children should not be the canaries in the coalmine here. … And what's going to happen to the workers?"
The studies did not look at any schools. They did not look at waste, radiation, or independent pigging stations. And, did not study what the parents had asked to be studied.
"It seems like you did a book review. … You have other people's facts, not your own."
"My husband is under 40 and just had to have all his teeth pulled. We think it's from frac'ing. Please study the workers specifically."
(I was unable to catch the name of the persons who made the above statements.)
Dr. Ned Ketyer:
"The asthma results is a bombshell. People should be paying attention to that."
***
This post if for Sharleen, who died of cancer on the date of this post. Frac'ing was all around her, as it is all of us living in toxic frac fields. Sharleen was unable to die in peace in the hospital in her Alberta community because there was no bed available.
Sharleen wanted sooooo much to change injustice and loved her family and the world. A loyal friend. She attended all the Alberta court hearings on my case and was livid at how the judges here and at the surpreme court of Canada treated the public interest and me (notably snide liar now retired Justice Rosalie Abella).
Sharleen, you DID make a difference.
On to the light, where working for change is no longer necessary. Your work is done. Rest well.
xxx
2015: What frac fraud now? Fraser Institute joining Dr. Maurice Dusseault; Dr. David Wheeler; Dr. John Cherry & Council of Canadian Academies Frac Panel; charter-violating, no-duty-of-care, lying, bullying, worst-in-class, legally immune AER; Alberta government; U Penn law/political science prof Cary Goglianese & Synergy Alberta; Encana; Bellatrix; Angle Energy; Frac contaminating water confessing CAPP; other enablers in cycle of frac abuse? Why so many enablers?
2019: Ewing sarcoma: Frac'ing vs Public Health. Are oil & gas industry-funded health studies trustworthy?
2019: Suffering and living in fear in Frackville, Pennsylvania; More Ewing sarcoma research is needed
2019: Ewing's sarcoma takes another child in a frac field: "It's the price you pay for deep love. It hurts." Randy Stephen's last wishes are being fulfilled: that his family help other families going through battles with childhood cancer.
2019: More than 100 orgs, 800 individuals push PA Gov. Tom Wolf to probe link between frac'ing and proliferation of childhood cancers; Ewing Sarcoma Presentation by Raina Rippel
2023 08 11: Washington County fair highlights what it takes to survive as a farmer in 2023
…
Gas saves the day
However, Marcellus Shale gas well development and natural gas royalties have saved many farmlands and farmers, Iams said.
…
Excellent comment to the above article by 1st and 10:
Quite the farm and fair story, but to balance the reality of Marcellus shale gas extraction one has to look at the dark side in Washington County. The county is now over run with over 50 new air polluting compressor stations, along with several massive cryogenic gas plants. The largest DEP fine in history was paid by one gas producer for a gaggle of huge, toxic, leaky earthen waste pits the size of football fields. Two spills and fish kills in the premiere county park. Shale waste, known for its radioactivity, is also hauled into the mountainous waste dump next to the fairgrounds. Relevant stories on drilling and Amwell Twp should always include the book 'Amity & Prosperity.' We'll soon hear the results of Pitt's health study on an unusually high number of Ewing Sarcoma cases around local drilling. On the money side, royalty checks have dwindled since shale wells' production drops so fast, and the Pa impact fee is a complete joke — less than 2% of what Texas gets from an honest to goodness severance tax.
***
MEDIA ADVISORY: August 15 Community Meeting Scheduled to Release Results of PA Health & Environment Studies August 10, 2023
Sarah Carballo, Communications Specialist, FracTracker Alliance, 304-266-6531,
[email protected]
Lisa DePaoli, Communications Manager, Center for Coalfield Justice, 724-229-3550 x3,
[email protected]
Ned Ketyer, M.D., F.A.A.P., President, Physicians for Social Responsibility Pennsylvania,
724-255-7440, [email protected]
Heaven Sensky, Organizing Director, Center for Coalfield Justice,
724-229-3550 x1, [email protected]
Scott Smith, Communications Manager, Environmental Health Project, 412-600-0738,
[email protected]
…
Background
In 2019, Pennsylvania Governor Tom Wolf's administration allocated $3 million to study the health impacts of shale gas development, taking action after months of impassioned pleas by the families of childhood cancer patients who live in the most heavily drilled region of the state.
The Pennsylvania Department of Health (DOH) contracted with the University of Pittsburgh's School of Public Health to conduct three observational epidemiological studies focusing on asthma, birth outcomes, and childhood cancers with respect to exposures to environmental risk factors, such as shale gas development activities, among others. The studies were collectively titled the "PA Health and Environment Study."
The studies cover the entirety of the Southwestern Pennsylvania Region, including Allegheny County, Armstrong County, Beaver County, Butler County, Fayette County, Greene County, Washington County, and Westmoreland County.
The studies were scheduled to wrap up and full reports written by the end of 2022.
The university assembled an External Advisory Board of community members and stakeholders, which met beginning in August 2021. Meetings began being held quarterly and bi-monthly but were eventually curtailed altogether.

Results too terrible? Did industry demand another cover-up? I have zero faith in this study or the people doing it.

From December 2020 until September 2022, the university and the DOH provided quarterly updates on the progress of the studies through very abbreviated reports posted to a website.
In its January 1, 2022 – March 31, 2022, online report, the DOH/university reported: "We are preparing to host informational sessions within the study area to increase study visibility and to address any concerns residents have regarding this study." In its April 1, 2022 – June 30, 2022, online report, the DOH/university reported: "We are planning in-person informational sessions for study-eligible families which will occur throughout the study area in July and August 2022." None of these activities occurred.
Through the first half of 2023, neither the DOH nor the university communicated with communities in the study area regarding the timeline for the release of the studies' results.

That's just cruel, and vulgar.

Finally, in July 2023, the DOH/university announced a public meeting, to be held on August 15, 2023, to release a report on the results of the studies, which will fulfill the university's contract with the DOH.
It is not yet known when (or if) the university will publish or release the full studies.
***
After the meeting, join the Moms & Dads – Family Awareness of Cancer Threat Spike (MAD FACTS) group at the California United Methodist Church, 227 3rd St, California, PA 15419, to discuss the results and process what was learned.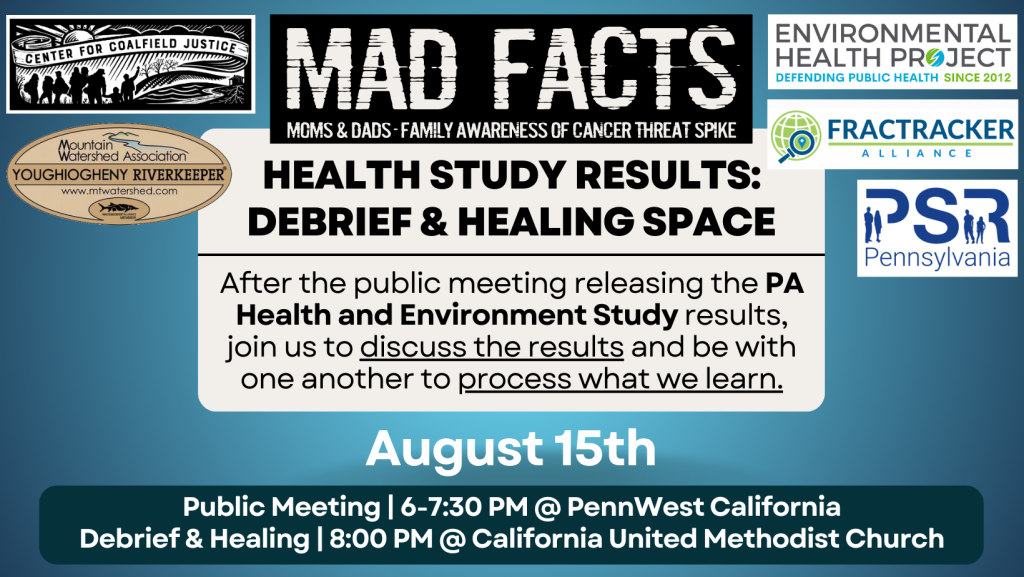 ***
Findings of Unconventional Natural Gas Development Studies in Southwest Pennsylvania to be Released August 15 at Public Meeting in Washington County
WHAT: At a public meeting, University of Pittsburgh School of Public Health scientists will present the results of studies exploring health impacts of human exposure to environmental risk factors, including unconventional natural gas development activities, in an eight-county region in Southwest Pennsylvania.

Why not present the studies, in their entirety, with all data? I bet they'll yammer on about privacy rights, patient confidentiality crap, etc., and say they can't release them, and lie, claiming there was nothing to see anyways.

The meeting will be in-person and livestreamed and include an opportunity for online participants to submit questions.
WHY: In 2020, the Pennsylvania Department of Health contracted with Pitt Public Health to conduct three observational epidemiological studies focusing on asthma, birth outcomes and childhood cancers. For more information on the studies, visit paenv.pitt.edu.
WHO:
Pitt Public Health research team
PA Department of Health staff
WHEN: 6 to 7:30 p.m., Tuesday, August 15, 2023
WHERE:
In-person: Performance Center, 2nd Floor, Natali Student Center, Pennsylvania Western University, 250 University Ave, California, PA 15419. Attendees may park in Lots 15, 17, or 19 at no cost.
NOTE TO VIRTUAL ATTENDEES: People attending online must submit questions in advance to [email protected].
---
The University of Pittsburgh School of Public Health is conducting three separate studies in Southwestern Pennsylvania. These studies will focus on the potential health impacts of human exposure to environmental risk factors, such as unconventional natural gas development activities, among others.
The first study will focus on finding out if historical exposure to various environmental risk factors may be linked to childhood cancers in Southwestern Pennsylvania using existing data sources and parent interviews.
The second and third studies will use information already available to find out if exposure to environmental risk factors is related to more severe cases of asthma or to increased occurrence of adverse birth outcomes in Southwestern Pennsylvania.
Who We Are
We are researchers from the University of Pittsburgh School of Public Health who study how exposure to certain environmental factors can hurt the health of people. Pitt Public Health is committed

That dreaded escape hatch word again, used by frac'ers and their enablers

to public health research, teaching, and practice; we focus on real-world challenges facing our communities. Visit About the Team to learn more.
Study Information
Childhood Cancer Study Asthma and Birth Outcomes Studies
Quarterly Reports

Refer also to:
2023 October: Frac Harm Compendium 9 to be released.
August 2023: Negligent ultra corrupt Danielle Smith and her Cave Dwelling UCP (Alberta Gov't) put a ban on solar and wind energy projects to aid their murderous frac, oil, gas and bitumen friends. Why no ban on frac'ing? It's much uglier and more harmful than any solar panel or wind turbine, which do not frac drinking water aquifers. Why no order to Encana/Ovintiv to repair the aquifers the company illegally frac'd?
2023 08 09: Fury as Alberta cuts renewables during Canada's worst fire season ever, Critics of the policy expressed concern that decision will weaken investor confidence in solar and wind energy in the region
2023 08 10: Frac Sand Sentinel #446 by Pat Popple:
Respirable crystalline silica dust is deadly, but the story in PBS's News Hour is just another reminder that workers and others are not adequately protected from lung disease. The story can be applied to frac sand mining stories in WI and elsewhere. And with dust piles exposed in many locations in NW Wisconsin,

and in MB, AB where kids play in publicly accessible deadly piles, BC, etc.

even ordinary citizens can become ill.
The impacts of breathing deadly silica dust reiterated…
Piles of silica open to the air
Is deadly respirable crystalline silica dust escaping from piles of silica at unreclaimed non-metallic mines in Wisconsin? The impact of silica dust breathed in by coal miners tells a story about potential health impacts on humans, plants, and animal life that can't escape from air filled with the dust. The PBS News Hour shares a relevant story about silica dust.
Silica is 20 times more lethal than coal dust!
Take a look at the YouTube video……….it truly is shocking.
2023 08 09: PBS NewsHour live episode, Aug. 9, 2023 Starts at about 26 Min in.
2023: Vivian Silica Sands, Manitoba Canada, an ongoing page reporting negligence by authorities in MB (standard across rape & pillage Canada), enabling dreadful lies and harms by the company (standard across Canada).
Typical, CanWhite Sands out of Calgary changed its name to Sio Silica Corp. To befuddle the many citizens opposed and cover-up the many harms already caused?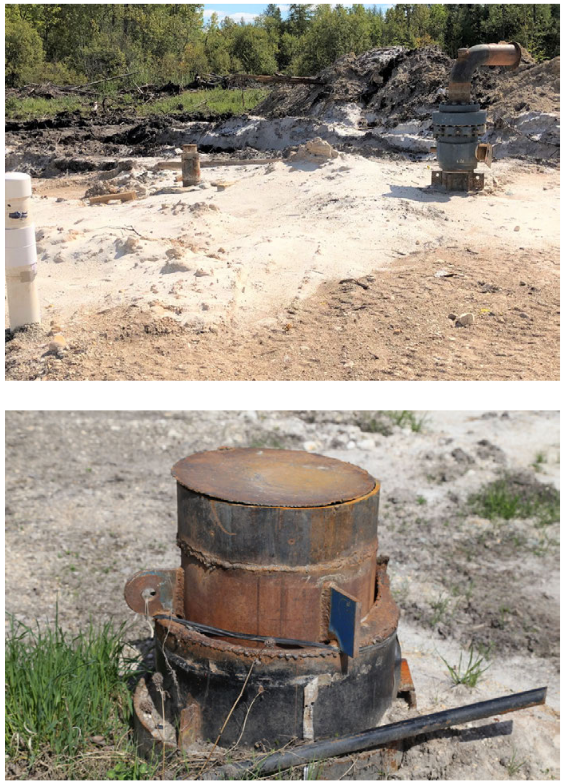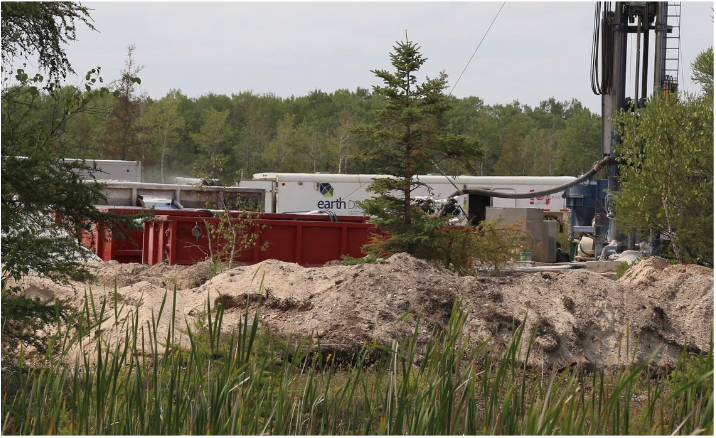 There are families nearby, forced to breath CanWhite Sands/Sio Silica Corp.'s deadly silica that blew off the uncovered piles. Dreadful negligence by the Calgary frac'er and Manitoba authorities alike.
2023: Pennsylvania, Three years on: Frac'ing health study into Ewing sarcoma and other rare forms of cancer results in cover-up rug. Secrets are a toxic industry's (and enabling court's) best friend.
2023: Frac'ing harms health. Ron Gulla: "The truth has to come out and the law firms are the ones that really need to be held accountable because the law firms are making a lot of money representing the industry and covering all the lies up. … This is organized crime, that's what this is."
… Gulla said:
"And here they [the oil and gas companies] are exempt from [the] Clean Air [Act], Clean Water [Act], Safe Drinking Water [Act], the Right-to-Know [Act], the Superfund Act — which is hazardous cleanup — [and] TRI: Toxic Release Inventory.
"Those were all the red flags. They never told the landowners, the landman or woman, never said a word about them being exempt from anything. So liability is left upon the landowner and the community.
"Do you think I would've signed a lease if I'd known that they were exempt from everything?"
"If it were safe and benign, they wouldn't have the exemptions," Gulla said. "They're [the oil and gas drilling industry] the only industry with those exemptions. They know there were problems. They know that they would create a lot of havoc and the lawyers are working with them and covering it all up."
"The truth has to come out and the law firms are the ones that really need to be held accountable because the law firms are making a lot of money representing the industry and covering all the lies up," Gulla said.

Just like law firms making a lot of money helping churches/religions cover up rapes of kids, the most evil being the catholic church. In my view, most academia is just as bad, covering up harms by oil, gas and frac, in exchange for ego fodder and huge multimillion dollar grants.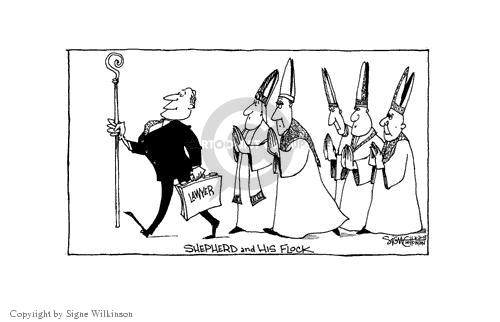 2023: PA Frac Lawsuit Hearing: Bryan & Ryan Latkanich v Chevron & EQT Corporation health harm, and well water and home contamination
2022: New study by Yale School of Public Health researchers: Kids born within two km (1.24 mi) of frac sites were two to three times more likely to be diagnosed with acute lymphoblastic leukemia between ages 2 and 7. A known cause is benzene, released by oil and gas activities into air and water. Dr. Cassandra Clark: "The magnitude of the elevated risk that we observed was fairly striking."
2022: New study by Yale School of Public Health researchers: Kids born within two km (1.24 mi) of frac sites were two to three times more likely to be diagnosed with acute lymphoblastic leukemia between ages 2 and 7. A known cause is benzene, released by oil and gas activities into air and water. Dr. Cassandra Clark: "The magnitude of the elevated risk that we observed was fairly striking."
2022: Frac Science Compendium 8 – Sandra Steingraber & Carmi Orenstein: "The more we learn about fracking…the worse it looks. Fracking is a villain, not a hero…." (R. Kennedy Jr., Sierra Club, other NGOs pimped frac'ing for polluters)
2022: Compendium 8 on Harms of Frac'ing & Associated Infrastructure: "The only method of mitigating its grave threats to public health and the climate is a complete and comprehensive ban on fracking." No evidence was found showing "fracking can be practiced in a manner that does not threaten human health directly or without imperiling climate stability upon which human health depends."
2021: "Nightmare Contaminant" Forever Chemicals (PFAS) Use in Drilling & Frac'ing in More than 1,200 Wells in Arkansas, Louisiana, Oklahoma, New Mexico, Texas, Wyoming between 2012 and 2020, including by Encana (in Canada too?). Records obtained from US EPA under Freedom of Information Act. Did Encana now Ovintiv inject PFAS into Rosebud and Pavillion drinking water aquifers?
2020: A decade of science on frac harms – Compendium 7 released: "The data continue to reveal a plethora of recurring problems that cannot be sufficiently averted through regulatory frameworks" while regulators in Canada continue to DEregulate to enable the endless **known** harms. Canadian frac-harmed Vicky Simlik: "Because there is no such thing as a kind & gentle frac' it needs to be banned period."
2019: Ewing sarcoma families synergized? Pennsylvania to spend two years and $4M to study possible link between fracking and spike in childhood cancers and other health harms: "We came in with a united goal…and it wasn't to ban fracking. We want an investigation…." while the frac fumes, chemical spills, waste pits, leaching of radioactive waste into waterways, and drinking water contamination cases escalate unimpeded, frac chemicals remain undisclosed, even to physicians, and children die.
2019: The Human Toll, Part 2: Industry says otherwise (of course they do!), but studies identify specific harms that shale-gas pollution can cause for fetuses, newborns, children and teenagers
The Human Toll Part 1, Risk and exposure in the gaslands
2019: Father blames Chevron as he and son Ryan battle illness, Welts, rashes after Ryan bathed in water that felt slippery. Ernst's water felt slippery too, caused burns, rashes, welts to her skin after Encana illegally injected 18 million litres of frac fluid into her community's drinking water aquifers. Cover-up, lies, law violations, threats, bullying, shaming by Alberta regulators to protect Encana, law-violating aquifer frac'er
2019: More than 100 orgs, 800 individuals push PA Gov. Tom Wolf to probe link between frac'ing and proliferation of childhood cancers; Ewing Sarcoma Presentation by Raina Rippel
2019: Two workers killed at Source Energy Services' Fox Creek Alberta Frac Sand Storage and Shipping Facility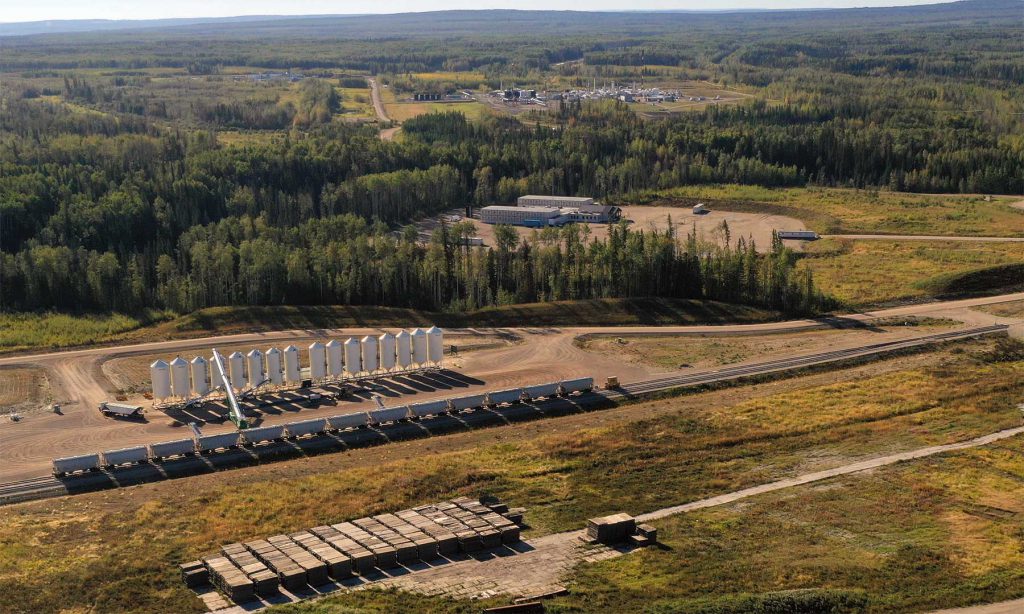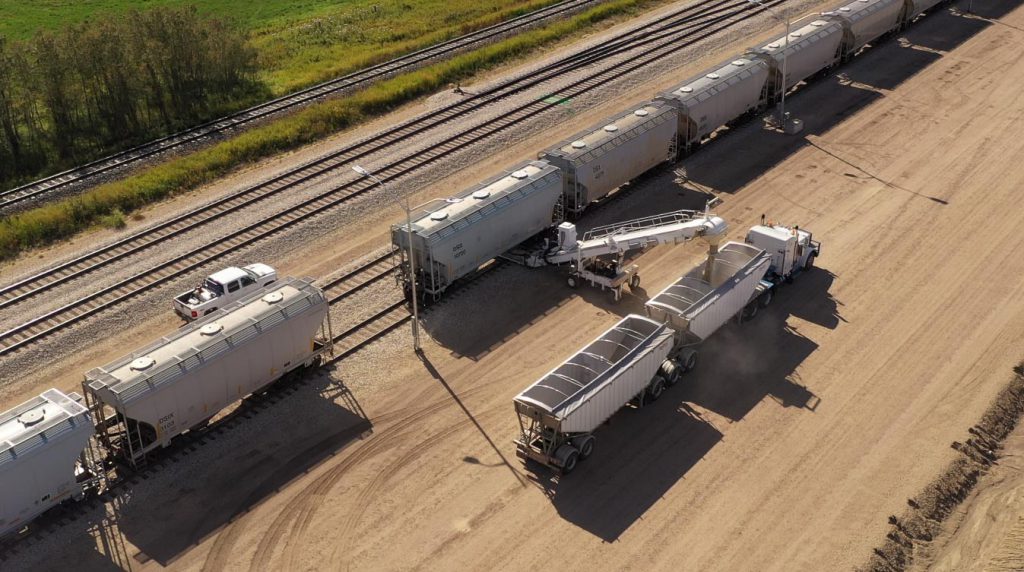 Above two frac sand by Will Koop of frac sand loading facility near Grand Prairie Alberta. In the bottom photo at the first loading tank, the airborne silica dust is easily visible. Are workers wearing respirators? What about neighbouring farms and families?
Alberta is an incredibly windy place, every vehicle/train that drives through frac sand will send silica into the air communities, families, pets and livestock (and wildlife) breath.
2019: Frac'ing is not safe, it does not improve the environment! Compendium 6 Released: Review by doctors & scientists of more than 1,700 references conclude frac industry poses threat to air, water, climate and human health
2018: Compendium 5: 'The Harms of Fracking': New Report Details Increased Risks of Asthma, Birth Defects and Cancer. Dr. Sandra Steingraber: "Fracking is the worst thing I've ever seen." Dr. Pouné Saberi: "There is a code of silence…." Workers rarely report injuries or hazards, for fear of losing their jobs.
2016: Compendium 4.0 Released, More than 900 Studies Showing Overwhelming Harms Caused by Unconventional Oil & Gas Development. Doctors Call for Halt to Fracking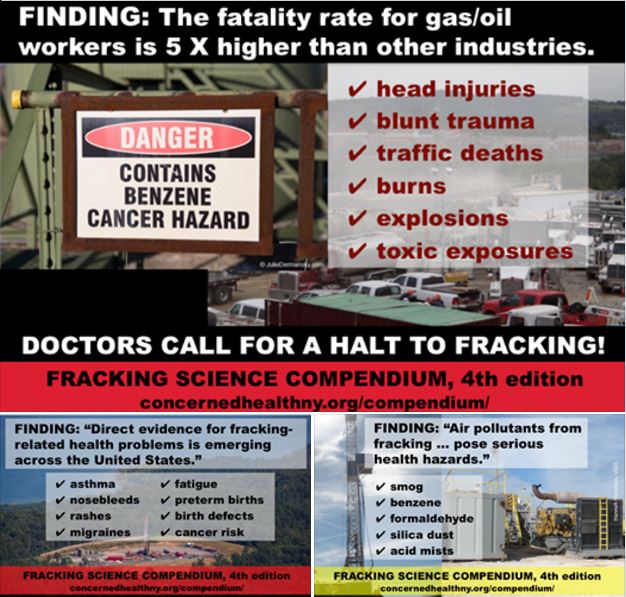 2015: Compendium 3
… Benzene has been detected in the urine of wellpad workers in Colorado and Wyoming. …
2014: Compendium 2
… Anthony Ingraffea, PhD, Dwight C. Baum Professor of Engineering, Cornell University, said,
"In 2008, when New York State first declared a moratorium on fracking, only six peer-reviewed papers on the health and environmental impacts had been published. Now there are more than 400, and the vast majority show a clear and present danger. What's more, many problems are unfixable by regulations of any kind."
2014: Compendium 1
2014: CHILDREN PLAYED IN THE FRAC SAND! Go Back in Time with Alberta Health: Officials Issue Advisory More than one Month after 580 Tonnes of Frac Sand Spilled in Bashaw What do those lungs look like now, a decade later?
2012: Mining Corporation Looks to BC for Frac Sand Open Pit Mine
2012 Oh Canada! Why was a 2012 Health Canada Report, admitting significant health hazards and risks to groundwater and air from hydraulic fracturing, kept from the public?

The report still has not been released to Canadians by the feds. I made it public via this website.

So many frac hazards, so many secrets, just like in rape religion.