How one industry greases the squeaky wheel of corruption around the world by Glenn Altschuler, Oct 13, 2019, Pittsburgh Post-Gazette
… In "Blowout: Corrupted Democracy, Rogue State Russia, and the Richest, Most Destructive Industry on Earth," Rachel Maddow, news-and-commentary anchor on MSNBC, author of "Drift: The Unmooring of American Military Power," and holder of a doctorate in politics from Oxford University, provides a take-no-prisoners indictment of the oil and gas industry.
Big Oil and Gas, she maintains, virtually always "serves itself while pretty much screwing everybody else."
Demanding that government get off its back (unless legislators are handing out subsidies), the industry fouls oceans, lakes, rivers and streams; induces man-made earthquakes; leaves waste in its wake; sickens school children; kills pets and farm animals; is the "chief driver" of catastrophic climate change; and "sucks the life out of democracies everywhere."
… Oil and gas industry reliance on "corruption and capture," Ms. Maddow concludes, poses an existential threat to geopolitical balance, democratic governance and the environment. "Powerful enemies," she reminds us, "make for big difficult fights." But "you can't win if you don't play." Moreover, Ms. Maddow predicts, "democracy either wins this one or disappears."
We're Just Starting to Learn How Fracking Harms Wildlife by Tara Lohan, Oct 11, 2019, TruthOut
… The research, which looked at sites in both the Marcellus and Fayetteville shale regions, showed that the birds' feathers contained elevated levels of barium and strontium — two heavy metals associated with the drilling process — in areas where fracking had taken place. Much like when lead shows up in a human's hair, the presence of these metals in the birds' feathers is a sign that contaminants in the environment are making their way into animals' bodies.
As the researchers concluded in their paper: "Our finding of significantly higher levels of barium and strontium also suggests the possibility of surface water contamination by any of the hundreds of chemicals that may be used in hydraulic fracturing, including friction reducers, acids, biocides, corrosion and scale inhibitors, pH adjusting agents and surfactants."
A similar line of inquiry is being pursued by other researchers. Nathaniel Warner, a professor of civil and environmental engineering at Penn State University, has been using the shells of freshwater mussels to read the changes in water chemistry in Pennsylvania's Allegheny River. Mussels record environmental conditions in their shells each year — much like tree rings.
Warner and his colleagues have also found elevated levels of strontium in the shells of mussels living downstream from a site where treated fracking wastewater was discharged. Strontium, which is found in high concentrations in oil and gas wastewaters, is a naturally occurring metal with some medical benefits but which in large exposures can cause bone loss and other side effects.
But Warner says they are still trying to determine what the impacts are for mussels and aquatic ecosystems — not to mention the people who get their dinner from the river. …
"Air pollution is another important issue to consider," she adds. "I'm not aware of any current studies that have looked directly at impacts of fracking air pollution on wildlife." [or on humans!] … "The industry boomed at such a rapid pace, researchers and policymakers could barely keep up," she says. "And in most cases, we don't have baseline data at impacted sites to compare with current numbers. [Of course not, the powerful oil and gas industry would never allow it or proper protection of wildlife and human health – companies would not be able to afford to operate if they did.]
***
Images below with comments thanks to Bob Donnan of Pennsylvanian: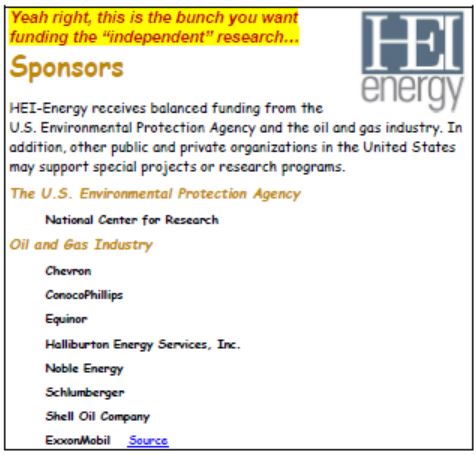 Above source: https://hei-energy.org/about/sponsors
Would you trust oil and gas companies to be honest and "balanced" about what caused your child's cancer, notably if your family lives in a frac'd community?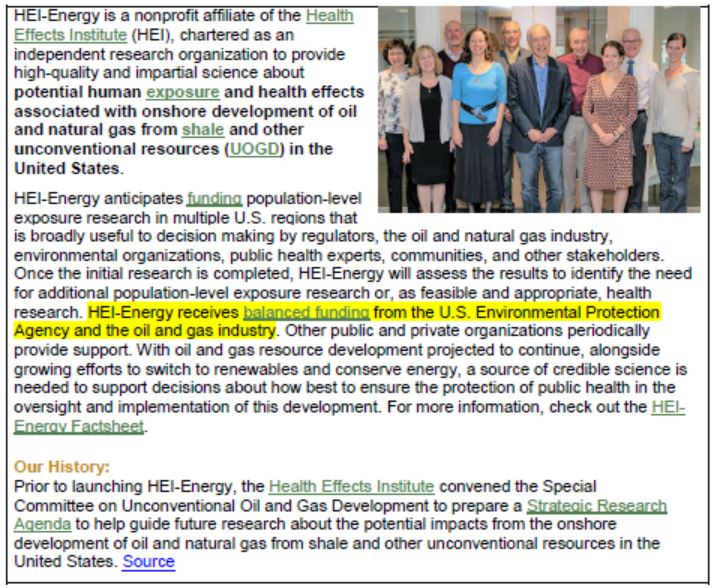 Above source: https://hei-energy.org/about
Health department asking wrong questions by Sarah Rankin, Public Health Nurse, Southwest Pennsylvania Environmental Health Project, Oct 13, 2019, Observer-Reporter
On Oct. 7, the Pennsylvania Department of Health (DOH) held a community meeting to discuss whether a cluster of childhood cancers called Ewing sarcoma was present in the Canon-McMillan School District.
The event was attended by more than 200 concerned citizens, some of them parents of affected children. Most wanted to know if shale gas development or other environmental factors might be responsible.
At the meeting, a DOH representative concluded that no such cancer cluster exists, though she did admit that the sample size was too small to be meaningful, that the data the DOH used was incomplete, and that further study needed to be done, presumably led by some unspecified organization or research institution. [Frac harm enablers always demand other study; keeps their salaries coming in]
As to whether environmental factors may be the key to this particular kind of cancer, that was not discussed.
The Pennsylvania Department of Environmental Protection and anyone with knowledge of how the environment can affect health were noticeably absent. [That's how industry makes sure it happens in Alberta too!]
Most in the audience left feeling angry and frustrated, and without answers.
As a public health nurse who serves the affected communities, I can say this about the meeting: The DOH is asking the wrong questions.
Rather than asking whether a statistical cluster of cancers exists, something that's always very difficult to identify, the DOH should be asking first whether a plausible link can be made between the diagnosed cancers and potential cancer-causing agents.
We know that shale gas development emits into the environment 55 compounds that are either known, probable, or possible carcinogens. We also know that at least 27 children in the four-county area comprised of Fayette, Greene, Washington, and Westmoreland counties have been diagnosed with Ewing sarcoma over the past decade, six of them in the Canon-McMillan school district alone. Only about 250 cases of Ewing sarcoma are diagnosed each year in the entire U.S.
Many more children are suffering from other cancers, some of those also rare.
Given this outbreak in cancers and a possible link to environmental causes, the DOH should next ask:
What steps can we take to cut off likely pathways of exposure to these carcinogens? How can we make people safer?
Rep. Tim O'Neal said at the meeting, "I believe we should investigate fracking to see what's going on." He's right, but the state can take steps now, before more research begins, to try to safeguard children from sources of pollution and reduce the chance that more will suffer from these rare forms of cancer.
One step the DOH can take immediately is to communicate basic, practical guidance as to how families can protect themselves. This includes, among other steps, paying attention to unusual health symptoms, being aware of local industrial activity, having water tested, and monitoring family members' outdoor activity. [And teach your children to hold their breath, all day and night long. Frac chemical pollution spreads far and wide]
The meeting saw the culmination of a reality that's been building for some time: The DOH has lost the trust of the people and communities it has been charged with protecting. It's time for Gov. Wolf, the DOH, DEP, and Pennsylvania Legislature to step up and lead the fight against childhood cancer.
Southwestern Pennsylvania residents renew calls for research on possible health impact of fracking by Deb Erdley, October 12, 2019, TribLIVE
As calls for better science [don't need "better" science, need unbiased science and studies that are not controlled by the oil and gas industry] on the health impact of unconventional natural gas drilling grew last week, the Pennsylvania Department of Health revealed that a new study found a slight increase in the expected number of cases of Ewing sarcoma, a rare bone cancer, among girls in Fayette, Greene, Washington and Westmoreland counties.
State epidemiologist Sharon Watkins disclosed the preliminary finding during a town hall meeting in Canonsburg. She was there to explain a previous analysis that concluded that a series of Ewing sarcoma cases in the Canon-McMillan School District in Washington County, which is in the epicenter of the state's natural gas boom, failed to constitute a cancer cluster.
Ewing sarcoma, which strikes 200 to 250 children and young adults in the U.S. each year, has no known environmental causes.
But some families believe the drilling boom is behind the devastating illness that has struck at least six families in Washington County and another 12 in southeastern Westmoreland over the past decade.
A spokesman for the state Health Department said it is still finalizing the new four-county report and would not elaborate further.
"We intend to release the report as soon as feasible, but that will likely be at least a month," department spokesman Nate Wardle said.
While experts say there is limited science on the potential health impacts of such drilling, Washington County residents at the meeting said they fear there may be deadly side effects from the process whereby drillers shoot millions of gallons of water and salts deep into the earth to release natural gas trapped in shale.
They insisted it is no coincidence that they began seeing Ewing sarcoma and other rare childhood cancers a decade ago concurrent with the beginning of the drilling boom.
Janice Blanock of Cecil is among those who question the state's findings. Her 19-year-old son, Luke, died of Ewing sarcoma in 2016, three years after being diagnosed with the illness.
She said the analysis for Canon-McMillan failed to include three cases of Ewing sarcoma, one that was mislabeled and two more diagnosed in 2018.
"I don't care what they tell me, it is a cancer cluster. I don't believe that one bit. The numbers are inaccurate. When you look at the big picture, it's not just Canon-McMillan. It's Westmoreland, Greene, Fayette and Washington counties. There have been 67 rare cancers here in the last 10 years, and that's how long fracking has been going on," Blanock said.
Watkins said she'd love to have additional information on environmental testing in the area.
Eventually, a Boston-based independent research group hopes to gain a better understanding of such issues with regard to unconventional drilling.
The Health Effects Institute, which has done extensive research on the impacts of air pollution, last month posted information on work it is doing through a newly launched energy research effort.
The work is being underwritten by the U.S. Environmental Protection Agency and the oil and gas industry.
Donna Vorhees, director of energy research at the Health Effects Institute, said her staff found limitations when they reviewed existing studies on the potential health exposures and impacts posed by unconventional drilling.
Although unconventional drilling has been around for years, Vorhees said most of the health-related studies to date are observational and lack rigorous methodology.
"Consequently, the results of these studies can be challenging to interpret and often don't provide scientists with sufficient information to reach a conclusion about causality. This creates an understandable source of frustration for people who seek clear answers," she said.
The spokesman for the Marcellus Shale Coalition, an industry trade group that represents drillers in the region, said his members are committed to health and safety standards. [Being committed to "standards" means nothing! Industry lobby groups and oil and gas companies need to be committed to putting an end to frac'ing and to stop poisoning communities and families]
"Representing tens of thousands of hardworking Pennsylvanians, including many families in Washington County, our industry empathizes with those battling cancer. We fully support and appreciate the work of independent [Health studies so far have been anything but "independent."] medical experts and public health professionals who share our commitment to promoting [industry controlled and biased] science-based analysis of these very serious matters," coalition president David Spigelmyer said.
The state's new four-county study followed two studies. The first determined that 12 Ewing sarcoma cases in southeastern Westmoreland County between 2011 and 2018 did not constitute a statistically significant cancer cluster. The second study released in April reached the same conclusion about a series of cases diagnosed in Washington County and the Canon-McMillan School District between 2005 and 2017.
The studies that analyzed state cancer registry reports did not look at family histories or environmental exposures, but focused instead on the number of cases in a given area, versus the number that might be expected.
Alison Cobb, whose 38-year-old husband, David, recently completed treatment for Ewing sarcoma, pointed to the coincidence of his diagnosis about a year and a half after they moved to Canonsburg.
"The day he was diagnosed, we changed our water. He's the only one that survived," she said. "You need to include environmental conditions in your studies."
Cindy Valent said her son, Curtis, who died of Ewing sarcoma in 2011, had the area's first diagnosis in 2008. Valent has since moved to Beaver County, but she was on hand at the town hall meeting in Canonsburg, carrying a portrait of Curtis. She begged state officials to look deeper at the illnesses afflicting the region.
"I'm just here fighting for the others. Something's not right here. … It could be that they all drank Gatorade or all kinds of things. But I just can't see how they can't see a cluster, especially when they've got 12 cases in Westmoreland," she said.
Refer also to: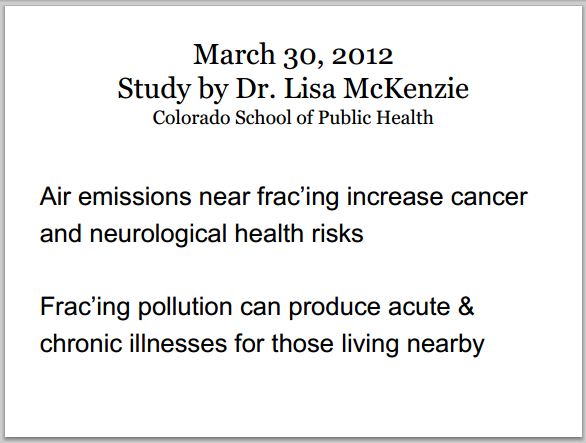 Slide from Ernst presenations