An update by Bob Donnan, June 22, 2023:
I learned yesterday the local Washington, Pa newspaper for our same county WILL NOT be publishing a story about the case, even though they had a reporter in court on Tuesday.
Reason? "didn't write a story because it was arguments." In part of my reply to the reporter, "Unfortunately, it leaves your readers uninformed, and sheds the unfavorable impression that your ad dollars dictate your newspaper's stories. I hear that a lot actually about the Observer-Reporter."
APPRECIATION by Bob Donnan (attended the hearing), June 21, 2023
Bryan Latkanich really appreciated everyone who showed up for the preliminary arguments in front of Judge Lucas, at the Washington County courthouse yesterday afternoon. It was held in a small courtroom, so there probably weren't more than 5 or 10 empty seats, and the judge's legal clerk said there wouldn't be any standing room, once seats were filled.
Those of us who sat in on the arguments between Lisa Johnson for the plaintiffs, and Kathy Condo for the defendants, were told early on that it wasn't going to be "like a township meeting" – so there couldn't be any outbursts. The audience of about 30 people, behaved themselves exceptionally well. The plaintiffs were granted what they were after, and the judge said their next deadline was August 1st.
It was like "old home week" for me, seeing so many familiar faces that I've come to know and respect over the past 15 years, with a few of them knowing far more about regulations than most DEP staff. KDKA-TV's Andy Sheehan and WTAE-TV's Paul van Osdol were there, and conducted interviews afterwards.
It was great to see Justin Nobel in the crowd, and I'm looking forward to his follow-up report, since he has covered the fracking waste radiation issue extremely well for Rolling Stone and other media outlets. He travelled from New York to attend.
Ironically, there was a protest in front of EQT's office in Southpointe yesterday, shown on the WTAE-TV evening news, regarding EQT's New Freeport, Pennsylvania well communication during fracking operations.
I met Monica yesterday, who had opened a boutique in a new shop that was constructed over top of 1,800 truck loads of drilling waste hauled into Fayette County from West Virginia. She developed nose bleeds, dry eyes and other bizarre health symptoms, and finally realized what was the actual cause. Stay tuned on her story! (More: Western Pa. contractor fined for illegal dumping of oil and gas waste)
Washington County homeowner takes on gas drilling companies in court by Paul Van Osdol, june 20, 2023, WTAE-TV News Report
WASHINGTON, Pa. — A Washington County man faced off in court with two major gas drilling companies that he accuses of contaminating his drinking water, forcing him and his family to get seriously ill.
The lawsuit by Bryan Latkanich said fracking exposed him to radiation and PFAS, known as forever chemicals.
Latkanich said he never knew how he might be harmed when he allowed Chevron to build a massive drilling operation on his Washington County farm.
He said his son Ryan was covered with sores after taking a bath.
Bryan became sick and eventually developed brain tumors and kidney failure.
"It's destroyed all my hopes and dreams, my farm, my life with my children. It's been rough. I can't go to a spigot and turn on water and drink it. I have to worry about every time my son takes a shower if he's going to get blisters. We shouldn't have to live that way in today's society," Bryan said.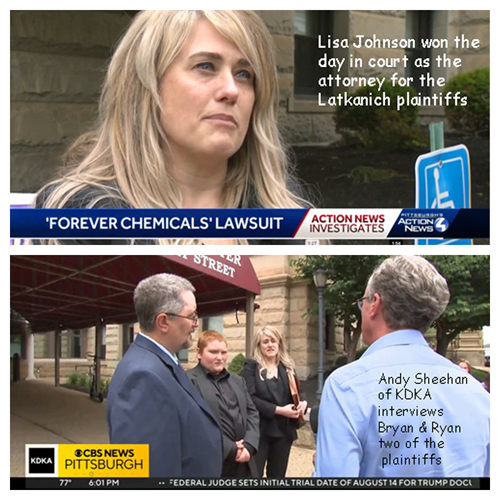 He said he was forced to bottle his drinking and bathing water in a nearby spring.
Chevron and EQT said repeated tests found no evidence that fracking caused PFAS or other harmful chemicals to get into his water.

Always the same story by frac'ers and their enablers. Evil.

Outside the courthouse, activists rallied to support the Latkanich family.
Inside court, Chevron's lawyer argued that its parent company should not be named in the lawsuit. Lisa Johnson, an attorney for Latkanich, disagreed.
"It's our view that this is the company and these are the people who are directing these operations that are harming people and that are damaging the environment. So that corporation and those individuals should be held to account," Johnson said.
The judge allowed Latkanich's attorney 60 days to seek documents that could tie Chevron's parent company to the fracking operation.
Chevron and EQT are also trying to block Latkanich from using a statewide grand jury report as part of the lawsuit.
Kathy Condo, an attorney for Chevron and EQT, declined to comment after the hearing. In court, she said Tuesday's hearing was not the time to address substantive issues raised by the lawsuit.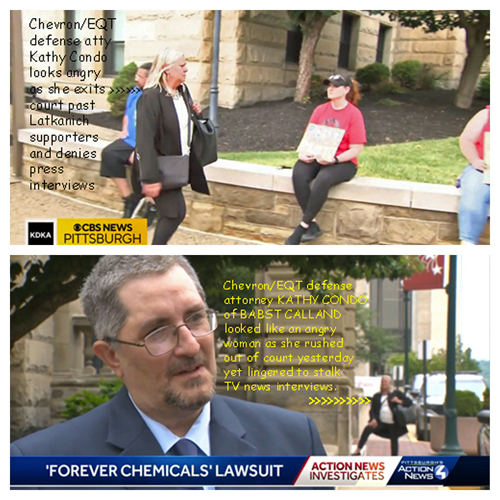 Washington County family takes 2 corporations to court over fracking health concerns by Andy Sheehan, June 20, 2023, KDKA-TV News
WASHINGTON, Pa. (KDKA) — A Washington County family has taken two major corporations to court, claiming that fracking contaminated their wells and jeopardized their health.
It's been a matter of debate: can fracking contaminate the groundwater and cause serious health impacts? The case in Washington aims to prove it can and does. ("Debate??" Andy sure soft-pedaled that point, a trait many have noticed in the past from other KDKA reports on fracking!)

Rankled me too. Hundreds of water supplies have been contaminated by frac'ing, evidenced by regulator and company documents/investigations/reports.

Bryan Latkanich and his son Ryan arrived at court Tuesday morning flanked by supporters from the environmental community aiming at last to prove that fracking at their property had contaminated their wells, undermined their home and resulted in serious health impacts, including skin rashes Ryan says he suffered after bathing.
"I've had blisters from water, my skin rashing up," Ryan said.
"It's been a nightmare," Bryan said.
In their sights are two large corporations — Chevron and its subsidiary Chevron USA, which initially drilled their property, and the Pittsburgh-based EQT Corporation, which purchased the Chevron leases two years ago.
Tuesday at an initial hearing, their attorney, Kathy Condo, argued again that hydraulic fracturing is not inherently dangerous and that an investigation by the Pennsylvania Department of Environmental Protection found no elevated chemicals and no linkage between the fracking and the Latkanich's health problems.

Who believes the DEP anymore? They've become as corrupt and untrustworthy as Alberta's AER and BC's ER.

The complaint stems back to 2011 and 2012 and since then a Pennsylvania grand jury found that DEP had failed to adequately protect citizens. The family's attorney cites new evidence about radioactivity and PFAS — so-called forever chemicals in the frack water, which she says spilled from retainer ponds into their wells and their home.
"There's no debate about the harm that fracking causes. We've proven that. It's time for the industry to tell the truth and it's time for this administration to tell the truth," said attorney Lisa Johnson.
The Latkanich family hopes theirs is a test case.
"Hopefully that we can become whole and get on with life again and close this chapter, and also we can protect the environment and other people going through this," Bryan said.
This case won't be going before a jury anytime soon and is at least a year away.

Be thankful this case is not in Canada, where it would be 20 years minimum, to get to trial. It's all gag and settle up here, and if you refuse to gag and try to get to trial, the judges and your own lawyers punish you to hell.

But when it does, a lot of eyes will be focused here and the outcome could be far-reaching.

Refer also to: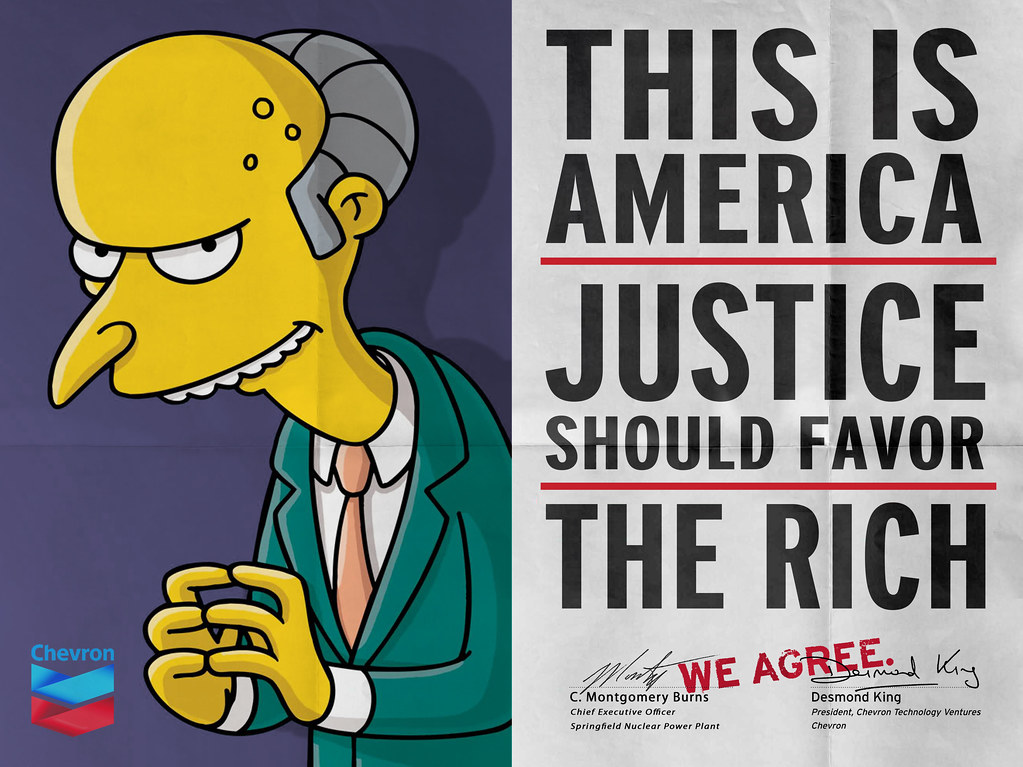 In Canada too!

Spoof ad: Chevron & Mr Burns: "We Agree" by Jonathan McIntosh 2010 Flickr
Chevron recently rolled out their ridiculous new "We Agree" advertising campaign. And they were immediately punk'd by political pranksters The Yes Men. Now the Yes Men have put out a call for more spoofs, mash-ups and remixes of Chevron's ads and TV commercials. This is my contribution.
… Chevron must think we're all stupid …

I think the arrogance of oil, gas and frac liars comes from them knowing they own many of our judges and most of our politicians, police, health authorities and regulators.

Pennsylvania Frac Lawsuit Latkanich v Chevron et. al., family contaminated with high levels benzene and toluene, PFAS "forever chemicals" and more. Brian Laktanich: "They gotta stop poisoning people"
Father blames Chevron as he and son Ryan battle illness, Welts, rashes after Ryan bathed in water that felt slippery. Ernst's water felt slippery too, caused burns, rashes, welts to her skin after Encana illegally injected 18 million litres of frac fluid into her community's drinking water aquifers. Cover-up, lies, law violations, threats, bullying, shaming by Alberta regulators to protect Encana, law-violating aquifer frac'er
"Nightmare Contaminant" Forever Chemicals (PFAS) Use in Drilling & Frac'ing in More than 1,200 Wells in Arkansas, Louisiana, Oklahoma, New Mexico, Texas, Wyoming between 2012 and 2020, including by Encana (in Canada too?). Records obtained from US EPA under Freedom of Information Act. Did Encana now Ovintiv inject PFAS into Rosebud and Pavillion drinking water aquifers?
Industrial Strength: How U.S. Govt Hid Fracking's Risks to Drinking Water, A pivotal EPA study provided rationale for exemptions that helped unleash the fracking boom. Science suppressed to protect industry interests
Why was a 2012 Health Canada Report, admitting significant health hazards and risks to groundwater and air from hydraulic fracturing, kept from the public?