Health Professionals, Scientists Release Analysis of 400 Peer-Reviewed Studies on Fracking along with Major Scientific Compendium Update Press Release by Concerned Health Professionals of New York, December 11, 2014
New Analysis and Science Answer Governor Cuomo's Concerns about Science: Studies Overwhelmingly Show Public Health Hazards and Risks
Health Professionals Urge Governor Cuomo to Enact 3-5 Year Moratorium on Fracking given Scientific Studies and Trends
Albany – Health professionals and scientists released two new, independent summations of the state of the science on the risks and harms of shale gas development and fracking. The two documents – which have both been sent to Governor Cuomo and Acting Health Commissioner Dr. Zucker – address speculation and concerns raised by Governor Cuomo this fall about the status of scientific inquiry into the impacts of shale gas development, decisively showing that independent, peer-reviewed studies overwhelmingly identify environmental and public health hazards and risks of shale gas development.
The first is a new working paper analysis from the energy science organization, PSE Healthy Energy. Covering a wide range of outcomes—air pollution, water contamination, and public health—the PSE Healthy Energy analysis is a statistical evaluation of the approximately 400 peer-reviewed studies to date on the impacts of fracking.
Among the key findings:
96% of all studies published on health impacts indicate potential risks or adverse health outcomes.

87% of original research studies published on health outcomes indicate potential risks or adverse health outcomes.

95% of all original research studies on air quality indicate elevated concentrations of air pollutants.

72% of original research studies on water quality indicate potential, positive association, or actual incidence of water contamination.

There is an ongoing explosion in the number of peer-reviewed publications on the impacts of shale or tight gas developments:

approximately 73% of all available scientific peer-reviewed papers have been published in the past 24 months, with a current average of one paper published each day.
Anthony Ingraffea, PhD, Dwight C. Baum Professor of Engineering, Cornell University, said, "In 2008*, when New York State first declared a moratorium on fracking, only six peer-reviewed papers on the health and environmental impacts had been published. Now there are more than 400, and the vast majority show a clear and present danger. What's more, many problems are unfixable by regulations of any kind. It was a wise governor who said 'wait' in 2008*. And it is wise to continue to wait."
[Corrected from 2009 to 2008, on December 13, 2014]
The second new document is the release of a major update to the Compendium of scientific, medical and media findings from Concerned Health Professionals of New York. This qualitative compilation, assembled by a team of scientists and health professionals working independently from PSE Healthy Energy, presents concise summations of key information in a manner accessible and useful to policymakers, journalists, researchers, and the general public. The original Compendium, first released on July 10, 2014, has served a critical role in the debate in New York and has been influential across the United States and overseas. This second edition, coming only five months after the first, includes descriptions of more than 80 new findings. Like the PSE statistical analysis, the CHPNY compendium is top-heavy with new studies and finds overwhelming evidence for risks and harms.
Concerned Health Professionals of New York asserted that the state's health review must likewise consider the weight of the evidence across many fields of study and the emerging trends in the data, and urged Governor Cuomo to protect the water and health of all New Yorkers by enacting a minimum three to five year moratorium on fracking.
Sheila Bushkin-Bedient, MD, MPH, of the Institute for Health and Environment at the State University of New York, and Concerned Health Professionals of New York, said, "In compiling hundreds of important scientific, medical, and media findings about drilling and fracking, we found many areas of serious concern to public health, water, the environment, and economic vitality. Science is still catching up to the rapid expansion of fracking, but what we know already is deeply disconcerting. The vast majority of studies show that fracking cannot be done safely, without harm to people and the environment."
Larysa Dyrszka, MD, a pediatrician and a co-founder of Concerned Health Professionals of New York, said, "The longer we look at fracking, the more trouble we find. There is no split debate within the scientific literature. Given the avalanche of recent studies showing inherent problems and harms of fracking, Governor Cuomo must enact a minimum three to five year moratorium in order to protect the water and health of all New Yorkers."
Fully referenced with well over four hundred citations, the Compendium covers sixteen compelling topics that emerge in reviewing the data, opening with sections on two of the most acute threats—air pollution and water contamination—and ending with medical and scientific calls for more study and transparency.
The introduction to the Compendium notes that research on complex, large-scale industrialized activities and the ancillary infrastructure takes time but that science is now catching up to the last decade's surge in unconventional oil and gas extraction. In summary, "A growing body of peer-reviewed studies, accident reports, and investigative articles is now detailing specific, quantifiable evidence of harm and has revealed fundamental problems with the entire life cycle of operations associated with unconventional drilling and fracking. Industry studies as well as independent analyses indicate inherent engineering problems including uncontrolled and unpredictable fracturing, induced seismicity, and well casing and cement impairments that cannot be prevented."
Commenting on the recent upsurge in important studies and data, the Compendium notes, "Earlier scientific predictions and anecdotal evidence are now bolstered by empirical data, confirming that the public health risks from unconventional gas and oil extraction are real, the range of adverse impacts significant, and the negative economic consequences considerable. Our examination of the peer-reviewed medical and public health literature uncovered no evidence that fracking can be practiced in a manner that does not threaten human health."
Yuri Gorby, PhD, the Blitman Chair in Environmental Engineering at Rensselaer Polytechnic Institute, who has investigated the impacts of drilling and fracking in Pennsylvania and West Virginia, said, "The rapidly emerging science on drilling and fracking increasingly confirms many earlier anecdotal reports of harm, including serious health ailments and water contamination. The science on fracking is still young. We are confident that another three to five years will seal the deal: fracking is an incorrigible danger to air, water, climate and health and cannot be regulated into safety."
The Compendium includes a foreword that summarizes the most recent trends in the data, and an executive summary that offers an overview of each of the sixteen categories of risks and harms identified.
Background:
Earlier this fall, Governor Cuomo speculated and raised concerns about the academic and scientific evidence, which the new scientific documents should allay.
On November 6, 2014, Cuomo said, "You can have credentialed academics on both sides—one side says they have more credentialed experts than the other side."
On October 22, 2014, Governor Cuomo said, "I'm not a scientist. Let the scientists decide. It's very complicated, very controversial, academic studies come out all different ways. Let the experts decide."
Contact: Kathleen Nolan, 845-417-6489
###
As of January 5, 2015, 426 studies: PSE Study Citation Database
This library, compiled by Physicians Scientists & Engineers for Healthy Energy (PSE), contains only peer-reviewed journal articles on shale gas and (tight) oil development.
This evolving list represents a near exhaustive survey of the scientific literature.
The Analysis of 400 Peer-Reviewed Studies on Fracking December 11, 2014
COMPENDIUM OF SCIENTIFIC, MEDICAL, AND MEDIA FINDINGS DEMONSTRATING RISKS AND HARMS OF FRACKING (UNCONVENTIONAL GAS AND OIL EXTRACTION) 2nd Edition released December 11, 2014, 1st released July 2014
[Refer also to: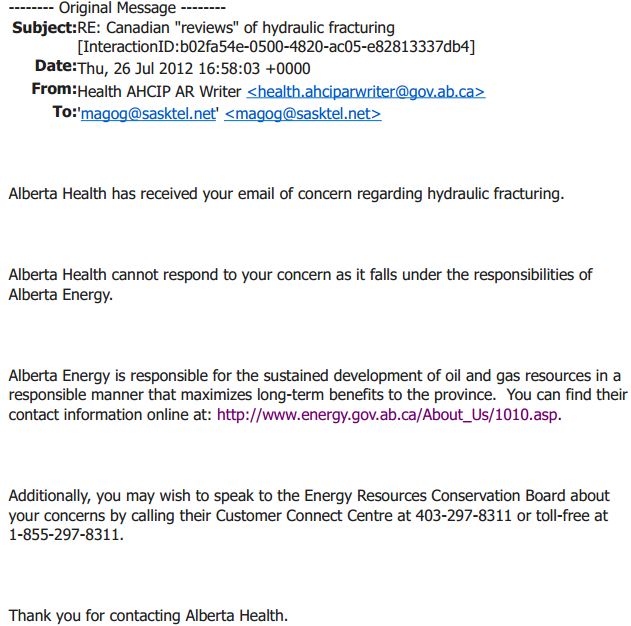 Click for more information on the above response by Alberta Health to Jessica Ernst's query on health harms caused by fracing