I know that some of you have been waiting a long time for the 5th edition. I join all my co-authors in saying that we ardently hope that this report will be useful to people in frontline communities who are fighting for their lives and land….
With more than 1,200 published studies now in the peer-reviewed literature, each edition of the Compendium requires greater time and labor to compile. The evidence contained in the second edition helped us ban fracking in New York in December 2014. At that time, there were 400 + published studies. Now, the number of studies has tripled—almost all of them are damning—and every study must be archived, compiled, summarized, and cross-referenced.
What we strongly suspected four years ago is now confirmed: Fracking is not safe for public health or the climate and cannot be made safe by any regulatory framework.
What we identified as potential risks in earlier editions has now become evidence of actual human harm. There is strong evidence that people in the United States who live near, or work at, fracking sites are exposed to toxic substances and are getting sick and/or injured.
In addition to the hundreds of updates and new entries, what's new to this 5th edition is a section on the dangers of LNG and a section on the unique risks that fracking poses to Florida, with its limestone bedrock and sole source aquifer. [Emphasis added]
warmly,
Sandra
Sandra Steingraber, PhD [Email sent March 13, 2018]
co-founder, Concerned Health Professionals, NY
Compendium of Scientific, Medical, and Media Findings Demonstrating Risks and Harms of Fracking (unconventional oil and gas extraction) – Fifth Edition by Concerned Health Professionals of NY and Physicians for Social Responsibility. March 2018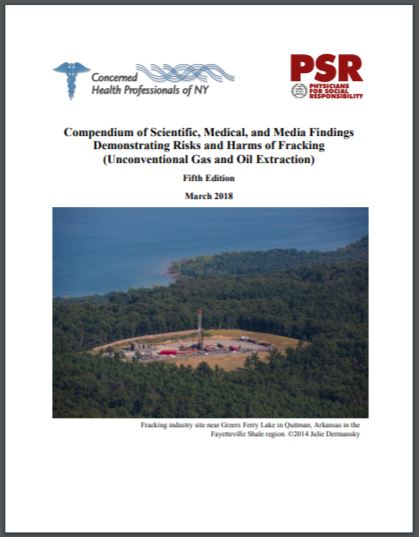 The 2018 edition of the Compendium of Scientific, Medical, and Media Findings Demonstrating Risks and Harms of Fracking updates the rapidly expanding evidence indicating harm to health from fracking and methane infrastructure.
The Compendium of Scientific, Medical, and Media Findings Demonstrating Risks and
Harms of Fracking (the Compendium) is a fully referenced compilation of the evidence
outlining the risks and harms of fracking. It is a public, open-access document that is housed on the websites of Concerned Health Professionals of NY (www.concernedhealthny.org) and Physicians for Social Responsibility (www.psr.org).
The four earlier editions of the Compendium have been used and referenced all over the world. The Compendium has been twice translated into Spanish: independently in 2014 by a Madrid based environmental coalition, followed by an official translation of the third edition, which was funded by the Heinrich Böll Foundation and launched in Mexico City in May 2016. The Compendium has been used in the European Union, South Africa, the United Kingdom, Australia, Mexico, and Argentina.
…
The Compendium is organized to be accessible to public officials, researchers, journalists, and the public at large. In addition, the Compendium is complemented by a fully searchable, near-exhaustive citation database of peer-reviewed journal articles pertaining to shale gas and oil extraction, the Repository for Oil and Gas Energy Research, that was developed by PSE Healthy Energy and which is housed on its website (https://www.psehealthyenergy.org/our-work/shale-gas-research-library/).
For this fifth edition of the Compendium, as prior ones, we collected and compiled findings from three sources: articles from peer-reviewed medical or scientific journals; investigative reports by journalists; and reports from, or commissioned by, government agencies. Peer-reviewed articles were identified through databases such as PubMed and Web of Science, and from within the PSE Healthy Energy database. Our entries briefly describe studies that document harm, or risk of harm, associated with fracking and summarize the principal findings.
The studies and investigations referenced in the dated entries catalogued in Compilation of Studies & Findings are current through December 2017.
In our review of the data, seventeen compelling themes emerged; these serve as the organizational structure of the Compendium. Readers will notice the ongoing upsurge in reported problems and health impacts, making each section top-heavy with recent data.
The Compendium focuses on topics most closely related to the public health and safety impacts of unconventional gas and oil drilling and fracking. We also include in this edition a section on risks from fracking infrastructure that focuses on
compressor stations, pipelines, silica sand mining operations, natural gas storage facilities, and, for the first time, the manufacture and transportation of liquefied natural gas (LNG).
Given the rapidly expanding body of evidence related to the harms and risks of unconventional oil and gas extraction, we plan to continue revising and updating the Compendium approximately every year. It is a living document, housed on the websites of Concerned Health Professionals of New York and Physicians for Social Responsibility. Read more about the process and scope of our work in the "About this Report" and the "Foreword to the Fifth Edition" sections of the Compendium.
…
Expanding Knowledge Base
Even as we compiled entries for this fifth edition, the authors of the Compendium continued to see evidence of, and appreciate, the rapid expanse of our knowledge base. The Compendium exists within a moving stream of data. As is revealed in the Repository for Oil and Gas Energy Research, the database of literature maintained by PSE Healthy Energy, the number of peer-reviewed publications relevant to assessing the environmental, socioeconomic, and public health impacts of shale gas development doubled between 2011 and 2012 and then doubled again between 2012 and 2013.8
More than 90 percent of these publications have been published since January 2013, with nearly one-quarter of the now more than 1,300 available studies published in 2017 alone.9
The available peer-reviewed literature reveals both potential and actual harms. Specifically, as demonstrated by PSE's statistical analysis of the body of scientific literature available from 2009 to 2015, 69 percent of original research studies on water quality found potential for, or actual evidence of, water contamination; 87 percent of original research studies on air quality found significant air pollutant emissions; and 84 percent of original research studies on human health risks found signs of harm or indication of potential harm.10
…
Earlier scientific predictions and anecdotal evidence are now bolstered by extensive empirical data, confirming that the public health risks from unconventional gas and oil extraction are real, the range of adverse environmental impacts wide, and the negative economic consequences considerable.
Our examination of the peer-reviewed medical and public health literature uncovered no evidence that fracking can be practiced in a manner that does not threaten human health. 
Despite this emerging body of knowledge, industry secrecy, and government actions and inaction continue to thwart scientific inquiry, leaving many potential problems—especially cumulative, long-term risks—unidentified, unmonitored, and largely unexplored. This problem is compounded by non-disclosure agreements, sealed court records, and legal settlements that prevent families and their doctors from discussing injuries and illness. 
[Courts serve polluting corporations and their enablers, the "regulators." Courts are the worst instigators of gag orders – judges "order" them on harmed citizens, including children, and order records vital to the public interest sealed.]

As a result, no quantitative and comprehensive inventory of human hazards yet exists. The long-entrenched problem of secrecy shows no sign of resolving. The identity of chemicals used in fracking fluids remains proprietary and lies beyond the reach of federal right-to-know legislation that governs other industries.

The nation's largest public database on chemicals used in fracking operations, FracFocus, operates on a voluntary basis, and, while 23 states have adopted it to serve as a de facto chemical disclosure registry, its data has, over time, become increasingly less, rather than more, comprehensive and transparent. As documented in a 2016 study by a Harvard University team, rates of withheld information and claims of trade secrecy have increased since FracFocus was first launched in 2011. (See footnotes 1082, 1083.)
The incomplete picture created by lack of transparency not withstanding, the evidence to date indicates that fracking operations pose severe threats to health, both from water contamination and from air pollution.
In the United States, more than two billion gallons of water and fracking fluids are injected daily under high pressure into the earth for the purpose of enabling oil and gas extraction via fracking or, after the fracking is finished, to flush the extracted wastewater down any of the 187,570 disposal wells across the country that accept oil and gas waste. (See footnote 542.) All of that two billion daily gallons of fluid is toxic, and it passes through our nation's groundwater aquifers on its way to the deep geological strata below where it demonstrably raises the risk for earthquakes. In the air around drilling and fracking operations and their attendant infrastructure, researchers have measured strikingly high levels of toxic pollutants, including the potent carcinogen benzene and the chemical precursors of ground-level ozone (smog). In some cases, concentrations of fracking-related air pollutants in communities where people live and work exceed federal safety standards. Research shows that air emissions from fracking can drift and pollute the air hundreds of miles downwind. (See footnotes 79-81.)
…
Emerging Trends
1) Growing evidence shows that regulations are simply not capable of preventing harm.
Studies reveal inherent problems in the natural gas extraction process, such as well integrity failures caused by aging or the pressures of fracking itself, and in the waste disposal process. These issues can lead to water contamination, air pollution with carcinogens and other toxic chemicals, earthquakes, and a range of environmental and other stressors inflicted on communities. Some of fracking's many component parts—which include the subterranean geological landscape itself—are simply not controllable. Compounding the innate unpredictability of the fracking process: the number of wells and their attendant infrastructure continue to proliferate, creating burgeoning cumulative impacts, and the size of individual wells keep growing. …
The injection of extreme volumes of fluids creates significant deformations in the shale that are translated upwards, a mile or more, to the surface. Along the way, these "pressure bulbs" can impact, in unpredictable ways, faults and fissures in the overlying rock strata, including strata that intersect fresh water aquifers. Such pressure bulbs may mobilize contaminants left over from previous drilling and mining activities. (See footnotes 224, 225.) No set of regulations can obviate these potential impacts to groundwater. Similarly, no set of regulations can eliminate earthquake risks. (See footnote 527.)
…
4) Public health problems associated with drilling and fracking include poor birth
outcomes, reproductive and respiratory impacts, cancer risks, and occupational health and
safety problems. Studies of mothers living near oil and gas extraction operations consistently find impairments to infant health, including elevated risks for low birth weight and preterm birth. A 2017 study that examined birth certificates for all 1.1 million infants born in Pennsylvania found poorer indicators of infant health and significantly lower birth weights among babies born to mothers living near fracking sites. A 2015 Pennsylvania study found a 40 percent increase in the risk of preterm birth among infants born to mothers who lived nearby active drilling and fracking sites. A 2014 Colorado study found elevated incidence of neural tube defects and congenital heart defects. New studies in Texas and Colorado likewise found associations with infant deaths, highrisk
pregnancies, and low birth weight. A 2017 pilot study in British Columbia found elevated
levels of muconic acid—a marker of benzene exposure—in the urine of pregnant women living near fracking sites. (See footnotes 434, 436, 450, 472.)
An emerging body of evidence, from both human and animal studies, shows harm to fertility and reproductive success from exposure to oil and gas operations, at least some of which may be linked to the dozens of known endocrine-disrupting chemicals used in hydraulic fracturing. (See footnotes 450, 1075, 1080, 1081.)
A 2017 Colorado study found higher rates of leukemia among children and young adults living in areas dense with oil and gas wells, while a Yale University research team reported that carcinogens involved in fracking operations had the potential to contaminate both air and water in nearby communities in ways that may increase the risk of childhood leukemia. The Yale team identified 55 known or possible carcinogens that may be released into air and water from fracking operations. Of these, 20 are linked to leukemia or lymphoma. (See footnotes 441, 1063.)
Other documented adverse health indicators among residents living near drilling and fracking operations variously include exacerbation of asthma as well as increased rates of hospitalization, ambulance runs, emergency room visits, self-reported respiratory problems and rashes, motor vehicle fatalities, trauma, drug abuse, and gonorrhea. Pennsylvania residents with the highest exposure to active fracked gas wells were nearly twice as likely to experience a combination of migraine headaches, chronic nasal and sinus symptoms, and severe fatigue. (See footnote 442.) Among workers, risks include both accidents and toxic exposures. On-the-job fatalities from accidents in the oil and gas industry are four to seven times the national average, with contract workers at the highest risk.
Occupational safety standards designed to minimize "the consequences of catastrophic releases of toxic, reactive, flammable, or explosive chemicals" in workplaces do not apply to the oil and gas industry due to legal exemptions.27
Fatality rates among workers in the oil and gas extraction sector in North Dakota were seven times the national fatality rates in this industry, which itself has more deaths from fires and explosions than any other private industry. An increase in workplace deaths has accompanied the fracking boom in West Virginia. On January 22, 2018, a natural gas rig exploded in southeastern Oklahoma, killing five workers. As we go to press, the U.S. Chemical Safety Board has begun a full investigation into this fatal explosion, in which the well's blowout preventer failed, leading to an uncontrolled release of natural gas during a pause in the drilling process.28 Between 2011 and 2016, at least 60 workers at oil and gas drilling sites in Oklahoma were killed on the job.
A new study from the University of Tennessee found that

workers are exposed to hazardous and carcinogenic air pollutants from multiple sources, with chemical storage tanks presenting the highest cancer risk.
Benzene has been detected in the urine of well-pad workers in Colorado and Wyoming. The National Institute for Occupational Safety and Health named oil and gas extraction industry workers among those at risk for silicosis, an incurable lung disease caused by exposure to silica dust, from the silica sand that is used extensively in fracking operations. (See footnotes 377, 415, 423.)
…
7) Fracking infrastructure poses serious potential exposure risks to those living nearby.
Drilling and fracking activities are relatively short-term operations, but compressor stations are semi-permanent facilities that pollute the air 24 hours a day as long as gas is flowing through pipelines. Day-to-day emissions from compressor stations are subject to highly episodic variations due to pressure changes and maintenance-related deliberate releases and can create periods of potentially extreme exposures. Pipelines themselves can freeze, corrode, break, and leak. Between January 2010 and November 2017, according to data from the federal Pipeline and Hazardous Materials Safety Administration, pipeline incidents killed 100 people, injured 500, prompted the evacuation of thousands, and leaked more than 17 billion cubic feet of methane.30 Low-pressure flow lines alone are responsible for more than 7,000 spills and leaks since 2009. (See footnote 821.)
In the Upper Midwest, Wisconsin residents living near silica sand mining operations that service the fracking industry reported dust exposure and respiratory problems. Silica dust is a known cause of silicosis and lung cancer.
Fracking infrastructure in the United States also includes 400 underground gas storage facilities in 31 states, with scant federal oversight and aging equipment. The four-month leak at the nation's fifth largest facility, Aliso Canyon in southern California, between October 2015 and February 2016 resulted in exposures of large suburban population to an uncontrollable array of chemicals. With a release of nearly 100,000 metric tons of methane, it became the worst methane leak in U.S. history. (See footnote 873.)
A major pollution source even before the blow-out, Aliso Canyon exposed residents in the region to benzene spikes, high ongoing odorant releases, hydrogen sulfide at levels far above average urban levels, and many other contaminants of concern. More than 8,000 households were evacuated and relocated, with residents reporting multiple symptoms, including headaches, nosebleeds, eye irritation, and nausea.
Contaminated house dust became a contentious issue.
Measurement of airborne contaminants during the leak was intermittent and contained major gaps. The Aliso Canyon facility reopened on July 31, 2017. Four months later, a gasket failure led to a methane leak, and at least 15 residents noticed foul odors. As of early 2018, more than two years after the original blow-out, the Aliso Canyon facility operates at only 28 percent of its storage capacity, and the community still awaits the initiation of a mandated health study, which, independent researchers say, must include attention to sub-chronic, cumulative exposures.
As we go to press, the California Council of Science and Technology has released a 910-page report analyzing the safety risks of all 14 facilities in the state that store gas in depleted oil fields.
Among its findings: gas companies do not disclose the chemicals they are pumping underground; state regulators lack necessary information to assess risks; and many wells servicing the storage fields are 60 to 90 years old with no regulatory limit to the age of the well.31
…
LNG is purified methane in the form of a bubbling, super-cold liquid. It is created through the capital-intensive, energy-intensive process of cryogenics and relies on evaporative cooling to keep the methane chilled during transport. Explosive and with the ability to flash-freeze human flesh, LNG creates acute security and public safety risks. Its greenhouse gas emissions are 30 percent higher than conventional natural gas due to refrigeration, venting, leaks, and flaring, used to control pressure during regasification.
The need to strip volatile impurities such as benzene from the gas prior to chilling it also makes LNG liquefaction plants a source of toxic air pollutants.

(See footnotes 910-26.)

8) Drilling and fracking activities can bring naturally occurring radioactive materials to
the surface. Exposure to increased radiation levels from fracking materials is a risk for both workers and residents. A study demonstrated that radon levels in Pennsylvania homes rose since the advent of the fracking boom, and buildings in heavily drilled areas had significantly higher radon readings than areas without well pads—a discrepancy that did not exist before 2004. University of Iowa researchers documented a variety of radioactive substances including radium, thorium, and uranium in fracking wastewater and determined that their radioactivity increased over time; they warned that radioactive decay products can potentially contaminate recreational, agricultural, and
residential areas.

The New York State Department of Environmental Conservation's "Findings Statement" noted that naturally occurring radioactive materials (NORM) are brought to the surface "in the cuttings, flowback water and production brine. . . . [T]he build-up of NORM in pipes and equipment has the potential to cause a significant adverse impact because it could expose workers handling
pipes, for cleaning or maintenance, to increased radiation levels." (See footnotes 333, 347-371.) 

9) The risks posed by fracking in California are unique.
Hydraulic fracturing in California is practiced differently than in other states, making its risks different, as well. Wells are more likely to be vertical rather than horizontal, and the oil containing rock layer is shallower. Hence, much less water is used per well for fracking as compared to other states. However, the fracking fluid used is much more chemically concentrated, the fracking zones are located closer to overlying aquifers, and the risk of a fracture reaching groundwater is higher. California is the only state that allows fracking waste to
be held in unlined, open pits, which creates risks for both air and groundwater contamination. As of January 2017, 1,000 such pits were operational, with 400 lacking required state permits. The vast majority are located in Kern County.32 In 2014, the discovery that companies had, for years, been wrongly allowed to inject fracking waste directly into California's freshwater aquifers led to the closing of 175 disposal wells. Impacts on drinking water are unknown. (See footnotes 144,
145.)

Most new fracking operations in California take place in areas with a long history of oil
extraction. A high density of old and abandoned wells provides potential leakage pathways, should fractures intersect with them. And although fracking requires considerably less water per well in California, it takes place disproportionately in areas of severe water shortages and can compete with municipal and agricultural needs for freshwater.

The combination of ongoing drought and lack of disposal options has resulted in the diversion of fracking wastewater to farmers for irrigation of crops, raising concerns about contaminated water potentially affecting food crops and draining into groundwater. Investigative reports in 2015 revealed that Chevron Corporation piped 21 million gallons of recycled oil and gas wastewater per day to farmers for crop irrigation. Tests showed the presence of several volatile organic  compounds, including acetone, which is linked, in lab studies, to kidney, liver, and nerve damage. (See footnotes 675-677.)

These factors project fracking's impacts onto geographically distant populations, especially in cases when wastewater is diverted for use in crop irrigation and livestock watering. Food is a troubling possible exposure route to fracking chemicals, in part because so little is known about these chemicals. According to a hazard assessment of chemicals used in California oil drilling operations that reuse wastewater for livestock watering and other agricultural purposes, more than one-third of the 173 chemicals used are classified as trade secret. Their identities are entirely unknown. Of the remainder, ten are likely carcinogens, 22 are toxic air contaminants, and 14 had no toxicity data available. Estimating risks to consumers of the food produced with wastewater irrigation is thus not possible. (See footnote 670.)

The other area in California where fracking is concentrated, the Los Angeles Basin, is located directly under one of the most populous cities in the world. At least 1.7 million people in Los Angeles live or work within one mile of an active oil or gas well. California does not currently limit how close to residences or schools drilling and fracking activities can be conducted. A new study shows that many of the same chemicals used to stimulate wells during fracking operations are also used in urban oil wells located in densely populated areas of southern California. (See footnote 150.)

…

11) The economic instabilities of fracking further exacerbate public health risks.

Real-life challenges to the industry's arguments that fracking is good business are increasingly apparent. Independent economic analyses show that the promise of local job creation has been greatly exaggerated, with many jobs going to out-of-area workers. Reports show that oil and gas jobs will increasingly be lost to automation.
With the arrival of drilling and fracking operations, communities have experienced steep increases in rates of crime, including sex trafficking, rape, assault, drunk driving, drug abuse, and violent victimization—all of which carry public health consequences, especially for women.
Social costs include road damage, failed local businesses, and strains on law enforcement and municipal services. School districts report increased stress. Economic analyses have found that drilling and fracking threaten property values and can diminish tax revenues for local governments. Additionally, drilling and fracking pose an inherent conflict with mortgages and property insurance due to the hazardous materials used and the associated risks.
Throughout its history, the tempo of drilling and fracking operations in the United States has fluctuated markedly. Since 2014, when oil prices dropped precipitously, oil and gas operations have struggled to make a profit. In March 2016, the number of working gas rigs fell to its lowest level since record-keeping began in 1987. Downturns, however, do not necessarily translate into less risk and exposure to harm for those living in frontline communities. In spite of fewer drill rigs, injections of fracking wastewater increased in Ohio by 15 percent in 2015, likely because operators began drilling wells with longer lateral pipelines to access more gas or oil per well, generating more waste even as the pace of drilling slowed. (See footnote 188.) Indeed, according to data provided to investors, the average amount of water used to frack a single well has more than doubled between 2013 and 2016 due to longer laterals and more intensive fracking.
Further, orphaned wells left behind by industry during energy price downturns or after bankruptcy are poorly monitored and, as conduits for gas and fluid leakage, become health and safety threats. Some have exploded.

39
In 2017, the rate of active shale gas drilling in the United States was, once again, on the
upswing.40 In spite of this uptick, output from two major basins has fallen, likely because easy to-access gas has already been extracted.41 Because the production of individual wells declines precipitously over the course of a few years, operators must continue drilling new wells at a rapid pace to maintain output.
The unstable economic fundamentals of the industry as a whole have multiple consequences for public health and safety as cumulative impacts mount from wells, both old and new. Weak prices, difficulty generating positive cash flow, short-lived well production, and falling output have led drilling companies to reduce the value of their assets by billions of dollars. Concerns arise that these losses will lead to large-scale firings, cutbacks in safety measures, and landscapes pock-marked by hastily abandoned wells in need of remediation and long-term monitoring.
12) Fracking raises issues of environmental justice.
Inequalities in opportunities to participate in environmental decision-making and uneven impacts of environmental hazards along racial and socioeconomic lines are signature issues of environmental justice. Although not yet fully characterized, emerging evidence reveals that, in several regions where fracking is practiced, well pads and associated infrastructure are disproportionately sited in non-white and low-income communities.
A pattern of racially biased permitting was documented in the heavily fracked Eagle Ford area of southern Texas where a public health research team showed that disposal wells for fracking wastewater were more than twice as common in areas where residents are more than 80 percent people of color than in majority white communities.42 Since 2007, more than 1,000 waste disposal wells have been permitted in the Eagle Ford Shale region where groundwater is the primary source of drinking water.43 Another recent study looked at economic disparities in the intensely drilled northern Texas city of Denton and found that those benefiting most from Denton's mineral wealth tended to live elsewhere, while the environmental burdens remained local and fell hardest on those who did not have a voice in mineral-leasing decisions. "Nonmineral owners are essentially excluded from the private decisions, as the mineral owners not only receive the direct monetary benefits, but also hold a great deal of state-sanctioned power to decide if and how [shale gas development] proceeds."44
Poor communities of color are disproportionately affected by drilling activities in California. Of Los Angeles residents living within a quarter mile of a well, more than 90 percent are people of color. In November 2015, civic groups led by youth sued the city of Los Angeles for racial discrimination based on allegations of a preferential permitting process and unequal regulatory enforcement for oil wells located in neighborhoods of color. Together, these differential practices have resulted in a higher concentration of wells with fewer environmental protections in black and Latino communities.45 South Coast Air Quality Management District records show that oil drilling operations in Los Angeles neighborhoods released into the air 21 million pounds of toxic chemicals between June 2013 and February 2017. These emissions included crystalline silica,
hydrofluoric acid, and formaldehyde.46 Across California, gas-fired power plants are
disproportionately located in disadvantaged communities, as classified by an environmental justice screening tool developed by the state Office of Environmental Health Hazard Assessment.47
Another study found a higher concentration of drilling and fracking operations in impoverished communities throughout the state of Pennsylvania as well as in localized areas of West Virginia, but it did not find differences with respect to race. "The results demonstrate that the environmental injustice occurs in areas with unconventional wells in Pennsylvania with respect to the poor population."48 These findings are supported by census tract data in western Pennsylvania showing that among nearly 800 gas wells, only two were drilled in communities where home values exceeded $200,000.49
13) Health professionals are increasingly calling for bans or moratoria on fracking, based on a range of potential health hazards and as reviews of the data confirm evidence for harm.
In May 2015, the Medical Society of the State of New York passed a resolution recognizing the potential health impacts of natural gas infrastructure and pledging support for a governmental assessment of the health and environmental risks associated with natural gas pipelines. (See footnote 856.) The American Medical Association (AMA) adopted a similar resolution that supports legislation requiring all levels of government to seek a comprehensive Health Impact Assessment regarding the health and environmental risks associated with natural gas pipelines. (See footnote 855.)
In May 2016, Physicians for Social Responsibility called for a ban on fracking. (See footnote 1079.) In July 2016, the UK health professional organization Medact released an updated assessment of the potential health impacts of shale fracking in England, concluding that the United Kingdom should abandon its policy to encourage shale gas extraction, and urged an "indefinite moratorium" on fracking. (See footnote 1077.) In October 2016, a group of health care professionals in Massachusetts called for an immediate moratorium on major new natural gas infrastructure until the impact of these projects on the health of the communities affected can be adequately determined through a comprehensive Health Impact Assessment. (See footnote 1074.) The group noted that the operation of natural gas facilities risks human exposures to toxic, cancer-causing, and radioactive pollution due to the presence of naturally co-occurring contaminants, toxic additives to the hydraulic fracturing process used to produce much of the country's natural gas supply, and through the operation of transmission pipelines.
Also in 2016, in a unanimous vote of the society's 300-member House of Delegates, the
Pennsylvania Medical Society called for a moratorium on new shale gas drilling and fracking in Pennsylvania and an initiation of a health registry in communities with pre-existing operations. (See footnotes 1071, 1072). In February 2017, health officials in Los Angeles called for a comprehensive health study in the aftermath of the massive methane leak in Aliso Canyon. (See footnote 1068.)
Concerned Health Professionals of New York, which provided scientific and medical guidance for the successful effort to ban fracking in New York State, has inspired affiliations of likeminded public health scientists and health care providers that have been advocating for moratoria or bans on fracking in various other regions. These include Concerned Health Professionals of Maryland, Concerned Health Professionals of Ireland, and Concerned Health Professionals of Neuquén, Argentina. Other U.S. medical groups calling for bans or moratoria include Chesapeake PSR and the Alliance of Nurses for Healthy Environments.
…
Conclusion
All together, findings to date from scientific, medical, and journalistic investigations combine to demonstrate that fracking poses significant threats to air, water, health, public safety, climate stability, seismic stability, community cohesion, and long-term economic vitality. Emerging data from a rapidly expanding body of evidence continue to reveal a plethora of recurring problems and harms that cannot be sufficiently averted through regulatory frameworks. There is no evidence that fracking can operate without threatening public health directly or without imperiling climate stability upon which public health depends. In the words of investigative journalist Andrew Nikiforuk:
Industry swore that its cracking rock technology was safe and proven, but science now tells a different story. Brute force combined with ignorance … has authored thousands of earthquakes … [and] called forth clouds of migrating methane…. The science is complicated but clear: cracking rock with fluids is a chaotic activity and no computer model can predict where those fractures will go. The regulatory record shows that they often go out of zone; extend into water; and rattle existing oil and gas wells, and these rattled wells are leaking more methane.1123
We close with an observation by Maryland physician Judy Stone, MD, whose recent essay in Forbes speaks for all who have contributed to this Compendium:
Fracking profits go to private industry but the public—families and communities—bear the costs of the many health complications from the drilling. There is growing evidence of a variety of health problems being associated with fracking.
Common sense dictates that drinking and breathing cancer-causing agents will take their toll.
The correlation is too strong to ignore, especially when we have other, cleaner energy options. For our safety and that of future generations, we should not allow the new administration to sell off public lands, nor allow drilling on our land, and should ban fracking completely.1124 [Emphasis added]
Conclusion references:
1123 Nikiforuk, A. (2016, October 16). Acceptance speech, USA National Science in Society Journalism Awards reception, San Antonio, Texas. Retrieved from https://ernstversusencana.ca/andrew-nikiforuk-wins-usa-national-science-in-society-award-slick-water-nasws-awards-honor-outstanding-investigative-interpretive-reporting-sciences-their-impact-for-good-and-ill/
1124 Stone, J. (2017, February 23). Fracking is dangerous to your health—here's why. Forbes. Retrieved from https://www.forbes.com/sites/judystone/2017/02/23/fracking-is-dangerous-to-your-health-heres-why/#82aa5c75945f
***
'The Harms of Fracking': New Report Details Increased Risks of Asthma, Birth Defects and Cancer, The most authoritative study of its kind reveals how fracking is contaminating the air and water – and imperiling the health of millions of Americans by Justin Nobel, March 13, 2018, Rolling Stone
Wind farms on the horizon behind oil tanks in Kingsman County Kansas that are leaking. Julie Dermansky
"Our examination…uncovered no evidence that fracking can be practiced in a manner that does not threaten human health," states a blistering 266-page report released today by Concerned Health Professionals of New York and the Nobel Peace Prize-winning group, Physicians for Social Responsibility.
Drawing on news investigations, government assessments and more than 1,200 peer-reviewed research articles, the study finds that fracking – shooting chemical-laden fluid into deep rock layers to release oil and gas – is poisoning the air, contaminating the water and imperiling the health of Americans across the country.
"Fracking is the worst thing I've ever seen," says Dr. Sandra Steingraber, one of the report's eight co-authors, a biologist who has worked as a public health advocate on issues like breast cancer and toxic incinerators. "Those of us in the public health sector started to realize years ago that there were potential risks, then the industry rolled out faster than we could do our science." In recent years, the practice has expanded from rural lands to backyards, farms, and within sight of schools and sources of drinking water. "Now we see those risks have turned into human harms and people are getting sick," says Steingraber. "And we in this field have a moral imperative to raise the alarm."
The researchers behind the report, titled "Compendium of Scientific, Medical and Media Findings Demonstrating Risks and Harms of Fracking," are quick to point out that fracking, or "unconventional oil and gas extraction," extends far beyond the idea of a single well obediently gurgling up natural gas or oil. Fracking is part of a complicated extraction process with a spider web of infrastructure that extends many miles from the well pad. At virtually every turn, the process contains public health hazards. Residents living near an active site breath air laced with carcinogens, including benzene and formaldehyde, and research has shown an increase risk of asthma, a decrease in infant health and worrisome effects on the development of a fetus, such as preterm births and birth defects. "Pregnant women have a major risk, not only themselves but they're carrying a fetus whose cells are multiplying continuously," says Dr. Lynn Ringenberg, a retired Army colonel and the president of Physicians for Social Responsibility. "If those cells get hit by some toxic chemical from fracking, it may not manifest itself for years."
Fracking sites have caught fire – others have exploded, as happened last month in Belmont County, Ohio – torching chemicals whose dangerous components local fire chiefs may be surprised to learn are an industry secret.
Communities have long feared the fracking process can contaminate underground aquifers with hazardous chemicals and research in Texas and Pennsylvania has now confirmed this to be the case.
Fracked gas flows via pipelines, whose leaks and explosions are now well-documented. Piped gas must continuously be re-pressurized at compressor stations which have been documented to emit methane, fine particulate matter, as well as benzene, formaldehyde and other known human carcinogens. Report co-author Dr. Kathleen Nolan, a pediatrician and bioethicist who has examined numerous people sickened by fracking-related contamination, describes the harrowing case of one western Pennsylvania family.
"They would see a yellow fog, kind of like a chemical mist coming from the compressor station," says Nolan. "Their two youngest children, nine and 11, started having tics where their muscles would go into spasms, those spasms would persist even when they were asleep."
Then there's the issue of the waste that flows back up a fracked well. Although the industry calls it "brine" or "produced water," this material contains carcinogenic chemicals, can be flammable and, in much of the country, also contains radioactive elements from deep below the surface. Occasionally, this toxic waste is used to frack new wells. Often, it is hauled by trucks that must weave around narrow local roads to sites called injection wells, where this hazardous slurry is injected deep into the earth, a process that has repeatedly been linked to earthquakes. In 2016, in Barnesville, Ohio a truck spilled approximately 5,000 gallons of fracking wastewater when it crashed beside a stream that leads into one of the village's main reservoirs.
Last November a truck carrying fracking waste overturned near Coolville, Ohio and emptied fluid into a culvert that connects to a creek. Residents were prepared; they'd been living for years with the menace of injection wells, including what resident Susie Quinn calls a "chemical factory like smell" around their homes. Like many in the region, she spends free time researching risks the industry and her own government have failed to protect her against. More than a week after the frack truck overturned, she visited the site to take samples, but forgot gloves. "About an hour and twenty minutes later all the fingers on my left hand were burning underneath my fingernails," says Quinn. Tests later revealed the culvert was loaded with barium, as well as strontium, whose isotopes can be radioactive.
In West Virginia and Pennsylvania, radioactive fracking waste is being processed at facilities like Antero Clearwater in Doddridge County, West Virginia, which claims it can produce water clean enough to be discharged back into nearby local waterways. But Antero's website contains scant details on how this is done, and radioactivity experts, like Dr. Marvin Resnikoff, a nuclear physicist and international consultant on radioactive waste, remain concerned.
"The radioactive levels at the Marcellus shale formation are off the charts," he says, referring to the gas-rich layer that underlies much of West Virginia and Pennsylvania.
"What is radioactive underground is still radioactive when it's brought to the surface," says Resnikoff. "This is not alchemy where radioactivity disappears." A tour last February with local residents through heavily-fracked Doddridge County revealed Antero's facility, located just six miles from Doddridge County High School, was emitting tremendous amounts of steam that drifted away in the wind. "There may be radioactive elements in the steam," says Resnikoff.
The "Harms of Fracking" report also highlights astonishing risks for an often overlooked group in the public health discussion on fracking: The workers. Fracking has created 1.7 million jobs, says the U.S. Chamber of Commerce, and the industry has potentially exposed workers on the ground to extremely dangerous conditions.
"These are killing jobs," says report co-author Dr. Sandra Steingraber.
"We have actually detected benzene in the urine of workers at levels known to raise the risks of leukemia." Dr. Pouné Saberi, a Philadelphia-based occupational and environmental medicine physician says workers face a wealth of risks, but their injuries rarely show up in the data, for a variety of reasons. They often work as non-unionized sub-contractors, allowing parent oil and gas companies to avoid reporting injuries, and the oil and gas industry is exempt from certain worker safety rules.
Also, doctors and major Pennsylvania health care providers that service the industry, potentially a valuable source of worker data, says Saberi, rarely mention anything negative about fracking. "There is a code of silence that exists," she says. Plus,

workers themselves rarely report injuries or hazards, for fear of losing their jobs.
"If you asked too many questions, you were labeled a tree-hugger and you were gone," says former fracking waste truck driver Randy Moyer, who describes his stomach-turning experience on a website called Shalefield Stories. "Every day was different," he writes. "Some days I'd carry mud, but most days I'd haul wastewater from fracked wells…It was an endless parade of trucks on those back roads." Moyer was never told the contents of the waste he was hauling. At the well-site, waste was kept in a makeshift pit, and when loading his truck Moyer often had to climb in and squeegee out material. To avoid getting their boots wet, "some guys would go in there in their bare feet." Moyer was given no safety gear, aside from a flame-resistant coat, because, he explains, "If the public sees guys in hazmat suits they're going to start to ask questions." As one would anticipate from a human being with direct exposure to radioactive waste, Moyer became quite sick.
"My tongue, lips, and limbs all swelled up," he writes. "I've had three teeth snap off. The first two broke while I was eating garlic bread and spaghetti. I have burning rashes all over my body that jump from place to place." Moyer has seen over 40 specialists across West Virginia and Pennsylvania. "One told me that I had bed bugs. Another said it must be a food allergy."
…
But these glowing [falsified?] numbers rarely take into account the fracking boom's epic toll on public health, the American landscape and the world's climate. In fact, against a mounting pile of personal testimony and scientific data, the industry continues to claim it is doing nothing wrong. "The science clearly indicates that, with an emphasis on prevention…energy production can and is being done right, and that hydraulic fracturing is not leading to widespread, systemic effects to drinking water resources," Stephanie Wissman, an Executive Director with the American Petroleum Institute, stated at a recent meeting of the Delaware River Basin Commission. "It's sad," Marcellus Shale Coalition spokesperson Erica Clayton Wright wrote in an email, "that some shoddy so-called 'studies' focused on attacking American energy and the tens of thousands of hardworking Pennsylvanians that work across the industry are the subject of fake news stories like these."
But the science on fracking is getting more difficult to dismiss.
"With fracking," says Steingraber, "we had six peer reviewed articles in 2009 pointing to possible public health risks. By 2011 we had 42. Now there are more than 1200."
Some states are indeed listening to the scientists. New York, Maryland and Vermont have banned fracking, and even Florida's state legislature is seriously considering a ban. "The chickens are going to come home to roost," says Ted Auch, an environmental scientist with FracTracker Alliance. He believes that as negative impacts on health and water supplies continue to stack up, the fracking industry will have an increasingly difficult time gaining investors, an issue highlighted in a December article in the Wall Street Journal.
"Shale has been a lousy bet for most investors," the article states, referring to the deposits where fracking typically occurs. Within the past decade, says the Journal article, "energy companies…have spent $280 billion more than they generated from operations on shale investments."
As a result, many companies have taken extreme measures to politically protect their investments. Last month, Wyoming became the third state, after Iowa and Ohio, to introduce a bill criminalizing protest activities like the ones undertaken at Standing Rock.
"It is a war," says Tina Smusz, a retired emergency medicine and palliative care physician and Virginia-based member of Physicians for Social Responsibility. 

"And in this war one of your most valuable weapons is science."
[Emphasis added]
***
Related:
2018 01 25: Queensland Australia: Another new study shows unconventional gas industry pollution: Air Pollution and human health hazards: a compilation of air toxins acknowledged by gas industry in Queensland's Darling Downs. As expected and as usual, industry name calls the scientist, Geralyn McCarron, "activist" to try to discredit her and her alarming paper
2017 11 07: UPDATED! Synergy Alberta Strikes BC! 17 groups, including Centre Policy Alternatives, Council of Canadians and BC Tap Water Alliance, join call for frac regulations! Calling for regulations gives industry social licence to frac. Has Synergy finally conquered Will Koop? Refer also to: 
2017 11 29: BC Tap Water Alliance No Longer a Signatory with CCPA Calling for Frac Regulations Under Guise of Calling for Public Inquiry of Frac'ing in BC. Thank you Will Koop, for withdrawing from and saying "NO!" to Synergy Alberta!
2016 11 29: Compendium 4.0 Released, More than 900 Studies Showing Overwhelming Harms Caused by Unconventional Oil & Gas Development. Doctors Call for Halt to Fracking
All together, findings to date from scientific, medical, and journalistic investigations combine to demonstrate that fracking poses significant threats to air, water, health, public safety, climate stability, seismic stability, community cohesion, and long-term economic vitality. Emerging data from a rapidly expanding body of evidence continue to reveal a plethora of recurring problems and harms that cannot be averted or cannot be sufficiently averted through regulatory frameworks. There is no evidence that fracking can operate without threatening public health directly or without imperiling climate stability upon which public health depends. In the words of investigative journalist Andrew Nikiforuk:
Industry swore that its cracking rock technology was safe and proven, but science now tells a different story. Brute force combined with ignorance … has authored thousands of earthquakes … [and] called forth clouds of migrating methane…. The science is complicated but clear: cracking rock with fluids is a chaotic activity and no computer model can predict where those fractures will go. The regulatory record shows that they often go out of zone; extend into water; and rattle existing oil and gas wells, and these rattled wells are leaking more methane.923
And in the words of a new commentary about fracking in the American Journal of Public Health:
Mounting empirical evidence shows harm to the environment and to human health … and we have no idea what the long-term effects might be…. Ignoring the body of evidence, to us, is not a viable option anymore.924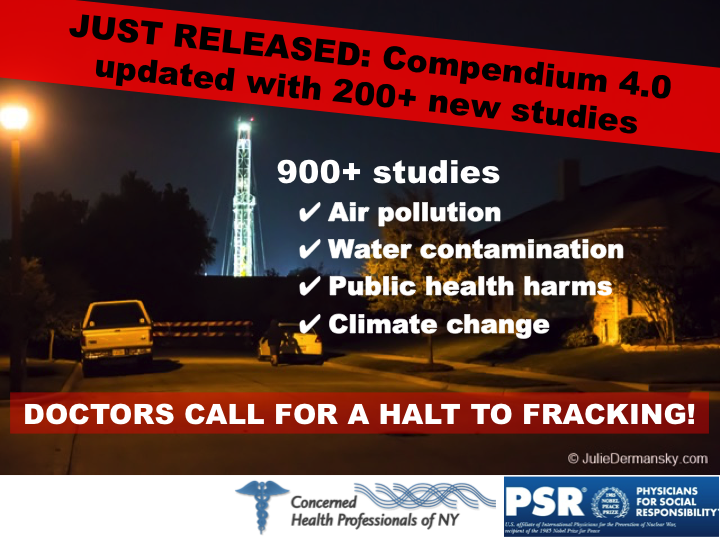 2015 10 15: COMPENDIUM 3: SCIENTIFIC, MEDICAL, AND MEDIA FINDINGS DEMONSTRATING RISKS AND HARMS OF FRACKING (unconventional oil and gas), Updated with more than 100 new studies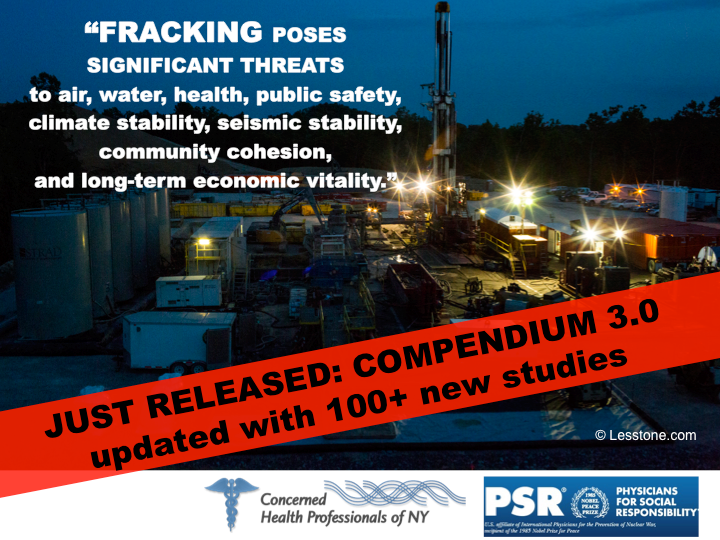 2014 12 12: State of Science on Harms by Fracking to Public Health and Water: Health Professionals, Scientists Release Analysis of 400 Peer-Reviewed Studies on Fracking along with Major Scientific Compendium Update
2014 07 10: Compendium of scientific, medical, and media findings demonstrating risks and harms of fracking (unconventional gas and oil extraction)

2014 12 05: How Petro Giants and Regulators Fend Off Lawsuits: The Nightmare of Alberta Landowner Ann Craft: Fracked, then Poisoned, then Legal Advice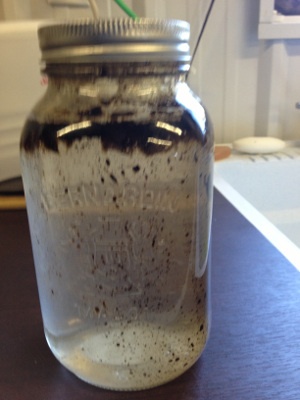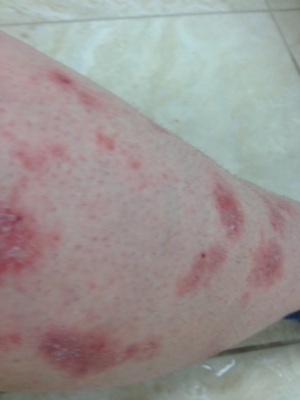 2013 09: AER's outside counsel in the Ernst lawsuit, Glenn Solomon, is recorded (released publicly Dec 2014) advising on companies using gag orders to shut up families with water contamination so that companies are free to go down the street and do it again.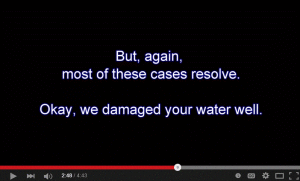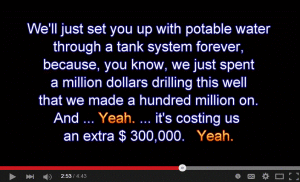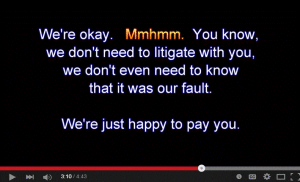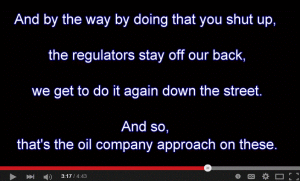 2013 11 13: Fracking the Hawkwoods near Calgary, dead cows and…RADIATION?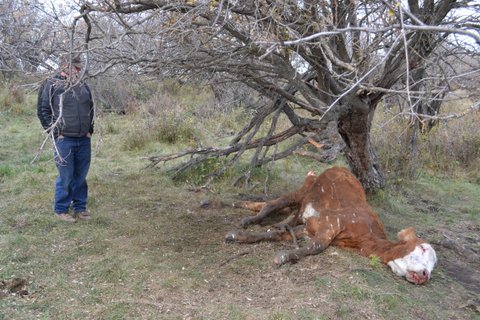 2013 06 16: Ernst publicly releases gas migration paper: Brief review of threats to Canada's groundwater from the oil and gas industry's methane migration and hydraulic fracturing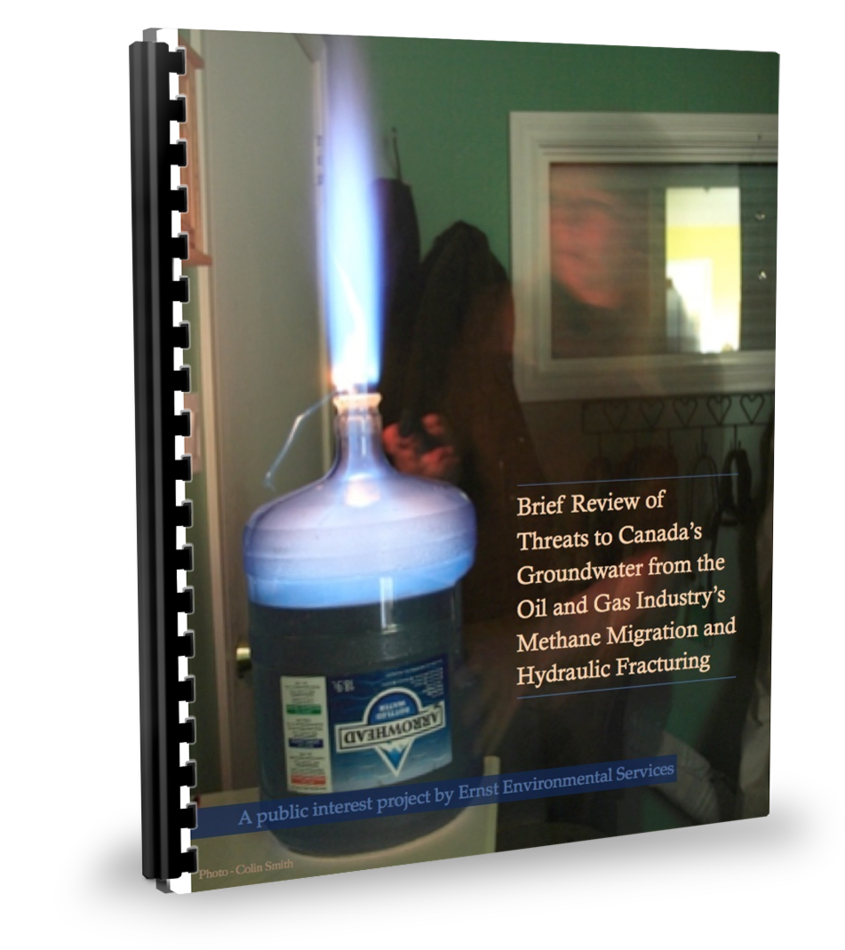 2012 10 12: Jessica Ernst presents at Mount Royal University: The Great Getaway: Secrets of a Frac Cover-Up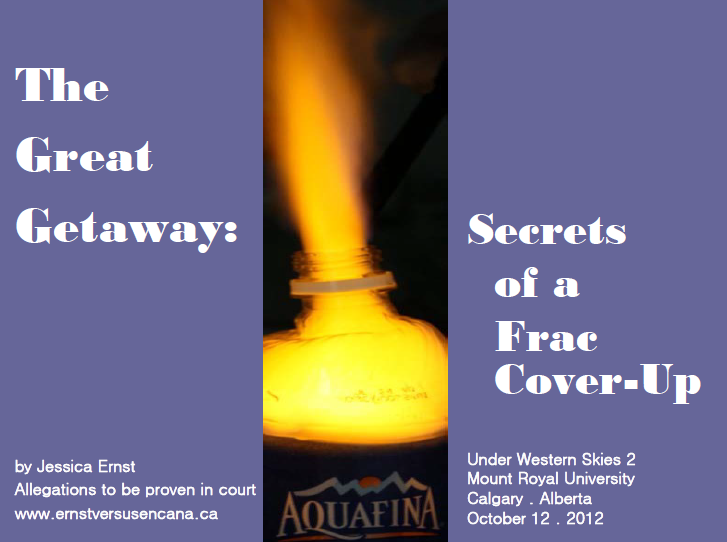 2012: Earlier submissions Ernst's gas migration paper:
2012 01 15: The Québec Évaluation Environnementale Stratégique (ÉES) sur le Gaz de Schiste
2012 01 11: Ernst gas migration paper submitted to The New York Department of Environmental Conservation
2006: Firewater Ernst's drinking water: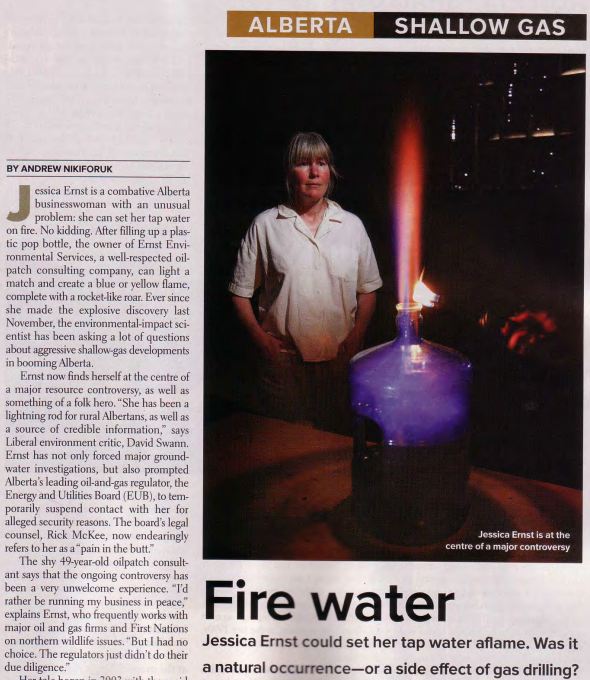 2006 05 17: Bruce Jack Private water well (contaminated with industry's methane and ethane) explosion at Spirit River, Alberta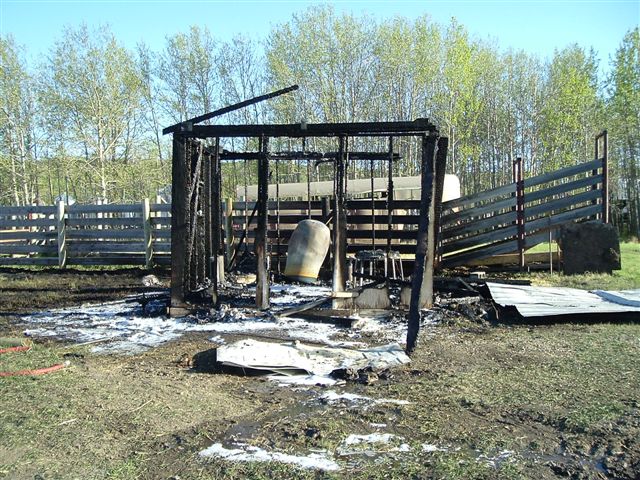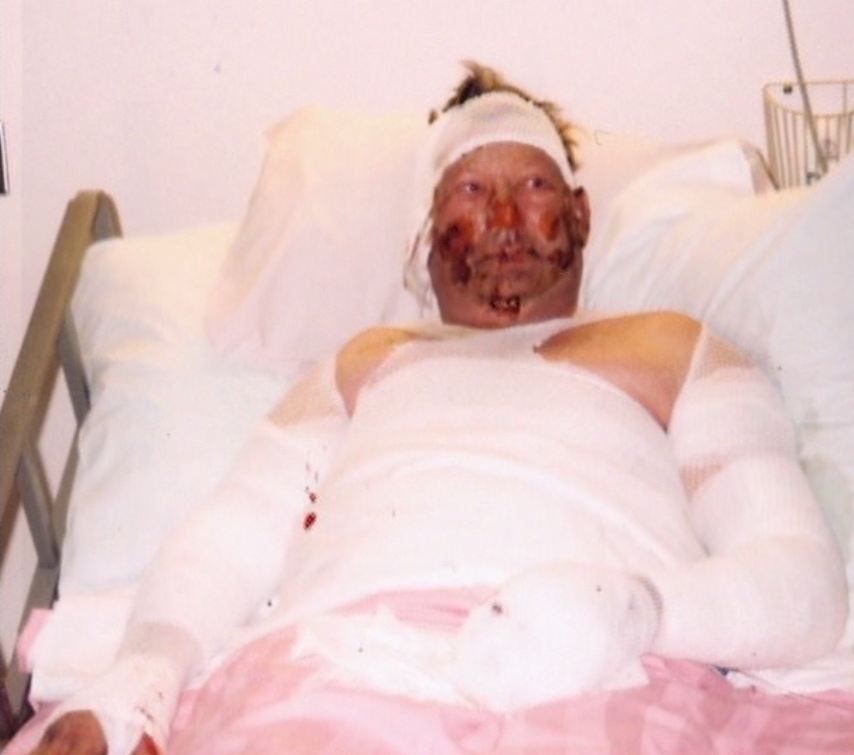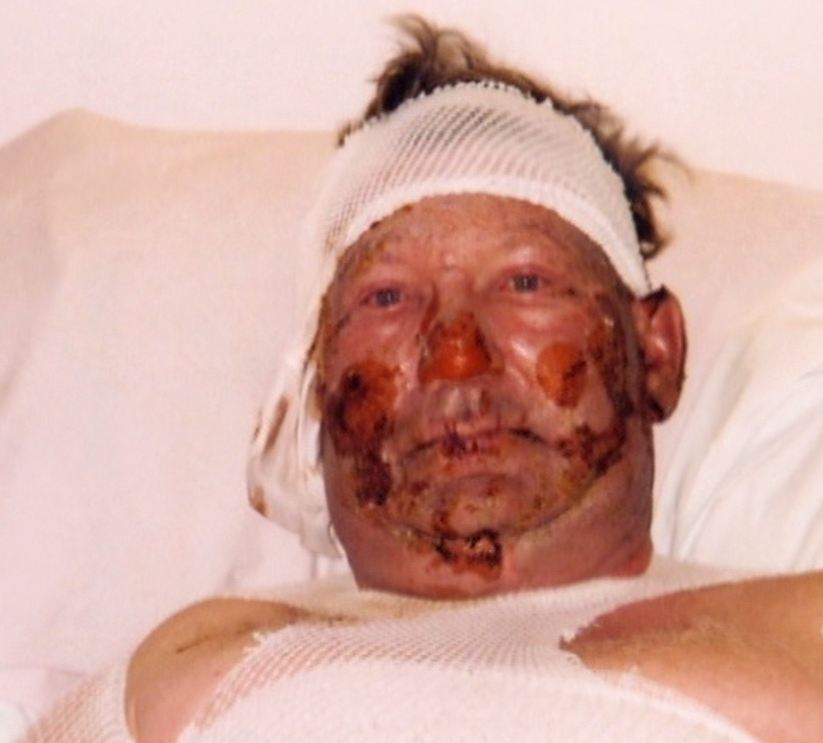 2005: Ronalie and Shawn Campbell's well water is dangerously contaminated with industry's fugitive (thermogenic) methane, ethane, propane, butane, pentane, etc after Encana initiated a frac program around and under their land (later sold to other companies). Regulators investigated for 8 years, using the Campbell case to make it appear they were "regulating" but only enabled and protected the frac'ers, while shaming and blaming the Campbells, slamming the door shut on them.
This is what frac regulations look like in your family's drinking water: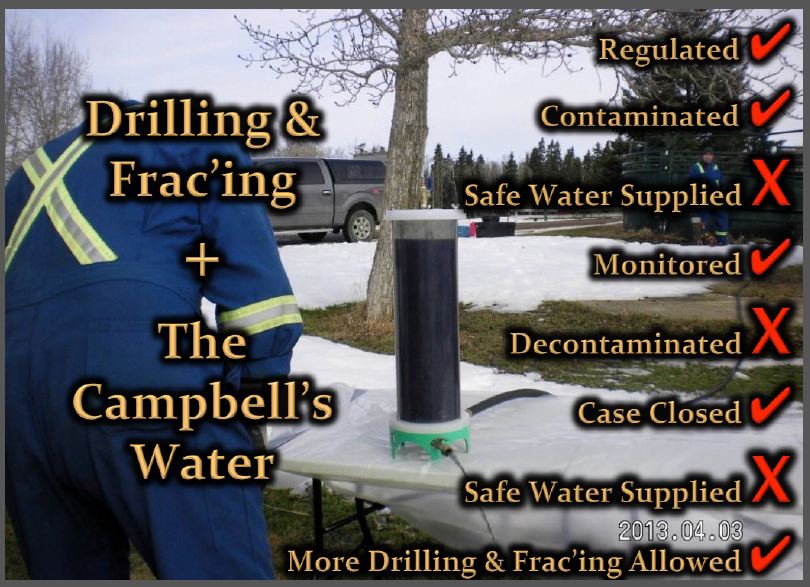 2004 Encana breaks the law (covered-up by AER and Alberta Environment officials), intentionally, secretly, illegally fractures Rosebud's drinking water aquifers, injects 18 million litres frac fluid into the community's drinking water supply, refuses to this day – even in response to Ernst's lawsuit (court rules do not allow trade secrets) – to disclose the chemicals injected.
Various Encana records Ernst filed in document exchange with the company: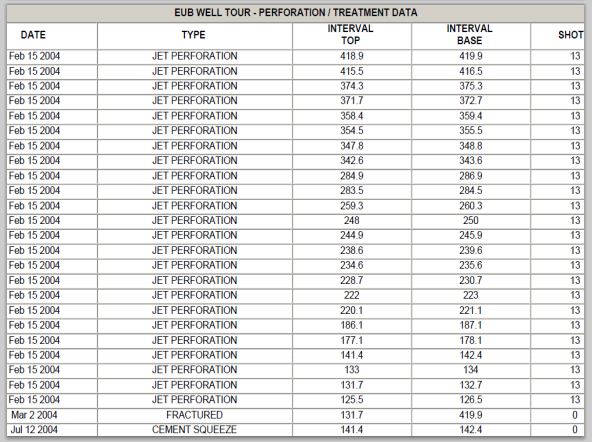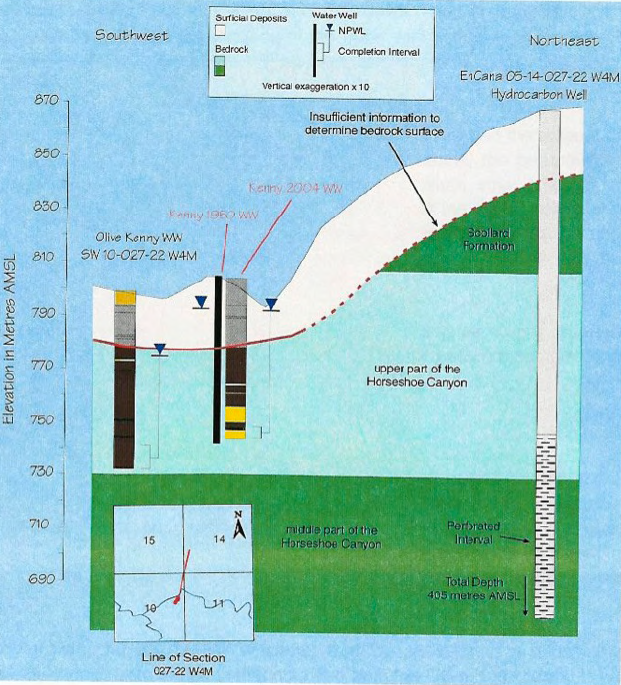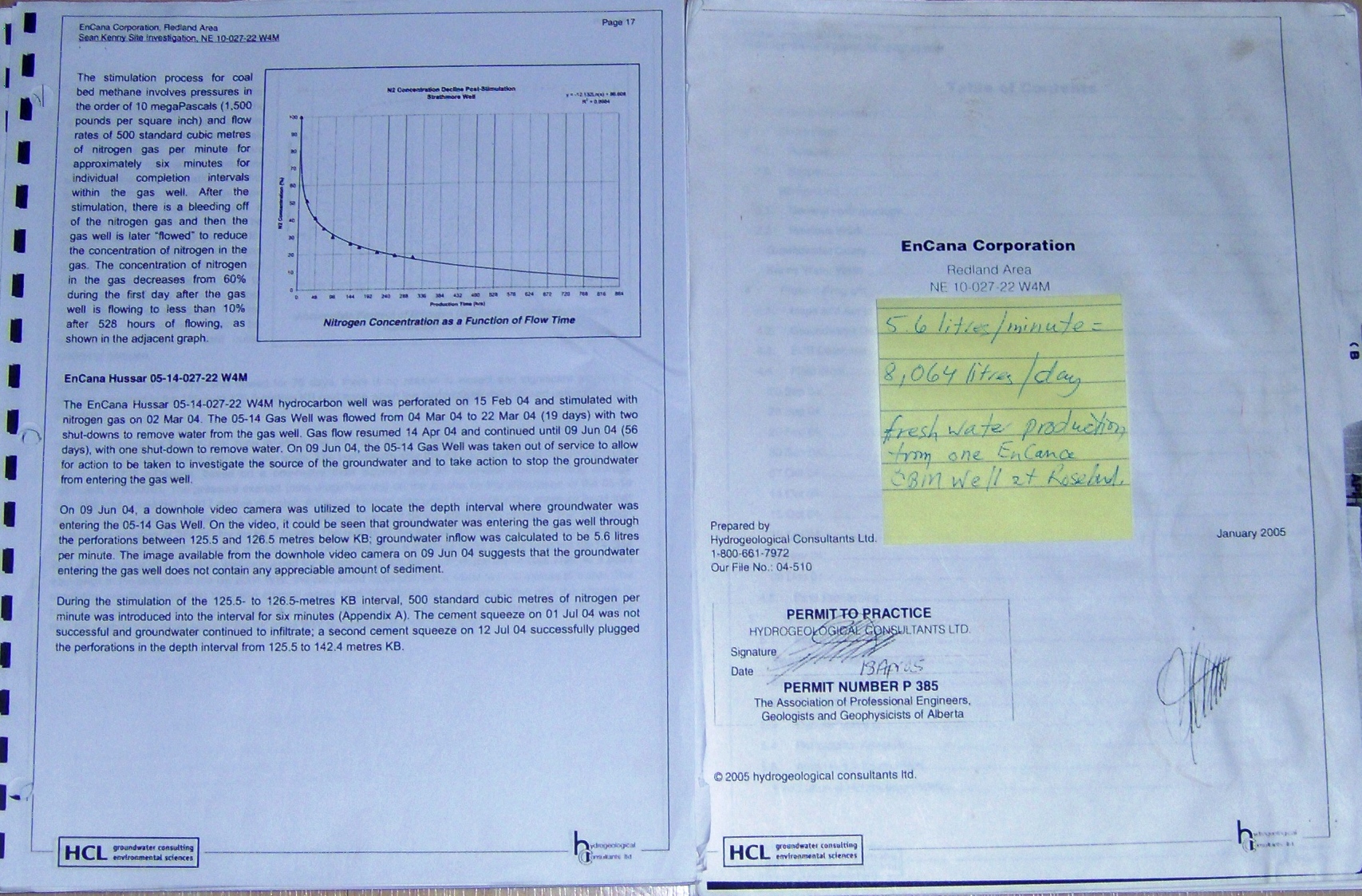 ***
The compendiums exclude reports and studies on known risks and harms from high volume vertical, deviated, slant and horizontal frac'ing of CBM (coalbed methane/coalseam gas/natural gas from coal) which often requires more frac'ing and polluting compressor stations than frac'ing other formations. CBM has also caused surface and groundwater (including well water) contamination and harmed families and farms.
To learn about a few of those impacts and the abusive legal systems enabling them, read Andrew Nikiforuk's award-winning Slick Water.