Fox Creek's Duvernay drilling boom brings trucks, earthquakes

Chevron plans development of 55,000 acres near town of 2,000
In the Western Alberta town of Fox Creek, roughnecks shuffle through hotel lobbies, freight trucks choke slushy streets and, every once in a while, tremors shake the earth.
Welcome to Canada's biggest shale boom. Chevron Corp., Royal Dutch Shell Plc, Encana Corp., Murphy Oil Corp. and XTO Energy Inc. are among those flocking to Fox Creek to stake their claim in the oil-rich Duvernay shale formation.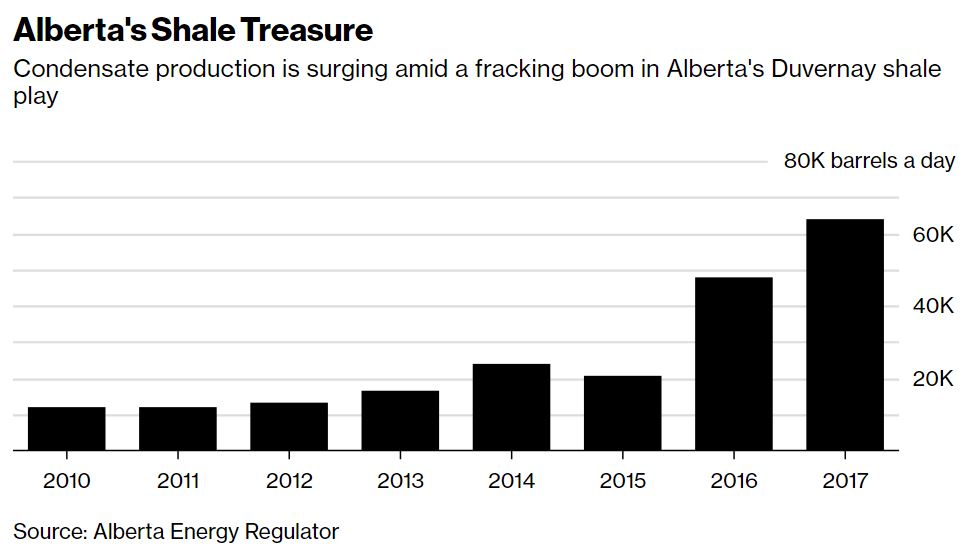 Here, the prize is condensate, an ultra-light oil that's perfect for diluting the heavy tar-sands crude for which Alberta is known. More locally produced diluent would be a plus for Canadian companies that now depend on the U.S. — and for communities like Fox Creek that are feeling the economic benefits along with fracking-linked earthquakes. More of both may be in the offing as drillers flock in Chevron's wake into the Duvernay region.
"They are talking about thousands of new wells up there, not just Chevron, but all of them," Mayor Jim Hailes said during an interview in his office. "The play is that big."
Oil and Gas Boom
Domestic companies use around 600,000 barrels of condensate a day, and production of the hydrocarbon in Alberta is surging. Output reached 64,000 barrels a day last year, the highest in provincial production records dating back to 2010. In the Duvernay, oil and gas output is poised to more than triple in the next two years to the equivalent of 300,000 barrels of oil a day, according to Stephen Kallir, upstream research analyst at Wood Mackenzie in Calgary.
Read: Chevron Dominates Alberta Shale Play With $2.3 Billion Land Buy
The pace of activity is only getting busier after Chevron, which owns the most drilling rights in the area, announced plans to develop about 55,000 acres (22,000 hectares) of land in the so-called East Kaybob section of the Duvernay, near Fox Creek. Other companies are expected to follow suit, Hailes said.
Mixed Blessing
The Kaybob section already holds 80 percent of Duvernay wells and accounted for 90 percent of the formation's production, according to an October BMO Capital Markets report. The majority of the play can be economically produced for $55 a barrel, Wood Mackenzie's Kallir said.
That's a mixed blessing for Fox Creek, Mayor Hailes explained as he drove his Toyota Highlander through the town, pointing to the fruits of the area's newfound fortune. On the left is a new $8 million fire house. To the right, a $32 million recreational center [Who in their right mind needs a 32 Million dollar rec centre? Industry?  To keep their drug-filled frac workers from going mad or on more double murder rampages?] and multiplex are going up. Farther down the road are new ski trails and a bicycle track.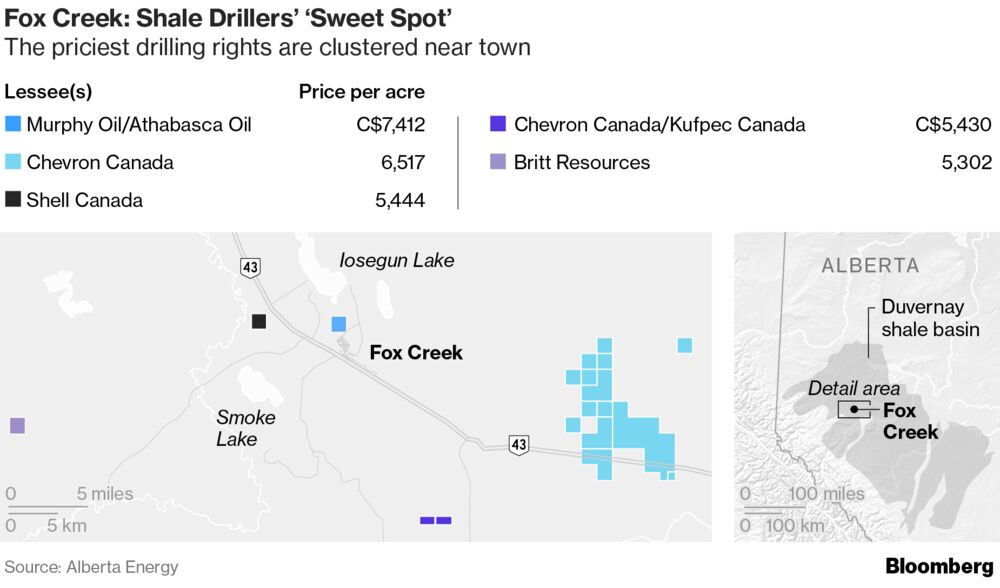 On the other hand, drilling has been so intense near Fox Creek that its been linked to a series of earthquakes. One tremor measured 4.6 in magnitude, one of the two biggest human-induced seismic event in Canada's history, Honn Kao, research scientist at the Geological Survey of Canada, said by phone. Madrid-based oil producer Repsol S.A. took responsibility for that one, telling Bloomberg that the quake was triggered by its hydraulic fracturing operations in the area.
As a result, the company has put into place protocols to mitigate quakes, Berta Gomez, a spokeswoman, said it an email. [Really? Why haven't the quakes stopped then?]
Quake Fears
Local concerns about the quakes prompted Chevron recently to alter plans to drill two horizontal wells right under the town, which is thought to sit right over the Duvernay's "sweet spot."
"Chevron takes the concerns of residents seriously," Leif Sollid, a company spokesman, said in an email. "This area is assessed as a lower risk region within the Duvernay for induced seismicity, and any related events would be feeble to slight in nature." [Just another corporate con man lying and promising the moon? Just wait til the damages crumble in and the companies do everything but pay up. Fox Creek frac quakes have been felt hundreds of kilometres away in St Albert. What of damages to the sour gas subsurface and drinking water aquifers and water wells? Fox Creek is already paying millions to try to fix serious water supply problems that started after frac'ing came to down. What if that 23 Million dollar rec centre no longer has water for showers or toilets?]
Other worries, according to Hailes, include the thousands of trucks [citizens pay for the infrastructure damages, not the companies that do the damaging] that pass down the highway each day, some of them spilling their cargoes of fine sand [often radioactive] integral to fracturing wells. Meanwhile, the work camps that surround Fox Creek sometimes house almost five times more people than the town itself, putting pressure on local resources such as the hospital and fire department, Hailes said. [Again, only the tax payers pay to upkeep the hospital and fire department, even when companies suck the fire department dry tending oil patch emergencies on well sites, and accidents caused by frac and drilling crews on public roads]
"When I, as a resident, pay taxes, go to pick up a prescription, the line is out the damn door," Brenda English, a realtor with RE/MAX Advantage and resident of the town since 1975, said in an interview from her office. "It's insane."
Still, the Duvernay's promises are too good to ignore. First explored in 2011, the formation holds the equivalent of 25 years of Alberta's natural gas production and 17 years light oil and condensate output, according to Canada's National Energy Board.
"The term they are using is a 'generational play,'" Hailes said. [Pfffffffffffffffffffft. Dream on. Frac'd wells everywhere fizzle out fast, even with endless refrac'ing]
[Refer also to:
2018 02 08: Gail Atkinson, earthquake expert: Low-volume fracking found still dangerous; Dutch Court Orders NAM to Immediately Pay Homeowners in Frac Quake Damages Zone in Groningen for Depreciation even if Homes Not Sold. Will the Corporate Giant Heed the Court? Most Likely Not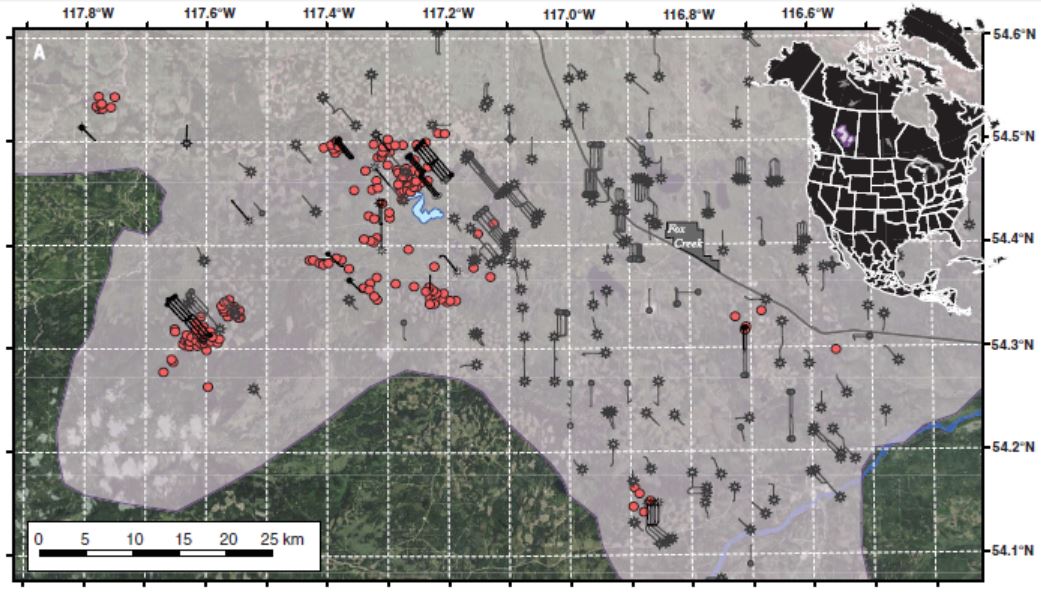 Spatial distribution of induced earthquakes (red circles) associated with fracked wells in the Duvernay play near Fox Creek. Image taken from study published in Science last month
2017 12 12: Fox Creek, Alberta Frac Quakes start up again; New Study by Standford Scientists: Small earthquakes at frac sites may be early indicators of bigger quakes to come; Surprising Finding: Arkansas earthquakes mostly caused by hydraulic fracturing, only some by wastewater injection, None caused by trucks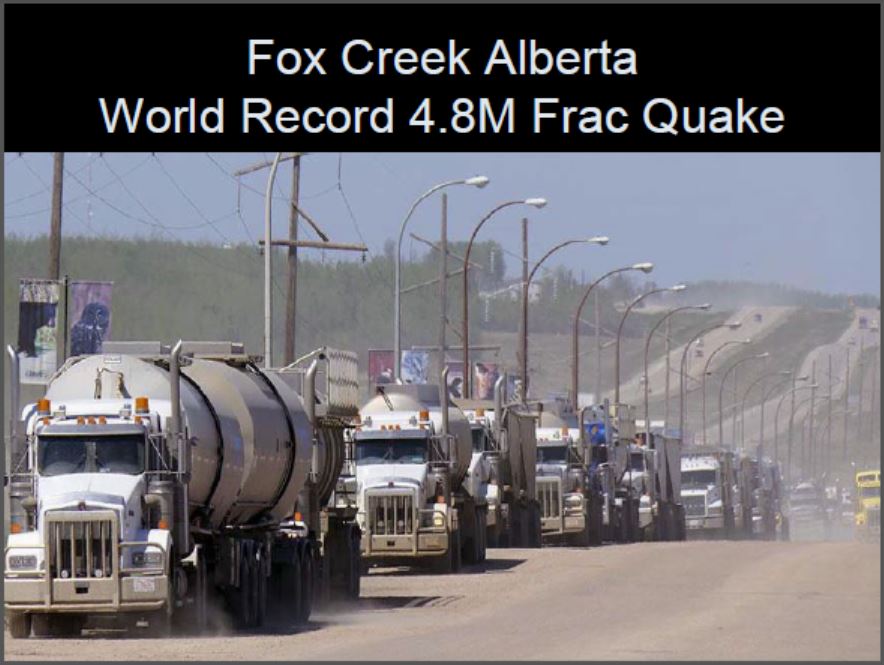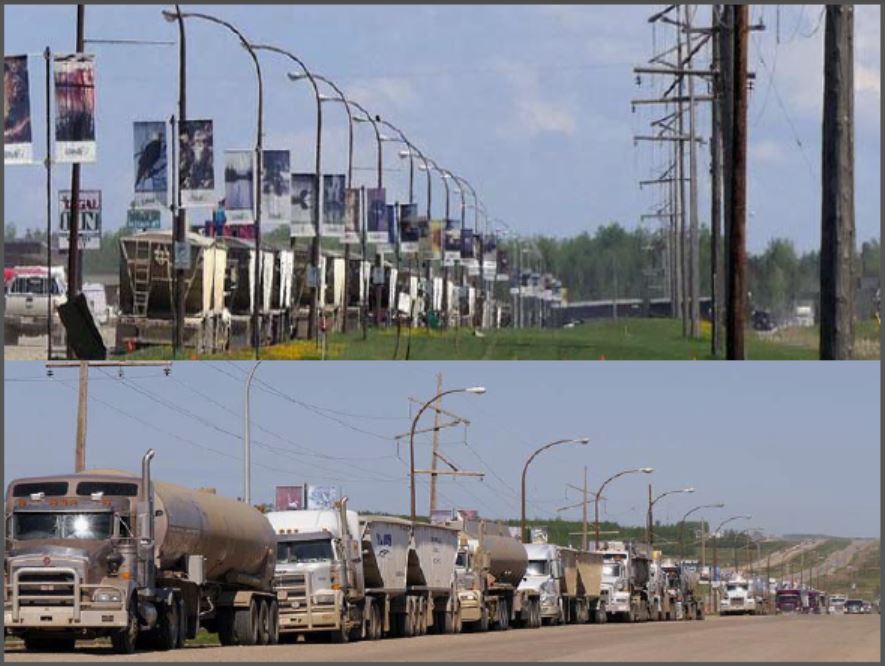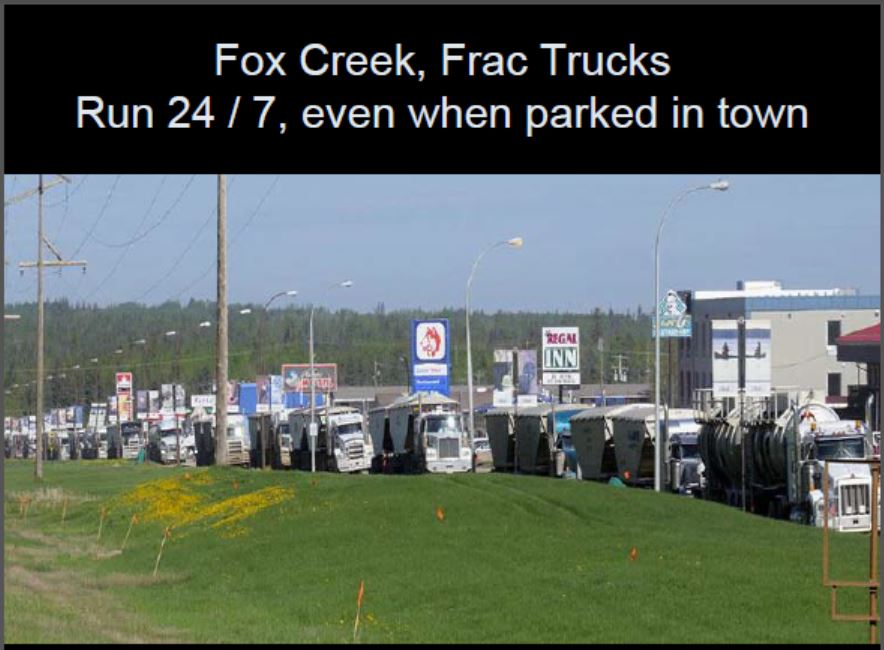 2017 09 21: Corrupt Whimps Extraordinaire! Ex-Encana VP (Gerard Protti) led AER kisses Encana with $7,500 administrative penalty for major sour gas blowout at Fox Creek Alberta, Nothing for injecting 18 million litres of frac fluid into Rosebud's drinking water aquifers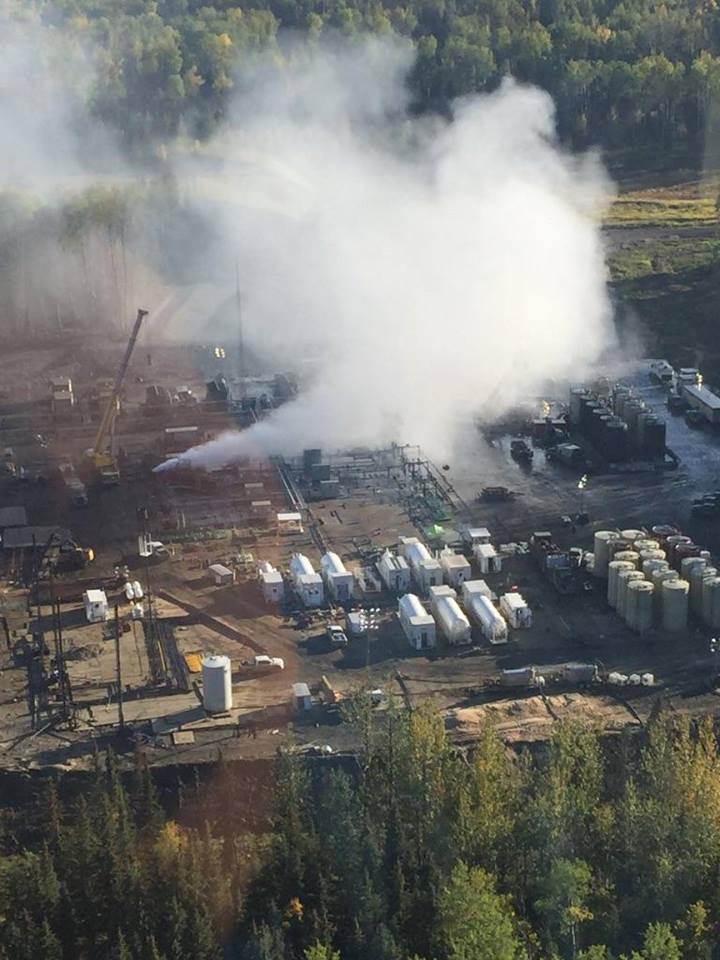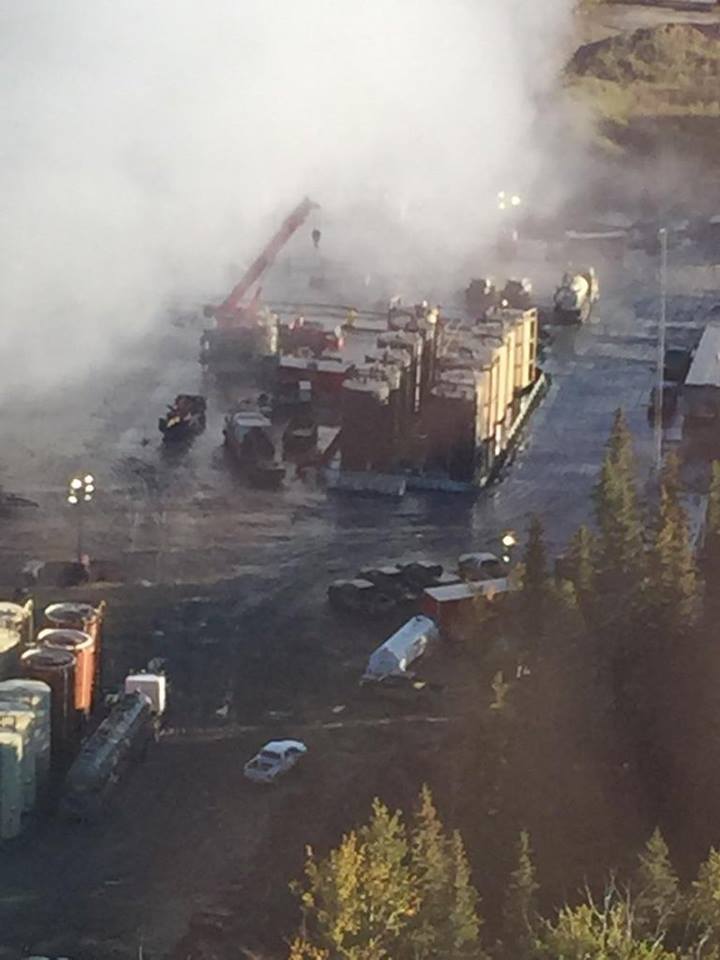 2016 10 25: Shell Canada, Fox Creek Alberta: 47 year old worker killed by water hose in AER's Blanket Approval, "Brute Force & Ignorant" Frac Frenzy Pilot Project
2016 10 17: Trilogy Adds to AER's Fox Creek Frac'ing Free-for-all Pilot Project Failure: Trilogy's Pipeline may have leaked 'for a while' before spill discovered
2016 10 07: AER & Trilogy not prepared for the emergency! "Another" Canadian pipeline spills oil and pollutes fresh flowing water; Trilogy Energy Corp leaks oil into flowing wetland in AER's Blanket Approval Frac Frenzy Pilot Project at Fox Creek
2016 08 08: Police shooting of suspect in double homicide at Alberta work camp in AER's Frac Frenzy Blanket Approval Pilot at Fox Creek was 'necessary,' police watchdog finds
2016 08 01: Why isn't AER's Fox Creek Frac Frenzy Regulatory Failure front page news? AER releases evaluation of its Play-Based (Blanket Approval) DeRegulation Pilot
2016 05 15: Wildfire out of control 10 km north of Fox Creek in AER's out of control frac frenzy blanket approval pilot project, Started near Trilogy Energy plant, Traveled quickly. 3.5 hectares at 1 pm, 800 hectares a few hours later
2016 04 07: AER allows Repsol to resume fracking after causing world record 4.8M frac quake (felt 280 km away near Edmonton) in AER's Fox Creek Blanket Approval Frac Frenzy Free-for-All Experiment. But, Repsol appears too shaken to resume
2016 04 04: Why are frac'd Albertans so easily bribed by law violators and polluters? Why don't groups in Fox Creek say "No thank you Chevron, We'd Rather Skate in Hell Than Take Your Money"
2016 03 03: Devolution of a Species. Alberta Venture Special Report: Towns in Alberta's industrial heartland ran out of water last summer. Is fracking to blame? Is "No Duty of Care" legally immune AER's one-size-fits-all, world-record quaking frac frenzy drying up Fox Creek's drinking water supply?
2016 01 15: Canada breaking frac quake records: Geosciences professor thinks earthquakes near Fox Creek are clearly linked to fracking
2016 01 015: Edmonton's 630CHED Jespersen Show Interviews Jessica Ernst on her Supreme Court of Canada Hearing vs AER & Dr. Jeffrey Gu on the 4.8M Earthquake at Fox Creek, Alberta (day of Ernst's Supreme Court Hearing)
2015 12 18: How much has Fox Creek paid for hauled water? What happens when Fox Creek runs out of money? How will they fight fires when they run out of water?
2015 09 27: Encana says sour gas and condensate blowout at Fox Creek has been capped; AER compliance dashboard does not
2015 09 23: AER's EMERGENCY COMMAND CENTRE SET UP 2.5 HRS AWAY! DON'T AER COMMAND STAFF WANT TO DAMAGE THEIR BRAINS? Encana's Fox Creek blow out spewing 20,000,000,000 litres/day sour gas & condensate: Where's the regulator? Ex-Encana VP Gerard Protti = AER Chair; Ex-Encana Manager Mark Taylor = AER VP Industry Operations
2015 09 22: AER & Encana Lying Update: Encana's Deadly Sour Gas Blow Out at Fox Creek: Did Alberta's Energy Minister lie for Encana & "No Duty of Care," cover-up agent extraordinaire, the AER?
2015 09 21: AER Responding to Encana Sour Gas Well Blowout in AER's blanket approval, fracing free-for-all near Fox Creek. Was it caused by what Mayor Ahn fears? Fracquakes?
2015 08 10: Fox Creek: Yet another earthquake in AER's deregulated blanket approval frac experiment. Fracking-Related Earthquakes Could Ding Credit Quality
2015 07 25: Fox Creek Mayor Jim Ahn rightfully worried about frac quakes harming sour gas infrastructure in the community. How much damage have the quakes already caused sour gas wellbores and pipelines?
2015 07 19: Alberta Government Low Flow Advisory in Fox Creek/Peace Region, Asks Users to Reduce Water Consumption. Does that include in AER's Fox Creek Fracing Pilot Project?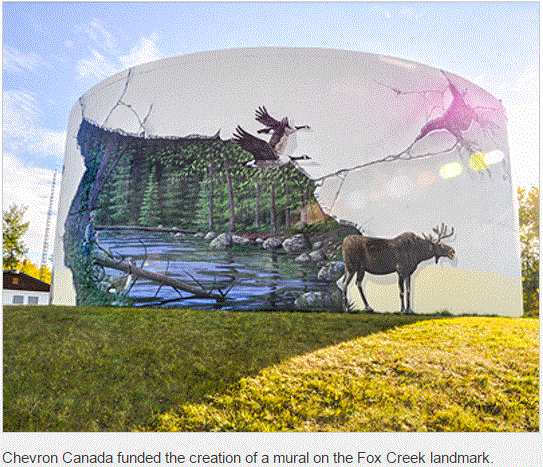 The "landmark" is the town's water reservoir, a town running out of water after the frac'ers moved in.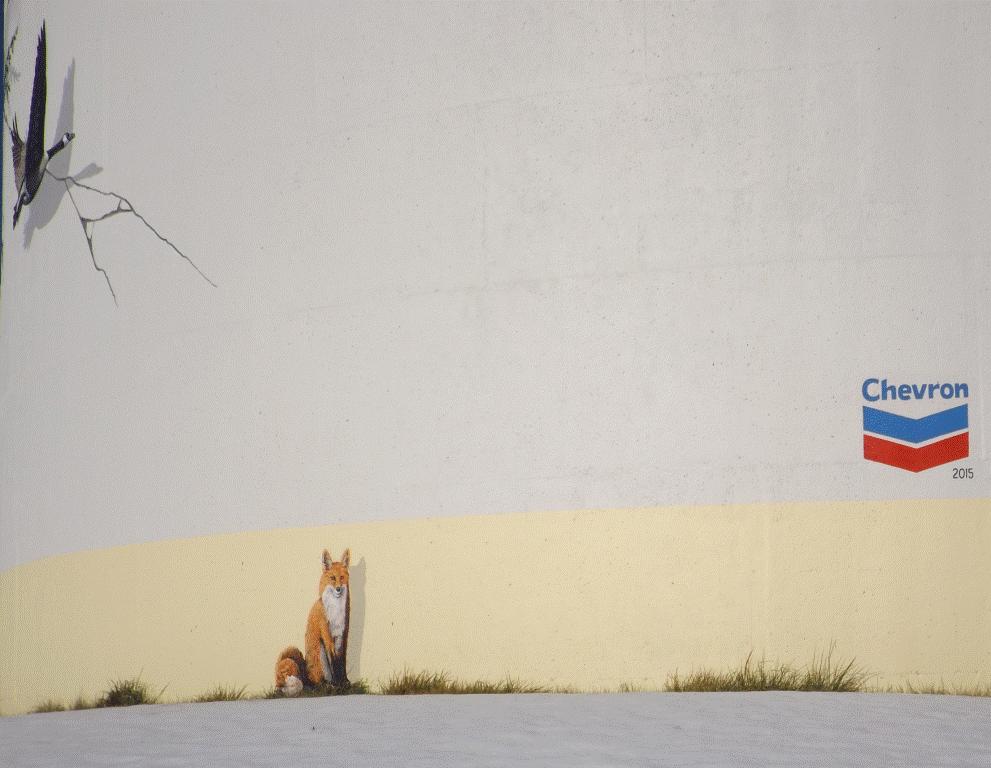 Don't fret about water vanishing in Fox Creek. Chevron will save the day, and repaint the town's water tower, complete with earthquake cracks. If you and your children are thirsty or want a bath, or want to go fishing but the water bodies have all been frac'd dry, you can look at Chevron's generous paint (aka con) job and pretend.
2015 07 17: AER Frac Pilot Project: Earthquakes, tax increases, water restrictions, double homicide, spills and accidents shake Alberta town's faith in fracking; Aging sour facilities in deregulated Fox Creek a big worry for council; AER's FracQuake Red Light stops Chevron only 16 days; Families moving out
2015 07 03: AER and Gerard Protti trying to erase the murders in the Frac Hell Free-for-all they created and enable at Fox Creek? How will the AER restore those lives? How will they wipe out the horror facing residents and workers?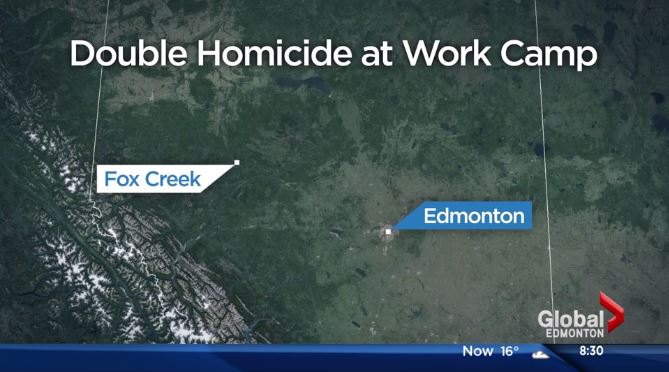 2015 07 30: Cumulative Impacts Frack Attack? Double Homicide in "No Duty of Care" AER and Gerard Protti's Fox Creek Blanket Approval Pilot Project
2015 06 16: Do we need another "independent" frac study? The AER asks: How far do we go? Fox Creek residents react to the latest 4.4 Magnitude quake
2015 06 14: Chevron reported 3.6 magnitude event; Shut down by AER. Is the AER's Frac Quake Stop Light System Irrelevant? Another 4.4 Magnitude Earthquake at Fox Creek
2015 05 27: Town of Fox Creek Water Ban on ALL Non-Essential Use. Does that include fracking in AER's Deregulated, Blanket Approval, Frac Frenzy, Play-Based Pilot Project surrounding Fox Creek?
2015 05 27: Thank Fracking: Business licence for Fox Creek hotel goes up 133,233 per cent
2015 02 20: Fox Creek frac quakes make AER play deregulation with you and your loved ones: "Red Light = Green Light"
2015 02 02: Fracking Quakes Pose Added Risks but Oil and Gas Companies Refuse to Share their Collected Seismic Data. "In low seismic environments like Fox Creek where the natural earthquakes are infrequent, the hazards from an induced seismic event can exceed the hazards from a natural source"
2015 06 25: Did Alberta Just Break a Fracking Earthquake World Record with 4.4 Temblor at Fox Creek? Sounds of Silence: The Crooked Lake Earthquakes
2014 06 14: Did Alberta Just Break a Fracking Earthquake World Record with 4.4 Temblor at Fox Creek? Sounds of Silence: The Crooked Lake Earthquakes
2014 04 05: Alleged groundwater pollution concerns by Trilogy at Fox Creek under investigation; Whistleblower: "cement job didn't go as planned and there was NO cement in the hole" ]