OIL ON THE WATER Sask. oil spill has many wondering if a similar disaster could strike Alberta by Dave Mabell, August 20, 2016, Lethbridge Herald
Could that happen here? Do we have an emergency plan? [Does Canada have any plan anywhere, except to give multinational corporations what ever they want (media control and more and more deregulation by our corrupt, cowardly federal and provincial politicians and regulators)?]
Those questions are being asked by many Albertans, responding to this summer's environmental disaster in Saskatchewan. A Husky oil pipeline ruptured last month, gushing about 250,000 litres of crude oil [and toxic chemical additives] into the North Saskatchewan River.
Prince Albert and North Battleford rely on the river as the source of their water supply, so the spill forced both their water treatment plants to suspend service to residents and businesses indefinitely. City officials scrambled to find alternate supplies, with Prince Albert relying on temporary 30-km pipelineto another river.
Swimming pools, laundromats and car washes were closed, and any resident caught watering the lawn could be slapped with a $1,400 fine.
How about us? What would Lethbridge do if a pipeline dumped 250,000 litres of oil into the Oldman River?
That's not a danger here, fortunately. While a number of natural gas pipelines cross the Oldman and its tributaries upstream, a search of the Alberta Energy Regulator's website shows no oil lines to pose a danger.
But other communities in Alberta – with an estimated 431,000 km of pipelines carrying oil, gas or related products – may not be as fortunate. The [legally immune, Charter and other law violating, industry protector, pollution cover-upper extraordinaire] energy regulator would play a first responder role in any such disaster.
In Lethbridge, nevertheless, a tanker truck servicing oilwells west of the city could cause at least a short-term emergency if it turned over on a bridge. So could a tanker car on the railway.
Doug Kaupp, manager of the city's water and waste water services, says the city's emergency response plans cover such possibilities as river contamination. Reservoirs in various parts of the city can provide a short-term supply, as they did during a period of high river turbidity recently.
"We've never experienced anything the like of what's happened in Saskatchewan,"

he says.
The city also supplies potable water to Coaldale, Coalhurst and as far north as Iron Springs, he points out. If an emergency forced Lethbridge residents to severely curtail their use, it would affect those communities as well. The McCain potato plant, at one end of the line, would also be rationed.
Kaupp says unlike Prince Albert, this city doesn't have another large river nearby to act as a back-up. The St. Mary River joins the Oldman just south of the city, but it would be difficult if not impossible to pump any of its water to the treatment plant.
In the light of the North Saskatchewan River's long-term contamination, Kaupp says he wants to work with Lethbridge's emergency services co-ordinator – Fire Chief Richard Hildebrand – to formulate a more detailed response to water supply disasters. [WHERE'S WHEATLAND COUNTY'S RESPONSE TO ROSEBUD'S FRAC'D AND CONTAMINATED DRINKING WATER DISASTER, COURTESY OF GWYN MORGAN AND ENCANA? NOWHERE TO BE SEEN. RESIDENTS AND TENS OF THOUSANDS OF TOURISTS CONTINUE TO BE EXPOSED TO EXPLOSIVE CONCENTRATIONS OF METHANE AND ETHANE CONTAMINATION AND AS OF YET UNDISCLOSED CHEMICALS ENCANA INJECTED INTO THE AQUIFERS, WITH ALBERTA GOVERNMENT AND REGULATOR BLESSINGS.]
"It would be prudent for us to dust off our plans and see what could be done."
Meanwhile in Prince Albert, the local state of emergency has ended and some of the residential use restrictions have been lifted. The spray parks and paddling pools have reopened, and parched lawns in city parks have been irrigated.
But the city is still relying on a series of over-land pipes, stretching 30 km to the South Saskatchewan River, while health officials continue to test the North Saskatchewan.
It's been more than a month since their own river was contaminated – and residents are not looking forward to a frosty fall. [Emphasis added]
[Refer also to:
Livestock water supplies still a concern after oil spill, City of Prince Albert seeking millions from Husky. Hydrocarbons found in more water samples after Husky bitumen and diluent spill. Next Step? Deregulate Drinking Water Guidelines to meet Husky's hydrocarbon pollution in the North Saskatchewan River?
Only in Canada! Wanna bet Husky gets fined nothing for contaminating North Saskatchewan River, drinking water of 70,000 Canadians, and misrepresenting its toxic bitumen & diluent spill?
Water undrinkable in parts of North Saskatchewan River after bitumen, diluent spill, samples reveal. Husky off the hook? Saskatchewan government "unlikely" to clean all of the spill. Have the chemicals Husky spilled with the bitumen been disclosed yet? Are samplers testing for them and are they sampling the river bottom?
Husky kills summer fun and is already prepping to evade clean-up of toxic bitumen and chemical spill in N. Saskatchewan River: "Nature's gonna fix it so we don't have to." Is that a certified oil spill response?
Husky's bitumen & chemical spill contaminating drinking water for 70,000 people (so far) in Saskatchewan. "Other than sharing ways to hide, alter, or destroy evidence to protect the guilty, how would the NEB help?"
How are you enjoying life without water so far? Welcome to Ernst's world, ten years in. Husky's toxic bitumen-chemical spill traveled 500 km (so far) in North Saskatchewan River contaminating drinking water supply to many, four communities declare state of emergency
Join the Frac Club! Deregulation budget-cut style? "It's a real nuisance. And for some it could become a real health issue. … Can't drink, can't shower, can't wash your clothes." Prince Albert declares state of emergency; constructs 30 km long drinking water pipeline as Husky's massive toxic bitumen & diluent slick invades. Who pays for the damages? Saskatchewan averages two oil spills a day, just like Alberta!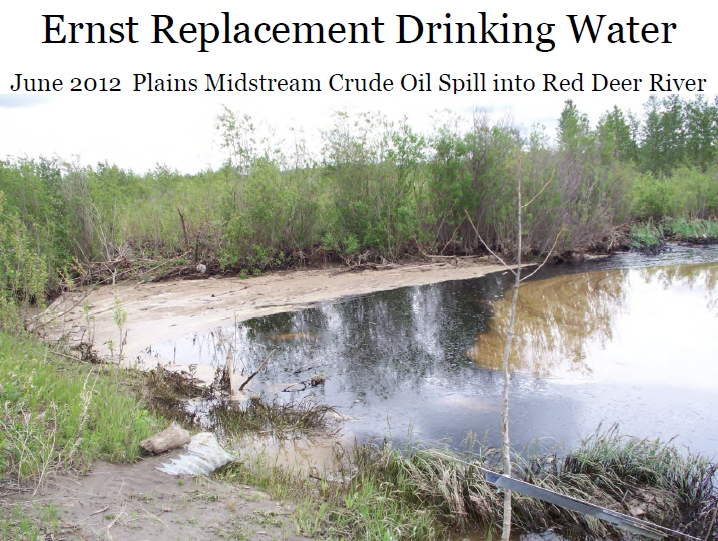 Slide from Ernst presentations [Ernst continues hauling water from this source, as of August 21, 2016]
Plains Midstream pleads guilty, fined $1.3 million for two Alberta pipeline spills; Encana fined nothing for fracing Rosebud's drinking water aquifers
Why no charges against Encana for fracing Rosebud's drinking water aquifers? Red Deer River sour oil spill charges laid, Plains Midstream faces two counts two years after pipeline break
Plains Midstream Sour Oil Spill into Red Deer River, Alberta, $70 Million Class Action Lawsuit heads back to court after AER releases Investigation Report
Feds investigate Plains Midstream after Alberta spill report, but not Encana frac'ing Rosebud's drinking water aquifers
Alberta Energy Regulator report on Plains Midstream leak shows Alberta government monitoring failing; The company knew the pipeline had problems for 4 years before the terrible spill in the Red Deer River
Second Glennifer Lake incident plagues Plains Midstream; exposed pipeline presents boating hazard but regulator says everything is fine
Plains Midstream charged for largest Alberta oil spill in decades, Fines could be as high as $1.5M if found guilty
Plains Midstream Canada will "make it right" with effected residents ]