The Solution To Pollution Is Dilution email by Stewart Shields to federal and provincial authorities and politicians, Aug 1, 2016
Are the people of Saskatchewan really going to buy this?? If so they bought in to the old adage—"The Solution To Pollution Is Dilution" From this spill looking foreword are we to expect bitumen spills to be spread out over hundreds of miles if possible to allow nature a better shot a clean-up? Try what is going on in Saskatchewan, on the folks of British Columbia?? The Kalamazoo River spill had plenty of Transportation Safety Board professionals study their bitumen spill, and although they left some bitumen behind—it was because there was to be more harm to the river by dredging than allowing nature to slowly go about making a cure!!
This story from a Husky consultant mirrors that of the Alberta EUB coxing SPOG/SHELL to report that allowing the School buses to bring rural children into the plume of H2S in the village of Caroline- was purposely done—to keep the fact secret that Shell's phone system had collapsed soon after their emergency began!! Here we can take solace that although the Husky spill covered a record hundreds of miles—this is the part of dilution that leads to the solution!!
Husky would be well rewarded if this expert can convince regulators that mother nature is the way to clean up harmful bitumen spills in moving water—when human efforts fails!! Are other Petro operators chipping in to pay this consultants fees??
Stewart Shields
Husky oil spill: Prince Albert delivering water from new source to residents
Temporary lines to provide water from new sources after Husky oil spill into North Saskatchewan River by CBC News with files from The Canadian Press , July 31, 2016
Officials in Prince Albert, Sask., say a new water source has passed lab tests and has been added to their distribution system, providing a measure of relief to a city that has been scrambling to secure water following a spill of oil into the North Saskatchewan River.
In a statement Sunday, around 5 p.m. CST, officials said treated water from an improvised line to the Little Red River was tested and added to the city's reservoir system and — from there — sent to homes and businesses on the local distribution system.
"The water is potable, safe water," the statement noted.
For several days crews have been working on two temporary lines leading to water sources north and south of the city.
The Little Red River line was the first of the two to be operational, and pumping water.
The line, an eight-kilometre stretch, will be used to supply water while a longer line, roughly 30 kilometres to the South Saskatchewan River, is completed.
Prince Albert, which has been on a local state of emergency for almost a week, stopped using water from the North Saskatchewan River following a spill of oil from a Husky Energy pipeline that led to some 200,000 to 250,000 litres of heavy oil (mixed with another product called a diluent) entering the river Maidstone, Sask. An investigation is underway to determine why the pipeline ruptured.
The city said Sunday afternoon that work was continuing to fill the longer line, which has pumping machines every two kilometres along the stretch.
Traffic a problem
Officials note that workers on that line had to contend with damage, which they attributed to motorists driving too fast over protective ramps.
Duane McKay, Saskatchewan's commissioner of emergency management, explained that the line crosses a highway in several places and the ramps protect the line and allow traffic to continue.
He said it appears a driver [Does he work for Husky?] on Highway 302 may have failed to obey the speed limit at one of the crossings Saturday and damaged the line. The line was not filled with any water and the damage to the section was repaired.
Work on the line was also slowed Friday night, due to heavy long weekend traffic that made conditions unsafe for workers.
Provincial officials noted Sunday that four communities and rural municipalities were still under local states of emergency:
The City of Prince Albert.
The RM of Prince Albert.
The RM of Buckland.
The Muskoday First Nation.
Prince Albert extended its emergency status for another seven days.
[Imagine! Wheatland county, Alberta government and regulators just worked to cover-up Encana's law violating aquifer fracs, let the Rosebud community live in explosive risk from contaminated drinking water in their homes and businesses. Not one authority has yet told the truth to the community, and no state of emergency was ever declared. Twelve years later, the water is still contaminated and the community still living in explosive risk.]
The province also provided an update on cleanup operations, noting that some 38 kilometres along the river had been assessed and seven kilometres had been cleaned. [12 years after Encana's illegal frac's, no one has yet started to clean or repair Rosebud's frac'd and contaminated drinking water aquifers.]
Booms remain in place on the water to catch any oil that is dislodged from the shoreline during the cleaning process. Officials noted that the cleanup is still in the preliminary stages and said that a total of 126,000 litres had been recovered.
They added that a concern relating to the spill is that oil may settle on the bottom of the river. Officials said some oil has been detected in the 900 collected samples so far.
Officials said they will have a clearer idea of the scope and scale of the environmental impact on Monday.
They added that, as of Sunday, there were 42 cases of wildlife that died, linked to the spill.
***
"nature's gonna fix it so we don't have to" is a certified oil spill response … and expert says bitumen floats … email by Stewart Shields to federal and provincial authorities and politicians, Aug 1, 2016
I think Enbridge tried this song and dance in the Kalamazoo spill, however they started dredging again in 2013 and have just settled a fine of $177 million in late July 2016!! Our attending federal authority with the Canadian Environment reported witnessing bitumen under the water surface!! I can agree that usually only a small part of a spill is ever recovered, and that means one hell of a lot more than 200.000 liters was lost into the river. The style and make of the pumps would determine the liters/ per hr. the pump discharged for well over 14 hrs. I would demand divers be used all along the river for verification before allowing Husky the out Enbridge never received on the Kalamazoo river!!
I'm not surprised the industry with the knowledge of both Kalamazoo and now the North Saskatchewan River Spill will be trying hard to sell the herding of oil spills until a good burial spot is located!! What else can they do??

Allowing nature to do it's thing is certainly the cheapest route for industry!!

What was being dredged form the bed of the Kalamazoo- if water soaked bitumen doesn't sink !
Really it doesn't matter sink or not sink this product went through 9 booms meant to catch it—that failed!! Another way of gathering the spill off the water rather than herding it to final burial grounds is very badly needed, if it is to be shipped by pipeline before upgrading!! If every spill is different– when and where is the next Kalamazoo waiting to happen?? I remember the old song "Let Old Mother Nature Have Her Way" good luck if you can get away with it!!
Stewart Shields
Natural recovery part of Husky oil spill response, expert says, Consultant working on oil spill into North Saskatchewan River by CBC News, July 30, 2016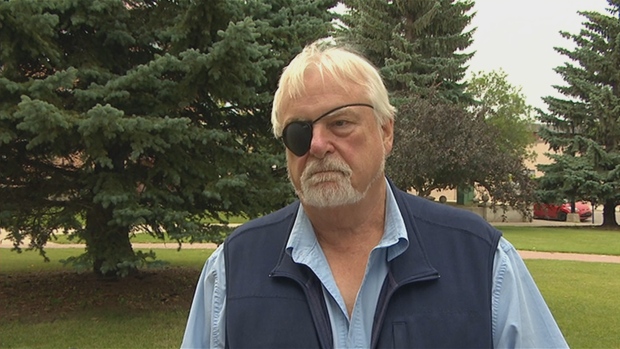 Consultant Ed Owens is in Saskatchewan providing expert advice on how to deal with spill of oil into the North Saskatchewan River.
A consultant for Husky Energy says the cleanup plan for a spill of oil into the North Saskatchewan River includes allowing nature to break down the material.
"Nature takes care of a lot of it," Ed Owens, an expert on oil spills who arrived in Saskatchewan Saturday, said. [Mighty slow response by Husky's expert?] "Some of it will just degrade and weather naturally as a result of microbial bacterial action breaking down the oil." [For how many years will citizens be bathing in and ingesting Husky's toxic chemicals and bitumen? What about the impacts to fish and wildlife? Is dumping Husky's toxic disaster clean-up on nature & time acceptable?]
Owens was brought to the province to provide expert advice on how to deal with an estimated 200,000 to 250,000 litres of heavy oil, mixed with another product called a diluent, that entered the river from a leaking Husky Energy Pipeline. The company reported the leak on July 21. An investigation is underway to determine why the rupture happened.
'We're washing it off the river banks.'
– Ed Owens
Officials said that, as of Friday, some 106,000 litres of material had been recovered from the spill. A long plume of oil has travelled hundreds of kilometres down the river from the site of the spill, near Maidstone, Sask.
Communities that use the river as a source for water have been scrambling to set up alternate supplies. The North Saskatchewan joins with the South Saskatchewan River east of Prince Albert. From there, the water eventually makes its way to Manitoba.
Prince Albert, Sask., begins bypass line operations for fresh water
Owens said crews, using a variety of apparatus, will remove as much oil as possible from the water and the banks of the river.
"We're in the first phase of containing and recovery of the oil," he said. "There's no mobile oil left on the water, so we're washing it off the river banks to collect and contain it." [Is he telling the truth or setting Husky up to avoid complete clean-up and save money?]
In a briefing for media Saturday, provincial officials said about 70 boats were involved in different aspects of the cleanup, including a comprehensive survey of a section of water nearest to the spill to assess what effects the oil has had on the environment.
The material was described as very thick and viscous and some was seen sticking to plants along the shore. The province also noted 33 cases of dead wildlife linked to the spill.
Owens said part of their plan is to remove what they can and let nature handle some.
"We're going to recover the oil and physically take it away up to the point where nature can then take care of the recovery itself," he said. "We're really getting rid of the oil and then accelerating natural recovery." [Is that acceptable to fish, wildlife, communities, people impacted? Would you bathe your children in undisclosed toxic chemicals and hydrocarbons while nature is forced to do what Husky is legally required to clean-up? Where's Brad Wall? In the closet with Steve Harper?]
Oil is floating
According to Owens, the product that leaked is a floating oil and there was no information indicating that any oil was on the river bed. [Did he look? What do the scuba divers say? Why is Owens contradicting Environment Canada?]
"None of the samples that have been collected and analysed so far show any oil in the river sediments on the bottom," he said.  [Avoidance sampling to protect Husky and that companies and provincial regulators are so efficient at? Do you trust Husky's expert?]
Owens said further testing will be needed to determine how much more cleanup work is needed. [Aka, to determine how fast Husky can evade responsibility and walk away?]
"Every spill is different," he said, adding that communities like Prince Albert, which are relatively far from the site of the initial spill, will have more natural action taking place to deal with the oil.
"We're couple hundred kilometres downstream from the source, so that's an advantage that allows natural breakdown to take place," he said. [Fantasy bacterial breakdown or PR spin to counter the responsible communities setting up alternate drinking water supplies? Emphasis added]
Some of the comments to the Globe article below:
Kherson1 1 day ago
"HUSKY noticed pressure anomalies on July 20, which was a Wednesday, but didn't shut the line down until after the leak was found, which was the next day".
Someone really screwed up here folks. Unless the pressure fluctuations where due to pump issues and since the pumps are monitored continuously, 5 minutes of investigating would have answered that question, there would have been no other reason for pressure anomalies but a leak!
Wow…
Sailorken 8 hours ago
shades of the Enbridge fiasco in Kalamazoo ,Michigan a few years ago.
BoinkyBill 1 day ago
What a shame that Husky CEO's are not required to be on site after a major spill like this.., OR, at least be forced to drink the contaminated water for several years, like the people of Prince Albert and Saskatoon..
There is no reason for a spill to be more than 5,000 litres since the monitoring equipment used to do an automatic shut down of the pumps, with the inertia of the oil moving along the pipes accounted for by the circuitry.. I know all this as I was making the control boards and panels for this system back in 1976..
…
sailorken 10 hours ago
pipe operators use the "run to destruction" mode of operation.
I think few other businesses run this way.
If they had to pay $10,000 per litre spilled and subject the senior management to prosecution then things would change, otherwise they do not care .
***
Finding The Failed Pipeline !! email by Stewart Shields to federal and provincial authorities and politicians, July 31, 2016
It's very hard to appreaciate Husky being concerned about spilling a little bitumen in a effort to retrieve the damaged part of the pipeline, when the spill specialist insists mother nature will bio-degrade the product anyway!!
Has Husky supplied the list of chemicals used with the bitumen slurry for emulation breaking and the inhibitors used in wells or pipelines ??
Washing the clay covered bitumen back into the river will surely help it sink—these locations should be check by divers??
The shortage of water to various communities has been as much as possible alleviated by the various populations themselves without any assistance from Husky!! The folks along the spill route have been excellent in taking control of the hazard and doing what must be done for their citizens without outside help!! Of interest would be the amount of fluid that Husky's pumps deliver to the failed pipeline per hour?? Bitumen leaks have been the pipe liners nightmare ever since Harper allowed EnCana to export raw sour bitumen slurry on a old Trans Canada gas pipeline-causing several upgrading plants on the planning board to be scrapped!! Insisting bitumen be upgraded at source or left in the ground would have industry forming working units to again upgrade the bitumen to crude oil status prior to pipelining!!~
Stewart Shields
Crews dig up breached Husky pipeline, cause of oil leak still unknown by The Canadian Press, July 30, 2016, The Globe and Mail
The Saskatchewan government says the breach that leaked up to 250,000 litres of oil and other material [Why don't the media report that undisclosed toxic chemicals make up the "other material?" Don't they want the public to know how toxic Husky's spill is?] into a river earlier this month has finally been found, but word on what caused it will have to wait.
Laurie Pushor, the deputy minister of the economy, says the section of the Husky Energy pipeline where the spill occurred into the North Saskatchewan River near Maidstone, Sask. on July 20 was dug up Friday.
Pushor says the excavation has now stopped while plans are made to remove the 40-centimetre-wide section without causing a further release of crude oil.
He says once it's removed, it will be sent for testing.
Pushor says details of the findings, such as what caused the pipeline to fail, will be made when the full report on the incident is made.
The government has said it expects Husky to submit that full report within 90 days of the pipeline breach.
"Specialized equipment is being brought in to purge the pipe and remove the damaged section," Pushor told a media briefing on Saturday.
"Once the section is removed, it will be sent off for detailed testing and analysis. Additionally, the remaining pipe will be capped and secured," he continued.
"It is expected this will take several days due to the complexity of the process required to safely execute these next steps."
The province has estimated that the spill has affected the water supply to about 62,000 people in the area. Municipalities in the region have shut off their water intakes and are relying on other sources, such as stored water in reservoirs or storm retention ponds, to supply their water systems until hydrocarbons in the river flow past.
Prince Albert, a city of approximately 35,000 people that's downstream from where the breach occurred, hoped to have a 30-kilometre-long temporary water supply pipeline to the South Saskatchewan River running this weekend. A shorter line to the Little Red River was functioning on Saturday, the province said.
Pushor said there were actually two Husky Energy lines that crossed the North Saskatchewan where the breach occurred. One was the 40-centimetre line that carried crude from north to south, and a second line, half the size and running in the opposite direction, carrying a diluent that's mixed with crude to help the oil move through pipelines. [Similar to what will be in the trench for the Northern Gateway, except it's bitumen, not crude oil, and diluent that spilled.  The media appear loath to report accurately on Husky's toxic disaster.]
The lines are underground and Pushor said the breach was discovered on the crude pipeline two to three metres underneath the south riverbank. He explained that the oil travelled from the breach about three or four metres within the outer lining of the pipeline, to the point where it came to the surface about 300 metres from the river's south shore.
Husky has said it noticed pressure "anomalies" in part of its pipeline on July 20 [Why didn't Husky shut down the line as soon as it noticed the anomalies? ] and detected the spill the following day, when the line was immediately shut down.
Duane McKay, Saskatchewan's commissioner of emergency management told the news briefing on Saturday the province brought in extra radio equipment to help Prince Albert crews communicate from end-to-end of the 30-kilometre temporary water line.
"I think the pumps are spaced about two kilometres apart and each one has to be started up in sequence, and obviously communications, in startup and shutdown, is absolutely critical," McKay said.
"Hopefully later today, all pumps will be moving water." [Emphasis added]
Small business suffers without water in Prince Albert, Sask., Prince Albert car wash and detailing shop struggles to make ends meet by Joelle Seal, July 30, 2016, CBC News 
It's been a tough time for small-business owners in Prince Albert, Sask., that rely on water for their business.
Shelley Gordon owns the 6th Avenue Car Wash and UniglassPlus Ziebart car detailing shop in Prince Albert. She said she has been struggling to make ends meet with the sudden loss in business.
The car wash has been closed since Monday, while the car detailing shop's business has been seriously impacted because they are not able to complete services that require water.
Husky's role
Gordon said she realizes that Husky's first priority is the containment of the oil spill and tending to damages.
"But there is another factor and that's the effects it's had on the community and small business owners," said Gordon.
"I'm a small business owner and I don't have a big banner behind me supporting me, making my mortgage payment on August 1."
Gordon said she relies on the income of the shops' business, and wants to get the issue resolved to allow her to make her payments.
"I understand they're doing everything they can to get through this terrible situation, and I hope that Husky is being as helpful as they can be in this time of need."
She spoke with Husky's insurance adjustor on Monday, and on Friday they sent her a package asking for her to provide her sales history data.
Gordon said the letter she received was generic and did not provide a timeframe for payment, or any interim payments that could be provided to her until the total amount lost had been calculated.
She has had to lay off her car wash employees while the shop has been closed, and is concerned about paying and keeping her staff for both sides of the business.
"I had staff members all day yesterday (asking), 'Am I working this weekend? Am I going to have work next week?' And I just don't have answers," she said.
Long weekend losses
She has concerns about the way Husky's insurance adjustor will calculate the business lost, especially over the start of the long weekend, as the UniglassPlus Ziebart store has only been open a year.
"(Friday) was the start of the long weekend, and Thursday normally we would be lined up 10 cars deep, people waiting to wash their RV's and trucks before the long weekend," she said.
"I've spent a lot of money on advertising this past year, and I'm uncertain what the potential could've been.
"The new business doesn't have a long track record like the 6th Avenue Car Wash, so it's hard to kind of come up with concrete numbers."
Looking to the future
Gordon said she also wonders what the long-term plan looks like for Prince Albert.
"What's going to happen in the winter time? I'm a car wash that's open all year round, so are they going to shut me down in November again?" said Gordon.
"What's the long-term future look like for a business owner in Prince Albert? That's the uncertainty of all of that." [Emphasis added]
***
The EUB Gladly Fettered Their Discrection To SPOG!!
email by Stewart Shields to federal and provincial authorities and politicians, July 31, 2016
What is regretful about these spills is the fact that industry got away with having the bitumen fields called the "Oil-Sands" rather than the "Tar-Sands" it more resembles!! Now following this- we have bitumen spills lumped in with crude oil spills an effort that does not allow for the differences between the two and their respective difficulties in recovery!! Husky with 2691 reported pipeline incidents however- is mainly a bitumen producer with the largest numbers of spills but no way near the largest producer?? Some so called experts have never been involved in removing a bitumen slurry from a moving Stream! Really although there have been a lot of leaks of bitumen it has strangely mainly been at or close to pumping stations!! The two main bitumen spills onto moving water has been this one that has traveled over 500 Km. and the one on the Kalamazoo river that has taken 6 years to resolve!!
Both Alberta and Saskatchewan are light years behind in their management of their publics petroleum property!! The first notable thing is-do energy industry members like Husky even recognize that it is indeed the public that own the petroleum they develop??
In Alberta energy companies have followed Shell in forming what's called synergy groups, who are totally owned by the industry, but have had the proper petroleum regulator "fettered their discretion"toward these groups who they have absolutely no control over?? SPOG the first of these "unlicensed merry men"tried to handle a major H2S release that Shell experienced on Sept !2, 2003 with a covered –up disaster as a result!! Since Shell's telephone system promptly failed operators were sent as good will messengers rather that locate where the leak was coming from?? Finally after several long and troubling hrs. Shell finally had to request the EUB to attend their control center??
Foip reports show there was without question collusion between the regulator, the operator,

and the Synergy group!!

I put my small ranch for sale the very next day Sept 13th, 2003!
The new NDP government in Alberta has done very little to correct or modernize how our energy properties are managed, in Saskatchewan the Saskatchewan Party government are always for industry to self regulate, rather than disguise that effort with synergy groups !! In either case we have governments in place—but the power resides with the foreign and domestic Energy Industry– as properly shown in this Sask. River bitumen spill!! I'm very surprized with the success Saskatchewan have had with Crown Corporations—that a professional C.C. has not been struck to manage the public's petroleum properties in the beat interest of the public owner like other Crown Corp. in Saskatchewan???
Stewart Shields
Husky oil spill: Oil spills common in Saskatchewan, though usually small by Leslie Young with files from The Canadian Press, July 29, 2016, Global News
A massive late July oil spill from a Husky Energy pipeline leaked oil into the North Saskatchewan River and contaminated the drinking water supply of an estimated 70,000 people.
Such disruptive events are rare in the province, but this spill is not the largest oil pipeline spill in recent history. According to publicly-available data from the Saskatchewan government, that honour belongs to a 2006 Nexen spill which dumped about 1.65 million litres of oil north of Fusilier
There are about 20 spills of oil from pipelines per year in Saskatchewan on average. This one stands out for its environmental impact and the effect it's having on the public.
The Husky oil spill
According to the latest information from Husky, the spill was discovered at around 10 a.m. on July 21. The company had originally claimed that the leak was discovered on the evening of July 20.
READ MORE: Husky Energy changes day it discovered spill
About 200,000 – 250,000 litres of crude oil blended with diluent (a chemical added to heavy oil to make it flow more easily) leaked from a pipeline into the North Saskatchewan River near Maidstone, Saskatchewan. The oil has since been travelling downriver.
The town of North Battleford (population 13,888 according to the 2011 census) shut down its water intake from the river the day after the spill was reported. Since then, the city has relied on a different water treatment plant, which draws from groundwater, and put in place some water conservation measures.
On July 25, the city of Prince Albert (pop. 35,129) also stopped taking drinking waterfrom the river. It's currently asking its residents to conserve water and is relying on backup supplies of drinking water. They're also hoping to construct a pipeline to another river, as an alternative water source.
Other municipalities have also issued drinking water advisories, and in some cases, since rescinded them. All in all, Saskatchewan's Water Security Agency estimated on Monday that about 70,000 people were affected and that precautionary measures could be in place for weeks or even months.
A brief look at Saskatchewan oil spills
This Husky oil spill is tied for the eleventh-biggest oil pipeline spill in Saskatchewan since 1990, according to government records.
Over the last 10 years, there have been about 20 spills of oil from pipelines on average. But that number increases immensely if you include all sources: about 453 spills per year between 2006 and 2015. This includes spills from wells, oil facilities and flowlines.
The average pipeline spill those years dumped about 30,700 litres of oil. However the average is skewed by a few big incidents – like that massive Nexen spill in 2006. More than half of spills are 1000 litres or less.
READ MORE: Crude Awakening – 37 years of oil spills in Alberta
Husky is also responsible for more spills in Saskatchewan than any other company. They had recorded 2691 incidents from 1989 to the present, according to the government data.

 [Emphasis added]
Husky oil spill: Pipelines close to rivers a bad idea, scientist says, 240K leak should give Premier Brad Wall something to think about, ecologist David Schindler says by CBC News, July 28, 2016
One of Canada's top environmental scientists who specializes in the oil patch says the Husky oil spill should be a wake-up call for the provincial government.
"Maybe instead of increasing pipelines all over the place, we ought to be putting more effort into getting at our stationary needs for power onto other types of power sources and fossil fuels," said David Schindler, a former professor of ecology at the University of Alberta.
… This should give Premier Brad Wall, a strong proponent of pipelines, reason for pause, he told CBC Radio's The Morning Edition.
Advice for the provincial government
"My advice to the premier would be to have second thoughts. If this is the only strategy to fill the coffers of Saskatchewan, at least try and route the pipelines so they're minimizing the areas where rivers are crossed and parallel to rivers right near the banks."
The material that leaked into the North Saskatchewan River near Maidstone, Sask. a week ago was a mixture of heavy oil and other hydrocarbons.
Schindler said

the contaminants could stay in the water for several months, or even years.
"Certainly, there will be little tarballs floating to the surface here and there and little oil slicks for years to come," he said.
He added that the 250,000 litres that went into the river was a relatively small spill.
As well, it's lucky that the leak didn't take place during the winter, he said.
"One [thing] that's never mentioned, is what happens if we have a spill under ice. That river is under ice for five months of the year. As far as I know, we don't even know how to get at a spill under ice let alone remove it." [Emphasis added]
Husky Energy oil spill takes the fun out of summer in Prince Albert, Sask., Water slides, pools and splash pads shut down by Danny Kerslake, July 27, 2016, CBC News
It's hot in Prince Albert, and with tight water restrictions in place, there's little relief.
While much of the talk in the wake of the Husky Energy spill has been about drinking water, the city's mayor has identified another important issue.
"Lots of our population can't afford to go to a cabin at the lake or water-skiing, so our water slides and our pools and everything, our water complex, is their summer holidays," said Greg Dionne on Tuesday.
All the fun stuff is shut down, because water is now precious in the city.
Thirteen-year-old Isaac Knise offered this concise observation.
"It's just not even good man."
'Some can't simply pack up and go to the lake'
It could be awhile until it gets good.
There's no guarantee that the water slide, the pools, or the splash pads will open once the temporary water line is connected, and it could be months before the oil is cleaned from the North Saskatchewan River, Prince Albert's permanent source for drinking water.
"It's sad for the kids, that's all they got, some kids, is the water park and they can't afford to go, they got no cabins and stuff," said resident Greg Rydde.
It could be a long hot summer in Prince Albert, for children, and their parents.
"We are unable to go to the paddling pools or to the sprinkler parks and we can't fill up our pool in the backyard, so the kids are pretty hot," said a frustrated Merinda Challen. [Emphasis added]
***
Finding The Failed Pipeline !! email by Stewart Shields to federal and provincial authorities and politicians, July 31, 2016
There certainly is plenty of those who disagree about the sinking of bitumen left to live on moving streams!!
Those washing the bitumen off the banks and mixing it with riverbank sediment had better hope it does not sink as it did in the Kalamazoo!!
Divers in the Saskatchewan spill should examine these spots to confirm no pollutants remain!! Certainly this article deals with oil eating microbes and the difficulty of heavy metals in bitumen!! Also as we have been saying the industry are still stuck in treating bitumen recovery as it would crude oil, nothing new is taking place to strengthen the recoverability's of bitumen in moving water?? It's understandable that Husky very much like Enbridge want away from clean-up duties, however we must find the truth to how to deal with bitumen spills, since bitumen originates in Canada!! I look to the Canadian Environmental Body to play a bigger role in the massive spill that covers most of Northern Saskatchewan! As the American's needed the National Transportation Safety Board to adjudicate the happenings on their Kalamazoo River in the State of Michigan—so Canada needs It's Federal Environmental Department to act for Canadian's in the Province of Saskatchewan on the North Saskatchewan spill!!
Stewart Shields
Five years ago today, in the middle of the night, an oil pipeline operated by Enbridge ruptured outside of Marshall, Michigan. It took more than 17 hours before the Canadian company finally cut off the flow [Like Husky's operation style?], but by then, more than a million gallons of tar sands crude had oozed into Talmadge Creek. The oil quickly flowed into the Kalamazoo River, forcing dozens of families to evacuate their homes. Oil spills of that magnitude are always disastrous, but the Kalamazoo event was historically damaging.
Submerged oil recovery on the Kalamazoo River. Photo credit: EPA
The first challenge was the composition of the oil. Fresh tar sands crude looks more like dirt than conventional crude—it's far too thick to travel through a pipeline.
To get this crumbly mess to flow, producers thin it out with the liquid constituents of natural gas. Diluted bitumen, or dilbit, as it's called in the tar sands industry, is approximately three parts tar sands crude, one part natural gas liquids.
When dilbit gushed into Talmadge Creek in 2010, the mixture broke apart. The volatile natural gas liquids vaporized and wafted into the surrounding neighborhoods. The airborne chemicals were so difficult to find and eliminate that Enbridge decided it would be better to simply buy some of the homes that were evacuated, preventing the residents from ever returning.
The tar sands oil, which stayed in the water, presented an even bigger chemistry problem. Most forms of oil, including conventional crude, are less dense than water. That's why oil makes such pretty colors when dropped into a rain puddle—it floats and plays tricks with the sunlight. Traditional oil spill cleanup technology relies heavily on this density relationship. Skimmers and vacuums remove it from the surface. Floating booms prevent surface-level oil from moving into environmentally sensitive areas.
Tar sands crude behaves differently. "Tar sands bitumen is a low-grade, heavy substance," says Anthony Swift, director of NRDC's Canada Project (disclosure). "Unlike conventional crude, when bitumen is released into a water body, it sinks." (See "Sink or Skim," onEarth's infographic on why tar sands oil is more difficult to clean up than conventional crude.)
Try pumping this through a pipeline. Photo credit: SUNCOR
Put simply, the spilled dilbit traveled in every direction—into the air, with the current, to the bottom of the river—at the same time. The U.S. Environmental Protection Agency's (EPA) indisputably naïve response reveals how little anyone knew about tar sands crude. The EPA demanded that Enbridge remove the oil from wetlands surrounding the pipe by August 27, a little more than one month after the spill began. The agency wanted the stuff out of the creek, river and shorelines by Sept. 27. Those deadlines would have been practical for a typical spill—but not for a tar sands oil spill. A half-decade later, some of the oil still remains—though, much of that has to do with Enbridge botching the cleanup effort (see onEarth's three-part series, "The Whistleblower.")
Enbridge's bungling began even before the spill. First, the company knew the pipeline was vulnerable by 2005, if not earlier. When the rupture finally came in July 2010, operators dismissed the alarms as a malfunction of the system for 17 hours before finally accepting that the pipeline had failed. [Like Husky?] Making things worse, six hours after Calhoun County residents were complaining to 911 about the smell of oil, Enbridge employees were still trying to fix the problem by pumping additional oil into the pipeline. In its review of the accident, the National Transportation Safety Board faulted Enbridge's "culture of deviance" for what happened, pointing out that the response team in the first hours consisted of four local pipeline maintenance employees who were inadequately trained and made a series of bad decisions.
Not only did Enbridge fail to make the EPA's initial cleanup deadline, it also blew through a series of fallback deadlines across more than four years. Not until late 2014 did the agency finally sign off on the remediation effort, handing the remaining responsibilities to the Michigan Department of Environmental Quality.
As the cleanup winds down, though, there is little cause for celebration.
"The Kalamazoo River still isn't clean," says Swift. "The EPA reached a point where additional cleanup might do more harm than good. Much of the river is still contaminated."
Some local residents accuse the company of overstating its progress. "In the process of beautifying everything and giving money to everybody and making everybody feel good about it, they're not really telling people about the dangers still there in that water," says Linda L. Cypret-Kilbourne of Michigan's Potawatomi tribe.
It's not clear when the river will go back to pre-spill quality. After conventional oil spills, crews eventually back off and allow microbes to break down the last bits of crude. That approach isn't a good option in Kalamazoo. First, the area doesn't have a large natural population of oil-eating microbes like the Gulf of Mexico has. In addition, tar sands crude contains very high levels of heavy metals, which don't break down easily.
Let's not forget how much it cost to (not completely) clean the Kalamazoo. The current price tag is $1.21 billion (and rising), making it the most expensive onshore oil spill in U.S. history.
It's tempting to dismiss the slow, botched, expensive and still-unfinished cleanup as growing pains. Tar sands imports have risen significantly since 2010, as has public awareness of the difference between the Canadian crude and the conventional product.
In the five years since the incident, we should have improved tar sands oil spill response. But we didn't.
If another Enbridge spill were to happen tomorrow, the company might respond more quickly, but huge volumes of heavy tar sands crude would still pour out of the pipeline. David Holtz of the Michigan chapter of the Sierra Club told reporters that a rupture in Enbridge Line 5, another pipeline that runs through Michigan, would be disastrous.
"If they hit the shutoff valve immediately after a rupture, there would still be more than 650,000 gallons of oil spilled into the Great Lakes," he said.
Cleaning it up would be as challenging today as it was five years ago. There have been no technological breakthroughs since 2010. The tar sands industry should accept a large portion of the blame for this stasis.
"The efforts to improve spill response have been caught up in a public relations war," says Swift. "The tar sands industry wants you to believe that oil is oil and that its product involves no heightened concerns. As a result, spill responders are working with largely the same tools today as in 2010."
Tar sands pipelines—like the one operated by Enbridge, or TransCanada's proposed Keystone XL pipeline—run for thousands of miles, crisscrossing the U.S. and Canada in elaborate networks. They entail certain risks and those risks are not going away. We have to decide how to respond. If we accept them, we must work to minimize the consequences by developing the appropriate safety measures and technology. Or we can reject them by eliminating tar sands from our energy infrastructure. The one thing we must not do is to pretend they don't exist. The Kalamazoo spill is a reminder. It won't be the last. [Emphasis added]
[Refer also to:
Husky's bitumen & chemical spill contaminating drinking water for 70,000 people (so far) in Saskatchewan. "Other than sharing ways to hide, alter, or destroy evidence to protect the guilty, how would the NEB help?" July 30, 2016
How are you enjoying life without water so far? Welcome to Ernst's world, ten years in. July 28, 2016: Husky's toxic bitumen-chemical additive spill has traveled 500 km in North Saskatchewan River contaminating drinking water supply to many, four communities declare state of emergency. Where is Premier Brad Wall? Will KFC save him? July 28, 2016
Join the Frac Club! Deregulation budget-cut style? "It's a real nuisance. And for some it could become a real health issue. … Can't drink, can't shower, can't wash your clothes." Prince Albert declares state of emergency; constructs 30 km long drinking water pipeline as Husky's massive toxic bitumen & diluent slick invades. Who pays for the damages? Saskatchewan averages two oil spills a day, just like Alberta! July 26, 2016]