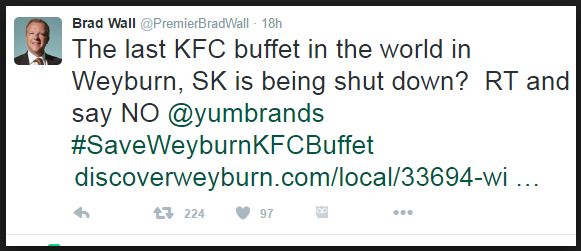 MUST READ! Worst than a boil advisory! by Gérard Montpetit, La Présentation, Qc, July 28, 2016
On the TV news and in newspapers, we have seen that a pipeline, property of Husky Oil, has spilled more than 200 000 liters of petroleum in the North Saskatchewan river.[1] The oil slick is rapidly moving downstream, polluting the river bottom, the drinking water of wildlife, of livestock and of the citizens living in its watershed. The mayor of Prince Albert, Mr Greg Dionne, has declared a state of emergency in his city. The city water purification plant must stop pumping water from the river because the oil slick is approaching its water intake. [2]
This emergency is worst than a «boil advisory». Boiling the water will destroy harmful bacteria, (usually E Coli) thereby making it fit to drink again. But how do you «kill» petroleum?
So this is a «drinking water advisory».
In other words, don't let this tainted water touch your body; don't drink it, don't cook your food in it and don't shower with it! But animals must have drinking water, too!
The citizens of North Battleford and Prince Albert could be forced to live in this unacceptable straightjacket for months[3] A temporary 30 km water pipeline might partially solve the problem for the moment; but it would freeze during the winter if the emergency lasts more than 4 months!
Even if Husky Oil pays for some damages, what about the financial losses of farmers and local businesses? What about the anxiety that every citizens faces as he or she tries to cope with the situation on an hour by hour basis? And what about a sound, and beautiful environment? No insurance money can totally pay for such losses!
In Quebec, we have sympathy for the plight of the people of Prince Albert. On January 15, 2015, a tank containing diesel fuel contaminated the water purification plant of the south shore city of Longueuil; this left 300 000 people without access to water for three days. [4]
Accidents, like these, should be a lesson for the citizens of Canada; no pipeline is totally safe.
Presently, there are a number of pipelines projects that are awaiting approval by the NEB (National Energy Board). Amongst them, Energy East would see 1 100 000 barrels per day of dilbit travel over 4600 km to the East Coast and cross more than 800 rivers, streams, ditches and marshlands.[5] If built, that pipeline would carry more than 2000 liters of heavy oil per second.
At the BAPE (Quebec's equivalent of the NEB), TransCanada admitted that if its sensors worked right, and the people in its control center reacted correctly, it could stop the flow of oil in 13 minutes. That means that if every thing goes right, «only» 1 560 000 liters of heavy oil would escape. In real life, 13 minutes between the detection of a leak and the complete stop is overly optimistic. In your case, Husky Oil needed 14 hours. And in 2010, Enbridge, in the Kalamazoo river, (Michigan) required 17 hours.
One must remember that the crossing of the Ottawa river between Hawkesbury and Rigaud is technically difficult from an engineering point of view. A giant spill, upstream of Montreal, would leave

3,5 millions

in the same plight as people of Prince Albert and North Battleford.
Such unfortunate incidents can become a springboard to change our way of living that depends so heavily on fossil fuels. We should be thinking along the lines of the Conference of Paris; to keep climate change within acceptable ranges, mankind must move rapidly towards a low carbon economy. On the other hand, if we increase our dependance on oil, thereby producing more GHG(greenhouses gases) we will face increasingly bizarre and costly weather events such as hurricanes, heavy downpour, and droughts. Giant forest fires, caused by extreme dryness, are also costly.
When politicians, such as Premier Brad Wall, ask that Manitobans, Ontarians, Quebecers and New Brunwickers authorized Energy East, these promoters are demanding that we should be constantly at risk of such a giant spill.[6] There are no risk-free oil technologies![7] The same argument applies to British Columbians, and First Nations who are opposed to the Northern Gateway and TransMoutain pipelines towards the west coast. Or, for that matter, to Enbridge's old line 9B towards Montreal! Each liter of oil will contaminate one million liters of water! Therefore, oil and water don't mix!
Gérard Montpetit
La Présentation, Qc.
July 27, 2016
1 ] http://www.ledevoir.com/societe/actualites-en-societe/476310/maree-noire-prince-albert-tente-de-menager-ses-reserves-d-eau
2 ] Prince Albert, Sask., declares state of emergency over oil spill, CBC News
3 ] Saskatchewan Oil Spill: Drinking Water Could Be Unsafe For Months …
4] http://www.lapresse.ca/environnement/pollution/201501/15/01-4835434-deversement-de-diesel-300-000-personnes-privees-deau.php
5 ] https://fr.wikipedia.org/wiki/Ol%C3%A9oduc_%C3%89nergie_Est
6] https://www.neb-one.gc.ca/sftnvrnmnt/sft/dshbrd/mp/index-eng.html
7] http://meteopolitique.com/Fiches/petrole/deversements-de-petrole/2013/Deversements-de-petrole-en-2013.html
***
Frustration grows after Saskatchewan oil spill shuts down running water
email by Stewart Shields to federal and provincial authorities and politicians, July 28, 2016
Again the press will forever call the spill in the North Saskatchewan an "OIL SPILL" that is entirely wrong—this spill unfortunately is much worse –as a "BITUMEN SPILL"!!
Because a bitumen slurry sinks after being alive on the water surface for too long, it becomes a mighty job to contain and clean-up!! If we succeed in nothing else with this spill I'm hopeful that those in Saskatchewan will know and appreciate the difference!!
Saskatchewan's Premier was an avid promoter of a bitumen pipeline to the coast of British Columbia!! This pipeline would cross most of British Columbia's major fish bearing rivers!! One has to wonder how Brad Wall can still insist that a bitumen pipeline is better than upgrading bitumen to a valued added nice synthetic oil ?? Both Harper and Wall were and indeed still are "Petro-Puppets" who cared so little for our environment—that foreign owned "petro-barons" were able to act as Husky is in fact doing today??
I see many many photo's of bitumen stalled near the river banks , but no crews are ever in sight recovering the muck from our waterways?? Where are the crews that are to be fighting to save our major river system and the fishing spots that's a great part of our economy and pleasure??
Wall insists he is unhappy about Husky's results–
-does Husky seem worried??
The Prince Albert mayor done the correct thing in informing the Premier he could do far more to help the horrid spill situation by staying in Regina– than touring the spill sights that cover most of Northern Saskatchewan!! Good on you!!
Gaining a list of chemicals added to the slurry, with a health sheet for each one would be a nice jester for the Premier to gain from Husky -to share with all connected folks to the spill!!
Stewart Shields
Frustration grows after Saskatchewan oil spill shuts down running water by Carrie Tait, July 27, 2016, The Globe and Mail
Philip Gauthier sticks his head down a water well he has not used in about a dozen years. The hole is dark, but he can see water about six metres down. He needs it. Mr. Gauthier is among the thousands of people in north central Saskatchewan without running water thanks to an oil spill in the North Saskatchewan River caused by a ruptured Husky Energy pipeline.
Mr. Gauthier must now jerry-rig a way to get the water to the surface. His old pump went bust, so he bought a new one and about 45 metres of electrical cords to power it. He hopes the Red Lion pump will be enough to suck the water to the top so he can fill jugs for flushing the toilet, washing dishes and sponge bathing.
"If I don't get that, I just wasted $300," he said Tuesday. If that doesn't work, he is going to tie some rope to a pail and draw water from the well the old-fashioned way.
"There's water down there. I gotta get it somehow," he said, laughing but not joking.
Mr. Gauthier lives in the country, just outside Prince Albert, Sask. The city pulls its water from the North Saskatchewan River, but it was contaminated after about 200 to 250 cubic metres of oil spilled into the waterway last week. On Tuesday, it was revealed that Husky waited 14 hours after first detecting anomalies in the system before stopping the flow of heavy crude in the line and notifying the provincial government. The company said on Wednesday it now has 400 people working to clean up the spill and deal with affected wildlife. [Surely, that's insufficient for a massive company like Husky taking billions in profits out of Canada, and the severity of this spill?]
Prince Albert stopped drawing water from the river on Monday and turned to water in storage. It is now churning through the water from a retention pond – an emergency supply expected to dry up on Friday.
And so to conserve water, Prince Albert cut off supply to the Prince Albert Rural Water Utility on Sunday, four days after the spill. That left three rural municipalities without running water. Mr. Gauthier's household is one of about 1,000 homes hooked up to the system. By way of comparison, about 40,000 people in Prince Albert rely on the city's water. The city cut off its rural neighbours in order to stretch supply for its own residents.
"That's our first priority," Jim Toye, Prince Albert's city manager, said on Wednesday.
Ken Danger, the rural water utility's general manager, has been left dealing with frustrated rural residents. The outfit is hauling treated water from other areas to storage tanks, hoping it will flow through the utility's distribution network for residents on the north side of the river.
"It is going to work good for them," Mr. Danger said on Wednesday.
For those on the south side, the utility is organizing contractors to provide door-to-door delivery. The elderly and people with health issues are first on the list.
"It is a huge project," Mr. Danger said. "There are some people who will never get water until the city turns us back on."
Prince Albert residents have been gathering on the North Saskatchewan's banks to watch the contaminated water flow through the city.
Tan-coloured blobs that look like foamy mud pies float by, with some of the gunk collecting on the banks and catching on the vegetation.
North Battleford, a city of about 15,000 people, shut off its water intake on Friday and has since switched to well water. Prince Albert's backup plan is more complicated: It put down 30 kilometres of hose linking the city to the South Saskatchewan River. Officials hope the system will be running by Friday – later than originally planned. Rural communities will be added back to the system if there is enough supply, Mr. Toye said.
Scores of affected rural residents have wells on their property. In fact, some households are unaffected by the spill because they already relied exclusively on well water. Others use wells as backup systems or for livestock and gardens.
Cornelius and Karien Kemp are among those hoping their well, which they usually use just for gardening, will fill the void.
The Kemps do not know, however, if it is potable. Mr. Kemp took samples this week to the health region's administration building to be sent on to Regina for testing. 
The family is also considering buying a spare tank or a UV filtration system that could cost anywhere from $500 to $2,000.
"There are definitely some costs," Mr. Kemp said. "But it is a disaster – what are you going to do?"
Saskatchewan Premier Brad Wall said Wednesday he expects Husky to live up to its promise to cover the costs tied to the spill. They include not only cleanup, but also the costs of providing potable water and covering the loss of business for car washes and laundromats, which have had to shut down, he told reporters.
Meanwhile, Mr. Gauthier's makeshift water system worked. The pump is powerful enough to draw water from the well. He is able to fill up jugs but not properly hook it up to his house.
"It takes a while, but it works," the 76-year-old said. "I can survive on it." [Emphasis added]
Where Across The Northern Part Of Saskatchewan Is Husky Hiding!! email by Stewart Shields to federal and provincial authorities and politicians, July 28, 2016
This mighty spill will have to take the place of the make work project Brad Wall wanted the feds to underwrite for the Petro- industry to clean up their messes in Saskatchewan, rather than fining them for having the messes?? Wall should study section 35 and 36 of the Fisheries Act to understand what the Feds are capable of doing!!
We have seen untold amounts of coverage from every affected town of folks putting their shoulder to the wheel to keep their communities safe. Both the Mayor and Manager of Prince Albert have shown they are not shy about putting out an extra effort to insure their community has a supply of safe drinking water!!
What's totally missing from this spills scene is any evidence of the folks responsible for the mess, in the first place!!

None of the photo's we examined would indicate anyone is trying to actually clean up the bitumen pictured in photo's?? Are those who are employed by Husky not willing to be photo'd or questioned about their mighty spill? Or has Husky told their crews and employees not to talk to reporters??

The affected sites have every right not to be overly fond of those who would destroy their economy and pleasures, while withholding their intentions and next moves, in solving as they should the damages only they brought to these folks?? That they will pay for the damage goes without saying—Kalamazoo has just paid a fine of $177 million for an almost exact bitumen spill in Michigan, after spend a billion on the clean-up!!
Both the Alberta and Saskatchewan regulators are extremely shy about coming foreword with anything about the petro-industry they are charged with regulating? I've never heard of a regulator who is so frightened of those they are responsible for regulating, that they will not discuss the matter?? It's simply called guts!!
Stewart Shields
Water Advisory over for Melfort and Area (Updated) by Joshua Santos, July 28, 2016, The Journal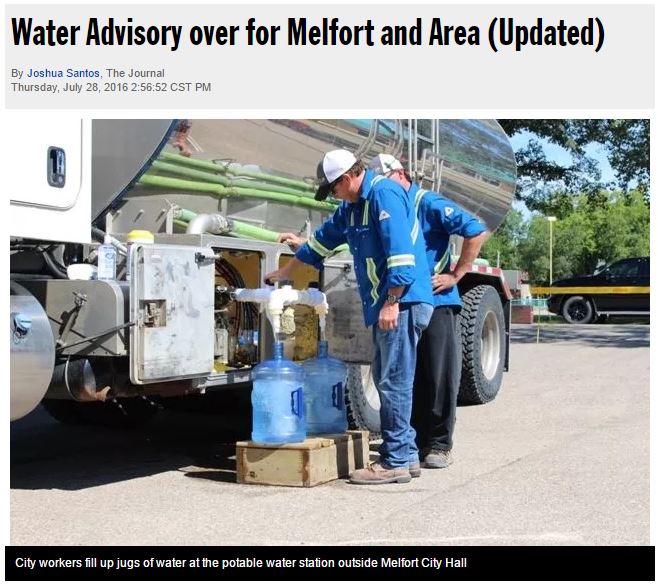 As of 8:30 a.m. Thursday morning, the city of Melfort has announced that the precautionary drinking water advisory (PDWA) for the Melfort Regional water system has been rescinded.
"I got a note that said the precautionary drinking advisory has now lifted. That means you can drink water right out of your tap without boiling it," said Melfort Mayor Rick Lang.
According to a news release from the Water Security Agency, this includes systems in Star City, Kinistino, Weldon, Beatty, Brancepath, Fairy Glen, Gronlid, Eldersley and Brooksby.
During a conference call on Thursday, July 28, Executive Director for Environmental and Municipal Managment Services for the Saskatchewan Water Agency, Sam Ferris explained why the agency lifted the precautionary water drinking advisory.
"When the water was switched over from the Saskatchewan river to the local reservoir there, we were concerned that the water treatment process wouldn't be able to adequately filter that water," Ferris said. "The plant was started on this new water supply, it was adjusted and we found that at no time did the water quality seek the requirements for turbidity – turbidity is the measure of how much suspended material there is in the water.
"It started at a slow rate of production and the operators increased to the higher rate of production and it's still able to cope. There was changes made in the plant and now it's able to deal with that water source," Ferris said. "We put the advisory on effective midnight between Monday and Tuesday because we weren't sure if the plant was able to cope with the water. We found out through testing that it is. We're confident that there's adequate treatment and disinfection."
When the advisory was placed, the city brought in a potable water fill station outside the city hall parking lot for citizens to obtain two gallons of water for free. Lang notes the truck will be there for a short while now just to make sure everyone is aware that the advisory has been lifted.
"The potable water station, which is just a big water truck, will be here probably for the balance of today and maybe for half a day tomorrow. We don't know for sure about how long it will be here. We just want to make sure that the pumps are working properly and are going to work properly," said Lang.
During the advisory, the Northern Lights pool, city water parks and drinking water fountains in city facilities were shut down. The city however notes that the pool will resume operations again on Friday, July 29.
A news release states that Saskwater is still strongly urging customers to suspend all non-essential water use such as watering of parks and lawns. [Emphasis added]
Residents along North Saskatchewan River cope with water bans, boil water advisories by Andrea Hill with files from Alex MacPherson, StarPhoenix, July 26, 2016, Calgary Herald
On a hot summer day, people are usually a lined up outside Sixth Avenue Car Wash in Prince Albert.
Its 12 car-washing bays were empty Tuesday on the second day of a mandatory water ban issued after more than 200,000 litres of oil from a Husky Energy pipeline leak floated down the North Saskatchewan River past the city's water intake plant.
The city is currently relying on emergency water reserves. Since Monday, residents who use water for non-essential purposes can be slapped with a $1,400 fine. Car washes and laundromats were told to close their doors.
"It's a kick in the gut because it's our busy time of year," said Shelley Gordon, who owns Sixth Avenue Car Wash. "Being a small-business owner, I don't have a large banner to help me through times when income isn't guaranteed."
Sixth Avenue Car Wash also runs a car detailing service, but Gordon said there hasn't been much demand for it this week.
"Our business, the two of them work hand in hand, one complements the other, and when one is not as busy it affects both businesses," she said.
Many of the employees were asked to stay home this week; Gordon said she worries about those who live paycheque to paycheque.
She has contacted Husky Energy about her situation and a company representative said it will send her a claim form, she said. She was told she may get compensation, but that it could take time, she added. [Yes, the more time it takes, the more the delays by Husky and the government, the more harmed people will give up, or take peanuts and gag]
…
North Battleford and Melfort have also shut off their intakes and are also relying on alternate sources of water.
Melfort closed its water treatment plant's Cadet Lake intake valve Tuesday morning and is supplying residents with surface water from a nearby dam site.
Mayor Rick Lang said the quality of water from the dam site is "substantially inferior" to the water they're used to, so a precautionary drinking water advisory is in effect.
Because most of the bottled water available in the city is long gone, Melfort's administration has arranged for a 1,500-gallon truck to provide residents with small supplies of potable water until further notice, Lang said.
It remains unclear when the city and outlying communities will be able to return to normal water usage. Lang said it could be weeks or even months before all residual oil flows past Melfort's primary water intake. [Saskatchewan winter with -20C is just around the corner!]
On its Facebook page, the Rural Municipality of Buckland said Husky Oil is providing bottled water to rural water subscribers in the area, since their supply came from Prince Albert.
The Correctional Service of Canada issued a release on Tuesday evening indicating the Saskatchewan Penitentiary would be closed to visitors temporarily due to the recent oil spill in the North Saskatchewan River.
A release from the service said it's "working with local authorities in order to resolve the issue as soon as possible," and said the facility is operating on a "modified routine" as a result of the spill.
Normal visits at the facility will resume as soon as the CSC declares it safe to do so. The release also noted the facility is not under any sort of lockdown order. [Emphasis added]
One Comment:
Randy Rex Shoop
three to a shower at the jail?
Brad Wall doesn't want to talk about pipeline safety after Husky spills oil in river by Christopher Adams with files from the Canadian Press, July 27th 2016, National Observer
One of Canada's top promoters of pipelines, Saskatchewan Premier Brad Wall, steered clear of talking about safety issues on Wednesday as he emerged to address a growing environmental and economic catastrophe in his province.
Speaking to reporters for only the second time since a major pipeline spill was reported one week earlier, Wall said he was "a little hesitant" to answer a question about the safety of transporting fossil fuels. Instead, Wall said he wanted to focus on ensuring that there was an adequate response to the leak on a Husky Energy pipeline in the central part of Saskatchewan.
But Wall was critical about the oil company's response.
"There's been a spill. And people are without water in Saskatchewan," Wall said. "No I'm not satisfied. I don't think anybody should be. I don't think Husky's satisfied. They better not be."
… In recent months, Wall has been one of the strongest voices in Canadian politics pushing for construction of new pipelines, which he says are urgently needed to create jobs and provide a boost to the country's slumping oil and gas industry.
Several industry stakeholders and government officials, including Alberta's NDP Premier Rachel Notley, have maintained that pipelines are safe, but Wall preferred to avoid the topic on Wednesday as he was pressed by reporters.
He also criticized news coverage from the previous week, suggesting that some media outlets had taken comments he made on Friday out of context by reporting that he was promoting pipelines in the wake of the spill. He said these journalists had not provided adequate context about him expressing concerns about the impacts of the spill, and that he wanted to avoid further confusion.
"We'll get into the debate about pipelines versus rail or how we move oil across this country at a later date," Wall said in Regina.
"The first duty is to respond, to make sure people have potable water. That's got to be the immediate response for all of us." [Alberta sure failed, with that duty!]
… The company has already pledged to take financial and ecological responsibility for the spill. …
Saskatchewan plans thorough investigation of Husky leak [Really? Or just words to keep citizens obedient?]
Deputy Minister at the Ministry of the Economy Laurie Pushor said he didn't know if Husky had resubmitted its official report to the ministry. But he said that the company has shared some information to update the timeline of employee response to the incident.
Despite all of the conflicting statements, Pushor and Wall also both defended Husky, saying it had been transparent about how things unfolded.
…Pushor, the deputy minister, also said that the government would take "appropriate actions" once the investigation is complete. For now, it was working on releasing an emergency response plan.
He declined to say whether the government was considering a full Husky shutdown in the province, explaining that it needs to conclude a "full, thorough, comprehensive review of the activities of all parties involved in this incident." [aka, delay delay delay delay delay, so that the people forget and Husky can continue spilling and profit-taking before any restitution is paid]
"And we'll do that. At this time, we won't speculate on what may or may not have happened," he said in a teleconference call with reporters.
Under the Pipelines Act, companies can be fined $50,000 per day for any incident, including oil spills, until the problem is corrected, [NOT EVEN PEANUTS!] Pushor said. He added that they have the capacity to "amend, suspend or cancel the license of any facility."
That could include suspending any company's operations in the province.
"Those are typically the more immediately responded-to and more effective regulatory penalties."
Fourteen wildlife casualties from Husky spill
Executive Director of Environmental Protection at the Ministry of Environment Wes Kotyk said that 14 animals have died as a result of the spill, most of them birds. Five more are currently undergoing treatment — two birds, two snakes and one beaver.
The Saskatchewan government currently employs one pipeline inspector per 1,000 kilometres of pipeline. Wall also said that his government relieved those inspectors from some of their office-work so that they could focus solely on inspections.
He also noted that provincial regulations require companies like Husky to inspect their own operations [Is that working? For Husky only!] and report their findings to government.
As far as he knows, companies are filing those reports. …
Emailed responses from Husky Energy to the National Observer on Wednesday:
We realize this has impacted people, businesses and communities, and have established a toll-free line for claims, with a team is standing by to help people through the process. [TO GET THEM TO SETTLE AND GAG FOR NEAR NOTHING, AS FAST AS POSSIBLE?] Those with claims can call 1-844-461-7991 or email email hidden; JavaScript is required.​
We continue to support the Wildlife Rehabilitation Society of Saskatchewan and its partners. Lend a Paw in Maidstone has set up an operation in a warehouse where there is more space and where it is more quiet, to provide a better environment for rehabilitation. We've been working with them to make this happen. [MAKING POISONED WILDLIFE SUFFER LONGER TO KEEP FEEDING THE PR PROPAGANDA MACHINE? Emphasis added]
One of the comments:
Public Interest (not verified) | 10 hours ago
A class action lawsuit by all affected, just waiting to happen. Let's hope a contingency of adept, cutthroat lawyers successfully sues Husky's butt off, and that the NEB develops some cojones and seriously takes action against them, more than the NEB's customary slap on the wrist. Another example that pipelines and water don't mix, and, no, dilbit DOES NOT FLOAT!
***
Environment Canada opens investigation as blobs of Husky oil contaminate river by Elizabeth McSheffrey, July 25th 2016, National Observer
The federal government is investigating a Husky Energy spill in central Saskatchewan that leaked more than 200,000 litres of oil from its pipeline into the North Saskatchewan River last week, forcing two municipalities to shut down their water treatment plants as of Monday.
The drinking water of one of the municipalities, Prince Albert, could be affected for up to two months according to an estimate from a city official. [A BITUMEN DUMP INTO THE DRINKING WATER SUPPLY WILL MAKE IT A LOT LONGER THAN THAT! THE DRINKING WATER MAY NEVER BE SAFE AGAIN]
Environment and Climate Change Canada told National Observer that its enforcement officers are now determining whether there may have been a contravention of federal environmental and wildlife legislation before, during, or after the leak. Husky officials failed to contain the spill where it began on Thursday, and roughly 1,570 barrels of crude and other materials have since flowed into the waterways where Prince Albert and North Battleford source their drinking water.
"Our environmental emergencies officers are on-site to assess the situation and to provide scientific advice to inform clean-up options," said an email statement from the federal department. "They are also collecting samples to better understand the characteristics of the spilled oil and its behavior in the North Saskatchewan River… As this is a matter under investigation, it would be inappropriate to comment further at this time." [ARE THEY SAMPLING THE SURFACE OR WHERE THE BITUMEN HAS SANK? WHY DID THE FEDS WAIT SO LONG? TO MAKE SURE THE TOXIC CHEMICALS ADDED TO THE BITUMEN BREW TO MAKE IT FLOW HAVE EVAPORATED?]
Water supplies contaminated
Prince Albert joined North Battleford in enacting emergency water restrictions on Monday morning when the oil slick was visually detected upstream of the district. Both cities are now operating on reserve water supplies, supplemented by other sources, and encouraging their residents to consume water sparingly:
"The City of Prince Albert urges residents and commercial businesses to restrict water usage and conserve water," said the latest statement from the municipality, released Monday. "Water is only to be used for essential purposes."
In North Battleford, all outdoor watering has been prohibited, and spray parks, car washes, and laundromats have been shut down. The spill of more than 200,000 litres was first detected in the central-western city on July 21, and reached the city's water supply on Friday.
As efforts to contain the leak have faltered, its eastern neighbour of Prince Albert has also closed all irrigation services, the municipal water crane, paddling pools, and the Kinsmen Water Park in an effort to conserve water. The city has promised residents that "safe, potable drinking water" will be provided around the clock, and on Sunday, announced construction of a 30-kilometre pipeline southeast of the city to provide an alternative source of water from the South Saskatchewan River, which has not been contaminated.
… Husky has reported that shoreline cleanup is underway near the pipeline site, surveillance by ground, air, and water continues, and water monitoring and sample testing programs remain in place. While deterrent devices are also being used to keep wildlife away from the spill, the company said that one of three birds coated in oil by the accident has died at the Wildlife Rehabilitation Society of Saskatchewan.
"Our primary focus continues to be the safety of the public and the protection of the environment," read a statement on Husky's website. [IF THAT WERE TRUE, THE SPILL, THE SPILL WOULD HAVE  BEEN PREVENTED.] "Anyone encountering an impacted animal or bird should call Husky's 24-hour emergency line at: 1-877-262-2111."
The pipeline was installed in 1997, the company told National Observer, and has been regularly inspected under Husky's management plan. [ONCE EVER HOW MANY YEARS? REGULARLY COULD BE ONCE EVERY 5 YRS OR 10] Roughly 100,000 litres of spilled oil have been collected from the land and water so far.
Cleanup continues
The company is co-operating with and supporting the rehabilitation centre, and municipal and provincial authorities. The pipeline is regulated by provincial authorities rather than the National Energy Board, but Wes Kotyk of Saskatchewan's environmental protection branch told reporters on Monday that Environment Canada is working on models to predict when communities can expect the oil to pass and how long it will take to flow through. …  [Emphasis added]
***
Both Alberta And Saskatchewan Suffer From A Very Poor System To Regulate The Publics Petroleum Properties!! email by Stewart Shields to federal and provincial authorities and politicians, July 28, 2016
Here Husky is trying to play the same old story we get with every environmental damage result industry discovers!! As I have said many times since the Shell/SPOG H2S release of March 12th 2003—The Truth is the first thing to leave a petroleum release!!
The Caroline Cover-up was unique in that the regulator was actually in collusion with the Synergy Group, and Industry member, to deceive the public!! Both Alberta and Saskatchewan suffer from a extremely poor system of regulating their publicly owned petroleum properties!! Is there not a regulation describing the proper time frame for the reporting of a major industry catastrophe in Saskatchewan?? Many have been uneasy with Saskatchewan's abilities under Brad Wall to properly handle a major petroleum mishap, this is being proved over and over now as each day goes by!! Certainly we must rely on the Canadian Coast Guard where there is aquatic damage—that certainly will exist on a major fish bearing lake!! I'm totally surprised we have not heard from Dominic Leblanc the Minister of Fisheries with respect to his departments take on the potential loss of fish and fish habitat all across Northern Saskatchewan??? As the Kalamazoo River spilled proved—bitumen acts very different than crude oil on moving water, and clean-up methods must also greatly change to be successful—something industry has been unable to do with bitumen on moving waters !! [Emphasis added]
Stewart Shields, Lacombe, Alberta
Husky clarifies timeline of North Saskatchewan River oil spill discovery, Incident report shows Husky Energy discovered problems on Wednesday night by Geoff Leo, July 26, 2016, CBC News
Rural areas thirsting for water after Prince Albert plant shut down due to Husky oil spill, Communities linked to Prince Albert for treated water left dry by CBC News, July 27, 2016
People in rural areas around Prince Albert are scrambling to find alternate sources of water after losing supplies from the treatment plant in the larger city.
Prince Albert closed its municipal facility to avoid drawing in water from the North Saskatchewan River following an oil spill by Husky Energy, further upstream.
The city supplies a rural utility that is connected to many small communities and individual homes.
The Muskoday First Nation relies on Prince Albert for its water supply.
Chief Carl Austin Bear said he learned his community's supply would be shut off on Saturday and the actual line to his community was closed shortly after that notice was given.
"We were notified that the water line would be shut off from the city to the Muskoday First Nation," he said Tuesday.
The community has two reservoirs, Bear explained, which are normally recharged with treated water from Prince Albert.
"We do have that capacity," Bear said. "But to keep the reservoirs in supply and keep the pumps operating we are now hauling water to the reservoirs to maintain that supply." [Where are Husky's frac water hauling trucks? Why are not all oil companies pitching in, and hauling water for affected communities, businesses and families?]
He said the community has arrangements with a company that has a large tanker and, combined with local tanker trucks, they are using three vehicles to haul treated water to the reservoir. The deliveries are coming from water supplied from two nearby communities that are still operating treatment plants.
Residents of the community were advised to use water sparingly, Bear said.
"We don't want the threat of pumps going down because if our pumps reach a low pressure that presents a whole bunch of other problems and concerns," he said.
He wasn't sure how long the situation would last but expected it would be until at least Prince Albert was satisfied the city itself was able to meet its needs.
Frustration expressed by some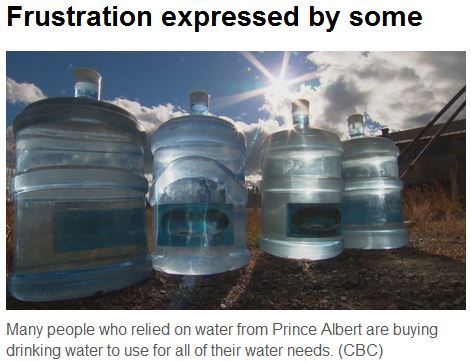 Many people who relied on water from Prince Albert are buying drinking water to use for all of their water needs. (CBC)
The community is one of several that is served by the Prince Albert Rural Water Utility which is supplied by the treatment plant in Prince Albert.
Ken Danger, from the utility, said when their supply was closed, their system was left without water.
'We're afraid of health issues and all kinds of things like that.'
– Ken Danger
"When our water was shut off, our people were off very quickly. With no water," Danger said.
Residential users, he said, would have a minimum amount of water stored in their homes and no way to recharge.
"For most people that water is gone," he said. "And they have no way of getting any more."
Danger said some people are making their own arrangement to haul water and others are making do with only bottled water for drinking.
"They're in dire straights," he said. "We're afraid of health issues and all kinds of things like that."
Among the challenges people are facing, he said, is simply finding tanks to store water that they are able to bring in.
[When Rosebud's drinking water became explosively contaminated after Encana illegally fractured the aquifers that supply the community (kept secret and covered-up and enabled by regulators and Alberta authorities – including then Premier Ralph Klein and Deputy Minister of Environment Peter Watson, now Chair of the NEB), Alberta Environment was unable to provide any water tanks to any of the many harmed families, saying to Ernst, "There are no water tanks, the frac industry has them all." Ernst was left to fend for herself, and lost three high stressed weeks frantically searching for 2 measily water tanks for her basement (cost of tanks with installation and pump, water excluded, > $5,000.00!)]
"There are some people that are angry, there are some people that are really frustrated. Just totally beside themselves," Danger said. "They've got little children. They can't flush toilets, can't wash their hands. Things like that."
[WELCOME TO ERNST'S WORLD
, ENDURED FOR A DECADE]
[Emphasis added]
Husky admits crews missed leak night of Saskatchewan oil spill, Company revises statement to government, now says leak was found 14 hours later than initially stated by CBC News, July 28, 2016
Husky Energy says it sent crews out to see if there was a problem the night before a 250,000-litre oil spill was discovered near Maidstone, Sask., but they missed the leak. [Were they looking? Or looking away?]
That's part of the company's recent clarification on what happened on July 20-21, on the west side of the province.
The spill allowed oil and chemicals to flow downstream toward North Battleford, Prince Albert and other communities, affecting water supplies and prompting local states of emergency to be declared in several areas.
In its initial incident report to the Saskatchewan government, Husky said the "pipeline release" was discovered around 8 p.m. CST Wednesday, July 20.
The company has since filed a revised incident report, saying the spill was spotted Thursday, July 21, at 10 a.m. — 14 hours later. [How many revised reports will be filed?]
In an email to CBC News, a Husky spokesman said "pressure anomalies" in its pipeline system were detected the night before the leak was spotted and that prompted the company to take various measures.
"As a precaution, crews were dispatched along the gathering system and did not identify a leak," the spokesman said.
"As a further precaution, aerial surveillance was also organized overnight to fly the length of the pipeline at the first available daytime opportunity. As our analysis continued through the night, we decided as a further precaution to start safe shutdown procedures at about 6 a.m."
There's no word yet, from either the company or the government, on the exact time the leak actually started.
Oil travelled 500 km
Meanwhile, at a briefing today with provincial officials, reporters were told that the oil spill has now travelled downstream about 500 kilometres.
Four communities, the largest being the city of Prince Albert, have now declared local states of emergency. [Emphasis added]
***
Upgrade Bitumen To Crude Oil -Or Leave It In The Ground!! email by Stewart Shields to federal and provincial authorities and politicians, July 28, 2016
The sole way to pipeline bitumen to either coast rests squarely on industries willingness to upgrade the product to a crude oil at source!! Those industry members unwilling to undertake changing bitumen into a light crude oil by upgrading, had better just leave it in the ground, until others WILL -undertake this needed change!! After what we witnessed in both the Kalamazoo River in Michigan, and the total wrecking of the Saskatchewan River system, pipelining bitumen should be totally disallowed!! The irony is that bitumen slurry pipelining is totally unnecessary, bitumen can be made into a very nice crude oil product —worth much more than the raw sour bitumen product Canada is trying to petal. Bitumen must be upgraded at some point before refining—why not before pipelining to preserve the rivers and streams of North America!! Also sell a product any refinery is capable of using!! Certainly until such time as industry can prove they can recover bitumen below the Water surface, no licenses should be extended for bitumen slurry pipelines anywhere!! Industry including foreign owned industry, had their capital expenses for mining bitumen paid by the Alberta public for though royalty forgiveness. Now putting capital into the proper finishing of bitumen, shouldn't strain their heart muscles!! This Royalty forgiveness business caught on to the point industry is unable to function without governments holding their hand. Lougheed tried to get the Conservatives to slow down the rip strip and ship, method of producing Bitumen, now we are forced to go back to exactly how Lougheed would allow bitumen on the market!! [Emphasis added]
Stewart Shields
Another viable option to the coast by Mike Priaro, July 27, 2016, Calgary Herald
Re: "Delaying pipeline projects leads to economic loss for Canadians, Opinion," July 20
Gerry Angevine and Kenneth Green write that the proposed Energy East Pipeline, Trans Mountain Pipeline Expansion and Northern Gateway Pipeline projects would enable about two million barrels per day of western Canadian crude to access coastal U.S. and overseas markets."
However, the Eagle Spirit pipeline proposal, which garnered nary a mention by the Fraser Institute, would ship two million barrels of western crude per day in a potential energy corridor also containing natural gas and natural gas liquids pipelines from Fort McMurray through northern B.C. to Prince Rupert — by far the safest port on the West Coast for a marine oil terminal.
Eagle Spirit could do this and save many billions of dollars in capital and operating costs, while minimizing environmental impacts, by laying the pipelines at the same time in a single energy corridor that has already obtained 95 per cent of First Nations approvals.
It's high time industry, and the governments of B.C. and Alberta as well as the federal government, started to clue in to this once-in-a-lifetime opportunity.
Mike Priaro, Calgary
Muskoday First Nation declares emergency over water supply, Water supply was halted on weekend after oil spill into North Saskatchewan River by CBC News, July 27, 2016
After four days of being shut off from its normal supply of water due to an oil spill into the North Saskatchewan River, the Muskoday First Nation has declared a state of emergency.
The move was announced Wednesday afternoon when officials said the "discontinued supply of water" required "prompt action."
About 800 band members live on the reserve, which is about 15 kilometres south of Prince Albert, Sask. The community is one of several in the area which is connected to a rural water utility that is normally supplied from Prince Albert's water treatment plant.
That facility's intake pipe was closed due to an oil spill upstream, reported by Husky Energy last week. Prince Albert is working to build an improvised water pipeline to an alternate supply of water.
"Even though we're able to manage the crisis at the moment, we don't know how long this is going to persist," Muskoday's chief, Carl Austin Bear, said Wednesday night. "We just want to be prepared … to meet the crisis."
After Sunday's shutdown, the reserve turned to a private contractor with a large water tanker for help. [Road impacts and diesel fumes to breath too now, because of Husky's bitumen spill?] That, combined with its own water tanker trucks, allowed Muskoday to maintain some supplies in reservoirs.
Bear said Wednesday that Husky Energy has also promised to begin making water deliveries.
"We believe, from the arrangement — that was assured — the trucks could begin delivering as early as this evening and for certain tomorrow morning," Bear said.
According to Bear, an arrangement had been made on Tuesday for the province to provide water assistance to the community.
"Late yesterday that arrangement fell apart,"

Bear said.

"I don't think we can put much reliance on the province."
[!!!!!!!!!!!!!!!!!!!!!! BRAD WALL SAME QUALITY OF OIL PATCH PIMP AND USELESS TO CITIZENS AND DRINKING WATER LIKE RALPH KLEIN, ED STELMACH, ALISON REDFORD, JIM PRENTICE, RACHEL NOTLEY?]
Bear said community members have responded well to requests to reduce consumption, estimating that use was down by about 40 per cent.
"People are nervous," he added, noting that the quality of water they do have is safe to drink. He said bottled water is also being made available to older people in the community.
"The bottled water is delivered to the elders' homes," he said.
Bear said that as soon as he heard about the Husky Energy spill last week, he expected there would be an effect on communities that rely on the river.
Prince Albert Mayor Greg Dionne said the resumption of water supplies to the rural areas would have to wait until his city has its water source in place.
"We are doing our best and our priority is, once we get this pumping system set up on Friday, we hope to get enough volume that they will be the priority to turn the water back on," Dionne said Wednesday morning.
Bear said he has spoken to Dionne and understands that Prince Albert's priority is to provide water to its citizens. [Where are the responsible authorities' priorities to provide safe water to frac & pipeline-spill harmed Alberta citizens? Emphasis added]
Alternative water sources saving Prince Albert during Husky oil spill situation, Husky will have an official station in Prince Albert on Thursday by CBC News, July 27, 2016
An oil slick is passing through the City of Prince Albert via the North Saskatchewan River, prompting the city to shut off the intake to water treatment plant from the river.
Prince Albert Mayor Greg Dionne says he had a "very productive conversation" with Husky's CEO today, and that the company responsible for an oil spill in Saskatchewan will be coming to the city on Thursday.
The city provided an update on the Husky oil spill situation this afternoon.
Dionne said the city received three commitments from Husky on Wednesday:
No. 1: "Husky will have an official station in Prince Albert tomorrow. So we'll have a direct link with Husky. We'll no longer be having conference calls. They have a senior official travelling here and will stay while this event is going on."
No. 2: "Husky insurance company has already arrived, and is setting up in P.A. and will start processing claims both from the city and businesses that are affected." [When's Encana's insurance company going to start processing claims of harmed citizens and businesses in Rosebud, after the company broke the law and contaminated the community's drinking water aquifers? Where are the "regulators" and politicians? When specifically asked, Encana refuses to name it's insurance company or provide a copy of it's policy to citizens harmed by the company's law violations!]
No. 3: Husky is paying for the "the foremost expert on oil and water," [This, Ernst can't wait to see!] Dionne said. "He will be in our city on Saturday and Sunday to meet with myself and city officials to discuss the oil situation, and he thinks he has a solution to the intake. He believes he has developed the equipment that can be installed in an intake to stop the oil from entering into our system." [A welded shut steel plate?]
Dionne went on to say the possible solution to keeping oil from entering the water treatment plant would be a "big, big savior".
There will be no cost to the city. [How terribly fascinating it will be to see the government and oil company broken promises unfold, as they did for the harmed at Kalamazoo!]
Prince Albert city manager Jim Toye said a 30-kilometre waterline from the South Saskatchewan River to feed clean water to its treatment plant is nearly complete.
"The pipe has all been laid down. They are going to be hooking up the pumps and we still want to have that up and operating by late this week," Toye said.
As of Tuesday at 5 p.m., Toye said the city has been working with a backup water supply from a storm retention pond.
"We are finding it has been a very, very good source of water," he said. "It's very high-calibre water, safe potable water that's going through the water treatment plant, and safe for our citizens to drink."
Prince Albert city manager Jim Toye
[What did Rosebud get? Nothing but a few bribes by Encana and politicians, including Harper, for a few people in the community, but not all those harmed.]
Toye said the city would have been without water as of today if it wasn't for such alternative measures. He added the city has never used such a source before and it is working well.
"We have had very good support from the business community and our residents in reducing their water consumption, and we want to stress how important that is to continue until we have an additional resource," Toye said.
There is a $1,000 fine plus a $400 surcharge for violating the city's strict water restrictions.
"Our goal is that we not give one ticket and so far that's where we've been."
On Wednesday, both the Prince Albert and North Battleford asked government officials, including Premier Brad Wall, to refrain from visiting their cities. [Because they know publicly pimping oil pipelines and polluting companies won't bring harmed communities safe water?]
Dionne said Wall and Minister of Government Relations Jim Reiter are not required on the ground at this time.
"The City of Prince Albert is focused on the operational side of the response right now," Dionne said. "We believe these two officials will serve us better in Regina as they continue to supply the city with all the necessary support needed. I expressed to the premier that I will invite him at a later date to visit the city, and he has accepted that." [Emphasis added]
'Water is sacred': People gather along river in Saskatoon, Organizers intend to return to river nightly by CBC News, July 27, 2016
People gathered in Saskatoon along the South Saskatchewan River to express concern about the waters of the North Saskatchewan River. Husky Energy reported a pipeline leak near the North Saskatchewan last week led to some 200,000 to 250,000 litres of oil entering the water.
Facebook: Water Ceremonies for the North Saskatchewan River (Note: CBC does not endorse and is not responsible for the content of external links.)
People gathered in Saskatoon along the South Saskatchewan River to express concern about the waters of the North Saskatchewan River.
Husky Energy reported a pipeline leak near the North Saskatchewan last week which led to some 200,000 to 250,000 litres of oil entering the water.
"We're just people who care," Jackie Crowe, one of the people at the gathering, said.
Muskoday First Nation declares emergency over water supply
It was the second evening in a row where a water ceremony, organized by some Indigenous people, was held. The event was open to everyone and organizers promise to return to the river nightly, around 7 p.m. CST, to raise awareness about the importance of water.
"The water is sacred," Crowe said. "That is really missing from everything that is being talked about."
Crowe said she understands that oil is important and plays a role in people's everyday lives, but suggested looking at alternatives such as renewable energy.
"But the one resource we cannot do without, as human beings, is water," she said. "All life is dependant on water. That is the one resource we need to protect the most."
Saskatchewan Premier Brad Wall calls Husky oil spill 'terrible situation,' Premier says oil company will bear costs of cleanup after 250,000-litre spill by CBC News, July 27, 2016
Premier Brad Wall said his No. 1 priority is the emergency reponse to the oil spill and ensuring people have enough drinking water.
The pipeline leak that spilled 250,000 litres of oil and solvent into the North Saskatchewan River, imperilling the drinking water of a number of communities, "is a terrible situation," Premier Brad Wall said in addressing the media in Regina for the first time since the incident.
Wall said his top priority is the emergency response and ensuring people have access to drinking water following the spill a week ago involving Husky Energy.
"This is not an optimal situation — it's a terrible situation," Wall said Wednesday morning at the Legislative Building.
Wall said that on Thursday he plans to visit areas affected by the spill. [Pulling a Steve Harper? Using the terrible contamination for photo ops?] He added he's concerned about the environmental impact of the spill, which sent a plume of oil and chemicals down the river toward Prince Albert and other communities.
"You bet we'll need to get a handle on what the ecological impact is on that river."
What the government wants to see is the "complete restoration and rehabilitation" of the habitat and ecology of the river, he said.
Husky Energy has said it will pay the financial costs of the spill, and the province accepts that, he said.
Don't just quote me about pipelines, Wall tells media
The spill near Maidstone put a quarter of a million litres of oil and solvent into the river on July 20 and 21. It has thrown a number of communities into crisis mode, threatening water supplies.
Wall spoke to the media about the spill while he was at a premiers conference in Whitehorse last week, but Wednesday marked the first time he spoke at length about it at home.
In recent years, Wall has emerged as an outspoken proponent of oil and gas pipelines in Canada, saying they generate jobs and are safe.
…As communities struggle to arrange potable water supplies, Wall said he's urging the Saskatchewan Water Security Agency to let communities know, as best they can, how long people will have to wait for full services to be restored.
"The government will be there," he said. [Where? As of July 28, 2016, Brad Wall and his government continue to fail providing safe water for harmed communities, farms and families while protecting Husky]
NDP criticizes Wall, cabinet for delay in responding
Meanwhile, Saskatchewan interim NDP Leader Trent Wotherspoon harshly criticized Wall and his cabinet ministers Wednesday for the way they handled the crisis, particularly in the early hours.
"We have to remember, this is a premier who races his way to a microphone if a KFC buffet is possibly put at risk, and he sits silent when we have a provincial disaster of an oil spill of this magnitude for days upon days as communities are impacted and our environment is being contaminated,"

Wotherspoon said.
"It is totally unacceptable."
Furthermore, he said, it's "more than troubling" that people in Prince Albert and other communities learned about the contamination of their water through the media or Facebook, rather than from their provincial government. [Emphasis added]
***
Nipawin water supply safe, concerns over fishery email by Stewart Shields to federal and provincial authorities and politicians, July 27, 2016
Actually a big part of Nipawin's economy is closely related to the fishing on it's nearby lakes!! Not to be troubled about a water supply for the town, the folks at Nipawin now focus on the cost bitumen pollution will cost their local economy in the long run!! I think the late fall walleye fishing in Tobin Lake is as good as can be had anywhere, and will hold it forever against Brad Wall if that great fishing and all it brings, is soon gone!! There appears no great effort to get in front of this horrid spill and bring a stop to it's eastern migration?? How many are involved with the head-end of the spill?? Surely the Canadian Coast guard should be interested in saving the fish stock of the Saskatchewan River system if contacted to take some action to put a stop to herding the spill to slower waters!! Dominic LeBlanc the federal minister of fisheries should surely be contacted to see if there is help that can be provided to help Nipawin save a huge part of it's economy!! We must remember—this is not a oil spill, but a much more hazardous bitumen spill–
Stewart Shields [Emphasis added]
Nipawin water supply safe, concerns over fishery by Susan McNeil, July 26, 2016, The Journal
Nipawin's water source is underground, not from the Saskatchewan River but the Town has expressed concern over the fishery. [What after industry, enabled by Brad Wall, have frac'd all Saskatchewan's drinking water aquifers and contaminated them? Much drinking water is already dangerously contaminated with methane and other oil industry toxics in Saskatchewan.]
NIPAWIN – Nipawin's drinking water source is safe from possible contamination from the Husky Oil spill on the North Saskatchewan River, but the town has concerns about the longer term impact on the fishery and the environment.
The municipal water supply comes from deep underground wells and, even if the oil spill currently making its way towards Prince Albert on the North Saskatchewan River should make it to Nipawin's shores, drinking water will be safe, said Mayor Dave Trann on Monday, July 25.
Nipawin's local economy, however, relies a lot on tourism and that will be impacted by any environmental issues on the Saskatchewan River or at Tobin Lake.
"That is a huge concern," said Trann. "Our tourism depends on that river."
As of Monday, July 25, booms to contain the oil have been put in place at North Battleford and the water intake at Prince Albert.
Altogether, Husky Oil, the company that owns the pipeline that leaked the 200,000 litres of oil and chemical into the river, has placed four booms on the river, two at the City of North Battleford, another 50 kilometres downstream, one near the Payton ferry crossing and the fourth at the Prince Albert water intake.
Prince Albert has stopped taking water from the North Saskatchewan and will be piping from the South Saskatchewan River for at least the rest of the week.
The City of Melfort enacted a boil water advisory on July 26 as a precaution.
SaskWater is planning to close the intake at Codette Lake, which feeds Melfort's water supply and switch to a non-affected source.
Any oil that does hit the Codette Lake will not be travelling at the same speed it would be on the river currents.
"Once it reaches Codette Lake, it will slow down," [Much more concentrated poisons then!] said Mayor Trann. That is, if the spill is not contained before then.
The Town will be monitoring the situation and has asked for updates from SaskWater, which is about all it can do right now, said Trann.
The North Saskatchewan and South Saskatchewan Rivers join to form the Saskatchewan River north of Prince Albert and southwest of Nipawin.
Normally, by the beginning of August, the water speed where the rivers join has a mean discharge of 245 cubic metres per second (8,700 cu ft/s)
From Nipawin, the river flows to Tobin Lake, which bills itself as having world class fishing for walleye and pike.
Several fishing tournaments are planned in the upcoming weeks on the river and at Tobin Lake, including the Premier's Walleye Cup, which starts August 4. [Emphasis added. Name change needed? The Premier's Toxic Bitumen Cup?]
Saskatchewan premier Brad Wall 'not satisfied' with Husky response to oil spill after 14-hour delay revealed by National Post Wire Services, July 27, 2016, Financial Post
Saskatchewan Premier Brad Wall said on Wednesday he was not satisfied with Husky Energy Inc's emergency response to an oil spill into a river that supplies drinking water, [Why wait so long to voice upset? Why such phenomenally weak statements from the oil company favouring Premier? Husky ought to have been putting water hauling tankers into motion immediately!] and said the western Canadian province needed to consider ways to avoid a reoccurrence.
The spill into the North Saskatchewan River from a Husky pipeline started late on July 20, but flows were not shut down until the following morning, the company said on Tuesday.
"No, I'm not satisfied, I don't think anybody should be," Wall told reporters in Regina. "I don't think Husky's satisfied — they better not be." [Who thinks Husky and Brad Wall give a damn?]
Even so, Wall said he was not aware of any "egregious error or misjudgment" by Husky, other than the delay in responding to the spill. [How much more egregious can a company get?]
Asked about whether Saskatchewan should take steps to prevent future spills, such as requiring pipelines to be doubled up near rivers, Wall suggested he was open to considering them.
"That should all be on the table."
[Table Check:
Ya, yak yak yak, 'round and 'round we go, nowhere. Wall and Husky will create a Synergy Round Table, perhaps ask enablers the AER, SPOG, Pembina Institute, Dr John Cherry, the Munk School, Dr. Maurice Dusseault and Dr. David Wheeler to lead it, going intentionally nowhere for years, talking only, in happy busy synergy circles, to ensure that companies can keep profit raping with their two spills a day in Saskatchewan and Alberta with zero enforcement, zero accountability, minimal clean up, near zero restitution to the harmed, and to spread those two spills a day, across Canada, if the NEB gets its way: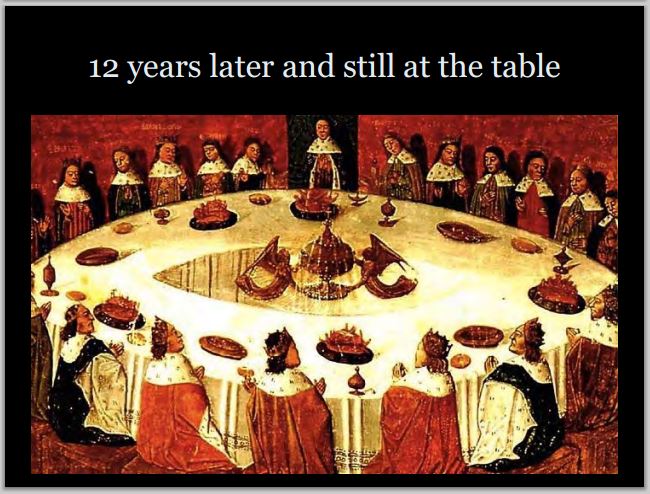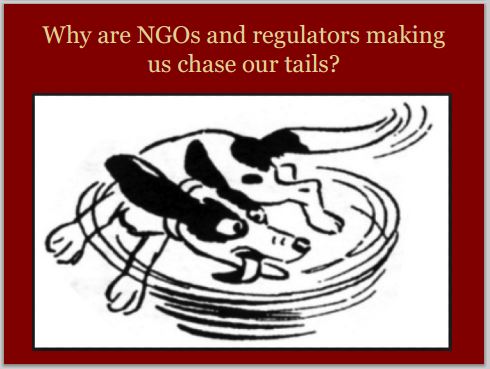 Slides from Ernst presentations
The premier said making sure there is enough drinking water for communities affected by an oil spill into a major river is the No. 1 concern right now, and the debate about whether pipelines in general are safe can wait until another day. [Of course it needs to wait. Politicos including Wall, Notley, Clark et al, and the NEB need to ramp up their war chests with new lies and propaganda to make sure the oil industry gets more deregulation and NEB bitumen pipelines everywhere]
"We need to make sure that drinking water is available, that potable water is available to communities affected by this. That's the first challenge," he said Wednesday at the legislature in Regina. [12 years after Encana's illegal frac's, Rosebud is still waiting for water replacement or an aquifer fix. Where is Encana? Still lying, bribing harmed families and communities and frac'ing fresh water zones. Harmed communities in Saskatchewan will wait a long long time for fair restitution and sufficient clean and safe water]
"We'll get into the debate on pipelines versus rail or how we move oil across this country at a later date, but for now I think we should just set it aside." [Really? Then why not tell the regulators all applications for bitumen pipelines in Canada and the USA are terminated, and all previous approvals also terminated?]
…
Wall noted that Husky has said it will review what happened and why there was a delay, but he added that the company's response to the spill itself appears to have followed protocol. [That's some lousy protocol, if that's the case]
He also said he expects Husky to live up to its promise to cover the costs of cleanup — and more. "Husky has said that they will be responsible for the financial costs of all of this and I expect that to be the case," he said. [Why only talk? Why not in a legally binding document, signed by all the harmed communities, Brad Wall, Justin Trudeau, and Husky? Words and promises mean nothing but PR to keep the profits rolling when those promises (aka lies?) come out of oil company official mouths?]
"We think of the big costs and the responsibility for those are on the company … but we also should be concerned … that there's been business interruption costs for a lot of small businesses and that will need to be a part of the cost to Husky as well." [How long before we see Husky wheel and deal and refuse to pay most of the costs, letting the harmed sacrifice their savings and decades of their lives trying to get justice in Canada's legal system, only to lose everything they have fighting preliminary motion after preliminary motion, year after year after year, tumultuously abused by the system set in place to make sure the lawsuits go nowhere at exorbitant cost for the harmed while Husky keeps on profit-taking and spilling, and gagging the harmed for near zero payoffs in secret settlements with the river never restored to the way it was?]
Car washes and laundromats, for example, have had to shut down as communities conserve water, said Wall, who plans to visit the affected area on Thursday.
There could be long-term costs as well. The Water Security Agency doesn't have enough information yet to estimate how long areas affected by the spill may have to keep interim water measures in place, the premier said.
The ecological impact on the river will also have to be assessed and addressed.
"We've got to have complete restoration and rehabilitation of habitat and the ecology along the North Saskatchewan."
In Prince Albert, the city manager said a temporary pipeline that was to be completed on Wednesday to bolster the city's water supply wouldn't be done until Friday.
The line — essentially a giant hose — [How many holes a day will it produce?] is to run about 30 kilometres to the South Saskatchewan River, but Jim Toye said pumps to move the water were not ready.
The city was planning to draw water from its retention pond, which will add an extra four to five days to the overall supply.
Prince Albert officials have said water usage has clearly gone down since restrictions were put in place earlier this week. [Emphasis added
[Refer also to:
2016 07 26: Join the Frac Club! Deregulation budget-cut style? "It's a real nuisance. And for some it could become a real health issue. … Can't drink, can't shower, can't wash your clothes." Prince Albert declares state of emergency; constructs 30 km long drinking water pipeline as Husky's massive toxic bitumen & diluent slick invades. Who pays for the damages? Saskatchewan averages two oil spills a day, just like Alberta!
2016 07 20: "God We're Dumb!!" Enbridge to pay $177 million for 2010 USA pipeline spills. What does Encana pay for illegally frac'ing Rosebud's drinking water aquifers in 2004? Nothing. Does the government, AER & Alberta Environment stop Encana from fracing fresh water zones after contaminating the community's drinking water supply? No. ]