Sask. premier promises full public investigation into Husky Energy pipeline spill by Morgan Modjeski, Saskatoon Starphoenix, August 3, 2016, Calgary Herald
Watch 2:12 Min video at link of interviews with Premier Wall, city officials. Snaps below from the video: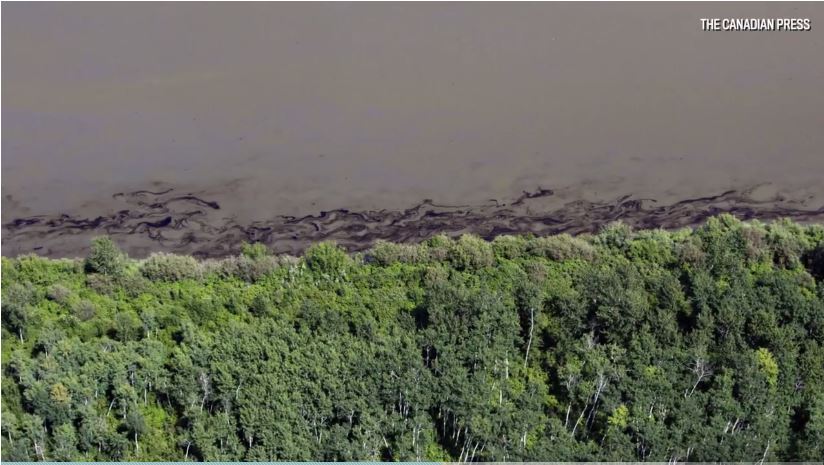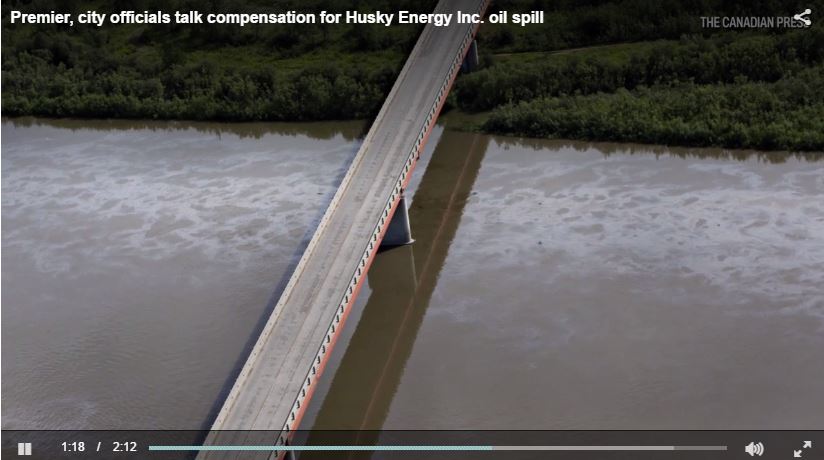 Prince Albert Mayor Greg Dionne says he will do everything in his power to ensure Husky Energy Inc. covers the costs of the pipeline breach that sent more than 200,000 litres of oil into the North Saskatchewan River.
"They'll pay," Dionne said outside Prince Albert's city council chambers on Wednesday. "I'm the mayor of P.A. and I'm going to make sure that happens. They've inconvenienced lots of our local businesses." [WOW! WHY DO POLITICIANS AND MUNICIPAL LEADERS NOT PROTECT BUSINESSES AND TAXPAYERS FROM HARM BY THE OIL AND GAS INDUSTRY IN ALBERTA, OR STAND UP FOR THEM WHEN THEY ARE HARMED?]
Prince Albert has been under a state of emergency since July 25, when oil in the river reached the city, causing it to close intake valves at its water treatment plant and adopt a combination of temporary pipelines and retention ponds to provide its residents with water.
One pipeline is bringing water to Prince Albert from the South Saskatchewan River, while a shorter one is feeding the city from the nearby Little Red River.
Dionne said the city has been affected by the spill on multiple levels, as businesses like the city's laundromats are missing out on what would usually be their busiest time of the year.
"Husky has assured me — the CEO and the premier — that they will make things right. So we're going to hold them to that," he said.
Dionne's comments echoed similar remarks made by Premier Brad Wall earlier in the day. Wall said it's the government's "clear understanding" that Husky will cover costs associated with the cleanup. He also said the province will launch a full investigation, with results to be made public upon completion.
Wall noted while numerous tests conducted by Husky have shown water in the North Saskatchewan River has been within Canadian drinking water guidelines since approximately July 23, the province will do its own tests through the Saskatchewan Water Security Agency. He said it's too soon to reopen water intakes.
"We need to err on the side of caution," he said, noting the government will provide updates as testing continues. While the province has been informed of the "point source" of the spill, the cause is still unknown.
Wall said he feels the reaction to the pipeline leak is not overblown. He said environmental issues, like preservation of the province's water sources and natural habitats, are top priorities for Saskatchewan residents.
"The government's going to take this very seriously," he said. "Not just in terms of the response as we have already shown, but in terms of the investigation that's subsequent to this."
Wall also met with North Battleford Mayor Ian Hamilton on Wednesday. North Battleford's city council recently approved a 12-month recovery plan for the city.
This will result in the drilling of four additional wells and construction of a pipeline from the Town of Battleford to the F.E. Holliday water treatment plant in North Battleford. An additional filtration system at the treatment plant "to filter hydrocarbons and other possible contaminants" will also be added, according to a news release. [And what does Rosebud get? Nothing except 12 years of contaminated and explosive water]
"I'm just still focusing on restoring some semblance of normalcy to the citizens of North Battleford," Hamilton said.
Jim Toye, Prince Albert's city manager, said the city will soon start bringing third-party water users back online in phases process starting today, which he considers a "paramount event."
"We are going to be talking tonight as a team and working into the wee hours if we have to, to determine what's the best way to roll this out," he said, adding the city's state of emergency should be lifted by the end of August and costs associated with the response to the spill will be in the millions of dollars.
Husky Energy Inc. spokesperson Mel Duvall said Husky has taken responsibility for the spill and will cover all costs associated with response and recovery and is conducting a thorough investigation. [Time will tell, if Husky's telling the truth. Emphasis added]
Sask. government doing its own testing of Husky water results email by Stewart Sheilds to federal and provincial officials and politicians, August 3, 2016
I was immediately struck when reading this headline—holy Christ this is news in Saskatchewan- that the government will ready do it's own thing to protect the publicly owned Saskatchewan resource ?? So much self regulation has been allowed the petro –industry that anything the government do in that regard is newsworthy? In Alberta the Industry has been clever enough to try using Synergy Groups to attain self regulation—indeed at one major H2S release run by SPOG—the EUB as regulator had to be invited to attend the command centre and never arrived until the 8 hr. affair was under control!! I surely hope the federal Environmental people are active in all phases of what`s taking place, to see that things progress in the clean-up in a fair manner for the Saskatchewan public!! Both the cities of North Battleford and Prince Albert, along with Melfort and other smaller centers should be supplied with a permanent back-up supply of potable water since, bitumen slurry has and can again disrupt their normal supply of potable water from the Saskatchewan River!
Brad Wall it appears was solely on a glad hand mission to the effected areas, and not interested in having Husky lift the expenses to prevent the problems they caused these communities to again happen!! One can surely see just how useless a Petro-Puppet really is when trouble appears, their sole mission is to appear at sites to glad hand those who put their shoulder to the wheel!! Saskatchewan residents who acted wisely in the best interests of their communities can now appreciate that bitumen slurry should never have been allowed into pipelines without upgrading!! Wall has to duck and dodge this subject by pretending to be busy with the clean-up, while doing absolutely nothing in that regard, other than getting in the road of progress!!
Stewart Shields
Sask. government doing its own testing of Husky water results by CBC News, August 3, 2016
Premier Brad Wall says testing is already underway to make sure a report done by Husky Energy on samples from the North Saskatchewan River is accurate.
On Wednesday morning, the premier visited North Battleford, Sask., shortly after Husky released a report saying river samples are coming back within water guidelines. [NOT ALL OF THEM. REFER BELOW]
"It's testing that has been done that we want to verify with our own testing independently," Wall told reporters.
The premier said more work and more testing will be done following the oil spill nearly two weeks ago, as he highlighted that the oil and water could have settled in the river.
When he was asked about pipeline safety, Wall once again said it wasn't the right time to address it. 
"It's a valid question and we'll talk when the response is complete."
Work continues in North Battleford
Wall met with city officials Wednesday morning, who had approved a plan the day before to provide a sustainable supply of drinking water.
The city had to shut down one of its water treatment plant intakes after the Husky Energy pipeline spill about two weeks ago.
A water pipeline linking North Battleford to the water system of its sister community – Battleford – was completed Tuesday.
The city also approved drilling four new wells, which Mayor Ian Hamilton said should be up and running within 30 days.
Battleford to the rescue with clean water for North Battleford
"We have an example here of some great local response in North Battleford," Wall said.
The premier said the province is still offering a helping hand to the cities of North Battleford and Prince Albert.
"We all want to get to the point where the City of North Battleford and the City of P.A. can use their filtration systems, can use intakes off of the river, and we will get there."
The premier was invited Tuesday to be part of an event called "Is moving oil by pipelines safe? 2016" in North Battleford Thursday. His office said his schedule didn't allow him to attend.
Wall will now be meeting with officials in Prince Albert Wednesday afternoon. He will tour the emergency operations centre and be part of that city's media update at 3 p.m. CST. [Emphasis added]
Husky's Report says recent water tests after Husky oil spill coming back within guidelines, North Saskatchewan River water hasn't exceeded national guidelines for week and a half by CBC News, Aug 03, 2016
So far, more than 900 water samples have been analyzed for contamination. Of those, only five samples, all taken within 20 kilometres of the spill, exceeded national drinking water guidelines.
Two weeks ago, a Husky Energy pipeline spilled more than 200,000 litres of oil and diluent into the river near Maidstone, Sask. Ever since, workers have been trying to contain and remove as much of the spill as possible.
Prince Albert, Sask. shores up 3 alternative sources of water
Cleanup still underway at Husky oil spill site in Sask.
The study said the last sample to exceed national guidelines was taken July 24, more than a week and a half ago. The report also mentions water around intakes at North Battleford and Prince Albert have come back clean.
Water sampling is still ongoing, and recommendations about the risk of oil affecting river water intakes will come after a formal assessment is finished.
The Water Security Agency has started an independent sampling program and will be doing more in the coming days.
The study was undertaken by experts from Saskatchewan's Ministry of the Environment, the Saskatchewan Water Security Agency, Health Canada, Husky Energy and other groups. All of the sampling data was taken by third party consultants.
Where is the oil? [Good question! It's reportedly sunk. Is Husky sampling from the surface?]
The study said the spilled oil has mainly been found on the shoreline of the river, in the river water and in river sediment, mainly within 20 kilometres downstream of the spill. [Environment Canada reported that some of the bitumen sank, as bitumen is prone to do]
However, oil sheen and foam was also seen further downstream of the river. As a result, water is being tested downstream to determine how far the oil has spread
The CBC's David Shield is reporting live from the provincial briefing. [Emphasis added]
Prince Albert, Sask., working to restore water to rural customers, Customers will be reconnected over a number of days by CBC News, Aug 03, 2016
A plan is expected to be announced Thursday, including a schedule of when rural customers will be reconnected to Prince Albert's water supply.
City officials in Prince Albert, Sask., are working on plan to reconnect businesses and rural customers to its water supply.
"We won't be doing this all in one day," said city manager Jim Toye.
"It will be over a period of time so we don't, it's called, shock the water system with heavy usage. That would cause some issues for us."
Hundreds of third-party customers were abruptly cut off from water on July 24 after Prince Albert shut down its water treatment plant intake.
The shutdown was done to protect Prince Albert's water system following the Husky Energy oil spill into the North Saskatchewan River. The city supplies a rural water utility that is connected to many small communities and individual homes.
Restoring water reservoirs
A water pipeline bringing water from the Little Red River has now been in operation for four days. The line from the South Saskatchewan River has been pumping water to Prince Albert's treatment plant for 24 hours.
"The quality of this water is very, very good. Very, very similar to the characteristics of the North Saskatchewan River."
Toye added the water reservoir and retention pond are now returning to the levels they were at before the oil spill.
City officials expect to announce a plan Thursday that will include a schedule of when third-party customers will have water restored. [Emphasis added]
Water undrinkable in parts of North Saskatchewan River after oil spill, samples reveal, Oil levels were too high for Canadian drinking water guidelines in five samples within 20 kilometres of the spill site by The Canadian Press, Aug. 3, 2016, Toronto Star
Water tests done after a pipeline spill in Saskatchewan have found oil levels too high for Canadian drinking water guidelines in five samples within 20 kilometres of the spill site. [Why are results from only 256 samples out of more than 1,000 being released to the public? Has Husky disclosed yet the chemical additives used to frac, extract and service it's bitumen and in its diluent? Impossible to accurately test and analyze the water without full disclosure of all chemicals in Husky's products. If Husky has not yet disclosed the chemicals, what do samplers and analyzers know what to test for? Is that the intent of no chemical disclosure?]
A Husky Energy pipeline spilled up to 250,000 litres of oil mixed with a lighter hydrocarbon called a diluent into the North Saskatchewan River near Maidstone almost two weeks ago.
However, the water quality report also says no additional high levels have been detected in any samples at any location since July 24, including the water intakes at North Battleford and Prince Albert. [Is that because the pollutant has sunk? Where are samples being taken? The surface and near surface? More importantly, are petroleum hydrocarbons showing up in samples at the water intakes at low levels, and how many of the water samples show hydrocarbon contamination and how widespread?]
The two cities had to shut down their drinking water intakes from the river after the spill, and have been using reserves and building temporary pipelines to get alternate water.
The results are complete for more than 900 of over 1,000 water samples taken by engineers, environmental specialists and public health specialists at over 60 locations along the river. [Who pays for the sampling and analyzing? The public?]
The report says water sampling is ongoing and recommendations about the risk of oil affecting water intakes will be forthcoming as a formal water intake risk assessment is completed. [Emphasis added]
***
Lots still needs to be done— email by Stewart Shields to federal and provincial authorities and politicians August 3, 2016
Things are warming up in the Sask. oil spill! There is no question that Brad Wall has survived very well on the wallets of the energy companies, that develop the energy resources owned by the Saskatchewan public. It will become far more clear that the government bodies charged with regulating the energy industry in both Saskatchewan and Alberta are actually in bed with the industry they are charged with regulating!! Citizens can very easily compare the actions taken in Michigan with respect to a similar spill on the Kalamazoo River, and what`s taken place In "The Land Of Wall"!! Of immediate importance is to get started on the permanent stand by water facilities to overcome city and towns reliance on a water source that can and has been destroyed as a potable water supply for many!! Husky like all other spoiled energy companies will want to flee the scene as soon as possible, with or without proper clean-up being accomplished ! The Petro-Puppet Wall's job is to have that happen while leaving a smile on the faces of those that have been had!! All these government types persist in calling the spilled product oil instead of a bitumen slurry??
Stewart Shields
Saskatchewan government "unlikely" to clean all of Husky oil spill by Elizabeth McSheffrey, August 2nd 2016, National Observer

The reality of the disastrous Husky oil spill in Saskatchewan is finally starting to sink in — quite literally.
The wildlife death toll has now risen to 58 birds, fish, and other species. Roughly 133,000 litres of oil and other materials has already been recovered, but globs of oil continue to sink to the bottom of the North Saskatchewan River, complicating the clean up effort.
The challenges prompted the province's Ministry of Environment on Tuesday to announce that it was "unlikely" clean up crews would ever be able to contain all of the oil from the pipeline leak.
"To be very frank, [the odds are] low," Ash Olesen, the ministry's manager of potash and central operations, told reporters at a media conference. "It's unlikely we'll recover all of it and I can't provide an estimate as to how much."
More than 1,200 water samples have been collected from the spill since it began nearly two weeks ago at a Husky Energy pipeline near Maidstone, Sask. The pipeline, built in 1997, leaked up to 250,000 litres — or 1,572 barrels — of oil and other toxins into the major waterway, forcing nearby municipalities to enact emergency water restrictions and shut down their water treatment plants.
Olesen said interim findings of at least 256 sample results will be shared with impacted communities later on Tuesday and made public Wednesday. In the meantime, both Prince Albert and North Battleford — the two cities whose water supplies were immediately contaminated — have been successfully operating on reserves and building temporary pipelines to alternate water sources.
Could the spill have been prevented?
While the cause of the leak remains under investigation, a former oil and gas industry engineer, Evan Vokes, believes it's possible that the catastrophic leak could have been prevented had Saskatchewan not skipped out on a crucial review of new pipeline infrastructure located near the site of the spill.
In 2014, the Ministry of Environment opted out of an environmental impact assessment (EIA) for a 23-kilometre expansion to Husky's Saskatchewan Gathering System, which connects to the old pipeline responsible for the disaster. A CBC article published last week revealed that the leak began shortly after the company restarted the flow of oil through that system.
If an EIA had been conducted on the new pipeline years ago, Vokes, a former engineer with TransCanada, said that the old pipeline might have been flagged as an integrity risk, prompting upgrades or repairs that would have allowed Husky to avert the disaster.
"If you don't do an environmental assessment no one accounts for what happens when it goes wrong," Vokes told National Observer. "That pipeline should have been flagged as an integrity assessment from the learnings of the new pipeline."
Emily Eaton, a University of Regina geography professor who has been studying the impacts of oil development on Saskatchewan communities, confirmed that Vokes' theory is possible, but emphasized that because the cause of the leak remains unknown, it really is a shot in the dark.
"Whether that would have resulted in a recommendation to replace it, or assess its integrity more thoroughly and thus avoid a spill is a guessing game," she said. "I haven't seen necessarily anything that shows that Husky is more negligent than any other company, I just think the regulatory environment is so lax." [HUSKY COULD EASILY HAVE COMPLETED AN EIA WITHOUT REGULATOR REQUIRING IT! WHERE's HUSKY'S DUE DILIGENCE?]
Saskatchewan's environmental assessments too lax
Despite the fact that it would run beneath a major waterway, the 23-kilometre expansion was excused from an EIA in 2014 as it was not considered a "development" by the Ministry of Environment. According to Eaton, this is typical of the government, which "gives a pass" to nearly all pipelines its regulates.
"They're always considered 'not a development' and therefore don't go to an EIA," she explained. "So I don't think there's anything particularly spectacular about this spill, it's just the result of a regulatory system that is particularly lax."
Vokes, best known as the engineer who blew this whistle on TransCanada in 2012, agreed and said the engineers who built the pipelines — new and old — clearly didn't do their jobs. Husky could not tell National Observer how close the new pipeline infrastructure was to the leak in kilometres, and would not answer repeated questions on whether the pipeline near Maidstone that spilled the oil was reviewed or assessed as part of the system when the new expansion was built.
Vokes was suspicious about the lack of transparency.
"I think you're on the right track if they won't answer that question," he said. "What you're seeing is politics in engineering, and politics and engineering don't mix."
Husky has already disclosed that it knew something was amiss with the pipeline that leaked on the eve of Wed. July 20, but did not report the spill to the government until 14 hours later on Thurs. July 21. Husky was not available to answer reporter questions at the media conference on Tuesday morning, but when presented with Vokes' theory by National Observer over the phone, Olesen of the Ministry of Environment responded:
"Hindsight is 2020. I can neither deny or confirm the accuracy of those statements."
Not an acceptable answer
Clean up efforts for the spill continue today as Husky Energy, the Ministry of Environment, Environment and Climate Change Canada, and other experts wash the shorelines of the North Saskatchewan River. Approximately seven kilometres of shoreline has been cleaned so far, and 11 booms remain in place to contain the floating oil.
Nature Canada however, has deemed the province's Tuesday statement that full containment is unlikely, as "not an acceptable answer" at all. Floating oil is indeed difficult to contain, said its director of conservation and general counsel, Stephen Hazell, but "that's their problem."
"That's what they have insurance for," he told National Observer. "It's no answer to say, 'Oh it's sunk to the bottom, we can't get at it.' Put some smart engineers on it and figure it out."
He too, called Saskatchewan's environmental assessment regime for pipelines "among the worst" in Canada, and called on the government and Husky Energy to provide whatever resources are required to dig the sunken oil out from the bottom of the river.
Husky Energy has issued a public apology for the spill. [Emphasis added. Where's Encana's public apology for illegally fracturing Rosebud's drinking water aquifers in 2004? Where's the AER's apology for violating Ernst's Charter rights, trying to intimidate her silent and stop her from uncovering the regulators' cover-up of Encana's law violations? Where's the Alberta government's apology for its dreadfully shoddy and incomplete investigation that merely bullied harmed families and fraudulently covered-up Encana's illegal fracs? Where's the apology from the Alberta Research Council (now Alberta Innovates) for also fraudulently altering data, omitting data, and covering-up Encana's crimes?]
***
Husky's Ship A-Sinking!! email by Stewart Shields to federal and provincial authorities, August 3, 2016
Why in hell are we giving out licenses for pipelines who's contents cannot be cleaned up?? Hopefully this is the last filthy dirty trick the Harper Conservatives can pull on the Canadian public!! Remember always the first thing to leave a bitumen spill or H2S release is the truth!! Much of the bitumen that sinks will contain heavy metals and could be impregnated with inhibitors and other unfriendly chemicals!! The fact we are close to entering fall it's not too soon for the Saskatchewan government to be approaching Husky on behalf of the cities and towns that now require a permanent back –up water supply since Husky has and could again ruin the water many count on for their daily lives?
Wall seems to have become a very quiet little promoter for bitumen pipelines going to both to the East and West Coast!! Industry members wanting to continue with the bitumen businesses that the Alberta public paid for, had better start forming operating partnerships to upgrade bitumen to a useful crude oil for transportation to open markets!! Really the coke in bitumen must at one point be removed from raw sour bitumen—it does make environmental sense to have that take place prior to transportation, to save the rivers and streams in North America!! Now that it has hit the fan, it will be interesting who see who really has environmental concerns while everyone is watching!!
Stewart Shields
Unlikely Saskatchewan oil spill can be completely cleaned up, ministry says, Some of the material will sink to the bottom of the river making it extremely difficult to recover by The Canadian Press, August 2, 2016, Toronto Star
Interim findings of 256 water sample results will be shared with affected communities today and made public Wednesday.
About 133,000 litres of oil have been recovered after a pipeline spill in Saskatchewan, but the Ministry of Environment says it's unlikely that all the oil can be cleaned up.
A Husky Energy pipeline spilled up to 250,000 litres of oil mixed with a lighter hydrocarbon called a diluent into the North Saskatchewan River near Maidstone almost two weeks ago.
Ministry of Environment spokesman Ash Olesen says some of the material will sink to the bottom of the river and it's extremely difficult to recover.
More than 1,200 water samples have been taken between the spill site and the city of Prince Albert, about 300 kilometres away.
Olesen says interim findings of 256 sample results will be shared with impacted communities today and made public Wednesday.
The cities of North Battleford and Prince Albert had to shut down their drinking water intakes from the river after the spill, and have been using reserves and building temporary pipelines to alternate water sources. [Emphasis added]
North Sask. River water quality test results are in but not made public by Alex MacPherson, Saskatoon Starphoenix, August 2, 2016, Calgary Herald
The provincial government has received the results of tests conducted on more than 250 water samples from the oil-contaminated North Saskatchewan River but won't release any data until later in the week.
"We are focused on getting this information to stakeholders and communities today, and then tomorrow, hopefully, following those discussions, we'll get that to the public," Ministry of Environment spokesman Ash Olesen told reporters Tuesday.
Approximately 155 water samples were taken Monday, bringing the total number of samples collected since a Husky Energy Inc. pipeline spilled more than 200,000 litres of oil near and into the North Saskatchewan to 1,217, Olesen said.
More than 900 of those samples have been analyzed, and almost a third of the results — 256 samples — have been received, he said. However, the government won't say how contaminated the river is until Wednesday at the earliest, he added.
"My expectation is that the water isn't that dangerous, but I need to see all the analyses and have it vetted by the various experts," Olesen told reporters during the government's daily operational update on the oil spill.
Patrick Boyle, the Water Security Agency's director of corporate communications, said the government would "probably" release more information Wednesday.
"It would be proper to brief the stakeholders first, and I think we can all appreciate that," Boyle said.
Communities downstream from the spill site east of Lloydminster have spent the last week frantically seeking out alternate water sources and several remain under local states of emergencies.
Duane McKay, Saskatchewan's emergency management commissioner told reporters on the conference call that the drinking water situation has stabilized, with construction of water pipelines mostly complete and cities moving into "maintenance mode." [Emphasis added]