'Forever chemicals' found in Canadians' blood samples: report, Government departments propose listing the chemicals as toxic under Canadian Environmental Protection Act by David Thurton, May 20, 2023, CBC News
Toxic "forever chemicals" are being found in the blood of Canadians — and even higher levels are being found in northern Indigenous communities — says a new report from the government of Canada.
Health Canada and Environment Canada have released a draft assessment of the science on per- and polyfluoroalkyl substances (PFAS). Both departments propose listing the human-made chemicals as toxic under the Canadian Environmental Protection Act (CEPA).

Pfffft! As if oil and gas companies will allow that. Encana/Ovintiv and its enablers AER and Alberta Govt still haven't disclosed the chemicals the company intentionally injected illegally into my community's drinking water aquifers and the company violated Alberta Rules of Court by not disclosing those chemicals to me, as ordered by CJ Niel C Wittmann. Trade secrets are not allowed in response to lawsuits in Alberta. But my lawyers and the courts proved oil and gas and frac'cers, and their vile enabler, AER, are above the law, with supreme court of Canada judges going so far as to publish lies to further harm the harmed, and protect the polluters.

Canadians have until mid-July to weigh in on the proposed change.
Listing a substance as toxic under CEPA is the first step toward the government enacting regulations to ban it, as Ottawa did with single-use plastic items.
Studies show PFAS can harm human health and wildlife. Some of the chemicals accumulate in the liver and kidneys.
Because PFAS break down very slowly, living things are exposed to them repeatedly and PFAS blood levels can build up over time.
PFAS can be found in various consumer products — cosmetics, diapers, menstrual products, food packaging, carpets, furniture and clothing. But while many of these products are considered disposable, PFAS chemicals hang around.
"Only diamonds should be forever — not human-made substances that are polluting our environment," said Environment Minister Steven Guilbeault in a tweet.
"We must do all that we can to protect the health and safety of Canadians and our environment," said Health Minister Jean-Yves Duclos.

Ya, talk a lot, but do nothing but protect corporate polluters. Health Canada still has not even publicly released their damning 2012 report on frac'ing risking air and water! And, when I went public with vital workshops/reports, such as this one, Canadian gov't agencies removed them from public access. That's some special protection — but not for Canadians, for multinational frac'ers and their rich CEOs et al.

The government defines PFAS as a class of more than 4,700 human-made chemicals — a list that keeps growing. 
The government report states humans are also exposed to "forever chemicals" through the air they breathe, in dust and in drinking water.

Hello frac'ers!

New research has found that some packaging that's touted as environmentally friendly contains high-levels of PFAS chemicals that can be damaging to the environment and human health. PFAS are hard to break down and have been linked to multiple different types of cancer.
The "extremely persistent" chemicals are found across Canada and even in the remote Arctic, the report said.
PFAS are also used in firefighting equipment like flame-retardant foam and in vital components in electric vehicles, batteries and solar panels.

That's dirty CBC, to point that out, while saying nothing about the oil and gas industry known to have injected PFAS in fracs, many of which contaminate drinking water, air, food, land, etc.

"[PFAS] contribute to clean energy and emissions reduction," said Danielle Morrison, a policy manager for the Chemistry Industry Association of Canada.
The association said its members will follow the science but it cautions against banning PFAS that are essential

I am sure they are not essential. where there is a human will, there is always a way to do something less toxic.

and for which no alternatives exist.
PFAS can be passed to fetuses: report
Aside from finding traces of PFAS in the blood of Canadians, Health Canada and Environment Canada's review showed pregnant moms can transmit these substances through the placenta. Infants, it found, can be exposed to PFAS through breast milk.
The report said that, internationally, firefighters are among the groups known to face increased exposure to PFAS. In Canada, it said, another population is at risk.
"Northern Indigenous communities (as measured in adults, including pregnant women), as well as Indigenous youth and children in other parts of Canada were found to have elevated levels of certain PFAS," the government report said.
"Effects commonly reported in animal studies include effects on the liver, kidney, thyroid, immune system, nervous system, metabolism and body weight, and reproduction and development," the report found.
It said outcomes are similar in human epidemiological studies.
"There has been enough exposure to PFAS long enough that we are finding adverse effects in the human population," said Miriam Diamond, a professor at the School of the Environment at the University of Toronto.
Diamond, who studies how PFAS enter the environment, said Canada is "conducting an experiment in real-time on the health of our population."
It's time to ban non-essential PFAS, she said.
Canada already restricts some PFAS, but an environmental group said Canada is taking a piecemeal approach and needs to go further.
"It's really important that we cut this off at the source and stop trying to do the small pieces," said Cassie Barker, a senior program manager of toxics at Environmental Defence.

Refer also to:
2023 02 13: Texas: 58,199 wells frac'd (some by Encana/Ovintiv) in 9 years with 6.1 billion lbs "trade secret" chemicals, nearly 100,000 lbs PFAS (extremely toxic at low levels) "forever" chemicals and precursors. How much in Canada? Hint: No one is looking.
2022 12 08: Fresh Frac Hell: Frac'ers dumped waste from wells with PFAS across Ohio, Pennsylvania, West Virginia. Regulators refuse to test for PFAS, even after spills. How many wells in Canada were/are frac'd with PFAS and the waste dumped on our foodlands? How many by illegal aquifer frac'er Encana/Ovintiv?
2022 11 07: Pennsylvania Frac Lawsuit Latkanich v Chevron et. al., family contaminated with high levels benzene and toluene, PFAS "forever chemicals" and more. Brian Laktanich: "They gotta stop poisoning people"
2021 12 10: Resource Guide and videos for all sessions now available: 9th Annual Shale & Public Health (Dec 10, 2021) Conference by Halt the Harm Network and Physicians for Social Responsibility: "Cradle to Grave: The Reverberating Health Hazards of Oil and Gas Industry." Focus on workers' exposure to PFAS chemicals, radioactivity, and effects on their families, communities and beyond.
2021 10 22: PFAS, Endocrine Disruption, and Shale Gas Development Sept 21, 2021 webinar by Environmental Health Project and Halt the Harm available for viewing
2021 07 22: Oil Patch Strategy of Obstruction on PFAS use: "Commission another government study" while they poison us, Like Canada's Council of Canadian Academies' frac panel cowardly concluded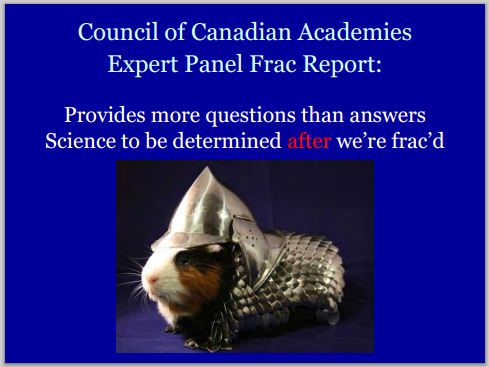 2021 07 12: New Report: "Nightmare Contaminant" Forever Chemicals (PFAS) Use in Drilling & Frac'ing in More than 1,200 Wells in Arkansas, Louisiana, Oklahoma, New Mexico, Texas, Wyoming between 2012 and 2020, including by Encana (in Canada too?). Records obtained from US EPA under Freedom of Information Act. Did Encana now Ovintiv inject PFAS into Rosebud and Pavillion drinking water aquifers?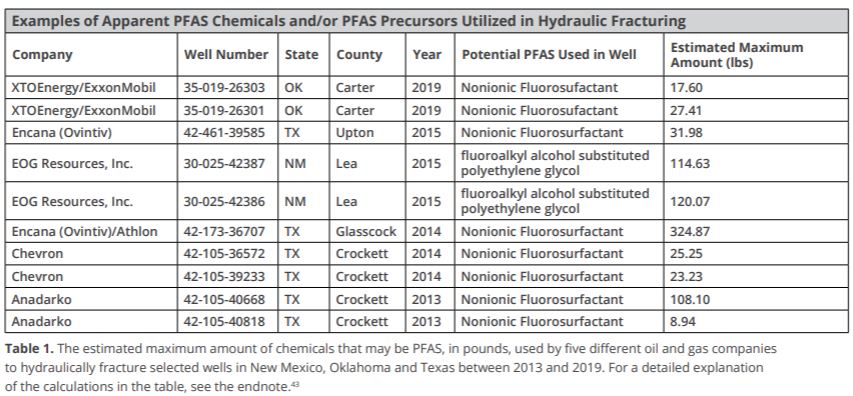 2020 01 22: Contamination of US drinking water with manmade "forever chemicals" far worse than previously estimated reports EWG; White House and EPA tried to stop the report from being published.
2016: Environmental causes of childhood cancers 'grossly underestimated.' In Canada, toxic chemicals used by oil and gas industry are exempt under CEPA (1999)
2016: The National Pollutant Release Inventory Oil and Gas Sector Review by Government of Canada
2016: CEPA, Canada's main environmental law isn't working. Of course it isn't, the oil and gas industry is largely exempt while emissions of the most harmful chemicals are on the rise. Live in a frac field? Hold your breath, don't drink the water
2014: Environment Canada Keeping Nearly a Thousand Frac Chemicals Secret: Memo released through Access to Information Legislation
Environment Canada has quietly compiled a list of nearly a thousand chemicals, toxins and additives used by shale gas drillers nationwide.
The department would not disclose the list, but states in a confidential memo it was compiled through "North American sources". The memo was released through Access to Information: "Canadians have expressed concern".
2005 Petroleum Services Association of Canada: Drilling and Frac Chemical (Mud) List Historical Updated but reduced list, no longer accessible to public: Drilling Product Listing for Potential Toxicity Information

It's a full time job trying to keep on top of govts, industry and its self regulators to keep documents public that are of importance to the communities frac'ers harm and the public interest. I do not get paid or my expenses reimbursed chasing after their secrets and govt authorities (that we pay with our tax dollars) removing/altering vital reports data etc from public access. I have worked unpaid since 2003 trying to make as much public as I can. I am tired and worn out from the endless betrayals, notably those by the courts and my lawyers Murray Klippenstein and Cory Wanless and their self regulator, the LSO. It disgusts me every time I see yet another "public" report, vanish.