To read the Statement of Claim, background on the case and view galling photos: LANDMARK LAWSUIT: Latkanich v Chevron, EQT, PFAS Defendants November 7, 2022 by bobscaping
Lawsuit by Washington County homeowner says fracking caused "forever chemicals" to contaminate his drinking water, "It doesn't take a lot of PFAS in your body to cause harm. And the harm that PFAS causes is pretty extensive," said a pediatrician and anti-fracking group leader by Paul van Osdol, Nov 7, 2022, WTAE
News clip at link
FREDERICKTOWN, Pa. — A Washington County family is accusing gas drillers of causing so-called "forever chemicals" to get into his drinking water.
The chemicals, known as PFAS, have been used in clothing, carpet and food packaging.
Bryan Latkanich agreed to allow gas drilling on his property a decade ago, and he received royalties. But shortly after the drilling got underway, he said he started having health problems.
"I couldn't sleep. I had intestinal problems. I was puking," Latkanich said.
He said he was alarmed to see what happened to his young son, Ryan, after taking a bath.
"This kid's covered with blisters and sores, so I jumped in the tub and felt the water and it was probably the most slippery substance I've ever felt in my life, so I said well we've got a problem," Latkanich said.

After Encana/Ovintiv illegally intentionally frac'd my community's drinking water aquifers, my water dramatically changed. It caused incredibly painful burns to my skin and eyes, became super slippery, corroded sinks, clogged my washing machine and water taps, made my dogs back up in revulsion when I put freshly poured water out for them, white fog swirled up from and around it, and more. At the time of these changes, I did not yet know what Encana had done. The company experimented on me and my community, in secret. They didn't even warn the pregnant women. What harms were done to our health, during the years it took me to figure it out, and still bathing in, ingesting and cleaning with Encana's illegal corrosive frac water and breathing the fumes venting from my water taps?

Chevron, the drilling company, gave the Latkanich family water buffalos and did an investigation.
The investigation found the groundwater "consistent with pre-existing conditions" and "not the result of oil and gas operations."

That's what all the frac, and oil and gas companies say. Encana said the same about mine, so did our "regulators."

But Latkanich said he and his son never had health problems before fracking started.

"How does my son get burned from just water if there's no real problem?" he said.
Latkanich started filling water jugs at a nearby spring for drinking and bathing.

Earlier this year, a team from the University of Pittsburgh tested the water at the Latkanich house and found alarming results.
According to a lawsuit filed by Latkanich, the water contained high amounts of PFAS chemicals that were 280 times the EPA standard for one form of the chemical called PFOA and 379 times the EPA standard for PFOS.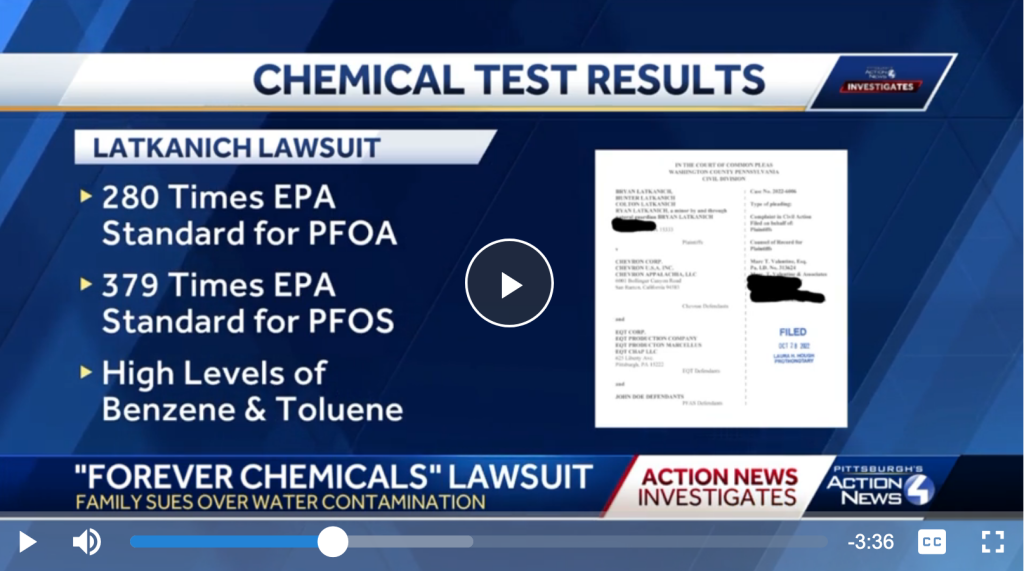 The tests also found Ryan had high levels of other chemicals associated with fracking, including benzene and toluene.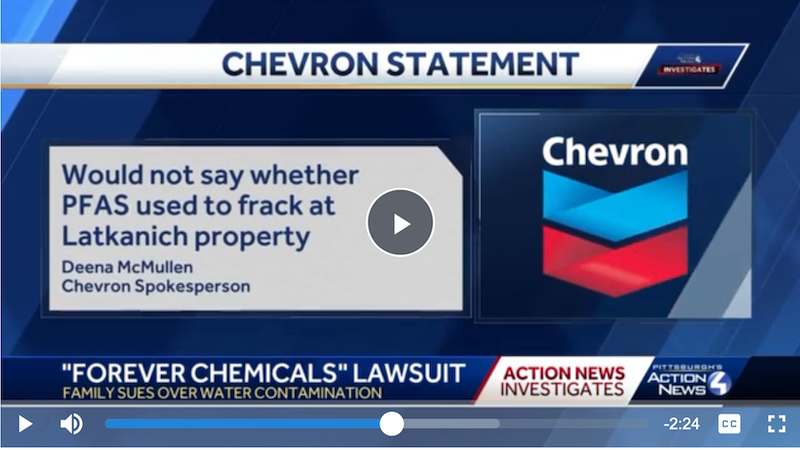 Pitt's lead researcher declined to do an interview because of the pending lawsuit.

Action News Investigates spoke with Dr. Ned Ketyer, a pediatrician and state president of Physicians for Social Responsibility, a group that opposes fracking and seeks to replace fossil fuels with renewable energy sources.
"It doesn't take a lot of PFAS in your body to cause harm. And the harm that PFAS causes is pretty extensive. PFAS has been associated with cancers, testicular cancer and kidney cancer. It can cause liver damage and damage to other organs in the body as well," Ketyer said.
The group that sponsored the Latkanich study, Engineers Without Borders, said it could not determine the source of the PFAS chemicals.
The lawsuit blames Chevron and unnamed PFAS suppliers. It says Chevron has used PFAS in 1,200 fracking operations around the country.
Chevron spokesperson Deena McMullen would not say whether the company used PFAS at Latkanich's property.

Of course they won't. Evil.

"Protecting people, the environment, and the communities where we operate is a top priority for Chevron and we have taken Mr. Latkanich's concerns very seriously," McMullen said.

Again, copied nearly word for word, what all frac, and oil and gas companies say. Saying these things does not mean they happen, they nearly always do not. In my experience when companies get away with destroying drinking water, harming health and breaking the law, they laugh about it. Evil.

She said Latkanich's "repeated accusations that Chevron contaminated his water have been disproved" and the Pennsylvania Department of Environmental Protection has previously determined that Latkanich's water "was not affected by oil and gas activities."
The lawsuit also names Pittsburgh-based EQT which bought the Latkanich wells and others from Chevron in 2020.
In a statement, EQT pointed out the previous investigations by Chevron and the DEP.
A statement from EQT stated, "Those issues were thoroughly investigated, and nothing was found. We are confident the same conclusion will be reached in this instance."
A DEP spokesperson said they are again investigating Latkanich's water in the wake of the PFAS tests.
DEP said it has so far identified eight fracking sites in Pennsylvania where PFAS-related chemicals were used. The Latkanich property is not one of them.
Lisa Johnson, an attorney for Latkanich, said Pennsylvania law allows drillers to conceal the identity of many fracking chemicals as trade secrets.
"When they push down those fluids into the groundwater, that's how your drinking water gets affected," Johnson said.
DEP said it is considering a requirement that drilling companies "specifically call out the use of PFAS additives during well completion."

Meanwhile, how many kids are getting cancer and other health harms? Evil.

DEP does not currently require water authorities to test for PFAS but it is in the process of creating a standard.
Experts said PFAS is far more likely to be found in well water than in municipal water.
The lawsuit blames fracking for Bryan Latkanich's multiple health problems, including renal failure, spleen failure, gout and a heart condition.
He said he regrets his decision to allow drilling on his property.
"Now we have land we can't use, water we can't use and a house we can't live in along with health effects," he said.
PFAS: The latest toxic concern for those near fracking by Kristina Marusic, Environmental Health News, August 4, 2022
For more than a decade, Bryan Latkanich has discussed his concerns about fracking chemicals contaminating the water and air near his home with anyone who would listen. Latkanich is a resident of Washington County, Pennsylvania, one of the state's most heavily fracked regions.
In 2020, an Environmental Health News investigation found evidence that Latkanich and his son Ryan had been exposed to harmful chemicals like benzene, toluene and styrene. Now, researchers have uncovered more harmful substances in Latkanich's tap water —"forever chemicals."
Last year it was revealed that these chemicals, collectively referred to as PFAS (per-and polyfluoroalkyl substances), have been used in U.S. oil and gas wells for decades.

Including by Encana/Ovintiv in USA. Will Canadian "regulators" ever get off their corrupt asses and appropriately and completely investigate to find out if these extremely harmful "forever" persistent chemicals were injected into community drinking water supplies in Canada? I highly doubt they will. Fraud and cover up is what they do in Canada. They didn't even bother to investigate after I presented AER with documented evidence showing Encana/Ovintiv broke the law, and illegally frac'd directly into Rosebud's drinking water aquifers repeatedly, which Canada's supreme court falsified in their ruling to claim the regulator found me to be a vexatious litigation. What our regulators, notably AER, do best, is gobble two steak lunches and diddle the hanky panky with those they are supposed to regulate.

As far as the experts we spoke with know, this is the first time PFAS that may be linked to fracking have been detected in household drinking water.
Latkanich's drinking water has been plagued with problems since two fracking wells were drilled in his backyard in 2011 and 2012. The wells were plugged in 2020.
***
"I'm wondering what this stuff does to your joints and your heart, and how it affects everything else I'm feeling. My kidneys are already shot. I just want these people to stop. They gotta stop poisoning people. What's scary is that they didn't just find one, they found a bunch of PFAS."
Bryan Latkanich
Water tests detected 7 compounds in one or more of the water samples from Latkanich's home. The levels of PFOA and PFOS detected in Latkanich's water were 280 times higher and 379 times higher, respectively, than the new federal thresholds:
PFOA (Perfluorooctanoic acid)
PFOS (Perfluorooctanesulfonic acid)
PFHpA (Perfluoroheptanoic acid)
PFNA (Perfluorononanoic acid)
PFDA (Perfluorodecanoic acid)
PFDS (Perfluorodecanesulfonic acid)
PFHxS (Perfluorohexanesulfonic acid)
…

Refer also to:
2022 09 22: Pitt School of Public Health, PA Dept of Health abruptly pull out of public meeting they helped convene
At the last minute, the institutions backed out of a public meeting about their own studies on the link between natural gas development and childhood cancer rates. The meeting will still take place, and the health studies are still ongoing.
Three years ago, a group of parents whose children have been affected by rare cancers, including Ewing sarcoma, asked the PA Department of Health to investigate childhood cancers being diagnosed at disproportionately high rates in Southwestern Pennsylvania, where shale gas drilling, fracking, and infrastructure buildout have occurred.
In 2019, Pennsylvania Governor Wolf 's administration allocated $3 million on a pair of studies to explore the potential health effects of the natural gas industry, taking action after months of impassioned pleas by the families of childhood cancer patients who live in the most heavily drilled region of the state. Those studies, called the PA Health and Environment Studies, have been underway for two years.
Though study results are not yet available, the Center for Coalfield Justice, Environmental Health Project, Physicians for Social Responsibility Pennsylvania, and FracTracker Alliance collaborated for months with representatives from the PA Department of Health and researchers from the University of Pittsburgh School of Public Health to organize a public meeting on October 5 in Canonsburg.
Researchers were set to explain the study process to the public and take questions from community members. This meeting was to be the first time since the launch of the studies that parents and community members would have the opportunity to learn from the institutions conducting the studies.
Then suddenly this week, both the University of Pittsburgh and the Department of Health backed out of attending the public meeting.
"It is reasonable for community residents and pediatricians like me to be concerned that fracking may be to blame for the spike in rare childhood cancers and other health impacts in Southwestern Pennsylvania," said Dr. Ned Ketyer, former member of the External Advisory Board for the studies, and president of Physicians for Social Responsibility Pennsylvania. "Dozens of scientific and medical studies support those concerns. Community members are demanding answers. Unfortunately, the decision by the PA DOH and University of Pittsburgh to withdraw their commitment and not attend the public meeting on October 5 effectively silences those important voices and keeps the community in the dark."
Today, four members of the studies' External Advisory Board resigned their positions, citing resistance to accountability and transparency to community members. As described in the invitation from The University of Pittsburgh to join the advisory board, these health and community leaders were asked to participate because of their "role as a trusted member of the potentially impacted community represented within [the] study region" and to "ensure necessary scientific integrity, transparency, and credibility for the studies[.]"
"Parents deserve to hear from these institutions," said Heaven Sensky, former External Advisory Board Co-Chair and Organizing Director at the Center for Coalfield Justice. "More than 100 community members are already planning to attend the meeting. Participating in this public forum was the bare minimum these agencies and research institutions could do to provide information to grieving parents and concerned community members. But now, they won't even do that. Yet again, powerful institutions show they are more interested in pleasing their industry donors and political backers than ensuring our children grow up free from preventable disease, and as a result it falls upon our community organizations to fill the gap and answer people's questions."
Lois Bower-Bjornson, a resident of Washington County, said, "As a mother living surrounded by fracking with children who have health impacts, this issue is scary and results in an emotional response. The purpose of this meeting was to ensure community members understand the process of the study. Even though trusted institutions are failing to show up for us, I encourage you to still join and hear from your neighbors and community groups to submit your questions. This meeting is about protecting the health of my children and community."
Even though the University of Pittsburgh and the Department of Health are no longer attending, the meeting will still take place on October 5 at 5:30 PM at the Yoney Pavilion at Canonsburg Town Park. The health studies are ongoing. The meeting will give attendees the opportunity to learn more about the PA Health and Environment Study and other environmental studies that have been conducted in the community. Families can have a discussion about what is known from previous research and how they can use that information to protect their children's health. Any questions that cannot be answered by participating organizations will be directed to the University of Pittsburgh research team and the PA Department of Health.
New study by Yale School of Public Health researchers: Kids born within two km (1.24 mi) of frac sites were two to three times more likely to be diagnosed with acute lymphoblastic leukemia between ages 2 and 7. A known cause is benzene, released by oil and gas activities into air and water. Dr. Cassandra Clark: "The magnitude of the elevated risk that we observed was fairly striking."
"Nightmare Contaminant" Forever Chemicals (PFAS) Use in Drilling & Frac'ing in More than 1,200 Wells in Arkansas, Louisiana, Oklahoma, New Mexico, Texas, Wyoming between 2012 and 2020, including by Encana (in Canada too?). Records obtained from US EPA under Freedom of Information Act. Did Encana now Ovintiv inject PFAS into Rosebud and Pavillion drinking water aquifers?
Alan Brubaker against frac'ing: "Those chemicals they use to frack are highly poisonous to humans. Those chemicals cannot be filtered out. What are you thinking, money over the lives of millions people? All who pass this should be put in prison for life."
New Investigation: Fractured: The body burden of living near fracking: Families in western Pennsylvania exposed to harmful chemicals; regulations failing to protect mental, physical, social health. In Alberta, doctors will not investigate if we are poisoned by oil/gas/frac'ing; will not take a blood test without politician permission
Father blames Chevron as he and son Ryan battle illness, Welts, rashes after Ryan bathed in water that felt slippery. Ernst's water felt slippery too, caused burns, rashes, welts to her skin after Encana illegally injected 18 million litres of frac fluid into her community's drinking water aquifers. Cover-up, lies, law violations, threats, bullying, shaming by Alberta regulators to protect Encana, law-violating aquifer frac'er
Industrial Strength: How U.S. Govt Hid Fracking's Risks to Drinking Water, A pivotal EPA study provided rationale for exemptions that helped unleash the fracking boom. Science suppressed to protect industry interests
Documents show EPA health concerns on frac chemicals kept secret, approved for use by companies near families & communities anyways: Intentional Environmental Racism by Regulators? Against everyone living frac'd?
2017: New Research: Fracking chemicals lower sperm count in mice when they reach adulthood, Could have fertility implications for people living in shale gas zones
2014: Benzene Exposure Near the US Permissible Limit Is Associated With Sperm Aneuploidy