A few of the comments:
Martin Yan:
maybe all those earthquakes they get shifted something.
Al Millar:
Self regulated . Phony emission reports and more .
TC energy , no surprise . Maybe the company can demand $ 1.3 Billion to upgrade the pipe from Kenney ( Alberta taxpayers ) . No gift is to large for the oil and gas companies .
james Nasium:
In Alberta, it runs Wild, Reckless, with little if any Oversight
Alberta has a long History of neglecting to enforce Regulations, and Overlooking Infractions
Edmonton Investigation begins after natural gas pipeline leak, fire reported in northwest Alberta, No injuries were reported, investigators say

That's what our self-regulated, industry-controlled "regulators" and "investigators" always say.

by CBC News, April 8, 2022
A federal investigation has begun after natural gas leaking from a pipeline in northwestern Alberta caught fire Thursday.
A team of Transportation Safety Board (TSB) investigators is being deployed to the Nova Gas Transmission Line site near Fox Creek, Alta., a town about 260 kilometres northwest of Edmonton, stated a TSB news release on Friday.
"A natural gas leak and ignition was reported … near Fox Creek," a spokesperson said in a statement to CBC News.
No injuries were reported, CBC News was told.
Investigators are expected to arrive Friday, where they will document the scene, take photos and determine the next steps. They will also "meet with different parties involved in the occurrence," the statement said.
A fire was reported in the area Thursday but it has since been extinguished, the Canada Energy Regulator said in a statement issued on social media.
CER will also be sending inspection officers and emergency management staff to the scene, west of the town. They will monitor the incident as well as oversee the company's response, it said in its statement.
Any environmental damage that may have been caused will be investigated once CER staff have access to the site, the agency said.
The Nova Gas Transmission Line network is owned by TC Energy and spans 24,494 kilometres, according to the TC Energy website. It connects natural gas production in western Canada to domestic and export markets.
Canada Energy Regulator@CER_REC Tweets April 7, 2022: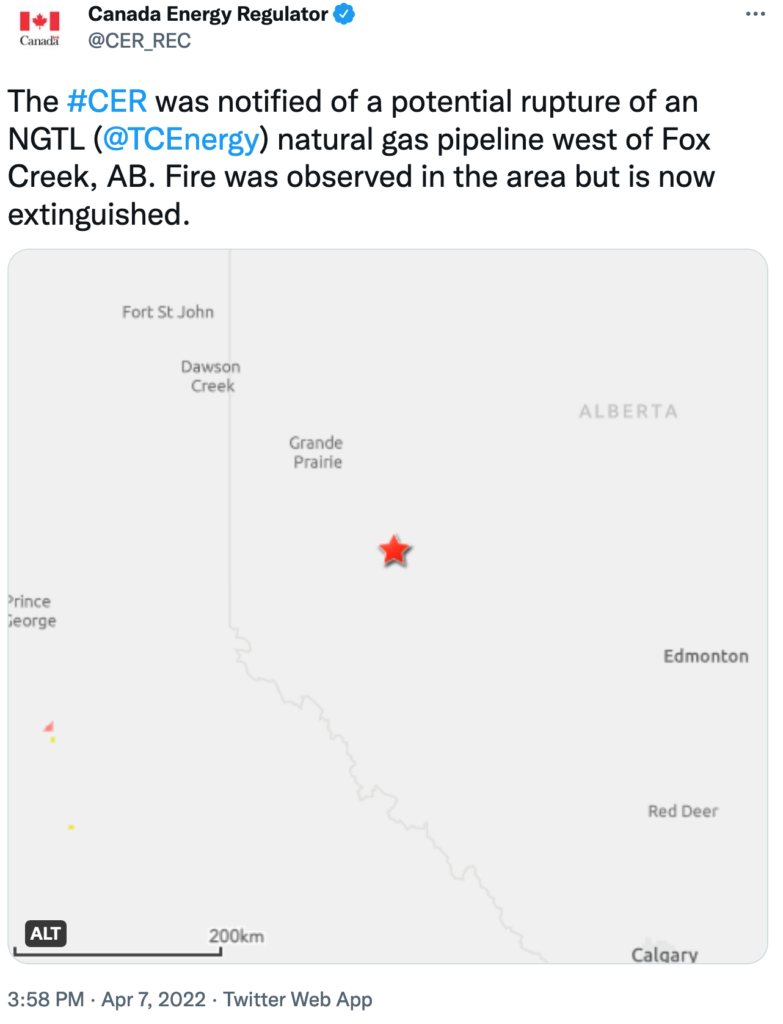 The #CER was notified of a potential rupture of an NGTL (@TCEnergy) natural gas pipeline west of Fox Creek, AB. Fire was observed in the area but is now extinguished.
CER Inspection Officers and Emergency Management staff are being deployed to the area to oversee company response. We have activated our Emergency Operations Centre to monitor the incident. No injuries have been reported.
Impact to the environment will be determined once CER staff have access to the site. Our priority is always to protect people and the #environment when an incident occurs. More details to come.
Transportation Safety Board investigates natural gas release from northern Alberta pipeline by Caley Gibson, April 8, 2022, Global News
The Transportation Safety Board of Canada says it has deployed a team of investigators to a northern Alberta pipeline site following a natural gas release.
The TSB said Friday morning a release and ignition of natural gas took place from a Nova Gas Transmission Limited pipeline near Fox Creek. It happened Thursday in a very remote area.
The Canadian Energy Regulator said Thursday afternoon a fire was observed in the area but was extinguished.
The Nova Gas Transmission Line is TC Energy's natural gas gathering and transportation system for the Western Canadian Sedimentary Basin. It connects most of the natural gas production in western Canada to domestic and export markets, according to TC Energy's website.
In a statement, TC Energy said it is aware of an incident near Fox Creek. The company said it has activated its "emergency management and response procedures."
"We are working closely with federal and local authorities to ensure a coordinated response," read the statement.
"The safety of our people, communities and protection of the environment are our primary focus and we are actively responding."
TC Energy said updates will be provided as they become available.
Fox Creek is located about 250 kilometres northwest of Edmonton.

Refer also to:
2015: Did Alberta Just Break a Fracking Earthquake World Record with 4.4 Temblor at Fox Creek? Sounds of Silence: The Crooked Lake Earthquakes
2015: Fracking Quakes Pose Added Risks but Oil and Gas Companies Refuse to Share their Collected Seismic Data. "In low seismic environments like Fox Creek where the natural earthquakes are infrequent, the hazards from an induced seismic event can exceed the hazards from a natural source"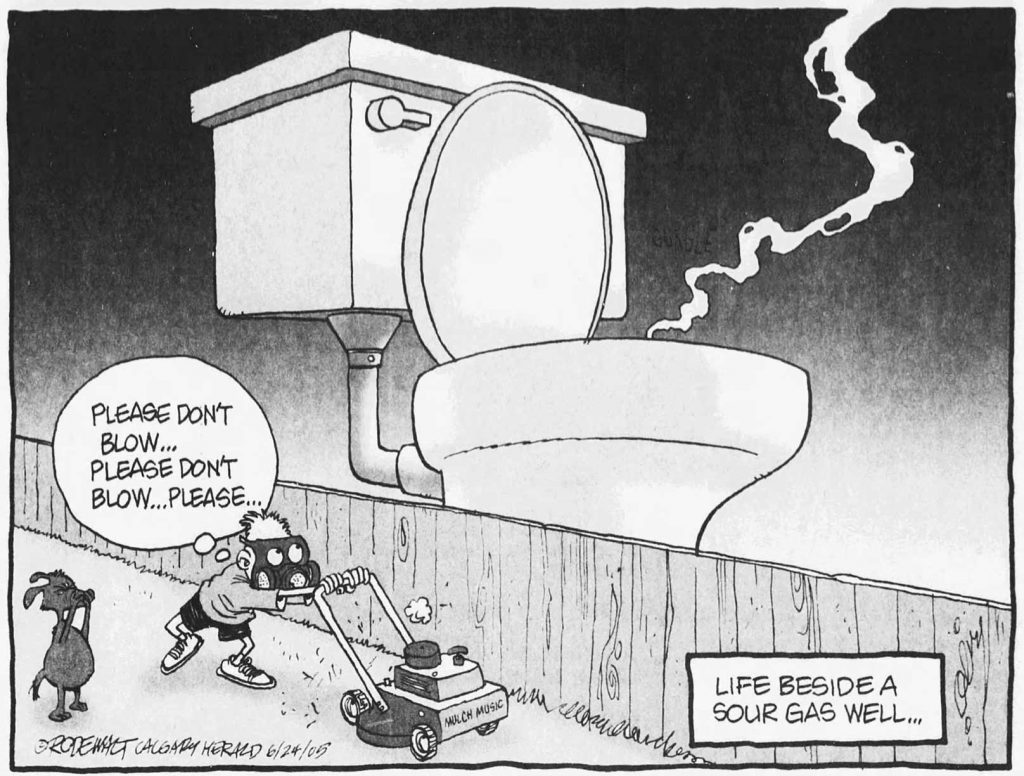 2015: Fox Creek Mayor Jim Ahn rightfully worried about frac quakes harming sour gas infrastructure in the community. How much damage have the quakes already caused sour gas wellbores and pipelines?
2015: Chevron reported 3.6 magnitude event; Shut down by AER. Is the AER's Frac Quake Stop Light System Irrelevant? Another 4.4 Magnitude Earthquake at Fox Creek
2015: AER Responding to Encana Sour Gas Well Blowout in AER's blanket approval, fracing free-for-all near Fox Creek. Was it caused by what Mayor Ahn fears? Fracquakes?
2015: AER & Encana Lying Update: Encana's Deadly Sour Gas Blow Out at Fox Creek: Did Alberta's Energy Minister lie for Encana & "No Duty of Care," cover-up agent extraordinaire, the AER?
2016: AER allows Repsol to resume fracking after causing world record 4.8M frac quake (felt 280 km away near Edmonton) in AER's Fox Creek Blanket Approval Frac Frenzy Free-for-All Experiment. But, Repsol appears too shaken to resume
2016: Canada breaking frac quake records: Geosciences professor thinks earthquakes near Fox Creek are clearly linked to fracking
2016: Why isn't AER's Fox Creek Frac Frenzy Regulatory Failure front page news? AER releases evaluation of its Play-Based (Blanket Approval) DeRegulation Pilot
2016: Trilogy Adds to AER's Fox Creek Frac'ing Free-for-all Pilot Project Failure: Trilogy's Pipeline may have leaked 'for a while' before spill discovered
2016: AER & Trilogy not prepared for the emergency! "Another" Canadian pipeline spills oil and pollutes fresh flowing water; Trilogy Energy Corp leaks oil into flowing wetland in AER's Blanket Approval Frac Frenzy Pilot Project at Fox Creek
2017: New Study: Sulfide-producing bacteria dominate hydraulically fractured shale oil & gas wells. "An estimated 70% of waterflooded reservoirs world-wide have soured."
2017: Whimps Extraordinaire! Ex-Encana VP (Gerard Protti) led AER taps Encana with $7,500 administrative penalty for major sour gas blowout at Fox Creek Alberta, Nothing for injecting 18 million litres of frac fluid into Rosebud's drinking water aquifers.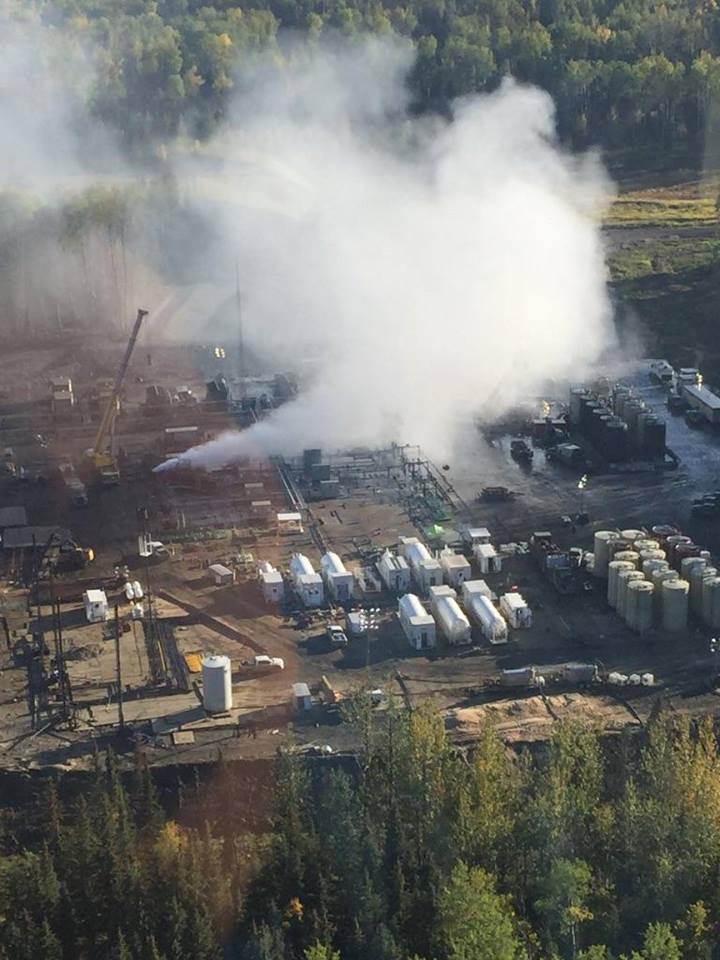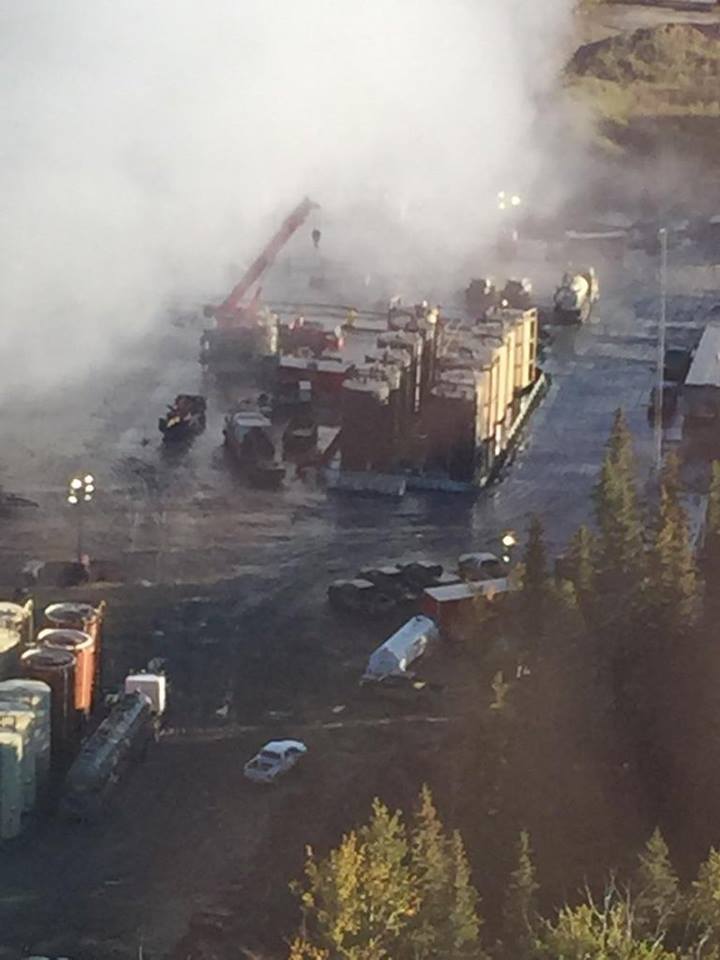 2017: UPDATED WITH MORE QUAKES, Fox Creek, Alberta Frac Quakes start up again; New Study by Standford Scientists: Small earthquakes at frac sites may be early indicators of bigger quakes to come; Surprising Finding: Arkansas earthquakes mostly caused by hydraulic fracturing, only some by wastewater injection, None caused by trucks
2018: "Insane" Greed: Fox Creek Shakes as Frackers Drill for Condensate to Dilute Bitumen
2018: New study: Hydraulic fracturing volume is associated with induced earthquake productivity in Duvernay play, Fox Creek Alberta
2019: What the Frac Hell is going on in Canada! 3.9M earthquake west of Frac'd Crazy Fox Creek Alberta reported by Earthquakes Canada, 1 km depth, now scrubbed from their website!
2019: Why did Paramount suddenly distribute Emergency Response Plan in Town of Fox Creek? To distract from Sprocket Energy's 460,000 litre spill/leak/frac hit at abandoned sour gas well near Smoke Lake Provincial Park and the town?
2019: New video by Will Koop, with extraordinary drone footage! Broken Sprocket in the Fox Creek Hub? Alberta's "Ignorant and Brute Force" Frack Experiments
2019: IT'S A BIG ONE! AER Order against Sprocket Energy sour gas well leak/spill (by frac hit?) six km SW of Town of Fox Creek. Why no media coverage on possibly life-threatening, brain damaging leak near busy Smoke Lake Provincial Park Campground?
2019: Frac Hit at Fox Creek? Wanna bet industry's pet lamb, AER, will issue no fine? 460,000 litres fluids & contaminated water spews forth from abandoned Sprocket Energy Corp sour gas well 6 km SW of Fox Creek, Nothing reported in the media!
2020: Scrubbadubbadub! Two earthquakes west of Alberta's Fox Creek Frac Hub: 4.0M on Dec 25; 4.1M on Dec 30. Like a coronavirus, it spreads. Earthquakes Canada already scrubbed the 4.1M; nothing reported in the media or by AER, again. Too busy farting in Post Media's War Room.
2020: Sprocket Energy Corp: Bigger sour gas release – 480,000 litres – by "mechanical failure" (code for frac hit?) at Fox Creek Alberta. People live there, H2S is deadly, damages the brain even at low levels, yet again, media reports nothing. Jason Kenney/Steve Harper have friends on the board?
2021: Frac'ing Ontario? Wheatley (thermogenic corrosive) sour gas explosion injures 20, destroys two buildings, more, many families displaced. Still leaking, area remains at risk of more explosions like Hutchinson Kansas where two were killed in their home from industry's leaking gas migrating 7 miles. Chatham-Kent top administrator, Don Shropshire: "Our area has hundreds, if not thousands of abandoned gas wells. They stretch from Niagara Peninsula to Windsor." Also exploded from industry's gas 85 years ago. The community must be relocated. But, where?