Comment from an Albertan: I guess one could say they are washing their hands, coughing into a sleeve and stifling the "sneezing."
Alberta's Fox Creek Frac Hub is shown by the endless blue blobs (earthquakes) spreading like a coronavirus. Yellow pins show the two new Happy Holiday quakes.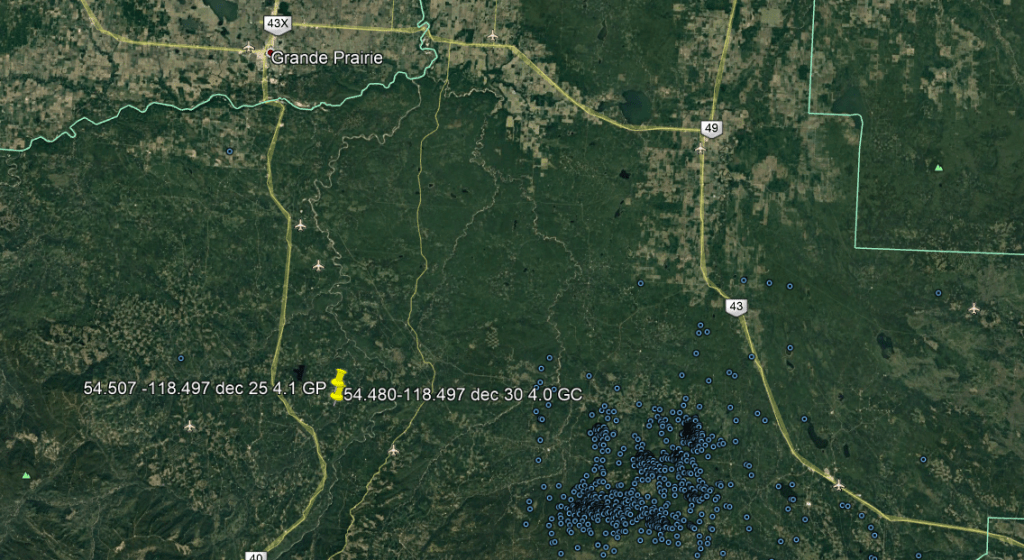 The Town of Fox Creek is little dot near plane symbol on Highway 43, bottom just right of the growing blue blob frac quake colony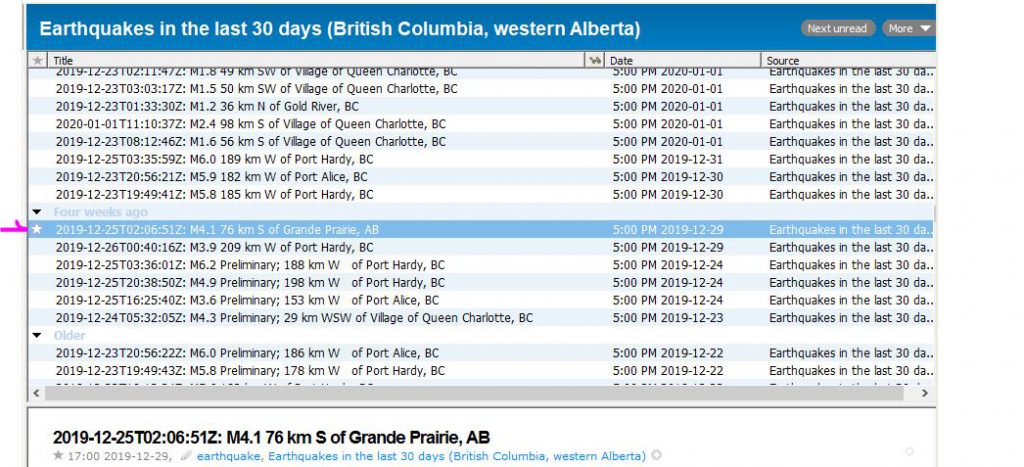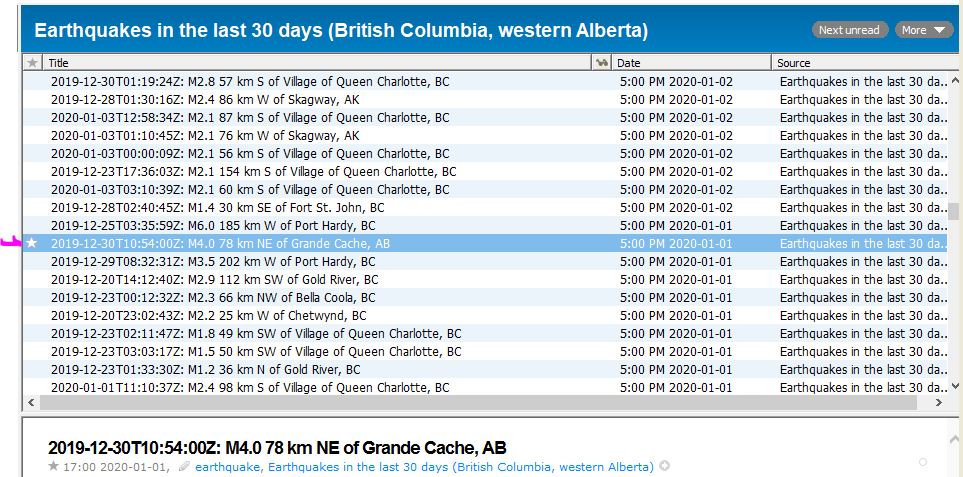 This snap below from Earthquakes Canada taken Jan 23, 2020:

Can you see the 4.1M anywhere?
Poof! Magically vanished, again.
Refer also to:
What the Frac Hell is going on in Canada! 3.9M earthquake west of Frac'd Crazy Fox Creek Alberta reported by Earthquakes Canada, 1 km depth, now scrubbed from their website!
Encana's Vexatious Sour Gas Frack Flaring near Grand Prairie, Alberta; After clip posted, Encana pulls a scrubby dubby.
Alberta: AGS confirms frac'ing caused 4.18M earthquake that rattled many homes from Sylvan Lake to Red Deer last March, knocked out power to 4,600 customers, and caused subsequent 3.13M and smaller cluster of quakes. "Complaints of damage from the event were received." And a water well was damaged by frac'ing near Sylvan.
Finally reported in Calgary Herald three days later: Central Alberta earthquakes 'induced' by fracking, regulator confirms
Central Alberta earthquakes that caused structure damage and briefly knocked out power to parts of the town of Sylvan Lake were caused by oilfield fracking, says a report by the Alberta Energy Regulator.
And the agency says its investigation has turned up multiple new clusters of such seismic activity in the province.
An investigation by the AER and its Alberta Geological Survey (AGS), states seismic activity on March 4 of last year and March 19, 2018, in the Red Deer area was caused by hydraulic fracturing, the process of injecting liquid to loosen rock formations and free up hydrocarbons.
That kind of earthquake activity wasn't familiar to that area but was highly noticeable when it occurred, said the report.
"Within Alberta, the majority of induced earthquake activity has been focused on areas of the Duvernay Formation development near Fox Creek," it states.
"However, recent events (19 March, 2018 and 4 March, 2019) were large enough to be felt by nearby residents in the City of Red Deer who were between 4-10 km away."
It says such seismic activity in a typically more stable area "was suspicious, considering the recent development of the Duvernay East Shale Basin."
The 4.18-magnitude quake on March 4, 2019, occurred near where Vesta Energy had been conducting fracking, and the company's activities there were suspended by the AER.
"Complaints of damage from the event were received," states the report.
None of the tremors caused any injuries.
It also says a small cluster of 2.0-magnitude quakes in the area were also attributable to fracking and that at least 13 new groupings of fracking-induced earthquakes have been found through its investigations.
A Fortis Alberta spokeswoman said they detected a problem at their Sylvan Lake substation at 5:55 a.m. that day, "that the power had tripped off."
"That's about the same time as reports of an earthquake in the area started coming in," added Alana Antonelli.
Power was restored to all of its 4,600 affected customers within about 90 minutes, she said.
Prior to the investigation being completed, Antonelli said "it's too early to tell that the outage at the substation was caused by the earthquake, but we can likely assume they were related."
A few days after the March 4 event, Sylvan Lake Mayor Sean McIntyre said there was no need to be alarmed. "We're aware of the conversation around the process of hydraulic fracturing," he said.
"However, at this time, we're confident in the Alberta Energy Regulator's (and province's) ability to protect the health and safety of Albertans, while striking a balance in terms of sustainable economic growth," he said in a written statement. [Ghastly, the mayor enabling the endless frac harms that so many Albertans are enduring, along with the horrid abuses and rights violations by AER trying to silence the harmed and cover-up the damages suffered instead of holding the companies accountable.]
Landowner Vicky Simlik: Living frac'd in Farmington, NE BC. They frac you again, and again, and again, and again. The frac quakes harm you & your home again, and again, and again.