The husky spill, Response to massive Husky oil spill leaves critics concerned by Carrie Tait, August 26, 2016, The Globe and Mail
Last month, some 200,000 litres of oil spilled into the North Saskatchewan river. Officials have praised the company for its financial response to the crisis, but critics are concerned about the lack of transparency, Carrie Tait reports
Jim Toye spent weeks asking Husky Energy Inc. for a 10-litre sample of oil and diluent comparable to the mix the company spilled into the North Saskatchewan River in July.
The city manager for Prince Albert, Sask., wanted more precise information on the toxins polluting the community's sole source of water so he and his team of specialists could figure out how to filter out contaminants from the spill, making the water safe for roughly 60,000 people.
They needed the sample. They got it last week, a month later. And the folks who wanted it had to fetch it themselves from Maidstone, a three-hour drive away and the town closest to the spill.
"How do we know what's coming down the river unless we got a sample of it?" Mr. Toye said in an interview this week.
"We went to Maidstone and got it ourselves. … Every day now counts with winter coming."
For more than a month, Prince Albert has been getting by on three emergency sources of water, but October's freeze-up will put an end to those makeshift alternatives.
The city is not alone in its struggle to obtain accurate and timely information from Husky and the provincial government. Red Pheasant Cree Nation near North Battleford has done its own water testing. James Smith Cree Nation near Melfort installed its own booms on the river and is testing the water itself. Scientists want Husky and the government to post all the raw data from their water tests so they can be scrutinized by outsiders.
Husky estimates it spilled between 200,000 and 250,000 litres of oil and diluent into the river.
At a time when questions about pipeline safety have hung up approvals for three major projects across Canada, the Husky spill is proving a major test for Saskatchewan's regulatory system.
The province does not have an independent regulator like its counterpart in Alberta. Instead, Saskatchewan's Ministry of the Economy is "conducting a full and thorough review of the incident to determine its cause and any required changes to operation and/or response," according to Karen Hill, a spokeswoman for the government's executive council.
The economy department's mandate includes generating wealth and expanding the economy [Is AER's any different?] – and the province's resources are key to those two pillars. Other departments and agencies, including the Ministry of the Environment and Water Security Agency, are involved.
Alberta [deregulated] moved away from this type of patchwork system in 2013, consolidating responsibility for enforcing resource regulations [which the legally immune, "No Duty of Care," Charter violating AER notoriously refuses to do, in many cases of spills, non-compliances, harms caused to environment and Albertans, etc] into a single arms-length body [that now, after the deregulating "consolidation," no longer has a public interest mandate and is 100% funded and controlled by the energy industry] called the Alberta Energy Regulator. It, too, has its critics.
Husky, a global energy firm controlled by Hong Kong billionaire Li Ka-shing, has accepted full blame for the incident. It has already distributed millions of dollars to help cities and businesses cover expenses and lost revenue as a result of the leak.
[BUT, WHAT'S IN THE WATER AND WHAT ABOUT THE RIVER AND DEAD FISH AND WILDLIFE?]
Officials in North Battleford and Melfort – two other cities affected by the contaminated water – have praised the company, and even Prince Albert's Mr. Toye is pleased with Husky's financial response.
But critics [WHY NOT CALL THEM RESIDENTS, CITIZENS? WHY SMEAR CONCERNED RESIDENTS AND PROFESSIONALS AS CRITICS?] are concerned about the amount of independent analysis of tests performed by Husky and the government.
Tim Jardine, a professor at the University of Saskatchewan's School of Environment and Sustainability,

wants all the raw data from the water test results published, rather than having to rely on Husky's broad overview.

That would allow specialists such as non-governmental organizations or university scientists to analyze the tests independently. [COURAGEOUS, CONFIDENT, SMART PROFESSOR!]
"It increases the transparency of the process … even if not everyone [in the public] can totally understand perfectly what the numbers mean."
Officials from Husky and the Saskatchewan government are running a "unified command" centre to co-ordinate cleanup and testing. First Nations have a seat in the hub. Prince Albert, the largest centre affected by the spill, does not.
Husky's pipeline-monitoring system detected "pressure anomalies" in the line July 20. The company, in an update July 26, noted this is normal when restarting parts of a pipeline network. The firm dispatched crews along the network. They did not find any leaks. The company planned to survey the pipeline from the air at dawn. During the night, Husky decided to shut down the system at 6 a.m. By morning, Husky received reports of a sheen on the river.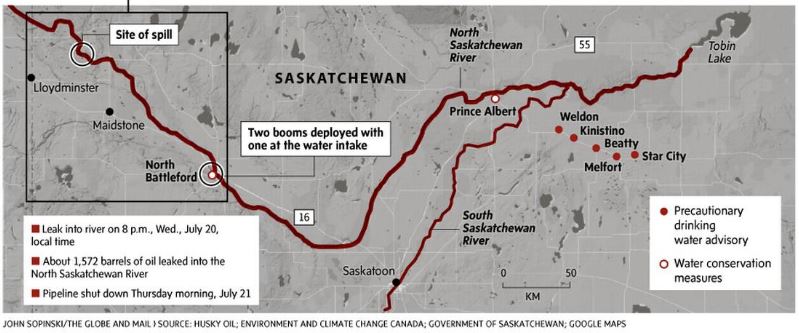 The Saskatchewan government first announced the leak July 21.
Husky did not immediately give Prince Albert the requested oil sample because the firm first wanted to know how the city would use it

, company spokesman Mel Duvall said.
"Our water experts were trying to better understand how the crude-oil sample would be used for analysis. The crude oil taken from the pipeline would not be an accurate representation of any oil that might make it to Prince Albert, given that it would need to travel downstream for 390 kilometres and undergo weeks or months of weathering."
But Saskatchewan's Water Security Agency has results for 120 surface water-quality samples. It found one that did not meet "the current drinking water quality guidelines," at North Battleford, according to a statement it released Thursday. Sixteen samples exceeded guidelines for the protection of aquatic life.
The agency also detected hydrocarbons in some sediment samples. Six exceeded Canada's sentiment quality standards. Those regulations protect organisms living in or on the bottom of sediments "and thereby the aquatic food chain, but are not of direct concern for people," [WOULD YOU WANT TO USE THAT WATER FOR YOUR BABY'S FORMULA?] the WSA said Thursday. The agency posted raw data on its website.
Husky also has specialists testing the water along 385 kilometres of shoreline affected by the spill. The company, which has drawn 4,000 samples from about 60 locations, has released summaries of its findings. Of 1,400 samples, for example,
Husky found

37 instances where toluene exceeded quality guidelines for freshwater aquatic life. Eight samples surpassed pyrene standards,

the company said in its Aug. 8 update.
The province has counted 144 confirmed wildlife deaths, including 51 aquatic species, as a result of the spill. Roughly 73 per cent of the estimated oil released has now been recovered, Mr. Duvall and the government note.
Chief Wally Burns leads James Smith Cree Nation near Melfort, and about 11 kilometres of the North Saskatchewan runs through the band's land. The band has spent thousands of dollars installing booms and hiring a water specialist from Calgary. The community is reluctant to rely solely on test results Husky and the government provide, Chief Burns said Friday.
"We did this on our own," he said, although the band expects to be reimbursed. "The people who did this have to pay." [WHY IS ENCANA NOT REIMBURSING ALBERTANS THE COMPANY HARMED? WHY IS NOTLEY AND ALBERTA'S "CONSOLIDATED" ONE SHOP ENABLER, THE AER, NOT FINING ENCANA AND COMPELLING THE COMPANY TO REPAIR THE AQUIFERS THE COMPANY FRAC'D AND REIMBURSE THE FAMILIES HARMED?]
Prince Albert is still waiting for Husky to deliver its water-quality report – data the city expected to land about two weeks ago. Municipal officials hope it, too, will contain information that will help Prince Albert adjust its water-treatment plans and identify technology that could deal with the dirty water. (Husky said it is, indeed, sharing testing information [WHEN? AFTER FREEZE-UP?]). Prince Albert is relying on a hose stretching about 30 kilometres to the South Saskatchewan River, a program costing about $2-million a month. Husky, Mr. Toye said, has been quick with cash to help cover expenses.
But if Prince Albert is unable to draw from the North Saskatchewan River by October, its problem will exacerbate. Water in the hose will freeze. It may have to heat the water or the line in order to keep it flowing – expensive and unproven proposals.
Husky and the government are still trying to determine what caused the leak. Saskatchewan officials do not yet know whether Husky will face regulatory consequences. [A FEW MILLION HERE, A FEW MILLION THERE, POOF! NON-COMPLIANCES AND RECORDS OF HARM VANISH?]
Husky has even deployed dogs – Pepper and Patton – to sniff out hydrocarbons clinging to the shoreline. The busted pipeline is inspected monthly and more thoroughly every two years, Mr. Duvall said. Its last major inspection took place in 2015, he said.
Saskatchewan officials, in an update with reporters Thursday, said they expect ["HOPEFUL?" SEE ARTICLE BELOW] water from the North Saskatchewan will be clean enough to use by freeze-up.
North Battleford, meanwhile, smoothly switched over to existing wells for water and connected a hose to the nearby Battle River. North Battleford has since added wells. Melfort's water system services about 10,000 people, and the provincial government treats it. The city reverted to a water source it used years ago when its normal source risked contamination, Melfort's director of works and utilities Gerald Gilmore said. It doesn't taste as good or smell the same, but it works and winter will not interfere. The government and Husky, Mr. Gilmore said, have been exceptional. "It couldn't be any better," he said. [Emphasis added]
Water Security Agency 'hopeful' water intakes shuttered by Husky spill can reopen before winter by Alex MacPherson, August 26, 2016, Saskatoon StarPhoenix
Three cities forced to shut down their water treatment plant intakes after a Husky Energy Inc. oil spill will have to rely on secondary water sources for at least another month.
However, the provincial agency responsible for ensuring drinking water safety in Saskatchewan is optimistic that North Battleford, Prince Albert and Melfort will be able to reopen their intakes before freeze-up.
"I'm hopeful that use of the intakes will be able to resume sometime in the next few weeks," Water Security Agency spokesman Sam Ferris told reporters on a conference call Thursday morning.
The cities were forced to close their intakes and scramble to establish secondary drinking water sources after one of the Calgary-based company's pipelines failed on July 20, dumping up to 250,000 litres of heavy crude into the North Saskatchewan River.
The roughly 800 workers — including about 150 members of local First Nations — working to clean up the spill have recovered about 164,000 litres of spilled crude to date, Ministry of Environment spokesman Wes Kotyk told reporters on the call.
Recovery efforts are expected to cease temporarily over the weekend as heavy rainfall in Alberta causes the river to rise about two metres, but the cleanup remains on track, Kotyk said.
"With just over a month left until the anticipated early freeze mark — the date we're going with is Oct. 1 — Husky and operations feel that it is sufficient time to do the remainder of the shore cleanup once they can get back onto the water," he said.
On Thursday, the WSA released results of tests conducted on a second batch of water samples pulled from the river this month. One of the 120 new results failed to meet Health Canada's drinking water guidelines, the WSA said in its report.
Ferris said the WSA's results are "generally consistent" with those of other organizations testing the water, including the U.S.-based Center for Toxicology and Environmental Health (CTEH), the third-party contractor hired by Husky.
Despite this, water restrictions remain in place. Communities along the North Saskatchewan are still using secondary water sources and people are encouraged to avoid eating fish pulled from the river.
Prince Albert Mayor Greg Dionne is hedging in case the intake can't be opened before winter. He said the city of 35,000 is still developing potential long-term solutions, including a heated pipeline and new treatment plant filters.
"We're going to continue to look at all our options until we have a definite (approval to) go back into the North Saskatchewan from the Water Security Agency," Dionne said.
The newly-formed Kisiskatchewan Water Alliance Network (KWAN) is waiting on the results of an independent water quality study it commissioned, before offering a verdict on the water quality.
"The independent study may offer both a view and some suggestions than the one that's just been released hasn't touched, or it may give us more in-depth information as well about what's happening," said Don Kossick, a spokesman for the group.
Tyrone Tootoosis, who helped found KWAN, said the group is dismayed at what it sees as the lack of interest shown by Husky and the provincial government, and that both parties should be more transparent about the effects of industry on the environment.

"We need to ensure that there's more information made available to the general public about what we haven't been told — information not only on the industry itself, but the relationship between government and industry," he said.
Husky spokesman Mel Duvall said the company has "undertaken from the very beginning" to have open lines of communication with affected First Nations, and that meetings with local groups are ongoing.
"It's a big job, but we've taken it up full-on, and we're not going to stop," Duvall said of Husky's commitment to consulting First Nations and other affected groups.
While the cleanup is progressing, it remains unclear what caused the 19-year-old Husky pipeline — one of 8,947 licensed pipelines that cross bodies of water in the province — to fail.
Kotyk said an investigation will examine "all aspects" of the incident, including human error, structural malfunction and design or construction flaws. A Ministry of Economy spokesman said the government won't speculate until it has all of the information.
Duvall said the energy company is working with the province, and details regarding what caused the incident and how Husky responded to it will be provided "once the report is finalized."
"It wouldn't be appropriate for me to comment before the report is out, and before the province has even seen it," Duvall said. [Emphasis added]
Wait until Monday, Husky tells oil-impacted First Nation by Elizabeth McSheffrey, August 26th 2016, National Observer
When Husky Energy officials showed up more than 40 minutes late to an emergency meeting with the James Smith Cree Nation, the band members thought it was rude.
When an unknown advisor was sent instead of the company's own manager of aboriginal and community relations, the elders though it was "appalling." But when a Husky official told the entire Indigenous community — whose territory may be poisoned by its catastrophic oil spill — to wait until Monday for answers, it was more than Chief Wally Burns could handle.
"In my heart, I think this meeting was just a waste of my time," he told National Observer, frustrated after a two-hour consultation with Husky Energy on Thursday evening. "You know the sad thing about it? We can't wait until Monday because the river is going to come up four feet, and when it goes down it will have environmental impacts."
Since early August, the James Smith Cree Nation has found foam and oil washed up on the shores of the North Saskatchewan River, which runs right through its territory in the heart of the province. Dead crayfish litter its river banks, and all of the summer wildlife — butterflies, grasshoppers, frogs, and more — have disappeared.
The chiefs are certain the damage spawns from Husky's devastating pipeline leak on July 21, which spilled more than 200,000 litres (roughly 1,570 barrels) into the North Saskatchewan River, prompting emergency water restrictions in several municipalities and killing more than 140 animals. But the First Nation has already depleted its $17,000 budget for flood mitigation on its own spill response, including independent water quality testing and the deployment of booms.
Asked when the community could expect some help from Husky however, Todd Belot, senior advisor for aboriginal and community relations, responded:
"Chief, I will go to the people that I report to and I will… today is Thursday… Monday."
"You're going to foot the bill"
The response came after a short, but impassioned speech from Belot promising that Husky's actions will speak for the company, and serve as proof of how well it has listened to First Nations concerns. Chief Burns couldn't believe the contradiction, or that the Calgary-based energy company didn't have anyone working over the weekend during a crisis who could help his community with oil containment.
And with the North Saskatchewan River expected to rise up to two metres over the weekend as a result of heavy rainfall flows stemming from Alberta, he said waiting until Monday wasn't a luxury they could afford.
"There's lots of talk but no answers," he told Belot. "We're putting our foot down… You're going to foot the bill, it's not our mess. We're doing our best to clean up Mother Earth. Polluters pay, not dictate. That's my message loud and clear."
Belot could not be reached for comment on this story, and Husky Energy's spokesperson, Mel Duvall, would not even confirm that the meeting took place. He stopped returning National Observer's messages two days after it published an article that found gaps in Husky's spill timeline, exposed the industry-friendly consultant it hired to analyze its water quality testing, and revealed the plight of the James Smith Cree Nation.
As of Wednesday, Husky would not confirm that it had ever met with Indigenous community, been made aware of its concerns, or had a meeting with the chiefs scheduled for Thursday. Yet according to Chief Burns, he has been in touch with Husky since early August, when the company requested that he send them a proposal to deal with spill containment in the territory — a proposal he promptly returned.
The only response Husky gave National Observer on the subject of the oil in James Smith's territory was that it may not in fact be from its pipeline.
Oil in river may not be from spill, says Husky
"It is not uncommon to see foam on the river, particularly during storms and high river conditions," Duvall said in a Wednesday email. "This has been stated many times before."
While the Saskatchewan Ministry of Environment confirmed that it knew the James Smith Cree Nation had found oil in its waters, it too, hesitated to link that oil with Husky's pipeline leak, the cause of which remains under investigation:
"It is important remember to visual sighting of sheen and foam may or may not necessarily have been caused by oil spill," said ministry communications consultant Ron Podbielski in an email. "These occurrences can form on any open waterbody under natural conditions or from other localized activities such as boating, pumping, or other discharges."
Saskatchewan's Water Security Agency has already taken water samples from the nation's portion of the river, but did not respond to National Observer's questions about whether it detected any contamination in time for publication of this story. The province did provide initial assistance with setting up spill containment, said Burns, but has not provided any financial compensation.
The First Nation's elders, who have been fishing, swimming, and boating in the river for decades, were deeply insulted by suggestions that the oil might not have come from Husky, and Estelle Hjertaas, a lawyer and environmentalist based in Prince Albert, Sask. — a municipality that has declared a local state of emergency as a result of the spill — agreed that the oil was likely from the pipeline.
"I think given that there was visible oil slick on the water, followed by foam, followed by visible oil the day after that on the water again, at a time when no one was allowed on the river at that point — it seems unlikely that the oil would come from other sources," she told National Observer. "It's possible there was a spill from something else, but it seems unlikely that it would be in the quantity that we're seeing and reporting, especially in the context that the oil spill just happened and its movement down the river was fairly well-documented."
James Smith Cree Nation has barred both the energy company and the ministry from entering its territories without explicit permission from the band office.
Province not concerned about food chain
In the meantime, Chief Burns has told his community not to eat fish from their territory, and the provincial government has issued a precautionary "do not consume" fish advisory for the entire North Saskatchewan River. While Water Security Agency updates indicate that the river may be safe to drink from again (only one contaminated sample came back from recent surfacing testing), the waterway remains hazardous for most aquatic wildlife.
During their meeting with Husky on Thursday, which was attended by James Smith Cree Nation leaders and representatives from Indigenous communities further downstream, elders outlined their concern that contamination could move up the food chain through mammals drinking from the river or eating poisoned fish and crayfish. While Husky "acknowledged" these concerns, the Ministry of Environment said it wasn't too worried:
"Other species that are not living in water will have a significantly different and higher level of tolerance to the level of compounds founds in the water," Podbielski explained via email. "This is why aquatic tolerances, which are lower and different than human tolerances, are being tracked and recorded in the testing. Based on the scientific evaluation to date, the Ministry has concluded the concentrations found in exceedance samples do not warrant an advisory for wildlife consumption at this time."
Members of the James Smith Cree Nation however, have already seen animal tracks leading away from river, indicating that bigger animals are either drinking from it or eating the dead crayfish they are certain are toxic. They also voiced concerns about the endangered sturgeon population that lives and spawns in the North Saskatchewan River, but the ministry confirmed that no sturgeon have been reported dead as a result of the spill.
Hjertaas, however, was hesitant to trust any impacted wildlife statistics churned out by Husky or the provincial government.
"My biggest concern with the numbers is that it's being reported on as though the total number of animals that died is 144 animals, which is not correct, because that's the number of animals that the government is aware of that died, not the total number impacted by the spill," she explained. "It's a mischaracterization of the information that we do know."
More questions about Husky's numbers
According to the ministry, 10 birds, 31 waterfowl, 50 small mammals, two reptiles, 38 fish and 13 crustaceans have been killed, and 52.7 per cent of impacted shore line has been cleaned. As of Aug. 22, Husky reported that 47 per cent of the shoreline had been cleaned, but would not confirm with National Observer how it arrived at this statistic.
While the Ministry of Environment confirmed that it based its percentage on cleanup taking place roughly 117 kilometres downstream of the initial pipeline leak near Maidstone, Sask. — an area that most certainly doesn't include the shores of the James Smith Cree Nation — Husky Energy has refused to provide National Observer with similar information on how it makes the calculations delivered in its public updates. [Emphasis added]
First Nation with poisoned waters feels abandoned after Husky oil spill by Elizabeth McSheffrey with files from Mike De Souza, August 24th 2016, National Observer
A First Nations community in Saskatchewan is feeling abandoned with poisoned waters in the wake of a major pipeline spill that has leaked massive amounts of oil and other toxins onto its territory.
The devastating impacts that the James Smith Cree Nation observed this week on wildlife, nearly 300 kilometres away from the source of a Husky Energy pipeline spill, are coming to light as the Calgary-based oil company dismissed allegations that it hired an industry-friendly consulting firm to assist with water testing in order to downplay the disaster.
Husky has been under fire since one of its pipelines failed early on July 21, releasing up to 1,570 barrels — roughly 250,000 litres — of crude oil and other toxins into the North Saskatchewan River, a drinking water source for thousands of Canadians.
The disaster prompted emergency water restrictions in several municipalities, killed more than 140 animals, and is the subject of federal and provincial investigation.
The James Smith Cree Nation, a community of 1,600 people about 80 kilometres east of Prince Albert, has not been impressed by Husky's response. Chief Wally Burns said the provincial government has sent officials to test the water, but his own community is now running out of funds to pursue its own response to the disaster.
"Husky hasn't come to the table and they failed to help,"

said Burns in an interview with National Observer.
"That's the way I see it. And yet it's their problem. I'm just here to protect my people, the future generations to come, so that they can have a good life."
Consulting firm accused of protecting industry
Adding fuel to the fire is the fact that one of the expert organizations recruited to analyze Husky's water data from the river, the U.S. based Center for Toxicology and Environmental Health (CTEH), has previously been accused of "protecting industry" by downplaying the severity of oil spills. The controversial consulting firm whole-heartedly denies these accusations, but its involvement has still prompted some critics to question whether the public can trust any information coming from Husky about its cleanup.
Husky spokesperson Mel Duvall would not elaborate on CTEH's particular role in spill analysis beyond information already available on Husky's website, but confirmed via email that it had been contracted exclusively by Husky, and responds to the company's Unified Command, which directs emergency response in partnership with the Saskatchewan Ministry of Environment.
The consulting firm is part of Husky's technical working group charged with determining "current and ongoing risks to aquatic life," along with various engineers, toxicologists, and environmental and public health specialists. The group's collective analysis will help inform final recommendations from the Saskatchewan and federal government as a result of the spill, and will also be considered by water security experts, biologists, chemists, and environmental protection officers. ​
Critics say the use of the U.S. consulting firm is particularly troubling given that Husky has declined to provide the public with a detailed breakdown of the methodology used to collect more than 1,000 water samples from the North Saskatchewan River, including how long after the spill they were taken, how badly they flunked government drinking water safety standards, and what proportion of the samples were taken at varying river depths as the crude oil began to sink.
The results for sampling of the James Smith Cree Nation water have not yet been released, but officials have previously noted that only five samples from completed tests revealed dangerous levels of toxins unfit for human consumption, and that no additional samples taken more than three days after the disaster exceeded drinking water guidelines. Chief Burns's observations however, suggest the problem is more serious and raise questions about the water samples that passed the testing, which were, in part, analyzed by CTEH.
"Fox guarding the chicken coop"
In 2010, the New York Times published a scathing article raising questions about the objectivity of Center for Toxicology and Environmental Health (CTEH), a science-based environmental consulting firm headquartered in Arkansas. The company rose to prominence in its field after analyzing test results for large energy corporations during a 2005 Hurricane Katrina-related oil spill in Louisiana and a flood of coal ash in central Tennessee in 2008, among other toxic accidents.
But as the firm was contracted by BP to provide analysis during the 2010 Deepwater Horizon oil spill in the Gulf of Mexico, the Times reported a "troubling pattern" revealing that CTEH has regularly failed to release a complete portfolio of data from its studies, which tends works in its client's favour.
After the 2008 breach in the Tennessee Valley Authority's coal ash dam, for example, CTEH staffers were caught installing low-volume air quality monitors that fell short of U.S. Environmental Protection Agency standards. Two years earlier, it failed to find unsafe levels of hydrogen sulfide in drywall during a study commissioned by a Chinese manufacturer, despite that very same manufacturer appearing on a top 10 list of "problem drywall" manufacturers identified by the U.S. Consumer Product Safety Commission.
In 2005, while on contract for Murphy Oil to work on a spill from a refinery damaged by Hurricane Katrina flooding,

a CTEH employee was further found on video by a Louisiana nonprofit group, "smacking a soil sample against the pavement to dilute any possible chemical contamination before testing."
"It's essentially the fox guarding the chicken coop," Nicholas Cheremisinoff, a former Exxon chemical engineer, told The New York Times. "There is a huge incentive for them to under-report… the same thing applies on the health and safety side."
Husky Energy dismissed the concerns via email.
"It's a Green News article," Duvall said of the New York Times piece. "All information is being shared openly with all levels of government and CTEH is working at the direction of Unified Command."
Husky accused of "manipulating" public opinion
In an email to National Observer, CTEH spokesperson Denver Peacock said the firm continues to refute the piece published in the New York Times, which "has no basis in fact."
"In conjunction with our partners on the ground, as well as local, provincial and federal government agencies, CTEH's scientists work with the highest level of scientific integrity and transparency to protect the public and the environment," said the email.
Paul Nony, a CTEH toxicologist working on water quality assessment for the Husky oil spill, turned down National Observer's request for an interview, but was previously quoted in the Toronto Star after five water samples from the contaminated North Saskatchewan River failed to meet federal guidelines for safe drinking water:
"It's been mostly fairly low levels, but just happen to be above those conservative benchmarks," he said in an early August press conference. "But again, these are sporadic detections that exceeded those benchmarks."
Nony also told the Globe and Mail that these results "suggest there is not an ongoing issue, which is fairly expected," and that CTEH is "not seeing any surprises." [By knowing where to look, and more importantly, not to look?]
Mark Calzavara, a regional organizer for the social action organization, Council of Canadians, accused the consulting firm of "downplaying the effects of the spill in the media."
"Husky is desperately trying to manipulate public opinion after their disastrous spill," he said in an interview with National Observer. "The Center for Toxicology and Environmental Health is nothing more than a hired gun brought in to downplay the effects of the spill. They would be more aptly named 'Oil Spill Spin Incorporated,' which better describes their history and clientele."
The accusations, while unproven, are concerning given that Husky has refused to answer repeated requests from National Observer for more information on the methodology of its water quality testing, the timeline of the spill's detection, and when such data might be made available to the public.
"I suggest you go to our website for the latest information," was all Duvall, its spokesperson, said in an email statement.
James Smith Cree Nation left behind
Readers won't find any information on Husky's website however, describing the plight of Saskatchewan's James Smith Cree Nation, whose portion of the North Saskatchewan River is covered in a visible oil slick. The Indigenous community is located past the point where Husky has focused much of its containment effort, and has been forced to set up its own booms to contain the oil and foam washing up along its shoreline.
"I don't know what kind of booms Husky has but I'm pretty sure their booms aren't working,"

Chief Wally Burns told National Observer. "I walked the beach yesterday and noticed that there are a lot of crayfish that are dead."
According to Husky's latest water quality assessment update, its technical working group — which includes CTEH — has collected more than 2,000 water samples from the site of the spill near Maidstone, Sask. to Prince Albert, which declared a local state of emergency after the leak compromised its drinking water. The report gives no indication that Husky has tested any water as far east as the James Smith Cree Nation, and its spokesperson would not confirm in an email whether Husky knew the spill had extended that far, or whether it had any intention of extending its spill response to include the Indigenous community.
"We have worked closely with the experts to determine where the booms can be most effective," wrote Duvall.
Alvin Moostoos of the James Smith Cree Nation in Saskatchewan outlines environmental damage to his community as a result of Husky Energy's oil spill in the North Saskatchewan River on July 21, 2016. Video supplied by the James Smith Cree Nation.
But that's not good enough, according to Chief Burns, who said that in addition to leaving a trail of dead crayfish, the spill has forced most of the butterflies, dragonflies, and frogs in the area to retreat. He also said his community has had two meetings with Husky Energy to discuss the problem, both of which have been unproductive, and that the band has been forced to deplete its $17,000 budget — initially allocated to deal with a flooding problem — to its own spill response initiative.
He hopes Husky will compensate them, but was not thrilled about the company's early response.
"The way I see it, they're downplaying everything," he explained. "Right now, we're going to do this on our own with what little resources we have… and we're going to show Husky that they violated our rights."
Burns said Husky had finally agreed to meet with him again on Thursday, along with government officials from two federal departments: Environment and Climate Change Canada and Indigenous and Northern Affairs Canada. When asked about this, Husky declined to confirm or comment on whether it has ever had any meetings with the First Nation.
The entire affair not only raises questions about the company's transparency, but about the real quality of the water toxicity tests before performed by CTEH and the technical working group. How far along the river do they really extend? How badly did they fail federal safety standards?
Émilien Pelletier, a water chemist at the University of Quebec in Rimouski, said "there's no question" this information should be made available to the public, and labelled the company's silence as cause for concern.
"The public needs to know"
"It's a basic scientific requirement," he told National Observer. "They should provide all the details on how they get the samples, how they analyze it and what the limits they should comply with are."
Without commenting on whether or not the effect is intentional, he added that in providing "very limited information" on its spill response efforts to the public, Husky has ensured that chemists like him cannot give media any clear statements about how catastrophic the accident truly is, and how well the cleanup efforts are going.
He is not the first academic to comment on the lack of details in the energy company's reports; Vince Palace, an aquatic toxicologist for the Winnipeg-based International Institute for Sustainable Development told CBC after the first water test results were released that more details needed to be tracked and shared to properly determine how the North Saskatchewan River, and drinking water, will be affected in the months to come.
Greg Dionne, mayor of the severely impacted City of Prince Albert, said he is also concerned by Husky's silence on the science.
"The public needs to know," he said in a phone interview. "[Husky] wants the public support on pipelines and to make people more comfortable. They should be answering all the questions."
Prince Albert was forced to build a new pipeline to provide an alternative source of drinking water to residents after the spill, and only recently started to resume regular water service to homes and community facilities. While the mayor remains focused on the drinking water issue for now, in the future, he said he will turn his attention to other information gaps left open by Husky — namely, the cause of the pipeline leak.
Husky oil spill, Husky Energy, North Saskatchewan river, pipeline spill, wildlife
Staff at the Lend a Paw Animal Rescue race to clean up an oil-covered bird affected by the Husky Energy spill on Mon. July 25, 2016. Photo courtesy of Lend a Paw's Facebook.
Big hole in Husky's spill timeline
According to an incident report filed on the spill, Husky Energy detected an irregularity in the faulty pipeline around 8 p.m. on Wed. July 20, and notified the Saskatchewan government at 10:30 a.m. the following morning. A July 26 update on the company's website however, claims that Husky officials organized aerial surveillance to fly the length of the pipeline "at the first available daytime opportunity," on Thurs. July 21, and that the pipeline was shut down promptly at 6 a.m. that day.
But as Calzavara from Council of Canadians pointed out, at the time of the spill, the first available daytime opportunity was presumably sunrise, between 5:30 a.m. and 6 a.m. Assuming the company started its surveillance early, as it claimed, why did it take four hours to detect the spill and notify the government?
Husky would not confirm in an email to National Observer​ that the aerial surveillance even took place, nor would it confirm precisely what time the spill was detected, or what the length of the pipeline was, in order to extrapolate how long it would take to fly over the entire line.
"[The flight] seems to have disappeared into the Bermuda Triangle," said Calzavara. "It's something nobody has really talked about — the PR game Husky is playing on the spill. By keeping information out of the public sphere, it really indicates that they're hiding something."
Husky has already come under fire for not notifying the provincial government immediately after detecting an anomaly in its pipeline, and refusing to confirm whether the pipeline that leaked — built in 1997 — was reviewed or assessed when a new section of pipeline was added to its gathering system in 2014.
Calzavara also raised concerns about Husky's insistence that it be the first point of contact for members of the public who encounter wildlife impacted by the spill. The company's emergency hotline, he argued, gives the corporation responsible for the accident the opportunity to perform major damage control:
"Anybody who finds a dead or injured animal or fish — the only thing they're supposed to do is report it to Husky and turn it over to them," he explained. "Why is the provincial government is not stepping in there? To be handing it off to the company that caused the spill does not give any confidence that their numbers on wildlife are going to be accurate."
National Observer sent a list of questions to the provincial government in Saskatchewan asking about its level of satisfaction with Husky's spill response efforts and scientific methodology, but an email statement from its Ministry of Environment failed to provide detailed responses.
Saskatchewan government scarce on details
"Husky is continuing to update the public in regards to its recovery work and environmental impacts, and has released information, including some water testing information, on its website," said the statement. "The Ministry is participating in a discussion on the future release of more data in a manner informative to the public, including the potential for graphic information such as maps."
Despite its own experts having access to the company's data from the spill, along with Husky, it declined to share this data with National Observer, and could not provide an estimate on when that science might be available to the public for analysis. The ministry said the energy company has its own "protocol to release information on spill responses, including water quality information, publicly on a regular basis," and advised that further media inquiries should be directed to Husky.
The response was deeply unsatisfying to Calzavara, who accused the province of "kowtowing" to a corporate energy giant response for a catastrophic oil spill
"It's so outrageous that the Government of Saskatchewan is capitulating to Husky's protocols about information on a public spill," he said. "The Government of Saskatchewan — right from the start — they've been so complicit I would say, in restricting information [Just like Alberta's government?], the public is really in the dark around this."
The federal environment department, Environment and Climate Change Canada, has also been in the loop with regards to data from the Husky oil spill, but said in an email it could not comment on the matter, as the accident remains part of a federal investigation.
Cleanup efforts in the North Saskatchewan River shoreline are ongoing, and Husky has reported that roughly 47 per cent of the shoreline has been cleaned so far. Saskatchewan's Water Security Agency has recently reported that while the major water way is now safe to drink from, it remains a hazardous environment for wildlife. [Emphasis added]
Comment:
Ken Hamer
What, the ultra-conservative Saskatchewan government "failed to provide detailed responses"? How is that possible? Visions of their bed partner rolling over and lighting a cigarette. "Was the cover-up good for you too?"
[Refer also to:
Oil on and in the water: Husky's toxic bitumen and chemical additive spill into drinking water of tens of thousands of Saskatchewan residents has many wondering if a similar disaster could strike Alberta. Why? It already has, repeatedly, with impacted Albertans living with and drinking the contaminated water
Livestock water supplies still a concern after oil spill, City of Prince Albert seeking millions from Husky. Hydrocarbons found in more water samples after Husky bitumen and diluent spill. Next Step? Deregulate Drinking Water Guidelines to meet Husky's hydrocarbon pollution in the North Saskatchewan River?
Only in Canada! Wanna bet Husky gets fined nothing for contaminating North Saskatchewan River, drinking water of 70,000 Canadians, and misrepresenting its toxic bitumen & diluent spill?
Water undrinkable in parts of North Saskatchewan River after bitumen, diluent spill, samples reveal. Husky off the hook? Saskatchewan government "unlikely" to clean all of the spill. Have the chemicals Husky spilled with the bitumen been disclosed yet? Are samplers testing for them and are they sampling the river bottom?
Husky kills summer fun and is already prepping to evade clean-up of toxic bitumen and chemical spill in N. Saskatchewan River: "Nature's gonna fix it so we don't have to." Is that a certified oil spill response?
Husky's bitumen & chemical spill contaminating drinking water for 70,000 people (so far) in Saskatchewan. "Other than sharing ways to hide, alter, or destroy evidence to protect the guilty, how would the NEB help?"
How are you enjoying life without water so far? Welcome to Ernst's world, ten years in. Husky's toxic bitumen-chemical spill traveled 500 km (so far) in North Saskatchewan River contaminating drinking water supply to many, four communities declare state of emergency
Join the Frac Club! Deregulation budget-cut style? "It's a real nuisance. And for some it could become a real health issue. … Can't drink, can't shower, can't wash your clothes." Prince Albert declares state of emergency; constructs 30 km long drinking water pipeline as Husky's massive toxic bitumen & diluent slick invades. Who pays for the damages? Saskatchewan averages two oil spills a day, just like Alberta!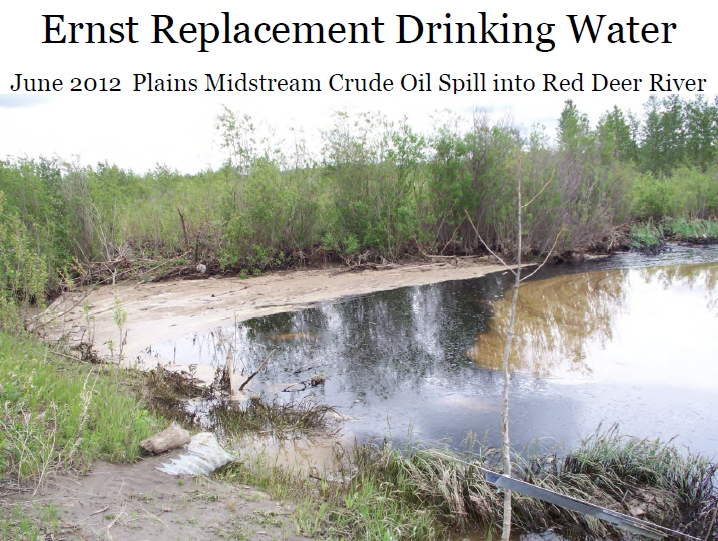 Slide from Ernst presentations [Ernst continues hauling water from this source, as of August 27, 2016]