Refer also to! 2019: Teck reportedly rakes in $12 Billion in revenue 2017-2018; Teck, Suncor, CNRL take top spots in annual ranking of mining company revenues, still refuses to pay court order against the company
U.S. judge orders Teck Resources to pay aboriginal group $8.25-million by Sunny Dhillon, August 25, 2016, The Globe and Mail
Vancouver-based Teck Resources Ltd. says it is "reviewing the implications" after a U.S. judge ruled it must pay an aboriginal group $8.25-million (U.S.) in costs.
Members of the Confederated Tribes of the Colville Reservation – which is comprised of 12 indigenous groups and located across the border in Washington State – brought a lawsuit against Teck in 2004 and alleged hazardous substances from its Trail, B.C., smelter were disposed of in the Columbia River. The group's reservation borders that river.
Senior U.S. District Court Judge Lonny Suko in a ruling earlier this month awarded the Colville Tribes $8.25-million in costs, plus interest. Of the money awarded, approximately $3.4-million stems from the group's investigative costs into the status of the water and expert analysis. About $4.85-million stems from its attorneys' fees and litigation costs.
The $8.25-million covers costs incurred by the group through 2013. The legal battle is ongoing.
Chris Stannell, a Teck spokesperson, in an e-mail Thursday said "we are disappointed in the decision and are reviewing the implications with counsel."
Earlier this year, Teck was fined $3-million for three offences under the federal Fisheries Act and $400,000 for two offences under provincial legislation.
The fines followed the discharge of heavy metals and pollutants from the Trail operation into the Columbia River.
At the time, Teck said there had been 13 accidental discharges between November, 2013, and February, 2015.
In his e-mail Thursday, Mr. Stannell said Teck and its affiliates have invested more than $75-million to date "towards a study to identify potential risks to human health or the environment in the Upper Columbia River area associated with historic operations at our Trail facility." [Wasn't that study required before the harms were done?]
He said that investment has been overseen by the U.S. Environmental Protection Agency.
"We are fully committed to completing these studies to determine if there are unacceptable risks to people or the environment from exposure to contaminants associated with the historical operations at our Trail facility," he wrote.
Mr. Stannell said Teck has invested more than $1.5-billion in the Trail operation and has seen a 95-per-cent decrease in emissions of metals to air and water since the mid-1990s. 
The aboriginal group, in a statement released last week, said "the river is the natural resource and cultural lifeblood of the Colville Tribes and must be protected and restored.
"Regulatory and legal processes will continue to guide the cleanup, but there can be no more delay in action," the statement read. "Several efforts to reintroduce migrating fish in the Upper Columbia are moving forward. It is critical that the sediments in the Upper Columbia be cleaned up to assure returning fish have the chance to thrive in a healthy river environment. Only cleanup will create that opportunity."
[When's Encana going to start unfrac'ing Rosebud's drinking water aquifers and restore the community's drinking water supply? When are the regulators going to file orders against Encana for the company's illegal acts, and order the frac'd aquifers made whole?]
Judge Suko's ruling said

Teck has argued that since it discharged its waste in B.C., it was not subject to U.S. environmental law.
The ruling said field investigation and laboratory analysis undertaken by the Colville Tribes, as well as expert scientific review of data, "demonstrated Teck's slag and effluent had moved into the [Upper Columbia River] site and had released hazardous substances to the environment."
Teck, according to the ruling, ultimately said it had deposited 10 million tonnes of slag at the site of the Upper Columbia River. [Emphasis added]
1980 photo of Teck Cominco on the Columbia River, Trail BC by Frederick John Spencer: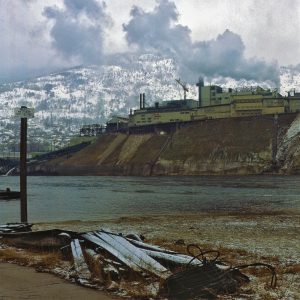 [Refer also to:
2016 04 04: Confederated Tribes of Colville Reservation Can Seek $9.2 Million in litigation fees and costs for their claim against Canadian Mining Company Teck for dumping pollutants into Columbia River
2016 03 01: Teck Metals fined $3.4-million for polluting B.C.'s Columbia River; Encana fined $0.0 for illegally fracing Rosebud's drinking water aquifers
2014 02 01: Teck Resources confirms spilling 25,000 liters of caustic soda into Columbia River in B.C.
2013 01 17: Teck to appeal Washington river cleanup ruling
2012 12 15: Teck liable for Columbia River clean-up in Washington state, judge rules
2012 09 12: Teck Resources Admits Polluting Columbia River For 100 Years; Damage To Be Assessed ]