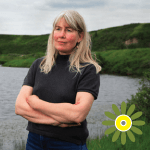 Will oil, gas and frac companies heed old or new regulations to reduce their pollution? Think regulators in Canada will make companies heed regulations? AER and Alberta Environment didn't have the guts to regulate illegal aquifer frac'er Encana/Ovintiv; they regulated me instead. Think Canadian NGOs will admit that they enable the oil and gas industry's law violations, public health harms, and abuses? E.g.: Pembina Institute works to silence concerned citizens courageous enough to speak out; Pembina worked hard trying to silence me.
A little history of indusy's leaking negligence:
2021: Canada underestimated methane emissions from abandoned wells by as much as 150 per cent; Texas and Alberta have highest percentage of wells but no prior pollution measurement. Of course not, Alberta is Hell where regulators help Encana/Ovintiv illegally frac community drinking water aquifers. Kassie Siegel, director Climate Law Institute: "Big Oil is getting rich. For individual, ordinary people, it's all risk and no reward."
2021: Dr. Anthony Ingraffea:"It's the industry that drilled the well. It's the industry that made money from the well. It's the industry that was supposed to follow regulations for proper design, proper construction, proper maintenance and ownership of that well forever — and now they are saying let the taxpayers pay for it? No. No. The money has to come from the shareholders. The money has to come from the coffers of the oil and gas industry. They made the mess. They clean it up"
2020: Thank you Anthony Ingraffea and Robert Howarth! Two Professors Faced Years of Harassment for Defying the Fossil Fuel Industry. Now, They Are Reframing the Discussion Around Fracking
… It was around this time Ingraffea crossed paths with Howarth. After a six-month sabbatical, Howarth returned to a campus bustling with conversations about methane emissions from fracking. As a biogeochemist with an interest in the interactions of chemicals in ecosystems, Howarth looked into who was researching the effect of methane emissions from fracking on the atmosphere only to find there was no one.
Howarth's colleagues at Cornell encouraged him to talk to Ingraffea because of his deep knowledge of fracking. After meeting, the two decided to merge their expertise in fracking and methane emissions to write a paper investigating the environmental effects of fracking in shale rock.
The paper, published in 2011, found that methane is a stronger greenhouse gas than carbon dioxide. This conclusion dashed the notion pushed by the fossil fuel industry that natural gas could be utilized as a "bridge fuel" between oil and renewable energy sources.
The narrative of shale gas as a cleaner alternative to coal and oil was one championed by the fossil fuel industry and the Obama White House — the paper faced pushback before it was even published.
Howarth had given exclusive rights to the story to The New York Times, allowing the newspaper to cover their research and disclose its findings before it was published. A week before The Times was set to publish its story, much to Howarth's surprise, the paper had been leaked and The Hill had covered the two professors' findings — immediately jumping to discredit Ingraffea and Howarth. …
This event was just the start of the reaction the two faced in response to their paper — Ingraffea described the pushback they received as coming from all levels, "from the White House all the way down."
Steven Chu, the Secretary of Energy during the Obama administration, even claimed that the paper was not credible. … At the time, the Obama administration was a strong proponent of utilizing shale gas as a bridge fuel — a goal that ran contrary to Howarth and Ingraffea's findings. "The natural gas boom has led to cleaner power and greater energy independence," Obama said. "Natural gas isn't just appearing magically … We're encouraging it and working with the industry." …
Despite the brazen attempts to dissuade [Howarth and Ingraffea] from spreading their findings, they persisted.
"How do you deal with it? You go on, life goes on," Ingraffea said. "You just live with it. Just keep publishing, keep doing research, and watch other people publish and do research."
In the years since the publishing of their initial paper, other researchers have reaffirmed Ingraffea and Howarth's findings. In February, researchers from the University of Rochester found large increases in atmospheric methane after industrialization, conflicting with the claim that much of methane emissions occur naturally.
These findings matched Howarth's latest estimates from a study in 2019, which found that 3.5 percent of shale gas production is emitted into the atmosphere. …
2020: The insanely polluting leaking oil & gas industry! New paper on methane leak detection & repair: More than 1,600 leaks & vents at only 36 sites in NW Alberta. Think of the cumulative pollution, community poisoning and public health harms, notably as more and more companies, enabled by politicians (industry's maids), regulators and courts, use bankruptcy to avoid clean up.
2020: Satellites show major new methane leaks: Oil and gas industry responsible for far more methane in atmosphere than previously thought; Undetected methane leaks from energy industry are major global issue
2020: Yet another new study: USA Permian Frac Basin leaking massive amounts of methane, "the largest source ever observed in an oil and gas field," more than double federal estimates. How many decades will the frac fraud go on for and why do NGOs and synergy groups keep enabling the fraud?
2019: Colorado: Another *recently* capped energy well leaking in a community. "Who wants one of those in their neighborhood?"
2019: Holy Frac-a-Leaky-Moly! New study in BC. Atmospheric pressure can dramatically affect how much industry's leaking natural gas might escape from subsurface into atmosphere. "Decreases in barometric-pressure led to surface gas breakthroughs (more than 20-fold increase in less than 24 hrs), even in the presence of low-permeability surficial soils."
2019: Canadians wait a long time, usually forever, for petroleum industry leaks, spills and damaging fracs to be appropriately cleaned up. Regulators nowhere to be seen, except lying to the public and in Synergy Alberta meetings with AER execs like Gerard Protti and Jim Ellis schmoozing synergy girls at the pub
2019: Top 100 People Killing the Planet, Includes Encana's CEO Doug Suttles
2017: Ontario: In Norfolk, leaking abandoned industry *sour* gas wells forces exclusion zone for vehicles, vessels, and evacuation of 22 homes. In nearby Town of Jarvis (population 2,300), unusually high methane readings, firefighters test gas levels at every home. Compare to grossly negligent, "No Duty of Care," Charter-violating, lying, spying, heinous AER covering-up industry's deadly gas leaks.
2017: "Flawed science or scientific fraud?" (Sounds like Alberta) USEPA significantly underestimated oil & gas sector methane emissions? Inspector General has opened an investigation. "This is a big deal. (A 2 % methane leakage rate = 200 coal plants of GHGs)"
2017: Nikiforuk: Canada's Methane Leakage Massively Under-reported, Studies Find, New data shows 'fracking and LNG industry is a much dirtier industry than it is made out to be.'
2017: Diana Daunheimer's Excellent Summation of AER & CAPP's Evil Synergy Alberta as to why Trudeau govt caves in to oil & gas industry pathetic whines about costs, Delays requiring reductions in industry's leaking methane for 2 years (and if reelected, for 4 more years?)
2016: More Frac Fraud and Cover-up: High-Level EPA Adviser Accused of Scientific Fraud in Methane Leak Research
2016: Colorado regulators find leaking methane and VOC violations at 10 companies, Encana included
2016: In the Birthplace of U.S. Oil, Methane Gas Is Leaking Everywhere and likely just as bad, if not worse, in Canada.
2016: Whistleblower: High Ranking EPA Official Covered Up Methane Leakage Problems Across US Natural Gas Industry; Inspector General called to investigate scientific fraud risking safety of workers, communities
2016: New study on methane leakage from PSE Healthy Energy: Unaddressed Methane Leakage From Natural Gas Sector Could Undercut Emissions Reductions
2015: Regulatory Failure, Corporate Failure, Inspection Failure, Integrity Failure, Casing Failure, Safety Failure, Greed Trumps All: Regulator & SoCalGas Co. knew casing was corroding, failing with major leakage problems at Porter Ranch gas storage facility more than a year before catastrophic leak
2015: Wind damaged Pengrowth Energy gas well causes natural gas leak into Dead Horse Lake
2015: USGS and Penn State find high levels of methane in Pennsylvania stream near leaking shale gas well; "Multiple samples from the stream…showed groundwater inflow of thermogenic methane"
2015: Calmar families asked to leave homes again in effort to fix Imperial Oil's methane leak, Ordered fix made the leak worse
2015: "Politics of Fracking and Reality of Leaking Wells" March 6, 2015 Camrose, Alberta Surface Rights Federation Annual Meeting, Guest Speaker Andrew Nikiforuk
2014: Trouble Beneath Our Feet: Leaking Energy Wells a Burning Issue; Big problem, Expensive to Fix, Impossible to Completely Stop
2014: Action needed on abandoned energy wells leaking methane in Quebec and everywhere else.
2014: BC Gas Minister's Leaky Well Comments 'Ignorant,' Scientist Says, Cornell engineer takes issue with Rich Coleman's claim that BC is leak-free
2014: Five EOG gas wells leaked methane for years in Bradford County PA
2014: Woman dead, man seriously injured in home explosion in Orwell Ohio; well on property with chronic leaking natural gas problems
2014: Industry Fuming because Study Finds Newer and Unconventional Gas Wells Leak Methane More than Older and Conventional Wells; Problem Could be Nation-wide Putting Aquifers and Families at Risk
2014: Two-tiered Alberta: Urban, but not rural, home owners and businesses get inspections and protections from leaking abandoned energy wells and stratigraphic test holes: St. Albert residents sitting on abandoned oil and gas wells
2014: B.C. horse breeder recounts fracking sour gas leak scare caused by Encana
2014: ANOTHER COVER UP? Alberta Government had report of sulfolane leak and excedance since 2009, no fines or punishments against company levied, watchdog did not tell residents
2014: MUST READ: Shale Gas Plagued By Unusual Methane Leaks, Scientists investigate high levels of damaging gas released in fracked areas
2014: New Study: Drilling operations release plumes of methane 100 to 1,000 times the rate the EPA expects; drilling through coalbeds might be causing the high leakage
2014: Leak in 100 year old shallow natural gas well caused serious methane migration into Waynesburg Medical Center; Methane build-up rendered the center uninhabitable!
2014: Government finds methane in drinking water wells in Gaspé, water wells are within 2 km of Pétrolia's oil wells, one of them reported in 2012 to be leaking methane
2014: Multiple leaking, problem wells, Maralex Resources draw Colorado Oil and Gas Conservation Commission's notice
2013: B.C. school kids in danger, can suffer DNA damage illness from leaking sour gas several km away, yet B.C. allows wells within 100 m (~330 feet) of schools while Dallas City Council votes in 1,500 foot setback from homes and wells!
2013: Fracking by Black Hills Exploration & Production investigated by COGCC for possible frac hit causing water and gas leak at old vertical well
2013: Source of Fox Chapel leak is old oil well, Pennsylvania's DEP says
2013: High US methane emissions blamed on leaks; Harvard fracking study show industry methane leaks far higher than official estimates, rings methane alarm bells in Australia
2013: After North Sea Gas Leak, Drillers Fear Corrosive Fluid Could Threaten Deep Sea Wells Across The World
2013: Methane Leaks from Fracking are Much Worse than We Thought
2013: Uinta Basin gas leakage far worse than most believe, New study says up to 12% of basin's methane leaks; EPA estimated on average nationally that 0.8 to 1.6% of natural gas leaks
2013: Efforts to test Marcellus in upstate New York produces leaky well Carrizo crews on site to fix casing problem in Owego
2013: Scottish Environment Protection Agency (Sepa) probing methane leakage at Dart Energy coal-bed methane wells
2013: GAS LEAK! ABC Four Corners on Coal Seam Gas (Coalbed Methane) in Australia
2013: Old iron gas pipes are leaking across Michigan; replacement is slow, natural gas explosions can be deadly
2013: Crews Still Trying to Contain Sour Gas Leak by Questerre Energy Corporation South of Grand Prairie (near recent groundwater contamination case caused by fracing) & north of Grand Cache, Alberta
2013: Methane leaks erode green credentials of natural gas, Losses of up to 9% show need for broader data on US gas industry's environmental impact
2012: Doctors raise alarm over toxic coal seam gas leaks, Gas Industry Attacks Scientists After Research Finds Triple The Normal Levels Of Methane At Australian Gas Fields
2012: Farmer irked by leaky gas well near home seeks bigger fine for Encana
2012: Independent study finds significant fault line methane leaks near PA natural gas operations
2012: Pennsylvania's DEP investigating two methane leaks in Sullivan County
2012: Abandoned Well May Have Caused Sullivan County Methane Leak
2012: $250000 in community safety projects following Encana deadly sour gas leak
2012: Planet Sludge: Millions of Abandoned, Leaking Oil Wells and Natural-Gas Wells Destined to Foul Our Future
2012: More Than Three Months Later, Methane Gas Is Still Leaking In Bradford County
2012: Well leaking hydrogen sulfide in Wayne County
2012: Is natural gas truly a clean source of energy? Industry is booming, but 'fracking' and leaks soil its image
2012: The Gas Is Always Greener When It Leaks Less
2012: Despite regulations, gas wells leak, especially as they get older
2012: Gas Wells Leak – Even Upside Down – in Australia 44% of gas wells leaking in the Tara Coalbed Methane field
2012: Potential for environmental impact due to acid gas leakage from wellbores at EOR injection sites near Zama Lake, Alberta
2011: Leaking Energy wells in Quebec keep on leaking
2011: Calmar Homeowners Suing Town of Calmar and Aztec Home Sales Inc over Leaking Wells
2011: Maryland AG to sue Chesapeake Energy over Pennsylvania well leak
2011: Imperial Oil leaking natural gas wells a nightmare for homeowners near Edmonton
2011: Inspectors found leaks at shale wells, government report says
2011: Leaks found in shale gas wells: Que. Report, 31 were inspected 'and more than half have problems,' says envrionmental expert
2010: Leaking gas well forces families out in Calmar neighbourhood
2010: Leak shuts down drilling operation at Michigan well
2008: Water woes, Wells contaminated at site of gas leak
2008: Gas company fined record $374,000, Colorado Interstate Gas penalized for Fort Morgan leak

2007: Factors Affecting or Indicating Potential Wellbore Leakage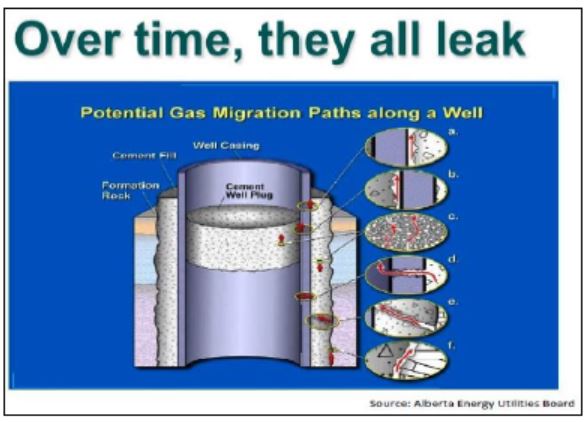 The largest sources of methane emissions from oil and gas sites are not the pieces of equipment commonly thought to be the main culprits, a new study from a leading Canadian researcher suggests.
The result is that Canada may be underestimating its emissions of the potent greenhouse gas and may be overlooking effective ways to meet its reduction targets, says Matthew Johnson, director of the Energy and Emissions Lab at Carleton University and co-author of the paper.
"This is suggesting it is time for a rethink," he told CBC News.
"Maybe we can be a little bit more efficient in achieving reductions in going after the things that matter."
The research, which relied on laser technology mounted on a plane that flew over oil and gas sites in British Columbia in 2019, suggests methane emissions are 1.6 to 2.2 times higher than current federal estimates.
Methane, the chief component of natural gas, is released during oil and gas extraction from various pieces of equipment on a production site. It is about 70 times more potent as a heat-trapping greenhouse gas than carbon dioxide, but only lasts in the atmosphere for about nine years. Canada's goal is to reduce methane emissions 40-45 per cent below 2012 levels by 2025.
Cutting down on methane is seen as a way to get more immediate positive benefits in the fight against climate change, but Canada can only do that if it knows where the colourless and odourless gas is coming from.
Large methane sources being missed
Regulations in Canada are mostly based on surveys that use optical gas imaging (OGI) cameras at oil and gas sites to detect sources of methane leaks. But the study suggests there is a "stark difference" between what the OGI surveys find and what the new airplane-mounted technology can see, and "policy and regulations relying on OGI surveys alone may risk missing a significant portion of emissions."
More than half of methane emissions were attributed to storage tanks, reciprocating compressors and unlit flares, according to the study. Storage tanks were found to be a particularly concerning source of emissions, since they alone accounted for a quarter of methane emissions at oil and gas sites.
These sources are harder to detect with OGI surveys because they are elevated and might be missed by a camera at ground level.
"So those three sources tend to be really quite important," Johnson said. "And if your entire inventory is based on camera work, then it starts to make sense why we keep seeing these persistent differences."
Total emissions likely undercounted
Methane currently accounts for 13 per cent of Canada's total greenhouse gas emissions, based on official estimates, but multiple studies that rely on field measurements have suggested the actual amount of methane emitted is much higher. Until this new study, it was not known exactly which pieces of equipment were causing this discrepancy.
Tom Green, policy analyst at the David Suzuki Foundation in Vancouver, has been following the methane issue closely. He says the new study's finding that methane emissions are likely much higher than the official estimates is unsurprising but still "alarming" due to the potential climate impact.
"Right now, we're doing something quite unfair, which is that we're reporting relatively low methane emissions to the United Nations," Green said.
"For such a large country globally, in terms of where we fit in the natural gas exports, we should be doing much, much more and we should be showing leadership in this file."
Green said a key issue is that the current regulations put too much emphasis on looking for leaks in general rather than identifying more basic problems.
"When you see that like a quarter of emissions are coming from tanks, that's not a leak," Green said.
"That's the tank is designed to allow the methane to off-gas. So that's a design problem."
Regulations under review
B.C. has brought in limits for the leaks from tanks, but the study found leak rates with tanks that are much higher than the limits. Federal methane regulations, which form a backstop to provincial regulations, don't directly regulate the leaks from compressors and unlit flares.
The study was done in collaboration with the B.C. government, which along with Alberta and Saskatchewan, has its own methane regulations. The federal government has granted the three provinces equivalency agreements to have their own regulations rather than have the federal regulations imposed on them.
"The results of the new methane study require additional research and measurement to ensure we have the most accurate estimate of total emissions from the sector and we're continuing to support that effort," the B.C. Ministry of Environment and Climate Change Strategy said in a statement.
The ministry said it will consider the new information while developing its detailed plan to meet its 2030

Way too late to protect life on earth

emissions targets, to be released later this year.
In a statement to CBC News, Environment and Climate Change Canada acknowledged the uncertainties in estimating methane emissions and said it is working on improving the methodology of its official estimates.
"ECCC will review the author's research for its relevance for both the evaluation of existing regulations, and regarding the development of new policy options to further reduce methane emissions from the oil and gas sectors."
Methane emissions from natural gas fracking in B.C. are about double what the government has assumed, according to a recent study initiated by the province and the BC Oil and Gas Commission.
The discrepancy comes from the method used to detect emissions, say the report's authors. While the government and industry-led emissions studies typically gas imaging cameras to detect methane, the paper echoes a growing body of research challenging the method.
"Recent studies have shown that [optical gas imaging] cameras may not be as effective as originally thought," wrote the study's authors.
In the first public study of its kind, researchers used aerial methane measurements — captured by flying over fracking sites and production facilities — to get a clearer picture of their climate impacts. They found significantly higher emissions from sites like production tanks, compressors and unlit gas flares than those being reported.
"This is rigorous research that the government and industry can't deny because they've been involved in it," said Tom Green, climate solutions policy analyst at the David Suzuki Foundation. "So now we have a much better handle on what those emissions are, and how that's a problem."
The research was supported by the BC Oil and Gas Methane Emissions Research Collaborative, a joint collaboration between industry, government non-profits and the Oil and Gas Commission, to support B.C.'s emission targets.
The findings have consequences for the climate — particularly given B.C.'s plan to more than triple its fracking activity by 2040 if the LNG Canada project comes online.
"It's a huge problem, especially since the province is hell-bent on producing fracked gas, which is essentially methane." says Green. "Actually the problem is worse than we think and we're building more of it."
In an email to The Tyee, the BC Oil and Gas Commission said the latest study compares estimates made three years apart that included different potential sources of emissions. "Despite the challenges outlined with comparing the two survey methods, the conclusion that emission sources are likely higher than previously reported, is consistent with findings in other recent studies," the commission acknowledged.
In 2020, BC set a target to reduce greenhouse gases to 40 per cent below 2007 levels by 2030. By 2050, they committed to an 80 per cent decrease.
In a recent report, veteran energy sector analyst David Hughes found that even with current federal data, natural gas production was likely to blow past those targets.
Even without the added emissions from LNG Canada, Hughes found that natural gas production in the province would exceed B.C.'s 2050 climate target by 54 per cent — and that's assuming the (unlikely) prospect that all other sectors reduced their emissions to zero.
In a statement from the Ministry of Environment and Climate Change Strategy, the province said they would be considering the study's impacts in future climate policies.
"Our government will consider the latest information on methane emissions as we develop our detailed roadmap to meet our 2030 emissions targets, which will be released later this year."
The study further challenges industry and government claims that exporting LNG can lower emissions by helping the world transition off of coal.
Hughes said those arguments don't match our understanding of methane, which is 86 times more potent than C02 for the first 20 years it's in the atmosphere. In 100 years, methane may be better than the most efficient and least polluting coal plants. But not in the next 20 years — those most critical to avoiding runaway climate change, Hughes explained. "BC, LNG makes things worse in the short term," he said.
Now the study's findings make that margin of benefit even thinner, says Green. "Natural gas is not a climate solution at all, it's got a much bigger climate footprint than we thought."

Oh come on! Ethical courageous researchers reported in peer-reviewed published paper a decade ago how polluting natural gas is, notably frac'd gas, and that it's no climate solution, it's not even a half-assed "bridge" fuel.

Canada joined the U.S. and Mexico in 2016 by pledging to reduce methane emissions 40 to 45 per cent below 2012 levels by 2025.
In 2020, B.C. put in regulations to meet that 45 per cent target, requiring companies to reduce emissions at various stages in the production process of natural gas.
Environment Canada's latest estimate suggests that federal regulations will only lead to methane reductions of around 29 per cent.
"The timing of this is important," said Jan Gorski, a senior analyst at the Pembina Institute and participant in the Methane Emissions Research Collaborative involved in the study, pointing out that B.C., Alberta and the federal government will initiate reviews on methane regulation in the next year.
"If methane emissions are higher than what we expect, it means it's more urgent that we address that issue correctly and make sure that we are on track to meet government targets to address methane."
In a statement, the province said it is "working to reduce all greenhouse gas emissions across sectors, including methane emissions from industry," adding that the study was completed before those regulations were put in place.
The province added that new methane regulations could

but won't because OGC will do nothing when companies ignore those regulations

reduce or avoid nearly 11 million tonnes of CO2-equivalent over 10 years.
Those reductions are worthwhile, said Green, particularly given methane's potency in the short term, but he cautions against using efficiency measures to justify new fossil fuel infrastructure like LNG plants.
"The IEA's 1.5 report was very clear. We shouldn't be expanding anything. We shouldn't be developing any new fields," he said. "We should shut down LNG Canada tomorrow. That's the responsible thing to do."
The study is a critical intervention in our understanding of B.C.'s share of methane pollution, says Green. Typically, governments rely on standardized factors to calculate average emissions based on previous assumptions.
But Green says those assumptions don't match up with what's being found in the atmosphere.
"Satellite measurements and the level of methane in the atmosphere shows that it's going up more quickly than it should be," he said. "So here's the smoking gun."
Ministry of Environment and Climate Change Strategy said the province was, "Working with the federal government to support efforts to improve the official greenhouse gas inventory by incorporating this new data, and will be engaged in any potential discussions about equivalency agreements on methane regulations, should that be required in the future."

Refer also to:
2012: Without warning, Keepers of the Water remove Jessica Ernst off the Hydraulic Fracturing panel and replace her with a Pembina Institute representative
2014: Is the Yukon Government setting up a fracked territory? Pembina's synergy clear in this post.
2014: Encana, Cenovus, SPOG, The AER, Alberta Research Council (ARC), Alberta Environment and the Alberta Government gave funding to the Pembina Institute, long time synergizer
Many snaps in above post of Pembina Institute's Annual Report pages list them, and many other oil and gas pollluters. If Pembina and other NGOs had not synergized for the oil patch for all these years, we might be much further ahead protecting drinking water, and the earth's ability to sustain human life and that of millions of other species.
In my direct experiences with Pembina Institute and Council of Canadians and other NGOs, they don't give a damn about the harmed, or our environment, they just care about keeping their salaries rolling in, and feeding their egos.
2014: Yukon Frac Committee accused of bias, poor community engagement, Originally planned to meet with CAPP, Pembina Institute, Alberta Innovates (used to be Alberta Research Council), AER, NEB and no harmed Albertans!
2020: Synergy Strikes Again! CAPE releases new report on frac'ing with great comment by Executive Director, lawyer Robin Edger: "Fracking threatens our health…. The only responsible step for government is to ban it outright." But, his quote is not included in the report, which is drek ("peer" review by Encana-AER-OGC enabler Pembina Institute).