The Yukon Government is Fracking Yukoners Again by Don Roberts, January 3, 2014, The Whitehorse Star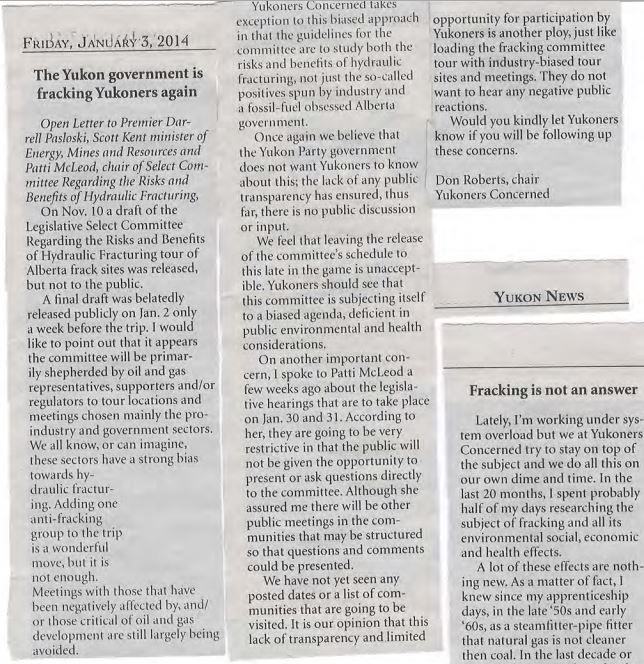 Click to continue reading "Fracking is not the answer"
MLAs poised to start Alberta frac tour by Ainslie Cruickshank, January 3, 2014, The Whitehorse Star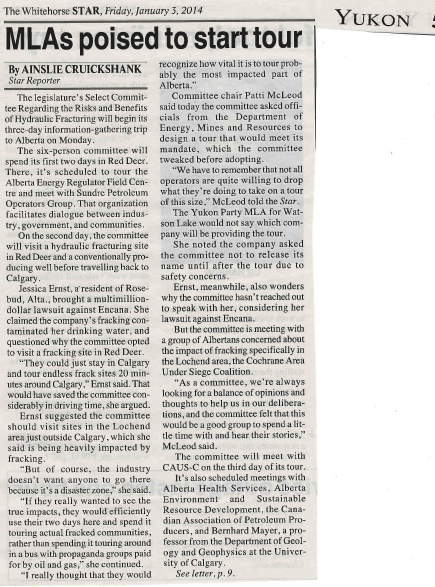 Yukon Select Committee Fracking Trip's Itinerary Released (but as of January 4, still not on the Select Committee's website) by Ashley Joannou, January 3, 2014, Yukon News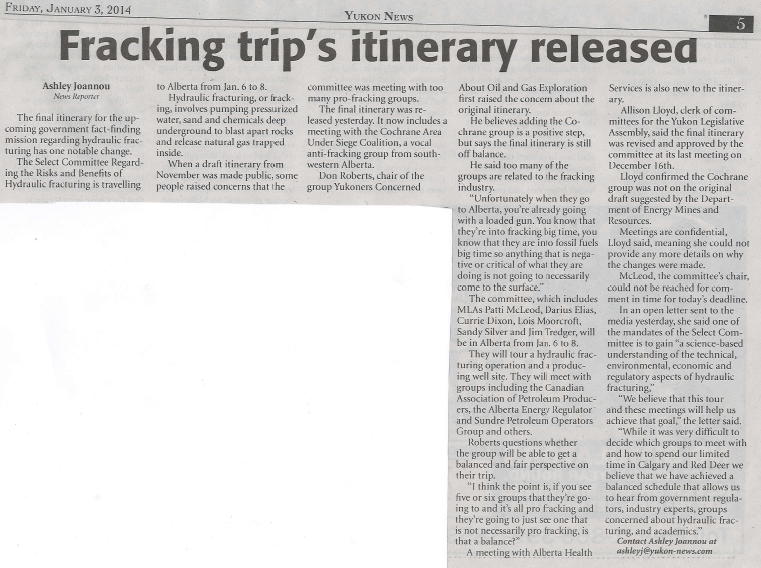 Our balanced schedule will let us hear all sides by Frac Select Committee Chair and MLA Patti McLeod, January 3, 2014, The Whitehorse Star

Yukon Frac Committee accused of poor community engagement by Ainslie Cruckshank, December 30, 2013, The Whitehorse Star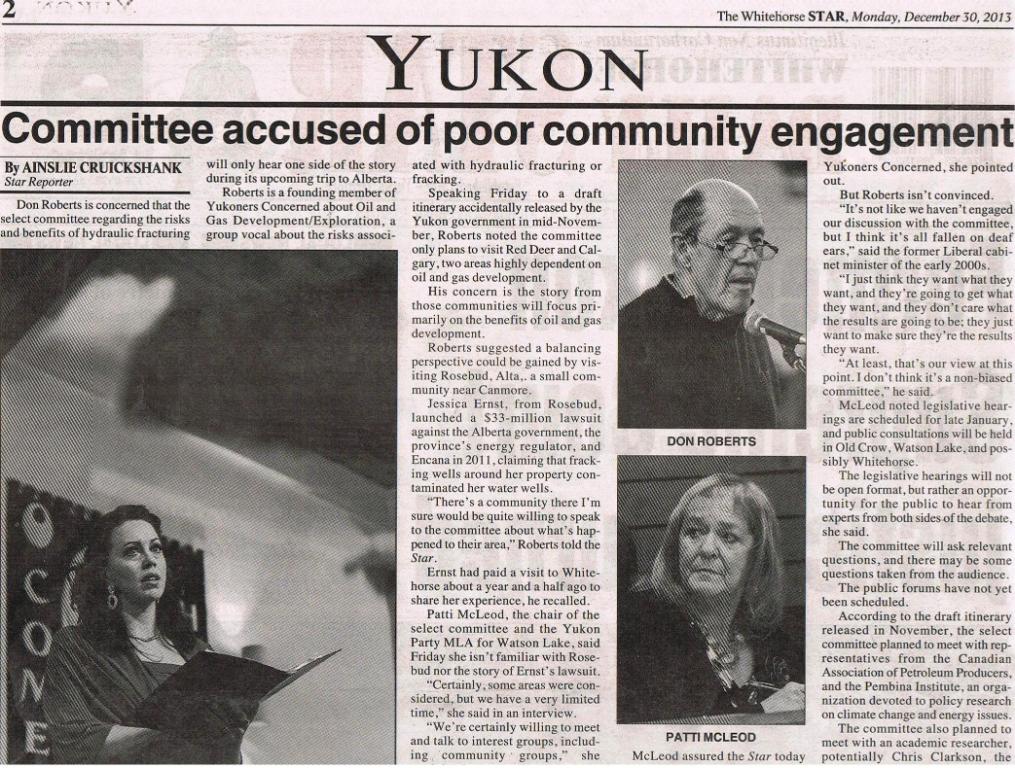 [Refer also to:
The Select Committee regarding the Risk and Benefits of Hydraulic Fracturing Alberta "fact-finding" tour begins January 6, 2014; the itinerary was made public on January 2, 2014 but as of January 4, 2014, it is still not yet on the Select Committee's website.
The committee planned to meet with:
New plans include meeting with:
Alberta Health and
SPOG, a falsehood, propaganda promoting Synergy group. Synergy puts the regulators' and companies' responsibility onto the shoulders of the community.
SPOG was reported saying in an October 29, 2013 article:
Fracking has been used in Alberta since the 1950s and there has never been a documented case of hydraulic fracturing activities contaminating groundwater in Alberta
The AER proved groundwater was contaminated by Gasfrac's hydraulic fracturing in September 2011.
The Yukon Select Committee Press Release states that SPOG's "mandate is facilitating communication and co-operation amongst industry, regulatory agencies and affected communities."

From SPOG's 2013 Newsletter:
"Companies who have embraced the spirit of the SPOG processes get their projects approved faster with less conflict."
…
"In recent years we have had the challenge of sweet wells that are being hydraulically fractured. The cumulative impact of this has been upsetting to the community. Because of SPOG's past successes, we have the advantage of understanding how to work through this new issue."
…
"A company's membership in SPOG buys them reputation and input to those issues that affect their day to day bottom line."
…
"Hydraulic Fracturing Best Management Practices [not regulations]: The new frontier in oil and gas development is the use of unconventional methods of production such as hydraulic fracturing. SPOG cut through the myths and media reports to examine the facts in a multi-stakeholder industry/community committee that worked collaboratively to put in place [voluntary and unenforceable] beneficial management practices around groundwater protection, water use, communication, and traffic which will help mitigate the negative impacts of this type of development" [Emphasis added]
The Select Committee's first meeting on their tour is with SPOG and the AER, an oil and gas approval agency 100% paid for by industry.
After landing in Calgary, the committee plans to waste many hours driving to get north west of Red Deer (Alberta's snow belt) to see one frac job, accompanied by industry. Why not save time and plan to see many frac'd wells and their horrific impacts in the Lochend, minutes from Calgary, and meet with the many harmed Albertans there?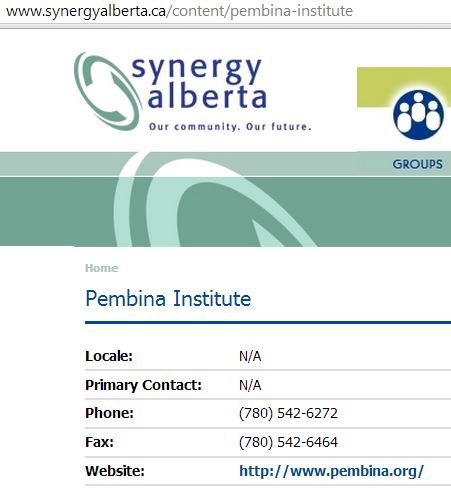 Screen snap taken January 1, 2014 from Synergy Alberta website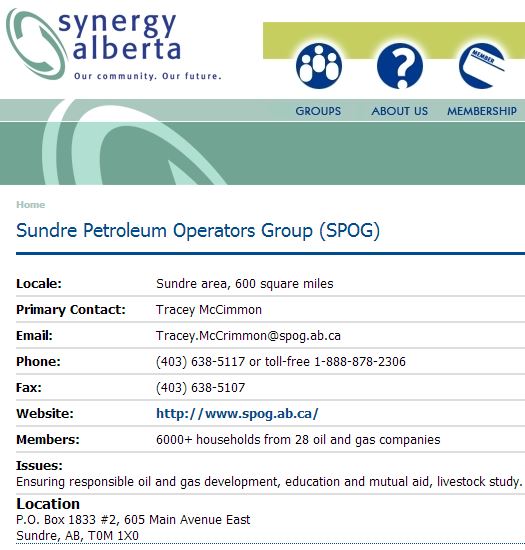 Screen snap taken January 2, 2014 from Synergy Alberta website
Oil and Gas Industry Synergy Group "SPOG" says fracking protests not expected to hit Mountain View County, but in reality, many have protested and suffered serious frac impacts
Hydraulic fracturing letter by Robert Griebel, Alberta MD: Reckless pollution of our environment
Another apologist for environmental destruction
Legal scholar: "inconceivable" that new Corbett legal tactic will succeed in fracking battle over Pennsylvania's Act 13: "By any responsible account," Chief Justice Castille wrote, "the exploitation of the Marcellus Shale Formation will produce a detrimental effect on the environment, on the people, their children, and the future generations, and potentially on the public purse, perhaps rivaling the environmental effects of coal extraction."
Synergy Strikes Again: Pa landowners harmed by fracking get synergized, change tone, get bought, and work towards indoctrinating others into thinking being poisoned by fracking is good
Synergy Alberta Propaganda Group SPOG announces fracking open house Apr. 8 to release voluntary frac "best practices" to make Albertans go back to sleep
Lobby group and 11 fracking companies try, with dishonesty, to calm public fears about hydraulic fracturing with new voluntary code of conduct, that isn't really new
2006: Technologies May Ease Frac-Related Water Concerns
CAPP's 2006 Best Management [Voluntary] Practices that were only boasted about and not implemented; in 2013 CAPP removed these off the internet
SPOG's 2013 plans include spring exercise
Fracking grievances aired at Eagle Hill
Canadian Geographic accused of spreading CAPP oil and gas 'propaganda' in schools, including to Grade 3′s
Open Letter to the Canadian Association of Petroleum Producers
Over 30 Alberta groups demand oil industry fox Gerard Protti get out of Alberta's henhouse
New Alberta Energy Regulator AER now Regulates Fresh Water with 100% Oil and Gas Industry Control, Colorado Regulator to have No Oil and Gas Industry Control
EnCana's Gerard Protti will be Chair of Alberta's AER, the new energy regulator that swallows up Alberta Environment, Alberta's Water and the ERCB
New Alberta energy regulator will weaken environmental protection and vastly diminishes citizen and landowner rights
New voluntary CAPP guidelines to monitor, respond to earthquakes caused by fracking
Canadian fracking guidelines unveiled by CAPP
Western Canadian Energy Ministries "Collaborate"in Secret with CAPP on Development of Controversial Fracking Policies
Alberta fracking tour fails to sway Quebec farmers Participants, while generally impressed with what they found, were still not swayed in the end. … This week's tour was largely dismissed as "propaganda" back in Quebec. Mr. Gauthier said he felt the same way before he was invited to join the tour and "more [so] now." [Emphasis added]