Gas Minister's Leaky Well Comments 'Ignorant,' Scientist Says, Cornell engineer takes issue with Coleman's claim that BC is leak-free by Andrew Nikiforuk, August 2, 2014, TheTyee.ca
One of North America's top experts on well oil integrity and the mechanics of hydraulic fracturing says recent comments by Rich Coleman, British Columbia's minister of natural gas development, are not only ignorant but delusional.
In May, Coleman told the Vancouver Sun that oil and gas wells in British Columbia don't leak. He also hinted that scientists who made such statements just wanted more money for unnecessary studies.
"The reality is we've been doing this for over 50 years, we've never had contamination from a drill, we've never had a drill stem leak or fail. We do it as well or better than anybody else in the word," protested Coleman.
The deputy premier made the comments in response to a scientific report that recommended a go-slow approach to fracking unconventional shale resources due to large science gaps, leaky wellbores and increasing climate liabilities.
"The minister's statements are ignorant," said Anthony Ingraffea, an engineering professor at Cornell University and the author of a new study on leaking oil and gas wells in Pennsylvania.
"The minister does not understand the vulnerability of the technology, nor the history of the industry and its valiant and long-lasting attempts to address well integrity," added Ingraffea.
"Leaky wells happen everywhere. It doesn't matter whether the wells are in British Columbia or Pennsylvania."
The process for drilling and cementing a well are basically the same around the world, he said, and "it is very difficult to adequately gasket a well with a material like cement."
According to a report by three University of Waterloo engineers, more than 10 per cent of B.C.'s existing 20,000 active and abandoned wells now leak. In addition, some of the province's shale gas wells have become "super emitters" of methane.
One energy company recently spent $8 million in northern B.C. to repair a badly leaking shale gas well.
"Wellbore leakage will likely only become worse with time as new wells are completed and old wells are abandoned," warned the Waterloo report.
In the last two years, University of Alberta geochemist Karlis Muehlenbachs has fingerprinted gases from hundreds of leaking shale gas wells in British Columbia. He said that many of the migrating gases, including methane, ethane and propane from Horn River wells, didn't necessarily come from the production zone.
The gas migration expert concluded in a 2013 presentation that "future regulations and baseline surveys should anticipate that potential contaminants to groundwater from hydraulic fracturing need not originate in the target shales, but rather from shallower and intermediate horizons."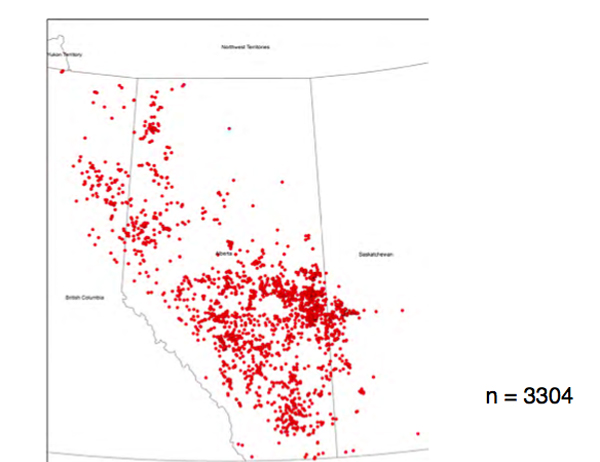 Gas samples from more than 3,000 leaky wellbores have been studied at the University of Alberta.
Some regions are more prone to leaks "but no region is immune," said Muehlenbachs. "Much better cements and sealing techniques need to be developed and employed."
'Chronic and ubiquitous'
Leaking wells are "a chronic and ubiquitous problem and it's one the industry has had for 100 years," said Ingraffea in a Tyee interview.
Steel casings corrode and cement seals that are designed to keep methane moving up the wellbore into groundwater degrade overtime.
As a result, gas can stray from leaky wells through natural fractures as far as 14 kilometres underground before daylighting into basements, water wells, ponds, rivers and groundwater.
Ingraffea's most recent study found significant leakage problems with 41,000 wells drilled between 2000 and 2013 in Pennsylvania.
By analyzing 70,000 compliance reports, Ingraffea determined that unconventional shale gas wells leaked as much as 6.2 per cent. In one part of the state, violation rates (confirmed visible leakage of gas from the well site) reached 9.8 per cent.
Hazard modelling suggested the actual rate of failure might be as high as 12 per cent for the state's 6,000 multi-stage horizontal shale gas wells.
Conventional vertical wells didn't leak as much but were not inspected as frequently. In some cases there were no inspection records at all for 8,000 conventional wells, said Ingraffea.
The study also found a greater risk of failure rates in wells drilled after 2009, perhaps due to rushed drilling programs.
Oil and gas operations have polluted or reduced the flow of groundwater 209 times in 77 Pennsylvania communities since the end of 2007.
Last week, the state's auditor general reported that the Department of Environmental Protection had failed to properly regulate the industry and uphold the public interest.
More wells add to methane leakage
Hydraulic fracturing, a technology that blasts fluid, water and chemicals at tight rock formations to release small amounts of oil and gas over vast areas, aggravates the leaky well issue, Ingraffea said.
Only 6,000 horizontal wells have been drilled in Pennsylvania to date, but industry plans to drill another 90,000 in the years ahead. Given that the large Marcellus shale formation lies under several other northeastern states, as many as 500,000 horizontal wells could be drilled in the future.
Similar figures have been cited for Canada's Montney formation in Alberta and B.C., where industry could drill another 400,000 wells.
The density of wells required by fracturing, which barely captures between five and 10 per cent of the actual resource, will add to an already significant methane leakage problem in the industry, Ingraffea said.
The Cornell University engineer, who used to perform sponsored research and act as a consultant for Schlumberger, Exxon, BP and others, favours rigorous regulation of the fracking industry where oil and gas wells already exist.
Increased well density not only means more leaks but more industrial accidents in which companies frack into neighbouring wells operated by other companies. More than 20 so-called "interwell communication events" have occurred in B.C., but most are not reported to the regulator.
Given the vast literature on well leakage, Ingraffea can't understand why politicians such as Coleman deny such a well-documented liability.
"What I find surprising is that a politician is trying to convince the public otherwise."
Les commentaires du Ministre du Gaz sur les fuites sont ceux d'un ignorant, selon un scientifique Translation by Amie du Richelieu, August 3, 3014