Exodus of top officials halted progressive sour gas regulations by Stephen Hume, December 29, 2013, Vancouver Sun
In the summer of 2010, faced with increasing public concern about the proximity of natural gas wells producing "sour" hydrogen sulfide, the provincial government announced it was imposing setbacks and enhanced management zones of two kilometres around schools and community centres. Instead, British Columbia wound up with regulations that permit sour gas wells and facilities as little as 100 metres away. The city of Dallas, by comparison, recently imposed setbacks of more than 450 metres for gas wells adjacent to buildings within its city limits.
Sour gas is lethal after five minutes of exposure at doses as small as 800 parts per million and has killed 34 petroleum industry workers since 1983, so it's not surprising that occupational safety agencies across Canada and the U.S. consider it a highly hazardous substance or that the province was concerned. The Canadian Union of Public Employees safety sheet for workers, for example, says "THE SAFEST EXPOSURE TO HYDROGEN SULFIDE IS NO EXPOSURE AT ALL."
At the time, then Energy, Mines and Petroleum Resources Minister and MLA for Peace River South — also centre of the province's biggest natural gas play — Blair Lekstrom, issued a media release announcing the B.C. setbacks. "These steps will ensure there are no new wells drilled or facilities constructed within one kilometre of a school or community centre, and residents will see additional safety measures for any activity taking place within half-a-kilometres from their home," Lekstrom said in the release. The government promised the school safety zones would combine a one kilometre safety setback with an additional one kilometre enhanced management zone, for a total buffer of two kilometres. Private residences would get an additional 500 metre safety buffer around private homes. That was before the exodus of half a dozen top oil and gas bureaucrats from the province to positions with companies involved in the very petroleum development that they'd previously been regulating.
Lekstrom's bold measures were never enacted. … In August, 2010, Michael Lambert, the then-executive director of the provincial ministry's oil and gas division left his government job and went to work for Encana, one of the major private sector players in the Peace River gas play. [Emphasis added]
Dallas effectively bans fracking within city limits, Council voted nine-six imposing 1,500 foot setback from well sites and homes by Andrew Nikiforuk, December 12, 2013, The Tyee.ca
B.C. sour gas rules leave school kids in danger, Children can suffer DNA damage and illness from leaking sour gas several kilometres away, yet B.C. allows wells within [100] metres of schools by Stephen Hume, December 12, 2013, Vancouver Sun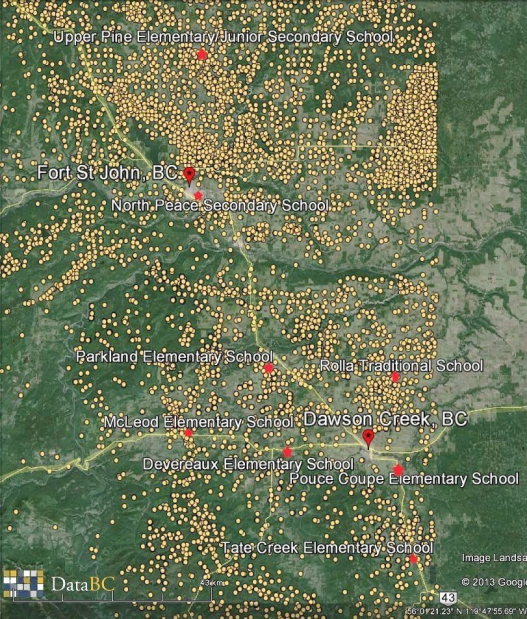 Yellow dots are wells; red dots are schools in the Dawson Creek/Fort St. John area.
More than 1,900 children at nine schools in British Columbia's northeast are at risk from toxic sour gas tapped by wells either already drilled or planned for the province's liquefied natural gas strategy, warns the University of Victoria's Environmental Law Centre. The warning is part of a blunt report prepared with the Peace Environment and Safety Trustees Society and set to be delivered to Premier Christy Clark Thursday morning.
By way of context, it points out that in a single recent five-year span there were 73 documented sour gas leaks in B.C. and that 34 workers have died as a result of sour gas exposure since 1983.
"If LNG exports proceed as planned, more than 6,000 new gas wells could be needed in the northeast. Many of these wells contain potentially lethal volumes of sour gas and other harmful pollutants, and many of them are being installed in close proximity to elementary schools," the study says.
"Plans for a new 'world-class' LNG industry will be sorely lacking if they fail to include a 'world-class' safety strategy for children surrounded by natural gas wells and pipelines. As the attached report documents, B.C.'s current safety rules are far from 'world class'," it notes.
The report urges the province give high priority to:
Extending minimum setbacks from schools of wells, pipelines and other natural gas infrastructure.
Improving emergency response plans for schools near gas wells and pipelines.
Tightening requirements for gas leak detection and air quality monitoring.
Improving regulations to reduce flaring and other releases of natural gas.
Hydrogen sulphide gas, once used as a chemical weapon during the First World War, can be fatal in prolonged doses as small as 100 parts per million. When exposed to concentrations of 800 parts per million, it kills within five minutes.
But one sour gas leak at Pouce Coupe in 2009 continued unabated for 27 minutes before an automatic emergency shut-off valve activated itself, the report says. It then took two more hours to isolate and seal the leak.
…
Law student Jacqui McMorran, lawyer Tim Thielmann and lawyer Calvin Sandborn, director of the Environmental Law Centre, used information from DataBC and the mapping functions of Google Earth to plot active, suspended and abandoned wells (all can leak gas) in relation to schools in districts 59 and 60 around Dawson Creek and Fort St. John. The result is a stunning image that shows schools across the Peace River district surrounded by thousands of gas wells, proposed wells and gas pipelines, some less than 250 metres from school buildings, leaving small margins for error in potential emergencies.
The report notes that schools are in locations that place children, teachers and staff at risk in the event of a leak, wellhead blowout or pipeline rupture that could send either poisonous sulphur dioxide or the more lethal hydrogen sulphide spewing into the atmosphere.
In 1973, more than 360 square kilometres of central Alberta had to be evacuated when a dormant sour gas well near New Norway suddenly blew out 10 years after being capped. And in 2013, 50 homes had to be evacuated from Turner Valley near Calgary when flooding ruptured a sour gas pipeline.
Meanwhile, the report says medical research shows younger children — students at six of the schools are ages five to 13 — are more vulnerable to pollutants released by leaks and flaring of natural gas because of their smaller body size and active outdoor lifestyles. A Michigan Department of Community Health study found children risk exposure to greater concentrations of hydrogen sulphide than adults simply because the gas is denser than air and concentrates closer to ground level. "Children, being shorter than adults, breathe vapours found closer to the ground, and thus may breathe greater amounts of hydrogen sulphide and receive a larger dose per unit of body weight," the report says.
And yet more research, the report says, found that lethal exposures to hydrogen sulphide can occur as far as 2,000 metres from the source. "Note that the B.C. schools above all fall within the 'hazard zone' identified in this University of California study," it says.
… The expert's review of medical research found that schools within 1,000 metres of a pollution source recorded higher levels of respiratory problems in children; children in schools within 2,000 metres showed a correlation between air pollution levels and poor school performance; and children in schools within 5,000 metres of an air pollution source showed DNA damage relative to proximity to the source.
The report says that under B.C.'s current rules, oil and gas wells can be drilled a close as 100 metres from public facilities — including schools — and that wells with sour gas potential are treated no differently than other wells. There are no legislated minimum setbacks from schools or other public buildings for oil or gas facilities like pumping stations. There's no minimum setback for pipelines.
Setbacks of 1,500 metres from a school's property line should be the minimum standard for pipelines, wells or facilities dealing with hydrogen sulphide, the UVic report says. And a comprehensive review of standards is necessary considering scientific and health research about the acute and chronic effects of exposure to sour gas and other pollutants.
The report calls for new regulations governing emergency response planning, the repeal of legislation that lets Oil and Gas Commission officials exempt companies from leak detection and other safety measures, and regulatory requirement for low level hydrogen sulphide monitoring networks as a precondition to development permits. [Emphasis added]
Are oil and gas facilities edging too close to schools in northeast B.C.? New study suggests they are by Mark Hume, December 12, 2013, The Globe and Mail
School children in northeast British Columbia are being put at risk because of the inadequate minimum setbacks required for wells or pipelines – even when they are pumping deadly sour gas – according to a new report from the University of Victoria. Wells can be drilled within 100 meters of public places, including schools, and that raises important safety concerns, said Calvin Sandborn, legal director of the environmental law clinic at UVic. School officials said they feel "comfortable" with existing safety practices, which include detailed warning and evacuation plans worked out with industry. But Mr. Sandborn said there is good reason to worry, because some oil and gas facilities are already dangerously close to schools, and the province's liquefied natural gas sector could soon drill another 6,000 to 10,000 wells in the region.
"Even without thousands of new gas wells, we aren't doing a very good job of safeguarding school children," he said. "It's an issue that hasn't been explored enough." … "There's intense development all around these schools … and a number of these schools have over 20 wells within 2,000 meters," said Mr. Sandborn. In a letter to Premier Christy Clark, Mr. Sandborn urged the government to look at establishing a minimum setback distance of 1,500 meters for wells and pipelines containing sour gas, to require gas leak detection systems at schools, to regulate flaring more tightly and to use the emergency procedures of an Alberta school district in the Drayton Valley as a planning model for B.C.
Mr. Sandborn, who oversaw the research done by law student Jacqui McMorran, said the study suggests some B.C. schools' emergency protocols are not practical. "In the past, when there have been emergencies, these response plans have fallen far short," he said. "In a sour gas leak, in 2008, the school went to their emergency response plan and they were told to use duct tape around their windows and doors." He said some plans call on schools to have buses idling in parking lots when a gas leak alert is given, but to wait for an evacuation order before taking further action. The report says the "greatest risk" associated with oil and gas development comes from the potential release of poisonous hydrogen sulfide, or sour gas, which is named for its rotten egg smell. Exposure to high concentrations can quickly lead to death. … Although no students have been injured by gas leaks, the report states there were 73 leaks in a recent five-year period, and over the past 30 years, 34 workers in B.C. and Alberta have died from sour gas accidents. …
Valerie Rose, president of the Parent Advisory Council at Rolla Traditional School, 15 kilometres north of Dawson Creek, said oil and gas safety issues are raised several times a year. The UVic study shows eight wells within 2,000 metres of the school. "I know a lot of the Rolla parents are not that happy with them being that close to the school. They want buzzers in case there is a leak or something. They want a siren. … We haven't managed to get that yet," she said.
Both Ms. Rose and Mr. Powell said the growing volume of industry traffic sharing country roads with school buses is also a worry.
"It's ridiculous because they all speed way too fast," Ms. Rose said. [Emphasis added]
Refer also to:
2012: Encana Reaches Compensation Deal for Sour Gas Leak
2010: Frac Sand Causes Serious Deadly Sour Gas Incident: Failure Investigation Report: Failure of Piping at EnCana Swan Wellsite A5-7-77-14 L W6M

2008 11 01: Encana contractors give the finger. This is what Encana thinks of you, your loved ones, home, health, livestock and pets, safety from risks to us from sour gas incidents: