Methane leaks suggest fracking benefits exaggerated by Michael Slezak, November 21, 2012, New Scientist
Have the benefits of "fracking" as a way to extract natural gas been exaggerated? Australia's biggest such operation is showing larger than expected leaks of methane, reveals research submitted to a government inquiry. … Most research on these leaks has focused on well heads, but Damien Maher at Southern Cross University in Queensland and colleagues looked at gas seeping through the ground. They found higher levels of methane in the air above the Tara gas field, suggesting widespread ground leaks. In some places, it hit 6.89 parts per million, over three times the background level. The team suspect fracking changes the soil structure, letting more methane escape. The work is undergoing peer review. "If it's leaking from the infrastructure that's an easy fix," says co-author Isaac Santos. "If it's seeping from the soil that's much harder to fix." The Australian Petroleum Production and Exploration Association , which operates the gas field, disputes the findings as "premature".
Wells create 'noxious gas' by Megan Gorrey, November 20, 2012, Campbelltown McArthur Advertiser
CAMPBELLTOWN residents are being used as guinea pigs to test what's set to become the first coal seam gas field to operate in a residential area in Australia, says Greens MP Jeremy Buckingham. His comment comes after doctors expressed concerns over research from the Southern Cross University which found higher than average methane gas levels around a coal seam gas field in Tara, Queensland. "This research should send a shudder down the spine of anyone in Campbelltown," Mr Buckingham said. "It means the people of south-west Sydney could have noxious gases all around them in a matter of months. "AGL has proposed to put up to 66 more wells and frack coal seam gas in their area. "Barry O'Farrell is using the residents of Campbelltown, Camden and Liverpool as guinea pigs by turning residential areas into coal seam gas fields and it's completely outrageous." [Emphasis added]
Doctors raise alarm over toxic coal seam gas leaks by Ben Cubby, November 17, 2012, Canberra Times
TOXIC gases leaking up through coal seam gas fields could be having an effect on human health, doctors and anti-pollution groups say. The revelation that methane, carbon dioxide and other compounds are being detected at high levels several kilometres from the Tara gas wells on Queensland's Western Downs has prompted calls for further health studies. No known connection exists between coal seam gas drilling and the impact on human health but people living near the drilling sites at Tara have reported persistent rashes, nausea, headaches and nose bleeds. "While the cause of these symptoms has not yet been determined, they show many similarities to symptoms experienced by communities living in gas fields overseas," said Dr Helen Redmond, a physician representing the NSW branch of the group Doctors for the Environment. "Hydrocarbon exposure cannot be ruled out as a cause without much more comprehensive investigation."
With drilling developments planned for western Sydney and other parts of the state, NSW Health has requested to be part of the government's coal seam gas working group. "NSW Health is aware of concerns about human health effects," a spokeswoman for the department said. "Australian studies currently planned or under way will assess exposure types, doses and pathways. These can then be used to assess potential human health effects." She said it had not initiated any studies into possible health effects of exposure to air or water contamination resulting from gas drilling. "NSW Health is not aware of public health effects that have been caused or exacerbated by coal seam gas drilling in Australia at the present time but there is insufficient information at this time to be completely satisfied that there is no potential for public health effects caused or exacerbated by coal seam gas drilling," she said.
In Sydney AGL wants clusters of six wells each at 11 sites between Campbelltown and Liverpool, many of them within 400 metres of suburban streets in Currans Hill, Varroville, Kearns, Eschol Park and Denham Court. Its proposal is being put to the state's Planning Assessment Commission. The Queensland Premier, Campbell Newman, said he supported the coal seam gas industry but would examine the report of gas leaks, along with Queensland's Health Minister, Lawrence Springborg. "I'm not going to tolerate any activities in any industry that affects people in terms of the environment where they live," Mr Newman told ABC Radio. The high methane and CO2 levels detected by Southern Cross University researchers in the Tara gas field are highly unlikely to have caused any human health impact on their own.
"Methane and carbon dioxide are being used here as tracers, so that their presence indicates the likely presence of other gases from within coal seams,'' said Dr Isaac Santos, a biogeochemist at the university, who worked on the independent study. "There are many things we don't know here but we do know that the results show widespread elevated levels, and it really highlights the need for baseline studies so we can determine whether this is due to the coal seam gas operations or not." The Southern Cross team made no attempt to link the elevated gas emissions to health effects but the concern of Doctors for the Environment and other groups such as the National Toxics Network is that compounds brought up by the drilling process could be making people sick. [Emphasis added]
Australian scientists find excess greenhouse gas near fracking by Carol J. Williams November 17, 2012, Los Angeles Times
Environmental researchers have detected excess greenhouse gas levels near the site of Australia'sbiggest coal seam gas field, prompting calls for halting expansion of hydraulic fracturing until scientists can determine whether it might be contributing to climate change. The reported findings of methane, carbon dioxide and other compounds at more than three times normal background levels have stirred new controversy in eastern Australia over the pros and cons of boosting natural gas output by "fracking," a process that blasts sand, water and chemicals into deep underground wells. Researchers from Southern Cross University took mobile air testing equipment to the Tara gas field near Condamine in Queensland to measure the ambient gas content. They found more than three times the level of toxic gases than expected, based on the industry's claim that leakage from the wellheads is "negligible."
"The concentrations here are higher than any measured in gas fields anywhere else that I can think of, including in Russia," Damien Maher, a biochemist who helped conduct the tests, told the Sydney Morning Herald. The findings, though still pending peer review before publication, could influence the scope and pace of a planned expansion of coal seam gas fracking as envisioned in a white paper issued this week, environmentalists said. Development authorities in New South Wales state are weighing whether to allow energy companies to drill 66 new wells in the western suburbs of Sydney to extract natural gas through fracking.
At sites within a few miles of the Tara field wellheads, methane was measured   as high as 6.89 parts per million, compared with a normal background level of about 2 parts per million, the air test results showed. Some scientists surmise that the excess levels are due to seepage of the gas through displaced soil and aquifers that carry "fugitive" emissions released by fracking a mile or more below ground. Carbon cycle expert Peter Rayner of the University of Melbourne told the Australian Broadcasting Corp. that the elevated gas levels were probably due to "emissions that escape from the intended process of production."
Health authorities and opponents of the plans to expand fracking have called on the governments of Queensland and New South Wales to determine greenhouse gas levels in the atmosphere in areas slated for new wells before they are drilled, to provide a baseline for comparison with air quality after the underground seams are fractured. "There are many things we don't know here, but we do know that the results show widespread elevated levels, and it really highlights the need for baseline studies so we can determine whether this is due to the coal seam gas operations or not," Isaac Santos, a geochemist who worked with Maher on the study, told journalists Wednesday, when the Southern Cross research results were made public. Santos told Australian journalists that the findings showed greenhouse gases at levels even higher than in Russia's massive Siberian gas fields, where environmental protection has been minimal.
Helen Redmond, a physician with the New South Wales chapter of Doctors for the Environment, cited rising complaints of rashes, nausea, headaches and nose bleeds among people living close to the Tara gas fields. … Rick Wilkinson, chief operating officer for the Australian Petroleum Production and Exploration Assn., said the findings were premature and biased. "Incomplete research from Southern Cross University academics this week lacks the basics of scientific rigor," Wilkinson said in a statement. "The claim that large-scale fugitive gas emissions are a result of coal seam gas production, before they even do their research, seems to indicate a bias against coal seam gas." … Concerns about fracking's consequences for air and water quality have been rising, though, as farmers complain of a dropping water table and piles of debris left behind by the drilling and extraction operations. [Emphasis added]
Gas Industry Attacks Scientists After Research Finds Triple The Normal Levels Of Methane At Australian Gas Fields by Graham Readfearn, November 16, 2012, desmog.blog
LEVELS of the potent greenhouse gas methane have been recorded at more than three times their normal background levels at coal seam gas fields in Australia, raising questions about the true climate change impact of the booming industry. The findings, which have been submitted both for peer review and to the Federal Department of Climate Change, also raise doubts about how much the export-driven coal seam gas (CSG) industry should pay under the country's carbon price laws. Southern Cross University (SCU) researchers Dr Isaac Santos and Dr Damien Maher used a hi-tech measuring device attached to a vehicle to compare levels of methane in the air at different locations in southern Queensland and northern New South Wales. The gas industry was quick to attack their findings and the scientists themselves.
The Queensland government has already approved several major multi-billion dollar CSG projects worth more than $60 billion, all of which are focussed on converting the gas to export-friendly liquefied natural gas (LNG). More than 30,000 gas wells will be drilled in the state in the coming decades and the industry has estimated between 10 per cent and 40 per cent of the wells will undergo hydraulic fracturing. The industry and state and federal ministers have claimed that electricity derived from coal seam gas will help slow growth in carbon emissions but, so far, no comprehensive independent lifecycle assessment of emissions has been carried out. Last August, a Right to Information request submitted by me and reported in the Brisbane Times revealed that the state's government was prepared to rely on industry-funded research when it came to understanding the industry's carbon footprint. A later report from the Australian Petroleum Production and Exploration Association, which looked at emissions from CSG when burned for electricity in China, was produced by Worley Parsons, a company which had won a $580 million contract to work on a major CSG-to-LNG project in the state. The Federal Energy Minister Martin Ferguson has also waved away suggestions that the government should commission its own independent research into CSG emissions, and was reported as saying such a study was "unnecessary".
The work at Southern Cross University is arguably the first attempt to independently measure levels of methane coming from gasfield areas.
Dr Santos said in a university release: "The current discussions on CSG are often based on anecdotal evidence, old observations not designed to assess CSG or data obtained overseas. We believe universities are independent institutions that should provide hard data to inform this discussion. The lack of site-specific baseline data is staggering."
In an interview with the Australian Broadcasting Corporation, Dr Maher said while it was not possible yet to say "definitively" that the raised levels of methane were due to leaks from the CSG facilities, "we have multiple lines of evidence to suggest that that is what is causing it". He said the initial findings pointed to the CSG operations as a likely source of the raised methane levels – in particular, from "fugitive emissions. Essentially these are leaks. It is where CSG that was in the coal seam leaks into the atmosphere. That can leak through the infrastructure – the well head, through pipes – and the industry knows about these leaks and they are relatively easy to deal with. What we are looking at is the potential for that methane to migrate through the soil structure.
The Australian Petroleum Production and Exploration Association, which represents the CSG industry, said in a press release the research was premature and appeared to deliberately target the CSG industry. Spokesman Rick Wilkinson personally attacked the scientists, saying their findings "diminishes the good work by many other scientists". But the response from the association's spokesman Rick Wilkinson contained several misrepresentations. Wilkinson claimed the research was "notable through omission rather than content" because, he said, it seemed "squarely aimed at natural gas production rather than all sources of actual and potential greenhouse gas emissions". Yet when the researchers presented their ongoing findings to a public lecture, it was clear that the two academics had gone out of their way – quite literally – to record levels of methane in other areas. They took their cavity ring-down spectrometer to other obvious sources of methane, including a sewage works, drove alongside fields of high-density cattle and visited wetlands. While methane levels in those areas did not get above 2.1 parts per million, in the CSG gasfield area the highest reading was 6.89 ppm. Methane is about 23 times more powerful as a greenhouse gas than carbon dioxide. The researchers took in gasfields in Tara, the birthplace of the widespread Lock the Gate anti-CSG movement.
At the public forum, uploaded to YouTube, Dr Maher said: "The concentration of methane in the atmosphere [at the gasfields] is consistently higher than what we saw at the highest value in the local area. The highest concentrations were over three times the atmosphere's background values."

In the submission to the Federal Government's Department of Climate Change, the researchers wrote: "Our results demonstrate the need for baseline studies before the development of gas fields. We suspect that depressurisation (fracking, groundwater pumping) of the coal seams during gas extraction changes the soil structure (i.e., cracks, fissures) that enhance the release of greenhouse gases such as methane and carbon dioxide."
Speaking to DeSmogBlog, the researchers explained the spectrometer is also able to identify the chemical fingerprints in the methane gas that can distinguish between methane from sources such as cows and wetlands, and methane from ancient fossil fuel hydrocarbons, such as coal seam gas. The researchers dismissed Wilkinson's claim that their submission was a plea for funding. Dr Santos said: "We are just simply sharing our data. It is clearly preliminary research." In the APPEA press release, Wilkinson also claimed that a "similar" US study using a "drive-by measurement technology" had been criticised "by a respected Cornell University scientist for its lack of rigour". But the criticism which Wilkinson cited in the press release referred not to "drive-by measurement technology" or to the gas industry, but rather to criticisms of measurements taken at a stationary observation tower close to oil wells.
…
The gas industry has been hiding behind its claim to be better for the climate than coal for years, and the government has just accepted those claims despite the Greens, farmers and scientists providing evidence that they are deceptive
Dr Gavin Mudd, a Senior Lecturer in the Department of Civil Engineering at Monash University, said he had been impressed with the research after a recent visit to SCU. He said, I believe this is crucial research which should have been part of the environmental assessment process and ongoing monitoring. The fact that there is no pre-CSG data on methane levels in air means these researchers have had to do some cross-checking of possible explanations, such as methane from cows or wetlands, and it seems to me they have been very careful in ensuring that the only realistic explanation for the considerable methane levels they measured is CSG field leakage. At present, there is considerable more work to do to understand the processes causing this degree of leakage – it could be caused by leaking bores or pipelines, or just be diffuse leakage from the geology due to lower groundwater pressures – and especially to quantify diffuse emissions on a life cycle basis for CSG production, but I certainly view this research as a great breakthrough in documenting the real processes occurring in CSG fields.
Professor Mark Tingay, a Senior Lecturer at the Australian School of Petroleum Science at the University of Adelaide, said natural seeps of gas at production areas were common and this made it "very hard to conclusively demonstrate increased fugitive ground emissions caused by hydrocarbon production". But he said the research highlighted the need for industry baseline readings of ground water and air quality before production. "Without baseline readings," he said, "it is very difficult to distinguish natural emissions from human-triggered emissions." [Emphasis added]
Research questions green credentials of Coal Seam Gas by ABC News, November 14, 2012, uploaded by The SirCharles, November 18, 2012
He says the data suggests the methane came from under the ground, which could have serious consequences. … "Governments give them a big push, off they go, no preliminary research, no baseline studies, no precautionary principle applied, just let 'em loose on the environment and then do your studies a decade or so later," he said. … "I think the take-out message is that we've got to make sure we take samples before we change the way the environment is working," he said. "We found very high concentrations and we are now in a position (to ask) what the hell that means."
Mr Wilkinson [APPEA] says the studies should have been done 10 or 15 years ago.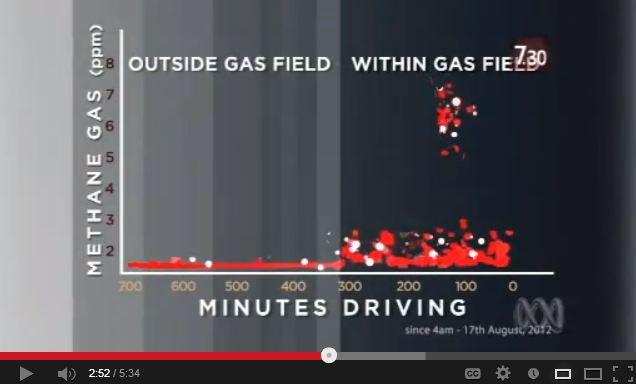 [Refer also to:  Methane and the Greenhouse Gas Footprint of Natural Gas from Shale Formations by Robert W. Howarth, Renee Santoro and Anthony Ingraffea, Received: 12 November 2010 / Accepted: 13 March 2011 / Published online: 12 April 2011, Climatic Change (2011) 106:679–690
Abstract We evaluate the greenhouse gas footprint of natural gas obtained by highvolume hydraulic fracturing from shale formations, focusing on methane emissions. Natural gas is composed largely of methane, and 3.6% to 7.9% of the methane from shale-gas production escapes to the atmosphere in venting and leaks over the lifetime of a well. These methane emissions are at least 30% more than and perhaps more than twice as great as those from conventional gas. The higher emissions from shale gas occur at the time wells are hydraulically fractured—as methane escapes from flow-back return fluids—and during drill out following the fracturing. Methane is a powerful greenhouse gas, with a global warming potential that is far greater than that of carbon dioxide, particularly over the time horizon of the first few decades following emission. Methane contributes substantially to the greenhouse gas footprint of shale gas on shorter time scales, dominating it on a 20-year time horizon. The footprint for shale gas is greater than that for conventional gas or oil when viewed on any time horizon, but particularly so over 20 years. Compared to coal, the footprint of shale gas is at least 20% greater and perhaps more than twice as great on the 20-year horizon and is comparable when compared over 100 years