Email in, with photos, from one of the Coterra/Cabot frac-harmed families:
"Nice article. Photo below is of the bogus "water treatment system" which DEP mandated in 2010 then let the gas co run away from. DEP also ignores complaints from certain people seemingly because Perry issued the homeowner a so called "cease & desist" in attempts to halt them from complaining. Photo were taken in March 2023 & ignored by DEP, gas co, Ag, & governor:"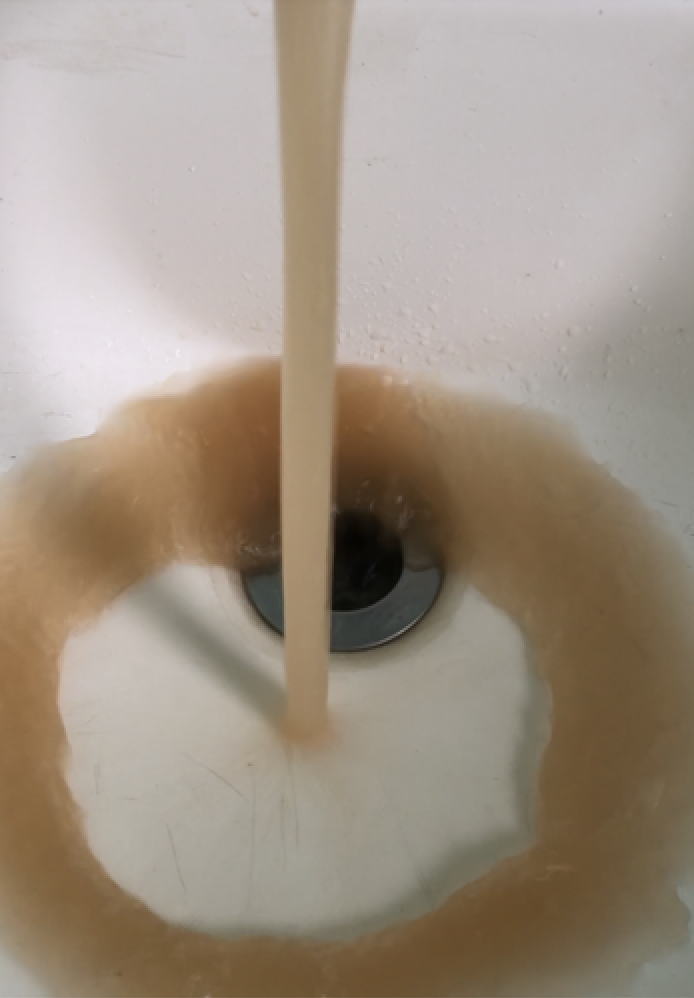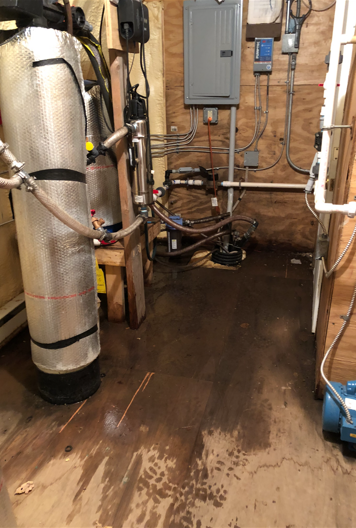 ***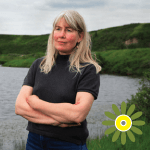 Frac-buddy Judge Jason Legg gives criminal aquifer-polluting Coterra (previously Cabot) a super sweet deal while tricking and betraying the harmed. DEP further rewards the criminal and deepens the betrayal of the harmed. AG Josh Shapiro uses the treachery for a grand photo op.
In Nov 2022, in court, Gasland driller Coterra/Cabot admits responsibility but not guilt, setting up DEP to permit the company a new frac frenzy in an already dangerously contaminated aquifer. Judge Legg made it clear to me he gave everything the criminal frac'er wanted under guise of accepting criminal responsibility. Just another unjust judicial-frac industry circle jerk.
Five years for an oil and gas company to build a short pipeline to bring safe alternate water to the harmed, if they can find safe water. Same pipeline to ship oil or gas would be built in months. A frac'er's wet dream. And, I bet Coterra knows their beloved pro-frac'ers will kill the water pipeline before construction begins, saving the company.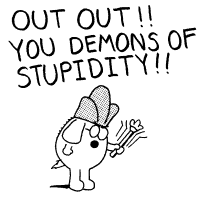 Re: Governor Shapiro's new budget
Gov. Shapiro still won't help get bulk water for the water buffaloes in Dimock. He failed Dimock.
VERA S.
The court and Josh Shapiro slathered the charges thickly with words and fluff, to con the world into thinking there's been a punishment for the law-violating company and reward for the harmed. Pfffft. There's really neither. They did a typical frac trade: Publicly shame the frac'er a little bit in exchange for promises most likely never to be fulfilled, while massively rewarding the frac'er and increasing harms for the frac'd soon to be re-frac'ed.
The water pipeline ordered by DEP a decade ago to bring the harmed a safe alternate supply of water never happened. The judge's current order for the same will also most likely never happen.
Even if they did build the pipeline, where the hell is a company going to get uncontaminated groundwater there? Gas released into groundwater migrates for miles.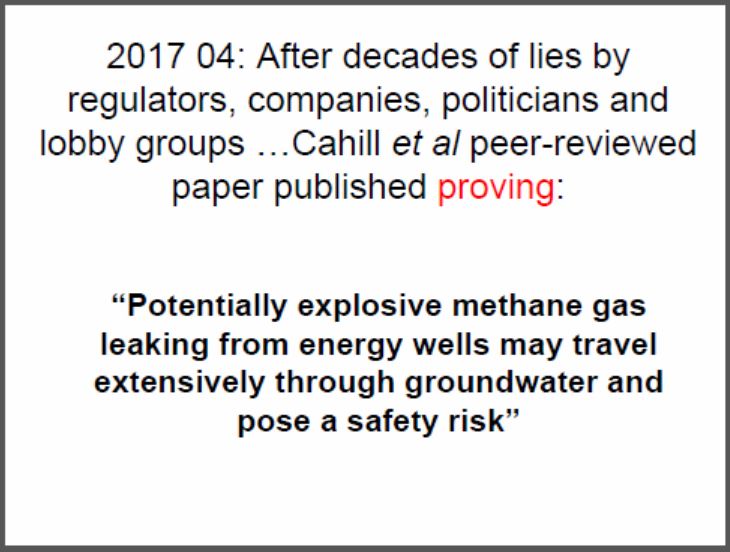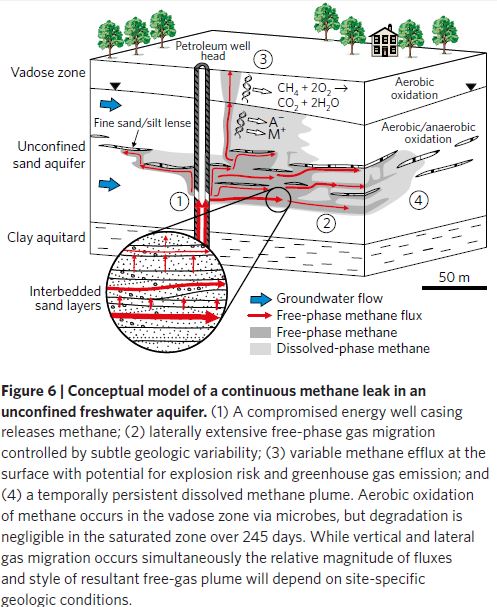 I bet the two water wells the judge ordered drilled will access methane contaminated water – that DEP and Cottera/Cabot know are contaminated, but they have a nice plan to blame nature, so take our methane water or leave it (if the pipeline is built). If you say no to our very generous offer of contaminated water, we'll give you gas venting and processing at your house, which we know is life-threatening and does not work. And best, if you refuse our risky system that might kill you and your loved ones in your home, we get to escape out of the judge's orders!
The best reward Coterra/Cabot got in exchange for a little public humiliation is that they get to drill and frac where the company contaminated the groundwater with methane and is not ordered to repair the aquifer, rendering the water in it permanently threatening to life. That's always been the company's chosen deal. I expect Cottera got more secret rewards too, like DEP promising to never look at the company's law violations and pollution again.
A citizen attending the hearing wrote me that in closing, the judge noted Cottera was acting in support of the community and it was a just outcome for all. Only six of the 19 harmed families still live in the exclusion zone. The others lost their water, their homes, their health, and some their lives. Cabot had bought some severely contaminated homes, bulldozed them with the land never to be built on again (the methane contamination caused by the company is too dangerous). The harmed people of Dimock lost, frac'ers won. The company never stopped drilling in Pennsylvania, of course, and had about 100 violations against them in the past year which in my view is Coterra's true "best" industry practice.
Coterra's most delicious escape hatch provided so generously by the judge, is that he did not order the aquifer repaired and decontaminated, and if the water line is not constructed (which it most likely won't be), life-threatening in-home "water treatment systems" will suffice and if that's refused, bingo, the frac-harmed are shit out of "justice" except for miserly bottled water deliveries for 75 years (if the company lasts that long, which is highly unlikely). Have you ever tried to flush a toilet, wash clothes or take a bath with small bottles of water?
Governor-elect Shapiro arrived after the courtroom circus for a photo-shoot. I expect that was the true intent of this Circle Jerk Justice.
Assistant AG:
My office handles environmental crimes. It is up to the PA DEP to decide whether Coterra will get new permits in that exclusion area.
"Coterra has worked closely with the Office of Attorney General to resolve historical matters and create a path forward for

the AG and company

all parties," company spokesperson George Stark

donation friend of Judge Legg

said via email. He said Coterra "strives to follow best practices, exceed industry standards, and to continue to be a valuable community partner."

Comments on industry's escape hatch words "strives to" below.

Best practices are voluntary, just like guidelines!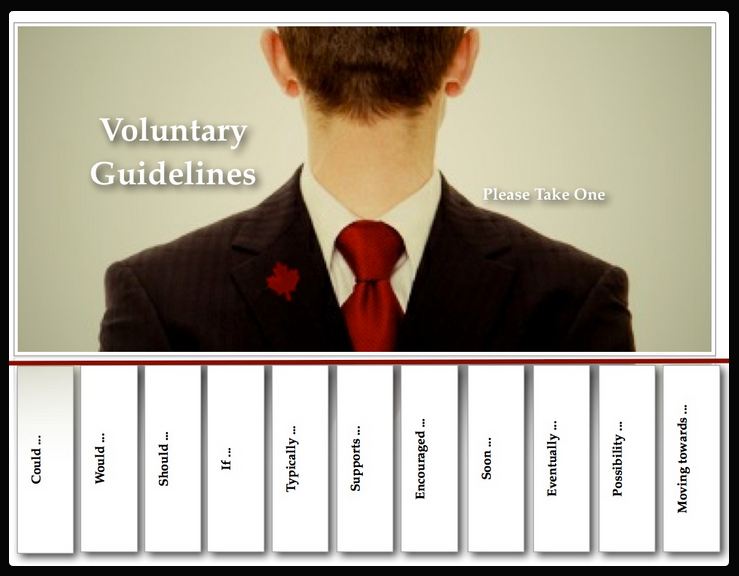 14 years of frac hell, harms and abuse.
The only way to keep your drinking water and loved ones safe, is to never allow frac'ing or exploratory frac'ing in your community. Keep frac'ers out!
PS This has taken me months to post because AG Shapiro's and Judge Legg's betrayals of the frac-harmed in Dimock is too disgusting and cruel to digest, never mind the vile rewards they gave the law-violating polluter. It's inhumane.

***
MUST WATCH, Especially if you believe "justice" for the frac'd exists (hint, it does not): Getting Water 13:58 Min by Hope Forpeace, March 21, 2023
"I don't know how you do it. I mean they might be nice people, but they're participating in something so evil."
@brett76544:

then there was the part that the DEP already knew about the water treatment systems not working and not meeting what the law required due to costs of the filter system's consumables.
In Dimock, a Pennsylvania Town Riven by Fracking, Concerns About Ties Between a Judge and a Gas Driller, The judge who accepted a recent settlement between the Pennsylvania attorney general and Coterra Energy served on the board of a charitable foundation with a Coterra executive by Kiley Bense, February 13, 2023, Inside Climate News
At first glance, the photograph seems unremarkable: 11 people, all men wearing blazers and ties except for one woman, posing behind a gleaming table. The background is polished and corporate, with a landscape painting, a sconce, and beige walls. It's the kind of nondescript, business-attire group shot that appears regularly in local newspapers, church bulletins and company newsletters.
This photo can be found in the 2015 annual report for the Community Foundation of the Endless Mountains, a nonprofit in Pennsylvania's Susquehanna County that raises and donates money to charitable causes in the area. The people in the photo are board members of the foundation. Bar graphs on the opposite page show the foundation's increasing grants, funds and assets from 2003 on, and the article accompanying the picture touts 2015 as "a year to celebrate."
To some residents of Susquehanna County whose lives have been affected by fracking, this picture is not something "to celebrate": it's a sign of a potential conflict of interest. That's because of who it shows standing, side by side, in the second row: George Stark, tanned, grinning widely, hands neatly clasped, and Jason Legg, tight smile, red tie, glasses.
Stark was then, and still is, the Director of External Affairs for Cabot Oil & Gas (now called Coterra Energy), the company that pleaded no contest in 2022 to criminal charges of water contamination, brought by then state Attorney General Josh Shapiro, related to drilling in the village of Dimock. In 2015, Legg was elected to the Court of Common Pleas of Susquehanna County as President Judge, a position he also still holds. "He's right next to him," said Craig Stevens, a longtime ally of the affected Dimock families who also owns property in Susquehanna County. "These are buddies."
In November, as representatives of the state Attorney General's office and Coterra Energy met in the Susquehanna County Courthouse in Montrose to finalize the plea deal, Stevens said that Judge Legg asked both parties if he should recuse himself from the proceedings. "That day, the first thing he did was say, 'I have this potential conflict,'" Stevens said. Neither side objected, according to Stevens.
Anthony Ingraffea, who testified as an expert witness in an earlier lawsuit filed by Dimock residents against Coterra, was also in the courtroom that day. If he had asked any of the families whose water had been contaminated, Ingraffea said, "'Hey, do you think I'm in conflict?,' …they would have said, 'Yes, you are.'"
Instead, Dimock residents listened as the charges against Coterra were dropped from [nine] felonies (out of 15 total original charges) to a single misdemeanor. Coterra would have to pay $16.29 million to build a public water line, but construction could take five years. In the meantime, the company would provide residents with bottled water and water treatment systems.
Some residents of Dimock have been without clean water for more than a decade, relying on water buffalos, huge tanks designed to store and haul water. Dimock became infamous in 2010 with the release of Josh Fox's documentary "Gasland," which included footage of residents lighting their methane-tainted water on fire. The film–and the plight of people in Dimock–helped to ignite a national anti-fracking movement.
Drilling has been banned in Dimock since 2010, but on the same day that the attorney general's plea deal was announced, the Pennsylvania Department of Environmental Protection lifted the ban on drilling in the nine square-mile "box."
"Cabot has been salivating over that nine square miles, because there is no place on God's earth where there are more prolific shale gas wells," Ingraffea said.
"Before we went to court, they were already building mega pads not a mile from my house," said Ray Kemble, a Dimock resident whose water is still contaminated. "Six hundred feet from the moratorium line."
In February 2022, Legg recused himself from another case involving Coterra and Ray Kemble. Coterra claimed in this $5 million lawsuit that Kemble and his former lawyers had "tried to extort it through frivolous litigation," according to the Associated Press. Legg stepped aside after a recusal motion revealed that Coterra had donated $6.4 million to the Community Foundation of the Endless Mountains since 2010.
In an expert opinion solicited by Kemble's former lawyers, Pennsylvania Supreme Court retired Chief Justice Ron Castille recommended that Legg recuse himself from the case because of his role as a board member of the Community Foundation and Coterra's role as a "significant donor" to the foundation.
"Reasonable minds could infer that a board member of a charity (such as Judge Legg) would favor a major charitable donor (here, Cabot Oil) in order to sustain the donor's continuing financial support," he wrote. In Castille's view, "reasonable minds might even conclude that Cabot Oil is seeking a sympathetic judicial forum (a single judge county) with a seemingly friendly judicial official."
Castille noted that Legg's fellow board member George Stark had been presented by Coterra as "its corporate designee" in the lawsuit. Legg is the only full-time judge in Susquehanna County, so a retired judge from Luzerne County was brought in to preside over the case after his recusal.
The retired chief justice also noted in his opinion that the Code of Judicial Conduct does not only say that a judge must "uphold and promote the independence, integrity and impartiality," but that a judge "shall avoid the appearance of impropriety."
The AP quoted the Attorney General's spokesperson Jacklin Rhoads as saying that "we are aware of Judge Legg's recusal in the other case and will not hesitate to make that motion at the appropriate time" for the pending criminal charges against Coterra.
The Attorney General's office did not respond to questions about why it did not object to Legg's involvement on the day of the Dimock settlement. But Dimock residents and their allies have questions of their own. "Isn't that interesting? The AG files a case with this judge… And he has had to recuse himself from a much lower level case," Stevens said. "You would think they'd be more concerned about making sure they don't have a judge that might be compromised on there. But they didn't seem to mind."
Coterra's George Stark joined the Community Foundation board of directors in August 2012. In April 2022, after the Associated Press article about Legg's recusal from the Kemble case appeared, Stark resigned from the board.
The 2021 annual report for the foundation praised Stark's work "spearheading a significant fundraising program" for a new hospital and education and vocational programs.
"The foundation benefited from George's professional experience and as well as his understanding of community foundation operations," the note about his resignation reads. "George will remain engaged in the many projects Coterra has in Susquehanna County, and we look forward to continuing to work closely with him."
Although Stark and Legg served on the board for the foundation together for 10 years, Legg has stated that he has "no personal relationship whatsoever" with Stark and said that he does "not believe it creates any type of conflict of interest," according to the recusal motion filed by Kemble's lawyers. But the connections between Legg, the Community Foundation, Coterra and the oil and gas industry in general are far more comprehensive than a single posed photograph might suggest, as set forth in the motion.
The Community Foundation houses and manages several funds that were established by, or are connected, to Legg. One is the Cindi Conaty Memorial Scholarship, a fund providing tuition assistance for local high school students that was named in honor of his mother. "Winners submit essays explaining their pro-life stance and values," a description from the Community Foundation report reads. Another is the Susquehanna County Law Enforcement Fund, set up by Legg to "assist with the expenses of law enforcement" in the county. There is also the Thomas Conaty Memorial Scholarship, created to honor his stepfather, and the Montrose Minute Men Fund, which funds an ambulance service. Legg is a board member for the Montrose Minute Men. Records that were subpoenaed from the foundation show that Cabot Oil & Gas donated $2,500 to the Law Enforcement Fund in 2016. In 2014, the company helped to contribute $23,258.65 to the Montrose Minute Men, according to the recusal motion.
Legg's financial interest in natural gas extraction may even be more personal than any of those donations: according to the recusal motion, Legg has leased 2.13 acres of his land to the oil and gas industry. Thomas Conaty, Legg's stepfather, leased 98.2 acres of his property to the oil and gas industry before he died, and Legg is an heir to Conaty's estate.
Those bar graphs that the Community Foundation uses to highlight its financial progress show a spike in 2012 in their assets, revenue and the amount of grants distributed. Contributions in 2011 were about $1 million and jumped to $4.1 million in 2012. Through the foundation, money that came both directly and indirectly from Coterra funded a range of projects and programs throughout the county, leading the organization to praise Coterra as "one of our leading charitable champions."
Coterra donated $2.2 million to help fund construction of a new hospital; in 2013, they announced that the Physician's Clinic would be named the "Cabot Oil & Gas Corporation Medical Office Building." In 2012, the president of the foundation, Peter Quigg, wrote a guest post on Coterra's company blog, Well Said Coterra, thanking Coterra for their donations in support of the new hospital.
Coterra funded vocational and education programs in the county, including a venture called the Mobile Oilfield Learning Unit, an exhibit that travels to middle schools to "motivate and empower students who may one day be interested in pursuing a career in the energy industry." "We are developing increasing awareness on how onshore production is vital to the oil and gas industry," one of the program's managers said in 2019.
In addition to its education donations, Coterra supported a local animal shelter, women's health screenings and the foundation itself. In 2011, the printing, distribution and production of the foundation's annual report was paid for by Coterra, ensuring that the magazine could "continue to be distributed without charge to our 7,500 readers interested in philanthropic work in the Endless Mountains region."
Beneath an article about students' appreciation for "Cabot scholarships" in the 2011 issue is a blue box, accompanied by the Cabot logo, that boasts about Cabot's $1 billion "investment in Susquehanna County" since 2006, as well as $10 million it spent on road repairs (including in Dimock township), and $43 million in Cabot royalties "received by Susquehanna County residents." One bullet point explained that Cabot was "committed to drilling only in Susquehanna County."
Articles and text about the Marcellus Shale in the foundation's reports written by and about employees of gas companies like Range Resources and Chesapeake Energy discuss the economic benefits of drilling and the companies' water treatment protocols. A Range Resources executive referred to the Marcellus as "maybe the greatest economic opportunity this nation has seen in generations." There were also ads encouraging residents who had made money from gas leases to donate to the foundation."Want to do some good with that gas windfall but can't decide?" one ad, from the 2010 report, asked readers.
For some people in Susquehanna County, Legg's entanglements with Coterra underscore how much power the oil and gas industry holds in this largely rural region–and how little can be done to combat that power.
"He should not be sitting on anything that has to do with gas and oil…," Kemble said. "But he's the only judge we got. There's no other judge here."
Residents Fear New Methane Contamination as Pennsylvania Lifts Its Gas-Drilling Ban in the Township of Dimock, Coterra Energy pledges "responsible and safe" development of abundant gas in Dimock, which sits atop reserves a Penn State geologist says could be worth almost $4 billion by Jon Hurdle, December 23, 2022, Inside Climate News
Residents of a Pennsylvania town famous for its flammable tap water fear another round of methane contamination after state officials lifted a 12-year ban on drilling for natural gas beneath their feet.
The state's Department of Environmental Protection signed an agreement with Coterra Energy, allowing it to restart harvesting natural gas from a nine-square-mile "box" beneath Dimock in northeastern Pennsylvania, where the company's predecessor, Cabot Oil and Gas, was ejected in 2010 after contaminating numerous private water wells with methane.
Victoria Switzer, a long-time Dimock resident and an outspoken opponent of the gas industry, said she was "depressed and disappointed" by the new consent agreement because it will end the DEP's testing of her water every three months, and replace that with testing by Coterra.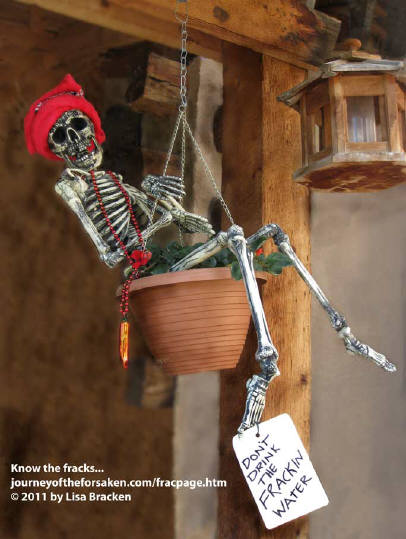 She's also worried that plugging more than a dozen old wells in the township will result in the renewed migration of methane into people's water wells. She argued that DEP should not have allowed a resumption of drilling in a gas-rich area of Pennsylvania's Marcellus Shale field until residents were connected to the promised public water system.
"The opening of the box should not occur until water is flowing into the homes of the impacted residents and any other family that wants peace of mind when it comes to their life source: their water," she said.
The new DEP agreement with Coterra places many new restrictions on the company's gas-harvesting plans, including monitoring new wells for any methane escape, evaluating drinking water wells near its operations and plugging old gas wells that were the source of water contamination.

Anyone trusting Coterra is brain dead, including bought and paid for DEP, AG Shapiro, and Judge Legg. But I bet they don't trust the company and know it will just keep breaking the law. They don't give a shit. They are feeding their own egos, careers and pockets, just like the judges in my case and my backstabbing ex lawyers, Murray Klippenstein and Cory Wanless.

The company will not be allowed to drill vertical wells within the "box" as it did before, but can sink those wells outside the area, and then extend horizontal "laterals" beneath the town, according to the agreement.

How stupid is that for a regulator? As stupid as AER and BCER (prev OGC). Horizontal fracs can leak methane, other gases and frac fluids as badly as vertical wells.

Coterra is also required within six months to install, as an interim solution, water-treatment systems to all affected residents who agree to the offer.

And, please sign here absolving us (in the small print, also Judge Legg) of any liability if the "system" blows you and your loved ones up and or kills you.

If the new system is unable to be built for "any reason," the company must apply to the DEP for permission to operate the interim systems for 30 years, the agreement says.
The document, signed on Nov. 29, also requires the company to pay $16.29 million to install within five years

which will most likely never happen

a public water system that would remove the risk of future contamination

What about the existing contamination? FFS!

from nearby gas drilling. That requirement was also part of a plea agreement with Coterra that was reached by Pennsylvania Attorney General Josh Shapiro on the same day, in which the company pleaded no-contest to criminal charges stemming from violation of the state's Clean Streams Law, and agreed to pay the water bills of affected residents for 75 years.

Slick Tricksters! The water pipeline will never be built. Coterra will make sure of that, ensuring not a penny in water bills. Big win for the company, and bonus, they can advertise what a kind, generous, wonderful, communty-loving frac'er they are.

Shapiro, a Democrat who will become governor of Pennsylvania in January, said the plea agreement should be seen by other energy companies as a sign that the authorities will hold them accountable for any future contamination. "Companies will take notice that we won't allow communities like this to be taken advantage of or forgotten," he said, announcing the plea deal.

Pfffft. Big frac'ing hooey Gov Shapiro. You lost all my respect. In one fell frac swoop.


Donation buddy of Judge Legg,

George Stark, a spokesman for Coterra, said after the DEP agreement was disclosed that the company would use

Voluntary

best practices and state-of-the-art technology to conduct any future drilling operations.

Frac'ing Best Practices Reality Check: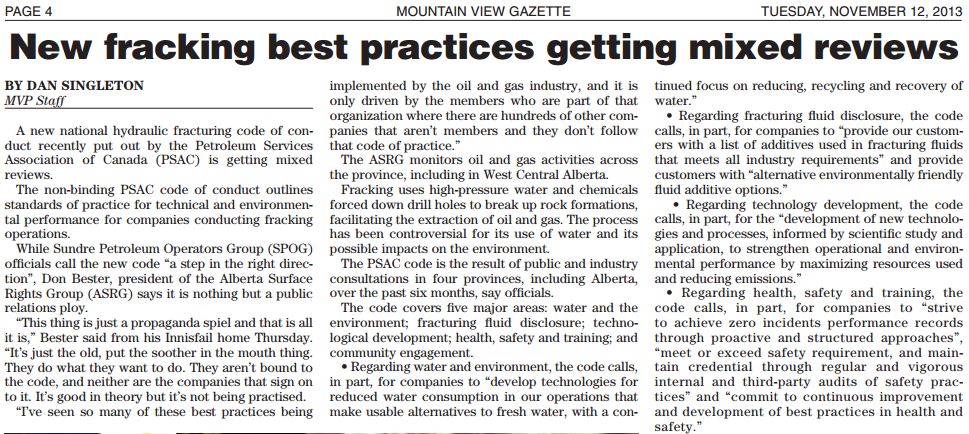 "This agreement resolves long-standing issues and provides for the responsible and safe development of natural resources located inside the nine-square mile area. It also satisfies the desires of many of the landowners, who communicated their support for such development over the years," he said.
After initially welcoming the AG's plea deal, some residents were skeptical or outright hostile in response to the DEP's decision to allow the resumption of gas drilling in a town that became a poster-child for the human impacts of hydraulic fracturing—or "fracking"—for natural gas when one resident memorably ignited the water from his kitchen faucet. The incident was widely broadcast in the 2010 Netflix documentary "Gasland."
Coterra's interest in restarting development of the Dimock "box" is driven by its rich gas reserves, said Terry Engelder, a Pennsylvania State University geologist who co-authored a study in 2008 that estimated the Marcellus Shale of Pennsylvania, West Virginia and Ohio contained at least five times the 30 trillion cubic feet of natural gas that was produced at the time by the United States, Canada and Mexico combined.
He now estimates the Dimock "box" alone contains about 1.3 trillion cubic feet of gas, worth some $3.9 billion, assuming a market price of $3 per thousand cubic feet. Just a small fraction was harvested by Coterra before regulators closed the box in 2010, and the prospect of renewed access explains the company's willingness to agree to the criminal charges brought by the attorney general, Engelder said.
"This is both new news for the local royalty owners inside the moratorium area, and the reason why Coterra felt its pockets would become deep enough to plead 'no contest' and put up $16 million to supply water to the Dimock folks," he said.

Terry Engelder, shameless frac harm enabling circle jerker, as vile as Judge Legg and DEP.

Still, Dimock's abundance of gas is not unusual by the standards of the Marcellus in nearby Pennsylvania counties, Engelder said. He estimated that there are about 360 square miles of the field that have similar production characteristics as the nine-square-mile "box" beneath Dimock.
"There is nothing special about the Marcellus under the Dimock area that does not apply to a larger area covering parts of Susquehanna, Bradford, Wyoming, and Sullivan Counties," he wrote in an email.
Switzer, the Dimock resident and retired schoolteacher, said Shapiro and DEP signing of the two agreements with Coterra on the same day raises her suspicions of a tradeoff in which the company agreed to plead no-contest to the criminal charges in return for being allowed to resume drilling at Dimock.
"It was coming to a head with Coterra opening the box and simultaneously the AG is offering us a water line," she said. "Can any person believe that they were operating in separate rooms and no one knew about it?"

Untrustworthy

Jacklin Rhoads, a spokesperson for the attorney general's office, denied that it shared information with the DEP about the investigation that led to the criminal charges.
"Our office plays no role in DEP's regulatory decisions and we do not share confidential information about criminal investigations," Rhoads wrote in an email. "The only information our office provided about the conviction ahead of last month's announcement was with the victims and the defendant. No exchange of this nature was ever a part of our criminal plea negotiations."

Do you believe her? I do not and will never trust a word uttered by Shapiro again.

Jamar Thrasher, spokesman for the DEP, said the two agencies negotiated their agreements separately but that the DEP told Shapiro's office of its talks with Coterra in September 2022. He said DEP's negotiations on drilling laterals in the "box" beneath Dimock were underway before DEP knew that the attorney general's office was in talks with the company on the $16.29 million plea agreement that required building a public water supply.

DEP knows damned well that water pipeline will never be built. Cottera and Judge Legg I bet know that too. It's all part of the dirty deal. May they rot on earth and in hell.

Once DEP obtained details of the plea agreement, it added references to the public water system and how the company would respond if the system could not be built, he said.

These escape hatches show to me they know the water system will be too unsafe to operate and the water pipeline will not be built.

"Our consent order complements the plea agreement by providing a short-term solution, new interim treatment systems, that would improve conditions for the affected homeowners while the public water system is being developed," Thrasher wrote in an email.
He said the methane contamination that led to the 2010 agreement appears to have come from the vertical portion of the older wells, not from their horizontal sections that are much deeper.

Cumulative fracs and refracs in an area with dangerous methane contamination will lead to more methane contamination. That's a given and the regulators and company know it, and don't give a damn.

Ray Kemble, a 30-year resident of Dimock, blasted the new agreement as "absolutely illegal" because a requirement in the 2010 document to restore all 19 contaminated water wells has not yet been met, he said.
Kemble, 67, a retiree who previously owned a tire shop and towing business, predicted that the latest agreement will lead to renewed methane contamination of private water wells. He said his own became contaminated with the gas and four kinds of uranium in 2010, and he has since used water from a "buffalo"—a 1,000-gallon portable tank—that he fills weekly from a nearby hydrant.
"I don't want any drilling underneath my house at all," he said. "They will be drilling all these wells right underneath us."

Encana also promised (aka lied) in writing in 2006 to provide safe alternate water to any concerned about their water supply. After the company repeatedly illegally frac'd and contaminated our aquifers, they then proceeded to drill under my already contaminated land, with AER granting Encana approval in less than half a day, ignoring my concerns.

He called the attorney general's plea deal "a slap on the wrist" for Coterra, and accused DEP and Shapiro's office of cooperating by completing both agreements on the same day.
"They knew exactly what was going on because DEP was signing the damn order the same day they were signing the order in court," he said. "We are just puppets and pawns for the AG's office. We were just lied to."
But David Hess, who headed the DEP from 2001 to 2003, argued that the two documents complement each other, as shown by DEP's agreement incorporating the AG's requirement that Coterra pays $16.29 million for a new public water system, and that it is enforceable by DEP.
Still, it remains to be seen whether the DEP agreement can prevent recurring contamination despite its extra restrictions, and that will become a new enforcement test for the DEP statewide as well as a new requirement on Coterra at Dimock, Hess said.
"This will be one of the most closely monitored drilling areas in the state as a result of this order," he said. "Does DEP have the staff resources to hold the company accountable, and do everything it needs to do to regulate oil and gas in other areas? That's a good question."
Pennsylvania Lets Polluter Resume Drilling in Protected Zone, Outraging Residents in Fracking's 'Ground Zero', Order was quietly signed on the same day that residents celebrated the energy company's plea deal on charges of environmental crimes by Audrey Carleton, December 16, 2022, Captial & Main, Investigating Money, Power and Society
On the same day that the Pennsylvania Attorney General's Office reached a plea agreement with an energy company on charges of environmental crimes dating back more than a decade in the town of Dimock, state regulators quietly signed a consent order allowing the company to drill beneath an area that had been subject to a 12-year moratorium on such activity. The decision has outraged residents who've lived with the pollution tied to Coterra Energy's previous fracking activity and endured over a decade in which they've lacked access to clean water for their homes.
"We're just goddamn puppets," said Ray Kemble, 30-year Dimock resident of the 9-square-mile moratorium zone and water pollution victim, who stood next to Attorney General and Gov.-elect Josh Shapiro the day he applauded his office for reaching a conclusion to the years-long battle for clean water in the area.
On Nov. 29, Coterra Energy and the Pennsylvania Department of Environmental Protection (DEP) signed a consent order allowing the operator, one of the largest natural gas producers in the state, to drill laterally beneath an area that has been mostly fracking-free since 19 households found methane in their water in 2008 and 2009. On November 4, 2009, the DEP signed a consent order tying drilling by Coterra — then called Cabot Oil and Gas, prior to a merger with Cimarex Energy Co. in 2021 — to household water pollution, banning the company from drilling new natural gas wells in the area entirely. Following the new consent order, Coterra will now be allowed to drill horizontally underneath the 9-square-mile protected zone, as long as the top hole of a well is drilled outside of it. (Fracking involves drilling vertically for thousands of feet underground, then horizontally, carving an L-shaped path.)

Frac'ing also involves drilling slant wells, deviated wells and just vertical wells. Encana did all varieties in my community and commingled the gas zones they frac'd to prevent accurate isotopic gas fingerprinting.

The consent order was not announced to residents nor mentioned during a Nov. 29 plea hearing at which many celebrated a long-sought victory: Coterra agreed to pay $16.29 million for clean water wells and a water line to provide clean water to residents who have been deprived of such for over a decade, as well as $58,000 to each affected household to cover its water bills for the next 75 years.
The new order allowing lateral drilling represents the fulfillment of a request Coterra has made to regulators numerous times over the last 13 years.
"Based upon the remedial work of Cabot

What remedial work? Bribes (aka donations) to the judge? The Dimock aquifer is not yet repaired. Rosebud's and Pavillion's (both frac'd and contaminated by Encana) aren't either.

… Coterra is requesting that the Department allow new drilling and hydraulic fracturing of wells with surface locations outside the Dimock/Carter Road Area and laterals that traverse under and produce the Dimock/Carter Road Area," the consent order reads. "New drilling or hydraulic fracturing is currently restricted by the 2010 COSA."
Environmental groups around the state have expressed disappointment in the DEP's decision, including Karen Feridun, head of the Better Path Coalition, which advocates for clean energy in the Keystone State. When she got word of the new consent order, Feridun quickly launched an online petition calling on Shapiro to ban fracking in Dimock entirely — as of the morning of Dec. 16, it had more than 1,100 signatures. Feridun's coalition is also planning a protest for Shapiro's inauguration on Jan. 17.
In a statement published Tuesday, Megan McDonough, Pennsylvania state director at environmental advocacy group Food and Water Watch, called the new consent order "outrageous" and a "gift" by current Gov. Tom Wolf's administration to the fossil fuel industry.
"Reaching this deal on the very same day that Coterra was in court for contaminating Dimock's water raises serious questions about what was going on behind the scenes in the Wolf administration," McDonough said. "This unconscionable action is a betrayal of suffering communities that are still years away from a permanent solution that will restore their access to clean water."
Anthony Ingraffea, a professor of engineering emeritus at Cornell University who once served as an expert witness for Dimock residents in their class action suit against Coterra Energy, told Capital & Main in early November that he feared any victory in the attorney general's case could come at the expense of the 9-square-mile moratorium. A $16 million fine pales in comparison to the profits that could be reaped from what Ingraffea says is the "richest shale resource area currently known to man."
"Anywhere you drill in there is guaranteed to be so profitable that your stock price would probably double," he said at the time.
"Coterra gets a multibillion dollar reward for not being found guilty of anything," he told Capital & Main more recently.
The DEP entered into negotiations with Coterra around the order in early 2022, the Associated Press reported Monday. At that point, the natural gas driller "committed to strict controls, monitoring and evaluation" amounting to "some of the most restricted conditions on any drilling

Where have we heard that lie before? Everywhere companies frac!

in the commonwealth," agency press secretary Jamar Thrasher told the news wire's Michael Rubinkam. Gov. Tom Wolf told the AP he was "satisfied" with the DEP's move as well.
The order sets out terms for Coterra's lateral drilling beneath the 9-square-mile moratorium zone, including that the operator "case and cement a well to … [p]revent pollution or diminution of fresh groundwater," and "prevent gas, oil, brine, completion and servicing fluids" from "entering fresh groundwater."
The DEP confirmed to Capital & Main in November that Coterra had been cited for 1,167 environmental violations since the first consent order was drafted in November 2009 and it was originally banned from new fracking in the moratorium zone.
The water line is referenced in the consent order, mandating that Coterra fulfill its $16.29 million agreement with the Attorney General's Office by 2027, a date that the order notes could be subject to change. The order also requires that Coterra offer residents water treatment in the meantime, but it does not include mention of water delivery as was spelled out in the Nov. 29 plea hearing. As Capital & Main reported previously, some Dimock residents are skeptical of water treatment systems and at least one system repeatedly failed.
Should residents reject the systems this time around, Coterra will be deemed to have met its obligations to secure them clean water should they deposit money into a "mitigation fund," the order notes.

It does not get much more evil than this.

The gas company's ability to drill laterally appears partially contingent upon the company offering residents water treatment systems. Coterra appears to be moving quickly to fulfill this requirement; company representatives have already contacted several residents about systems. One resident who spoke to Capital & Main on the condition of anonymity said they were contacted by a Coterra representative within a few days of the Nov. 29 plea hearing.
"Whomever negotiated this behind closed doors without our knowledge, consent or approval has not asked our opinions, given us options, or even gone over it with us," the resident said of the new consent order.
The Attorney General's Office assured Capital & Main that Coterra is "bound" by the plea agreement, "which includes water treatment systems and/or bottled water delivery until the water line is up and running." A spokesperson also noted that the Attorney General's Office had no role in the drafting of the consent order, or in its timing on the date of the plea hearing.
"Our office plays no role in DEP's regulatory decisions," Jacklin Rhoads, communications director at the Pennsylvania Office of Attorney General, said by email. "The only agreement announced last month that our office played a part in was convicting Coterra and securing resources to finally build a public water supply in Dimock."
The new consent order represents a jarring about-face for residents savoring a long-sought resolution to their plight.
"This is a joke," said Craig Stevens, landowner in neighboring Montrose and community anti-fracking activist, who worries that the proposed activity could pollute their homes again. "They can reach the center of that [9-square-mile box] from any edge."
"This is a cop-out," Stevens added. "They didn't fix the problem. They haven't restituted the victims properly, nor do they have clean water. And they're gonna let them drill underneath."
The plea hearing was celebrated as an environmental victory of sorts for the state's new governor, Attorney General Josh Shapiro, who takes office in January. Shapiro's office charged Cabot Oil and Gas with 15 counts of environmental crimes in June 2020. After several years with no resolution and no formal court hearing scheduled, residents told Capital & Main they felt left behind, as the attorney general appeared to turn his focus to winning his election. Several residents, including Kemble, said they hoped for a water line that would pipe clean water to their homes — they had spent years getting creative with finding water supplies. Kemble, for instance, has for years trucked miles away from his home weekly to refill two 500-gallon tanks that sit in his basement and feed his faucets
A matter of days after his election, Shapiro's office informed residents that a plea hearing would be scheduled and a water line was in sight. After the hearing, Shapiro held a press conference applauding his office's work in pursuing justice for Dimock families. What was not announced was a change of terms to the moratorium that had been reached the same day — in fact, when asked about Coterra's future prospects in the area at the press conference, Shapiro deferred to the DEP.
"When you're governor, will Coterra be allowed to resume drilling and operations in the 9-square-mile box?" one reporter asked at the press conference.
"That's obviously a question for the regulators, not for the Attorney General's Office," Shapiro said. "Certainly it's an issue that we will review upon taking office."
Days after that, residents quietly learned that the terms governing Coterra's fracking in their area had changed.
Victoria Switzer, a 19-year resident of Dimock who spoke at Shapiro's press conference on the Nov. 29 hearing told Capital and Main she feels "duped." Switzer says she asked a representative from the AG's office at an earlier meeting directly about the possibility of a trade — water line for protected drilling rights — and was told that the matter was under the purview of the DEP.
"I'm just reeling from the decision," Switzer said. "I just feel like I'm in a worse situation than I was before I met the AG."
Though the AG's office confirmed it had no role in the drafting of the consent order, Kemble told Capital & Main he feels lied to by regulators. But he remains hopeful that in his capacity as governor, Shapiro could order the DEP to write a new consent order to rescind this one. "I'm praying to God that he was a victim in this whole thing with us."

I've learned there is no hope, no prayer, no god when living frac'd, just one hell of a lot of broken promises, lies and betrayals, including by one's own lawyers.

Feridun is slightly less optimistic. "Shapiro … punted on the question about the moratorium, saying Wolf was still in charge," she said. "He doesn't get to do that any longer. He owns this now."
In a comment emailed to Capital & Main, the DEP underscored that vertical drilling within the zone will remain prohibited. The consent order also requires Coterra to plug several wells within the moratorium zone by 2032.
"Not allowing surface impacts inside the box avoids the possibility of spills and releases impacting water resources.

Untrue!! Blow outs and or frac outs/hits sending toxic fluids up to surface happen regularly in frac fields, some spew out of control for weeks, with no one knowing what happens underground, including cumulative life-threatening gas migration.


Frac hit reality check, a tiny example of many:

When 2 wells meet, spills can often follow
… "The frack fluid crosses the path of least resistance," said James Amos, supervisory environmental protection specialist with the Bureau of Land Management in New Mexico. It runs up the well bore and can cause the production tank that's collecting the oil to overflow. To the lay observer, it appears to be a surface spill. But in reality, such spills are caused by fracking hundreds or even thousands of feet away.
… In the Montney Formation of Alberta, about 30 percent of the well bores that are up to 1,500 feet apart experience frack hits, Beck said. The Montney is similar in geology to the Bakken Shale of North Dakota.
… The incidents are called frack hits because they happen when the fractures of two wells intersect. The communicating wells have, in cases, been as far apart as 1.8 miles [9,504 feet]
New Mexico wells have had over 100 frack hits, many caused by Encana, dramatically increasing natural gas production at other energy wells and probably in water wells too
Fracking Contamination Will Only Get Worse: BNN Interview with Dr. Karlis Muehlenbachs, Geochemist at the University of Alberta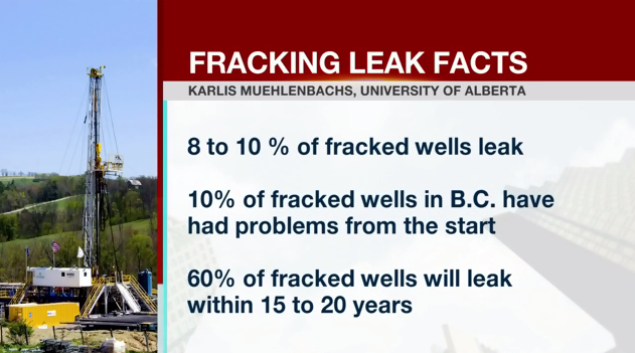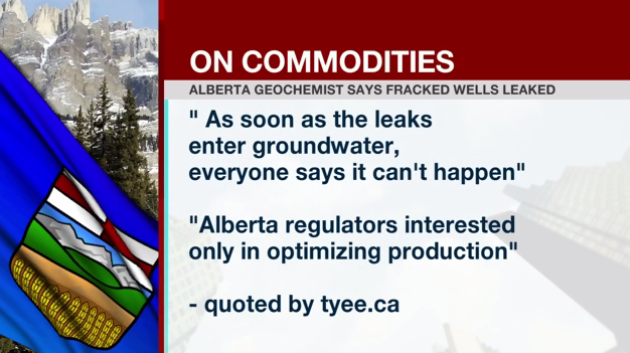 Methane Geyser in PA: Shell Fracking Operation Suspected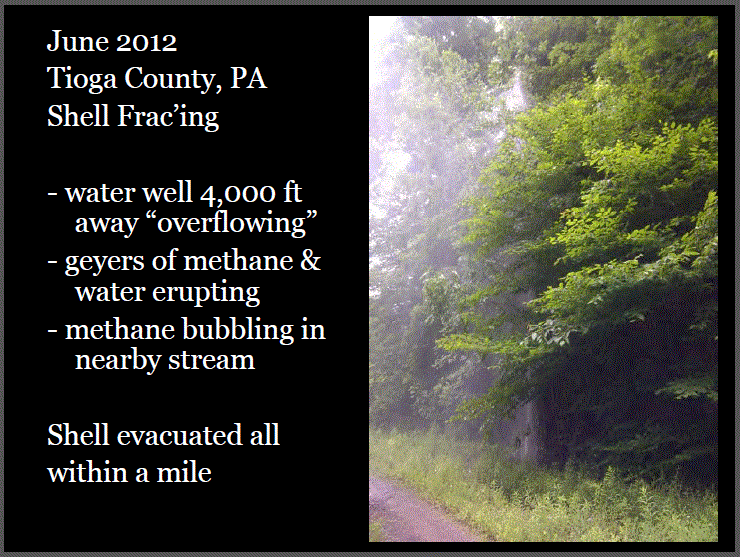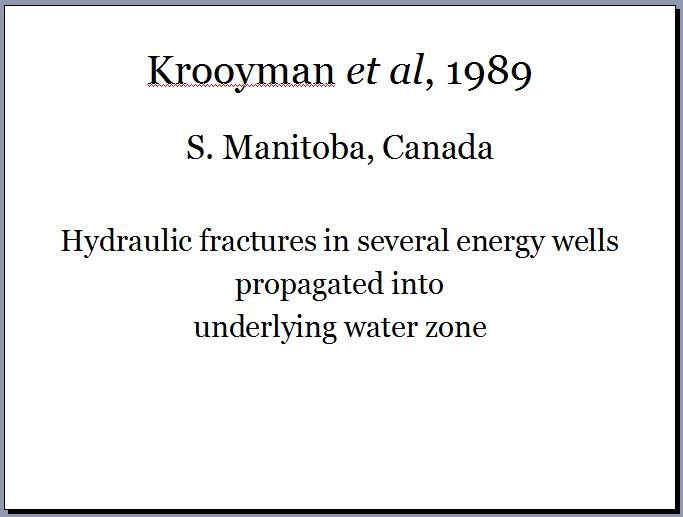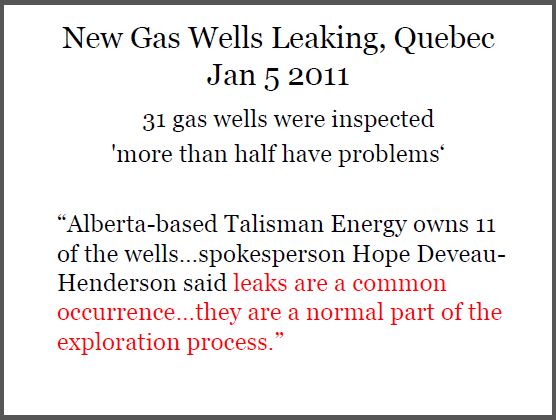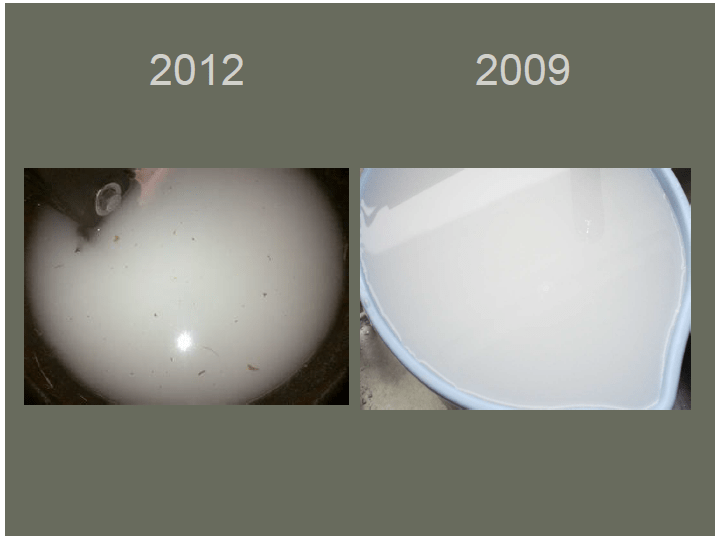 Methane contaminated well water on a dairy farm in Quebec (left) and Alberta (right), after nearby new unconventional gas wells drilled. The regulator ordered the leaks repaired in Quebec; all repairs failed. The regulator in Alberta, AER, did nothing but lie, shame and blame nature and the frac harmed, and engaged in fraud to help Encana cover-up their crimes.
ERCB (now AER): Interwellbore Communication During Fracturing Operation Events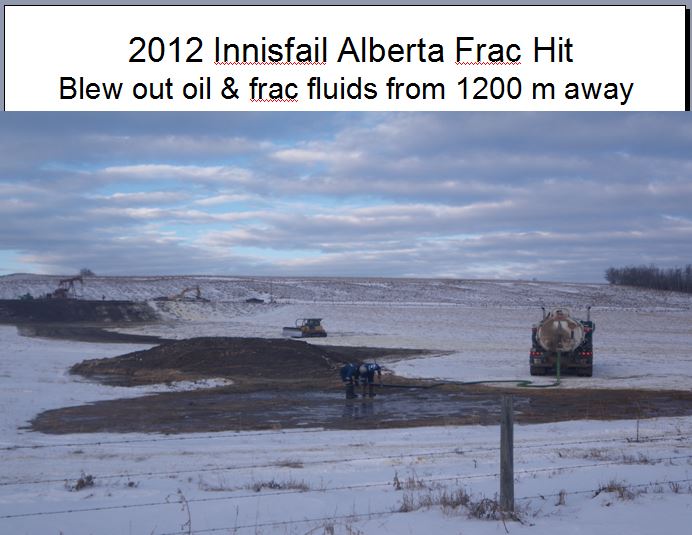 "Nobody understands" leaks at Alberta tar sands high pressure injection operation, Leaks in Cold Lake have been going on for weeks with no end in sight, according to a government scientist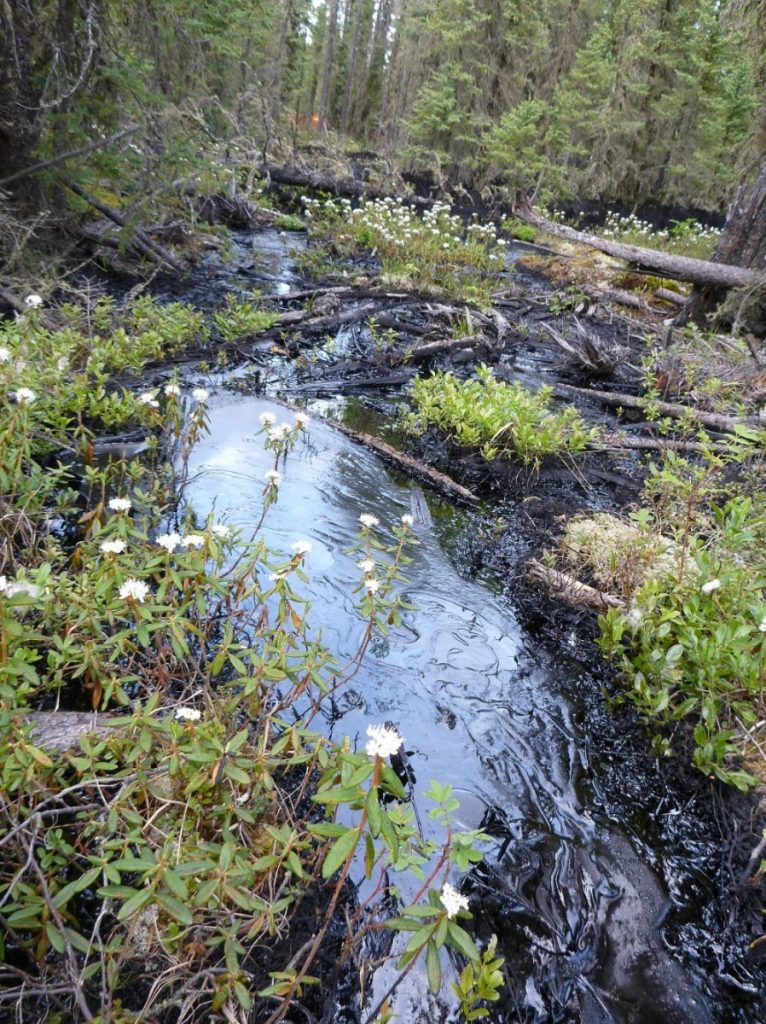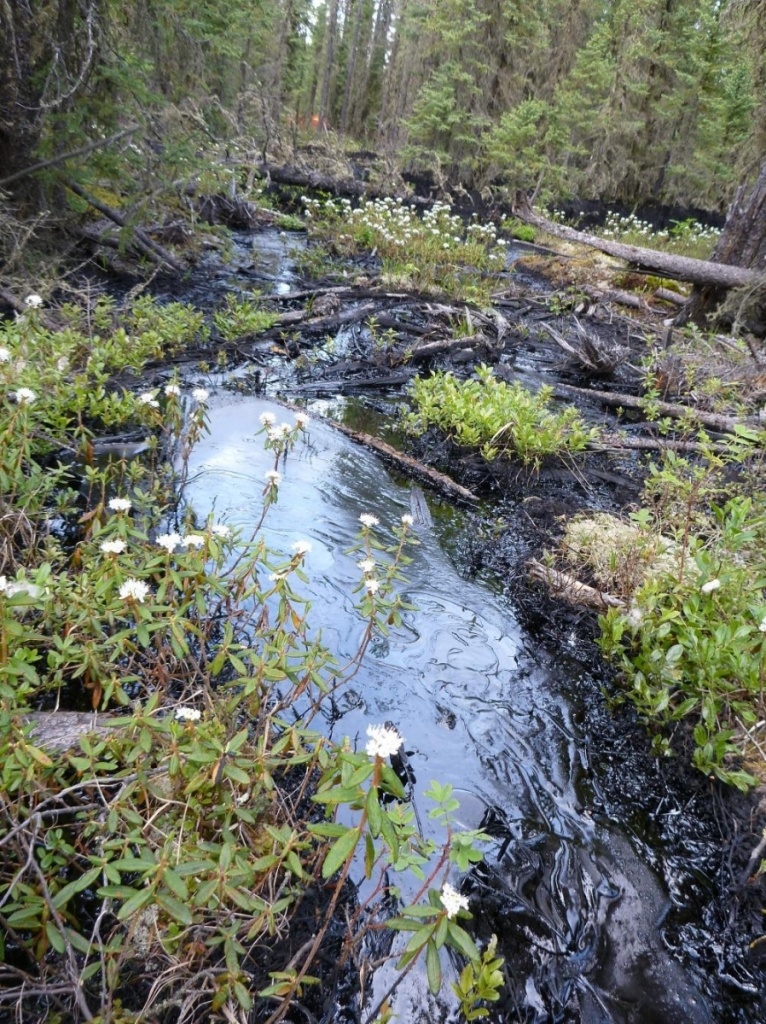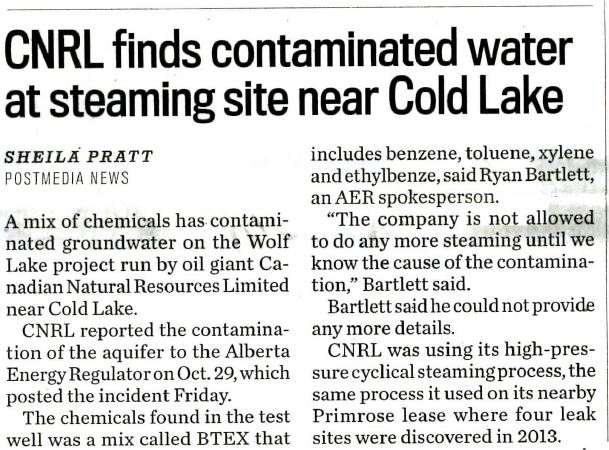 Oklahoma Kingfisher County: At Least 450 Vertical Oil Wells Damaged By Horizontal Fracking. "Hundreds if not thousands of wells are being destroyed by horizontal frac jobs." How many oil & gas & drinking water wells damaged by fracking (vertical and horizontal) in Alberta?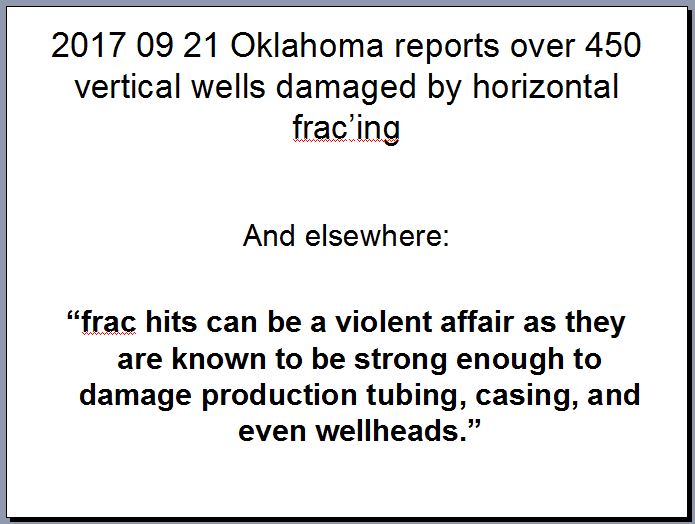 Olahoma: 'Frack hits' on the rise; Frackers Collide With Traditional Oil & Gas Drillers; Hundreds of damaging cases of "involuntary stimulation"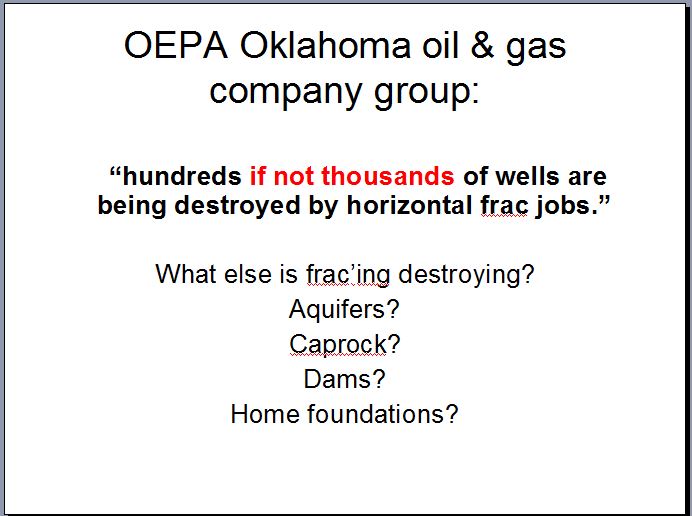 "Frack Well Bashing" is going to get expensive! Frack Hit Demolition Derby Down Below: Drill, inject, bump 'n crack, hit 'n smash, bash 'n dash, while Encana lies 'n says, "We don't frac. We stimulate." 2 wells, 1 patch of dirt. Who gets the oil? The biggest bully. "Fracks hitting wells several miles away."
Jury Delivers Verdict In Oklahoma 'Well-Bashing' Case
PIEDMONT, Oklahoma – A U.S. District Court jury delivered a verdict last month that is rippling through the state's oil and gas industry. The verdict was in favor of the owner of an old vertical well who had sued a large, independent producer for severely damaging his well during a horizontal frac job. …
New Freeport Pennsylvania: EQT Frack Hit (last June); Gas contaminated water for Thanksgiving, enabled by DEP. "Ongoing testing shows that the water for dozens of households is unsafe to drink"
Now it's oilmen who say fracking could harm groundwater
… And at least one OCC official has said it's "beyond the authority" of the agency to block drilling based on a risk to groundwater.
… Small producers, some of whom have banded together as OEPA, released a study in September estimating more than 400 frack hits in just one county. They say many more haven't been reported. And they say that with that much disruption underground, often leading to surface spills, it would just make sense that groundwater is getting contaminated.
"If it's happening at the surface, you can make a logical assumption it's probably happening in groundwater," Bartlett said. …
….damage to water wells often goes unreported. "The problem is created when we have high-pressure fracks," Wallace said. "There's lots of faults. If it gets in a fault, I've been told it can go a mile and a half." …

End frac hit reality check. Slides above from Ernst presentations

DEP did not want Coterra drilling vertical portions of new wells in the area before [unplugged wells that will soon be plugged] are addressed," Thrasher told Capital & Main. "DEP did not want Coterra drilling vertical portions of new wells that may intersect the groundwater aquifer before public water was available in the area."

So when Coterra escapes out of the public water system and water line, and says water treatment systems don't work, exempt us, will DEP then change their consent order and let the criminal company drill and frac vertically in the 9 sq mile contamination zone? What a fucking shit show.

When asked to comment on potential environmental impact of lateral drilling beneath the zone, DEP did not respond by publication time.
But Coterra will now be permitted to drill vertically immediately outside the moratorium zone — and horizontally beneath it. Though the company will be required to submit an "operations monitoring plan" to the DEP for any well it wishes to drill beneath the area, residents worry that freeing up the region around the 9-square-mile zone will shepherd in a new era of drilling and all of the environmental externalities that come with it: water pollution, truck traffic, noise, late-night flaring and the like. Memories of these side effects of the fracking boom still haunt some in this community, which has long been splintered on the issue of natural gas drilling.
Capital & Main reached out to Coterra Energy and did not hear back by publication time.
In the years since the last consent order was signed in December 2010, leaving homeowners with funds in escrow accounts but without sources of clean water, the DEP found several additional instances in which private water wells had been polluted — instances they tied to Cabot's failure to properly cement and case their gas wells.
As of February 2019, 12 of the 18 water supplies originally affected by Coterra's activity in the aughts have not seen their water return to pre-fracking quality, the consent order notes.
The consent order also charges Coterra a $444,000 civil penalty.

Wow, I am sure the company burped as they wrote another fat bribe – oopsie daisy, excuse me, donation – for Judge Legg.

Republican Herald/Scranton Times Editorial: DEP Professes Unwarranted Faith In Shale Gas Drillers PA Environment Digest. This editorial was first published in the Republican Herald and the Scranton Times on December 14, 2022
Anyone wondering why the Delaware River Basin Commission doesn't trust the natural gas industry to drill safely need look no further than the adjacent Susquehanna River watershed.
Pennsylvania's government long has been outmaneuvered by the industry. Many members of the state Legislature have been lap dogs for industry interests for more than 15 years.
And that has been reflected in the state Department of Environmental Protection's accommodating oversight of drilling.
The DRBC regulates water distribution and exercises some environmental oversight for the Delaware River watershed, which provides water for about 13 million people. Its members are the governments of Pennsylvania, New York, New Jersey and Delaware and the federal government.
The agency has precluded drilling in the watershed, and recently voted to preclude dumping drilling and fracking wastewater anywhere in the watershed, while making it more difficult for drillers to extract water for fracking operations. [Read more here.]
All of those restrictions have drawn howls of protest from the industry and some landowners have protested that they cannot extract value from their land through drilling leases.
Meanwhile, the DEP makes it hard to argue with the Delaware commission's decisions.
The agency was woefully ineffective in the early days of the industry's arrival.
After residents of the tiny crossroads of Dimock, Susquehanna County, filmed themselves lighting their tap water on fire soon after Cabot Oil & Gas Corp. began drilling, the agency finally placed a moratorium on drilling around the village.
The state attorney general's office did not criminally charge Cabot until 2020. Recently, Cabot's successor, Coterra Energy Inc., pleaded guilty to a misdemeanor violation of the Clean Streams Law for the migration of methane into Dimock's residential wells.
It agreed to pay $16 million for a municipal water system and to pay residents' water bills for 75 years.
Now, remarkably, the DEP has lifted the moratorium on horizontal drilling for gas under Dimock, while insisting that the decision was not related to the plea deal.
Attorney General Josh Shapiro, the governor-elect, was critical of the DEP during his gubernatorial campaign.
Reinstating the moratorium would be a good place for him to start making the agency an aggressive guardian of the public interest.
***

This comment to the article in Children's Health Defense below sums up my view on this let Cabot/Coterra start frac'ing Dimock again:

Manley_Passive:
So now they can supply fresh fluoride to everyone… and "pay" for their water supply that is rightfully theirs anyway: On the surface (no pun intended) it looks good, but we are only scratching that surface of how criminal these corporations and the "legal" system that defends them really are.
E_via:
Your federal guvernment at work again… EPA really should stand for Environmental Poisoning Agency. …
Adrianne42:
This story demonstrates the typical failure of our bureaucracy/government to react. to protect the general population from corporations' indifference to the suffering they are causing. Why can't our government simply do what it is paid to do?
David Palmer:
The officers of Cabot and Coterra should be forced to drink 3 12 oz glasses of water from one of these contaminated wells for 5 years. If they decline to do it, throw them in jail and throw away the key.
Landmark Deal: Fracking Company Admits Criminal Responsibility, Will Pay $16.29 Million to Build Pennsylvania Water System, Coterra Energy (formerly Cabot Oil & Gas), the gas-drilling company made famous by the documentary "Gasland," will pay $16.29 million to connect the homes of residents in the rural Pennsylvania community of Dimock to a clean water source by Michael Nevradakis, Ph.D., Dec. 1, 2022, Children's Health Defense
The gas-drilling company made famous by the documentary "Gasland" will pay $16.29 million to connect the homes of residents in the rural Pennsylvania community of Dimock to a clean water source. The company also will pay the residents' water bills for 75 years.
In a landmark decision announced Tuesday, Houston-based Coterra Energy (formerly Cabot Oil & Gas) pleaded no contest to a slate of criminal environmental charges. The deal culminated 14 years of frustration and uncertainty for hundreds of residents in rural northeastern Pennsylvania.

OMG, they poor residents of Dimock have just barely started their journey of frac hell. Shapiro, Judge Legg and DEP sold their souls to Satan.

In Pennsylvania, a no-contest plea means the company has accepted criminal responsibility.
Pennsylvania Attorney General Josh Shapiro, who announced the plea deal, filed the original charges against the drilling company in June 2020, after a grand jury investigation found the company's gas wells were "faulty," resulting in flammable methane leaking into aquifers in Dimock and the surrounding area.
In what The Associated Press described as "one of the most prominent pollution cases ever to emerge from the U.S. drilling and fracking boom," prosecutors and local residents claimed that not only did the company's fracking activities pollute the community's groundwater, but that Coterra tried to evade responsibility.

Typical of every frac'er, including in other countries. If any take responsibility, it would take the entire industry down everywhere. Responsible operating and regulating is expensive. The frac'ers, judges, regulators, politicos know it. Thus the constant evasions, lies and betrayals to avoid it. The worst frac harms in my experiences living frac'd for over two decades, are the endless lies and betrayals, the worst and most evil to me, by my own lawyers and Canadian judges. Those lies and betrayals are impossible to heal from, never mind that every frac intentionally poisons water and puts life at risk.

Craig Stevens, a resident of the affected region and advocate for local residents, said Coterra faced 15 criminal charges, including nine felonies and six misdemeanors.
Despite the company's claims that the gas in local groundwater was "naturally occurring," the company faced — and ultimately pled no contest to — charges that included the illegal discharge of industrial wastes and unlawful conduct under Pennsylvania's Clean Streams Law.

Natural all right. Naturally criminal.

Commenting on the plea deal, Robert F. Kennedy, Jr., chairman and chief litigation counsel at Children's Health Defense, told The Defender:
"I visited Dimock in 2010 and watched fires come from people's faucets while the gas companies were denying everything. A dozen of the activists who hosted my visit have since died of cancer and other diseases that are plausibly related to contamination.
"I'm grateful for this victory and Attorney General Josh Shapiro for standing up to the fracking industry. This is the first time that an active driller has ever been held responsible for poisoning water and ruining people's lives."

No true. Coterra has not been held responsible! This judicial-frac'er-politico circle jerk is a propaganda stunt and far from anything responsible. Kennedy is a frac-enabler, has been for years. I have zero respect for him.

Wenonah Hauter, executive director of Food & Water Watch, applauded the deal, but also called on elected officials to do more.
"After more than a decade of glaring inaction from state and federal leaders, finally the people of Dimock have a measure of justice thanks to the work of Attorney General Shapiro," Hauter said.

My god, NGOs are the worst. They caused me so much harm and suffering constantly trying to trip me up, smear me, and set my work back years warning communities about frac harms.

However, she added:
"Pennsylvania needs more action from Shapiro to rein in the oil and gas industry, and federal leaders must act to ensure that no American is subjected to continued poisoning, sickness and harm from drilling and fracking."

But Dimock residents have been mercilessly used by Shapiro for his own career advancement and set up for precisely continued poisoning, sickness and harm from drilling and fracking, just like all of us living frac'd! it's unforgivable.

Settlement better than a guilty verdict, attorney general says
The plea deal includes a plan to deliver "a clean, reliable supply of drinking water" to the affected area. The plan stems from tests that were ordered by the Pennsylvania attorney general's office for dozens of homes in the region.
Affected residents were briefed on the plan Nov. 21. Pennsylvania American Water will drill two wells — a "public groundwater system" — and a treatment plant that will remove contaminants from the water. The water will be piped to approximately 20 homes.
"Our office remains laser focused on using our limited tools to restore clean drinking water for the residents of Dimock," said Jacklin Rhoads, a spokesperson in the Pennsylvania attorney general's office.
"Yesterday, our attorneys along with Pennsylvania American Water updated the impacted residents on the status of the case and the extensive independent research done with one goal — how best to provide clean water to their homes," Rhoads added.
Prosecutors and representatives for Shapiro said a settlement had "the potential to deliver more for victims than the penalties of a guilty verdict," as "the penalty for a conviction under the state's Clean Stream Laws is a maximum $50,000 fine for each violation."
Prior to Tuesday's announcement, Coterra spokesperson George Stark said, "Coterra remains committed

meaningless yak. My ex lead lawyer Murray Klippenstein spewed for years how he remained committed to the public interest and my case long after he had quit and betrayed me, and raped the public interest, lying all the way to the bar (not the law bar).

to achieving an amicable resolution with the Office of the Attorney General. We continue to work towards

but intentionally never reach

a resolution that is productive and beneficial to the community and landowners."
The grand jury in 2020 was critical of the company's "long-term indifference to the damage it caused to the environment and citizens of Susquehanna County," where many residents used bottled water, bulk water purchased commercially, or water "drawn from creeks and artesian wells" instead of their own well water.
Faucets on fire caught attention of international politicians, documentary filmmakers — but not local officials
Troubles for the residents of Dimock — about 150 miles north of Philadelphia — and the surrounding area began Sept. 11, 2008, according to Stevens.
"That's when Cabot Oil & Gas was drilling, fracking vertical wells, and they had three private water wells go bad in a 24-hour period. That was 14 years ago," said Stevens.
An exploding water well caught the public's attention, as did reports by area residents of symptoms such as dizziness, rashes and vomiting, which they blamed on their well water.
Awareness of the events in Dimock soon spread beyond the boundaries of this rural area. The Emmy Award-winning documentary "Gasland," released in 2010, showed residents of the region setting their tap water on fire.
However, "the hoopla eventually died down," according to AP — even though new contamination cases continued to be reported as recently as December 2021.
Stevens, who moved from California to northeastern Pennsylvania where he had ancestral ties, was not directly affected by the water contamination but, as he told The Defender in an exclusive interview, he faced challenges when his property's mineral rights were "stolen" and "they tried to force a pipeline across my property."
"So I became the private property rights guy, because I was being abused," said Stevens. "And I went down and met the people whose water had been contaminated and I teamed up with them."
While the global community had become aware of the situation in Dimock, local and state officials appeared to be uninterested in the matter, according to Stevens.
"It got pushed off, covered up. No political help.

Same vulgar story in every frac field around the world

And so we got ourselves to this point here after 14 years," he said.
Stevens told The Defender:
"We've had zero help from our elected officials. Not one local county, state or federal elected official that represents us as citizen taxpayers has ever come to see, to meet with the people and try to find some kind of resolution because they think that everything is going great and there's no problem.
"They let the fire smolder and keep burning and keep issuing permits to keep the fire burning. That's how I would put it. There was no interest in getting to the bottom [of this]."
Even politicians from other states — and 24 countries — showed more interest in the region than local officials, Stevens said, adding:
"About 400 elected officials came from New York State. These are township supervisors, mayors, county commissioners. We've had at least 40 assembly members and about eight senators from New York State come between 2010 and 2015, when [fracking] was banned in December of 2014 … they used us as their touchstone to say, 'hey, tell us how bad it is.'
"Even though we've had people from all over the United States come, elected officials from all over the world, the first thing they ask is what our local elected officials are doing, and we said 'nothing' … A member of Parliament all the way from South Africa came to see this. But our elected officials that live not too far away decided to blow us off."
Local officials ignored the issue, despite Pennsylvania having some of the strictest language regarding environmental protection in any state constitution.

Excellent proof that rules, laws and rule of law are useless, except for those breaking the law and the judges and lawyers that make piles of money off the suffering of the frac'd.

Stevens told The Defender:
"The Commonwealth of Pennsylvania, if you want to look it up, has Article I, Section 27. It's a constitutional right [inserted] in 1971. We have a right to clean air and clean water in the Commonwealth and the preservation of the natural environment for 'generations yet to come' … which is about its unborn children.
"It's supposed to protect them and they're doing nothing to protect us from any of this. It's only one of only two [such constitutional clauses] in the United States. This is the strongest language of constitutional protection codified into the Constitution by law, and we're not being protected.
"They're violating the constitution of Pennsylvania every day they drill and cause any kind of problems with air or water quality or natural environment problems. And nobody cares because of their money."
Coterra, and its predecessor, Cabot, "denied any wrongdoing" for 14 years, claiming "they didn't harm the water," said Stevens. Cabot tried to turn the tables on critics and activists by filing countersuits. "I've been dragged into deposition for this case, so have many others," Stevens said.
Another local activist, Ray Kemble, "had a $5 million SLAPP lawsuit [strategic lawsuit against public participation] put against him" in 2018, Sevens said, "that's still in effect, still in discovery … four-and-a-half years later."
Largest-ever investigation of environmental crimes in Pennsylvania
Stevens told The Defender he called the Pennsylvania attorney general's office "every week for seven-and-a-half years, from the time I moved here in 2010, until 2017."
During that entire time, he got no response, until Shapiro — the current attorney general and governor-elect of Pennsylvania — entered office.
Describing himself as a "Tea Party Republican," Stevens nevertheless credited Shapiro, a Democrat, with taking his concerns seriously — concerns which led to "the largest investigation of environmental crimes" in the state's history.
"[Shapiro] offered Ray Kemble and myself to go to Harrisburg back on May 4, 2017, to present our case to the Environmental Crimes Division, which we did. They gave us three hours that turned into five.
"Those five hours turned into the largest investigation of environmental crimes in the history of the Commonwealth of Pennsylvania. And that turned into, I believe, six grand juries. We know of three or four already, but there might be another couple more. One of the grand jury presentations was about Cabot Oil & Gas harming and destroying the water of the people in Dimock."
In the aftermath of that meeting, said Stevens, the names and addresses of more than 200 affected residents from two counties were provided to the attorney general's office.
Following this, "They sent their team out for the next year-and-a-half and interviewed every one of them at their kitchen tables," Stevens said.
Dimock's water contaminated with methane, bacteria, radium
Pennsylvania American Water, the firm that will develop a new "public groundwater system" as part of the plea agreement reached with Coterra Energy, previously was involved in Pennsylvania's abandoned efforts to connect Dimock residents to an existing municipal water system from a nearby town, approximately six miles away.
In that instance, state environmental regulators, who had said they would sue what was then Cabot Oil & Gas to recover the money, secured $12 million in financing. Under legal threats from local officials and Cabot, however, regulators abandoned the plan.
"They passed it," Stevens said. " The money was put in the bank, but Cabot and their minions and their supporters and a lot of the neighbors threatened to sue. So did Montrose [the nearby town], saying that we were stealing their water. So they fought it and they won."
For a while though, water was delivered to affected residents, according to Stevens, who told The Defender:
"There was no pipeline built, so the water kept being delivered by [Cabot] by order of the Commonwealth … it cost $100 a day to deliver water to people, to their tanks.
"That's $3,000 a month per house for something I pull out of my ground for a little bit of power for my jet pump to suck it out, to have it at my faucet, to take a shower."
This changed, however, when a new governor took office in Pennsylvania in 2011, Republican Tom Corbett.
"When he was sworn in, he basically told the DEP [Department of Environmental Protection] secretary that if you build it [the water pipeline], he would tear it out. He wasn't kidding. They knew he wasn't kidding.
"By Nov. 30, 2011, he had the water deliveries stopped, even though the groundwater was still bad. As governor, he ordered the DEP to stop delivering water or having Cabot deliver water."
The solution later proposed by Cabot and state prosecutors was far different — and less expensive. Cabot agreed to pay residents $4.1 million to install individual water treatment systems in each affected home, as part of a settlement between the state and Cabot.
The settlement, however, was "struck without residents' input or consent" and "infuriated those who had made it clear they did not trust Cabot with their water," even though "many residents took the money — and the treatment systems."
According to many residents who accepted this deal, the systems never worked properly, forcing them to go back to purchasing water or having it delivered to their homes as before. As a result, they rejected a December 2021 proposal by the attorney general's office that the company pay for replacement treatment systems.
Highlighting the lack of functionality of the treatment systems, water tests showed high levels of methane, an explosive gas that can cause asphyxiation. Bacteria were found in the water in other homes, with an expert biochemist reporting that the natural gas created conditions where bacteria "could survive and proliferate."

Bacteria eat methane and other hydrocarbons. My water became terribly biofouled because of the massive influx of gases into it after Encana's illegal fracs. Of course, AER, Encana and the Alberta gov't blamed me and my neighbours for the bacteria, saying (without any evidence) that we were dirty. Encana and the Alberta Research Council at the time were experimenting injecting bacteria with fracs to make methane in real time, yet they blamed us. Frac'ers and their money grubbing enablers always blame the harmed.

However, an investigation by The Associated Press uncovered documents from Scott Perry, Pennsylvania's chief oil and gas regulator, instructing DEP staff to "ignore" the complaints.
"I know probably 100 people in this area that have a plastic water tank outside their house or in their basement, where they have to pull water out of a creek or a pond or go find it and haul it to their house … a hundred households, not just a handful in Dimock," Stevens said.
He added:
"I think 40% of all people that live in Pennsylvania live on a private water well. That's the second highest in the United States.
"I'm on private water. So is Ray [Kemble]. The problem is there's no water. So if they knock your water out, there's no local water to pipe to you because that costs millions of dollars, to bring a pipeline to you."
In addition to methane and bacterial contamination, Stevens says that the gas — and therefore the groundwater — in the Dimock area is also radioactive. He said:
"Did you know that the gas here is highly radioactive? It's full of radon, which is radium. And radium is a noble gas, which means if you burn it, like to cook on your stove, you're breathing in radium. Nobody's measuring it … The methane burns, but the radon comes right back out in the air and you're breathing it."
"You can't sell a house in the United States if it has radon in it. By law, you have to have it mitigated or else you're not selling the house."
'This stuff is poison,' but federal environmental agencies took no action
In the midst of all of the above, federal agencies came to the region, but did not acknowledge that there was any problem or any dangerous threat to public health or local residents.
"We got the ATSDR [Agency for Toxic Substances and Disease Registry] and the EPA [U.S. Environmental Protection Agency] involved," Stevens said. "We got them to come in. Barack Obama's EPA came in. They spent six months living in Dimock, and they tested 63 private water wells. And every month, they declared there was no problem … they kept saying 'oh, the water is great.'
He added:
"And as you know, 2012 was a presidential re-election year for Obama, so nobody was going to touch this subject right or left with a ten-meter cattle prod. So we got Barack Obama to send the EPA and they tested the water.
"We knew it was bad. But they kept saying it was fine for six months straight, telling the whole world. It destroyed the credibility of the people there, because now you got the EPA coming in saying everything's fine, there's no problem."
Stevens recollected a June 2012 presentation of the EPA's findings to local residents, where "they presented to everybody that your water is fine, it's safe to drink and utilize for all purposes."
"Guess what they wouldn't do?" stated Stevens. "They were offered the water. My idea, just offer them some of the bubbling, carbonated diarrhea that smelled like dead skunk. That's what was coming out of the faucet of a bunch of people … on camera, the agents slid their chairs back away from the table that had the water glass there and said 'no way are we drinking that.'"
According to Stevens, these same agents later told some local residents, off the record, not to "even bathe an animal in the water in your tub," saying "this stuff is poison."

EPA however, while lying to and dismissing the harmed, admitted Dimock's gas contaminated water problem in presentations they did not share with the harmed: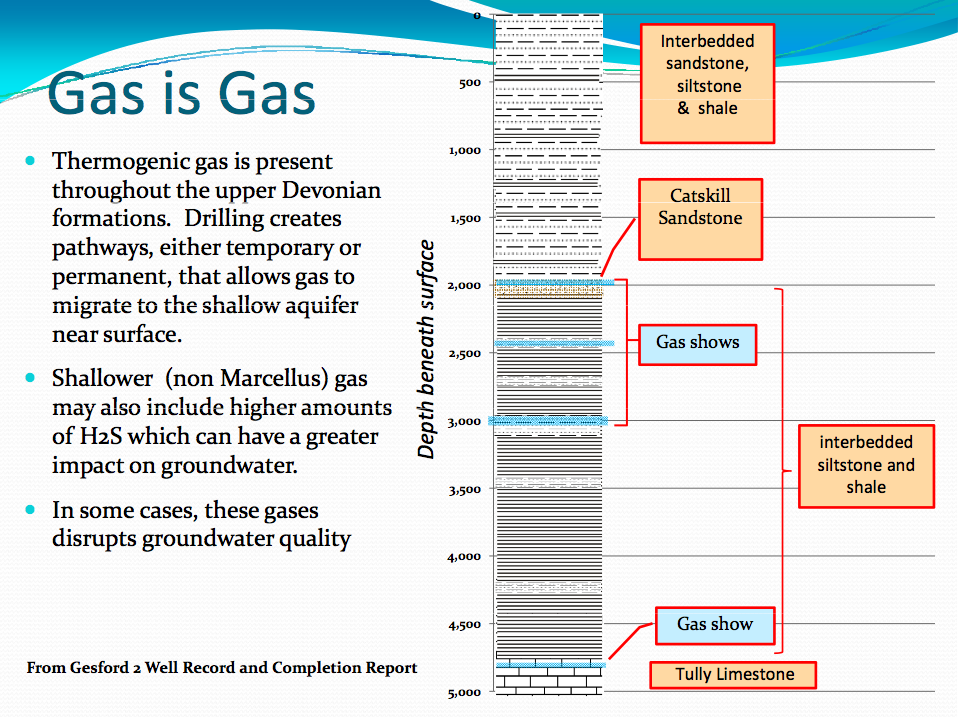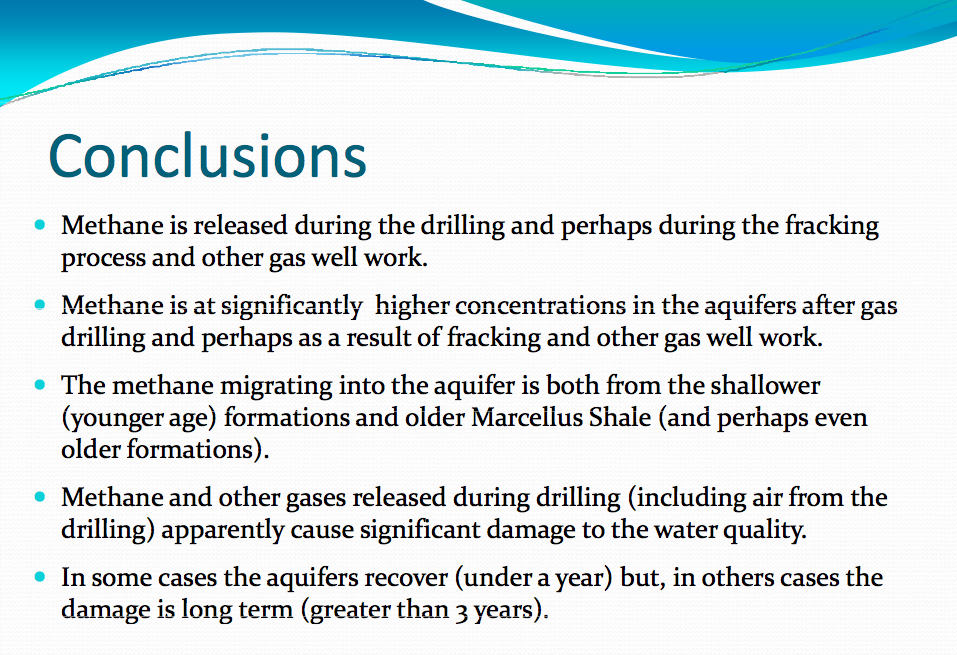 Pure Evil.

Nevertheless, the results of this "investigation" in Dimock, as well as in Park[er] County, Texas, and Pavillion, Wyoming, led to the release of a June 2015 EPA report that found fracking had not impacted quality or safety of drinking water in the United States, and a subsequent NPR report that there was "no widespread drinking water pollution from fracking."
As described by Stevens, "In June 2015, they came up with their top-line findings after a $24 million taxpayer money-funded investigation. Their finding was no drinking water had been impacted by fracking in the United States of America … no widespread or systemic harm to water has been found from the fracking, hydrofracking process."
However, according to Stevens, at an Oct. 28, 2015, hearing where the final draft of the EPA study was presented to the EPA's Environmental Hearing Board for peer review, the study was instead scrapped.
"Ray [Kemble] and I brought a team of eight other people," said Stevens. "We testified at it. We found out last minute." Residents of Park County, Texas, and Pavillion, Wyoming, were flown in. "It took us two hours to convince 30 scientists. They voted 29-1 that day to make them scrap the entire $24 million study."
According to Stevens, the board, consisting of "30 scientists from all over the country," questioned the omission of "one piece of paper" from the EPA's "three major national investigations" — referring to the communities in Pennsylvania, Texas and Wyoming.
"For those three locations, not one anything, not even a mention of the names of the communities" entered the report, said Stevens. "So that was the federal government taking care of us. When I say 'taking care,' it's like the mob takes care of you. You disappear."
Stevens attributed the omissions in the report to pressure from companies like Cabot.

Encana was largely involved too, furiously and loudly so.

"They did it through Environmental Protection Agency investigations, Agency for Toxic Substances and Disease Registry investigations, Department of Environmental Protection investigations," he said. "We have been calling DEP 'Don't Expect Protection' for the last 14 years."
Cabot claimed that gas has "always" been "naturally occurring" in the region's water, and that "demonstrations of lighting the stream from the tap on fire had been a practice for many years," although environmentalists have said that any amount of naturally occurring methane in the water "has been exacerbated" by high-volume fracking.
Court ruling a 'vindication' — but the problem continues
Stevens noted the significance of yesterday's court settlement, telling The Defender that Coterra is "the number two driller in the Commonwealth of Pennsylvania, which is the number two gas-producing state in the United States."
"We have the largest gas patch in the world here, called the Marcellus Shale," he added. "It even beats Saudi Arabia and everybody else, so this is a huge play. Trillions of dollars available, if they could just figure out how to drill holes in the ground without contaminating water sources."
According to AP, Coterra "remains banned from drilling in a 9-square-mile area of Dimock because the state says it still has not sufficiently reduced the level of methane in the water" in those areas.

That's a big fucking lie. Typical dishonest shit by Kennedy Jr.'s NGO.

However, the same report states that "Coterra has drilled more than 130 new gas wells since the [Pennsylvania] attorney general filed charges on June 15, 2020 — more than any other driller in the state — and state inspectors have documented nearly 200 violations at Coterra wells over that time."
Nevertheless, Stevens described the court-ordered settlement as "vindication."

It sure as hell ain't. FFS

"We were called liars, puppets of Putin," said Stevens. "Now we don't work for Putin anymore, we work for the Chinese. Anybody that was raising questions on this process was being vilified by the industry, and they have a lot of money."
Stevens expressed his hope that this issue, and the settlement that was reached, will serve as an example for other states and communities.

This circle jerk with Judge Legg, Coterra, Shapiro and DEP et al will escalate frac harms and profits for the few everywhere. The rich gotta rape us more to get LNG to Europe.

"Ray [Kemble] and I, and others, have been using Pennsylvania to show other states and communities why they might want to reconsider moving forward with this process.
"I think there's, to date, 15 states that have banned or put moratoriums in place in the United States because of what's happened in Pennsylvania."
'Gasland' driller pleads no contest to criminal charges by Niina H. Farah with contribution by Carlos Anchondo, Nov 30, 2022, Energywire
A Pennsylvania gas driller featured in the documentary "Gasland" pleaded no contest Tuesday to charges that it had violated state law and contaminated the drinking water of a rural community.
Coterra Energy Inc., formerly Cabot Oil and Gas Corp., agreed to pay $16.29 million to construct a new public water supply line for Susquehanna County. The company also agreed to pay the water bills for impacted residents for 75 years, as well as provide water treatment systems and bottled water until the new water line is completed.
Coterra's plea means it accepts criminal responsibility but does not admit guilt.

GUILTY BUT NOT GUILTY! Typical judicial frac-enabling shit.

Tuesday's announcement comes after 14 years of controversy over the company's drilling practices, which have resulted in state fines and directives from the Pennsylvania Department of Environmental Protection to halt hydraulic fracturing in the town of Dimock. The town's residents — and their concerns over pollution in their drinking water — were featured in the 2010 documentary "Gasland," which was nominated for an Academy Award in 2011.
"Finally, some justice," said Ray Kemble, a Dimock resident, in a statement. "This case proves once and for all that drilling and fracking contaminated our drinking water. Now we need immediate relief in the form of water deliveries."

I really feel for Ray and his neighbours. Living frac'd is horrid, living frac'd without safe water is unbearable. I've endured it now for over 20 years; I am tired of living because of it compounded with the satanic betrayals, notably by my own lawyers, and the expense and exhaustion that comes with hauling water for myself.

Coterra spokesman George Stark said in an emailed statement the gas company had been working closely

Code for how to get away with our crimes and rape the residents of Dimock and their subsurface even more

with Shapiro's office to "resolve historical matters and create a path forward for all parties."
"We are committed to being

more unaccountable meaningless yak. If the company were truly committed, its spokespersons would say, "We are a responsible steward…." It's legal treachery wording.

a responsible steward of the Commonwealth's natural resources and will continue to work closely with our landowners and community leaders," he wrote.
Incoming Gov. Josh Shapiro (D) — who is currently the state's attorney general — called the agreement a historic settlement.
"Residents of Dimock have waited far too long for the clean water Pennsylvania's Constitution is supposed to guarantee all of us,"

And they'll be waiting a long time yet

Shapiro said in a statement, later adding: "Companies will take notice that we won't allow communities like this to be taken advantage of or forgotten."

Shapiro, you are wrong. Companies will use this to great advantage harming many other communities and families. You've shown them how.

Shapiro had charged Coterra in 2020 after a two-year grand jury investigation found that methane from unconventional oil wells was polluting drinking water and led to the explosion of one water well in 2009.
The company had faced 15 criminal counts, including seven counts of "prohibition against discharge of industrial wastes," seven counts of prohibition against other pollutants and one count of unlawful conduct under Pennsylvania's Clean Streams Law
During a press conference Tuesday, Shapiro acknowledged that some people were frustrated not to see CEOs "led away in handcuffs." Breaking environmental laws "sadly only yields small dollar fines," he said.

This is not about money. The only way to protect drinking water is to haul the criminals away in handcuffs and throw away the keys. That is how you get other companies to smarten up. Letting polluters like Coterra get rewarded for their crimes emboldens other companies and their enablers to up the fracs and poisoning.

"Addressing this legal imbalance is a challenge for another day and another office, but it's critically important to take note of that at this time," Shapiro said.
Environmental groups praised yesterday's agreement, even as they pointed to the state's prior failures to fully address contamination.

Typical NGOs, enabling the criminals and crime enablers. Disgusting. When these orders first came about, I was nauseated by the many NGOs cheering the great victory. Fuckers. Every one.

While the Pennsylvania Department of Environmental Protection had previously ordered the company to halt fracking in April 2010, the state agency allowed some fracking to resume in August 2012. That was less than a year after the Agency for Toxic Substances and Disease Registry identified methane contamination in more than a dozen water wells, according to a timeline compiled by Food & Water Watch.
"After more than a decade of glaring inaction from state and federal leaders, finally the people of Dimock have a measure of

injustice and abuse

justice thanks to the work of Attorney General Shapiro," said Wenonah Hauter, executive director of Food & Water Watch, in a statement. "But countless other communities on the front lines of fossil fuel extraction in Pennsylvania and elsewhere will continue to suffer from the inherent health and safety risks of fracking until our country fully transitions to a clean, safe, renewable energy future."
Reporter Carlos Anchondo contributed.
Gas driller pleads no contest to polluting town's water by Michael Rubinkam, The Associated Press, Nov 29, 2022, Moose Jaw Today
MONTROSE, Pa. (AP) — Pennsylvania's most active gas driller pleaded no contest Tuesday to criminal charges, capping a landmark environmental case against a company that prosecutors say polluted a rural community's drinking water 14 years ago and then tried to evade responsibility.

Oh come on!~ Coterra/Cabot is still evading responsibility, so are the regulators. If they were facing responsibility, DEP and the judge (if they could find one that is not pro frac biased) would order the company to fix the contaminated aquifer. AER needs to order Encana/Ovintiv to repair Rosebud's frac'd aquifers too, and Redland's and Ponoka's and Rockyford's and Pavillion's and Wetaskawin's, and in Colorado and Texas and and.

Residents of the tiny crossroads of Dimock in northeastern Pennsylvania say they have gone more than a decade without a clean, reliable source of drinking water after their aquifer was ruined by Houston-based Coterra Energy Inc.
Under a plea deal entered in Susquehanna County Court, Coterra agreed to pay $16.29 million to fund construction of a new public water system and pay the impacted residents' water bills for the next 75 years.
"After more than decade of denials, of shirking responsibility and accountability, Coterra pleaded to their crime, and the people of Dimock finally had their day in court," Attorney General Josh Shapiro, the state's incoming governor, said outside the courtroom. "Today is further proof that you don't get to just walk away from the harm you do here in Pennsylvania."

I am disappointed in Mr. Shapiro enabling this farcical "justice" that is only justice for the frac'ers. But he's moving up the political ladder and the oil and gas industry and frac'ers control our politicians with tighter and tighter reins the higher up the rich allow them to go. It's typical of politicians, no matter what the stripes or spots.

The plea — the result of years of negotiations

why the hell do authorities negotiate with law violating frac'ers? That's not upholding the rule of law, that's enabling criminals.

between Coterra and the attorney general's office — represents a milestone in one of the most prominent pollution cases ever to emerge from the U.S. drilling and fracking boom. Dimock drew national notoriety after residents were filmed lighting their tap water on fire in the Emmy Award-winning 2010 documentary "Gasland."
Coterra's corporate predecessor, Cabot Oil & Gas Corp., was charged in June 2020 with 15 criminal counts, most of them felonies, after a grand jury investigation found the company drilled faulty gas wells that leaked flammable methane into residential water supplies in Dimock and surrounding communities.

Very bad reporting here. It's not just the water wells and homes that are contaminated with explosive gas, it's the aquifer itself. True justice would be ordering Coterra to fix the aquifers they polluted, but that would cost the company real money, and scant few of our authorities or judges in North America have the courage or integrity to take on oil and gas.

The grand jury blasted what it called Cabot's "long-term indifference to the damage it caused to the environment and citizens of Susquehanna County."
Cabot, which merged with Denver-based Cimarex Energy Co. to form Coterra, has long maintained the gas in residents' water was naturally occurring.
Coterra pleaded no contest to a misdemeanor charge of prohibition against discharge of industrial wastes under the state's Clean Streams Law.
The plea means Coterra does not admit guilt but agreed to accept criminal responsibility.

Typical legal – judicial industry treachery against the public interest, to keep frac'ers frac'ing and polluting. I expect in a few years, there will be no aquifer left in North America that is not explosive and too dangerous to use in homes, businesses, and on farms. Even judges will explode in their showers and off their toilets.

"Coterra has worked closely with the Office of Attorney General to resolve historical matters and create a path forward for all parties,"

Code for: We got what we demanded, and that is to drill, frac and pollute where we were banned, and harming families and communities where ever we go!

company spokesperson George Stark said via email. He said Coterra "strives to follow best practices, exceed industry standards, and to continue to be a valuable community partner."

Note his escape hatch wording. "Strives to" means nothing. If he was sincere about the company following best practices (which are voluntary and unenforced), he would say so directly, i.e. "we follow best practices, exceed standards, adhere to the law", which no frac'er ever does. Why? Because they know they can't. To frac, means to pollute drinking water, families and communities, no matter what they promise or strive to try to do. And, exceeding industry standards is super easy because frac'ers and frac friendly regulators have drastically deregulated to allow the frac harms to increase. Every time a company pollutes groundwater and tap water, and families and farms, and breaks the law/regulations, in come the politicians and regulators smoothing the way, and removing those laws/regulations instead of enforcing them.

Many residents have avoided using their well water since the aquifer was contaminated with methane and heavy metals, using bottled water, bulk water purchased commercially, and even water drawn from creeks and artesian wells instead.
"These people had to find very creative ways to get water for their homes, water for their families, their kids, their critters, and it was not pretty," Dimock resident Victoria Switzer said Tuesday. "It was just crazy, people trying to find water."
Switzer, whose house will be connected to the new water line, called it "wonderful news" — and a long time coming.
Another resident, Scott Ely, said some of his neighbors had moved away or developed health problems as a result of Coterra's practices, while his own children, now in college, had grown up "without a safe water source."
"There's so much heartache," he said.
Residents were informed of the plea deal last week. A public utility, Pennsylvania American Water, plans to drill two wells — what it calls a "public groundwater system" — and build a treatment plant that will remove any contaminants from the water before piping it to about 20 homes in Dimock. The utility estimates that construction will take about three years, during which Coterra will be required to provide individual treatment systems and bottled water to impacted residents.
The settlement comes near the end of Shapiro's tenure as attorney general.
On Tuesday, Shapiro, a Democrat who will be sworn in as governor in January, pledged more aggressive regulatory oversight of the industry.
"We have to change our regulatory structure here in the commonwealth," Shapiro said. "We have to make sure we are setting clear rules of the road and holding industry accountable. If the regulators fail to do that, then industry is not going to be constrained and they're going to go ahead and put profits before people. And that's where the danger comes in."
Shapiro demurred on the question of whether Coterra would be permitted to resume drilling in a 9-square-mile (23-square-kilometer) area of Dimock where it has long been banned. Shpairo said he would review the matter with his new environmental secretary after taking office as governor.

While the plea deal was going on in court, DEP was unbanning Coterra to let the company drill and frac however it likes where ever it likes, in exchange for this judicial farce of admitting guilt while not admitting guilt and paying a puny fine. The contaminated aquifers will not be repaired, and will get more and more contaminated and dangerous as the company drills and fracs more and more. Expect explosions at well sites, and homes and businesses.

The criminal case has not slowed Coterra's business. It is the leading shale gas driller in the nation's No. 2 natural gas-producing state.
'Gasland' driller will pay millions for new water system in Dimock, Cabot Oil and Gas admits responsibility for contaminating drinking water wells by Susan Phillips, November 29, 2022, State Impact
Correction: The company's plea was incorrect in the initial version of this story.
It began with an explosion on New Year's Day 2009. Soon, residents of the tiny rural community of Dimock discovered dangerous levels of methane gas had seeped into their private water wells.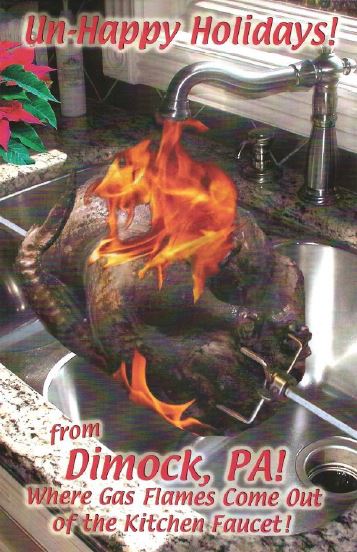 Almost 14 years later, after setting off a series of events that would make the village synonymous with anti-fracking campaigns worldwide, Cabot Oil and Gas pleaded no contest to 15 criminal charges, including nine felonies. It marks the first time Cabot took responsibility for destroying drinking water supplies.
The company agreed to pay $16.29 million to Pennsylvania American Water to build a public water system that will provide clean water to the impacted people, along with a pledge the company will cover water bills for 75 years. In the meantime, the funds will pay for individual filtration systems and bottled water.
Ray Kemble of Dimock, who continues to haul water to his house in large containers, said it's vindication for the people who suffered from lack of water and Cabot's denials of responsibility.
"For every person that has been affected by gas drilling, oil drilling, around the world, everybody is going to be looking at them now," Kemble said. "They're not going to be able to sit there and do what they did here for 14 years. Deny, deny, deny, deny. [Saying we] are liars. They're going to be held accountable."
Attorney General Josh Shapiro spoke after the hearing Tuesday at Susquehanna County Court of Common Pleas in Montrose, saying 14 years was too long for residents to wait for clean water.

I've waited just under 20 years.

"There were failures at every level," he said. "The local elected officials where someone would normally go, ignored them. The regulators whose job it is to set the boundaries for industry to operate in, failed."
Shapiro charged Houston-based Cabot Oil and Gas in June 2020 after recommendations from a grand jury found that the company "failed to acknowledge and correct conduct that polluted Pennsylvania water through stray gas migration."
The company's plea stems from violations of the state's Clean Streams law, as well as illegal industrial discharges. The grand jury report also said the company's "long-term indifference" to the damage it caused warrants penalties that rise beyond technical violations. Read the charging document here.
Shapiro and residents also pointed the finger at the Pennsylvania Department of Environmental Protection.
Victoria Switzer of Dimock reminded those present of those who chose to move out, those who passed away, and that the DEP had promised a water line back in 2012.
Victoria Switzer in her home in Dimock, 2012. Switzer and her neighbors complained to DEP, which did find Cabot Oil and Gas responsible for methane migration, but not other contaminants listed on water tests. Residents, who did not have baseline water tests, sued Cabot. Most, including Switzer, settled their cases.
"It's the people's lawyer who got it done," said Spitzer, a retired school teacher. "Our own elected officials, DEP, EPA failed us miserably."
DEP could not be reached for comment by Tuesday evening.
"Denied, Denied Denied"
The company, which is now Coterra, released a statement saying it has "worked closely with the Office of Attorney General to resolve historical matters."
"As our operations today showcase, Coterra strives to follow best practices, exceed industry standards, and to continue to be a valuable community partner," wrote spokesman George Stark in an email. "We are committed to being a responsible steward of the Commonwealth's natural resources and will continue to work closely with our landowners and community leaders."
Cabot had consistently denied responsibility for the damage despite findings by several state and federal agencies to the contrary.
"They're all going to have to sit there and eat crow because every one of them has been lying about us for a decade," Kemble said. "Saying this is fake, it's false and everything else. Well after today, me and the rest of my neighbors of Dimock, we're vindicated. Showing we've been telling the truth all these years."
As much as Kemble says it's a good day, he says he still has to haul water for several years before construction is complete. And, he would have liked to see someone do jail time.

And I highly doubt the water line will happen this time either. Coterra et al will kill it as they continue to rape out billions, causing ever more harms.

"The higher ups of these companies, they should be going to jail," Kemble said. "Every damn one of them should be going to jail. Because they knew exactly what was going on here. They knew the water pollution was happening. They knew people were dying, they knew it was toxic, and they just sat there and denied, denied, denied, denied."
The company itself, not Cabot leaders or employees, was charged. On Tuesday, Shapiro said even had they taken the company to trial and won, the maximum penalty would have been about $600,000, which he called "pocket change for such a company."
"I know people are frustrated because no CEO is led away in handcuffs," he said.
He called for a change in the law to have environmental polluters face stricter penalties. Legal experts say it's very difficult and rare to hold individuals accountable for environmental crimes.
Gas drilling in Dimock has drawn both national and international attention. Here, actor Mark Ruffalo attends a rally in the village after the DEP decided Cabot could end free water deliveries.
Amidst promises of riches, water ruined
Cabot came to Dimock Township, population roughly 1,200, around 2008 at the start of the fracking boom in Pennsylvania and amid the U.S. economic recession. It paid landowners per acre for the right to drill, with the promise of royalties on the natural gas that came out of the ground. And some residents did experience economic benefits without damage to their drinking water. But the battles with Cabot over lack of potable water for some ended up dividing a once tight-knit community.

The divisions are done intentionally by frac'ers to conquer communities and families, notably if tight-knit. Faster and more rape & pillaged profit that way.

In his comments after the court hearing, Shapiro cited Pennsylvania's Environmental Rights Amendment, which guarantees clean air and water to all residents, and had a warning for other companies.
"We will not allow communities like this to be taken advantage of, or forgotten," he said. "Your constitutional rights matter here in Pennsylvania."
Shapiro won election as governor in November and will take office in January.
Although issues with gas drilling and water contamination began surfacing soon after drilling began in 2008 in Dimock, it wasn't until the release of the 2010 HBO documentary Gasland that the town was thrust into the spotlight.
Methane is a colorless and odorless gas and, in the right concentration, can lead to explosions in an enclosed space.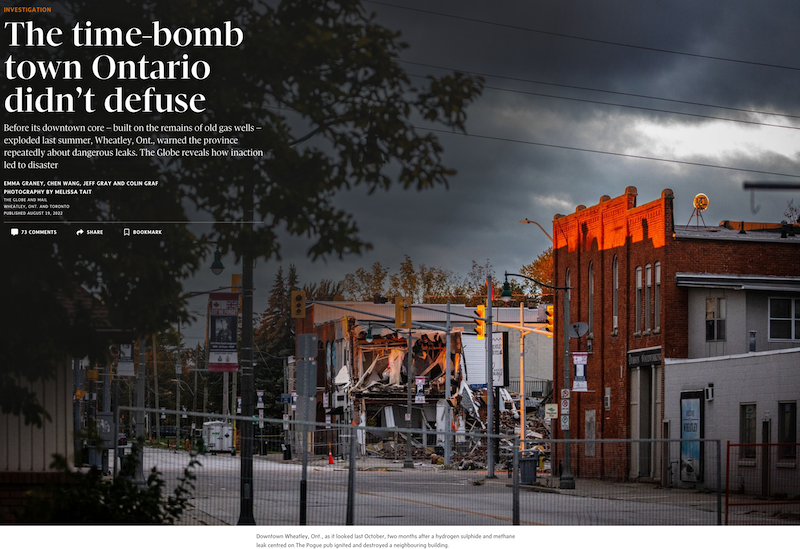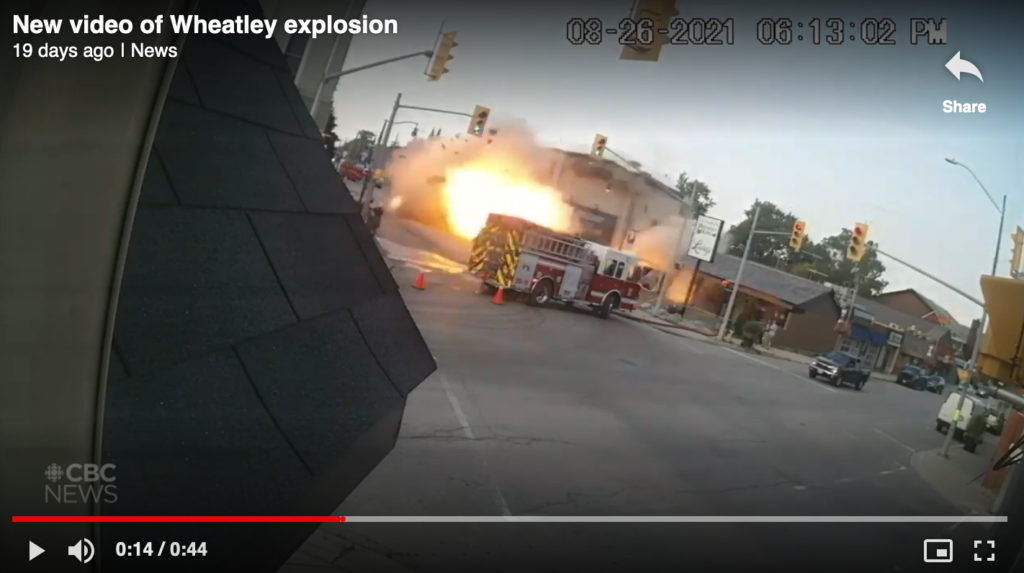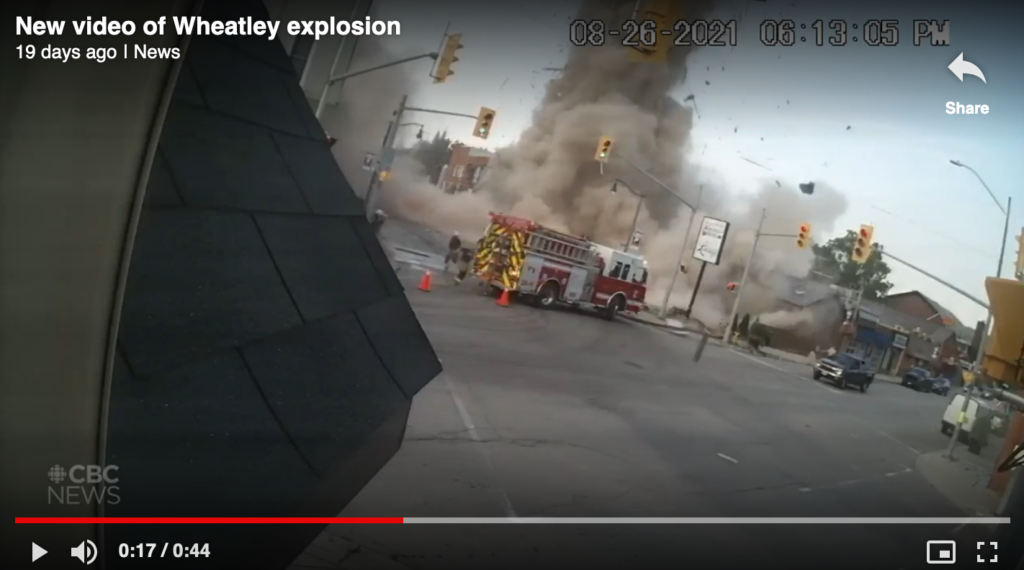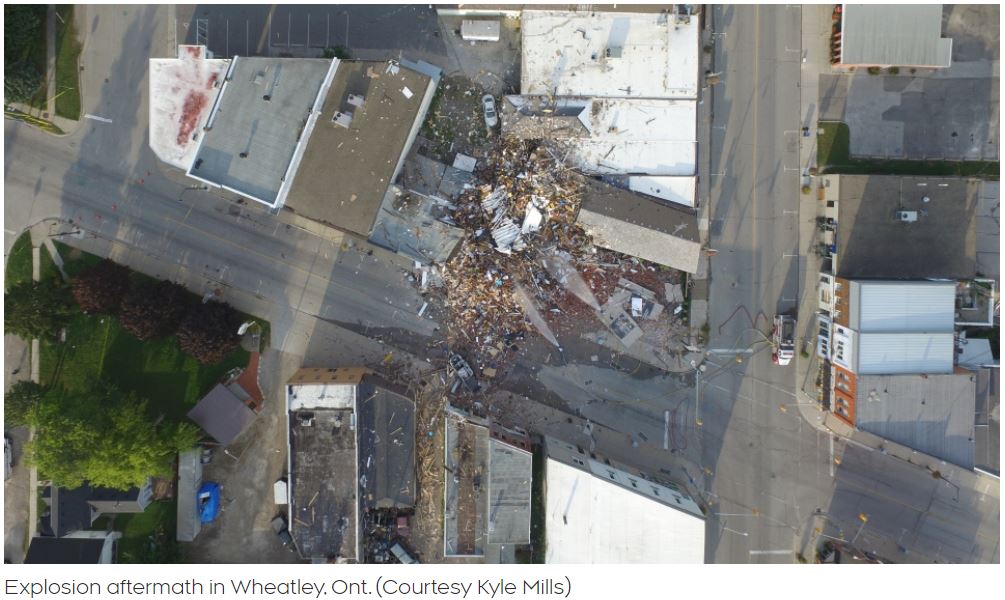 2021: Frac'ing Ontario? Wheatley (thermogenic corrosive) sour gas explosion injures 20, destroys two buildings, more, many families displaced. Still leaking, area remains at risk of more explosions like Hutchinson Kansas where two were killed in their home from industry's leaking gas migrating 7 miles. Chatham-Kent top administrator, Don Shropshire: "Our area has hundreds, if not thousands of abandoned gas wells. They stretch from Niagara Peninsula to Windsor." Also exploded from industry's gas 85 years ago. The community must be relocated. But, where?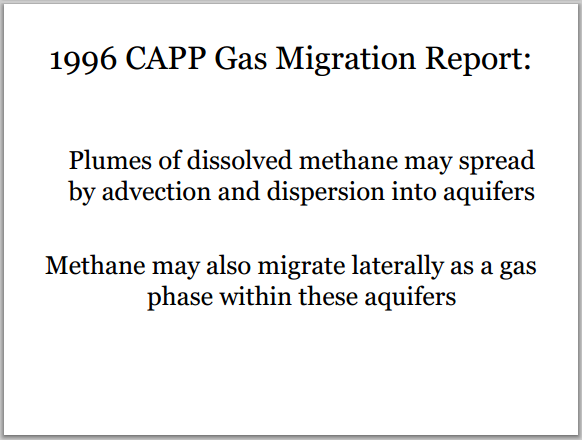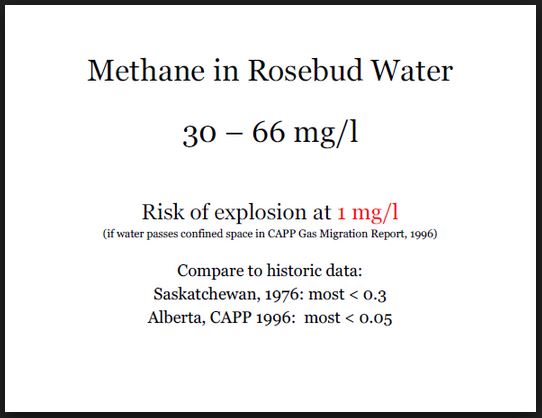 Later tests by Alberta's water regulator, after proper and adequate purging of the Signer water well showed 110 mg/l methane. The regulator fought like hell trying to keep that data secret. It was an incredible soul bashing and energy and time wasting battle for me getting those records. A common trick by frac'er and regulator testers is to intentionally inappropriately purge water wells so as to test water in the well casing which has had much of the gasses exsolve, rather than test water in the aquifer(s) that has much higher concentrations.

Natural gas production in deep formations like the Marcellus Shale requires drilling miles below the surface, and includes angling the wellbore from vertical to horizontal to reach previously unreachable gas deposits. The "fracking" aspect of production includes shooting water and chemicals at high pressure into the wellbore to pry open tiny cracks and release the gas. Poor well construction has been blamed for leaks of Marcellus Shale gas into the porous subsurface geology of Pennsylvania.
In the case of Dimock, investigations revealed poor well construction.
Levels of methane were so high in some instances that residents could light their tap water on fire. They complained of headaches and rashes after they showered. They described their water looking like Alka Seltzer, or muddy.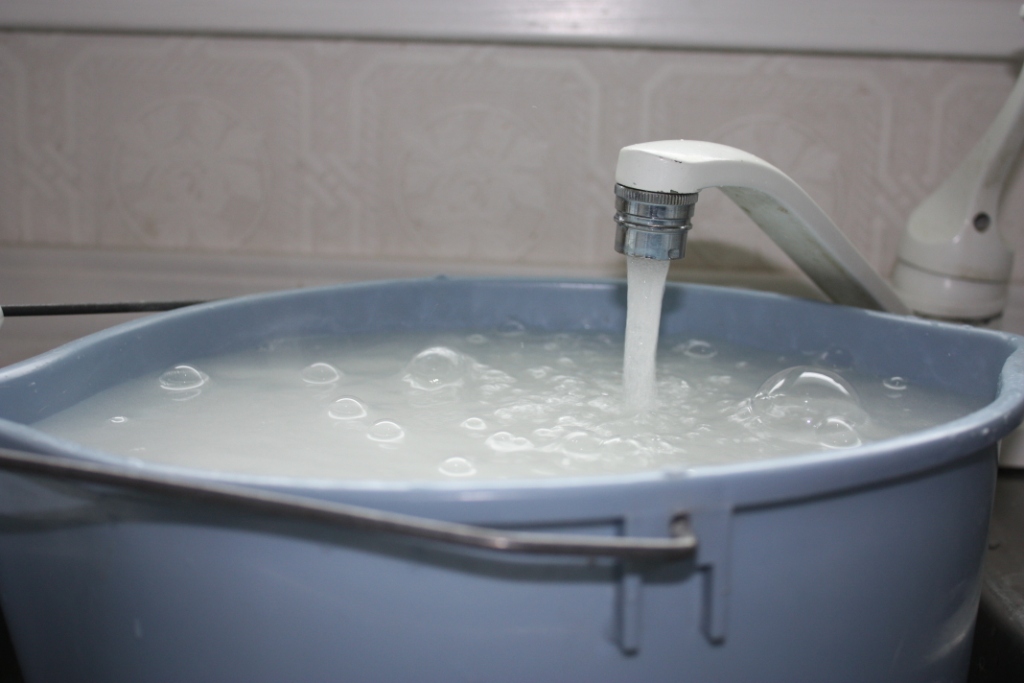 My water after Encana/Ovintiv intentionally illegally repeatedly frac'd the aquifers in my community. It looked like a witch's brew, complete with thick white smoke coming off it. It caused incredibly painful rashes and caustic burns to skin and eyes.

Methane migrated into Dimock resident Norma Fiorentino's water supply, causing her shed to explode. Cabot Oil and Gas eventually pleaded no contest to charges related to gas migrating from its wells into the water supplies around Dimock.
Lesson #1: Do your homework
Environmental attorney Rich Raiders, who is also a petroleum engineer who at one time represented residents of Dimock, as well as those impacted by natural gas pipeline construction, said industry workers from Texas and Oklahoma came to Pennsylvania without any knowledge of the state's unique geology and didn't bother to find out.
"If there's a lesson here to the operators," Raiders said, "it's that you haven't done enough homework. You haven't done it on the drilling side or the pipeline side. The industry's best practices were far from adequate."
Raiders said the sad part about Dimock is the length of time residents had to put up with a lack of water.
"Geology in Pennsylvania is swiss cheese that's been out too long and has cracks all through it," he said. "What happens is a lot of this industry is run by finance people who want their money back. They didn't take the time to slow down and make sure they were doing it right."

Frac'ing can't be done right anywhere except perhaps in a lab and an investor's imagination.

Cabot's actions led to multiple consent decrees, federal lawsuits, intervention by the EPA and the CDC's Agency for Toxic Substances and Disease Control. It spurred division within the community over the company's role. It also drew protests and support from celebrities like Yoko Ono and Mark Ruffalo.
Although the Pennsylvania Department of Environmental Protection has issued more than 130 violations and found that Cabot's well construction was at fault, the company had continued to deny responsibility, including after the charges were filed.
The company claimed the methane had already existed in residential water wells despite findings that gas was leaking from drilling into the well water.
Shapiro said the company deliberately did not test for methane in residential water wells prior to drilling.
"Cabot's failure to test its pre-drill water samples for methane eliminated the ability to establish a baseline for promptly assessing and addressing the problem of stray gas migration," Shapiro said when announcing the charges in 2020. "In essence, they didn't test their samples so that there would be no proof that they were contaminating nearby water supplies."
Northeast Pennsylvania is known for methane deposits that are close to the surface and can bubble up into waterways.
But tests done on the contaminated water wells in Dimock clearly show the contamination is from methane that migrated deep within the earth's surface. Analysis done by DEP, EPA as well as the Agency for Toxic Substances and Disease Control show evidence that Cabot's drilling contaminated Dimock's well water.
Filmmaker Josh Fox helps deliver fresh water to Dimock residents. Fox's documentary Gasland put the town's water problems in the national spotlight.
Lawsuits, settlements, filters but no clean water
Fifteen families filed a federal lawsuit against the company in 2009, but the settlements did not address the lack of a permanent water supply. And while the majority of the families settled out of court and signed gag orders forbidding them from speaking ill of Cabot, in 2016 a federal jury found Cabot negligent for polluting two families' water wells and awarded them a total of $4.24 million.

A year later, U.S. Magistrate Judge Martin Carlson of the Middle District of Pennsylvania vacated the award, saying it bore little or no relationship to the evidence presented at trial.

Just another frac-friendly judge.

The families then settled with Cabot.
In 2010, a consent decree with the company forced them to provide water filters and banned the company from drilling in a nine-square-mile area of Dimock. The ban remains in place.

Nope, it's gone. Coterra's reward for breaking the law and harming so many.

Cabot's drilling continued to pollute water supplies in the area, however, and a 2018 letter to the company from DEP details how it failed to comply with its orders to remediate problem wells.
Shapiro said several residents testified about water contamination to the grand jury.
"Flames came flying out of the jug, he testified," Shapiro said when announcing the charges in 2020. "The resident then turned on the kitchen faucet and found that he was able to set that water on fire as well."
When the person contacted Cabot, he was told to flee in case his house exploded.
Shapiro said the entire ordeal won't be over until people "can put a glass up to their taps and drink it."
Ray Kemble said he's tired of hauling water, and looks forward to the day that will end.

ME TOO!

"I've always said there's two sets of laws in this state. One for industry, no law for us," he said. "Well, today the law is for all of us. The world is going to know what happened here and I'm more proud of that than anything else."
Correction: A previous version of this story misquoted Attorney General Josh Shapiro. He said "We will not let communities be taken advantage or or forgotten."

Refer also to:
2023: More than two decades after Encana/Ovintiv's illegal frac's into my community's drinking water aquifers, I'm still living without safe water. The Rosebud Hamlet received safe alternate water pipeline from many miles away. I live a few hundred metres outside the hamlet and did not get safe water (I could contract in pipelined water in myself, but that would cost tens of thousands of dollars); humans in power always punish those that stand up for community, truth and doing what's right):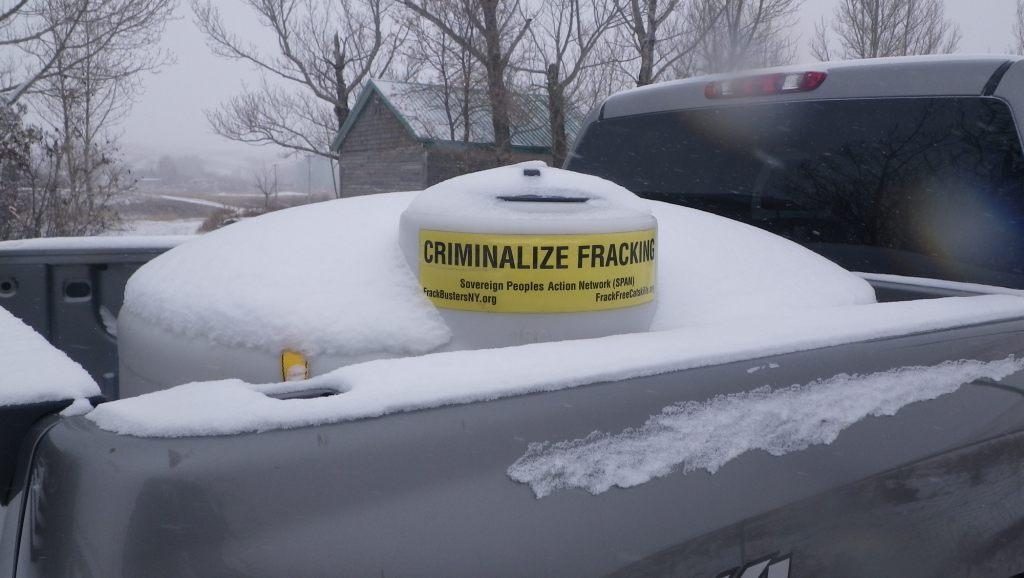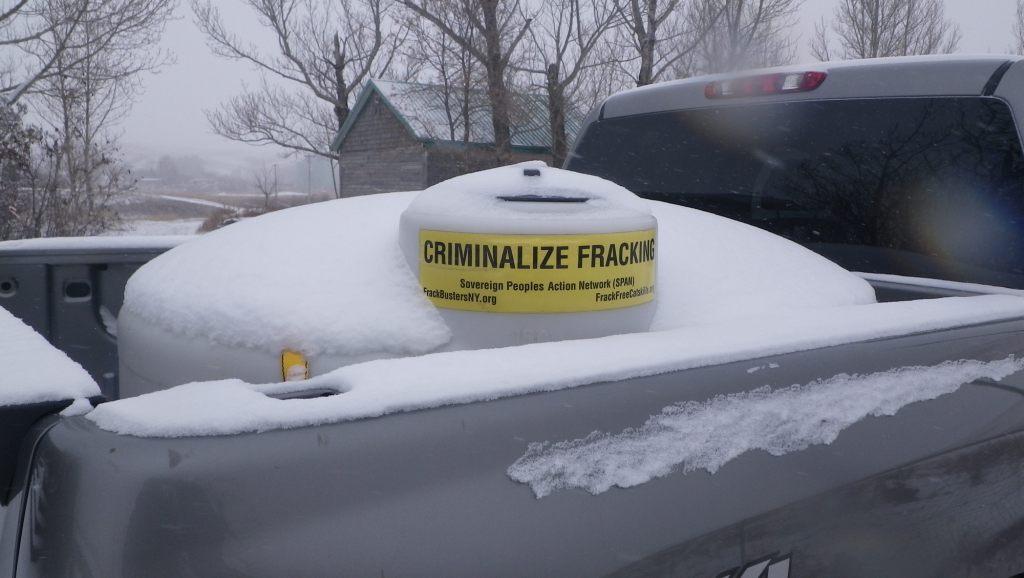 I am worn out frac'd senior, living alone. Hauling water is annoying, exhausting, expensive and nearly impossible to do in Alberta winters.
2023 03 22: Greens Take Lead to Stop NDAs from Silencing Victims, Confidentiality agreements prevent survivors from talking about abuse, even to therapists
ingamarie: They should be against the law, and cancelled retroactively….they also impact a lot of rural people who had to sign non disclosures in order to get any recompense for damage done to land by oil and gas…..they are excellent ways of silencing potential whistle blowers and making sure that the public doesn't know what's actually going on in the back country, and their water and food sheds.
Going forward, polluters must not only pay, they must be prevented from using the law to cover their tracks.
… "Really the use of NDAs in this way is causing harm."
Khor said non-disclosure agreements were originally used by employers to protect trade secrets and intellectual property. But over her decades of legal work, she says they've become used to stop employees from talking about "almost anything," especially situations involving whistleblowing or sexual harassment. …
Today, the tide is turning against NDAs. Multiple U.S. states have passed or are considering laws limiting the use of such agreements. Ireland is set to pass its own. Prince Edward Island became the first Canadian province to pass a bill such a bill in 2021. It came into force last year.
Part of that change was sparked by the Can't Buy My Silence campaign, a grassroots movement begun in September 2021 by emerita law professor Julie Macfarlane and Zelda Perkins, a former assistant to Harvey Weinstein. But Macfarlane says even she was shocked by how fast change has come. …
The bill introduced by Green leader Sonia Furstenau — which Macfarlane calls the "model" for Canadian provinces — would make it illegal to sign an NDA relating to sexual harassment or discrimination unless it is the express wish of the person harmed.
And if an NDA is signed, it says the agreement must be for a set and limited duration, and must have options for the harmed person to waive their own confidentiality.
It also explicitly states there must be exceptions to any confidentiality clause that allows a person to speak to a therapist, an Elder and specified friends and family, among others. …
Dalya Israel, the executive director of the Wavaw Rape Crisis Centre in Vancouver, says the organization has noticed an uptick in survivors who are limited in what they can discuss because of NDAs.
"We have a couple of survivors that access the crisis line a lot, because they are so unsure about how they can talk about their assault," Israel said.
She believes such agreements are detrimental not just for survivors, but also for perpetrators and organizations, since they conceal wrongdoing instead of creating an opportunity for accountability.
"They create fear around people choosing to report or seek accountability and create that larger freeze around the desire to seek out and engage people in talking about what's happened to them," Israel said.
MacRae has bittersweet feelings about the bill being introduced in B.C. On one hand, it's something she and her mother have wanted for years. On the other, the law would only apply to new agreements and wouldn't affect her own NDA or those already signed by other survivors. MacRae said she has written to lawmakers for years seeking change, and has long felt ignored. …
Nov 29, 2022 Cabot Oil & Gas on Criminal Docket. Public invited to Montrose PA main courtroom to hear AG read off each of 15 criminal charges against the frac'er for polluting waters of Dimock and hear Cabot's guilty plea. Families have endured polluted water for 14 years. No such justice for Canadians suffering illegal acts by Encana/Ovintiv
2022: New Film: Blowout: Dimock, Pennsylvania. Who's Next? Already f*cked in Canada: Wheatley, Norfolk, Indian Hills, Leamington and more in Ontario; Rosebud, Redland, Wetaskiwin, Ponoka, Calgary, Spirit River, Red Deer, Medicine Hat, Fox Creek, Calmar, Lloydminster and more in Alberta; Hudson's Hope, Farmington, Rose Prairie and more in British Columbia; Quebec; Saskatchewan; Nova Scotia; etc. etc. etc.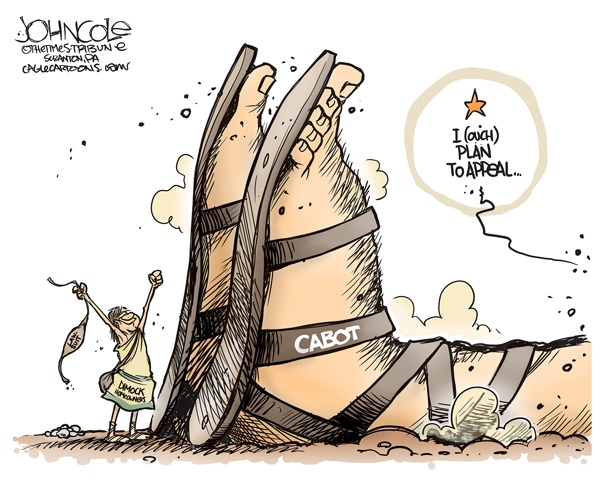 Pennsylvania Frac Lawsuit Latkanich v Chevron et. al., family contaminated with high levels benzene and toluene, PFAS "forever chemicals" and more. Brian Laktanich: "They gotta stop poisoning people"
***
Some of Dimock's Cabot (Coterra) History:
2021 11 11: Legal Shit Show on Crack Continues: Cabot Oil v. Ray Kemble. 2008: Cabot contaminated Dimock drinking water. 2020: PA AG filed 15 criminal charges, including 9 felonies, against Cabot. 2021: Cabot becomes Coterra Energy. Changing names hides crimes (like Encana to Ovintiv).
2021 11 10: Accused lawyers claim court bias by Reggie Sheffield, Nov 10, 2021, Susquehanna County Independent
Creepy: Judge Legg accused of bias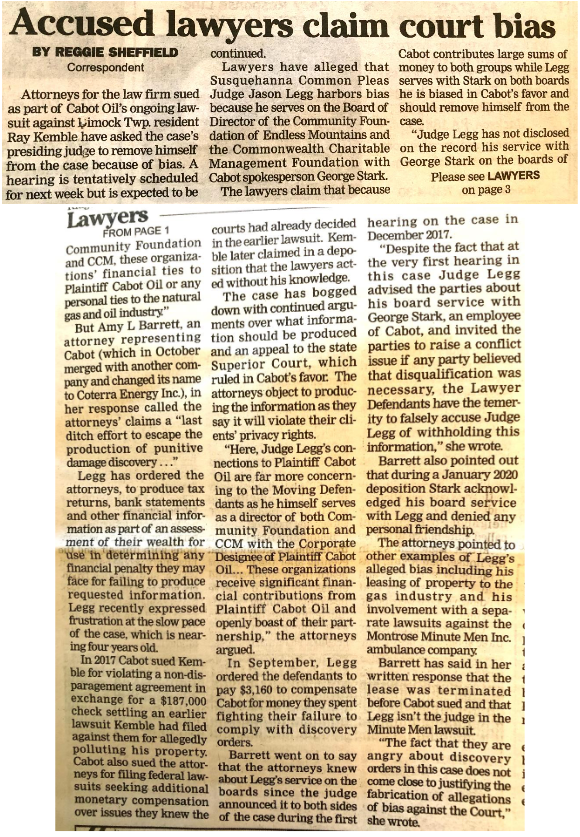 2020 06 15: Pennsylvania AG Shapiro files 15 criminal charges, including 9 felonies, against Cabot for failing to fix gas wells that leaked methane over 9 square miles into 18 Dimock residential water supplies. "The Grand Jury presentments prove that Cabot took shortcuts that broke the law, and damaged our environment — harming our water supply and public health,"
2020 03 19: They frac you, then abuse you and abuse you and abuse you. Cabot Oil & Gas Corp. pulls out of talks in $5M lawsuit against frac-harmed Ray Kemble in what appears to be a nasty SLAPP
2018 01 11: Outrageous frac company Cabot Oil & Gas Suing Victim of Its Own Pollution for Speaking Out, Pennsylvania resident Ray Kemble sued by the company that polluted his water
2017 09 02: Dimock Pennsylvania: In 'Gasland' community, Cabot Oil & Gas continues to refuse to fix the aquifer the company contaminated with dangerous levels of methane but buys out contaminated homes, demolishing them, while blaming nature.
2013 11 24: Cabot buys second methane polluted residential property in Dimock 12-acre parcel on Carter Road flanked by faulty gas wells
2013 09 07: Cabot Oil Demolishes Sautners past home in Dimock, PA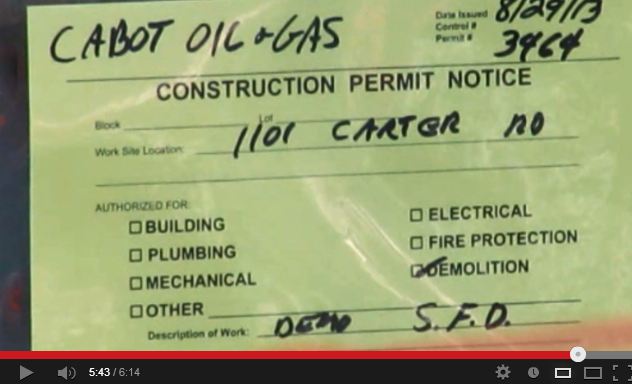 2013 02 13: DEP opens investigation of methane in Dimock water well, Cabot providing safe water
2012 08 16: Dimock residents, Cabot settle, Residents had alleged that their drinking water was contaminated by gas driller
2012 01 09: DEP: Cabot drilling caused methane in Lenox water wells
2011 05 17: DEP cites persistent flaws in Cabot wells and keeps drilling on hold in parts of Dimock
2010 11 18: Dimock residents see "dirty tricks" in Cabot document
2010 04 04: DEP Takes Aggressive Action Against Cabot Oil & Gas Corp to Enforce Environmental Laws Protect Public in Susquehanna County; Suspends Review of Cabot's New Drilling Permit Applications Orders Company to Plug Wells Install Residential Water Systems Pay $240,000 in Fines
2009 11 24: Poisoning Dimock, Lawsuit Challenges Cabot Oil's Drilling Practices
… The series of infractions on the part of Cabot Oil and Gas, a Houston based energy company that has large holdings in Dimock, resulted in a $120,000 fine from Pennsylvania's Department of Environmental Protection (DEP) earlier this month. But the cost to residents has been far greater.
On Friday of last week 15 families in Dimock announced that they were suing Cabot for poisoning their water and the likelihood that exposure to toxic chemicals has led to personal injury, including neurological and gastro-intestinal complications. Among the plaintiffs is a Cabot employee and Dimock resident who has knowledge of company practices and violations that have not yet been reported. According to Leslie Lewis, an attorney with one of the firms representing the families,the charges against Cabot are far reaching and reveal a profound degree of negligence and fraudulent conduct. "To me they just seem like a rogue operation," she says. "Anything goes." …
End Dimock's Cabot (Coterra) Frac History
***
Lawsuit settles industry's 2016 methane leak contaminating citizen water wells and Mahomet Aquifer, Illinois' largest freshwater source. Judge's order requires four relief wells to try to remove the gas. In Alberta, AER still has not ordered Encana/Ovintiv to fix the company's illegal fracs into Rosebud's drinking water aquifers 20 years ago.
2021: And, the winner is … drum roll … Chesapeake (and the new ombudsperson). Attorney General Josh Shapiro settles with shyster frac company for $5.3 Million for royalty restitution for PA landowners. Who pays for the $7 Billion in magic money given to Chesapeake by the bankruptcy judge?
2021: It's a frac-crime enabling racket: Pennsylvania Supreme Court gives gas industry big victory, Rules in favour of frac royalty cheaters (Anadarko, Chesapeake), Kills Attorney General's anti-trust lawsuit. Jackie Root: "It just seems like ruling after ruling is coming down in favor of the oil and gas companies, handing them all the cards and all the money."
2021: Frac'd to Hell NEBC, Rose Prairie: Explosive gas levels in *water* well kill $1.3 Million "potable" water station day before it was to open to the public. Taking bets: Will nature be blamed or frac'ers?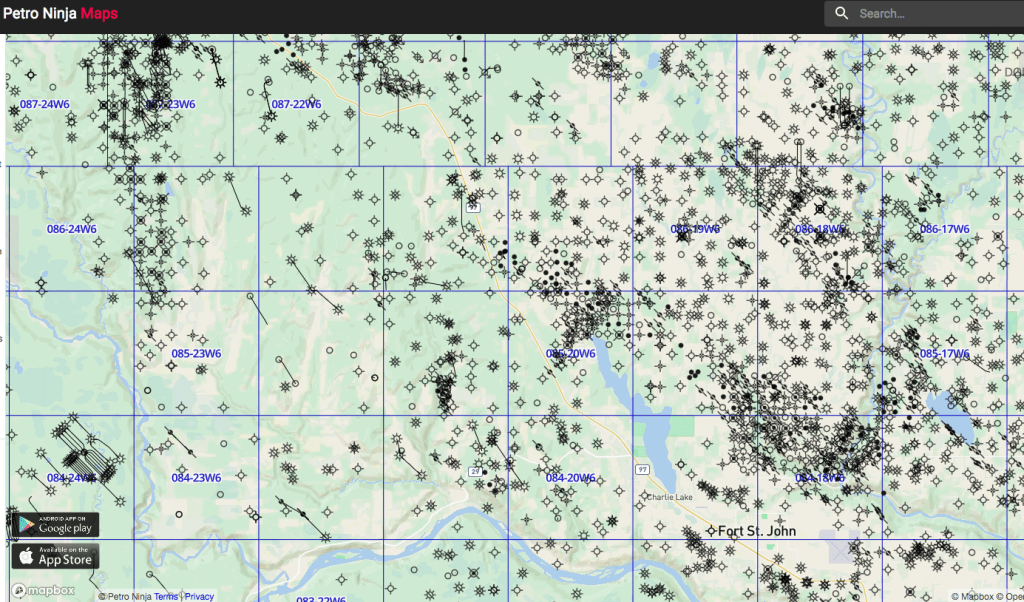 2017: New Study by Hildenbrand et al: Harmful bacteria thrive in water contaminated near drilling. And New Book: Advances in Chemical Pollution, Environmental Management and Protection: Environmental Issues Concerning Hydraulic Fracturing
2017: MUST WATCH! Excellent 5 Min News Clip. Texas: Scientists link fracking to methane contamination and explosion of Cody Murray's water well
2017: Cody Murray & family still waiting on Texas energy regulator after their methane contaminated water well exploded in 2014, injuring Cody, his daughter and others. Murrays expect to be in trial by October 2017, three years after the explosion. Compare to Ernst lawsuit in it's 10th year, nowhere near discovery yet, never mind trial
2016: New Texas study: UTA research demonstrates groundwater quality changes alongside increasing unconventional oil & gas development: "They discovered the presence of chlorinated solvents, alcohols and aromatic compounds exclusively after multiple unconventional oil wells had been activated within five kilometers of the sampling sites."
2016: NE BC, near Dawson Creek: Explosion at Encana fracking water facility injures worker. "We don't know the hydrological and geological implications of drawing the saline aquifer down. We may be creating a different kind of problem."
2016: Texas landowners poisoned by "Home Wrecker" Encana get "the law's garbage can." Encana gets easy escape, agrees to pay $17,500 for well blowout in Eagle Ford Shale that's poisoned many
2016: US EPA Releases Final Frac Report: Rosebud Alberta drinking water aquifers frac'd(by Encana), water wells contaminated with gas.
2016: Andrew Nikiforuk wins USA National Science in Society Award for Slick Water. "NASW's Science in Society Journalism Awards honor and encourage outstanding investigative and interpretive reporting about the sciences and their impact for good and ill."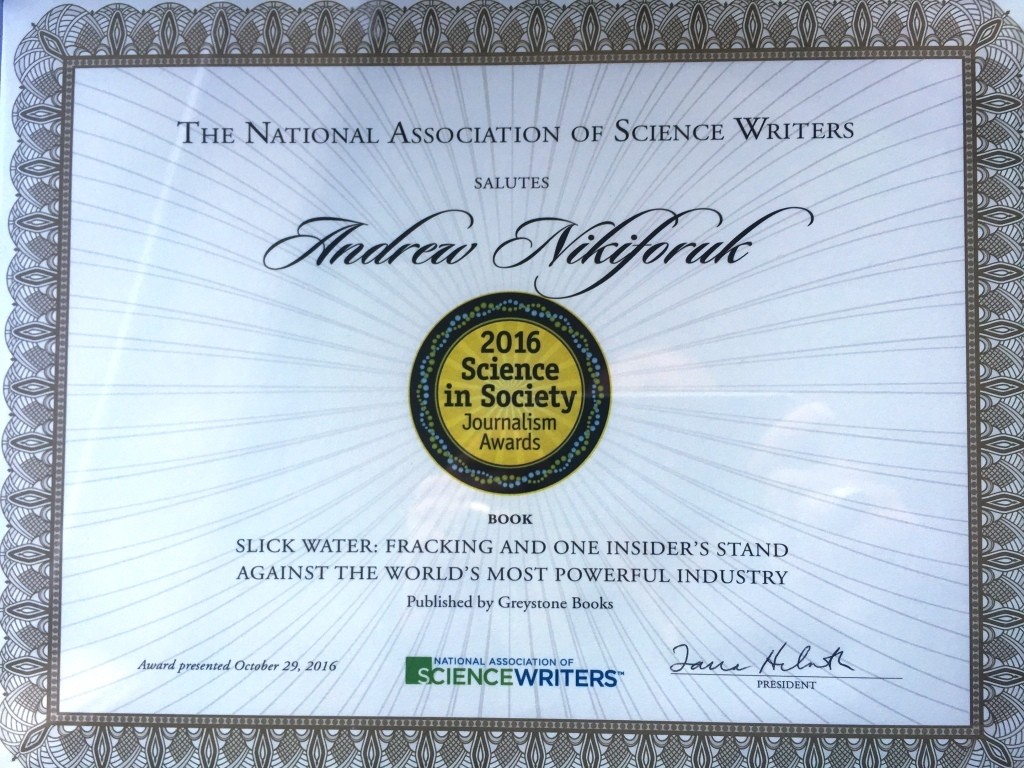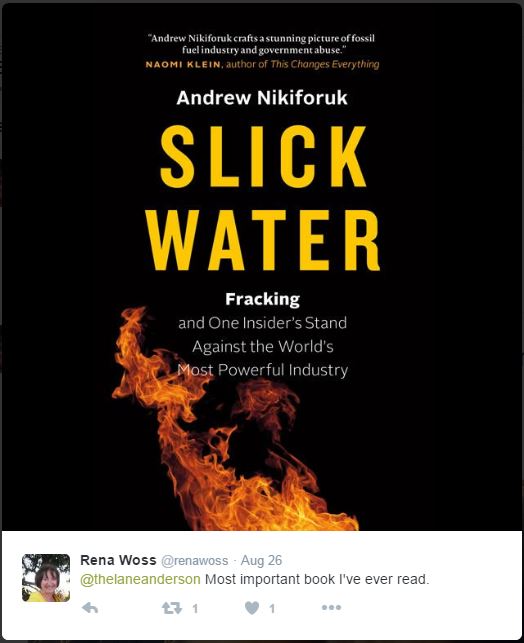 2015: Texas: Hydraulic Fracturing Stimulation contaminating drinking water, 25 per cent of water wells tested by Dr. Zack Hildenbrand show contamination with man-made chemicals used in fracking the Eagle Ford: "This practice is having an affect"
2015: Another frac lawsuit: Cody Murray from Texas left permanently disabled from burns after fracking causes water well to explode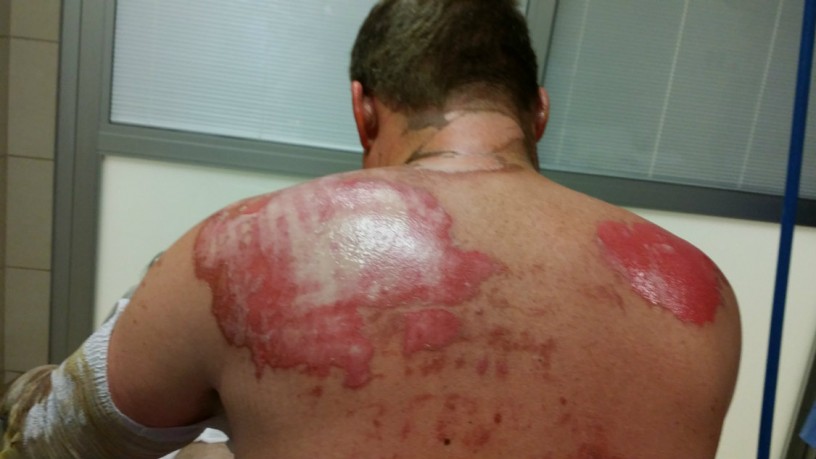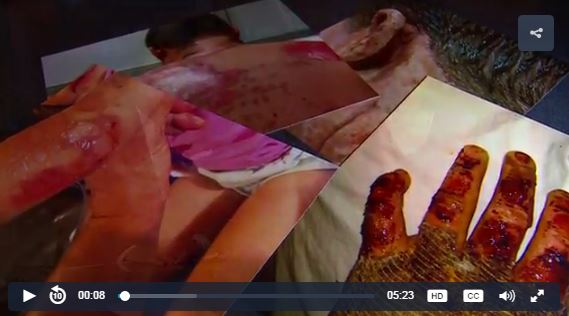 2013 09: AER's outside counsel, Glenn Solomon is recorded giving legal advice to another frac harmed family in Alberta. He details how the oil and gas industry gets to contaminate aquifers again "down the street" by gagging its victims: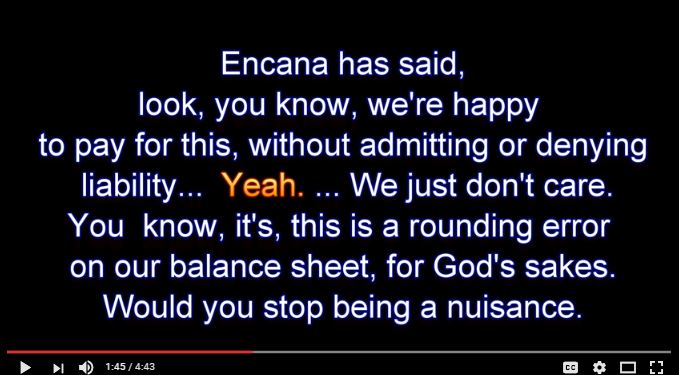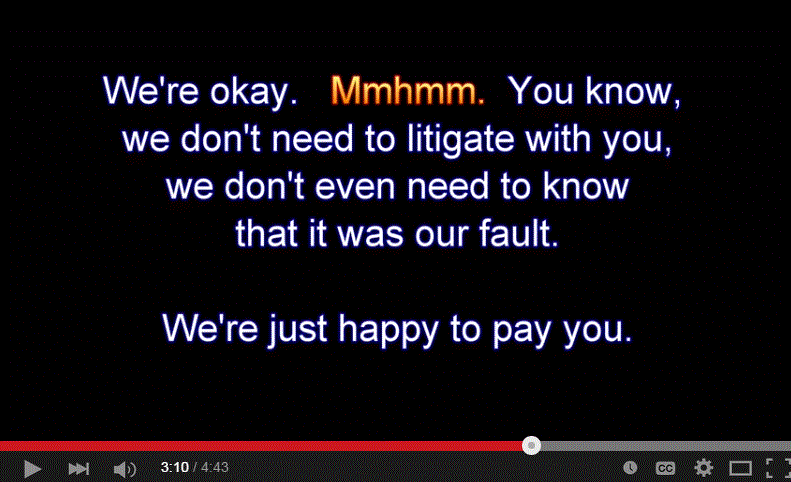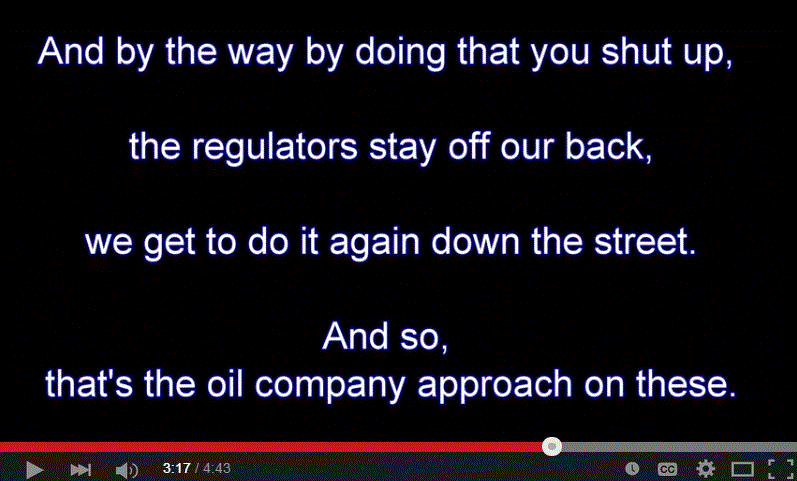 2013: Shortly after Ernst publicly released her paper below, AER slammed the door shut on frac-harmed ranchers Ronalie and Shawn Campbell near Ponoka, Alberta after "investigating" their contaminated life-threatening drinking water for years and endless reports.
This was their drinking water on one of the testing days, contaminated with sour gas, and methane, ethane, propane, butante, pentane, with istopic fingerprints matching Encana/Ovintiv's: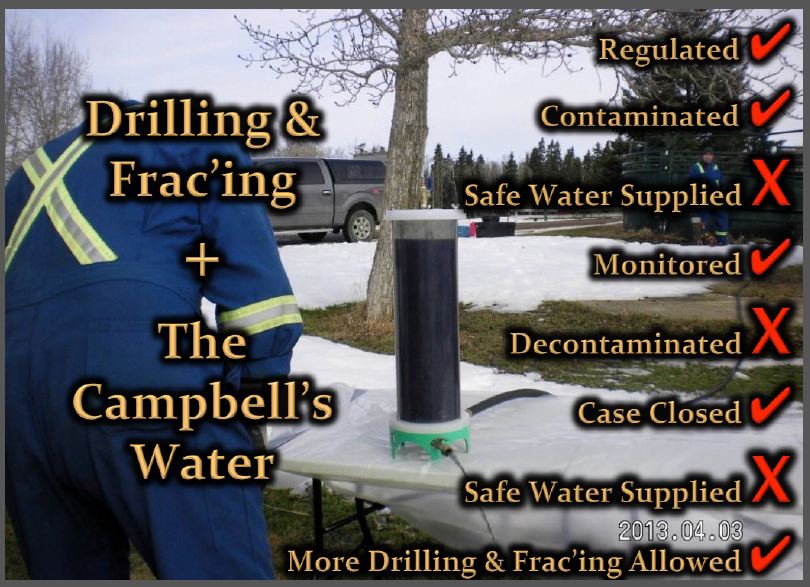 2013: The Science Is Deafening, Industry's Gas Migration: Brief Review of Threats to Canada's Groundwater from the Oil and Gas Industry's Methane Migration and Hydraulic Fracturing A Public Interest Project by Ernst Environmental Services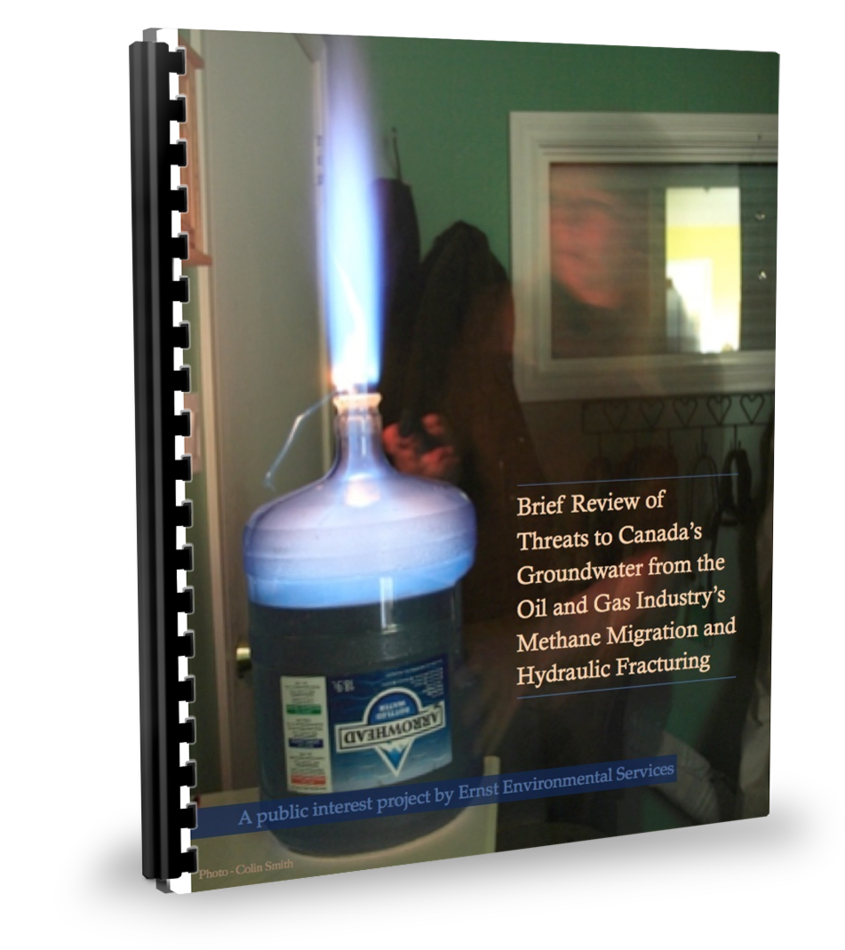 2013: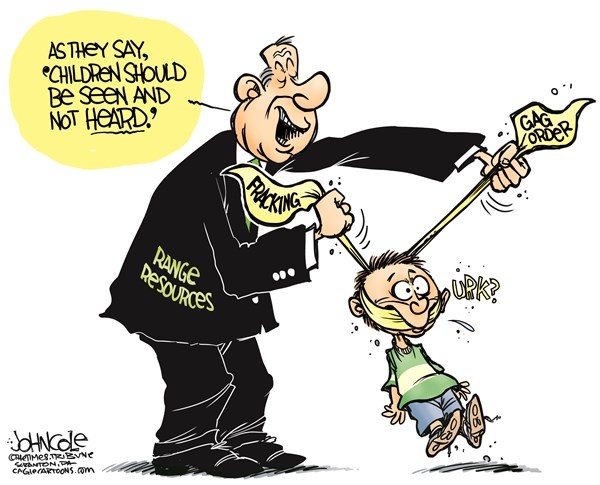 2012: Hydraulic fracturing with gelled propane by Gasfrac/Crew Energy Inc./Caltex Energy Inc. contaminated groundwater near Grande Prairie: ERCB Investigative Report and groundwater monitoring by Alberta Environment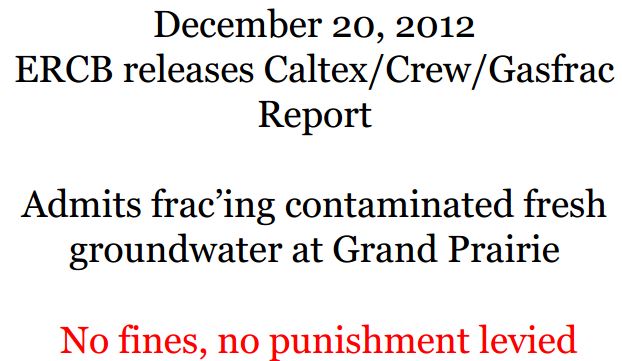 2012: But, the "gift" came with permanent evil scaring: Cenovus, previously Encana, donates $250,000 to the Drumheller Library (near Rosebud) in exchange for naming rights on the Children's Corner, Youth Area and Community Programs Room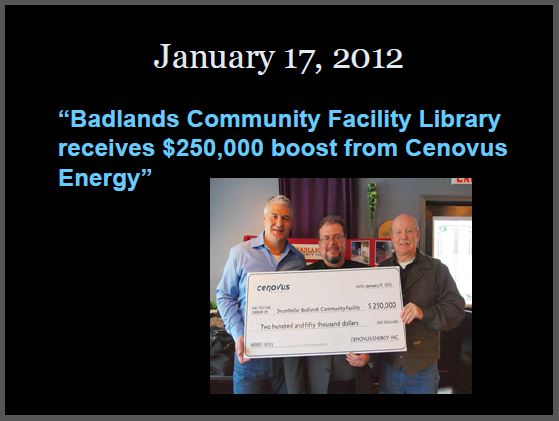 2011: Fracking Contamination 'Will Get Worse': Alberta Expert Dr. Karlis Muehlenbachs
2010: Shortly after buying Rosebud's silence, greedy law violating Encana/Ovintiv killed their promised money, blaming the economy while continuing to make records profits.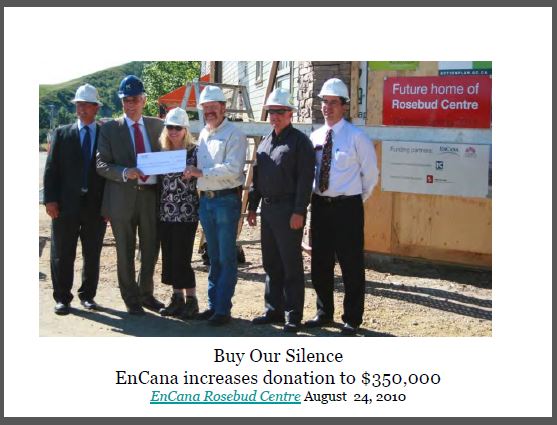 2006: My water after Encana/Ovintiv illegally repeatedly frac'd my community's drinking water aquifers: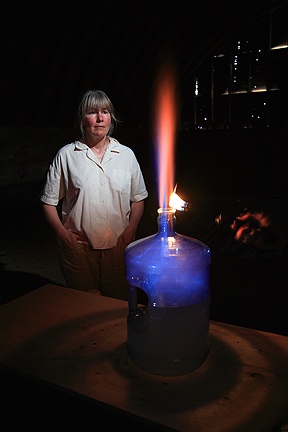 Photo by Colin Smith
2006: Just another frac lie: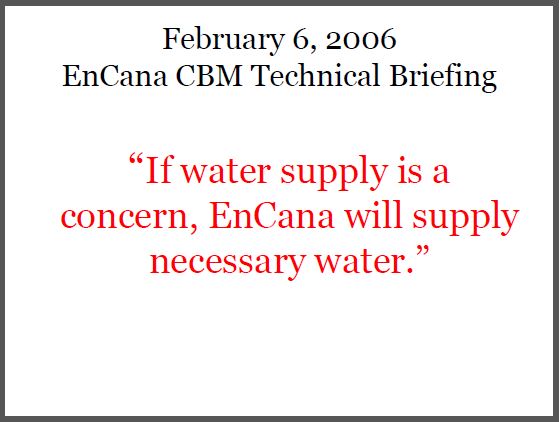 2006: Bruce Jack Private water well explosion at Spirit River, Alberta
Bruce Jack's water after installing Alberta's water regulator's advised "treatment" system to make his contaminated water safe: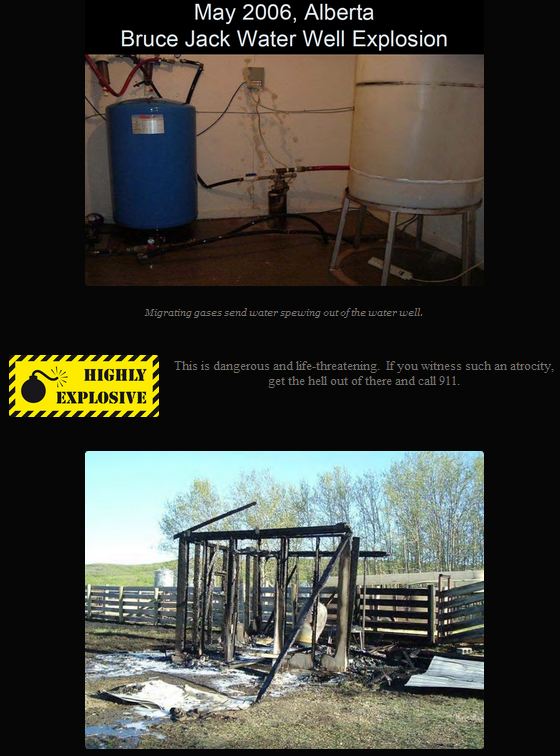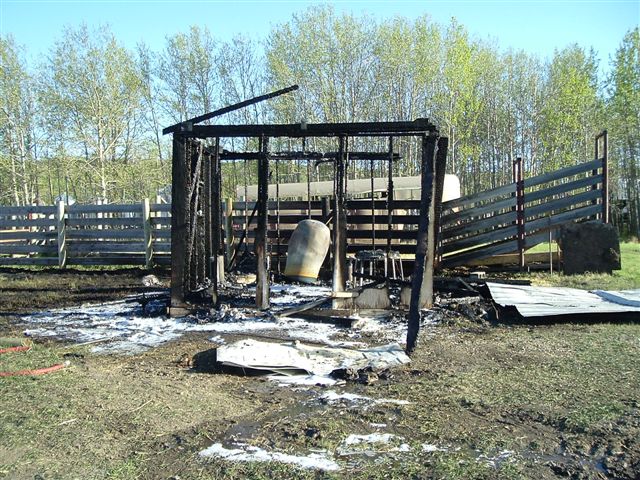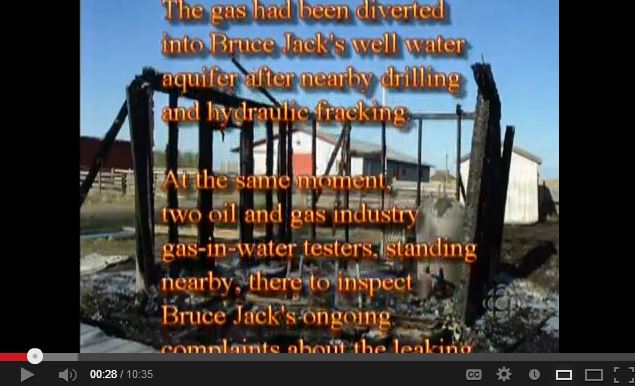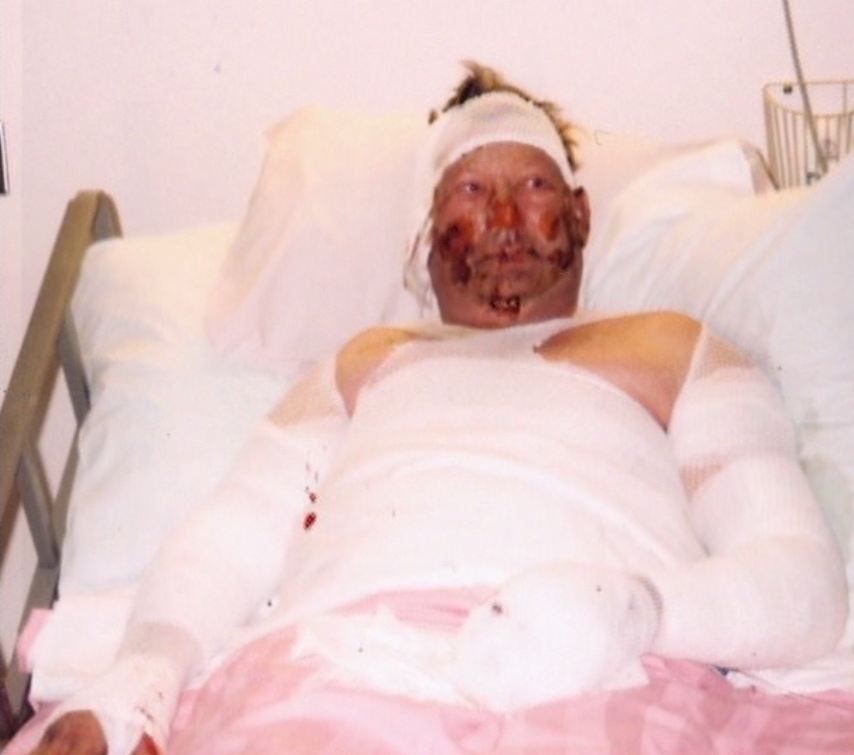 This is the risk of the water "treatment" Judge Legg ordered Coterra to use against the harmed in Dimock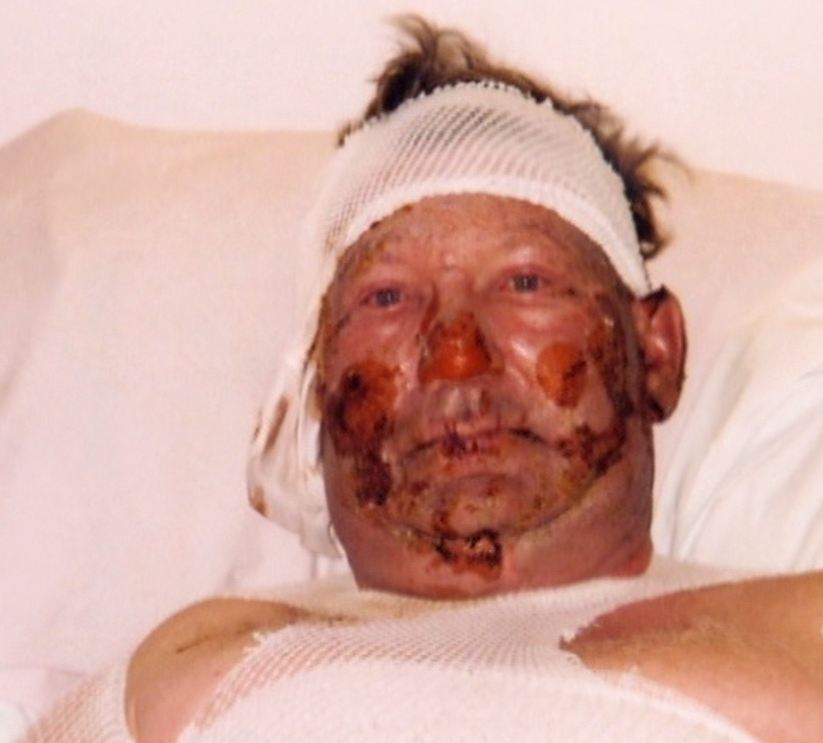 2005 01 27: Investigators say an accumulation of gases appears to have caused the explosion that destroyed the Rosebud water tower and sent a Wheatland County employee to hospital
2004: Encana illegally frac's directly into Rosebud's drinking water aquifers, in secret.
2001: Encana/Ovintiv starts risky super shallow gas frac'ing at Rosebud, Alberta.

I bought my home and land at Rosebud to live out the rest of my days in quiet, privacy, and beauty.
I got frac'd three years after I bought the place and have lived in invasive frac hell ever since with:
endless hoards of angry cowardly Alberta men "dropping" in trying to bully me silent after Encana/Ovintiv violated my privacy rights doxxing my home location on a detailed map, with my name printed in full and handing out hundreds of copies at public meetings put on by the company;
hauling alternate water and maintaining the tanks (physically gruelling for one senior to do);
rows upon rows of noisy law-violating compressors that continue to violate my legal right to quiet enjoyment of my home and land;
lying betraying judges and lawyers pissing on the rule of law, drinking water, the public interest, and me and my case, notably my quitting backstabbing lying lawyers Cory Wanless and Murray Klippenstein;
vanishing song birds and escalating weed problems (frac'ers not only comtaminate drinking water, they do not mitigate the weed problems on their leases and miles of access roads, dramatically increasing my work load to mitigate weeds on my land;
polluted night sky from the endless compressors and associated facilities;
helping other communites because frac'ers and their enabling "regulators" and politicians lie to enable the frac invasions and incessant harms;
etc. etc. etc.
It does not matter where they frac, the lies and harms never change.