[Refer first to:
Will an honest and integral investigation be conducted by the RCMP given their murky past with Encana, energy regulators and government?
1999: RCMP bombed [in cahoots with Encana, an AEC (Encana predecessor)] oil site in 'dirty tricks' campaign
2009 02 12: The Intimidation of Ernst: Members of Harper Government's Anti-terrorist Squad (made up of RCMP officers) Intimidate and Harass Ernst after her Legal Papers were Served on Encana, the EUB (now AER) and Alberta Environment
2014 09 16: RCMP ignore "volley of gunfire" to concerned citizen's home but warn government and industry: "Environmental extremists pose 'clear and present criminal threat' to Canada's energy sector – more likely to strike at critical infrastructure than religiously inspired terrorists." Canadian and Australian oil and gas lobby groups warn: Industry operations "impact aquifers" and "contaminate water resources" as pre-determined "bullshit" investigations, cover-ups and court rulings fix everything. No word if "religiously inspired terrorists" plan to retire because of the intense competition
2015 03 25: Did Harper and the oil and gas industry order RCMP/CSIS/Snipers to attack innocent mothers and grandmothers, and set aflame stripped police cars in New Brunswick to discredit all Canadians concerned about frac harms and lay a red carpet for Harper's Bill C-51?
2015 08 07: How rampant is child abuse by RCMP officers? "Worst case of abuse police have seen." Canada's environmental activists seen as 'threat to national security', Police, security agencies describe green groups' protests, petitions as 'forms of attack'
2015 10 24: Will Canadian cops become next victims of industry's water contamination and fraud? A dangerous new police "best practice?" RCMP members "drink the water" while "trying to understand the shale gas industry" and "educate" themselves. No word on if RCMP plan to try to understand, or investigate, the dangerous and rampant fraud associated with oil and gas industry's widespread frac contamination, or the number to call if families need RCMP "water taster" to come taste their water after it's been frac'd, as companies, regulators, and research councils try to cover it up, while lying to the public (including the police) that now toxic and explosive water is "common, normal, and safe"
2015 12 27: RCMP pushes for new law to get Canadians' private information without a warrant. Who's pushing the RCMP? ]
Explosion at B.C. Encana fracking water facility injures worker, 'No environmental damage and no risk to the public' by Betsy Trumpener, September 12, 2016, CBC News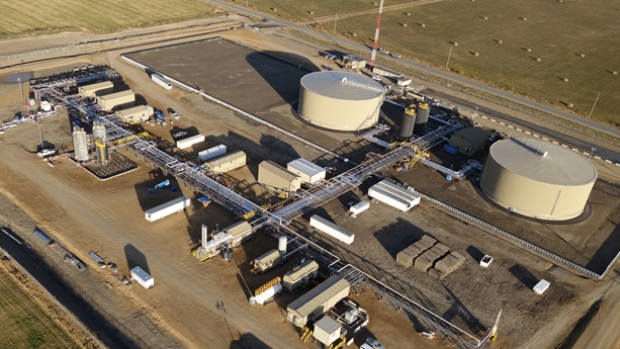 Officials confirm one worker was injured after an explosion at this Encana facility in northern B.C., which produces water for hydraulic fracturing. (Contributed/Encana )
External Links Encana's Water Resource Hub
[Is the water feeding this hub sour and "deadly" as Mark Taylor described the Debolt water s that Encana was accessing in 2011? Refer below]
(Note: CBC does not endorse and is not responsible for the content of external links.)
An explosion at an Encana facility that produces water for fracking has injured one worker and shut down the plant near Dawson Creek.
Encana's Water Resource Hub purifies aquifer water considered too saline for human or animal use, so it can be used for hydraulic fracturing at Encana's gas wells
RCMP have now taken control of the facility.
B.C.'s energy regulator and a WorksafeBC fatal and serious injury officer are at the scene investigating.
​"We're aware of an injury, but for privacy issues, we can't give you any more information than that," said Trish Knight Chernecki, senior manager for media relations at WorksafeBC.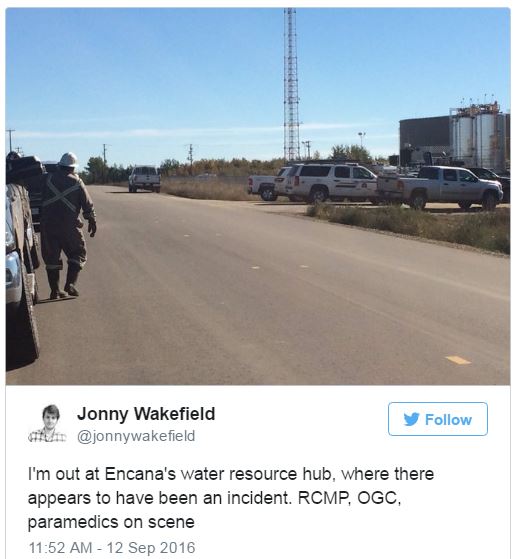 Jonny Wakefield @jonnywakefield
I'm out at Encana's water resource hub, where there appears to have been an incident. RCMP, OGC, paramedics on scene
11:52 AM – 12 Sep 2016
6 6 Retweets 2 2 likes
No environmental damage and no risk to public
B.C.'s Oil and Gas Commission said the explosion caused no environmental damage, and there was no risk to the public although it did cause emergency responders to converge on the facility Monday morning.
Local residents were also notified, said Phil Rygg, director of communications for the B.C. Oil and Gas Commission.
Encana spokesperson Doug McIntyre said the facility has been "secured and [we] are beginning our work to determine the cause."
The Encana facility is 20 kilometres from Dawson Creek in northeastern B.C. [Emphasis addded]
Worker injured during explosion at an Encana facility near Farmington by Chris Newton, September 12, 2016, energetic city
UPDATE: B.C. Oil and Gas Commission spokesperson Phil Rygg confirmed that there was an incident that occurred this morning, and that there was no environmental damage or risk to the public. OGC investigators responded to the incident to work with Emergency Management BC and other area first responders. Rygg says that the OGC has also been in contact with industry operators and Encana, who have begun emergency procedures.
FARMINGTON, B.C. – One worker has been taken to hospital after an explosion at an Encana Corporation facility near Farmington.
The Montney Water Resource Hub is situated roughly 20 kilometres northwest of Dawson Creek. Encana spokesperson Doug McIntyre says that the incident happened this morning at approximately 9:00 this morning. One worker was injured in the explosion and was transported to hospital. McIntyre says that the cause of the explosion is not known, but that there was no fire, nor was there evidence of a spill of any kind.
The facility extracts saline water that is unfit for human or agricultural use from a subsurface aquifer, which is then used in hydraulic fracturing operations in the Montney basin.
McIntyre says that Encana's top concern is for the wellbeing of the injured workers. According to McIntyre, crews have secured the site and are investigating the cause of the explosion, and added that there is no risk to the general public. [Emphasis added]
Emergency crews respond to suspected explosion at Encana water hub, One worker injured, transported to hospital by Mike Carter, September 12, 2016, Dawson Creek Mirror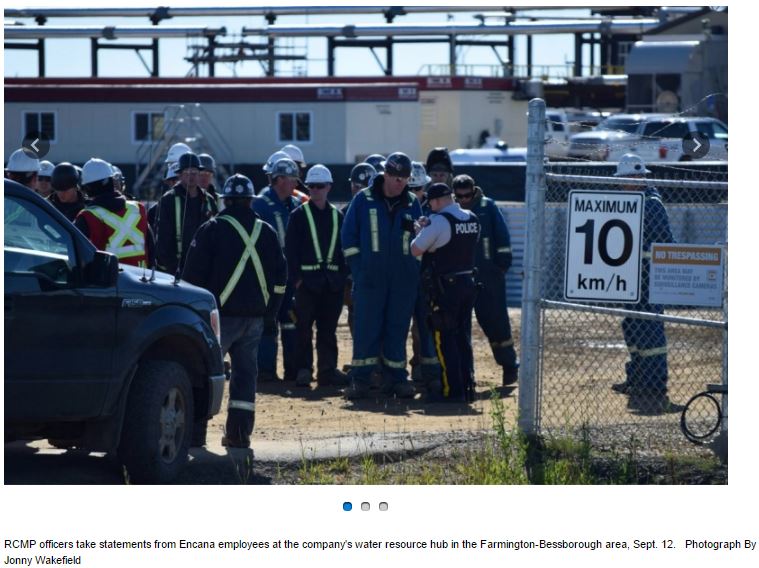 RCMP officers take statements from Encana employees at the company's water resource hub in the Farmington-Bessborough area. Photo by Jonny Wakefield
Emergency crews were called to the scene of a suspected explosion at Encana Corp.'s Montney Water Resource Hub in the Bessborough-Farmington about 20-kilometres from Dawson Creek Sept. 12.
One worker was injured and has been transported to hospital.
"We suspect there was an explosion but there is no fire at the facility," Encana spokesperson Doug McIntyre said in an email to the Dawson Creek Mirror. "There is no evidence of a spill and no current risk to local residents. Our top concern is for the well being of the injured worker."
Crews have secured the site and are beginning work to determine the cause of the incident.
RCMP, Oil and Gas Commission and Ministry of Environment officials were assessing the situation shortly before 11 a.m. Monday.
The BC Oil and Gas Commission confirmed there was no environmental damage as a result of the incident.
Spokesperson Phil Rygg said the commission has inspectors on site.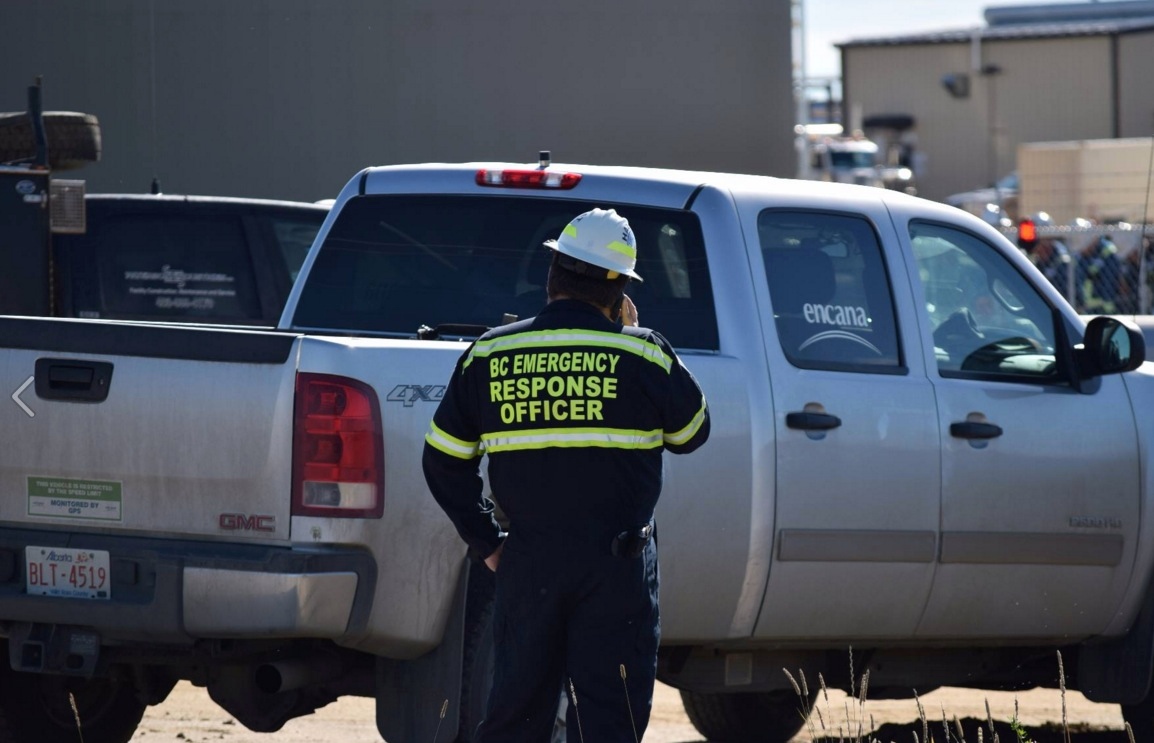 Photo by Jonny Wakefield
Most of the staff at the plant were waiting outside, some of them speaking to RCMP and other emergency officials. Several dozen employees in high-visibility coveralls were standing around in the yard at the plant.
The plant draws subsurface saline water for use in fracking operations, allowing the company to reduce its use of fresh water.
Fed by 20 source wells, the water is transported from the plant by pipeline to gas wells.
The hub also functions as a recycle and reuse loop by blending water returned from frack sites with the saline water. [Emphasis added]
— This is a developing story that will be updated as information becomes available.
With files from Jonny Wakefield
Encana's Water Resource Hub by Encana Corp, accessed from Encana's website September 12, 2016
Encana has marked a major milestone with the full operation of the Water Resource Hub in our Montney growth asset in northern British Columbia. The hub secures our long-term water requirements in a large portion of the Montney while demonstrating our strong commitment to responsible development.
The hub will significantly reduce fresh water use in our hydraulic fracturing operations near Dawson Creek by accessing saline water unfit for human or agricultural use from a subsurface aquifer. In fact, by tapping into this otherwise unusable source, this centralized hub facility should meet up to 75 percent of our water requirements and result in the conservation of about 2.6 million cubic metres of freshwater over the next five years.
Fed by up to 20 source wells, the hub will have a positive community impact beyond reducing our operational dependence on surface water. Transport of the water via pipeline will significantly reduce water hauling truck traffic, thereby cutting down on emissions, dust, noise and wear and tear on rural roads in and around Dawson Creek.
Water Resource Hub by the Nunmbers:
expected to meet up to 75 percent of our water needs in the Dawson Creek area
an estimated 2.6 million cubic metres of fresh water conserved over five years
160,000 less water hauling truck trips over five years
We recognize that water is an important natural resource. The hub functions as a recycle and reuse loop by blending water returned from hydraulic fracturing with the saline water, helping us manage this resource.
Learn more about Encana's water use in hydraulic fracturing.
Sour water replaces fresh in Peace River shale gas extraction by Jusine Hunter, November 13, 2011, The Globe and Mail
In an effort to defuse a growing conflict over the copious amounts of fresh water needed to extract shale gas in B.C.'s Peace River region, energy giant EnCana Corp. is turning to the foulest source of H2O it can find.
Buried as deep as one kilometre below the surface, the company discovered an aquifer in which the water is utterly undrinkable. It's as salty as the Pacific Ocean and laced with highly corrosive hydrogen sulphide.
With angry ranchers, farmers and recreational users in the Peace River competing for the fresh water the company was draining from nearby lakes and rivers, EnCana and its partner, Apache Corp., spent nine months and more than $10-million developing a new technique to treat and use the sour water that nobody wanted or could reach.
"As far as we know, nobody has done this in the world," said Mark Taylor, team leader for EnCana's Horn River operations. Now, energy companies are working with Geoscience BC to explore other saline aquifers in the Montenay Shale gas play near Dawson Creek as well.
To date, EnCana has pumped more than 25 million barrels of water out of the Debolt formation – a layer of porous rock, 70 metres thick, far below the surface in the Horn River basin that lies north of Fort Nelson.
Massive pumps draw the water up to treatment tanks where the hydrogen sulphide is reduced to safe levels. "It's deadly and you don't want it in the water when you are pumping it through your equipment on the ground while you have 200 people working on the pad," Mr. Taylor said. [Now VP at the AER]
British Columbia is poised to launch a new liquefied natural-gas industry, and the development of the Montenay and Horn River gas plays in the northeast corner of the province are key to that ambition.
But environmentalists are calling for a moratorium on new developments in B.C. until water safety and other health concerns are addressed – a demand the provincial government has dismissed.
Other jurisdictions are more skeptical: Quebec has imposed a partial moratorium, Ottawa is conducting two environmental reviews, and the U.S. Environmental Protection Agency is already well into a major investigation into the potential impacts of fracking on drinking-water resources.
… Mr. Taylor hopes that reducing the industry's need for fresh water will ease tensions in the Peace River,

where ranchers have had to cull their herds due to drought while watching fresh water disappear into the fracking process.
"We now have a source of water that is generally viewed as more environmentally friendly than using fresh water. That certainly doesn't hurt in the political climate of shale-gas development," he said. "You end up with enhancing our social licence to operate by having an alternate source of water."
However, critics remain suspicious, saying the Debolt water project is so new and untested, it is impossible to know what the long-term impact may be.
"That has the potential to partially address concerns around water usage, but the government is still pushing a massive ramp-up of fracking without us knowing the cumulative impacts on water or health," said George Heyman of the Sierra Club of B.C. "Let's take a pause and not assume what we have can be expanded ad infinitum."
As the independent MLA for Cariboo North, Bob Simpson has been pushing for a review of fracking. He said the 100,000 barrels of Debolt water extracted every day is just a drop in the bucket.
"What I don't like about this is the suggestion that they are somehow resolving the fresh-water situation. You are talking about a miniscule amount of what the industry is using," he said.
Once it has been used in fracking, the Debolt water is injected back into the ground, into containers made of steel and concrete. But Mr. Simpson said he is still uneasy.
"We don't know the hydrological and geological implications of drawing the saline aquifer down. We may be creating a different kind of problem." [Emphasis added]
Refer also to:
2012: AEA: Support to the identification of potential risks for the environment and human health arising from hydrocarbons operations involving hydraulic fracturing in Europe
A proportion (25% to 100%) of the water used in hydraulic fracturing is not recovered, and consequently this water is lost permanently to re-use, which differs from some other water uses in which water can be recovered and processed for re-use.
***
An example of what Encana workers think of the impacted public, in this case, the media investigating dangerous incidents: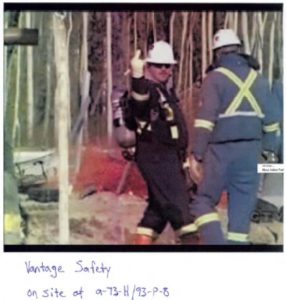 2008 11 01: Encana Gives Press the Finger