sō-lä-stál-jə n.:
A pain or discomfort caused by the present state of one's home environment.
Solastalgia ia a kind of distress: a homesickness felt at home. Glenn Albrecht coined the term "solastalgia" — a mash-up of "solace," "desolation," and "nostalgia" — to describe the inability to derive comfort from one's home environment due to negative environmental change. … I can very much relate, many are experiencing this today due to the threat to our homes and environment from the toxic extraction process known as fracking. …
***


My home on 50 acres at Rosebud with the old river running through it (above), was my life-long dream, a place for healing and sanctuary from a multitude of rapes as a girl, a place to wander and wonder, a place to rest from the horrors. Only to be raped (frac'd) again and again by Encana/Ovintiv, Alberta's deregulating regulators, and cowardly judges and politicians.

Fracking Next Door by Sweet Autumn Farm, Oct 8, 2014, Marcellus Mayhem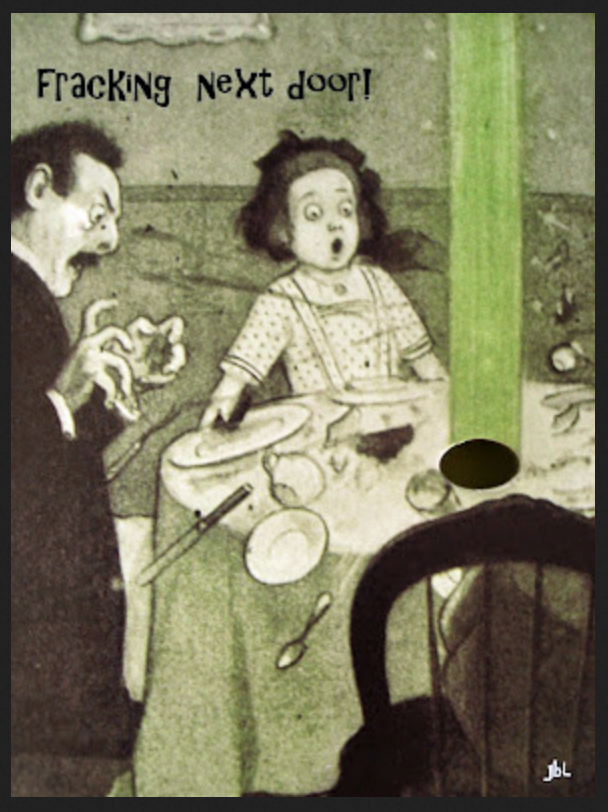 Image above by JBL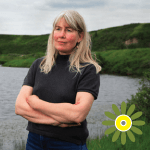 Try explaining to your doctor if you live in a Canadian frac field (if you're fortunate enough to have a doctor) that your health harms began after you were exposed to Encana's chemicals venting from your water taps and shower/bath, while brushing your teeth, cooking and cleaning; or trying to enjoy your legal right to your property – outside or in. Workers accidentally sprayed in toxic chemicals are refused emergency treatment; they're sent home to contaminate their families and homes instead.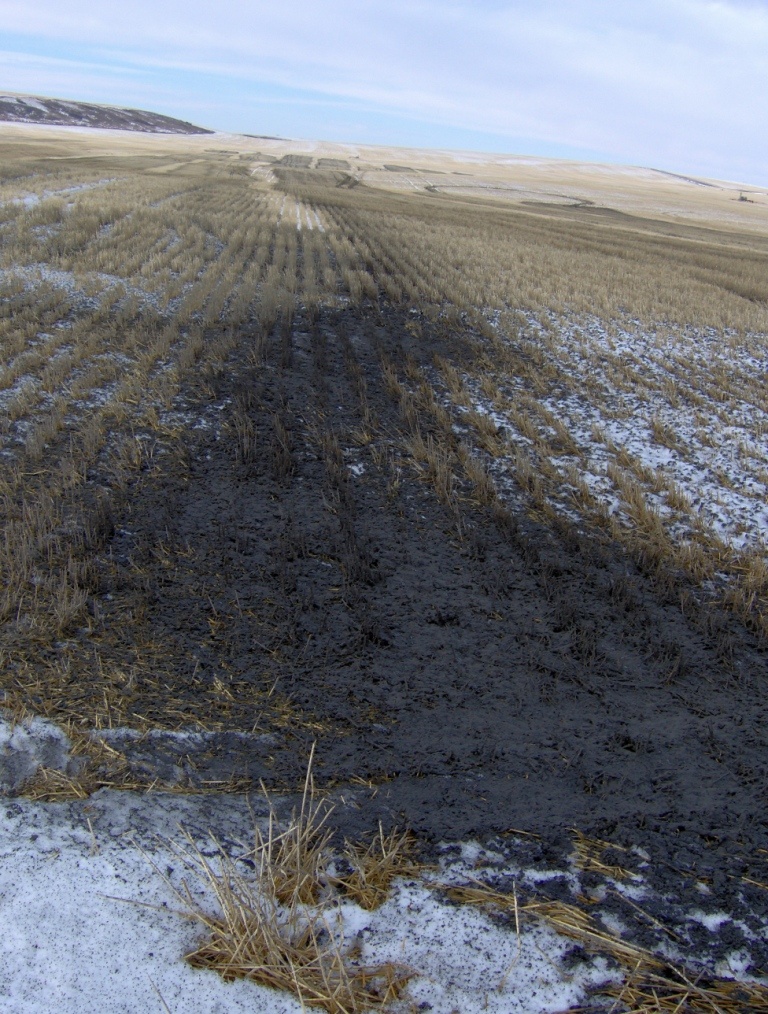 2012: Encana/Ovintiv's waste dumped on foodland in my community.

Where's the regulator? Chatting it up with Encana's CEO, whichever frac-enabler premier at the time and their specially chosen prosecutors/judges at the Petroleum Club?

Frac'ers' Rule of Law? Oregon: Chemical Waste Management illegally dumped 2.5 million pounds radioactive frac waste from North Dakota company, Goodnight Midstream. Lucky law violators get no fine
America's Radioactive Secret: Oil & gas wells produce nearly a trillion gallons of toxic waste a year in America. It could be making workers sick and contaminating communities (in Canada too). "Us bringing this stuff to the surface is like letting out the devil … It is just madness."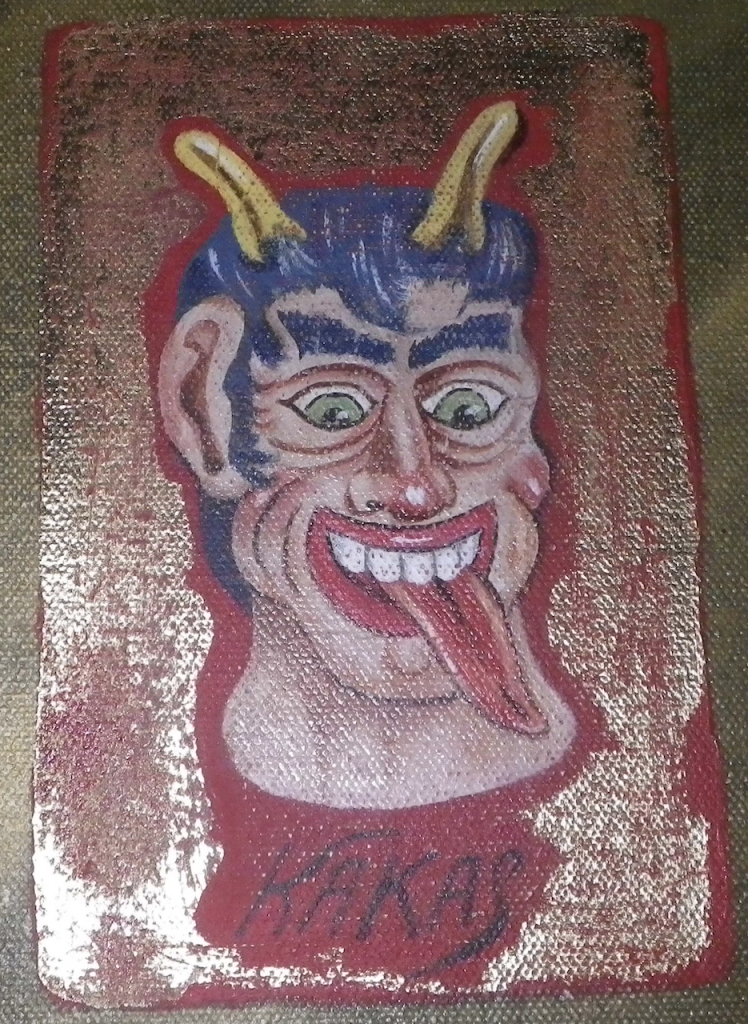 Hungarian devil, detail from The Hunter by Marianna Gartner
The Health Benefits of Fracking by Sweet Autumn Farm, May 8, 2013, Marcellus Mayhem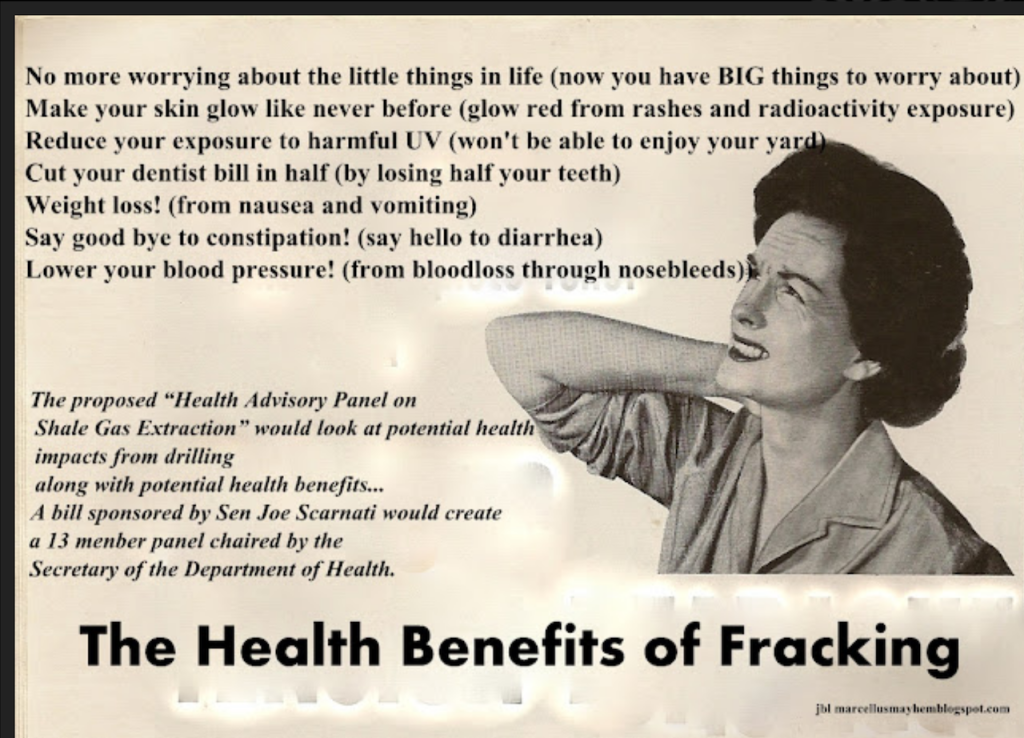 Image above by JBL
Alberta research shows fracking fluids cause 'significant' harm to fish, Can harm fish even at low concentrations. Chemicals caused premature aging in gills, organs
Harmless by Sweet Autumn Farm, July 8, 2011, Marcellus Mayhem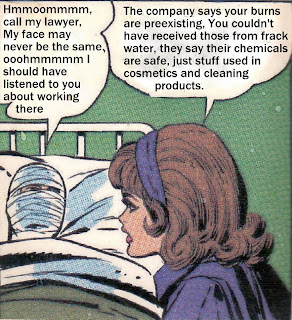 Refer also to:
Why was a 2012 Health Canada Report, admitting significant health hazards and risks to groundwater and air from hydraulic fracturing, kept from the public?

The feds have still not made this report public (I did in 2014). I am an ordinary citizen on a modest income. I am not paid to make public reports summarizing health risks from frac'ing. Our public servants and health authorities are, but instead of serving the people that pay their wages, they enable rape by frac'ers.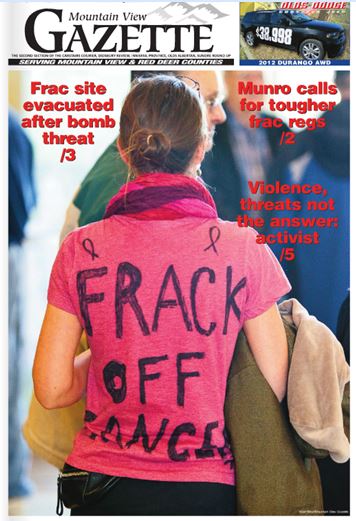 2012: Kimberley Mildenstein attending council meeting in Mountain View County where then councillor Maddy Munroe presented on frac'ing and called it "crimes against humanity."
To learn more about Ms. Mildenstein and others, read Andrew Nikiforuk's Slick Water.
Living near drilling (and frac'ing) is deadly (in Canada too), especially with captured courts. "Law" makers take blood money to let companies poison us.
Fracking Injuries, deaths and dangers for workers and communities
Health report: some Alberta doctors refused to treat families exposed to toxic emissions by Baytex in Peace Country, one lab refused to process a test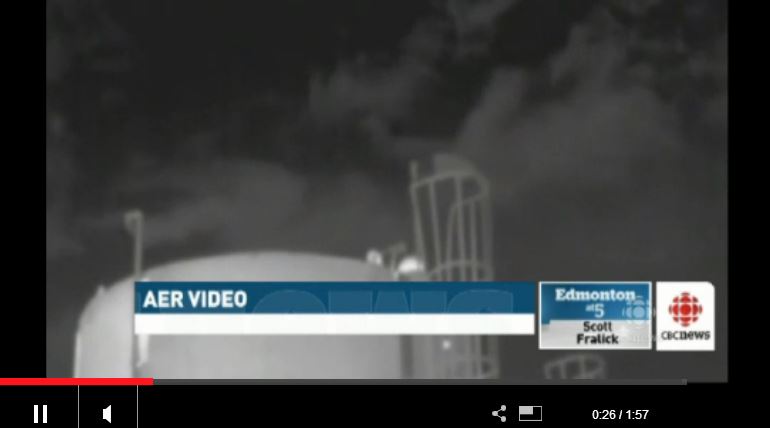 Karla Labrecque's doctor refused to do a blood test until he consults with a local politician; Mike Labrecque gets sick working for Baytex, Baytex lets him go: "You're done."
Big Oil, Bad Air: Where has the College been all these years? Why not SUPPORT ALL ALBERTA DOCTORS treating citizens and workers poisoned by oil and gas? Alberta College of Physicians and Surgeons tells Peace River doctors it will support them in face of intimidation Really, or another empty promise?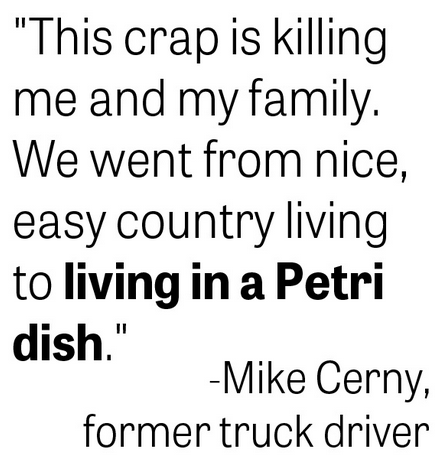 Four Fatalities Linked to Used Fracking Fluid Exposure During 'Flowback,' NIOSH Reports
Alberta workplace fatalities close to record numbers in 2013, led by a near doubling of fatalities caused by occupational disease
With law violations, hazards, waste dumping, air noise land water pollution, permanent water loss, community division, adverse health impacts, lies, fatalities, enabling regulators politicians courts, massive subsidies, PR Panel urges industry to change frac 'conversation'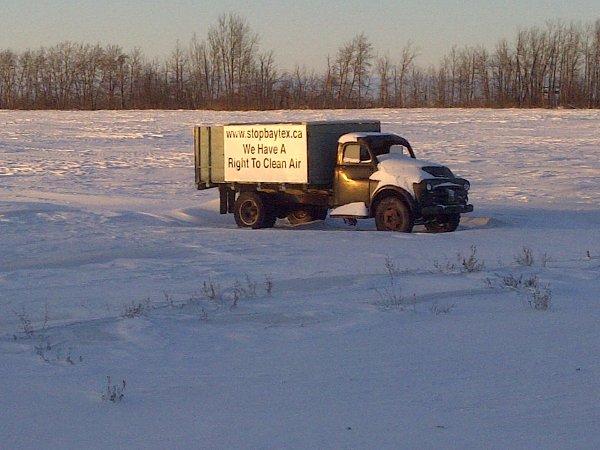 "My son was murdered" Drilling through Danger Chapter One: Regulatory vacuum compounds inherent risks; In 12-year span, an oil and gas worker died once every three months on average in Colorado, 51 workers died between 2003-14, victims of a system focused more on protecting industry than its employees
Study: Increased cancer risk for oil patch workers and neighbours
Fracking is dangerous to our health, has ruined the lives of many. Workers "developed cancer, sores and skin lesions, chronic headaches and nausea, numbness in fingertips and face, and 'joint pain like fire.'"
'The Harms of Fracking': New Report Details Increased Risks of Asthma, Birth Defects and Cancer. Dr. Sandra Steingraber: "Fracking is the worst thing I've ever seen." Dr. Pouné Saberi: "There is a code of silence…." Workers rarely report injuries or hazards, for fear of losing their jobs.
Drillers Silence Fracking Claims With Sealed Settlements
Confidentiality Agreements, The Problem: Confidentiality agreements in lawsuit settlements can be harmful, even deadly, to the public
Contamination by fracking is a risk says retired chemical sales worker
2014: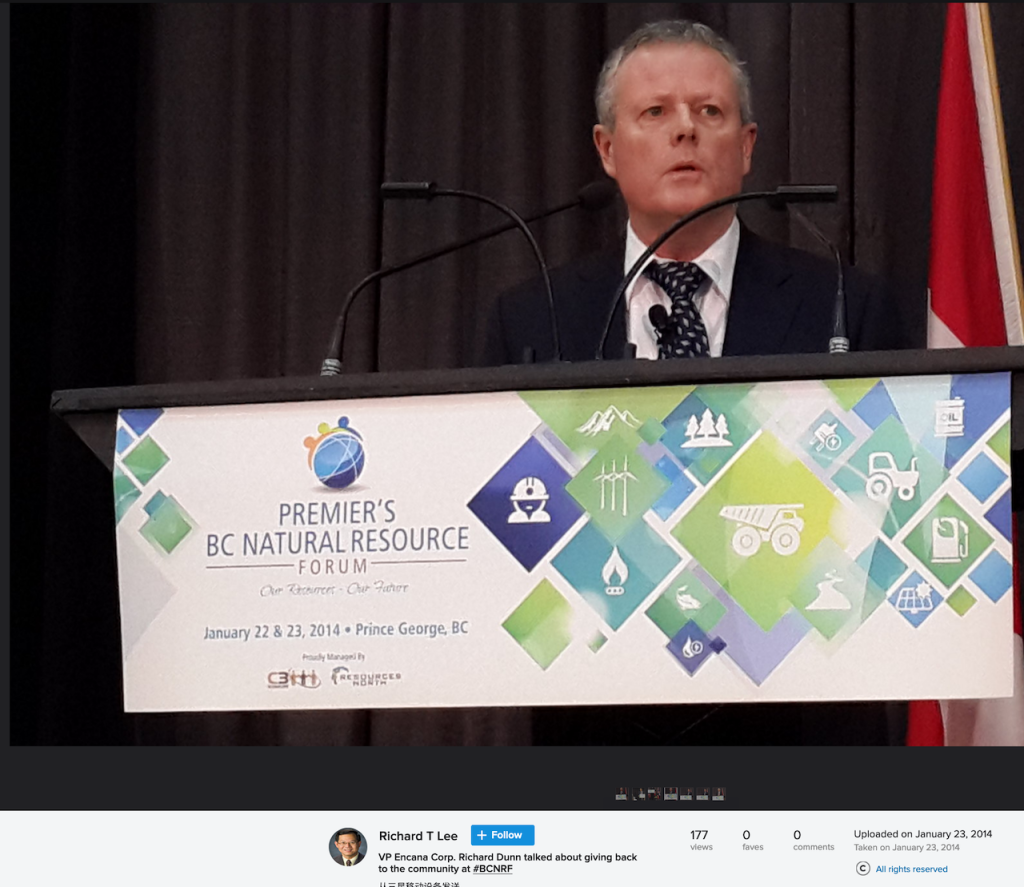 Encana VP Richard Dunn presents at BC Gov't forum. Richard T. Lee: "Dunn talked about giving back to the community."

Pfffft! I can't drink words. Dunn did nothing to give back or fix Rosebud's drinking water aquifers illegally frac'd by Encana, or provide me safe alternate water, not a drop. Or unfrac my health and well being, or that of my dogs. Dunn didn't even have the courage or integrity to tell my community what chemicals Encana injected into our water supply.

2013 09 13: Encana Evidence to Parliamentary Committee; Encana taking step to stop frac'ing with benzene, diesel, chromium, arsenic, mercury etc

"Taking steps" to do something doesn't mean anything was or will be done. If Encana had eliminated these chemicals, they'd say so without swapping or stepping about.

Encana VP Richard Dunn:
"At Encana we're proud—having implemented this practice—of taking the step to eliminate the use of diesel, benzene, and heavy metals, such as cadmium, arsenic, chromium, lead, and mercury in our hydraulic fracturing fluids."
2013 02 12: Encana Evidence to Parliamentary Committee
Encana VP Richard Dunn: "To be honest with you, I don't understand what we swapped in, but I do understand what we swapped out, and that's really the beauty of it all."
2006: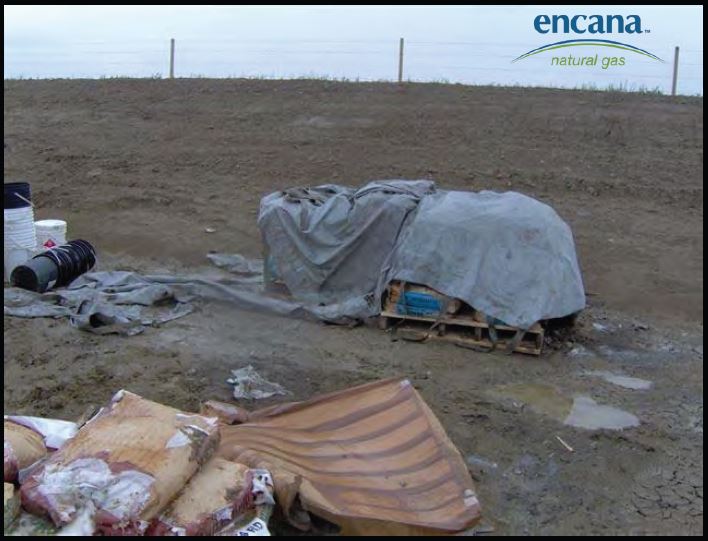 How Encana/Ovintiv protects families, workers, communities, livestock and environment from it's chemicals. Above photo taken north of Rosebud, in the rain.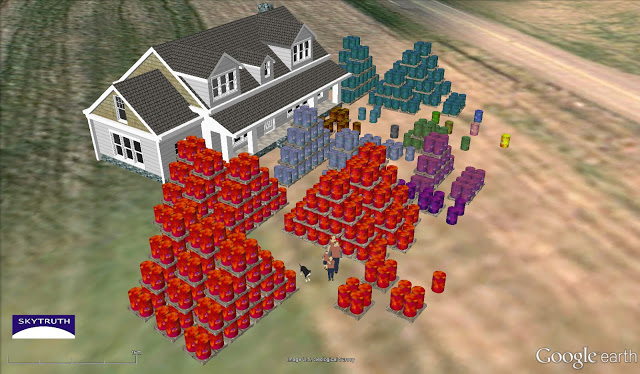 Amount of frac chemicals injected compared to a family home.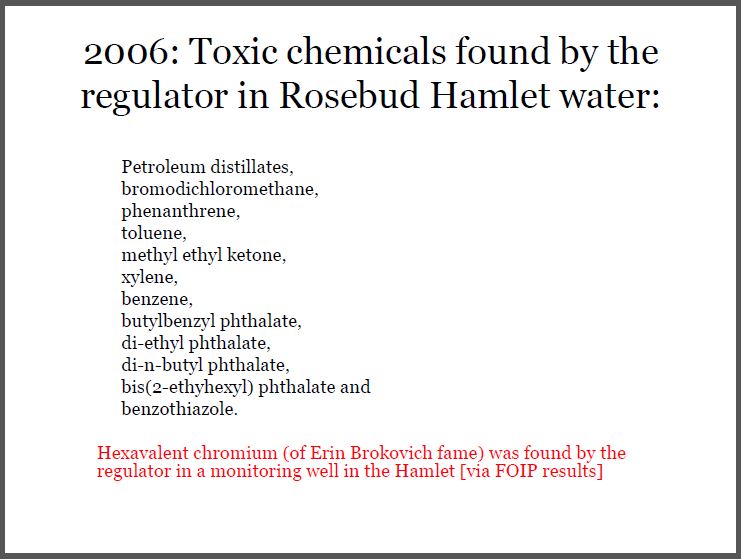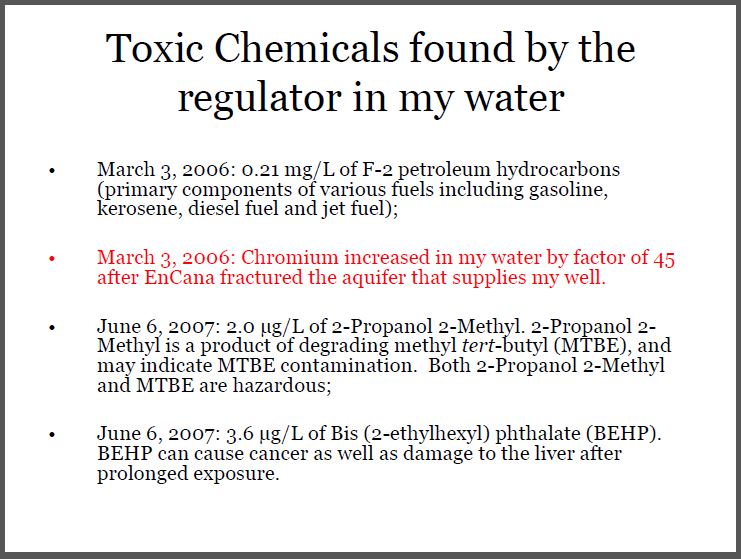 2005: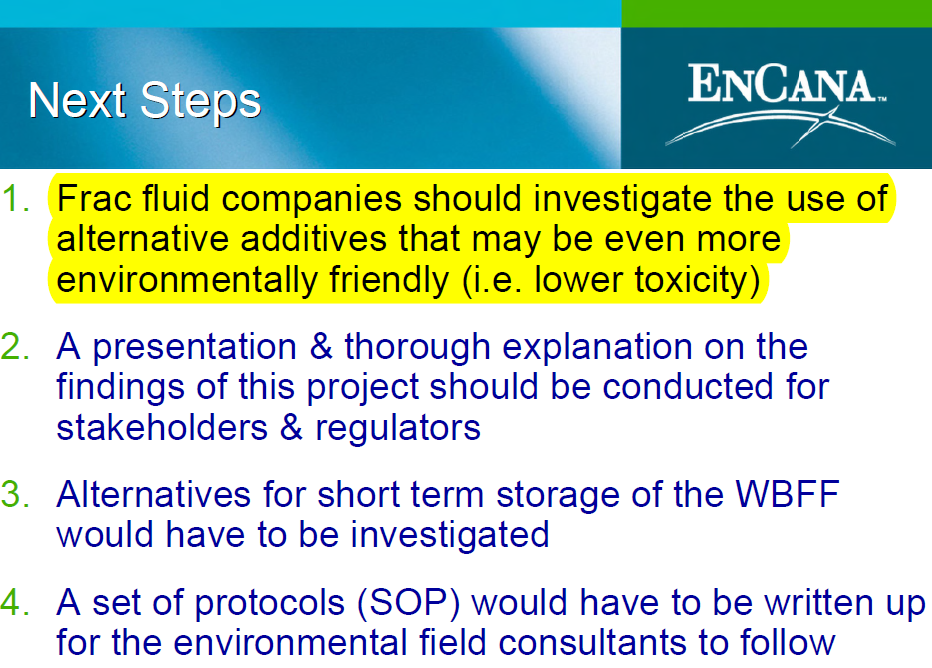 Above slide from an Encana presentation. Industry's favourite escape hatch word "should" ensures it never happens. Note: "Next Steps." Imaging publicly saying making something deadly "even more environmentally friendly!"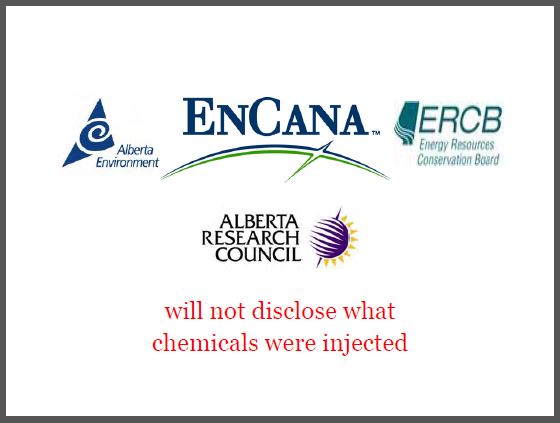 Trade secrets are not allowed in lawsuits in Alberta Rules of Court. That didn't stop Encana from breaking the rules. The company did not release to me the chemicals injected into the fresh water zones around my community, or directly into our drinking water aquifers, with my lawyers at Klippensteins refusing to call them on that when I directed them to and later betraying me, the public interest and my case by quitting, also breaking the rules (of their profession, and worse, lying about me in an Affidavit filed in court to blame me for their self-serving lawyering).

2005: Investigators say an accumulation of gases appears to have caused the explosion that destroyed the Rosebud water tower and sent a Wheatland County employee to hospital
2001-2004: Encana illegally frac'd Rosebud's drinking water aquifers, in secret, enabled by the Alberta gov't and regulators. On just one gas well, the company injected 18 million litres of frac fluid directly into my community's fresh water supply. Authorities allowed Encana to lie to the community, and frac and refrac hundreds more gas wells in fresh water zones around us.