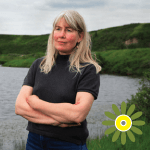 Why now? To appear honest to get re-elected to the board of Ontario's LSO?
On the main page of his law firm's website, Mr. Klippenstein used my name, image and case without permission or specifying he quit in 2018, betraying me and the public interest, lying and brutalizing me after he did.
I can't help but wonder now if Klippenstein was serving the defendants all along, dragging me harmfully out, year after year after year, taking more and more and more of my savings.
Lies and betrayals by lawyers are expensive.
In my read of his statements and those by other lawyers, Klippenstein quit my case to enable racism in the legal industry and work to get on the board of his self regulator. Klippenstein stated when and after he quit that measures by the LSO (discovered later were to counter racism in the legal industry) forced him to close his firm and destroyed his career, which is clearly untrue. He did not quit other cases he took on years after taking on mine and chased new ones; he continues advertising his firm while using me and my case for more than four years after he quit. He withheld my website and trust funds, lied about me to the court in an Affidavit and violated my client solicitor privilege, etc. Fitting to have such a lawyer on the board of the "regulator" that licences known convicted pedophiles, giving them protected access to children.
The snap below was taken in 2022 from Klippensteins' website main page: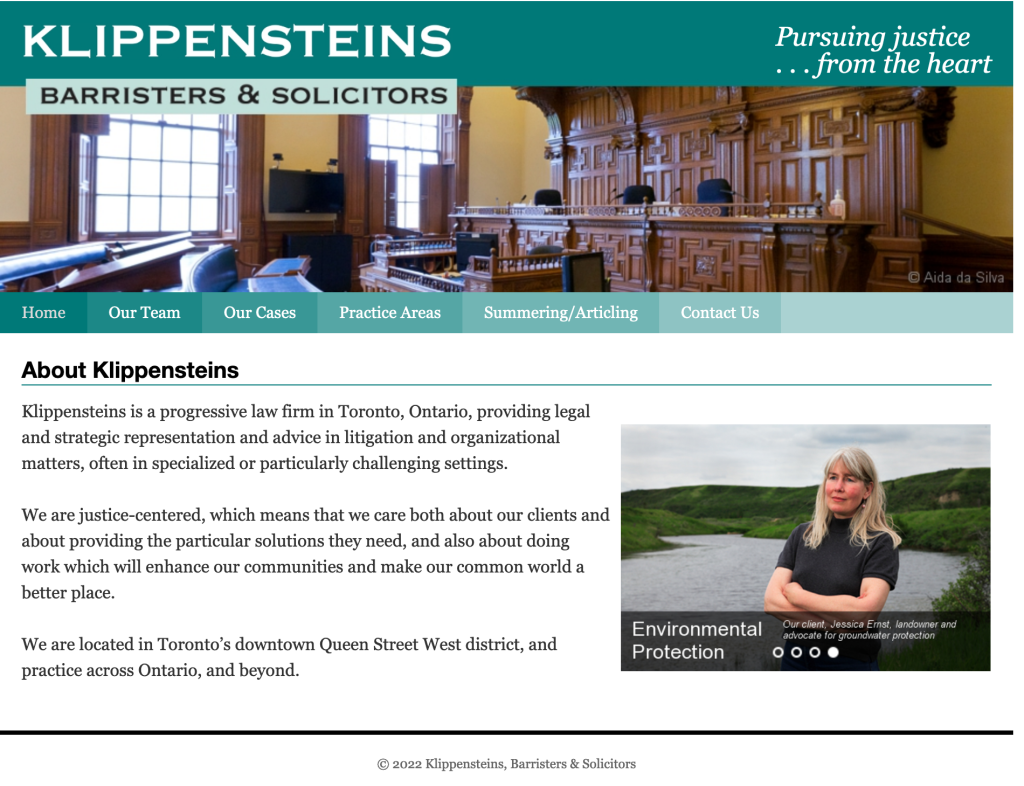 Screen shot above taken by Ernst.
Note Klippensteins' copyright "2022" at the bottom of the snap.
Second paragraph from About Klippensteins stated:
We are justice-centered, which means that we care both about our clients and about providing the particular solutions they need, and also about doing work which will enhance our communities and make our common world a better place.
How is it caring to take advantage of a client after lying to them, quitting and brutalizing them?
Encana and the Alberta gov't received excellent solutions from my legal team; I got my savings drained and still suffer life threatening frac-contaminated water.
How does lying and quitting and taking advantage of clients make anything anywhere better?
I watched for years to see if Klippenstein would state on his website that he quit my case. He did not. That's dishonest. Again, fitting to have such a lawyer on the board of LSO, "regulator" that licences known convicted pedophiles.
2007: McLean's Cover: "Lawyers are Rats" A top legal scholar and ex-Bay Street partner exposes the corruption of his profession. "Self-regulation is regarded with quasi-religious fervour."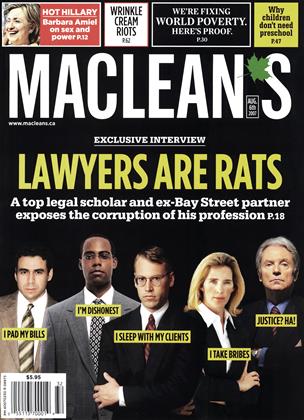 2021: Joshua Sealy-Harrington: Twelve Angry (White) Men of Few Principles (includes my ex lead lawyer Murray Klippenstein): The Constitutionality of the Statement of Principles
… Accordingly, anti-SOP advocates, it seems, manufactured a phantom SOP requirement, and then leveraged that mythology for rhetorical purposes.

A fabricated phantom killed my lawsuit, tossing it, me, and the public interest in the trash!?!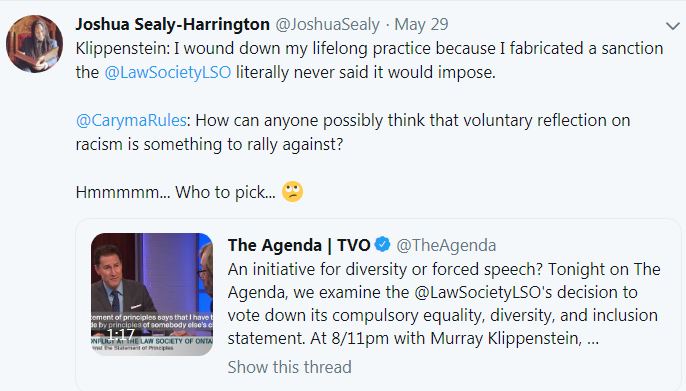 Snap above taken in 2019 from Joshua Sealy-Harrington's twitter
In my understanding, no one argued in favour of regulating licensees' thoughts about equality; yet most, if not all anti-SOP advocates, presupposed such thought regulation to justify their constitutional posturing. They were thus, ironically, the architects of their own contrived oppression. …

Klippenstein's betrayal has been one of the worst of my life, and I've experienced a lot of betrayals by spoiled angry white men.

2021: Murray Klippenstein reportedly chased rich white man, COVID-denying law-violating Adam Skelly, after abruptly quitting me and my public interest lawsuit. Are lawyers allowed to dump paying clients to chase others while lying and harming cases of clients dumped?
Lorne Sossin (was dean Osgoode Hall Law School when he wrote this, currently Justice on Ontario Court of Appeal): Statutory Bars to Constitutional Remedies: The Importance of Being Ernst