Contamination by fracking is a risk by Ginny Carnes, August 21, 2013, Reporter Herald
BJ Nikkel tells us that the EPA said that "fracking" does not contaminate water. That was one site that they investigated, it was not a blanket ruling on "fracking." There currently are other lawsuits across the country pending on water contamination. … I retired from working in the chemical sales field where I called on people manufacturing oilfield chemicals. I know that many of the chemicals used in fracking are very toxic, and a lot of what is going into the ground is not recovered. The fracking operation has been improved with steel piping and cementing, but what happens in 50 years when the pipes rust and the cement deteriorates? [Or there is no piping and no cement?  Refer to Baker Hughes clip below.] With constant shifting in the ground, who can guarantee that those chemicals will not find a way out to our streams?
If it is so safe, why did the oil companies go to Vice President Dick Cheney and secretly get exempted from clean air and water regulations? What about the air pollution from the large quantities of methane released in these operations? [Emphasis added]
[Refer also to: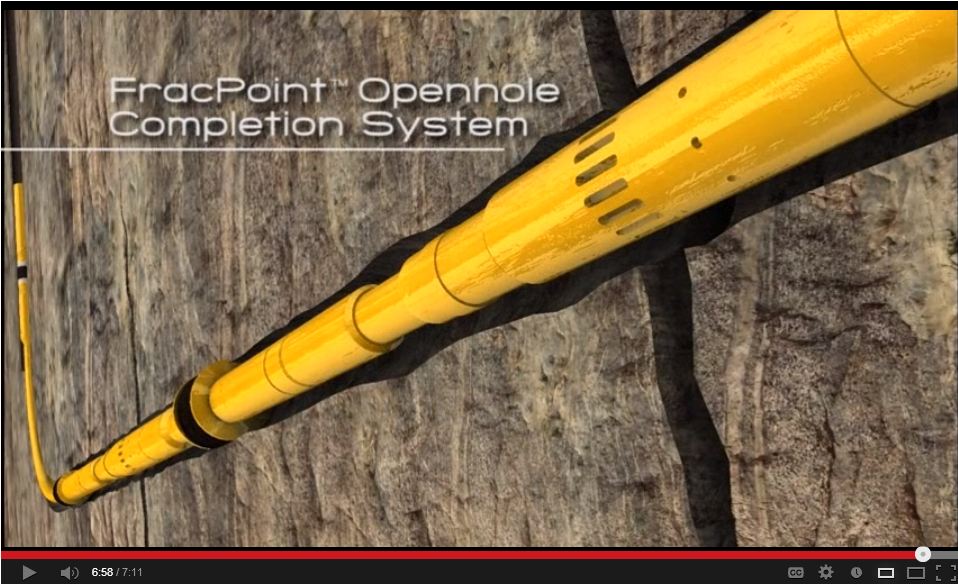 WATCH FracPoint Openhole Fracture Completion System by Baker Hughes Inc., October 21, 2010
FracPoint™ openhole fracture completion system precisely and reliably isolates multiple zones in open and cased holes. The system establishes openhole isolation between zones, zone lobes, or fault lines so fracture fluid is delivered where needed for maximum effect. Pinpoint fracture placements without cementing for improved initial productivity, accelerated reservoir drainage, and faster [return on investment].
Tight Oil Developments in the Western Canada Sedimentary Basin – Energy Briefing  by Canada's National Energy Board, December 2011
Currently, the majority of wells drilled in western Canada are horizontal wells, where the operator drills down to a certain depth, then "kicks" out sideways to drill what is called the horizontal leg. The vertical depth in emerging tight oil plays in western Canada is anywhere from 600 to 2900 metres, and the horizontal legs are anywhere from a few hundred metres to two kilometres long. Often, the production casing is only run to the start of the horizontal section of the well and the horizontal leg is left uncased, allowing for "open-hole" completions, where no perforations are needed to access the targeted formation. The advantage of the horizontal leg is that it greatly increases the contact of the well to the subsurface layer containing oil or gas. [Emphasis added]
[Encana data from its wells around Rosebud, show open-hole completions]