Compare to:
EUB/ERCB/AER: 'Men Without Chests,' 'No Plan, No Policy, No Heart'
Encana frac'd about 200 gas wells into fresh water zones at Rosebud (before April 2006), of which about 60 were more shallow than 200 metres bgs, including intentionally into the community's drinking water aquifers, two most shallow gas wells perf'd at 100.5 m and 121.5 m bgs (Encana injected 18 million litres frac fluid into drinking water aquifers on this one gas well alone]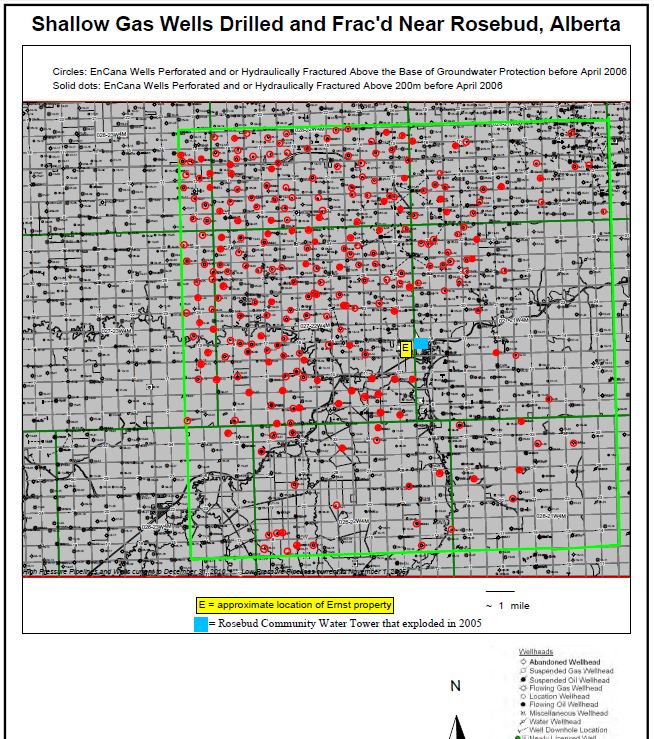 New Reporting Reveals the Oil Industry Still Injecting into Protected Groundwater in California Press Release by Clean Water Action, Aug 20, 2019
In response to reporting from the Desert Sun that California regulators continue to allow oil field wastewater injection into potential drinking water sources in Kern County, Andrew Grinberg of Clean Water Action issued the following statement:
"It's unacceptable that oil companies are still injecting toxic wastewater into potential drinking water sources, in violation of the Safe Drinking Water Act. Despite significant progress by state agencies in recent years to improve California's Underground Injection Control program, the oil and gas industry still has far too much influence. State regulators need to stand up to fossil fuel interests and take more aggressive action to protect our water.
… Regulators have failed to rein in these harmful impacts of this industry and protect our communities.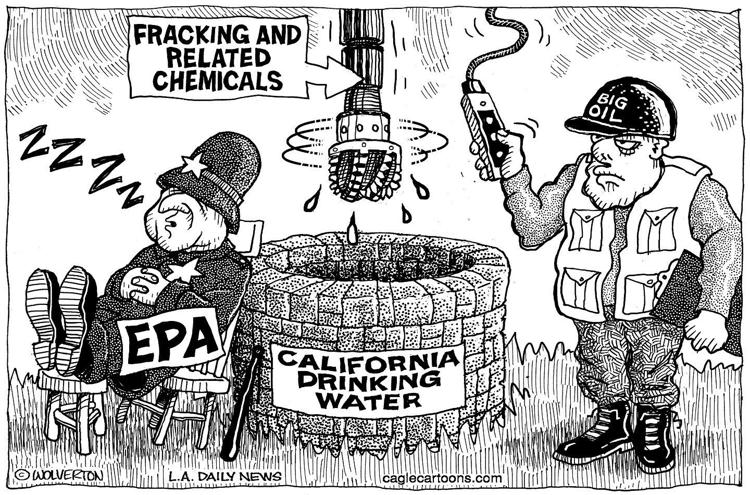 California can no longer afford to be a fossil fuel state — it's time to accelerate the transition away from our oil-soaked history and toward a clean energy future. If the oil industry can't operate responsibly, then it shouldn't operate here at all.
Clean water is the most important resource for California's future. After committing $130 million annually to help the one million Californians without safe drinking water, and adopting new underground injection regulations in April, Governor Newsom, his regulators, and the Legislature need to ensure the immediate protection of California groundwater from the threat of oil field wastewater injection."
Clean Water Action calls for the following actions from the Newsom Administration and state agencies:
Immediately shut-down all wells injecting into potential underground sources of drinking water.
Conduct reviews for all injection projects in the state for compliance with state and federal law and regulations – and respond to out of compliance injection with emergency orders to cease operations.
Launch an investigation on the impacts of injection into potential drinking water sources, and compel oil companies to remediate all identified pollution.
Place a moratorium on advancing aquifer exemptions until criteria are updated to reflect modern conditions, and assurances that State Water Board designations of protected groundwater are enforced.
Include the examination of water impacts in the forthcoming state study of reducing oil production in California to ensure the managed decline of oil production in the state protects water.
Press Contacts Michael Kelly email hidden; JavaScript is required 202.895.0420×103
Proposal would allow oil companies keep injecting wastewater into Kern County aquifers by Janet Wilson, Aug 20, 2019, Palm Springs Desert Sun
California regulators are negotiating an agreement with two major oil companies that would allow them to keep injecting millions of gallons of wastewater into potential drinking water and irrigation supplies in the Central Valley for three years.
The voluntary plan would allow Aera Energy (which was jointly formed by Shell Oil and Exxon Mobil) and California Resources Corp. to continue to inject fluid remnants of oil extraction into 94 wells that discharge into shallow groundwater aquifer zones in Kern County.
The negotiations frustrate groups like Clean Water Action, a national environmental organization, which argues that injecting into the aquifers violates the federal Safe Drinking Water Act, and should cease now, not in three years.
"If our water regulators say this groundwater should be protected, then they should stop the industrial injection of highly toxic chemicals that will further degrade that resource," said Andrew Grinberg, special projects manager with Clean Water Action.
A top state official and industry experts contend that is easier said than done, both for geologic and legal reasons.
The current debate over the 94 wells is part of a major overhaul of state injection permits. Regulators acknowledge that across California, permits were issued for years without required federal approvals. Oil companies, however, say they hold legal permits.
While oil companies say they are willing to invest in new infrastructure and relocate injection sites, they would likely sue if regulators abruptly shut down their operations. …
A problem years in the making
… If aquifers in those formations contain low enough levels of harmful solids, though, such re-injection is either forbidden, or federal exemptions are required.
It's unclear exactly who discovered that California oil operations might have exceeded allowable zones for underground injection that were established in the 1980s. What is clear is that by 2015, California's Division of Oil, Gas and Natural Resources (DOGGR) recognized it had a major problem.
DOGGR notified federal officials that more than 5,000 permits might have been [intentionally wrongly?] wrongly issued for decades in zones wider or deeper than were originally approved by the U.S. Environmental Protection Agency. Sorting it out has proved tricky, because the oil companies note they applied for, and obtained, state permits, and they've fought back in court. [And guess who controls the courts in North America?!]
DOGGR and the California Water Resources Control Board, with the blessing of the federal EPA, are wrapping up a multi-year effort to review all the permits and win required federal approvals. In most cases, the agencies have been granting exemptions to companies to keep injecting into aquifers which long ago fouled by production or which naturally contain too many hydrocarbons or solids to be safe for people or crops.
Bishop said that the water board is imposing conditions on the aquifer exemptions, including required monitoring to ensure the wastewater stays contained underground.It has also banned injecting wastewater that's of lower quality into a cleaner aquifer formation. Environmental and community groups have pushed back on many of the proposed exemptions, usually to little avail. But with a new governor in Sacramento, and new resources officials in place, they're pushing again.
What sets the talks between the state and Aera and California Resources Corp. apart from many other cases is that the state water board determined that portions of the aquifers beneath Kern County's Elk Hills and South Belridge oil fields, while brackish, are of high enough quality to be treated and used in the future as drinking water or for irrigation. State officials refused to recommend an aquifer exemption for those areas.
California, including Kern County, is suffering from extreme groundwater overuse, and scientists say climate change will worsen the state's severe droughts. The search is on for new supplies underground.
… State sees 'no immediate threat'
Bishop with the water board stressed that there was "no immediate threat" from the Kern County waste injection operations, because the water in the nearby aquifers is not currently being used for tap or crop water, and is not pristine.
However, that could change in the years to come: The water in the aquifers is of good enough quality that it could be treated for potential future use.
"These aquifers are not being used at present; no one's extracting water from them for beneficial use," Bishop said. "The water is not great quality. But because they're shallow, they're the first aquifers you come to. And potentially, someday, the oil companies will be gone, and at that point, somebody else might want to use it. You could clean it."
Based on that possibility, state officials rebuffed the oil companies when they asked the state to apply to U.S. EPA for a permanent exemption to keep pumping wastewater it into aquifers below those portions of the oil fields. Instead, California officials are working with the oil companies to move the injection operations within three years.
Bishop said the agencies have little choice: If they ordered Aera and California Resources Corp. to stop pumping wastewater down the wells, they'd likely be sued, and the process would drag on for longer than the three years the oil companies are agreeing to on a voluntary timeline. He said the companies also need time to build new infrastructure, and a few more years would not make a large difference after decades of injection.
But Grinberg disagreed and said continued waste injection would further degrade critical aquifers.
"Water treatment is a continuum," he said.."The more polluted it gets, the harder, more expensive and less reliably it can be treated."
… Oil companies respond
Representatives of Aera Energy and California Resources Corp. (CRC) said both companies hold legally valid permits to inject into the 94 wells that discharge into shallow groundwater aquifers in Kern County, part of the vast, complex Tulare slab formation underlying much of the San Joaquin Valley. Aera and CRC, they said, do care about groundwater supplies and the public. [Pfffft! If the companies cared, they would never have intentionally injected any toxic waste into any drinking water aquifer anywhere!] Both are already investing in costly new pipes and well injection sites into deeper and less pristine portions of the aquifers.
… Similarly, Aera spokeswoman Kathy Miller said her company's injection wells in the South Belridge oil field "are fully permitted by the state and we operate those well in full accordance with the permit requirements."
… What's in the wastewater?
While California requires some testing of wastewater that is injected, it is not comprehensive or always made public. Oil companies and environmental groups have battled over stepping up requirements.
Aera provided 2016 data of wastewater from South Belridge operations, showing it contained levels above federal or state drinking water limits for some substances, including salts, total dissolved solids and sulfates.
Grinberg with Clean Water Action said the high levels "pose a clear risk to potential drinking water supplies that do not naturally contain these high levels." He said extremely high levels of boron would also threaten irrigation water.
He said the Aera results show legal testing was and still is incomplete in terms of what might be in the wastewater: "I don't see testing for volatile organic compounds, heavy metals or radioactive materials. Once again, very minimal testing that ignores many of the constituents of concern. Can't find what you don't look for."
Earlier this year, state regulators broadened testing requirements, though advocates had sought far greater scrutiny. Grinberg attributed the defeat to what he called "massive" lobbying by the state's major oil companies.
… Santa Barbara County, too
The 94 wells in Kern County are not the only site of a fight over wastewater injection. A coalition of environmental groups wrote to top state officials on Aug. 12, asking them to withdraw an application to U.S. EPA for an aquifer exemption in Santa Barbara County oil fields, which the groups said would allow half a dozen oil companies to inject millions of gallons of wastewater into water-bearing zones. Communities near there rely entirely on groundwater, the groups noted. A DOGGR spokeswoman said her agency and the water board are considering public input on the proposal. …
Refer also to:


Encana dumping waste in 2012 on foodland at Rosebud near where the company illegally frac'd the community's drinking water aquifers in 2004
Through a spokesman, Brown declined to comment on the protest, referring questions to the California Department of Conservation. In a prepared statement, chief deputy director Jason Marshall avoided using the term fracking, instead calling it "well stimulation."
[Same masquerade used by Encana in its Statement of Defence in the Ernst vs Encana lawsuit, and by other companies around the world to con the public into thinking they are not fracing or that it's safe when they frac. Sexualizing fracing to mislead the public is a steep low for Encana and others in the oil and gas industry.]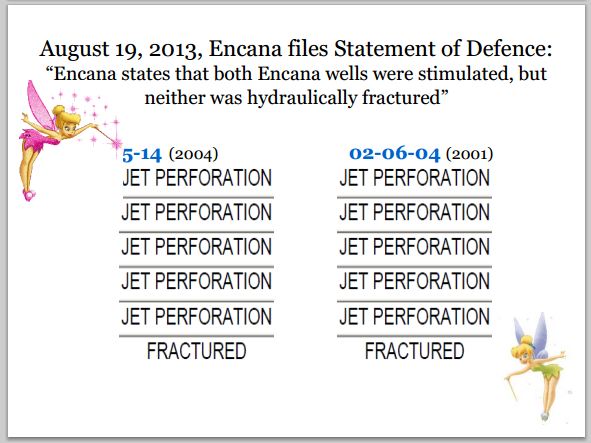 All of Encana's data filed with the energy regulator for its gas wells frac'd into fresh water zones around Rosebud state "fractured" not "stimulated" (as copied directly from Encana's data onto the above slide from Ernst's presentations).
California Attorney General Says BP Treated State As Golden Goose: "squeezing gold from that goose," Does Encana treat Alberta, her aquifers and people any better?
… Fracking operators – the well field has gone through several corporate hands since the 1960s [Encana is the current operator there, and has been for over a decade] –used acid and hydraulic fracturing treatments at the same depths as water wells in the area. [Just like Encana did at Rosebud, Alberta, but hundreds of metres more shallow than at Pavillion]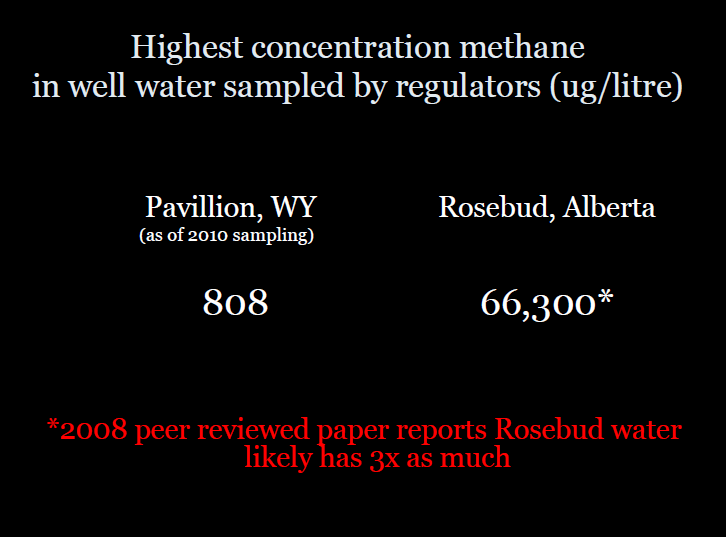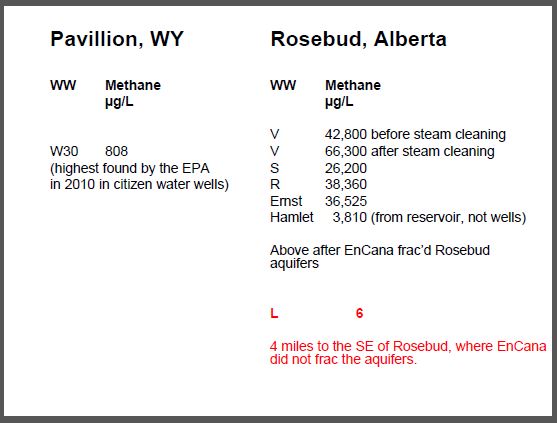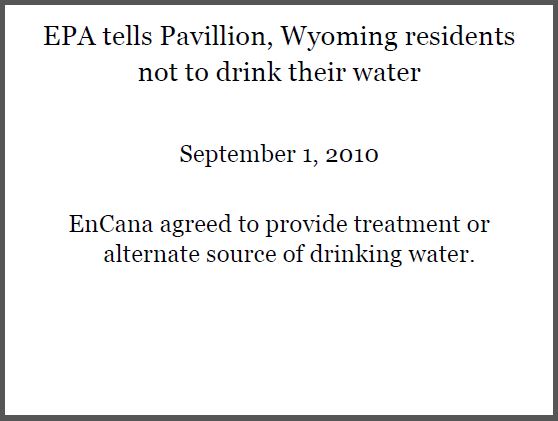 But not for Rosebud, Alberta even though Encana is a Canadian company!
Contaminants found in Pavillion water wells, from Digiulio and Jackson's paper: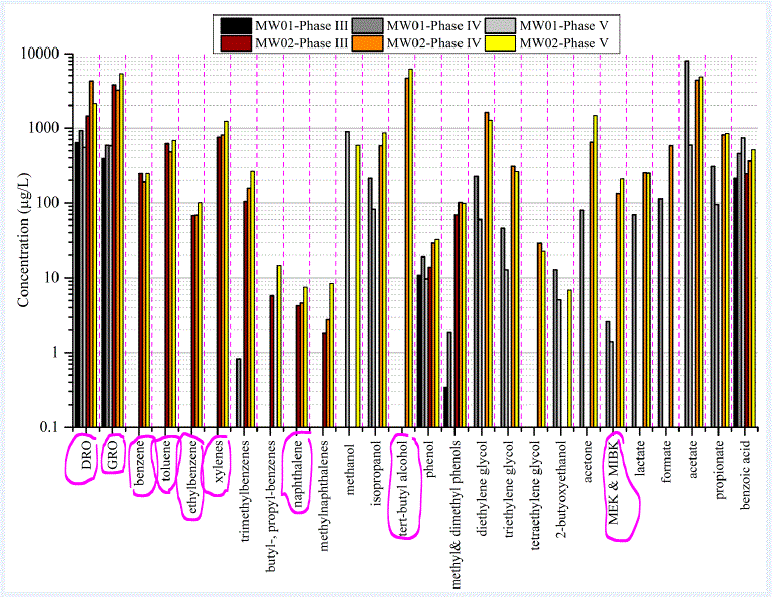 [Pink circles indicate contaminants also found by regulator in Rosebud drinking water.]
Figure 4. Summary of organic compounds detected by EPA in MW01 and MW02 during Phase III, IV, and V sampling events. Glycols, alcohols, and low molecular weight organic acids were not analyzed in Phase III. Alkylphenols and methanol (GC-FID method) were only analyzed in Phase V. Organic compounds detections for MW01 and MW02 are summarized in Table SI E3a and Table SI E4a, respective
… The new Stanford study goes a step beyond the 2011 EPA report to document not only the occurrence of fracking chemicals in underground sources of drinking water, but their impact on that water, making it unsafe for use.
The ripple effect goes well beyond Pavillion. "Geologic and groundwater conditions at Pavillion are not unique in the Rocky Mountain region," said DiGiulio. "This suggests there may be widespread impact to underground sources of drinking water as a result of unconventional oil and gas extraction."