Calif. AG Says BP Treated State As Golden Goose by Kat Greene with additional reporting by Kurt Orzeck, January 9, 2015, Law360
Los Angeles — A BP PLC unit systematically overcharged California taxpayers by as much as $300 million for natural gas in violation of contractual caps and joked about "squeezing gold from that goose," according to a complaint filed by state Attorney General Kamala Harris in a whistleblower's suit. [Where are Ministry of Justice and Solicitor General suits against law violating and aquifer fracturing oil and gas companies in Alberta?]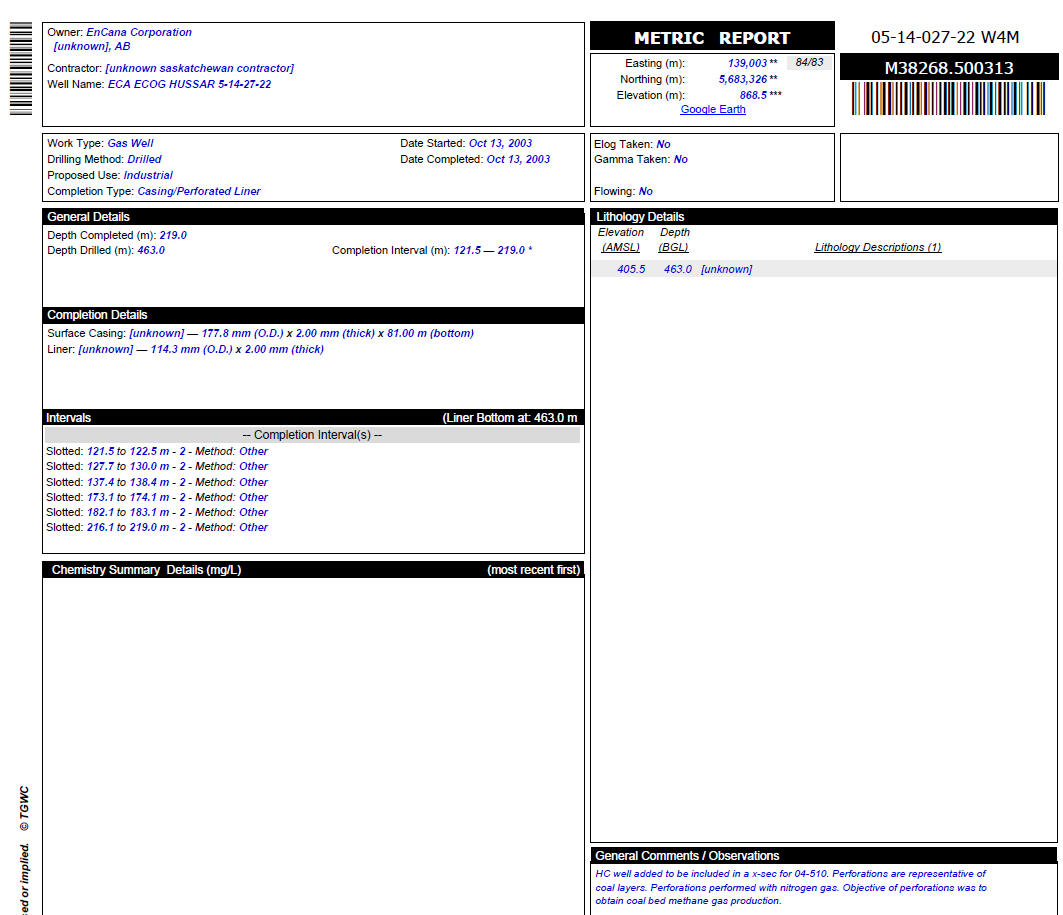 Encana frac'd Rosebud's drinking water aquifers with the 5-14. The above data was filed with Alberta's Groundwater Centre Database!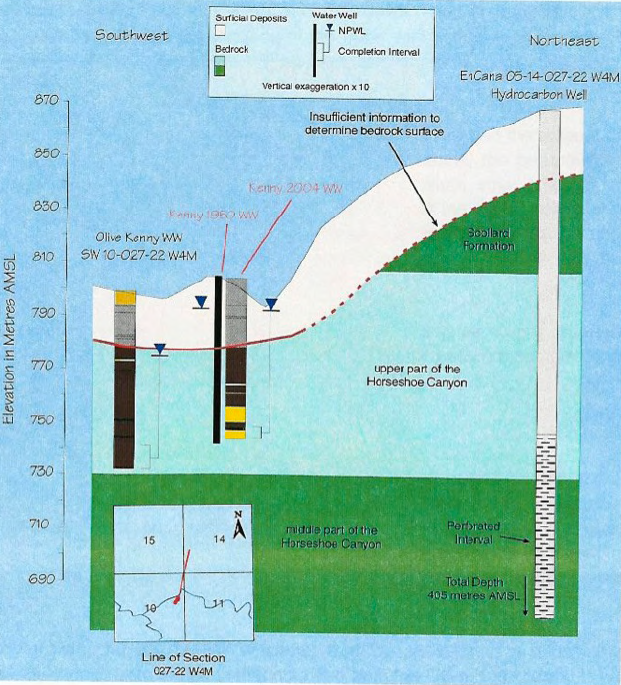 Diagram showing how Encana's 5-14 fractured into multiple fresh water zones (prohibited under regulation) at Rosebud in March 2004 and the first water wells adversely affected.
Source: EnCana's Multiple Shallow Fracs into Fresh Water Aquifers at Rosebud, Alberta, from EnCana Corporation Site Investigation Report (50 MB) by Hydrogeological Consultants Ltd., January 2005
… The state intervened in former BP employee Christopher J. Schroen's False Claims Act suit in November, court records show.
The energy company negotiated special pricing deals that weren't supposed to climb north of 15 cents above the market price, but internal memos describe margins that indicate the state was charged 25 cents above that rate, in what one BP employee close to the deals described in a memo as "squeezing gold out of that goose," according to the suit.
The practice of overcharging California for natural gas had become so commonplace that employees joked they weren't given enough recognition for the high margins gained from it, according to the memos cited in Harris' suit. …
The suit was first filed in 2012 by former BP employee Schroen, who said that BP violated contractual caps as the exclusive supplier of natural gas to the DGS, which in turn supplies natural gas to large public facilities and local governments in the state.
BP and its subsidiaries, with management's knowledge, conspired to charge California many times what non-governmental customers were charged, according to the amended version of the qui tam suit filed in March 2013. Between 2004 and 2012, when BP fired Schroen, fraudulent overcharges included in the $1.5 billion to $2 billion worth of natural gas BP sold to the state amounted to at least $150 million to $300 million, according to the original suit.
The California Attorney General's office on Nov. 4 filed under seal a notice of intent to intervene and proceed, adding that it intended to file a complaint in intervention. [Where is the Alberta Minister of Justice and Solicitor General's intervention against Encana in the Ernst vs Encana lawsuit? Intervened against Ernst and her Charter Rights instead.] On the same day, the office submitted a proposed order saying which documents on file in the action were to be unsealed or remain under seal. …
A spokesman for BP called the claims in the suit "meritless" and said the company would respond in upcoming legal filings. "BP will defend itself vigorously against these meritless claims, which were brought by a former employee who was terminated more than a year before this suit was filed," spokesman Geoff Morrell said in a statement. "We will respond to the claims in detail through legal filings to be made at the appropriate time." …
The case is State of California et al. v. BP America Production Co. et al., case number CGC-12-522063, in the Superior Court of the State of California in and for the County of San Francisco. [Emphasis added]
[Refer also to:
New Encana head Doug Suttles (past senior BP executive who reportedly lied about the Gulf of Mexico Deepwater Horizon disaster) plays cards close to chest
Investors sue BP's ex-CEO Tony Hayward and Doug Suttles, now Encana CEO